As a place of inspiration for writers like Walt Disney and Hans Christian Andersen, this historical amusement park remains magical. Opened in 1843, Tivoli Gardens is the world's third-oldest operating theme park.
Explore picturesque manicured gardens and jump on rides older than 100 years. Experience winter wonderland or fairytale scenes in summer, so choose your Tivoli Gardens tickets according to your preference.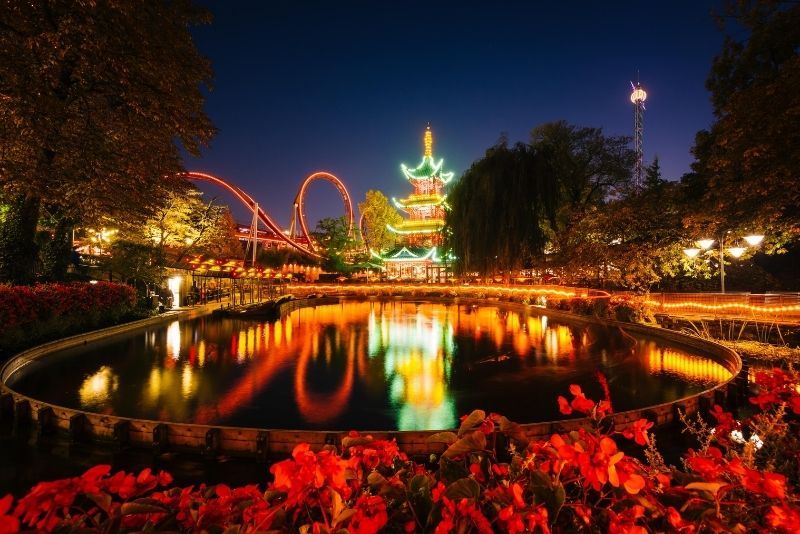 How much do Tivoli Gardens tickets cost?
Open seven days a week, Tivoli Gardens rates vary during the weekdays and weekends.
Tivoli Garden entrance fee from Monday to Friday:
145 DKK (€19.50) for adults (8 years old+)
65 DKK (€8.74) for kids (3-7 years old)
FREE: Children under 3 years old
Tivoli Garden entrance fee from Saturday to Sunday:
155 DKK (€20.80) for adults (8 years old+)
65 DKK (€8.74) for kids (3-7 years old)
FREE: Children under 3 years old
Two-day Tivoli Garden entrance fee tickets:
225 DKK (€30.20 for adults) (8 years old+)
100 DKK (€13.44) for kids (3-7 years old)
FREE: Children under 3 years old
Ride Passes need to be purchased separately, and it is not included in the entrance to Tivoli Gardens tickets price. From Monday to Sunday, the prices are as follows:
245 DKK (€32.93) for a full Ride Pass
149 DKK (€20) for a Ride Plus Mini (suitable for children riding the smaller rides)
1 year old and below do not require a Ride Pass
Tivoli's Museum and Aquarium ticket prices are 50 DKK €6.72 (Free for children under 3 years old.)
Who is eligible for discounts?
If arriving with a big group, you may want to consider Tivoli's group discounts when booking Tivoli Gardens tickets.
Group Entrance tickets (20+ people):
130 DKK (€17.47) 8 years old and above
60 DKK (€8) for 3-7 years old
FREE: Children under 3 years old
Group Ride Pass (20+ people):
265 DKK (€29.57) for a full Ride Pass
Save with an Annual Pass which can be used at any time, all year-round.
Annual Pass costs 379 DKK (€50.90) per person
Includes free entrance for two children between 3 and 7 years old  
What are the best Tivoli Gardens tours?
You have the option of buying your Entrance ticket, Ride Pass or a combination of both for your Tivoli Gardens visit.  
One of the latest features of Tivoli is the super eerie Villa Vendetta, a haunted house that features over 12 ridiculously spooky rooms — creatures (actors) included!
Tickets are sold separately from Entrance and Ride Pass tickets. Buy a Tivoli Gardens Entry & Villa Vendetta Ticket and save time.
If you just want to marvel at the gardens and awe-inspiring architecture, this is also a great option as it excludes a Ride Pass.
Are there any combined tickets or tours including Tivoli Gardens and other attractions?
If you've dedicated a few days to sightseeing the rest of Copenhagen, you might want to think about booking a combined tour. It's a great way to save money when buying Tivoli Gardens tickets, which can be used for extras, like shopping.
Tivoli Gardens and Copenhagen Old Town walking tour: Starting at the gardens, explore historic buildings and sites by foot, including a palace, and learn of their stories.
Tivoli Gardens tickets and Copenhagen Canal tour: Take a leisurely cruise along the famous canals dating back to the 17th century, then skip the lines and head straight to the picturesque Tivoli Gardens.
Tivoli Gardens tickets and Panoramic Sightseeing tour: Across the city, visit some of the most symbolic sites and places and explore the different districts.
Tivoli Gardens and Copenhagen on foot tour: Discover the cultural side of Copenhagen with a knowledgeable guide, including a visit to the Royal Danish family's home and a Tivoli Gardens guided tour.
Should you book Tivoli Gardens tickets in advance?
As the park is always busy, it's highly recommended to book your ticket online and skip the queues when you arrive, getting the most out of your time here.
There are certain tours that you can book that miss all the lines completely, taking you straight into the park.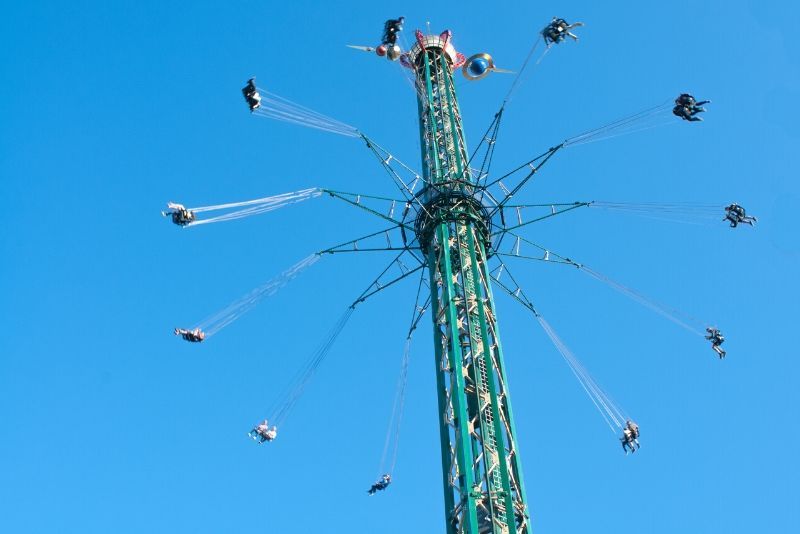 What will you see inside the Tivoli Gardens?
Its most famed attraction is undoubtedly the Wooden Roller Coaster, Rutschebanen, first constructed in 1914 and you can still ride the original.
The park is filled with rides that bring all the nostalgic feels no matter your age, like its Carousel, Ferris Wheel and a spooky haunted house (Villa Vendetta).
Mixing the old and new, more modern renditions have been added to the park. Whizz down Vertigo at 100 kilometer per hour or enjoy a virtual reality experience when you test The Demon … if you dare!
Like most amusement parks, there are other areas to explore. Built during a time when strolling in fancy gardens was a favorite pastime, a main feature of Tivoli is its gardens.

Check out the Hanging Gardens or The Orangery. Wander into The Orient where you'll spot a traditional pagoda and a Chinese-inspired bamboo garden complete with ponds and Dragon Boat rides.
Apart from the thrills, get inspired by the architecture of the park, that's reminiscent of the past. The Merry Corner is where you'll discover Renaissance-inspired buildings, and The Alley showcases an old-school Danish market town.

If arriving with little ones, don't miss Rasmus Klump's World, daily shows included. Speaking of, there are daily performances and theatre shows, and an aquarium on-site too.
How to get to the Tivoli Gardens?
Located in the heart of the city, Tivoli Gardens can be found easily enough right next to the Copenhagen Central Station on Bernstorffsgade. Step off the train and head straight to the park.

However, the main Tivoli Gardens entry is located on Vesterbrogade. Both can be accessed. It's also a short walking distance away from Copenhagen's City Hall.
When is the best time to visit the Tivoli Gardens?
The Tivoli Gardens opens seven days a week during summer (April-September) and autumn until winter (mid-October to the end of the year).
Arrive as the park opens at 11 AM to make the most of your time and explore everything. However, the park takes on a completely different feeling come nighttime if you prefer this time slot instead. The park closes at 10 PM.
Which other attractions/theme parks can be visited in the city?
As the capital city of Denmark, Copenhagen has other historic attractions that cannot be missed.
Travel tips
There are ATMs/cash points on-site.
You can rent out luggage lockers (by the main entrance) for 30 DKK (€4) for small or 50 DKK (€6.72) for large.
On rainy days, the park is still open with tons of rides available indoors.
No glass container is permitted in the park, including alcoholic drinks.