Denmark's capital, Copenhagen, is a multi-faceted destination that is brimming with exquisite monuments, both modern and historic. Often labeled the "happiest city in the world," Copenhagen's attractions range from Renaissance palaces to meandering canals.
One of the best ways to immerse yourself in this Nordic culture is by taking to the streets on two wheels. Bike tours in Copenhagen provide you with a whirlwind introduction to life in the Danish city through the eyes of a local.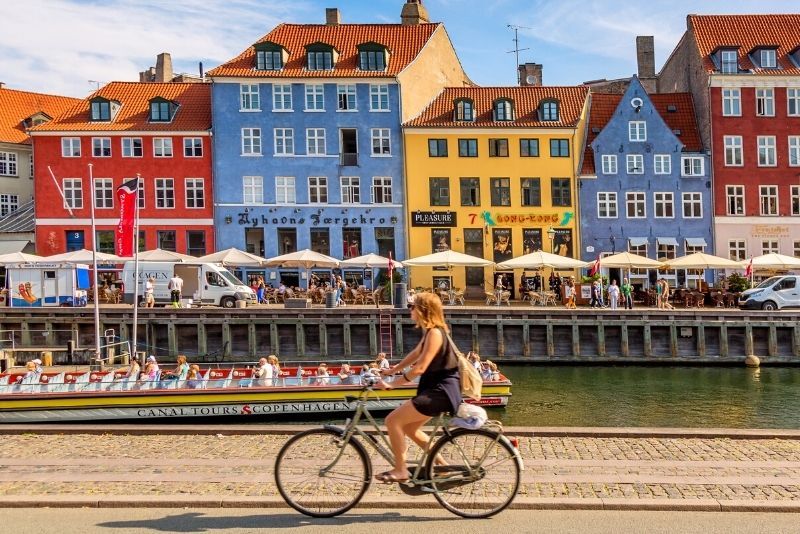 Here's all you need to know about bike tours, one of the most thrilling outdoor activities in Copenhagen.
What are the best bike tours in Copenhagen?
1.5-Hour bike tour in Copenhagen
Those on a flying visit to Copenhagen can still enjoy this bike tour, which is aimed at those who are short on time.
Itinerary
Alongside your guide, you'll combine cycling and walking through the city to reach the most celebrated attractions in Copenhagen. You'll learn the meaning behind the "Little Mermaid" statue that was created by Carl Jacobsen and honors the classic Disney movie. You'll also see the Gefion Fountain, built at the tail end of the 19th century, as well as two of Denmark's most enchanting castles.
You'll admire the perfectly-manicured King's Garden, which surrounds the impressive Rosenborg Castle, and explore the quaint waterfront of Nyhavn, filled with colorful buildings. Throughout your tour, you'll hear tales about the creation of these national monuments and discover the fascinating history of the city since it was founded in the 12th century.
3-Hour bike tour in Copenhagen
With more time to spare, you can delve deeper into Danish culture on this Copenhagen cycling tour.
Itinerary
The itinerary of a 3-hour bike tour in Copenhagen is similar to those that last just 1.5 hours. However, you'll be able to discover the city at a more leisurely pace and enjoy each destination in more thorough detail.
You'll also visit Christiansborg Palace, which is the official seat of the Danish parliament and is constructed in a Neo-Baroque style. With the additional time, you'll also make your way through a local food market, sampling Scandinavian delights as you go.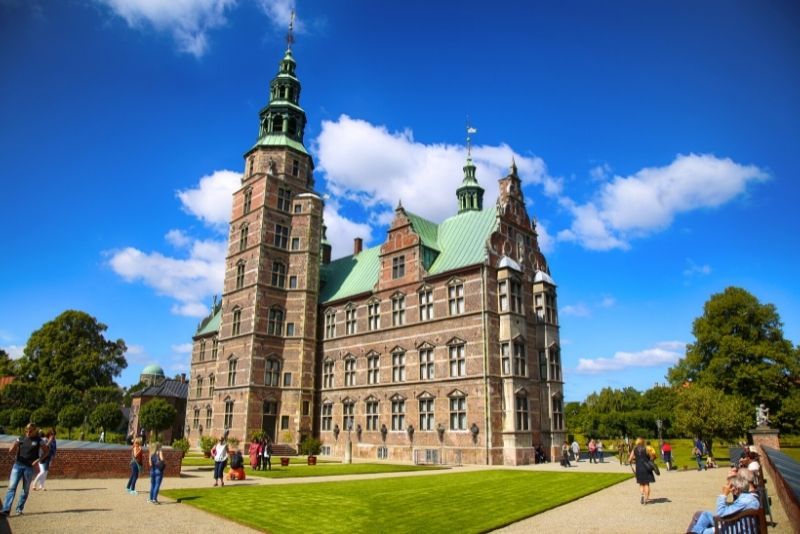 Private bike tour in Copenhagen
Alternatively, choose a private bike tour for a more personalized experience.
Itinerary
Private bike tours in Copenhagen vary slightly in what they offer. Some have a rigid and structured itinerary planned out in order to show you the best landmarks in the city. Others are more flexible and offer you the chance to personalize your experience according to which monuments interest you the most. You'll generally stop at Rosenborg Castle and Amalienborg Castle, both of which are considered to be highlights of any trip to Copenhagen, as well as Frederik's Church — often referred to as "Marble Church."
Along the way, you can converse with your guide, asking any burning questions you have about Danish history or architecture. Depending on the type of private tour you opt for, you may enjoy a lunch break to taste local delicacies, such as Smørrebrød and pickled herring.
Culinary bike tour in Copenhagen
Explore the Danish capital through your taste buds on this food tour of Copenhagen.
Itinerary
As part of a small group, you'll set off along the numerous bike paths that make the city so accessible to visitors. Along the way, you'll stop at six different food outlets to sample an array of delicious Danish treats and gain an education on how food has evolved in Copenhagen over time. You'll try the open-faced sandwich that is the country's most famed dish — Smørrebrød — as well as other savory delights including hot dogs and fish meatballs.
Wash your dishes down with locally brewed beer as you explore the city's most renowned food markets. Sweet lovers will enjoy trying Flødebolle — a chocolate and marshmallow dessert — as well as traditional Danish pastries.
Architecture tour in Copenhagen
Art buffs will appreciate the unique architecture of Copenhagen on this tour that focuses on its most spectacular buildings.
Itinerary
While there are a number of ancient builds dotted around Copenhagen that date back to the 16th century, you'll instead follow your guide on a quest to find the most beautiful modern constructs of the 20th century.
On this private excursion, your guide will be a local architect themselves and can show you details others may miss, while educating you on the most important names in forming the city, such as Jan Gehl. Not just for architect wannabes, this type of tour is ideal for those interested in any type of art or culture.
How much do bike tours in Copenhagen cost?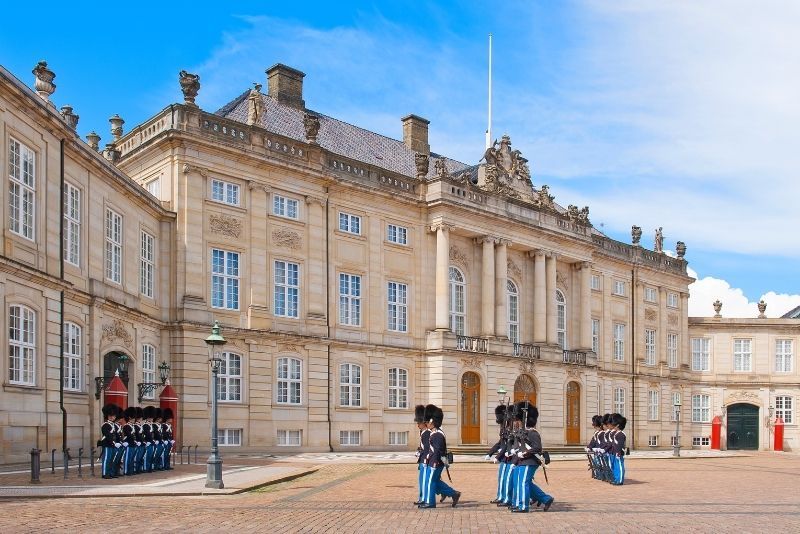 The most budget-friendly bike tour in Copenhagen lasts 1.5 hours and costs around €30 per person. If you want to extend this excursion, you can instead opt for a 3-hour tour, which costs between €40 and €50 each.
A food and bike tour in Copenhagen costs approximately €90 per person, while private experiences vary from €140 per person to €260 for a group of four. Broken down, this works out to be less than €70 each.
If you select an architecture tour, you'll pay €360 per person. However, the cost per head reduces with each additional member added to the party.
What is included in a bike tour in Copenhagen?
Bike tours in Copenhagen are always led by a knowledgeable (and usually local) guide, who will show you the main landmarks in the city and educate you on their background.
You'll also be provided with a bicycle for the duration of the excursion. Some tours provide helmets, while others offer them for rent at an additional cost.
Food tours also include samples at six different establishments across the city. These usually amount to the equivalent of a large meal.
Where do bike tours in Copenhagen start?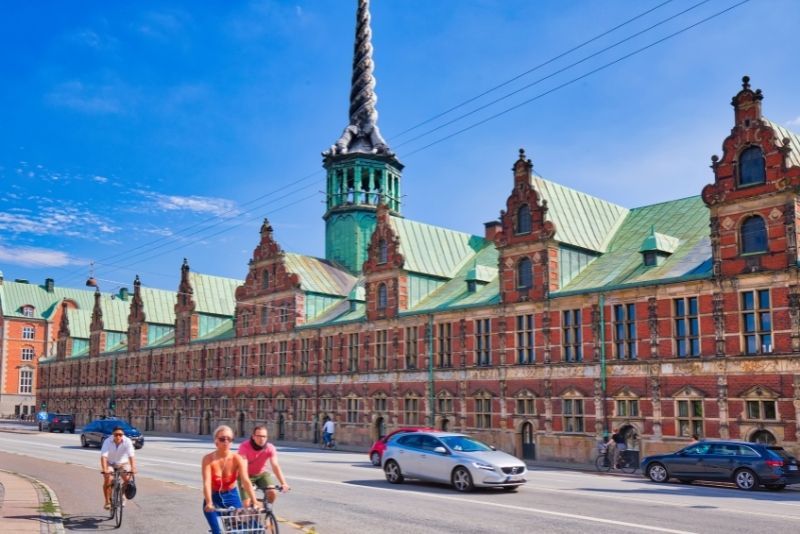 Cycling tours in Copenhagen usually begin at a bike shop in the city. These meeting points are always noted on the booking page of each tour so that you can plan out your route and organize any necessary transportation ahead of time.
The public transportation system in Copenhagen is reliable, with metros, buses and trains that run regularly throughout the day. This means you'll find navigating the city to reach your tour's starting point to be a breeze.
How long do bike tours in Copenhagen last?
Bike tours in Copenhagen can last anywhere from 1.5 to 4 hours, meaning that no matter how limited your time in the city is, you'll be able to fit the activity in. Those that last longer tend to be more detailed and visit extra landmarks around Copenhagen, while shorter tours are typically more fast-paced.
When is the best time for a bike tour in Copenhagen?
You can participate in a Copenhagen bike tour at any time of day, making it easy to slot into your itinerary, whenever it takes your fancy.
A bike tour is a perfect way to introduce yourself to a new destination, so consider booking an excursion for your first or second day in Copenhagen. This will help you to discover sights you might miss alone and learn the history behind Denmark's most notable attractions.
Is it safe to take a bike tour in Copenhagen?
If you're worried about your safety on a bike tour in Copenhagen, you can rest at ease as they're led by a professional guide who is experienced with riding through the city. You'll usually follow bike routes, which keeps you away from other road vehicles and you'll always have the option to rent additional safety gear, such as helmets.
Are children allowed on a bike tour in Copenhagen?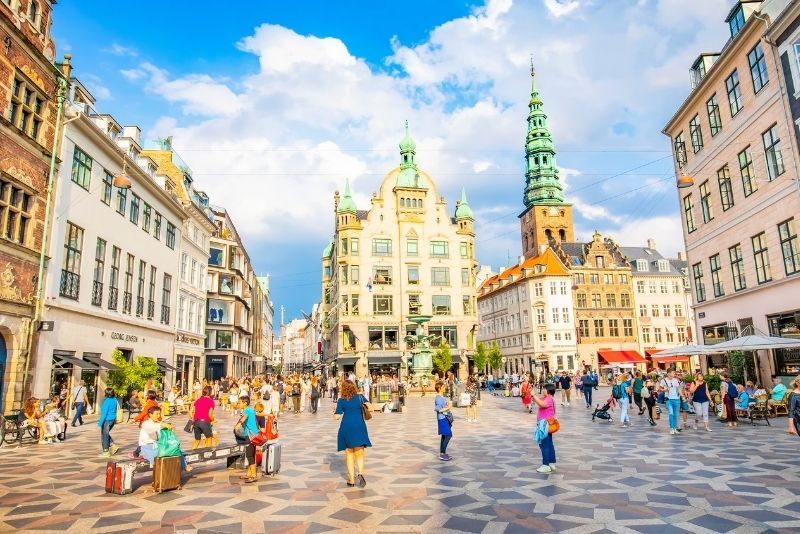 Most tour companies have their own age restrictions when it comes to bike tours. While some allow participants of all ages, many prohibit children under 12 or 14 from joining in. You'll need to check the limitations of each tour to ensure your chosen one is appropriate before booking.
Travel tips
Bike tours in Copenhagen operate in all weather. Because of this, you should make sure you're adequately prepared for any eventuality with a spare layer and a rain jacket.
Bike tours are suitable for most abilities, however, basic cycling experience is required.
Cycling tours usually stop outside important monuments, but do not pay a visit to the site. If you'd prefer to explore these attractions further, you should opt for a city tour in Copenhagen instead.
Remember to bring your camera on any bike excursion you participate in, as there are guaranteed to be plenty of photo opportunities along the way.