If you're seeking an extraordinary adventure that will take you off the beaten path and allow you to immerse yourself in the enchanting landscapes of Sicily, then look no further than jeep tours in Catania.
Prepare to be awestruck as you venture into the majestic Mount Etna, an active volcano that dominates the skyline with its imposing presence. Feel the thrill as you navigate through volcanic ash fields, ancient lava flows, and to breathtaking viewpoints, offering you a unique perspective of this natural wonder.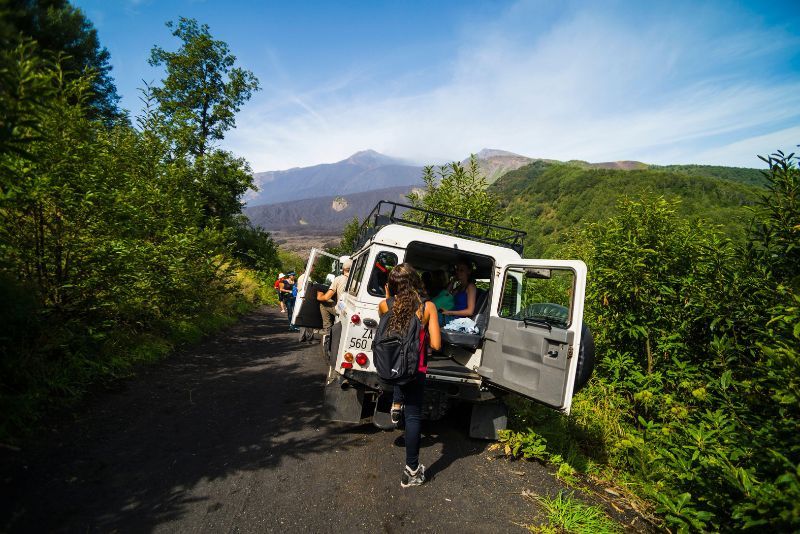 Here's all you need to know about jeep tours, one of the most exhilarating outdoor activities in Catania.
What are the best Jeep tours in Catania?
Every Jeep tour in Catania has a unique itinerary, with the nature around you always changing. Head for the mountains on a full-day experience or compress all the sights in a half-day thrilling adventure.
Half-day Catania jeep tour
Experience the wonders of Mount Etna on a 5-hour guided Jeep tour in Catania in the morning or at sunset. Explore dormant craters, including the stunning Valle del Bove, and witness ancient explosive activity at Hornitos.
Indulge in a tasting of local wines, spirits, and honey, savoring the unique flavors of this volcanic region. Sunset tours end with a sightseeing stop, allowing you to bask in the beauty of a sunset panorama that will leave you in awe.
Full-day Jeep tour in Catania
Join an all-encompassing Jeep Tour for an unforgettable experience in Catania. Walk through the impressive Monte Fontana and explore Valle del Bove with its lava flows and extinct craters.
Visit a real lava cave, discover diverse flora and fauna, and learn about Mount Etna's vegetation and wildlife. Enjoy a stop at the cold lava streams of Piano Provenzana and savor Sicilian cuisine as you unwind at a charming chalet for lunch.
Move on to witness the stunning Alcantara Gorges, where you can walk barefoot in crystal-clear water or take a refreshing swim. Pass by picturesque villages like Castiglione di Sicilia and catch a glimpse of Motta Camastra.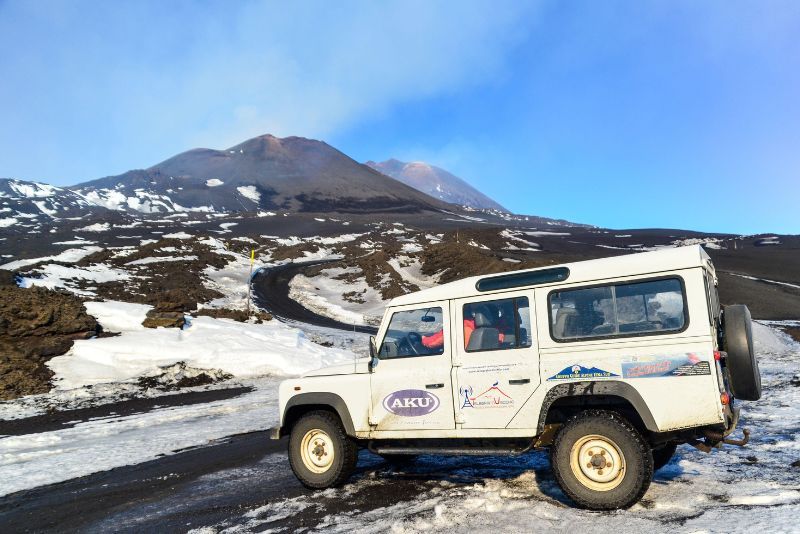 Private jeep tour of Etna
Private Jeep tours in Catania are a luxurious way to experience the majesty of Mount Etna and its surroundings at your own pace and in a more intimate setting. Your expert guide will take you and your group on a 4 or 8-hour exploration of the mountain and also visit Zafferana Etnea for a taste of some local treats.
These tours can be done in a luxury 4x4 vehicle or a larger van for bigger groups. You will have the convenience of setting your own pace and focusing on all the sights and sounds you find most intriguing.
Are there any combo available with Jeep tours in Catania?
Combo tours are a great way to maximize your time by ticking off more than one outdoor activity from your list at once.
Jeep tour and snorkeling combo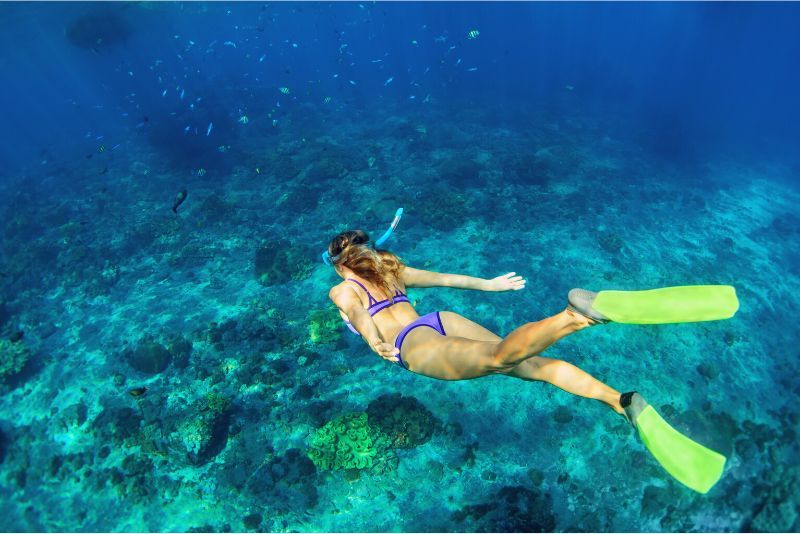 Explore secluded paths on dormant craters of Mount Etna, admiring the rich fauna and flora that showcase the area's unique endemicity. Indulge in a delightful tasting experience, sampling wines, liqueurs, honey, and more, revealing the flavors of this volcanic region.
Next, venture to the captivating lava beds of Aci Castello, a Marine Protected Area. Discover underwater wonders like columnar basalt and lava cords along with colorful marine life on an unforgettable snorkeling excursion in Catania.
Jeep tour and food tour combo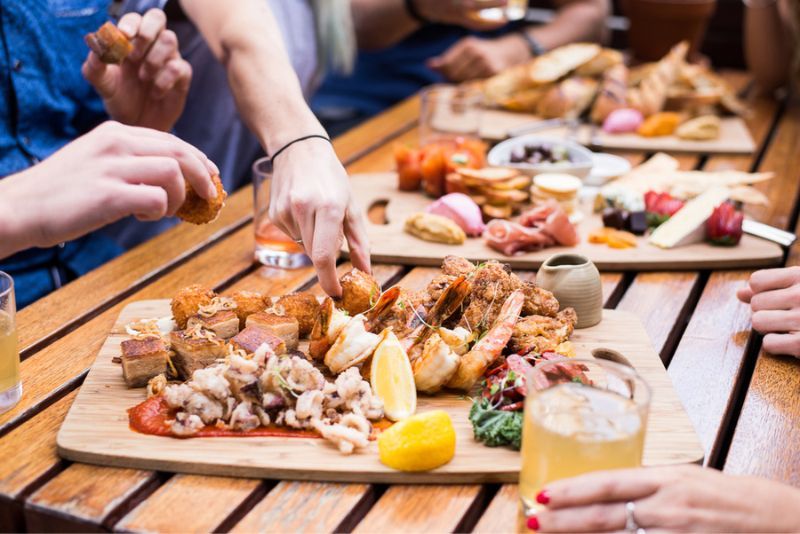 Discover the wonders of Mount Etna on a guided jeep and food tour in Catania to indulge in the region's landscape and delectable flavors. Learn about the mountain's biology and geology as you traverse routes leading deep into nature, away from bustling tourist areas. Marvel at the breathtaking Valle del Bove, visit dormant craters and explore a lava cave.
Extend your experience in Catania as you indulge in a delightful gastronomic experience in Zafferana Etnea, tasting Sicilian wine, liquor and honey on offer. Conclude the day with a local lunch at 2000 meters, the true cherry on top of a remarkable day.
How much do Jeep tours in Catania cost?
The most popular Jeep tours in Catania are the shorter 4-hour tours that cost between €60 and €80 per person. Full-day Catania jeep tours cost €130 per person, which includes a delicious lunch.
Private Jeep tours in Catania start from €400 per person for the 4-hour experience or €480 for the 8-hour tour.
Combo tours are a great way to save money as you pay for 2 activities in one. Both the food tour or snorkeling and jeep tour combo costs €90 per person and includes your bonus activity.
What is included?
Jeep tours in Catania are all led by an experienced guide and driver, who can share intriguing insights into the captivating landscape you will enter. Some tour operators offer hotel pick-up from Catania, while others charge a small fee for transportation to the starting point. Private tours include hotel pick-up and drop-off at no extra charge.
If your tour visits the village of Zafferana Etnea, it will also include a sampling of local produce and wine. Full-day tours also include a lovely lunch in a traditional setting atop the mountain.
Where does it start?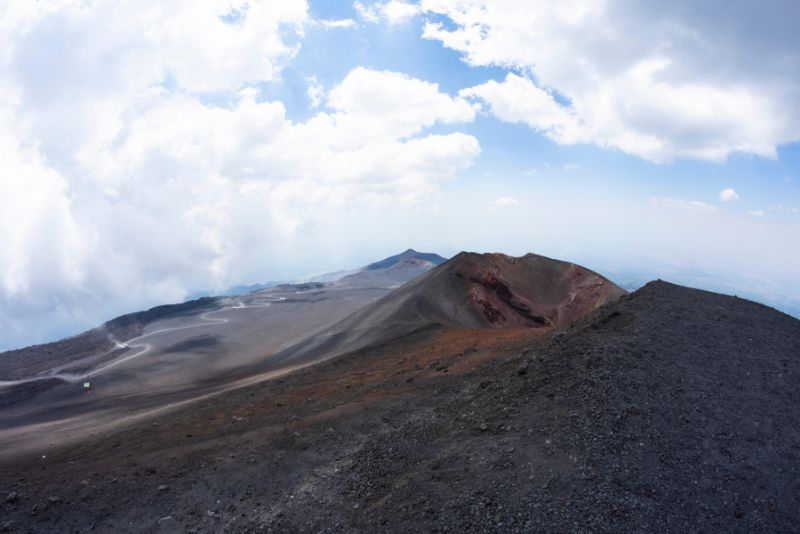 Jeep tours in Catania all start around 30 minutes outside the city, around the base of the mountain. Not all tours include hotel pick-up, but many offer transportation at an additional fee to enhance the convenience. Tour operators all have different starting points but you will receive clear instructions once you confirm your booking.
How long does it last?
A half-day jeep tour typically lasts about 4 hours and can be scheduled in the morning or at sunset. Full-day tours usually last about 8 hours.
When is the best time for a Jeep tour in Catania?
The best time to go on a jeep tour in Catania is during spring or autumn. These periods offer pleasant weather with moderate temperatures, making it comfortable to explore the city and its surroundings.
Avoiding the peak summer months helps to avoid extreme heat and crowded tourist areas, allowing you to enjoy the tour and the stunning landscapes of Catania to the fullest.
Is it safe?
Jeep tours in Catania are generally safe, as they are led by professional guides. However, due to their bumpy nature, they may not be recommended for pregnant travelers and people with back, heart or other serious medical conditions.
Are children allowed?
Children are usually allowed on jeep tours in Catania, provided they are accompanied by an adult.
Do I need a driving license?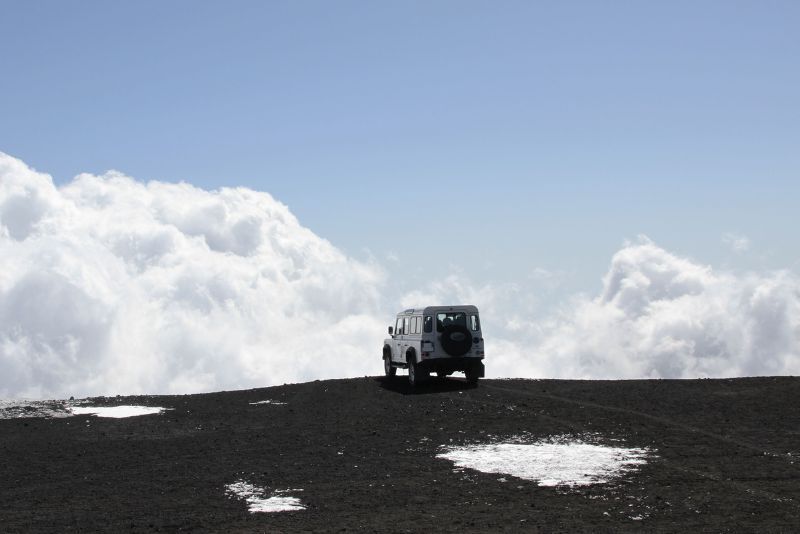 No, a driving license is not necessary, since your professional guide will be in the driver's seat for the jeep tour.
Which other outdoor activities can be done in Catania?
Travel tips
If your jeep tour includes any food tastings, inform your tour guide about any specific dietary restrictions or allergies you have when booking.
Dress comfortably and wear sturdy footwear suitable for off-road adventures in Catania.
Make sure to pack a bottle of water to stay hydrated throughout your jeep tour.
Jeep tours in Catania are popular, so book in advance to secure your spot on the excursion that interests you.