The highest active volcano in Europe, Mount Etna, is an impressive force that dominates the skyline of Sicily. Hiking in Catania brings you face-to-face with this mighty mountain as you trek its slopes to discover the unique fauna and flora that thrives in the volcanic environment.
Beyond the breathtaking vistas and geological wonders, the journey also offers an opportunity to witness first-hand the powerful interplay between life and earth's elemental forces in the Sicilian countryside.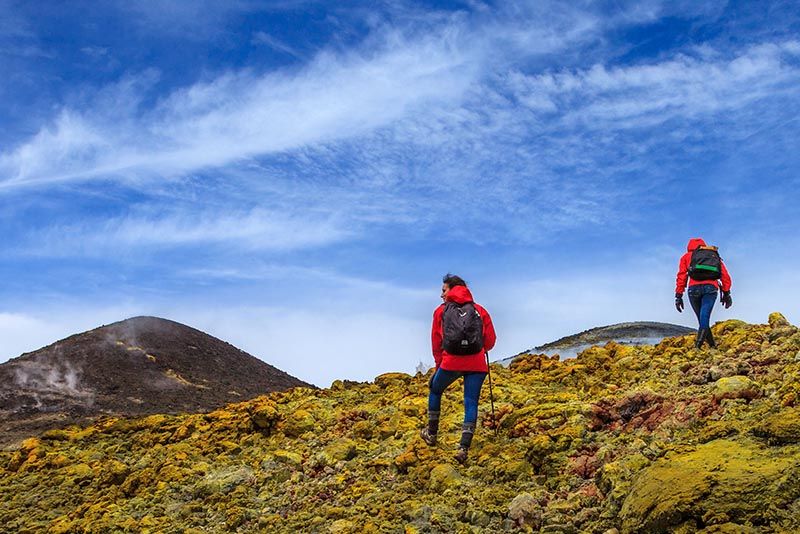 Here's all you need to know about hiking, one of the most exhilarating outdoor activities in Catania.
What are the best hiking tours in Catania?
Mount Etna summit hike
Experience the ultimate adventure by embarking on a remarkable journey across Europe's highest active volcano. Ascend the mountain with a scenic cable car ride, providing a bird's-eye view of the stunning landscape below. Once you reach the already dizzying height of 2,500 meters above sea level, you will start your journey to the summit.
Ahead of you lies a 2-hour hike to the majestic summit as you walk through the surreal moonlike landscape of the lava fields. You will hike back down to the cable car and finish your journey with a slow ride to the base of the mountain.
Sunset hike on Mount Etna
For a short adventure with a big payoff, look no further than a sunset hike in Catania that lasts only 3 hours. This easy trekking trail unveils the captivating beauty of the southern side of Mount Etna.
This side of the mountain has seen massive lava flows in recent years and you will be treated to everything from dark volcanic plains to lush forests and lava caves, all at an altitude of around 1,700 meters. Stand in awe of the majestic sunset over the distant mountains to end off a stunning hike.
Family-friendly Mount Etna hike
Experience the spoils of Mount Etna with the whole family in this easy kid-friendly hike. Young adventurers are included in the adventure with visual aids and gripping stories of the origins and mechanics of the volcano. Visit a lava cave and lateral craters and be intrigued by the legends and lore surrounding the mountain.
Private picnic hiking tour in Catania
Choose from several routes along the captivating slopes of Mount Etna as you tackle this trek with the luxury of a private tour. A private tour in Catania lets you set the pace and explore more of what you enjoy most.
From lush forests to lava caves and volcanic deserts, nothing is off limits on this 6-hour journey. Along the way, you will stop for a delicious picnic supplied by your guide and served with a side of fabulous views.
Are there any combo available with hiking tours in Catania?
Half-day trek and gastronomy tour in Catania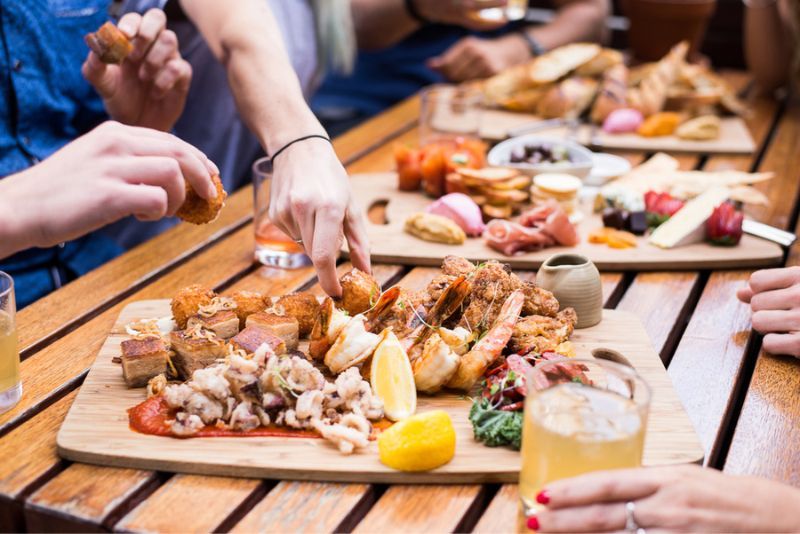 This tour takes you on a journey through the different ecosystems found around Mount Etna. You will start the trek at 2,000 meters and walk through the lush undergrowth at lower altitudes before emerging onto the lunar landscape formed by the epic eruption in 2001.
You will walk on Crater Silvestri and enjoy smashing views of Valle Del Bove caldera. End the tour with a visit to the lava front that flowed into Zafferana Etnea where you can go on a food tour and taste Sicilian wines.  
Catania hiking and jeep combo tour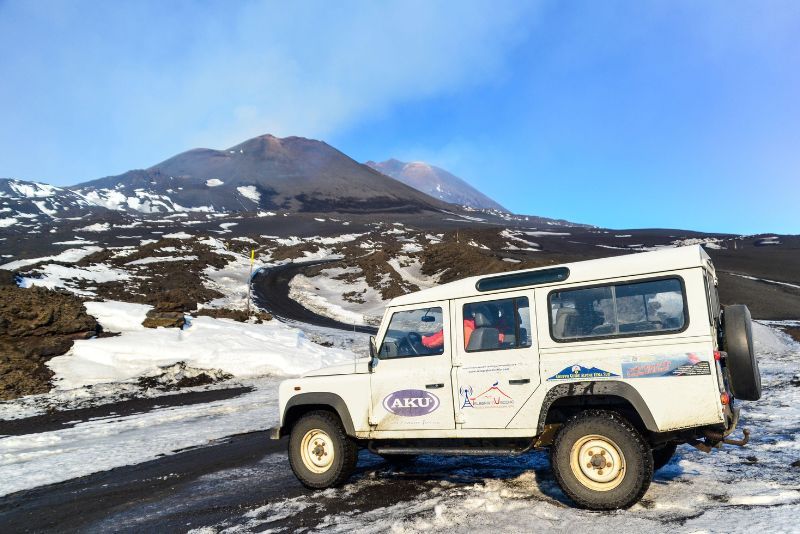 The most comprehensive experience of Mount Etna comes as a combined hiking and jeep tour in Catania. You can explore three craters of Mount Etna, where regular hiking tours usually only cover one of them. The trek lasts between 2 and 3 hours at around 2,000 m altitude.
Take a break and sample some local produce and refreshments in Zafferana Etnea, before setting off in off-road vehicles for an exhilarating 4x4 safari along rugged off-road routes.
How much do hiking tours in Catania cost?
The most affordable hike in Catania is the 3-hour sunset hike that costs only €40 per person. A basic hike in Catania that lasts 6 hours costs €50 per person, but this does not include your cable car ticket to Mount Etna. The cable car ticket is an additional €50 per person.
There are tours that include your cable car ticket, saving you the hassle of having to pay for your ticket on the day. You can also choose an all-inclusive option that covers hotel pick-up and your cable car ticket at €135 per person.
Trekking the lower slopes of Etna with a tasting of local produce begins at €60 per person or between €90 and €110 per person for a small group booking. If you want to combine your Catania hike and a 4x4 tour, you can expect to pay €120 per person.
Family hikes in Catania cost €430 for a family of 4 people. This tour must be booked for a minimum of 2 participants, but the price decreases for larger groups.
A private tour with a picnic costs €220 per person, but the price also decreases with larger bookings. You will pay €150 per person for groups of 4 people or €100 per person for groups of 6.
What is included?
Lengthy hikes in Catania include walking poles and warm clothing that keep you comfortable at higher altitudes. Some tours include the price for your cable car ride, while others require you to pay upon arrival. You will have the option to pay for hotel-pick up too.
If your tour includes a visit to a lava cave, you will get a helmet and a torch too. Private hikes with a picnic also include the food you will enjoy on the picnic.
Where does it start?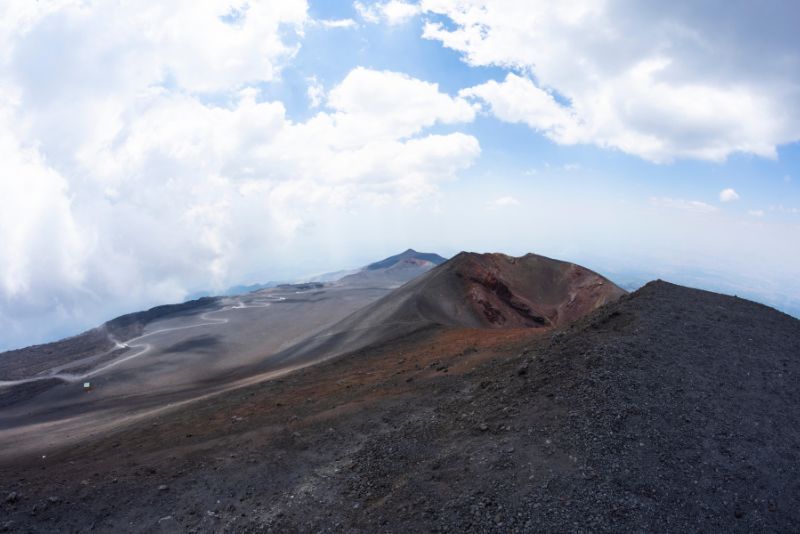 There are several starting points for Catania hiking tours. Your tour operator will send clear instructions on the meeting point depending on the tour that you book. Some tours start from the cable car station, while others set off from the villages at the base of the mountain. Hotel pick-up and drop-off options are available from Catania, but this costs extra.
How long does it last?
The shortest hiking excursion in Catania is the sunset hike, which lasts only 3 hours. The family hikes last 4 hours, while summit hikes last 6 hours.
When is the best time for a hiking tour in Catania?
The best time for a hiking tour in Catania is typically during the spring (April to June) or fall (September to November) seasons. During these periods, temperatures are generally moderate and landscapes are lush, while tourist crowds are thinner.
This timing allows comfortable exploration of Mount Etna and surrounding trails. Hiking excursions in Catania during the winter are also viable, with cooler conditions and breathtaking snow-capped views of the Sicilian countryside.
Is it safe?
Hiking trips in Catania are generally safe and operated by seasoned guides. A moderate level of fitness is required, so hiking tours are not recommended for pregnant travelers, people with mobility impairments, heart problems or respiratory conditions.
Are children allowed?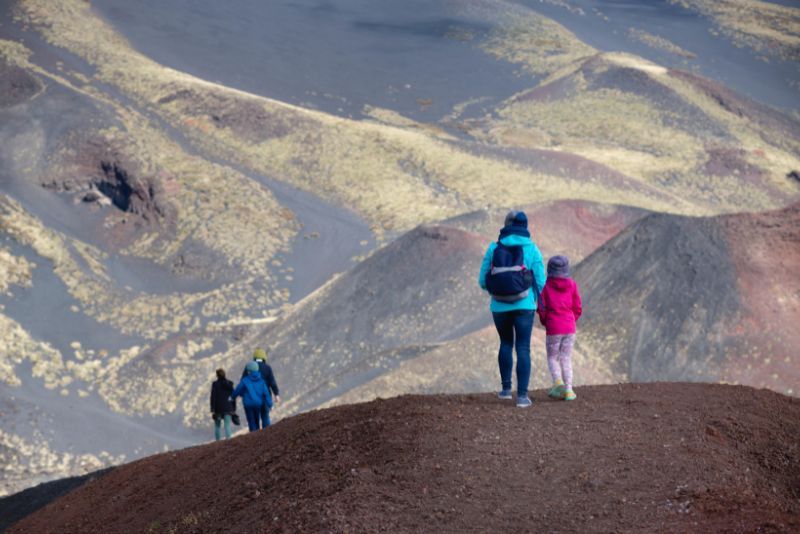 Children over the age of 10 are generally allowed to join hiking tours in Catania, provided they are accompanied by an adult.
What happens in case of bad weather?
In case of bad weather, your hiking tour in Catania may be canceled. Should this be the case, you can either reschedule it for a later date or request a refund.
Which other outdoor activities can be done in Catania?
Travel tips
Wear proper hiking boots for comfort and protection, and dress in layers so you can adjust to changing temperatures.
Hiking itineraries at Mount Etna can be modified according to volcanic activity and weather conditions, so make sure to follow the instructions of your guide. The volcano can be dangerous if you're not familiar with the area.
Carry enough water and food for the length of your hiking trip in Catania. Remember, hiking can be a strenuous activity and you'll need to keep your energy levels up.
Start your hike as early as possible in the morning, to avoid the afternoon heat and to ensure you have plenty of daylight.