From vibrant schools of colorful fish to inquisitive turtles, there's plenty to see when you strap on a mask and dive into the waters surrounding Cartagena.
With its serene turquoise seas, remote islands and flourishing mangroves, you might find the area surrounding the city is your new favorite snorkeling spot.
When taking a snorkeling tour in Cartagena, you'll also come across some of the world's healthiest coral reefs, where otherwise endangered marine species thrive. This location is well-loved by seasoned snorkelers and beginners alike.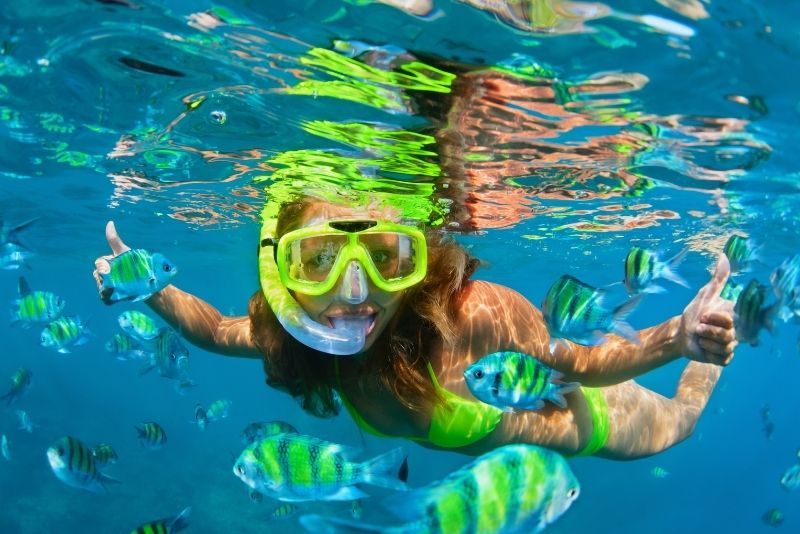 What are the best snorkeling tours in Cartagena?
Cartagena: Rosario Islands catamaran with lunch and snorkel
The most popular snorkeling tours in Cartagena head to the paradisaical Rosario Islands. You'll relax aboard a catamaran with a drink in hand, as you watch the mainland drift further and further away.
Stopping along the shores of a picturesque island, you'll experience life under the waves through snorkeling. Back on board the boat, you'll have a freshly prepared meal before sailing back to Cartagena.
Full-day Isla Barú tour
This Cartagena snorkeling tour allows you to experience one of the most picturesque islands in Colombia — Isla Barú.
You'll head out on the water to take a tour of the mangrove forest, which is home to several species of tropical birds. You'll participate in snorkeling to see the creatures that live in the crystal clear waters.
Afterward, you'll head to the Mambo Beach Club for lunch and enjoy some time for relaxation. Once the sun sets, you'll discover the twinkling bioluminescent plankton that spread themselves across the island's shores.
Private boat party tour to Cholón
The island of Cholón is known as a vibrant party destination for young travelers. It sits nestled in the Rosario Islands and entices visitors with its beach and boat parties.
On this private boat tour, your group will stop at the island to experience its lively vibe, as well as its world-class snorkeling opportunities. It will only be you and your loved ones on the boat which makes it the perfect way to celebrate a special occasion, or simply enjoy the Colombian scenery.
Private tour to Fort San Fernando with kayak, snorkel and lunch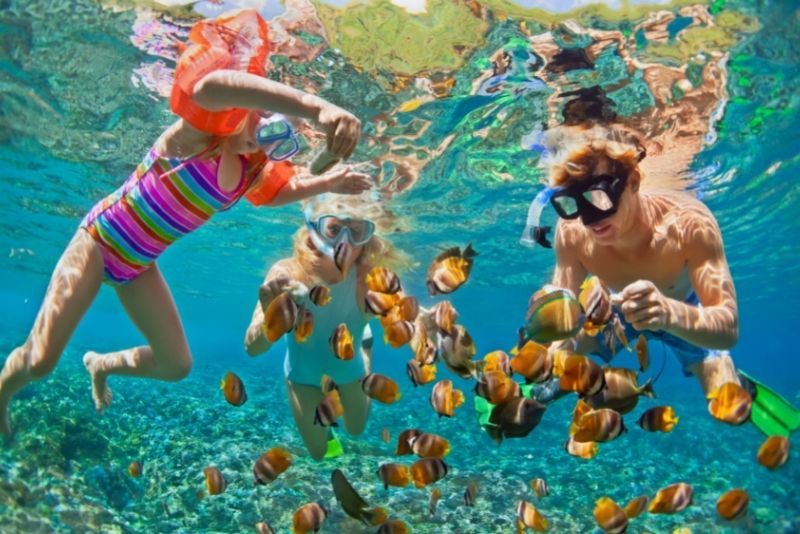 If you're looking for other outdoor activities in Cartagena during your snorkel tour, this excursion also includes a walking tour and kayaking.
Relax as you whip through the waves to reach Bocachica by boat. You'll participate in a walking tour of San Fernando fortress, built in the 18th-century upon the site of an older castle.
Once you've seen the fortress by land, you'll kayak around the island of Tierra Bomba, and view the historic landmark from the water. You'll also have the opportunity to snorkel in the Caribbean waters, and before ending the tour, you'll enjoy a fresh lunch of mojarra fish.
These trips cost approximately $50 and kayak and snorkel rental, safety equipment, fees and lunch are all included in the price.
How much do snorkeling tours in Cartagena cost?
Tours of the Rosario Islands start at around US$70. Entrance into the national park is covered, as well as all fees and use of  snorkeling equipment provided.
Snorkeling tours from Cartagena to Isla Barú cost $110 and include round-trip transportation from Cartagena, lunch at a beach club and a bilingual guide.
Private Cholón boat party tours include a cruise on a private catamaran, the use of snorkeling equipment and complementary photos taken by the captain. You can expect to pay $780 for a group of up to 10 people.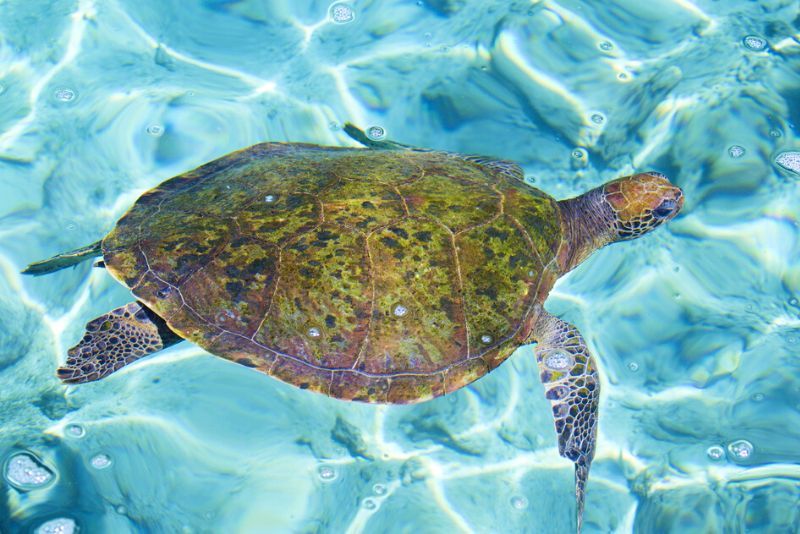 What is included in a snorkeling tour in Cartagena?
It's typical for snorkeling trips in Cartagena to provide you with snorkeling equipment. You'll also enjoy a boat trip to reach your destination, and most of the time, a fresh lunch is prepared on board.
Fees and taxes are also included in the price, and you may have additional extras such as a kayaking experience, a walking tour or drinks provided for you.
Where do snorkeling tours in Cartagena start?
Most snorkeling tours in Cartagena start with hotel pickup which makes it simple for you to organize your day trip.
If you're staying in a hotel outside of the pickup area, there will be a predetermined departure point from a city center location. You'll be informed of where to meet when you book so that you can organize your transportation there.
How long do snorkeling tours in Cartagena last?
Snorkeling adventures in Cartagena are typically a full-day affair that start from 7:30 AM to 8:30 AM. The tours usually last between seven and 10 hours and arrive back in Cartagena in the late afternoon.
When is the best time for a snorkeling tour in Cartagena?
Between the months of December and April is a great time to take a Cartagena snorkeling tour. This is when the weather is at its finest and has the least chance of tropical storms. Snorkeling tours in Cartagena are fun and relaxing, and the perfect way to end your Colombian vacation, so consider booking the excursion for your final day.
Is it safe to take a snorkeling tour in Cartagena?
Snorkeling tours are safe and enjoyable for all the family. There will be a guide on hand at all times to ensure the safety of participants and you can request flotation vests if you are not a confident swimmer.
What happens in case of bad weather?
In the case of poor weather conditions, you'll be offered an alternative date for your snorkeling tour, or a refund if this is not possible.
Travel tips
Make sure to lather up on reef-safe sunscreen before diving in the water on your snorkeling tour in Cartagena.
Most tours include a freshly cooked lunch aboard your boat. If you have dietary preferences or requirements, inform your operator when booking.
Cartagena experiences high temperatures of 32 degrees Celsius year-round. Keep hydrated in the hot sun with plenty of water.