As Spain's second-largest city and one of the most visited places in all of Europe, Barcelona is bursting with exciting things to see and do— both during the day and after dark. Exploring the music and nightlife in Barcelona is the ideal way to meet new people and experience the city at night.
The coastal Spanish city is home to a wide variety of jazz clubs, theaters, nightclubs, pubs and flamenco bars— making it the perfect destination for music lovers from around the globe.
No matter whether you want to go out for just a few quiet drinks at a local bar or dance the night away at one of the city's vibrant nightclubs, Barcelona offers after-dark experiences to suit all different types of party-goers.
Learn about the various music and nightlife experiences on offer so that you can start planning your Barcelona itinerary ahead of time.
Flamenco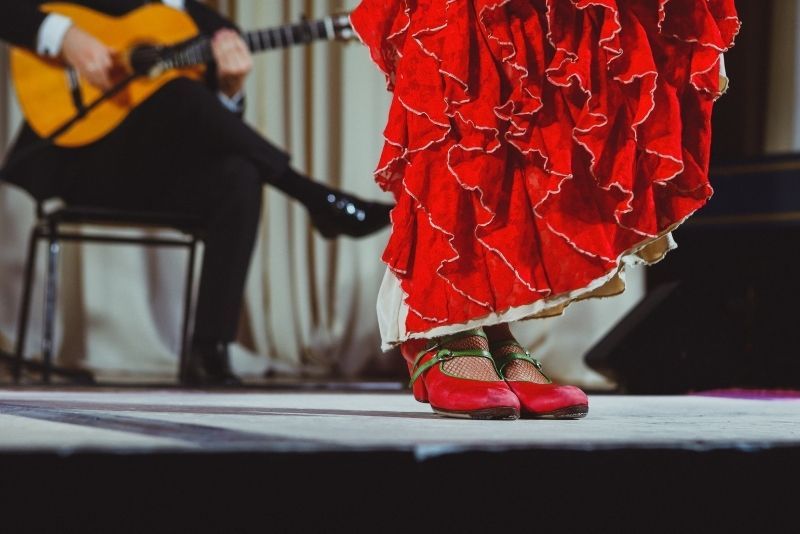 Flamenco is a traditional Spanish art form, originating in Andalusia, that incorporates a mixture of dancing, singing and music. In 2010, flamenco was declared a UNESCO-protected cultural tradition, which has further strengthened the art form's significance.
No trip to Barcelona is complete without attending a flamenco show, where you'll see ruffle-clad dancers, guitar-strumming musicians and melancholic singers working in unison to create a truly enigmatic performance.
Barcelona is home to dozens of flamenco bars and theaters that offer flamenco performances every night of the week. These shows are usually around an hour long and provide the perfect way for you to kick-start your night out in Barcelona.
In addition to flamenco dinner shows, there are also walking tours available that take you to various historically significant flamenco-related landmarks in the city. No matter your budget, preferences or schedule, there is a flamenco experience that is perfect for you.
Going to see a Flamenco show in Barcelona promises to be an unforgettable experience, in which you'll learn more about Spanish culture and get to watch incredible local performers doing what they do best. Sit back and relax as the flamenco performers take to the stage.
Jazz Music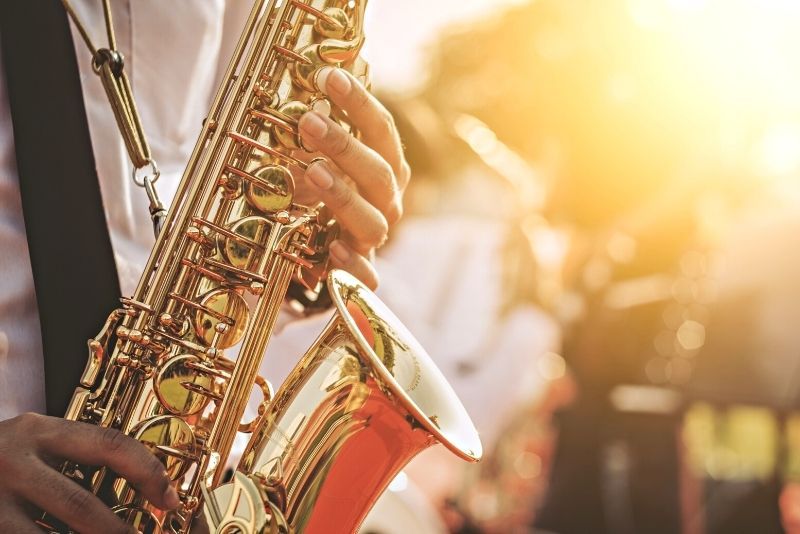 One of the best ways to relax after a long day of walking the streets of Barcelona is to book a sunset jazz cruise. Is there anything better than gliding over the Mediterranean Sea on a beautiful catamaran as you listen to a live jazz performance with a drink in hand?
While there are opportunities to go watch jazz bands in various bars and music venues in the city, there is something truly special about seeing Barcelona from a different perspective accompanied by the smooth and sweet sounds of jazz.
These jazz sunset cruises typically last just over an hour, leave from the docks at the end of the Ramblas and take place at sunset. While boat tours are available throughout the year, sunset jazz cruises are best enjoyed during the warmer months of summer and spring.
Not only are you treated to a performance by an incredibly talented jazz band, but you'll also get to see some of Barcelona's most iconic sights from the water, giving you an idea of the city's layout. Sunset jazz cruises in Barcelona are incredibly popular, so it is important that you book your excursion ahead of time if you want to secure your spot on the yacht.
Pub Crawls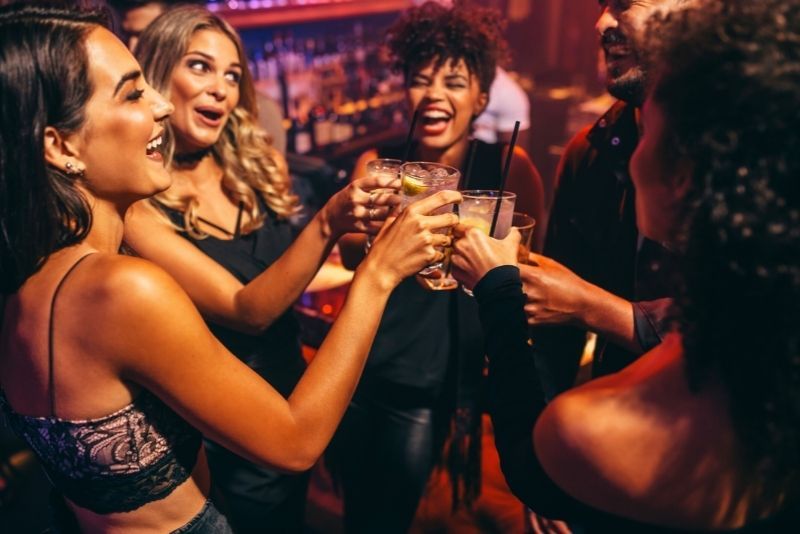 Exploring a new city after dark can be intimidating, but there is no need to navigate Barcelona's buzzing nightlife scene on your own. When you participate in a pub crawl, a local guide will lead the way as they take you to some of the city's very best bars, cocktail lounges and nightclubs.
Meet like-minded party lovers as you hop from bar to bar, stopping to enjoy shots, drink discounts and drinking games at each new destination. Most tours end the night at a popular local nightclub, where you can dance the night away with your new friends.
It's a good idea to book a pub crawl for the beginning of your stay in Barcelona so that you can familiarize yourself with the nightlife scene and decide which bars and clubs you may want to go back to during the rest of your stay.
While Las Ramblas, El Raval and the Gothic Quarter are popular pub crawl districts in Barcelona, almost every suburb of the metropolitan has its own unique nightlife scene. Wherever you decide to stay in Barcelona, a decent pub is likely just around the corner.
There is no better way to experience Barcelona's colorful bars and after-work drinking culture than with a fun-filled pub crawl.
Montjuïc Magic Fountain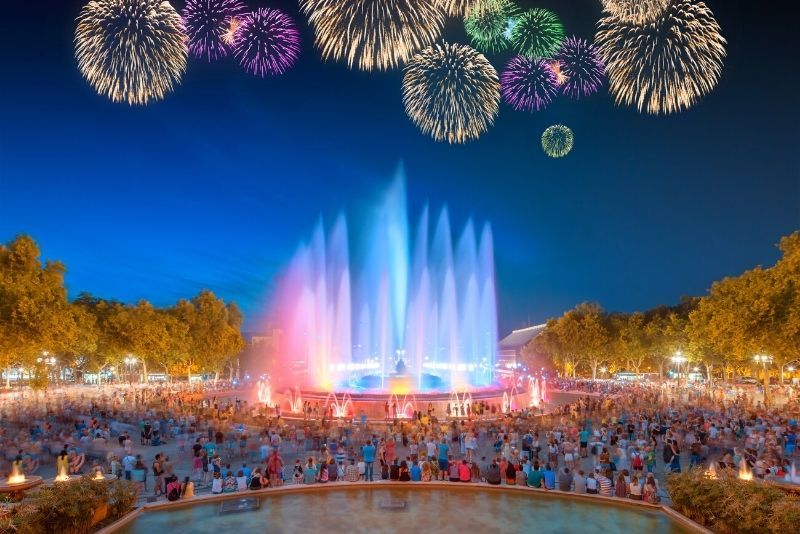 The Montjuïc Magic Fountain is a water fountain located in Barcelona's historical neighborhood of Montjuïc. Stretching all the way from the Plaza Espanya to the National Art Museum of Catalunya, the water fountain contains roughly 3.1 million liters of water!
The fountain, which was created by Carles Buigas in 1929 for the Barcelona International Exhibition, is renowned for its incredible music, light and water show. The cutting-edge fountain shows are a wonderful display of art, imagination, engineering and creativity.
Fountain shows take place a few times each week, with the schedule changing from season to season. While the Montjuïc Magic Fountain shows are completely free to attend, you may be interested in booking a local sightseeing tour that includes a visit to the fountain and other local landmarks.
Spend the entire day around the area by booking a Montjuïc Castle and cable car tour in Barcelona. Take in the incredible views of the city and learn about the historical significance of Montjuïc from a local guide.
Requesens Palace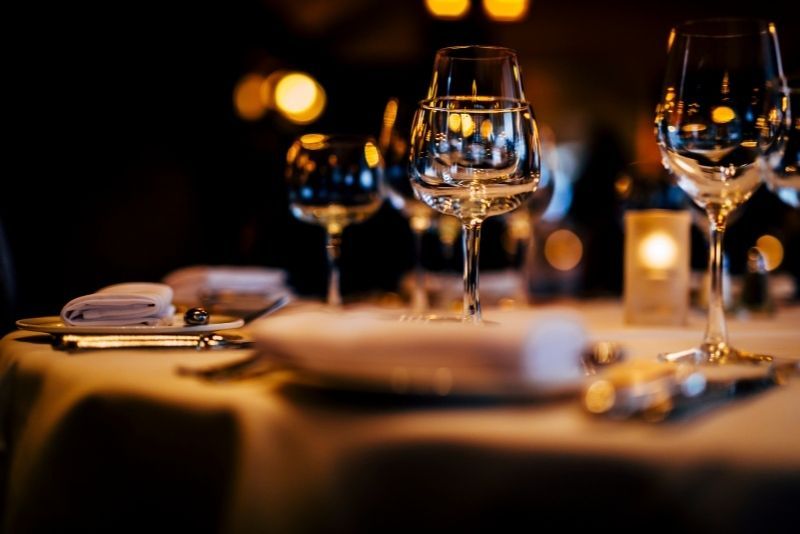 The Gothic period is one of the most important time periods in European history, with some of the most amazing architectural structures being built at this time. The Requesens Palace in Barcelona is an excellent example of ornate Gothic architecture and is open to the public.
Transport yourself back in time when you book a Requesens Palace dinner experience with a medieval show. Combine your love for food, culture and history with this incredible after-dark experience in Barcelona.
While the palace currently serves as the residence for the Royal Academy of Letters and the Galería de Catalanes Ilustres, at night the palace opens its doors to the public and serves incredible 4-course meals alongside a dinner show.
There are also guided tours available, where you'll have the opportunity to learn more about the palace's fascinating history and some of its most famous past residents, including the likes of Elisabeth of Requesens and Virreina of Naples.
Walk around the palace, taking in its intricate architecture and the magnificent views of the city's Gothic quarter from the palace's towers. When you sit down to enjoy your dinner, some of the entertainment that you can look forward to includes fame-throwing and dancing.