Famous for its wide beaches, year-round sun and stunning coastline, Alicante is an under-the-radar coastal Spanish town that mixes old-world charm with modern amenities.
Whether you're looking to explore hidden coves and secluded beaches or zip through waves at breakneck speeds and admire the Santa Bárbara Castle from afar, an Alicante jet ski tour will leave you feeling exhilarated and refreshed.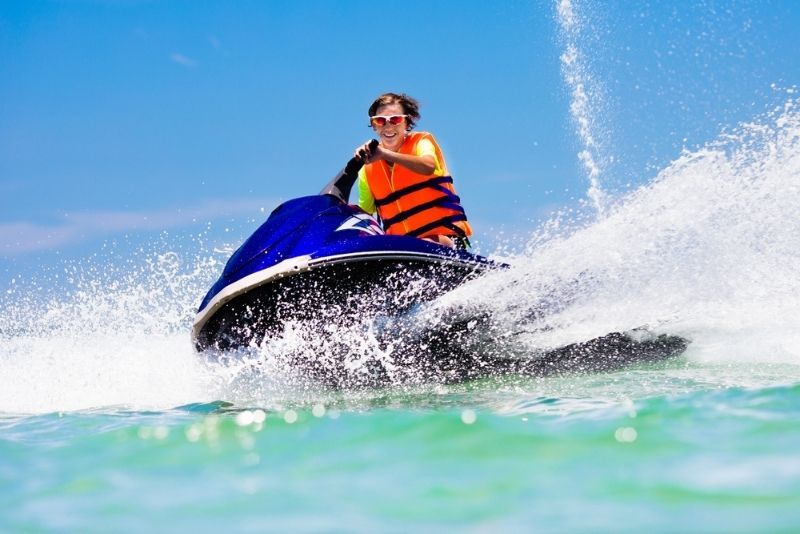 Here's all you need to know about jet ski tours, one of the most exhilarating outdoor activities in Alicante.
What are the best jet ski tours in Alicante?
You have a plethora of options when it comes to jet ski tours in Alicante. Whether you're looking for a quick and easy ride or want to explore the coastal towns beyond the city itself, there is something for everyone.
Jet ski rental
The most straightforward option for jet ski tours in the Alicante region is standalone rental. These do not usually include a guide, but you will have access to all the equipment you need and can simply hop on your jet ski and hit the waves.
These experiences are more suited to you if you want to experience the thrill of riding a jet ski on your own and aren't concerned about what you see along the way. These are available in Alicante as well as the smaller nearby coastal towns in the region.
Jet ski guided tour
The next level of Alicante jet ski experience is a guided tour. Along with your jet ski rental, you will also have a certified guide who can take you to the best spots and show you all the hidden gems of this beautiful coastline.
You have several options for guided tours, including some trips that stay in Alicante and others that make the journey along the coast to places like Punta Moraira, Benidorm, Peñón de Ifach, Santa Pola, Tabarca and Torrevieja.
Jet ski tours can be solo or tandem, allowing you to experience this adventure with a friend or loved one.
How much do jet ski tours in Alicante cost?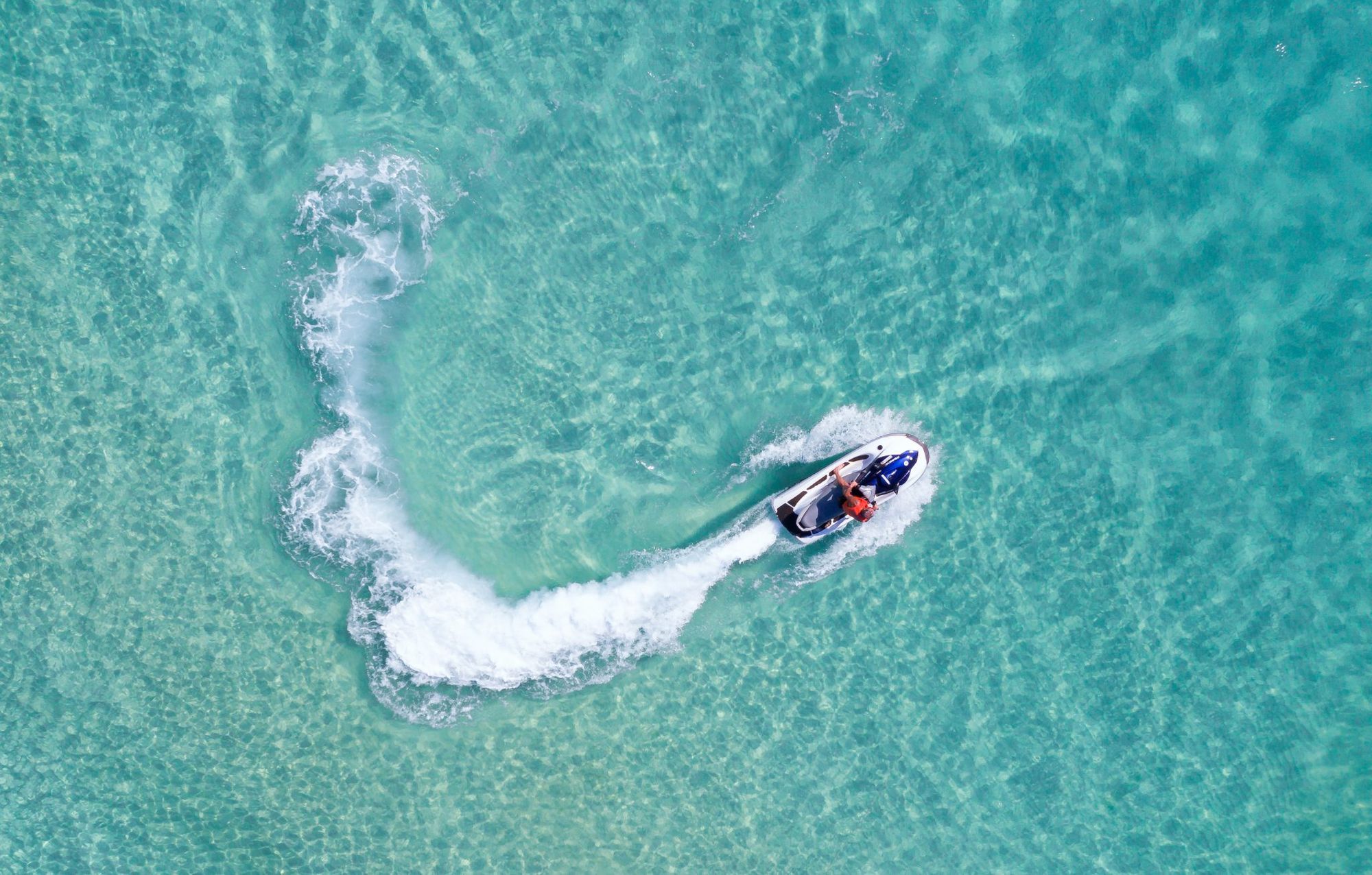 The cost of jet ski tours in Alicante start at €25 per person and can go up to €125, depending on a variety of factors such as the length and type of tour, as well as any extra activities.
Generally speaking, standalone rentals are the cheapest option, depending on how many hours you want to hire the jet ski for. Each jet ski can accommodate up to 2 people and, unless stated otherwise, you can split the cost by both participants.
Jet ski rental (15 minutes): €50
Jet ski route to Punta Moraira: €200
Jet ski tour to Santa Pola or Torrevieja (1 hour): around €125
Jet ski excursion to the Peñón de Ifach: €90
Jet ski adventure to Benidorm: €280
Single-seat jet ski excursion to Tabarca (2 hours): €180 per person
Jet ski route to Tabarca (90 minutes): from €140 to €250, depending on duration and meals
Jet ski excursion to Benidorm with snorkeling: €220
What is included?
All jet ski tours in Alicante typically include the rental of the vessel, as well as any necessary safety gear and equipment. Guided tours include the cost of the instructor too.
Some packages may also include access to other water sports activities, snacks or meals along the way, and transportation to/from your hotel. It's important to check what is included in your chosen tour so that you know exactly what to expect because there are many options.
Where does it start?
You have a wide variety of options for jet ski tours in the Alicante region. Some tours start directly from the main beaches or marinas in Alicante, while others will pick you up from a central meeting point such as a hotel or marina.
Other tours depart from areas along the Alicante coast such as Santa Pola and Benidorm. With so many options, it's best to check the meeting point before booking.
How long does it last?
When renting a jet ski, you typically have the option to choose between several time periods, ranging from 15 minutes up to an entire day.
Guided tours typically range in length from 1 hour to half a day, depending on your preferences and the route you choose.
When is the best time for a jet ski tour in Alicante?
The sun shines all year round in Alicante, making it a great destination for jet skiing regardless of the season. As for the time of day, it's recommended to opt for morning or late afternoon tours to avoid the midday heat. That said, there is no bad time to take a jet ski tour in Alicante.
Are there any combo available with jet ski tours in Alicante?
Yes, there are many options available that combine jet skiing and other sports. Some popular combos include snorkeling, scuba diving, or kayaking, while others combine the aquatic thrills of jet skiing with adventure activities such as hiking and mountain biking.
These tours are priced between €80 to €200 per person, depending on the length, type of tour and number of additional activities included
Jet ski tour in Torrevieja plus parasailing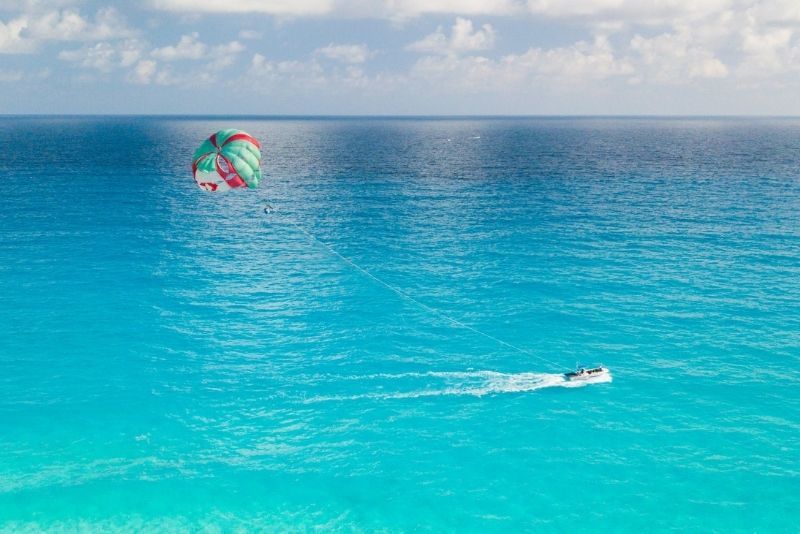 Torrevieja is located just a short drive from Alicante, and is a great destination for those who want to experience the best of both worlds — aquatic thrills on a jet ski, coupled with amazing views from above on a parasailing ride.
Jet ski rides in Denia plus kayaking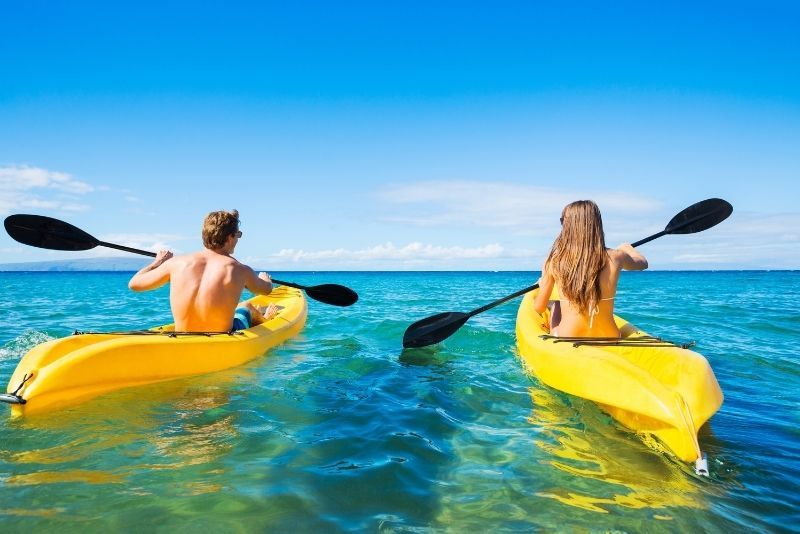 Denia is located just a short drive from Alicante, halfway between Alicante and Valencia and is home to some of the most beautiful beaches on the Costa Blanca. With this combo tour, you can enjoy two amazing activities in one day — kayaking along the coast and through the caves, followed by an exhilarating jet ski ride.
Jet ski plus banana boat ride and parasailing pack
This multi-activity combo is perfect for groups and families, offering thrills on land and sea. All up, the experience lasts around 2 hours. This includes 30 minutes on the jet ski, 15 minutes parasailing, 10 minutes on the high-speed inflatable banana boat and an hour on the main vessel.
Is it safe?
Yes, jet ski experiences in Alicante are perfectly safe and a great way to experience the beauty of this coastal city. The guides are experienced and the equipment is checked regularly. Before you set out you will be provided with all the necessary safety gear and instructions to help ensure your enjoyment and safety at all times.
Are children allowed?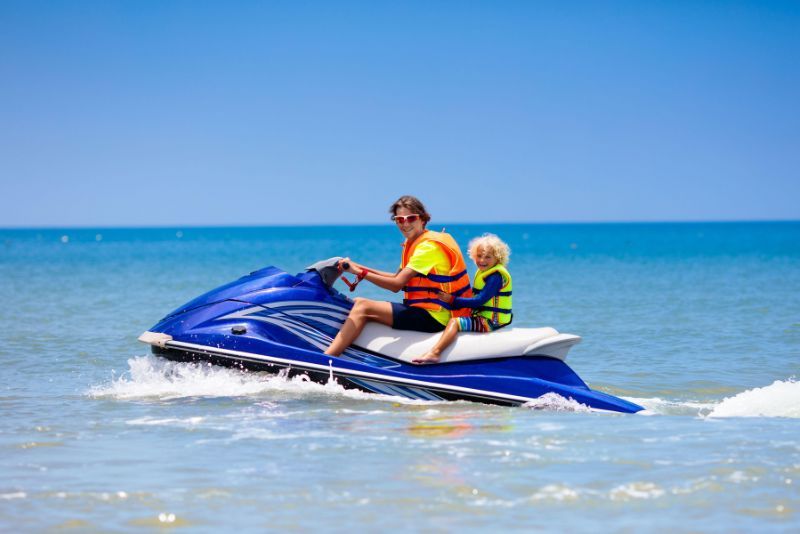 In general, the minimum age for driving a jet ski is 16 and drivers under the age of 18 must have parental authorization. Younger children can join as passengers if accompanied by an adult. If you have young children it is advised to double-check the minimum passenger age because each tour and company may have different rules.
Do I need a driving license?
If you are accompanied by a certified guide, you do not need a driving license. However, if you are renting your own jet ski and going out on the open water alone, then yes, you may need to have a valid license in order to participate.
What happens in case of bad weather?
The weather is almost always good in Alicante, but if you are worried about inclement weather or strong winds, most jet ski tour companies have a rain-check policy. This means that if the weather is bad on the day of your tour, you can reschedule without any additional charges.
Which other water activities can be done in Alicante?
Travel tips
Wear plenty of sunscreen and make sure to bring a hat and sunglasses.
For the best value for money, book a two-seater jet ski tour. This way, you pay per vehicle rather than per person.
Don't be afraid to venture off the beaten path and explore the less-frequented areas of Alicante's coast. Many jet ski tours visit nearby small towns you'd otherwise overlook. This is a great way to escape the crowds and really experience all that this beautiful region has to offer.