Tara Canyon is one of the most popular day trip destinations in Montenegro and a fantastic photography location. Considered the deepest and largest canyon in Europe, this is not only a hotspot for adventure sports but also a fantastic place to reconnect with nature.

The canyon is about 1,300 meters deep at its lowest point and stretches 82 kilometers to the town of Hum in Bosnia and Herzegovina. The canyon is part of the adjacent Durmitor National Park, which has been a UNESCO World Heritage site since 1980.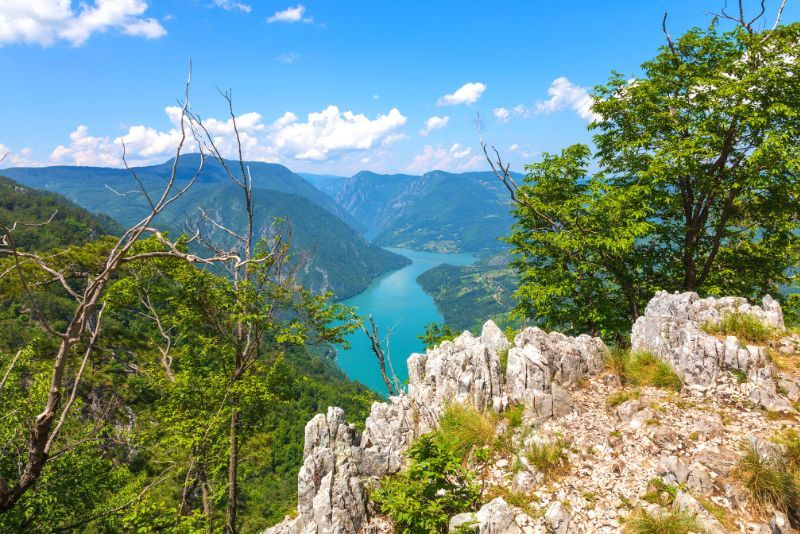 How to get to Tara Canyon from Kotor?
Tara Canyon is located in the northeast of Montenegro, not far from the border with Bosnia and Herzegovina, and about 200 kilometers from the coast.
From Kotor to Tara Canyon by car
The journey from Kotor to Tara Canyon takes about three hours by car. After leaving the city behind, head north onto Highway E80, following the coastline of the bay.
You'll reach Highway P11, which will lead you further into the countryside. Follow Highway M6 for a while before switching to Highway P5, which will take you to your destination.
The journey to Tara Canyon can be confusing since you'll be changing roads frequently. Make sure you have a navigation device or GPS, and do not rely on your phone since mobile reception can be spotty in the more remote parts of Montenegro.
Guided tour to Tara Canyon from Kotor
A guided day excursion is the most convenient way to visit Tara Canyon. You will be picked up from your accommodation in Kotor and dropped off there after the tour. Tours usually include some type of adventure sport, hikes or free time in nature.
How much does the entrance ticket to Tara Canyon cost?
Since Tara Canyon is part of the Durmitor National Park, you have to pay the entrance fee for the whole park to see the canyon.
Luckily, a one-day ticket costs only €3 per person, so a trip here won't break the bank. A three-day ticket costs €6 and, for those who want to stay longer, there is also a seven-day ticket available for €12 per person.
What is the typical itinerary of a day tour to Tara Canyon from Kotor?
A day trip to Tara Canyon usually starts with group members being picked up from their hotels. Once you are on your way, it takes only a few minutes to drive to the first photo stop along the coast.
Here you can see the two islands, Our Lady of the Rocks and Saint George. Our Lady of the Rock is a tiny island with a Catholic church, while Saint George is home to a historic monastery. Both can be admired from the coast of Kotor and make for a great photo subject.
The jaunt to Tara Canyon continues to the small town of Risan, from where you have a great view of the coast and the sea. Your group will stop briefly to take photos before moving on to more attractions.
The second-largest city in Montenegro, Nikšić, is the next stop. Here you can visit an artificial salt lake and enjoy a brief walk around the area. Your group will have breakfast in a traditional restaurant with delicious local specialties.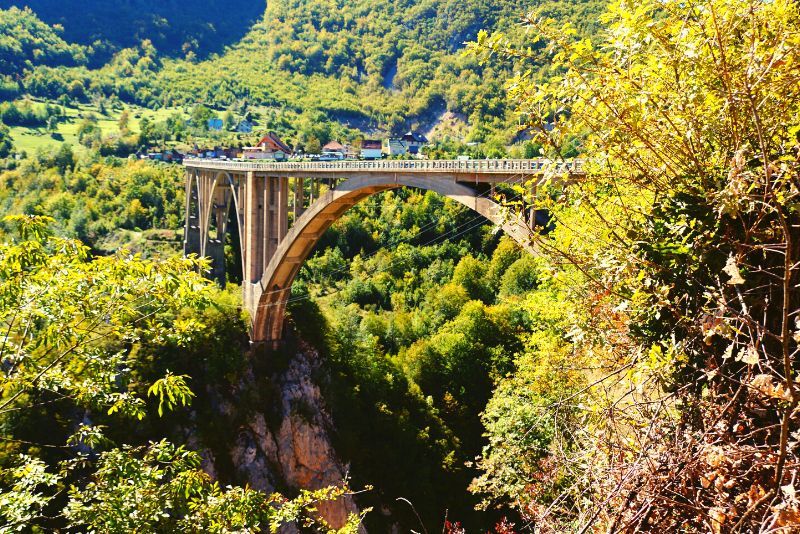 Now the tour will finally head towards Durmitor National Park. The first stop is Đurđevića Tara Bridge. Built in 1940, the 172-meter high and 365-meter long landmark is Europe's tallest bridge.
After taking some photos at the bridge, the tour heads to the famous Black Lake in Durmitor National Park, located at 1,500 meters. The 4-kilometer hike around the lake is full of breathtaking vistas and will leave you fascinated by the beauty of Montenegro.
Finally, the Tara Canyon excursion goes on to the town of Žabljak, situated at an altitude of 1,450 meters, where it is time for a relaxing lunch break. Visit a Montenegrin restaurant to try some delicious local food and drinks, and regain your energy for the last part of the tour.

After lunch, the tour guide leads the group to the Ostrog Monastery, often considered the highlight of a trip to Tara Canyon. A steep road zigzags up the mountain, but the strenuous climb is worth it. At the top, visitors can enjoy the sunset with a magical view over Tara Canyon before beginning the journey back to Kotor.
What kinds of tours are available to go to Tara Canyon?
There are several day tours available to visit the Tara Canyon in Montenegro. Depending on the tour, they mostly include several stops on the way to the Durmitor National Park, where the canyon is located.

In addition, there are also some white water rafting tours at Tara Canyon that you could participate in instead of a typical excursion day tour.
Guided tours to Tara Canyon from Kotor
A guided day tour to Tara Canyon is the best choice for travelers who want to see as much of Durmitor National Park as possible without having to spend a lot of time on planning.
These tours usually include round trip transportation from Kotor and an English-speaking guide.
Rafting tour to Tara Canyon from Kotor
Instead of exploring the nature around Tara Canyon on foot, visitors can also book a rafting day trip and experience the national park from the water. Rafting tours are an exciting choice for those looking for an adrenaline boost.
As with most tours, round-trip transportation from and to Kotor is included. Rafting tours in Tara Canyon usually stop for lunch in a traditional Montenegrin restaurant to make sure everyone has enough energy for an action-packed day.
2-Day tour to Tara Canyon from Kotor
A 2-day white water rafting tour at Tara Canyon is suitable for ultimate adrenaline junkies. The price includes all meals and accommodation for one night in a bungalow in Šćepan Polje.
Participants will be picked up from Kotor and brought back at the end of the tour.
How much does a tour to Tara Canyon from Kotor cost?
Depending on the type of day tour to the Tara Canyon, prices can differ significantly. A standard guided tour with a duration of about eight hours starts at €54 and can cost up to €174 per person, depending on the itinerary.

For a one-day rafting jaunt in Tara Canyon, visitors have to budget at least €84 per person. Prices for similar tours can also go as high as €200 with food and drinks included. Private group tours start at €340 per group.

A two-day rafting trip at Tara Canyon starts at €205 per person, with accommodation and meals provided.
What will you see and do in Tara Canyon?
There is an extensive list of things to do and see at Tara Canyon. The Durmitor National Park has 25 marked hiking trails with a total length of over 150 kilometers — making it the perfect place for those who love to spend time outdoors.
The trails are categorized according to their difficulty level so that even inexperienced hikers can enjoy a day here.
In Savin Kuk, you can spend the day at a climbing park which is suitable for the whole family. The entrance fee is only €7 per person, so this is the perfect budget-friendly activity.

There are three different zip lines of varying lengths across Tara Canyon and the national park. Flying through the air above the impressive gorges is an unforgettable experience and a must-do.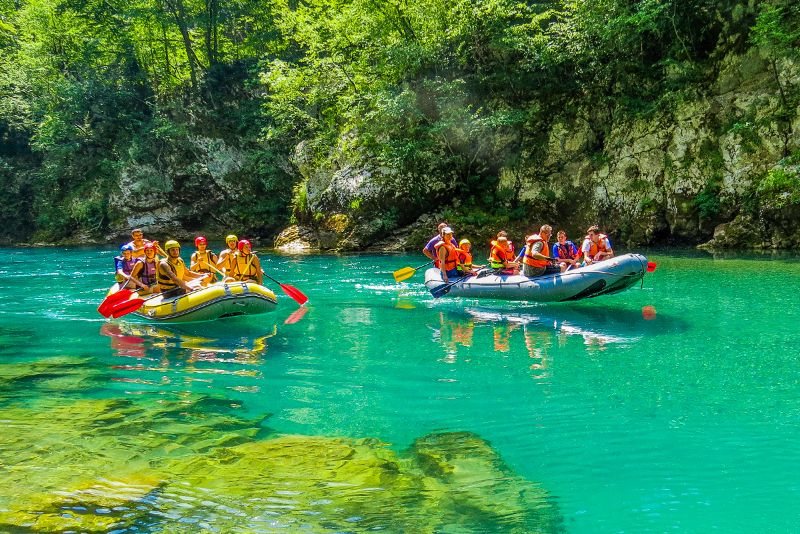 Rafting is one of the most exciting activities at Tara Canyon and is popular with larger tour groups. Join a day excursion to make the most of your rafting experience at Tara Canyon.
In addition to the Black Lake, there are an additional 18 natural lakes located around Tara Canyon. This is where most visitors go to cool off from the midday heat, so don't forget to pack your swimsuit.
What are the opening times?
The Durmitor National Park is open daily from 9 AM to 5 PM.
When is the best time to visit Tara Canyon?
You should visit Tara Canyon during the summer when the local water temperatures rise to a refreshing 19 degrees Celsius. Enjoy sunny days and beautiful views of the canyon and national park during this time.
In winter, it is possible to ski in Durmitor National Park. Temperatures in the lakes drop as low as 4 degrees Celsius, although some brave visitors still like to swim.
Travel tips
Bring your camera. Tara Canyon is full of incredible views and you're guaranteed to snap some unforgettable photos during your journey through the national park.
Don't forget to bring cash to purchase drinks and lunch. Not all places will accept credit cards.
Bring an action cam when white water rafting to get the best shots. Your rafting company might also have some available for rent.
Bring your bathing suit, a towel, sunscreen and a set of spare clothes. You can go for a refreshing swim in the various lakes of the national park and Tara Canyon.
Wear sturdy and comfortable shoes. Tara Canyon is immense and you will be hiking a lot during your time in the park.