Enjoy an unforgettable experience exploring unique caves, picturesque beaches and idyllic towns around Paxos — a small island in the Ionian Sea with landscapes and architecture that differs from the rest of Greece. It's located close to Corfu and only reachable via sea transfer.
Take a day trip to Paxos from Corfu for an opportunity to visit the famous Blue Caves and adventure hidden seaside and bays. Spend time strolling around the different areas and towns that make up Paxos.
Arrive home from your Greek vacation and tell all your friends about your day trip to Paxos from Corfu. Here's everything you need to know and plan.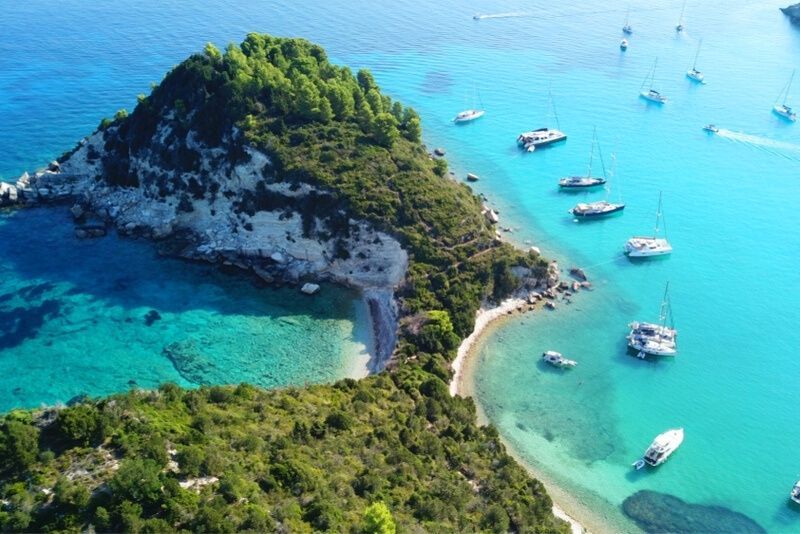 How to get to Paxos Island from Corfu?
Paxos is the closest island from the southmost part of Corfu and can only be accessed by sea.
From Corfu to Paxos by ferry
Head to the port in Corfu town or Lefkimmi district where ferries sail twice per day. After a 1.5-hour journey from Corfu to Paxos, you will land at the New Port in Gaios, the capital town of Paxos.
While you cannot drive from Corfu to Paxos, if you do wish to travel by private car, there is a ferry from Corfu to Paxos that leaves twice a day.
From Corfu to Paxos by sea taxi/private charter
There are private sea taxis that travel directly to Paxos from Corfu daily and are suitable for small groups. It's a one-hour journey, departing from the port in Corfu town. Stop at your location of choice in Paxos like Gaios, Loggos or Lakka.
Guided tour to Paxos from Corfu
Enjoy a guided tour to Paxos that stop off in Antipaxos. You will be picked up from your hotel in Corfu, or you can head straight to the meeting point in Corfu town or Lefkimmi Port. Coach transfers are also available from your hotel to the meeting point.
What is the typical itinerary of a day tour to Paxos Island from Corfu?
Your Paxos excursion sets sail from two spots on Corfu island, or a private transfer can be arranged to bring you to the departing boat/yacht. You'll spend most of the day on the water, as you swim, snorkel and cruise from Corfu to Paxos.
As you leave the mainland, you'll drift by Corfu Old Town on the water's edge, and veer past the Venetian-era Fortress. Along the journey, enjoy the sight of wine vineyards and olive groves that characterize the region, as well as tiny Grecian villages.  
In Paxos, explore the Lakka Village and discover its beaches. After lunch, enter the famous Blue Caves by boat and jump into the waters for a swim and cool down.
Marvel at the white cliffs at Erimitis Beach and then stop off in Paradise, formally known as Voutoumi Beach, in Antipaxos for swimming and snorkeling adventures. As the afternoon sun dips, head back to Corfu taking in more views, including the Mongonisi Island.
What kinds of tours are available to go to Paxos Island?
Day Trip to Paxos plus Antipaxos from Corfu
Depart from Corfu and explore its neighboring islands, stopping off at the seaside village, Gaios, in Paxos. Sail through the famous Blue Caves and anchor off in Antipaxos to spend time snorkeling, swimming and tanning on Voutoumi Beach. Free time is included for shopping and exploring.
You have the option of booking a hotel pick up and drop off in Corfu.
Private boat tour to Paxos plus Antipaxos and Agios Saranda from Corfu
Take a day around the north of Corfu and the surrounding islands via a luxury speedboat. Visit must-see sites such as the Blue Caves in Paxos and other interesting locations in this part of Corfu.

The cruise includes a stop at Sivota's Blue Lagoon Beach in Epirus, crossing borders to Agios Saranda in Albania to visit the World UNESCO site, Butrint. The final stretch ends at Mouse Island. Heading back to Corfu on the waters, pass by ancient Vidos Island and the Old Fortress of Corfu.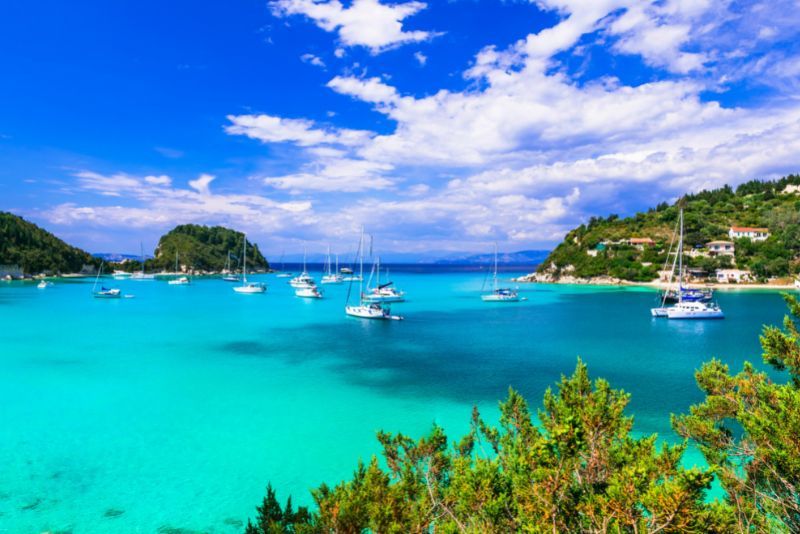 Day tour to Paxos plus Parga from Corfu
Stay dry and explore not one but two picturesque coastal towns when day touring from Corfu to Paxos and Parga. Anchoring at Parga, wander the stone streets surrounded by the ocean and take photos of the colorful pastel Grecian buildings, tavernas and homes. Hop back on the boat and visit Paxos for a few hours. Depart back to Corfu.
2-Day private sailing cruises to Paxos plus Antipaxos from Corfu
Spend two days out at sea sailing around Corfu, Paxos and Antipaxos on a skippered private yacht. On your two-day journey from Corfu, visit all must-see islands and attractions only reachable via boat. The yacht has everything you need for a comfortable night's stay.
3-Day tour to Paxos plus Antipaxos from Corfu
Make sure you really get your fill of each island when you spend a three-day tour to Paxos and its neighbors.
On Day 1, leave Corfu's mainland and onto the waters for Paxos. Landing in the capital Gaios, you have the entire day to discover the city's hidden streetways and different districts. Enjoy a round of shopping and eating, and spend the night there.
Day 2 is spent out at sea, sailing around Paxos and Antipaxos, and enjoying the sites and attractions. Head back to Lakka Village in Paxos for the second night.
On the last day, you'll cruise around the rest of Paxos, before making your way back to Corfu.
Half-day Scuba Diving expedition to Paxos from Corfu
There are different scuba diving excursions in Paxos offered for both beginners and professionals. Beginners can take their first class, learn how to dive and enjoy one dive out at sea. Seasoned professionals are taken out for deep-sea exploration.
For something special, book a night dive. For these tours, you will meet at the diving center on Paxos Island. If you're not keen on scuba diving, but still want a professionally guided underwater experience, book a snorkel tour instead.
How much does a tour to Paxos from Corfu cost?
Prices for a Paxos day trip vary depending on factors such as group size, number of stops and the length of your tour.
A shared day trip to Paxos from Corfu costs between €34 and €44 per person. Prices change depending on the places that you pass by and visit. For example, some tours are direct cruises to Paxos and its surroundings.
One, 2- and 3-day cruises on luxury yachts, speedboats and the like cost between €1,500 and €2,950 for the entire private experience.
Specialized tours to Paxos like a scuba diving expedition cost around €80 per person.
What will you see and do in Paxos?
Other than the endless water activities to enjoy around Paxos, there are other sights and things to do.
Gaios
Visit, stay, eat and explore around Gaios, taking in the local scenes of the main town of Paxos. Head to the pretty waterfront where yachts anchor themselves and snap loads of photos. Check out the town's main square and don't miss Analipso Church.
Loggos
Head 15 minutes from Gaios and discover another Paxos town, Loggos. Admire the houses and experience the restaurants and shops built around its harbor. Locals call it Longos and it's also referred to as "Little Paxos."
Lakka
At the famous Lakka Village, discover its beaches and blue caves, as well as several dining and drinking options on land.
Agios Nikolaos Castle
First built in the 15th century, explore the small island, Agios Nikolaos, which can be reached by boat only. Home to an abandoned castle, explore the historic architecture, watchtower and two churches.  
Folklore Museum of Paxos
Founded in 1996 and housed in an original 1906 building, the museum exhibits tools, instruments, utensils, books and photographs that celebrate Corfu's ancient folklore.
Cisterns of Sarakinos
Travel to Boikatika village and visit the underground water storage reservoirs, known as the Cisterns of Sarakinos or "Bouloukou." They are built out of carved stone.
Pythias Gallery
Pick up some artworks inspired by the island of Paxos or handmade jewelry designed by a Scottish designer and artist.
Paxos beaches
You're spoiled for choice when it comes to beach days on Paxos. Visit popular beaches like Ermitis Bay and Mongonissi. There are more than 15 beaches with something different to offer travelers.
Some are more secluded while others are ideal for families. Popular choices include Kloni Gouli Beach, Harami Beach, Monodendri Beach, Kipiadi Beach, Giannas Beach and more.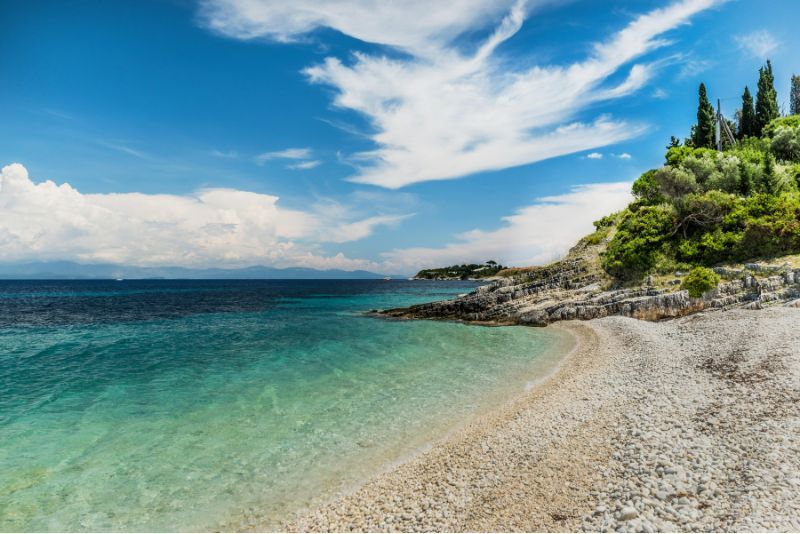 When is the best time to visit Paxos?
Paxos is open to visitors all year round, but the spring and summer months are the busiest, thanks to the very warm temperatures.
Travel tips
Carry strong sunscreen, a sun hat, sunglasses and all other sun-protective gear, as well as swimming attire and towels.
Make sure to have a waterproof cover for your phone/camera, as you'll be on the water.
Bring enough drinking water and snacks, as well as money for dining or shopping.
Children must be accompanied by an adult all time.