Showing off light blue, crystal clear waters, Blue Lagoon near Corfu is an ocean paradise. Located within the sleepy village of Sivota (also known as Syvota), Blue Lagoon is famous for its uniquely colored waters unlike most places in Greece.

Spend your day snorkeling the see-through underwater world and swimming around the white-washed caves that you see on every Greek postcard. Enjoy a day tour to Blue Lagoon from Corfu and also stop off at local villages, exploring pastel-shaded homes and Venetian architecture.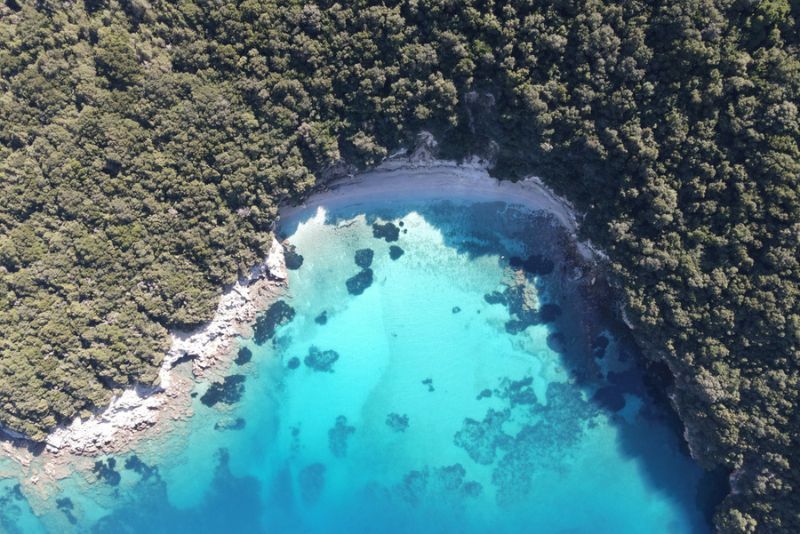 How to get to Blue Lagoon from Corfu?
Pisina Beach, more commonly known as Blue Lagoon, is located in Sivota village, but most day trips enter the famous bay from the waters. Sivota is found on Greece's northwest coastline near Epirus. If looking at a map, you can find Sivota sitting directly opposite Corfu's southern tip in the Ionian Sea.
From Corfu to Blue Lagoon by private car
You can travel by private car from Corfu to Blue Lagoon, but you will need to first take a 1.5-hour car ferry from Corfu's port to Igoumenitsa town. From here, drive 30 minutes from Igoumenitsa to Sivota. Once in Sivota town, drive to the Blue Lagoon.
From Corfu to Blue Lagoon by bus/public transport
Start at Corfu Port in Corfu town and catch a public ferry to Igoumenitsa which takes 1.5 hours. Once off the ferry, you can catch a local bus from Igoumenitsa to Sivota.
Buses run three times per day and return to Igoumenitsa from Sivota. If you prefer, there are also taxis that run from Igoumenitsa to Sivota and Blue Lagoon.
From Corfu to Blue Lagoon by private boat
You can charter your own private boat from Corfu to Blue Lagoon and you will be charged by the hour. Boats for hire depart from Corfu Port.
Guided tour to Blue Lagoon from Corfu
Enjoy a guided boat tour from Corfu to Blue Lagoon with everything taken care of. Your morning starts with a pickup from your accommodation (booking required), or meeting at a departure point in Corfu. Your journey to Blue Lagoon begins at around 8:30 AM.
After a day tour to Blue Lagoon which includes visits to Sivota and Parga towns, you'll head back to Corfu and be dropped off at your accommodation (booking required).
What is the typical itinerary of a day tour to Blue Lagoon from Corfu?
Begin your day tour from Corfu to Blue Lagoon in the morning at the departure point in Corfu at Corfu Port or Lefkimmi Port. If you have pre-booked a pick-up transfer, a shuttle collects you from your accommodation to the departure point.
Leaving Corfu by boat, sail past the town's historical points of interest like the Old Fortress and Corfu Old Town. On the way to the Blue Lagoon, stop by Papanikolis cave for photo taking.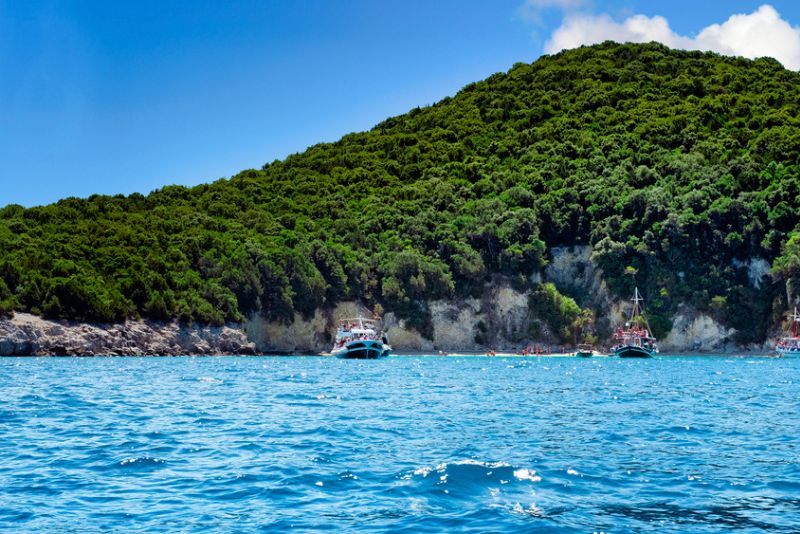 Arriving at Blue Lagoon, the boat anchors for an hour or so for snorkeling, swimming and exploring the beach. Enjoy a third beach stop, this time at Bella Vraka beach. On deck, feast with a local lunch and head to Sivota town. Explore the village, grab a coffee and do some souvenir shopping.
Some excursions to Blue Lagoon also include a stop in the postcard-perfect Parga town. It's famous for its Venetian architecture like colorful houses on the water and the 11th-century Parga Castle. Once you're done visiting local towns, head back to Corfu's mainland.
What kinds of tours are available to go to Blue Lagoon?
Day tours from Corfu to Blue Lagoon vary in pit stops and extras.
Day tour to Blue Lagoon plus Sivota and Parga from Corfu
Take advantage of a full day spent on the ocean surrounding Corfu, stopping at Blue Lagoon, historical caves, Bella Vraka beach and Sivota and/or Parga towns. The seven- to 10-hour day tour to Blue Lagoon includes stops for snorkeling, swimming and photo opportunities, as well as experienced and knowledgeable guides.
Some day trips will stop off in Sivota while others at both Sivota and Parga. Other tours skip the towns completely with more snorkel stops. Certain tours include a lunch buffet.
Private 4-Day cruise tour to Blue Lagoon plus Sivota and Paxos from Corfu
If one day is not sufficient to adventure Blue Lagoon and the surrounding areas, take a 4-Day trip from Corfu to Blue Lagoon, as well as to Sivota and Paxos.
On Day 1, board a luxury yacht in Corfu for sailing to Paxos Island and spend the night in Gaios. On Day 2, leave for Antipaxos, passing through the famous caves and beaches. Spend your second night at Lakka Village on Paxos.
On Day 3, set sail for Blue Lagoon and end the evening staying in Sivota town. On Day 4, head back to mainland Corfu and, en route, enjoy one last swim at Vido Island.
How much does a tour to Blue Lagoon from A cost?
A full-day journey to Blue Lagoon from Corfu costs between €36 and €60.

The price ranges depending on what is included in the day trip package. Some tours to Blue Lagoon include a buffet lunch and snacks, while others do not. Certain day tours are fully equipped, so guests don't have to worry about bringing snorkel gear. Trips that include all extras are closer to the €60 range.
If you are not worried about a budget and want to get fancy for a few days, a 4-Day private yacht charter costs €2,950.  
What will you see and do in Blue Lagoon?
Blue Lagoon itself is actually a beach, formally known as Pisina Beach, however, it is located in Sivota town (a part of Lefkada Island). Apart from hours spent snorkeling, swimming, working on your tan or reading at Blue Lagoon, you can check out other exceptional beaches nearby.
Must-see Beaches
Bella Vraka
Mega Ammos Beach
Mikri Ammos Beach
Zeri Beach
Mega Drafi Beach
Zavia Beach
Karvouno Beach
Mourtos Caves
Visit the magical sea cave with its hollowed-out entrance. The cave is often referred to as "The Mermaid's Cave" or the "Cave of Sivota."
When is the best time to visit Blue Lagoon?
For the best temperatures, the summer season is a great time for an excursion to Blue Lagoon from Corfu. The place could get busy during peak times.
Travel tips
Wear a strong SPF sunscreen, sunhat and sunglasses.
Bring swimming gear like swimsuit, goggles and a towel.
Make sure to have extra drinking water and snacks.
Bring some money.
Don't forget your camera!
It's better to have a waterproof mobile cover.
If you haven't booked a pickup from your hotel, arrive at the departing meeting point 10 - 15 minutes earlier than the scheduled departure time.