Enjoy a day tour to Antipaxos from Corfu to discover tranquil beaches, rich marine life and beautiful vineyards. This small island in western Greece, three kilometers south of Paxos, has become a popular destination for tourists looking for peace and a quiet atmosphere.
Other than it's post-card worthy shorelines, Antipaxos is famous for its wines. Head inland and explore the grape vines, as well as olive vineyards too.
Depending on where you are staying, there are various ways to day-tour to Antipaxos. Here is some useful information to know before your Antipaxos excursion from Corfu.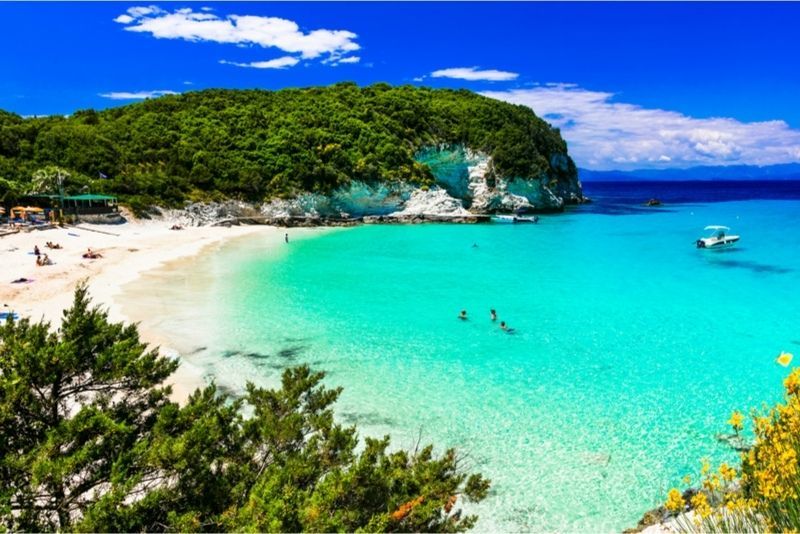 How to get to Antipaxos Island from Corfu?
The easiest way to reach Antipaxos is via Corfu.  The distance from Corfu to Antipaxos is about 60 kilometers.
From Corfu to Antipaxos by ferry
Head to either the port in Corfu Town or Lefkimmi District where ferries depart twice daily. The journey takes up to 1.5 hours and stops in Paxos, where you will catch a private transfer to Antipaxos. Antipaxos is 3 kilometers from Paxos.
From Corfu to Antipaxos by sea taxi
You can organize a private sea taxi transfer, like a yacht charter for your day tour to Antipaxos from Corfu. Catch a taxi or walk to the port in Corfu Town and depart from here.
From Paxos to Antipaxos by sea taxi
The easiest way to reach Antipaxos is if you're already staying on Paxos where sea taxis run multiple times a day. At Paxos, you'll depart from Gaios harbor and the journey from Paxos to Antipaxos is 15 minutes.
Guided tour to Antipaxos from Corfu
Enjoy an Antipaxos day trip from Corfu with a stop off to explore Paxos. You will be picked up from your hotel or you can head straight to the meeting point at either Corfu town or Lefkimmi Port.
If you've organized a pickup service, a coach bus will transfer you to the meeting point. The ride can take from 20 to 90 minutes depending on the number of stops along the way.
How much does the entrance ticket to Antipaxos Island cost?
Like on most of the islands in Greece, you won't need to pay an entrance fee to stop off here for the day.
But, take note, you may want to bring some extra cash along for expenses like beach umbrellas and loungers which you can hire out for the day.
What is the typical itinerary of a day tour to Antipaxos Island from Corfu?
Starting the day, head to the central meeting point either at Corfu or Lefkimmi Port. If you have booked a pickup service, a private coach will collect you from your hotel.
Travel time to the port is between 20 to 90 minutes, depending on how many pickup stops the driver has to make along the way to fetch other day-trippers.
After you depart the harbor, it's time for your first stop in Antipaxos. From the waters, pass by Corfu's Old Town, the Old Fortress Corfu and Mon Repos Palace. Sailing past the white cliffs of Erimitis Bay Beach, you'll make your first stop off at Lakka Village.
Once done wandering the local town streets, hit the seas again and head inside the historical Blue Caves. From here, enjoy an hour or so of swimming and snorkeling at world-famous beaches, like Voutoumi Beach.
Next, head to Paxos' capital town, Gaios for a round of shopping, eating and scouting the streets and buildings.
Finally, make your way back to Corfu, where you'll pass by tiny isles like Skaltsonisi and Mongonisi on the final journey home.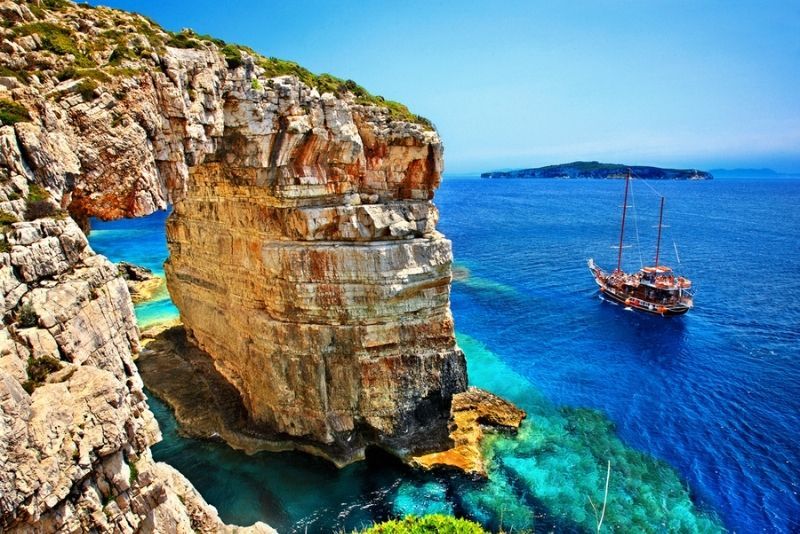 What kind of tours are available to go to Antipaxos Island?
Group Cruise to Antipaxos and Paxos from Corfu
Explore Corfu's neighboring islands, stopping off at the seaside village, Gaios, in Paxos, and the famous Blue Caves. Jump off in Antipaxos and spend some time on Voutoumi Beach. Free time is included for shopping and exploring.
Private boat tour to Paxos and Antipaxos from Corfu
Take a luxury cruise around the islands via speedboat and get the most out of your day tour to Antipaxos and Paxos. Discover not only must-see sites like Paxos' Blue Caves but visit other locations around Corfu.
The cruise includes a stop at Sivota's Blue Lagoon Beach, crossing borders to Agios Saranda in Albania, before finally ending at mythical Mouse Island. Along the way, you'll pass by ancient Vidos Island and the Old Fortress of Corfu which you can spot from out at sea.
2-Day private sailing cruises around Paxos and Antipaxos from Corfu
Opt to spend the next two days out at sea as you sail around Corfu, Antipaxos and Paxos on a private yacht, the epitome of luxury. It includes everything you need for a night's stay, plus all the extra bells and whistles.
How much does a tour to Antipaxos Island from Corfu cost?
Prices vary depending on the type of excursion you decide to book, whether it's a jaunt Antipaxos Island venture, or you've got a long journey planned.
On average, a shared day trip to Antipaxos from Corfu costs around €34 - €44 per person and the price depends on the stops you make along the way. For example, a day tour around Antipaxos and Paxos will cost slightly less than a full day of island hopping.
If booking a private yacht charter or speedboat, expect to pay more. One- or two-day cruises can cost up to €1,000 for the entire private experience.
What will you see and do in Antipaxos Island?
Thanks to its makeup, Antipaxos Island is filled with water activities and things to do, and just 4 kilometres long, it can be explored on foot in one day.  
Choose between Voutoumi and Rodovani Beach, and spend the day working on your tan, swimming and snorkeling the crystal clear waters.  
Many tours may include a scuba diving expedition, and the waters around here are filled with a booming marine life. This also makes it a popular place for fishing.
Although mostly uninhabited, the island has a few local tavernas (restaurants) to dine at for fresh seafood and authentic Greek delights. These include Bella Vista, Spyros, and the Beach Bar and Restaurant Voutoumi.
Surrounded by a lush forest, explore inland where you'll spot many vineyards along the way too.
When is the best time to visit Antipaxos Island?
Antipaxos is open all year round, but naturally, during the spring and summer months, the island receives  the most number of visitors.
During these seasons, your Antipaxos Island day trips from Corfu will be filled with ocean dips in warm waters and long balmy nights with sunset around 9 PM.
Travel tips
To make your day tour to Antipaxos more comfortable, bring along a few extras.
A strong sunscreen
Sun hat, sunglasses and any other sun protective gear/clothing
Swimming attire
A waterproof cover for your phone/camera, as you'll be on the water
Money
Drinking water and snacks