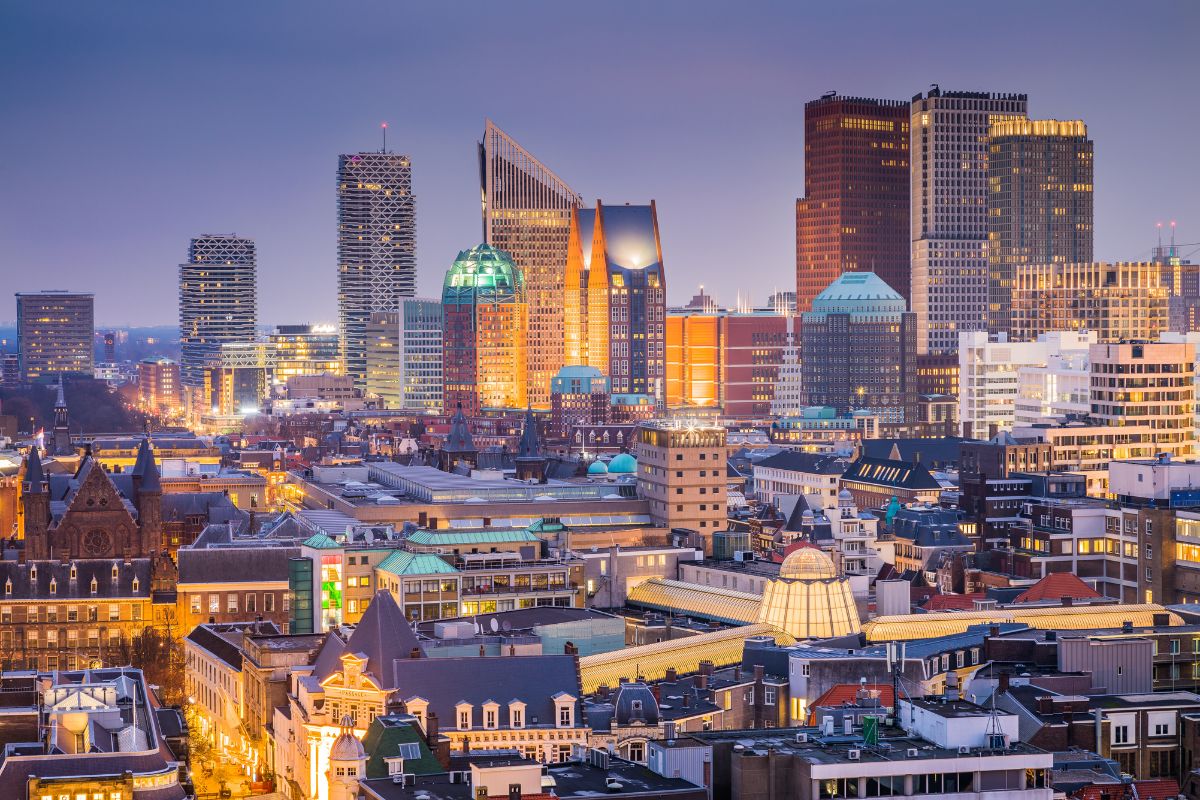 Super famous artwork… Royal castles… Antiquated churches visited by emperors and artists… And a gorgeous soft-sand beach.
It's not too often that a European city offers an overwhelming amount of art and historic architecture when there's a pretty shoreline on its doorstep — it's usually one, or the other.
Be that as it may, once you get a load of the amalgamation of things to do in The Hague, you'll be pleasantly surprised to learn that this important Dutch city boasts a mix of all three, with plenty of must-see attractions centered around each of these.
Well-known as a political hub of the country; many of the grand, centuries-old prestigious buildings now host parliament offices, some of which were once palaces!
Famed for its art galleries; gape over masterpieces in person (such as the 'Girl with a Pearl Earring') and visit quaint pottery towns like iconic Delft. Add to your cultural sightseeing agenda a trip to one of its legions of fascinating museums.
Feast on the freshest seafood down at Scheveningen Boulevard, enjoy high tea in the sky or learn a new skill whilst you're on vacation like how to surf!
Also known locally as Den Haag, the city is lively, but the smell of sea salt still always fills the air. It's a perfect destination for all sorts, whether you're after a romantic culture-infused weekend or a family-friendly getaway on the Netherlands' North Sea coastline.
1 – Gape over famous art at The Mauritshuis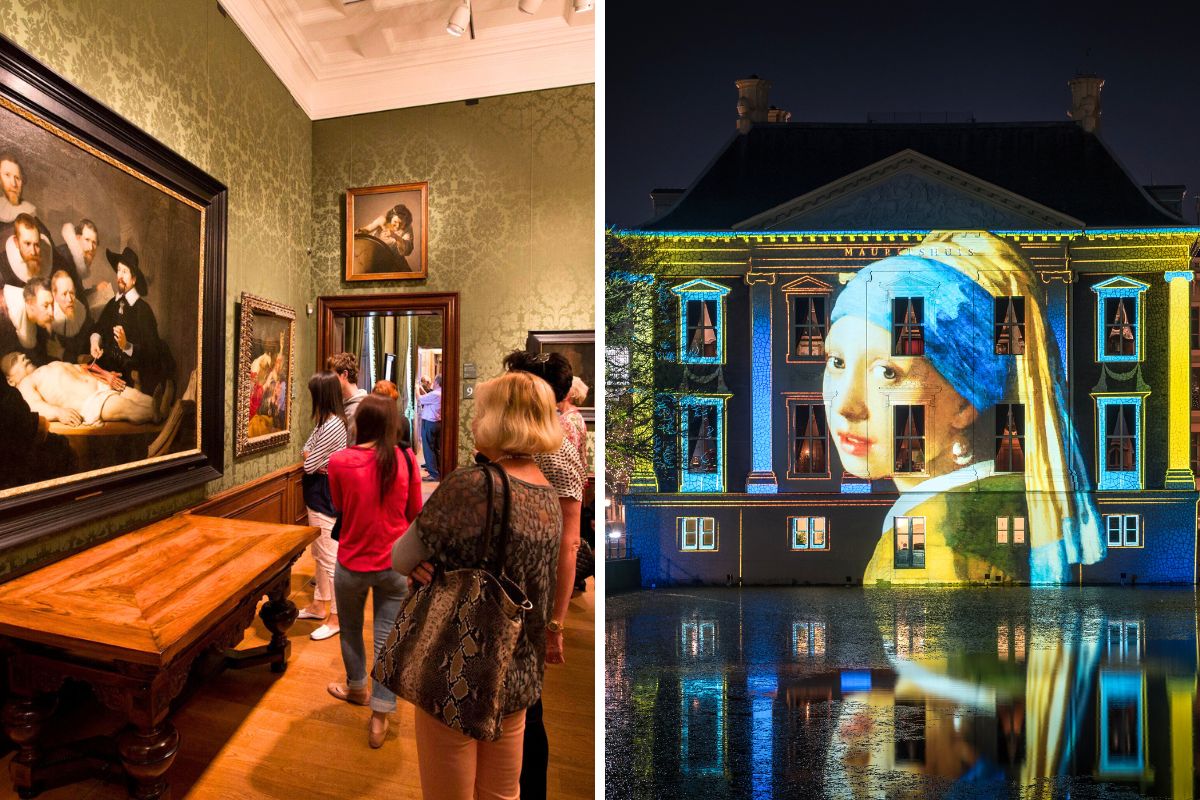 Art appreciators; we all have that one piece of work that has the ability to capture your heart and for many, it's the iconic Girl with a Pearl Earring by the Dutch Master, Johannes Vermeer.
If it's been on your Wish List for the longest of times, here's your chance to marvel at the painting up close and personal at The Mauritshuis.
Whilst it may not be the biggest art museum in the world, it wins over crowds with its impressive collections of Dutch and Flemish artists (predominantly from the 17th century), with over 250 artworks within its collection.
Speaking of, Rembrandt, Judith Leyster, Jan Steen, Peter Paul Rubens, Rachel Ruysch and Frans Hals are some of the other maestros with their art on display.
Among the portraits, landscapes and still lifes, there are also sculptural pieces, as well as furniture dating to the 1600 and 1700s.
Not only a place to marvel over some of the greatest art of the last centuries — cue Rembrandt's 'The Anatomy Lesson of Dr. Nicolaes Tulp' — but the gallery building itself dates back to the same time of the artists, constructed by 1644 by Count Johan Maurits (hence its name).
2 – Climb up The Hague Tower of the Grote Kerk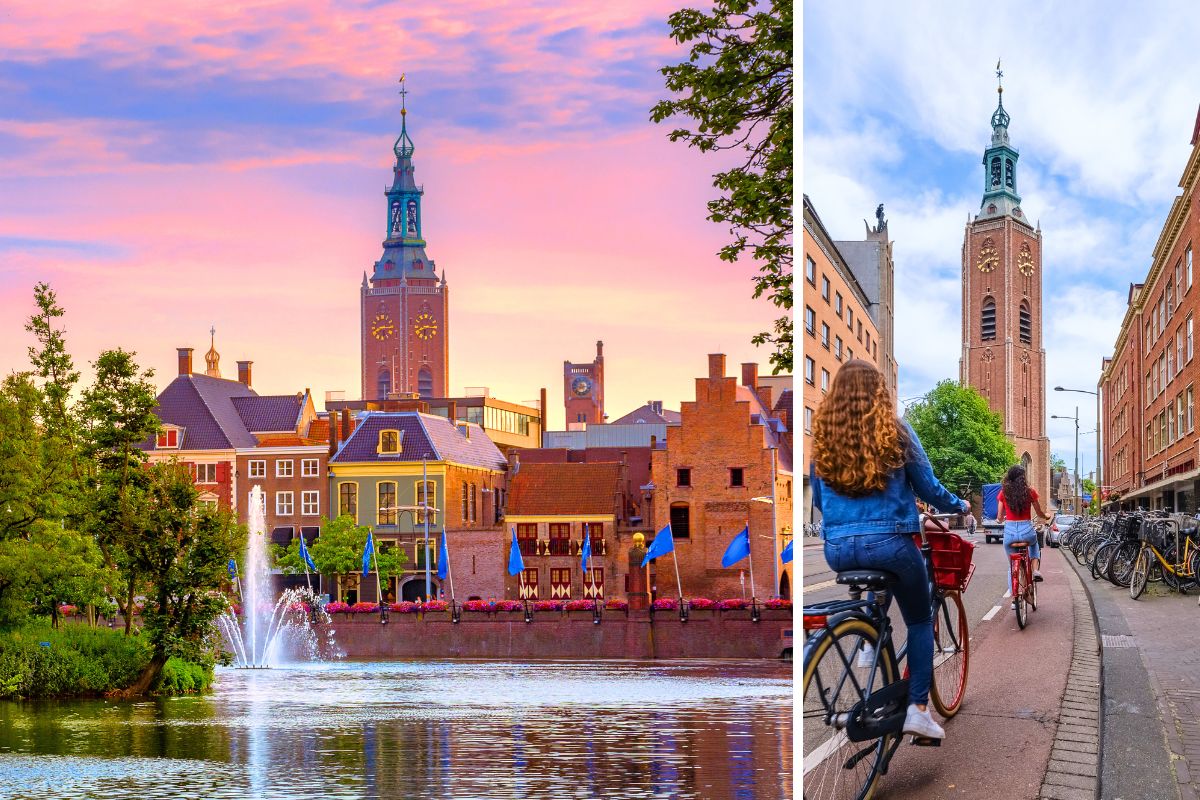 Follow in the footsteps of Van Gogh and Napoleon with a visit to the historic Grote Kerk (also known as Sint-Jacobskerk) and climb its 288 steps to the top of The Hague Tower.
The original construction of the place of worship began back in the year 1256 when first, all that was built was a wooden chapel. By 1335, a small stone church was envisioned and work began, and between 1420 and 1424, its famed hexagon-shaped tower was erected.
In the next 50 years that followed, the Van Assendelft chapel and the high choir were added.
Circa the 20th century, restoration efforts were made to the centuries-old structure, and today, climbing up the Hague Tower (as it became affectionately known and catapulted into a symbol of Den Haag) is well-favored by the tourist crowds… especially for its insane views of the city!
As you amble up the 92-meter-tall structure, learn interesting information about The Hague Tower as well as its church, like why it has a hexagon design and the different wars it endured.
3 – Grab a bird's eye view on the SkyView de Pier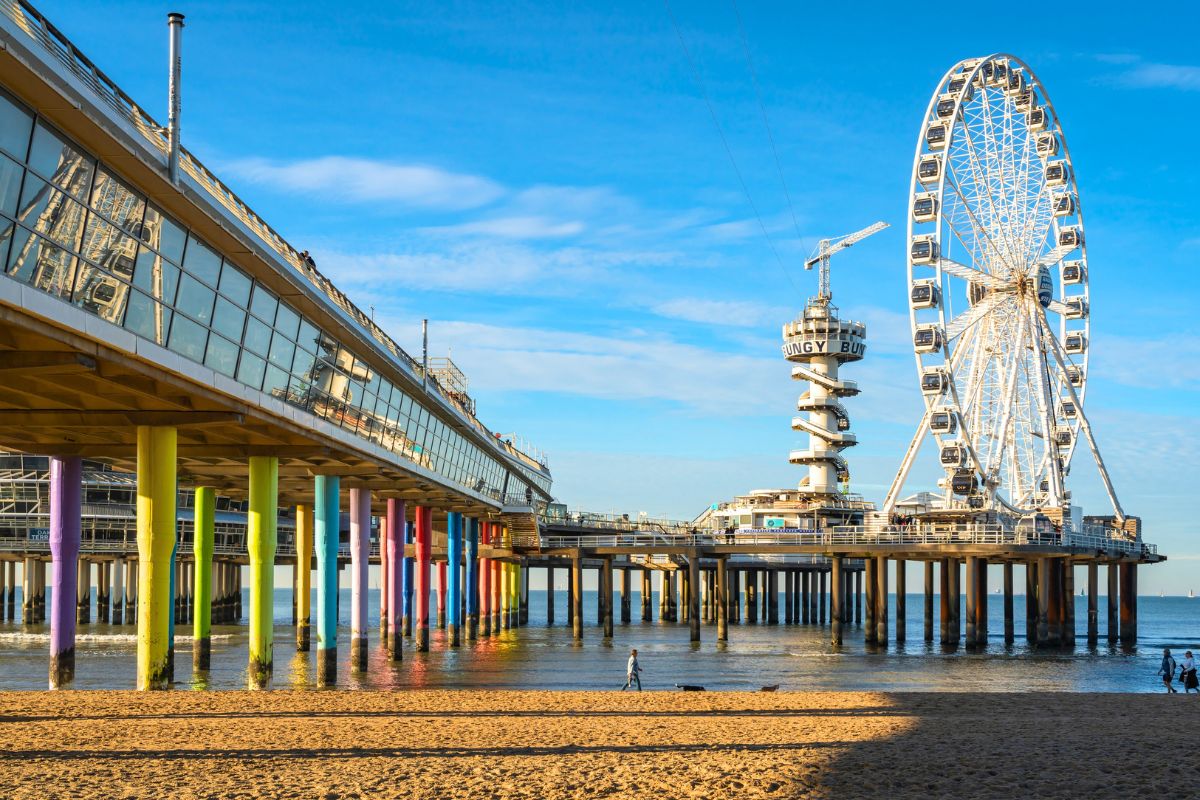 Swap city views for oceanic vistas and enjoy a leisurely ride on the SkyView de Pier gondola, swooping in a circle 50 meters above sea level.
Comfortably seated inside the enclosed cable cart, book out an entire private gondola if you're planning a special event, or, for another romantic touch there is an exclusive high tea where you can enjoy a pedestal of pastries, tea and a glass of prosecco!
(Booking in advance is essential and high tea is available from 12 PM to 4.30 PM only.)
Located on the seaside at the end of the pier along Scheveningen Boulevard, the wheel was constructed eight meters from the ground here (but reaches 50 meters at its highest point).
Zoot around a couple of times and lap up the views of the North Sea and rides last between 12 and 15 minutes.
Next to the SkyView is a terrace with a beach bar, and further along the boulevard discover more attractions like the outdoor sculptures known as SprookjesBeelden aan Zee, a weekend market and restaurants.
4 – Walk in the footsteps of the royals at Noordeinde Palace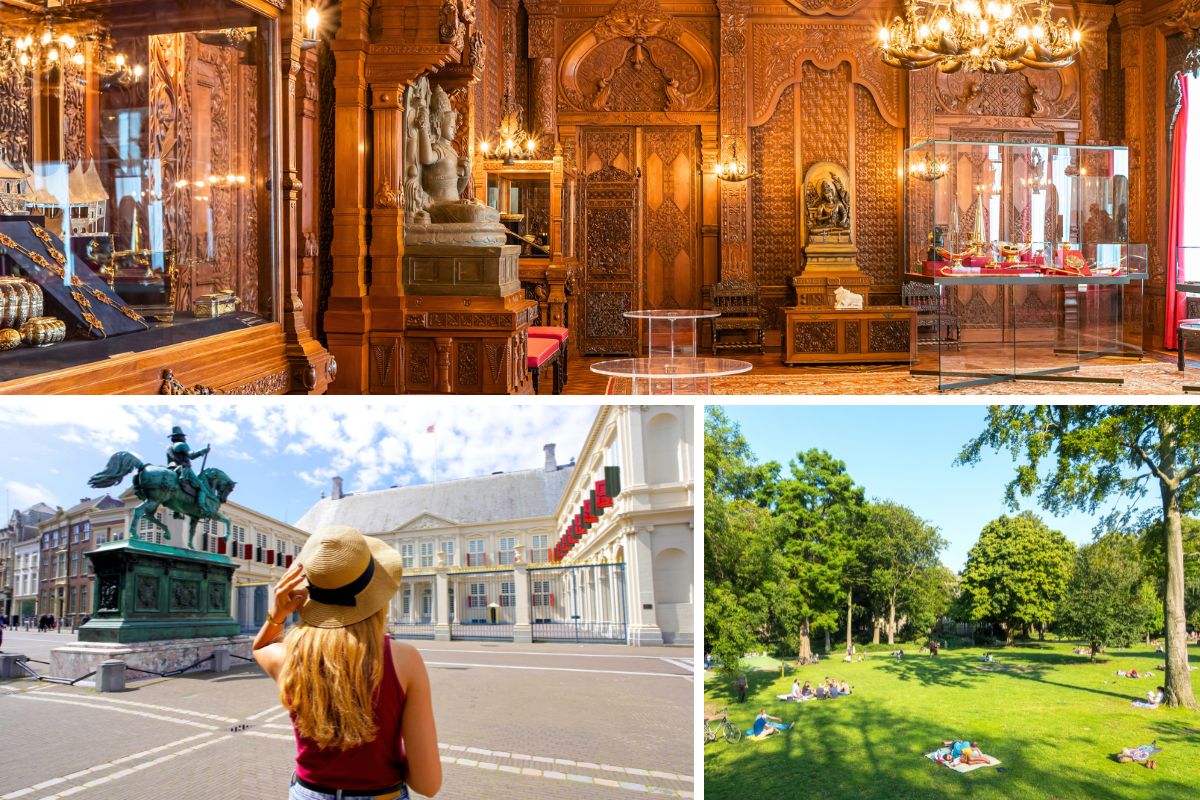 Pretend to be (Dutch) royalty meandering the hallways and seeking out the artwork inside the Noordeinde Palace — one of the three official residences of the Dutch Royal Family (two of which are located in The Hague, including Noordeinde).
Whilst the current king and queen (King Willem-Alexander and Queen Maxima) don't reside at this palace, it is utilized by the royal family for all work-related matters, state of affairs and other prestigious events.
As such, visitors are not allowed to enter inside Paleis Noordeinde, however, its Paleistuin, i.e. the Palace Garden, is open to the public.
Acting as a park, meander through perfectly manicured flower beds and hedges, and there is a pond and a few fountains inside which add to the regal feeling — plus, it's completely free to enter!
Looking for romantic things to do in The Hague? There are even a few vendors that have picnic baskets available, decked with light snacks and a bottle of wine.
Next door to the park is the Royal Stables and both make for super pretty pictures.
Gifted to the Royals in 1609, the Palace is a five to nine-minute drive from the royals' home, Huis Ten Bosch and the famous Mauritshuis is right in front (about four minutes away).
5 – Spend the day at the best museums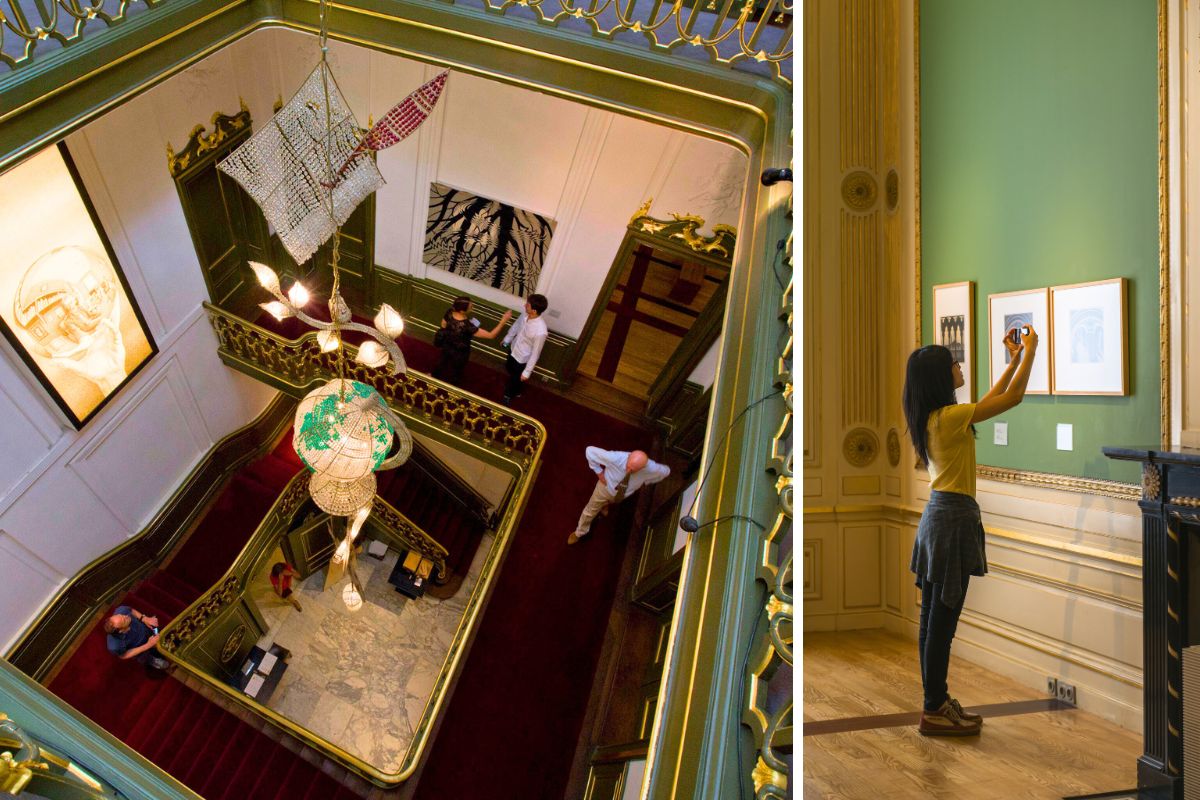 It's true Den Haag is well-known for its political institutes and favored for its seaside position, but the seemingly endless epic museums and galleries are a major draw-in for travelers!
Chronicle the life and works of Maurits Cornelis Escher at the Escher in Het Paleis. Spy over 125 of his works on full display, including his famous prints, and timelines pertaining to his life story. The museum building is also rather special — built in 1760, it was a former royal residence up until 1990.
Artists, art aficionados and scholars all have their personal favorite medium of choice. If yours happens to be sculptural works, head directly to the Museum Beelden aan Zee. Curation began in the 60s and today, it's a one-of-a-kind museum in the Netherlands, only showcasing contemporary international sculpture.
On the hunt for some big names? From Piet Mondrian (a major feature here) to Picasso to Kandinsky to Monet, the illustrious Kunstmuseum is an institute with an affinity for abstract art tenfold… and its art deco style building adds even more character.
Moving from your art museums to the more unique kind, the Louwman Museum shines a light on the automobile industry between the 19th and 20th centuries, exhibiting more than 275 cars.
Still a popular mode of transport throughout the country, step back in time at the Hague Public Transport Museum and scope 30 once-used trams from the years 1905 to 1993.
Retelling and capturing stories of the past, the Historical Museum of The Hague focuses on Den Haag's history via a showcasing of art, artifacts and other memorabilia.
As its name suggests, the Fotomuseum den Haag highlights photography art. Its displays comprise both current contemporary photography as well as photographs taken by some famous Dutch artists.
Explore a rather gruesome period at The Prison Gate Museum — located at the main gate of a former castle. Learn horrific stories and tales about the Torture Chamber and more… if you have the stomach for it!
6 – Explore the entire country at Madurodam Miniature Park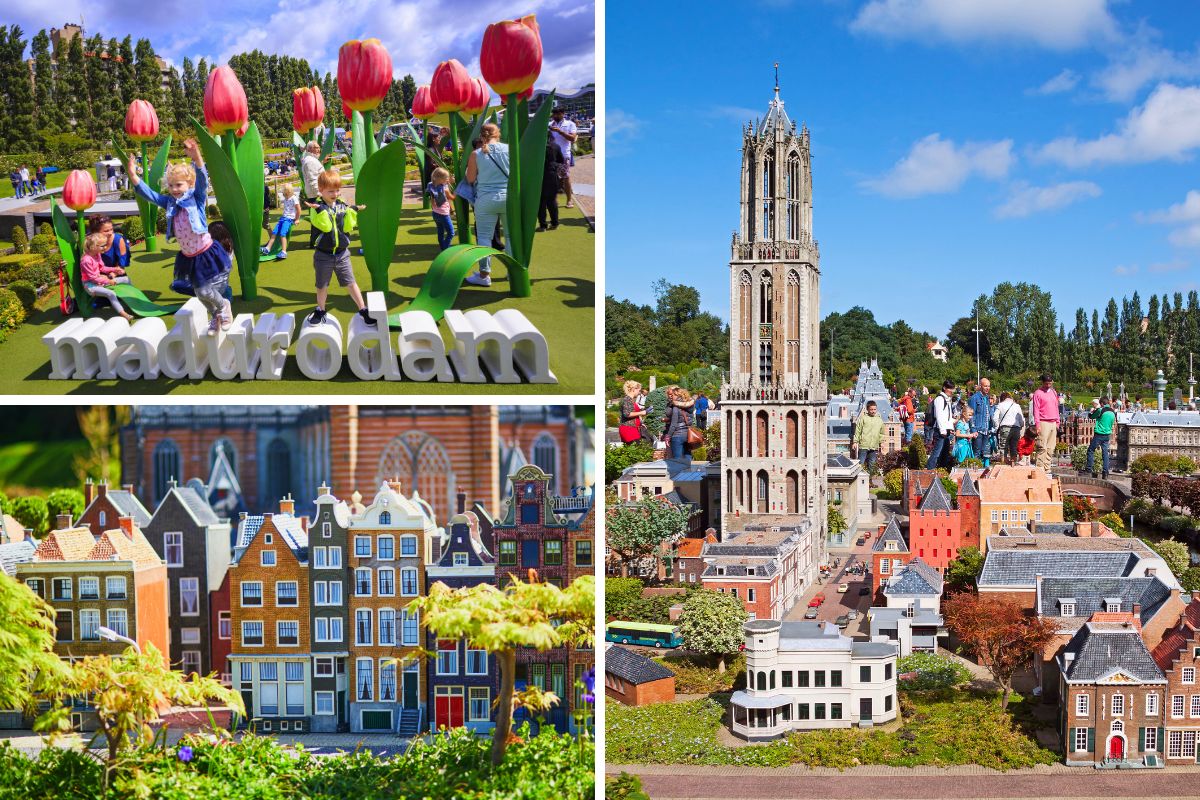 As much as we'd love to spend our lives traveling every single city in the world, most of us aren't afforded the time – hello, reality.
However, there is a way to "sightsee" the whole of the Netherlands in a few short hours and that's at the Madurodam Miniature Park — a replica of the country, just in mini-size form, on a scale of 1:25 to be exact!
Both adults and kids will love this attraction and the park is divided into various sections to make navigation easier.
Explore the capital city at 'Discover Amsterdam;' see the 15th-century town hall in Gouda, the Woudagemaal steam pumping station in Lemmer, St. John's Cathedral in Den Bosch, and more at the 'Architectural Highlights' section; unravel royal homes in 'Beautiful Palaces;' pretend to be a pilot at 'Fly over the Netherlands' and scope out the political epicenter at 'Discover Our Kingdom.'
Building and structural highlights to see include the Mills Kinderdijk, Church Westerkerk, Rijksmuseum, Anne Frank Museum, Amsterdam's 'De Jordaan' neighborhood, the Royal Palace (in The Hague), Dom Tower in Utrecht, Basilic Sint-Jan in Den Bosch and Peace Palace.
Apart from the miniature renditions, there are other interactive activities to get involved in.
Get cheese-lifting at 'Discover Dutch cheeses' or watch a show, for example, The Court of the Netherlands or Nieuw Amsterdam.
7 – Buy amazing pottery in Delft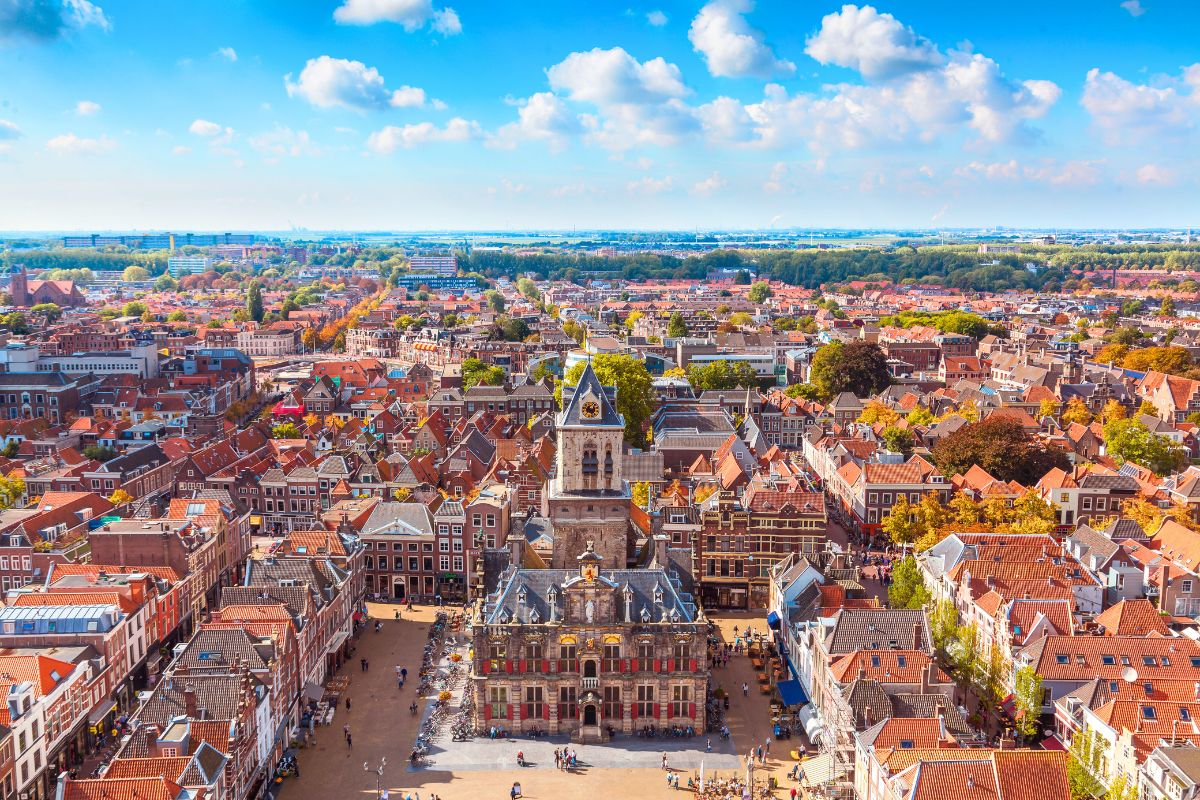 Ever spotted those fancy white and blue plates or pots at your grandparent's house or in a collector's store/gallery? Well, there's a name for the famous pottery, and depending on a few factors, some are worth thousands!
Whilst you're in The Hague, you can actually visit the town of Delft which is where Delft Blue earthenware originates from… visiting actual factories and shops that sell the products first-hand! The most famous is the Royal Delft.
Just short of 30 minutes from Den Haag, there are plenty more things to discover in the cute Dutch town. Walking tours are a great way to tick off landmarks and attractions in a short space of time, with a guide leading the way.
On another artsy note, Delft rose to fame in latter years as it served as the home to one of the most well-known painters from the Dutch Golden Age, Johannes Vermeer.
Listed among the top 10 technological and engineering universities in the world, the Delft University of Technology is also the biggest and oldest public technical varsity in the country. For the longest time, art, science and history have reigned supreme in this town!
Other must-visit sites and attractions include the Nieuwe Kerk, Oude Kerk, Prinsenhof, the Delft City Hall, the Delft Canals, the Vermeer Center and more.
8 – Tour one of the world's oldest parliament buildings, Binnenhof and Ridderzaal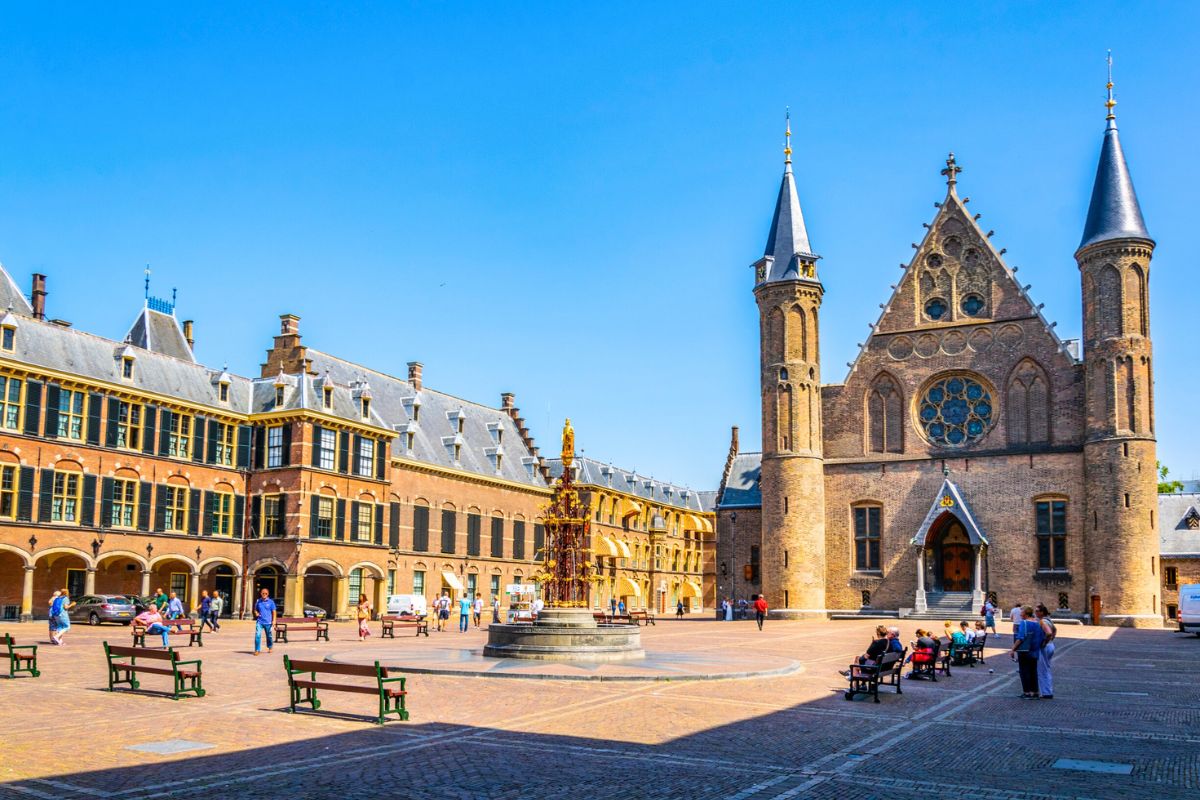 Straddling the Hofvijver and smack bang in the heart of The Hague, the Binnehof has certainly stood the test of time, and just thinking about the amount of historical events and important people that have walked through its doors over the centuries is enough to give one goosebumps.
Originally constructed as a castle in the Gothic architectural style of the 13th century, some 300 years later the complex became the country's political center where it has remained ever since.
(The Prime Minister's office is inside the Binnenhof and any matters relating to the States-General and Ministry of General Affairs happen here.)
Walk its ancient famed halls, rooms and various sections during guided tours, but certain parts of the political complex are closed off.
Mosey around the Ridderzaal also famously known as the 'Hall of Knights,' and look out for the King's throne. Within this inner courtyard be shown around the First Chamber of Parliament dating to the 17th century and the House of Representatives.
The buildings aren't the only striking features to investigate… Walk over to the Hofvijver, also known as the Court Pond (interestingly man-made) and take in the views, hunt down the neo-Gothic castle fountain, and then move outside the Binnehof to the Torentje dating to the 14th century (now the Prime Minister's office).
Important and useful to know; the Binnehof is currently undergoing renovations until 2026 and some offices have been relocated for now.
9 – Join the Hop-on Hop-off Tram Tour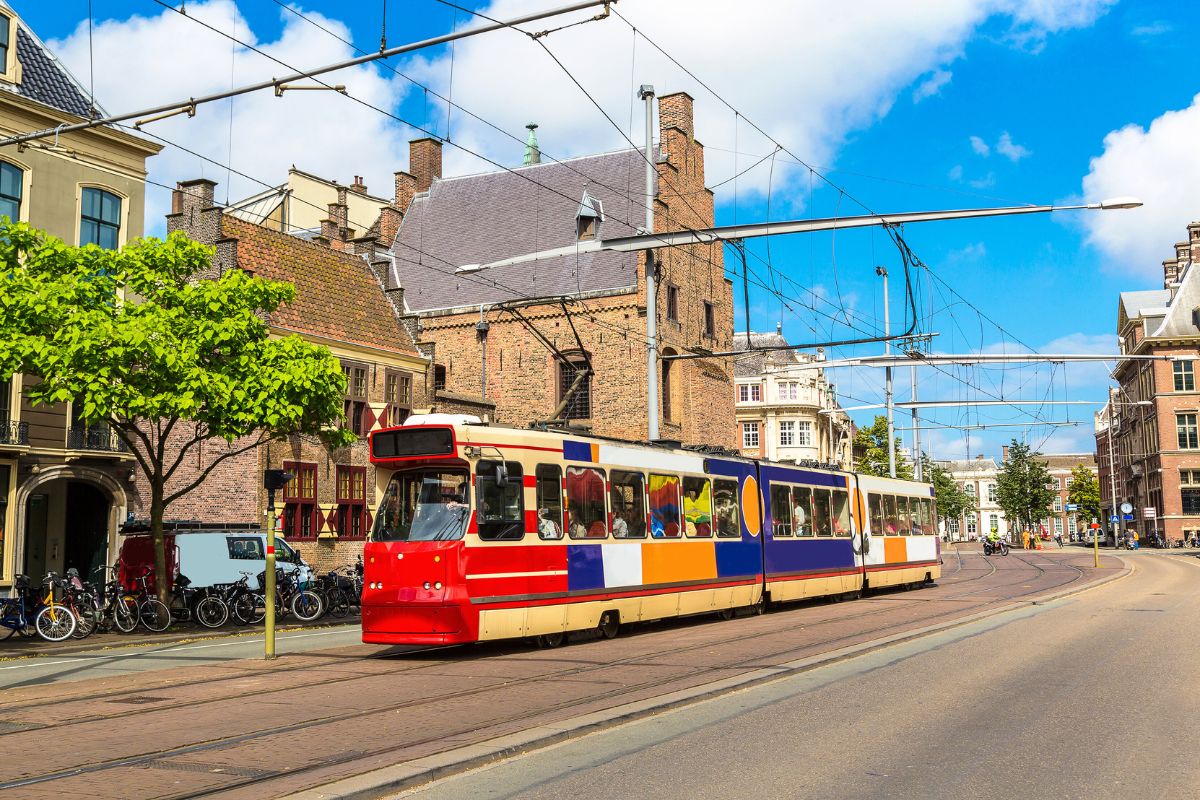 Chugging on for nearly 70 years, jump onboard the hop-on hop-off tram and get to tour the city at your own pace — plus save a few extra euros here and there on transport costs!
How does it work? Following a designated route around Den Haag, once you have purchased your tram ticket (either as a one-day or 48-hour pass), enjoy the freedom of moving from one hotspot to the next and jumping off the tram when you please.
Once you're done sightseeing a certain area, landmark or attraction, head to any of the tram's pickup points and board the iconic yellow rail vehicle without paying a cent again to ride the public transport.
You can do so as many times as you like throughout the day — or over two days if you've bought a 48-hour ticket.
The tram has a specific route that it follows, running between 10.15 AM and 5 PM. Move through Gravenstraat, Centrum, Centraal Station, Malieveld, Madurodam, Nieuwe Duinweg, Kurhaus, Zwarte Pad, Keizerstraat, World Forum, Vredespaleis, Mauritskade, Kneuterdijk and Kerkplein.
A few points of interest that you'll cover on this route are the Binnehof, Scheveningen, Peace Palace, the Old City Hall, the Children's Book Museum, the National Library of the Netherlands, among others.
This is an awesome way to check out the city, especially if your time is limited!
10 – Get onto the ice or snow at De Uithof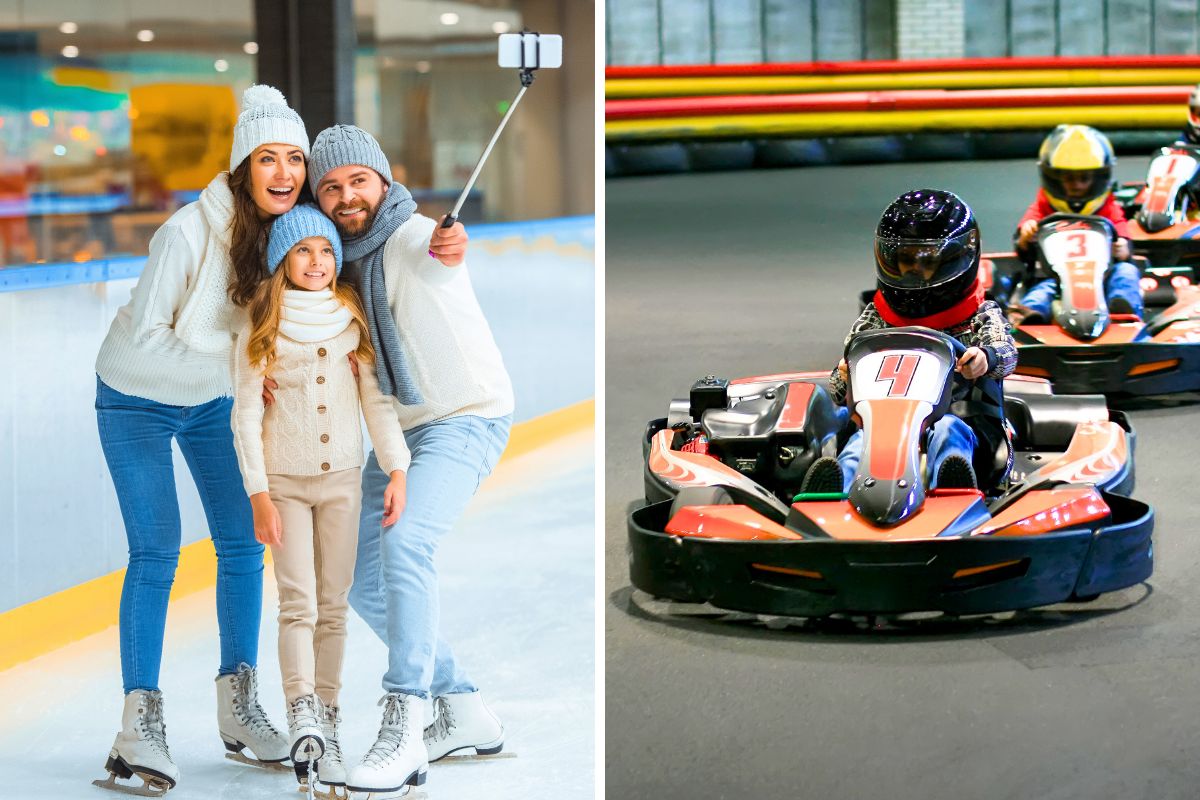 If you've ever visited the Netherlands in winter (even autumn), you'll know how bitterly cold the country can get, so it's no surprise to hear there are ice-skating and skiing options in The Hague. Having said that, it is a major city after all, so where are these activities possible you wonder?
Introducing De Uithof — an indoor ice rink and snow track that's been in operation since 1970!
On the rink, enjoy good ol' fashioned ice skating fun and there is a skating school here if you want to sharpen up your skills, as well as the IJSHockey Clinic.
Not only limited to skating, there are other super fun ice activities to try out like curling, classic Dutch games such as eisstockschiessen (ice stock sport), sledding, shuffleboard shooting and riding an ice bike, or challenge your friends to a hilarious match of bumperball.
Added to the ice rink in 2000, the snow track is where the skiing and snowboarding action kicks off! Here, discover a ski school, the freestyle park for the advanced and pros, or join one of the snow games, for example, ski runs, tug-of-war and relay races, and even get to go tubing!
Off the ice (and snow) there is more to try, so families usually have a blast at this adventure arena! From sumo wrestling to bungee soccer, archery, arrow tag, laser tag, karting and so much more, you'll probably want to spend the entire day here.
11 – Embark on a sightseeing boat tour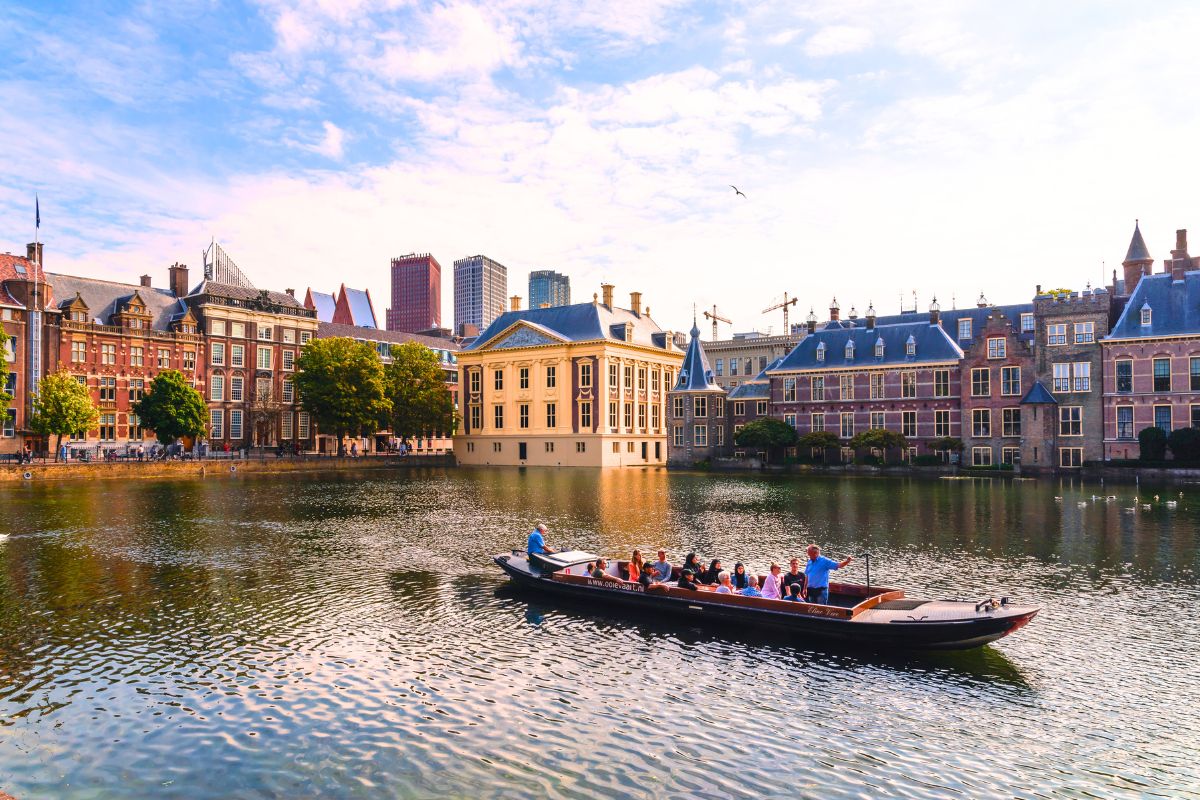 Both the canals and the beach in The Hague are treasured facets that make this city so special, and what better way to experience either water bodies than on a boat tour?
If you're keen on ambling along the canal systems, enjoy a 1.5-hour cruise through the man-made channels where you'll become educated on some local history, veering under 30-odd bridges.
Be steered through varying neighborhoods that showcase the different working classes of Den Haag.
Fascinatingly, the canals were constructed in the 17th century, but it was only from 1910 that the waterways were actually filled!
A second option is boat tours down at Scheveningen Beach where you can lap up the ocean views instead of the inner city.
12 – Stop to smell the roses at Clingendael Park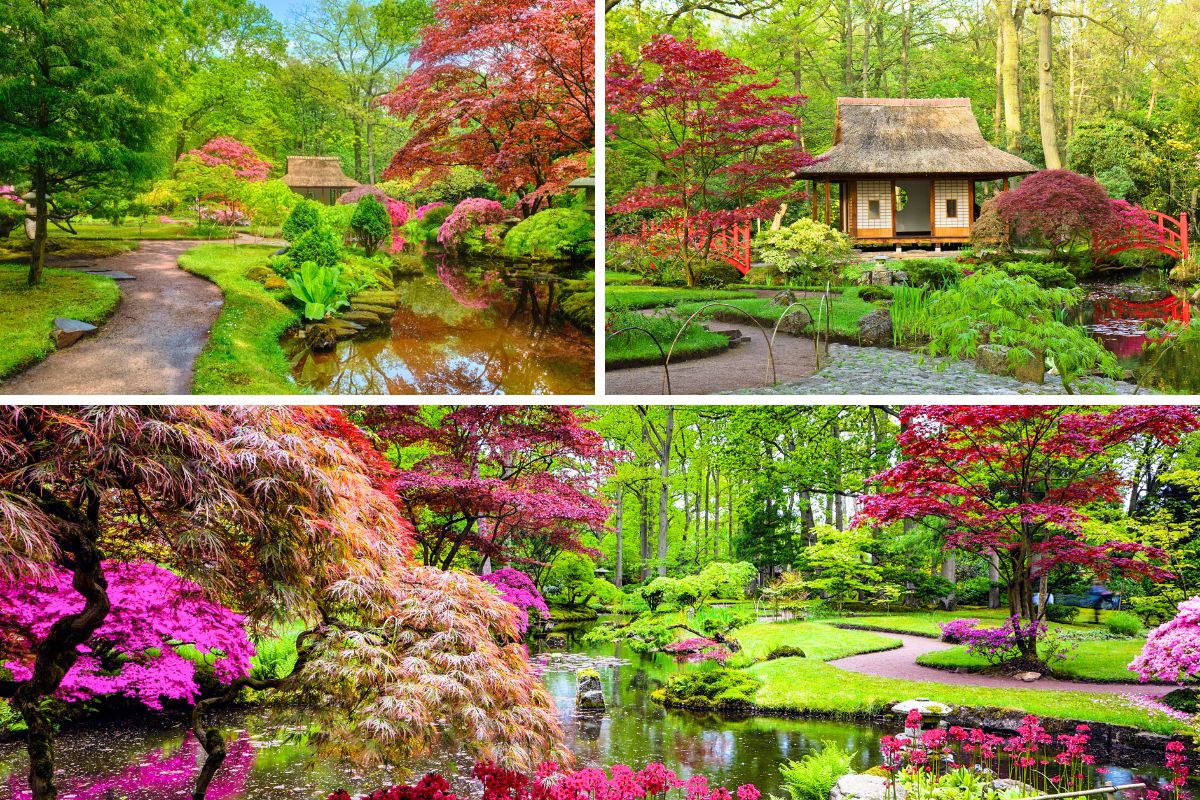 From French gardens to Japanese ones… Undergoing many different designs and add-ons since the original manor first popped into existence in the 16th century, Clingendael Park is one of the prettiest gardens in the city.
Plus, its interesting past makes it even more alluring… From the residence's time of inception, multiple amendments and additions have occurred to the property, particularly its gardens.
Starting out in a French design, the landscape was then manicured to suit the typical English gardens of the time. Later it was decided to convert the space into a traditional Dutch park — cue the box hedges and fruit trees.
Then, at the start of the 20th century, its famed Japanese Gardens were added to the park, with actual elements shipped in from Japan such as lanterns, sculptures, plants, water casks and even small bridges.
Fast forward to the 21st century and the Japanese Gardens remain — but important to know, they only open up for a few weeks every year in springtime when the cherry blossoms (i.e. sakura trees), azalea and rhododendron are in bloom.
Behind the house is a kids' playground, as well as a picturesque rose garden.
13 – Spruce up your social feeds at Youseum Westfield Mall of The Netherlands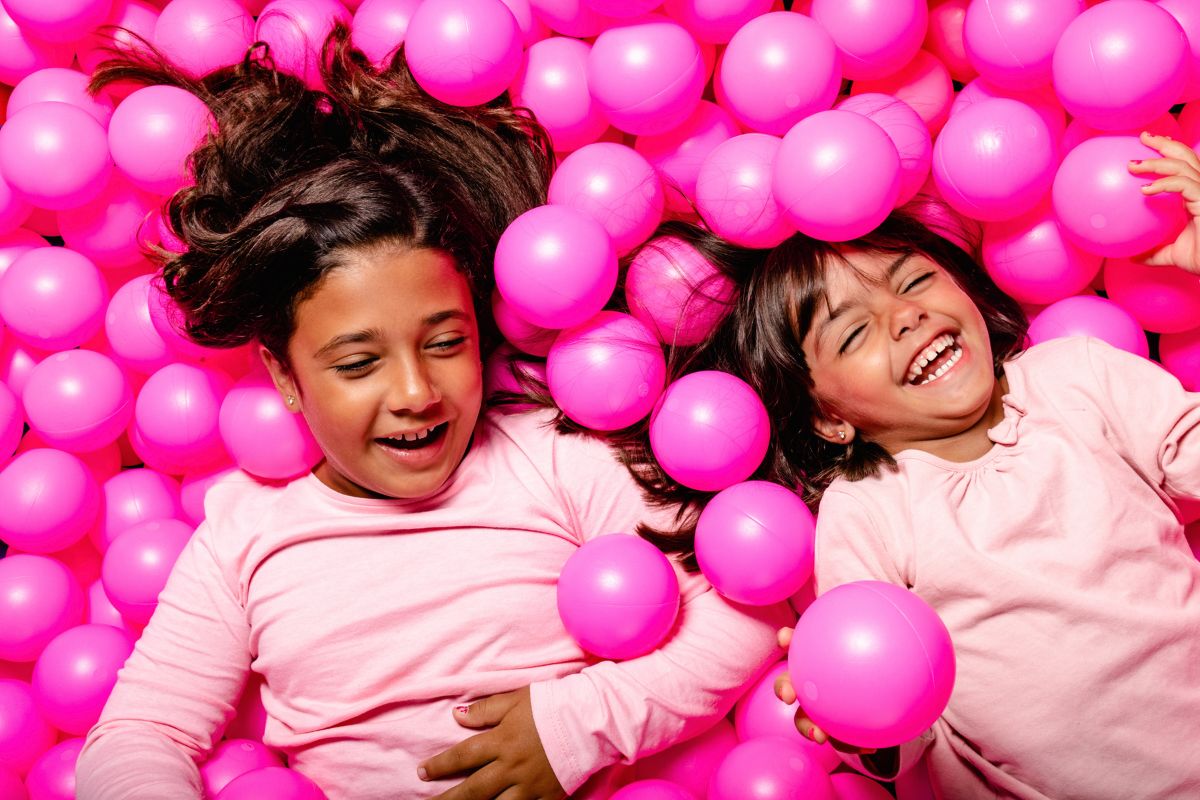 Get your best selfie game ready and don your funkiest outfit for a trip to the imaginative and unique Youseum — located inside the Westfield Mall of The Netherlands.
What's the deal? Unlike any museum around town, this entire gallery space has been laid out with 30 super cool interactive installations, so cool in fact you'll find the urge to snap endless pics alongside them… Which is kinda the point of this entire thing after all!
There's no denying the significance social media plays in our current society, and Youseum has taken note, recreating a world made for Instagram and TikTok users, more specifically, content for users.
Pose for a picture in a pink ball pit whilst swinging on a disco ball, feel like you're in Brooklyn, NYC inside the classic laundry room, or stroll a hallway of mirrors…
There are 15 curated areas and you can also download any pictures taken during the experience by Youmuseum for free afterward — many of the rooms include their own photo-taking elements which are a part of the installation.
14 – Feel the thrills on the rides at Drievliet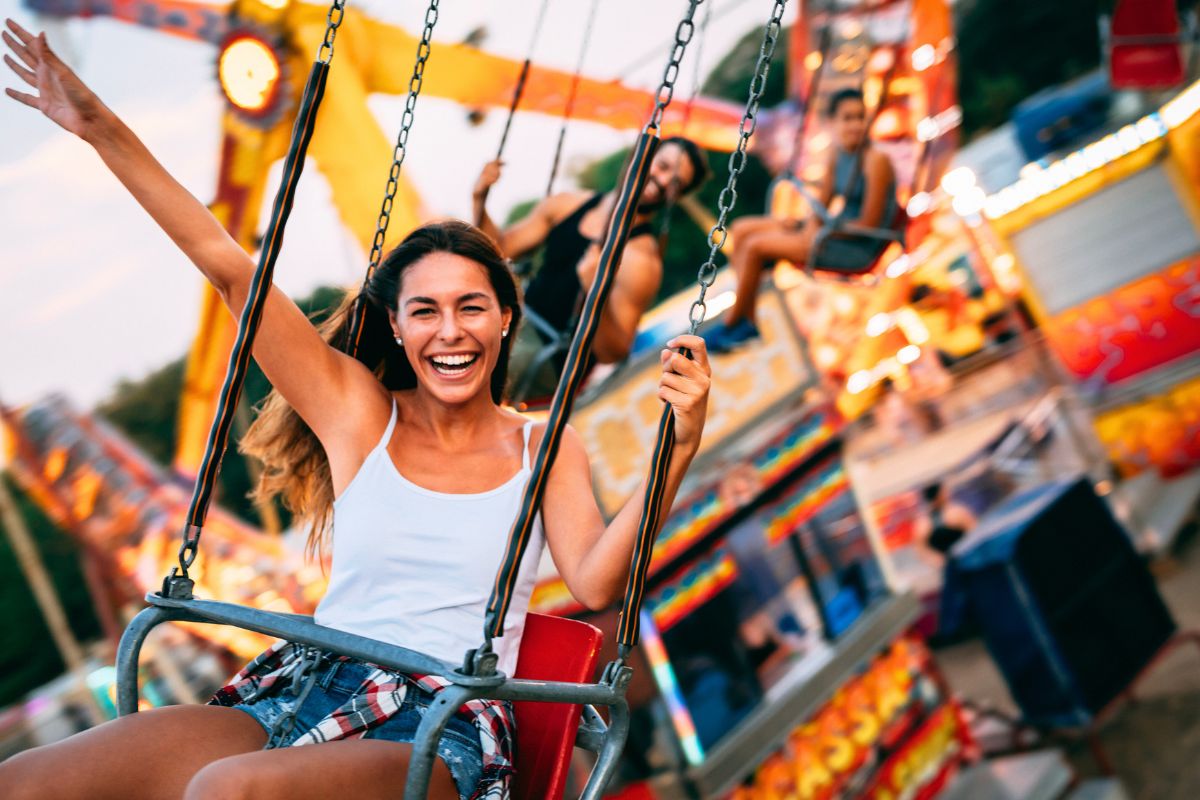 For more than 70 years and counting, Drievliet has been providing all of the thrills, excitement, fun and adventure for families, kids and adults!
Opening up in 1951, it's your classic amusement park with tons of rides to choose from (you could easily spend half the day here, if not, longer), divided into various categories.
The spooky Ghost Museum, the freefalling Chute, the Hot Air Balloon Wheel, the riveting Dynamite Express, the swinging Pirate and the Grand Prix bumper cars are some of the 19 family-friendly attractions.
Designed solely for the wee ones; children have all the fun on rides such as the Merry-go-round, Jolly Jumper, Cauldron Carousel, Singing Stable, Old McDonalds Tractor Ride, Tugboats, Jumping Dogs, Dive dune, Zeebonkenhonk playground and more!
But if you're here for a serious adrenaline rush, head to the thrill-inducing rides like the sideways-spinning Jellyfish, be catapulted from side to side on the Nautilus, zoom down the Copper Mine at 60 kilometers per hour, and squeal and laugh as you move from zero to 70 kilometers per hour in just two seconds on the Formula X rollercoaster!
Some of the attractions involve water, so make sure you pack the correct clothing, and even a spare pair to change into afterward.
Apart from the rides, there are more things to do at Drievliet. Catch a Jungle Show at the Jungle Theatre, step into different realities at Cinemagic 5D or enjoy a variety show at the Parktheater.
15 – Step into the natural splendor of Vlinders aan de Vliet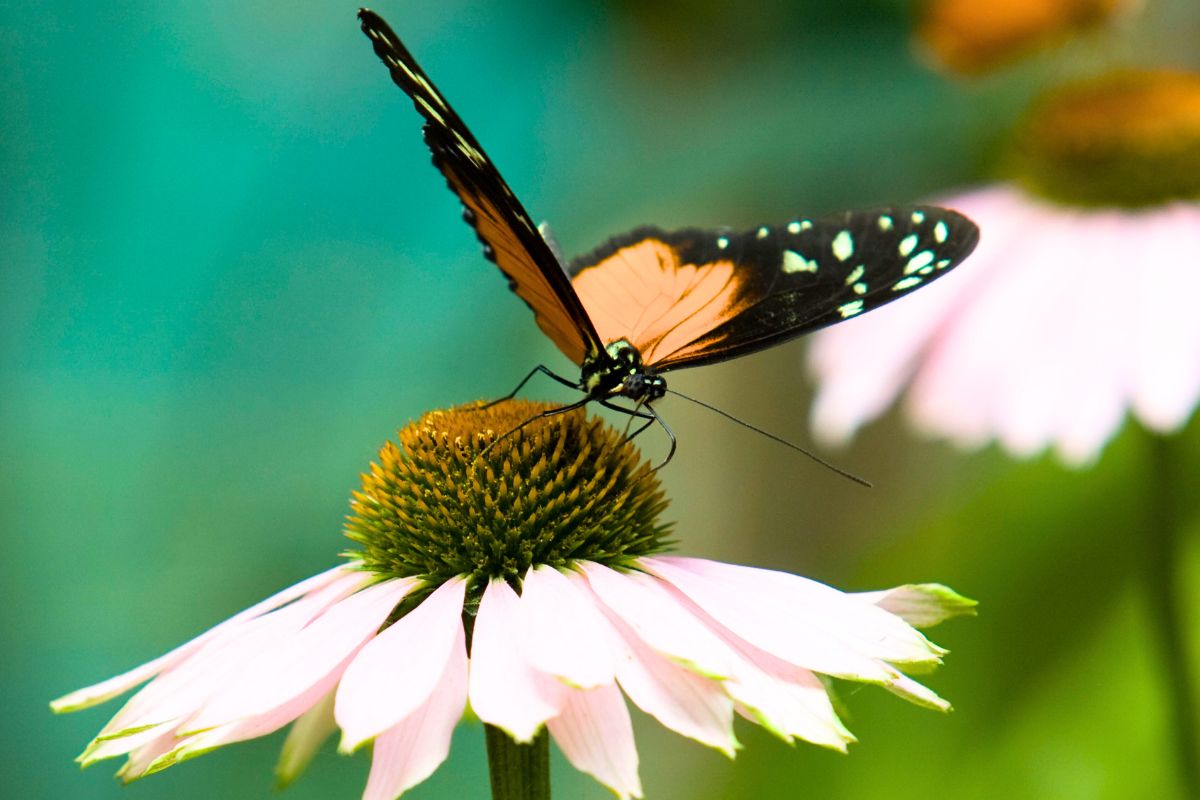 There's something so utterly romantic — and magical — about the idea of hundreds of butterflies fluttering around you… If you hail from a country where nature is limited, visiting Vlinders aan de Vliet is a pretty incomparable experience.
Feel as if you're in a sort of fairy wonderland at this tropical butterfly park, and although not massively large, the hundreds of butterflies that you see here are super captivating.
Created inside a greenhouse garden, the space has purposefully been designed to replicate a humid, tropical climate. This is because the species here are not the usual type that you see around the European continent, and the setup is to best replicate their actual natural habitats.
Entomologists and those who have a passion for the creatures, some of the Lepidoptera (scientific name) to spot include the blue morpho and passion flower butterfly (both found in South and Central America); the striking Ornithoptera (the second largest butterfly in the world); the owl butterfly (i.e. the Caligo); and the Atlas moth from Asia.
The butterfly haven brings in pupae (eggs) from around the world and then the creatures hatch naturally inside the garden, designed with specific plants that these winged species usually lay their eggs on.
Apart from the butterflies to see, there is also a small fish pond and some caged-off areas that reptiles like snakes and iguanas call home.
16 – Book a fun jet boat tour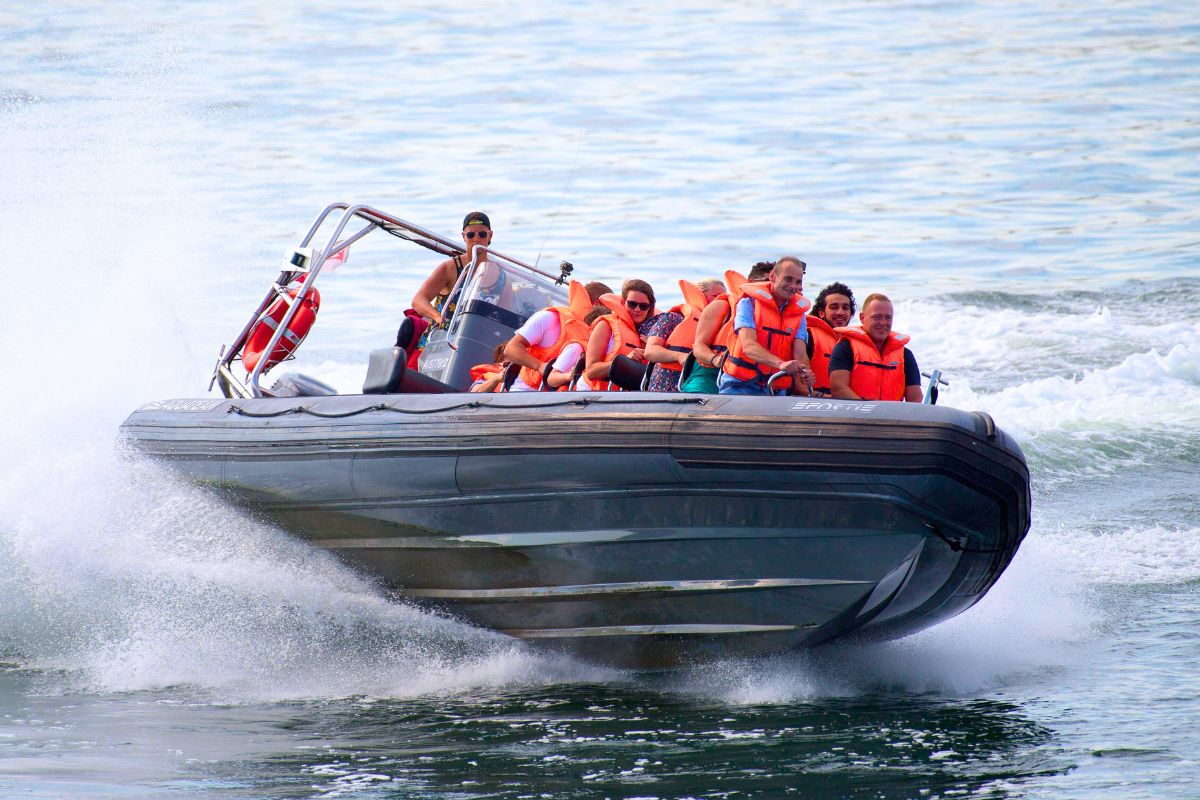 Waterbabies and those with some serious sea legs, why opt for an ordinary cruise on the water when you can enjoy the excitement of a jet boat tour? — Where twists and turns across waves are a guarantee!
Zooting around Scheveningen Beach for 45 minutes (where your speedboat departs from), get to sightsee from a different angle out at sea, and be driven past ocean attractions where you can photograph landmarks from a unique viewpoint, for example, Scheveningen Lighthouse and the Pier.
If you're not super comfortable riding boats out at sea, we suggest you skip this excursion… Thanks to the speedboat's two Yamaha 250-horsepower engines, you'll be flying across the water up to speeds of 100 kilometers per hour!
The ride lasts 35 minutes and before even boarding, a 10-minute safety briefing is mandatory. Gear like a life vest is provided, but make sure you bring a spare pair of clothing in case you catch a few splashes en route, and waterproof anything you don't want to get wet!
17 – Make it out of an escape room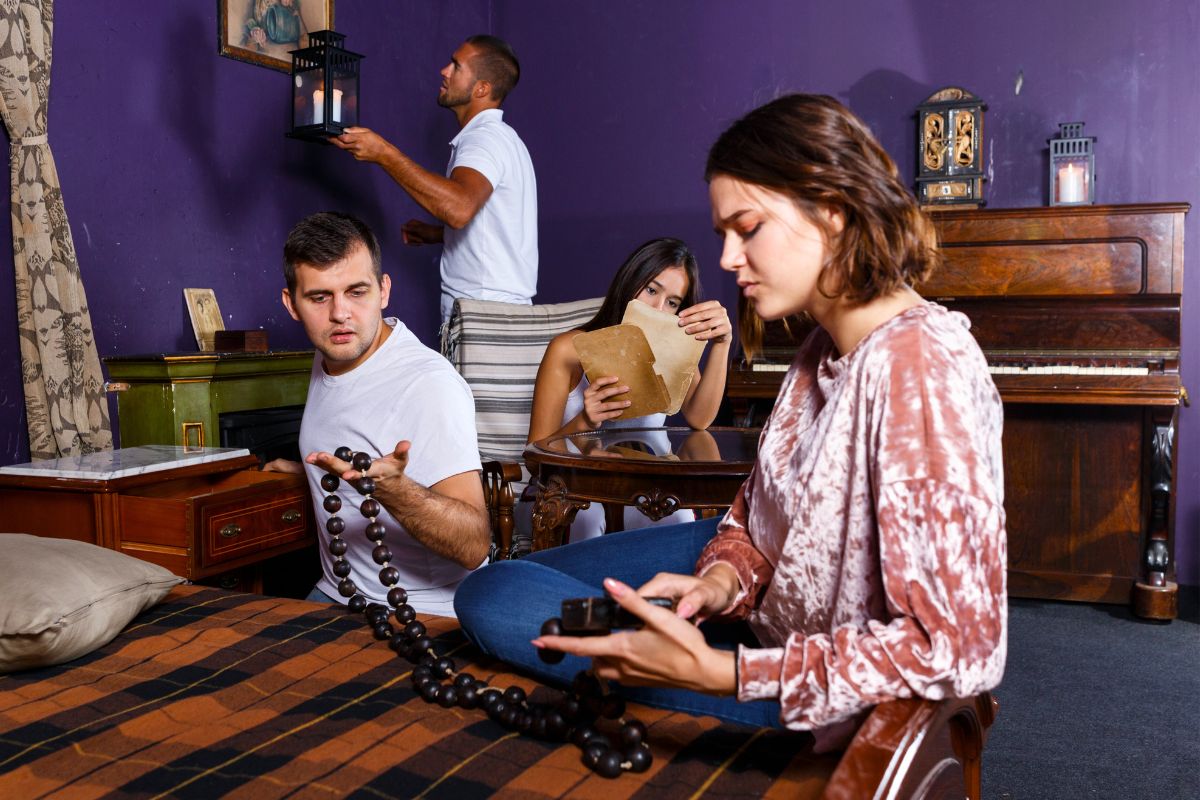 Do you think you have what it takes to be the next Sherlock Holmes or Detective Conan? Suitable for older kids, teens and adults, if you've yet to try out an escape room, now is your chance!
It's time to put on your thinking hats and decide for yourself with Operation Exit.
Entering an old mansion with 60 minutes on the clock, it's up to your team to crack the mystery of the missing jewel believed to be hidden within its walls. But beware of Baron Van Hagesteijn and his many traps set up to stop you!
As you crack each riddle/clue, automatically be granted the next until you've solved all the mysteries, finally making it out alive, ahem, we mean, successfully…
Using modern technologies, Amaze Escape Events is a second awesome escape room option — but they do things slightly differently.
Instead of a real-life setting, you'll play the game in a virtual reality and there are multiple VR escape rooms to take your pick from depending on what grabs your attention!
Escape the Lost Pyramid, Beyond Medusa's Gate, Prince of Persia: The dagger of time, Huxley, Incarna: Chapter 1 – The Training and Incarna: Chapter 2 – Dimensional Break are the current VR escape room games.
If you're a mega fan of virtual reality activities, there is also a VR Arcade here together with a VR Zombie Shooter zone to play.
18 – Photograph the stunning Peace Palace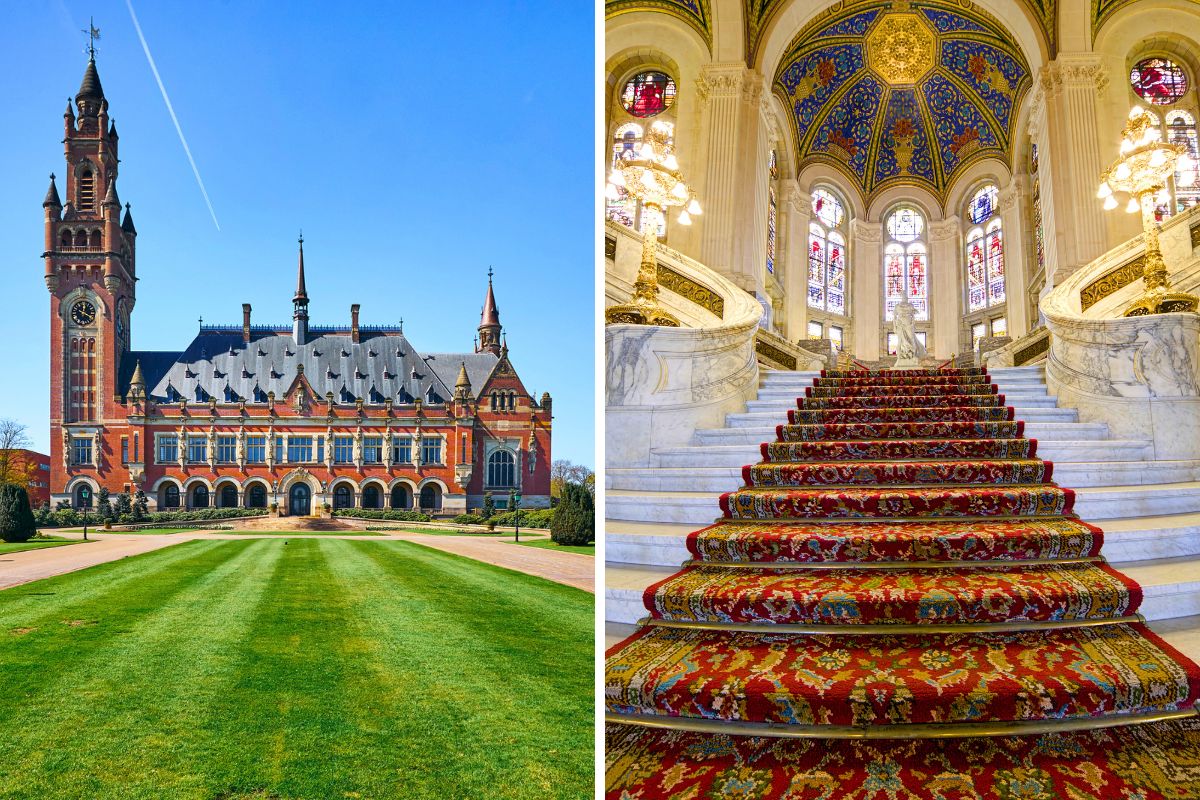 With so many palaces and castles still in existence around Den Haag, it's hard to imagine that a) Peace Palace is just over 100-odd years old and b) it was never built or used as a state home.
Nope, instead, this impressive piece of architecture was initially constructed for the purpose of housing the 'largest library in the field of international law and peace' as well as the Permanent Court of Arbitration after the first Hague Peace Conference took place between 26 countries back in 1899.
Acting as the indefinite home for both ever since, this monumental building is now also home to the United Nations International Court of Justice and The Hague Academy of International Law.
Tourists love taking photos of its grand exterior, and if you're here at the right time, Peace Palace opens up for visitors a few times a year — and you can bet the interiors are magnificent!
Decked out in paintings in the various rooms, sculptures that line the hallways (and some in the garden) and silk tapestries (in the Japanese room), the artwork to see inside the building adds the cherry.
Inside the Library's Reading Room, dive into a world of law literature, and some of its most prestigious works are prints by Erasmus and Hugo Grotius.
Its garden was established to also reflect the feelings of peace, with water being a key feature. Designed by a British garden architect, the grounds feature a rose garden, as well as multiple statues and artistic features.
19 – Study our oceans at Sea Life Scheveningen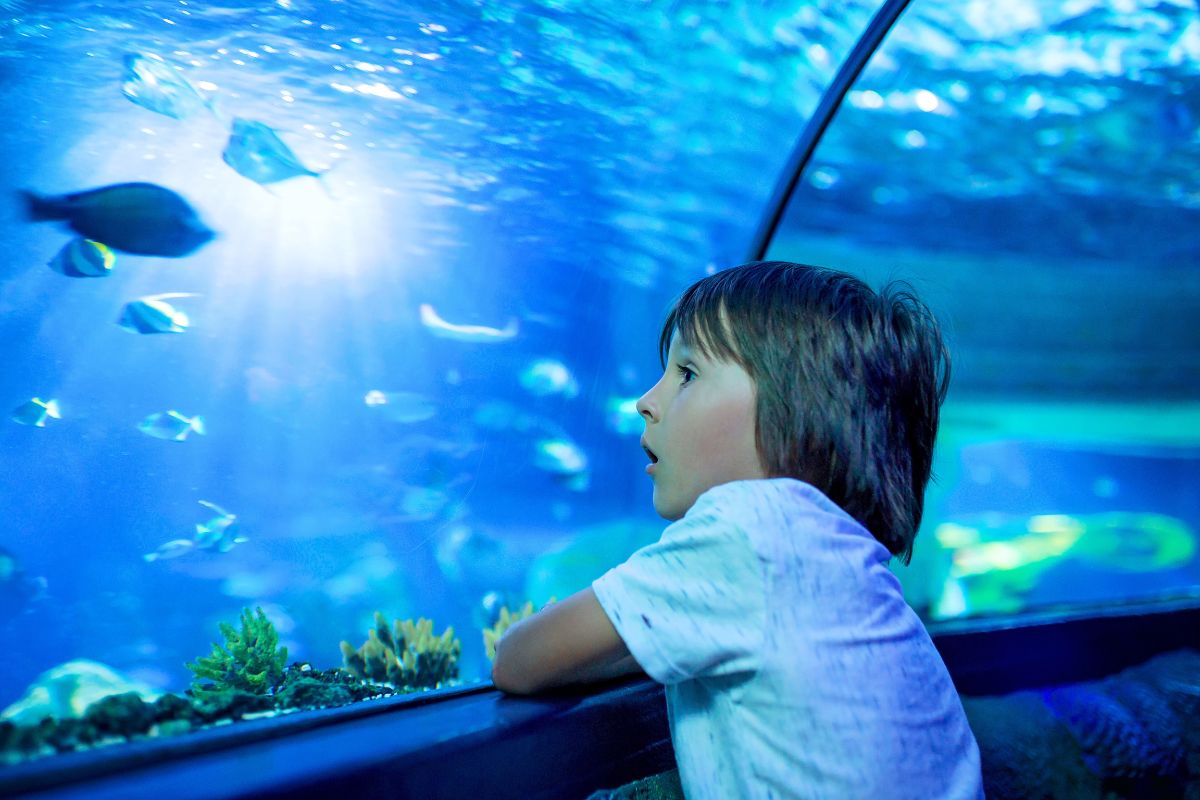 For lovers of the ocean and travelers looking for awesome things to do in The Hague with kids, Sea Life Scheveningen hits the spot and is an excellent way to learn more about our magnificent aquatic creatures, as well as our oceans.
Divided into nine sections that are categorized by continents and creatures, there are over 45 various aquarium spaces in total to make your way through.
Keep your eyes peeled for the spotted dogfish inside the North Sea Aquarium; learn about anemones with a hands-on experience at the Touch Pool; and meet friends like the unusual mudskipper or a caiman inside the Amazonia space.
Discover life amongst the coral reefs in the Tropical Area; stroll through the awe-inspiring Ocean Tunnel alongside Napoleon wrasse and green turtles, and get to meet jellies, seahorses, otters and penguins in their own individual sections.
You'll need about an hour or so to get through the entire aquarium, perfect if you're here with tiny tots — we know how quickly kids can tire out and want mom and dad to carry them around.
20 – Enjoy a koffie on Lange Voorhout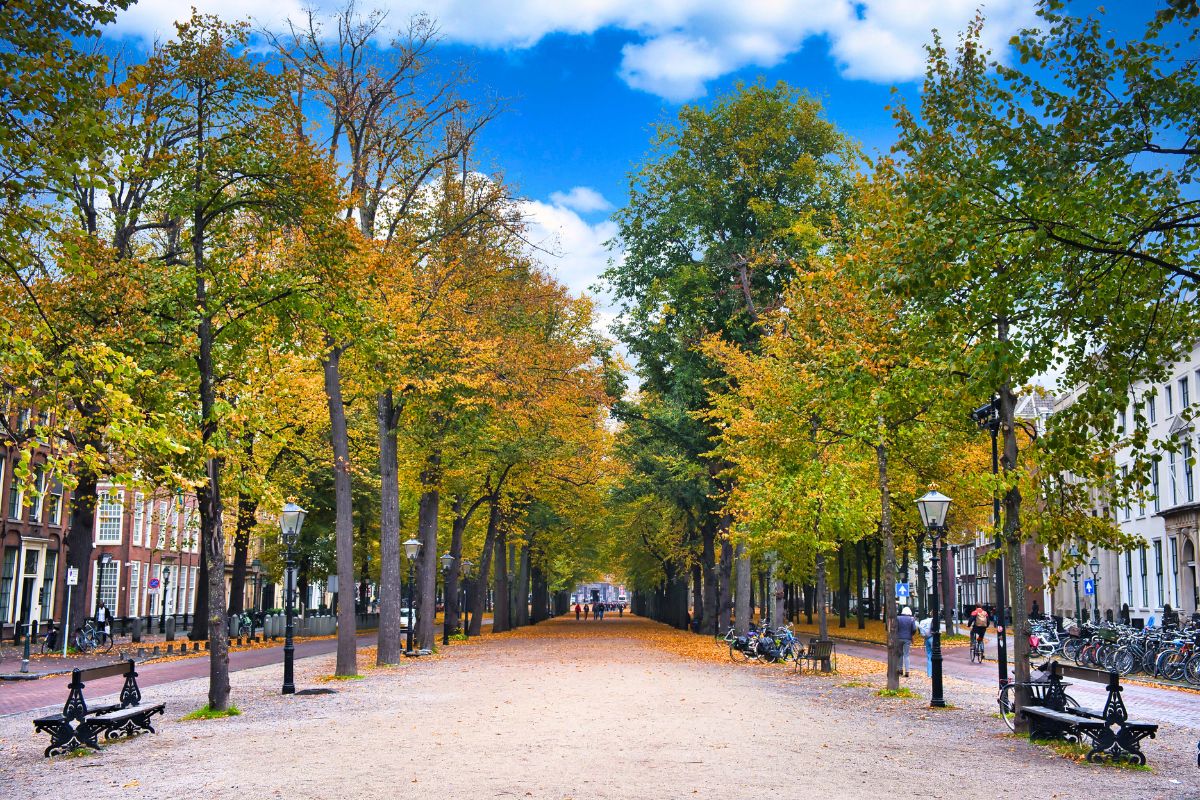 Once thee place to be centuries ago amongst the noble and rich and famous, in the 21st century Lange Voorhout is an idyllic avenue adorned with tall linden trees, cute streetside cafes and small local markets every now and then.
Back in the day, like way, way back, the homes of the town's wealthiest residents lined the L-shaped streetside and many of these have been converted into offices and embassies.
It's the perfect spot to grab a coffee under the rustling leaves, do some people-watching and reimagine life in the 14th century.
Sometimes city events are held here, and every other weekend, small flea markets set up shop, like the Antique and Book Market. The iconic Escher in Het Paleis is located at the end of the street and it makes for a nice relaxing break after you're done investigating the museum.
The setting also changes with the seasons; snow-laden in winter and dotted with fallen purple petals in spring.
21 – Try new things during a Food Tour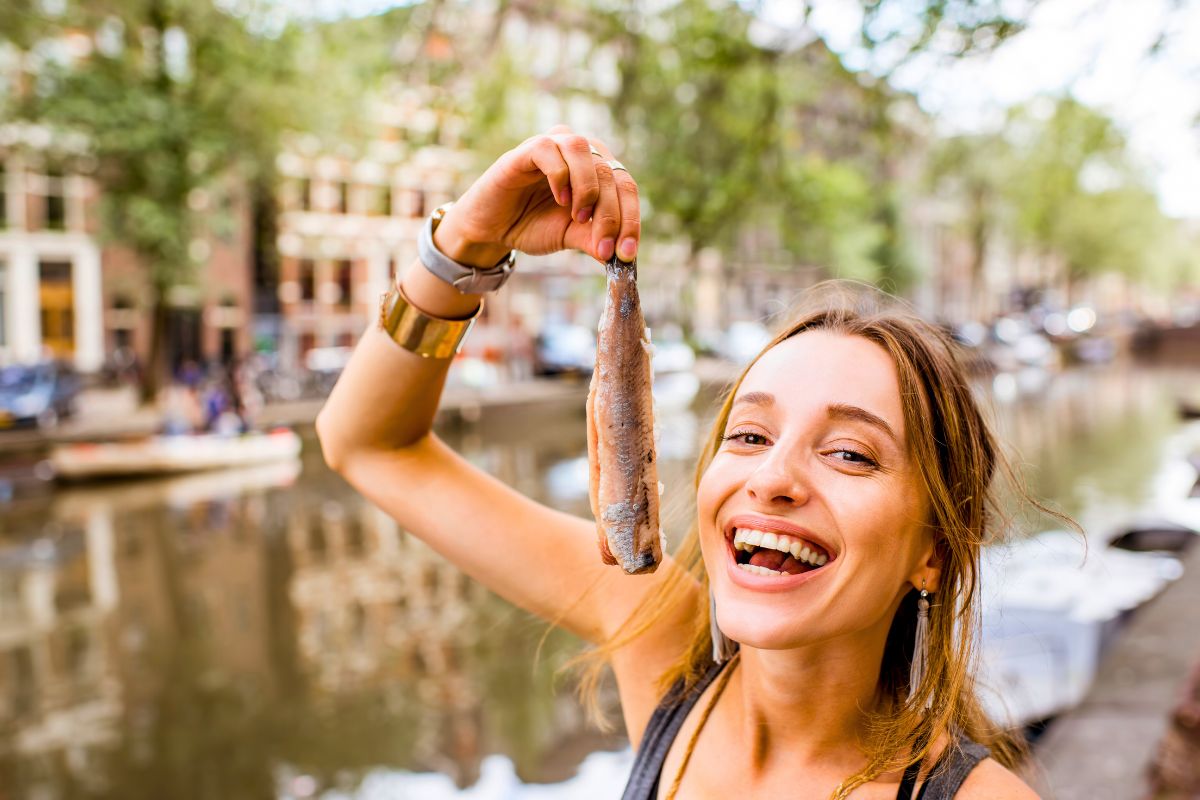 One for the foodies or anyone who just loves Dutch food, treat your senses and palette to a couple of hours of all things related to the local cuisine during Food Tours!
The best part about this excursion is you not only get to sample various snacks, aperitifs and baked goods but your guide shares insightful titbits about the city, people, culture and its history.
It's a win-win situation really because you get to do a round of sightseeing as you move from one local eatery/cafe/bar to the next, walking past landmarks such as Noordeinde Palace, Binnenhof, Ridderzaal, Grote Kerk and even Standbeeld Haagse Harry.
Depending on what suits you, there are food tours that last 2.5 hours or some that are half-day ventures, roughly four hours.
Stopping at artisanal bakeries, delicacy stores, pubs and cafes, break to taste classic traditional eats, and enjoy a chat with the locals.
Visit over five different food-centric locations, and nibble on both sweet and savory delights, as well as favorite Dutch drinks.
22 – See the Netherlands' largest painting at Panorama Mesdag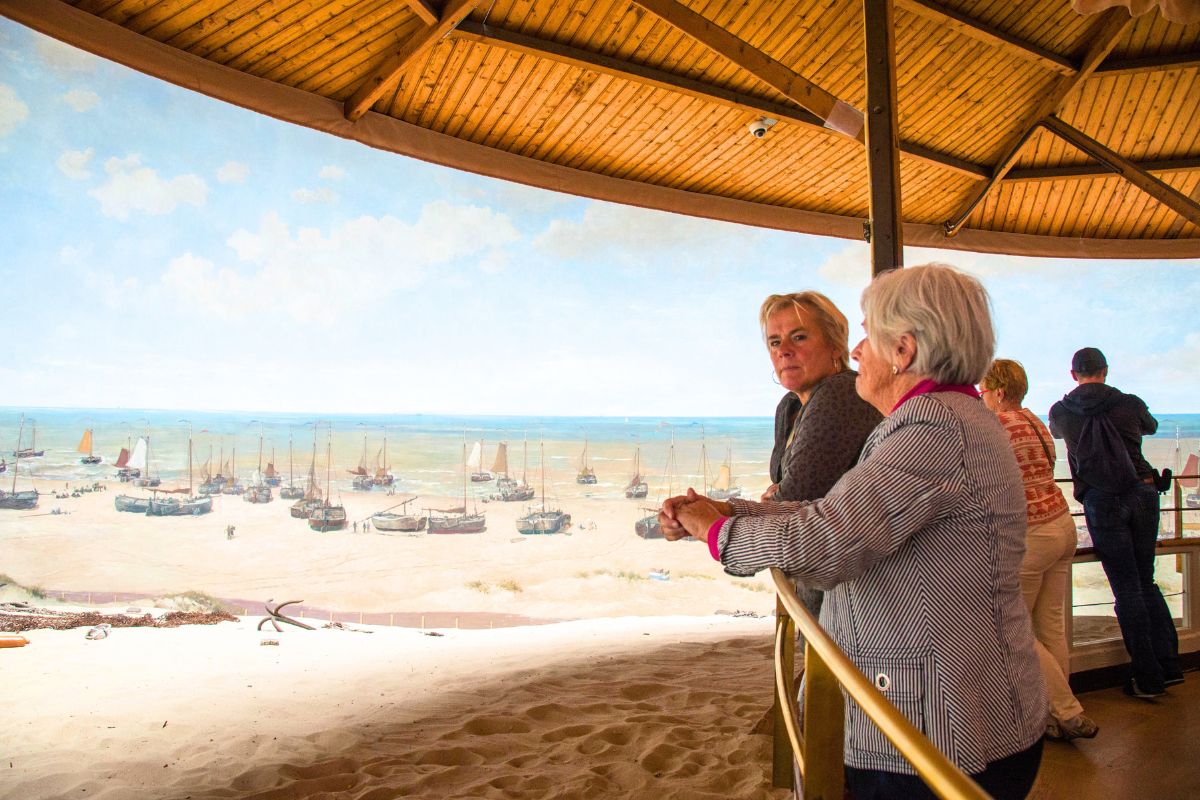 If you have a strong affinity for the ocean and artworks that represent such scenes, the Panorama Mesdag museum will sweep you off your feet — and not just because it's the permanent home of dozens of pieces by renowned Dutch artist, Hendrik Willem Mesdag and his wife (also an artist) Sina Mesdag-van Houten.
Making his way into the history books, Mesdag is famed for his seascape paintings, cumulating to fame during the 1870s. His most iconic, without a doubt, was his work titled 'Panorama of Scheveningen.'
It's right here at Panorama Mesdag that you can witness the 14-meter-tall masterpiece, with a circumference of 120 meters, in the flesh. Adding even more awe, this very gallery was started by the husband and wife, and their family home was once its neighbor.
Finished in 1881 using a circular shaped canvas, the artwork is kind of trippy when you witness it up close, perhaps because of its immense shape and size.
It forms part of the museum's permanent collection — amongst which plenty more of the Mesdags' works are featured.
Guided tours are available, for example, the Mesdag Highlight Tour. Gain insider knowledge about the life, work and times of the family, as well as behind-the-scenes introspect relating to the Panorama of Scheveningen.
Traveling with kids? They'll love the Panorama's Scavenger Hunt!
23 – Cycle your way through the city with a bike tour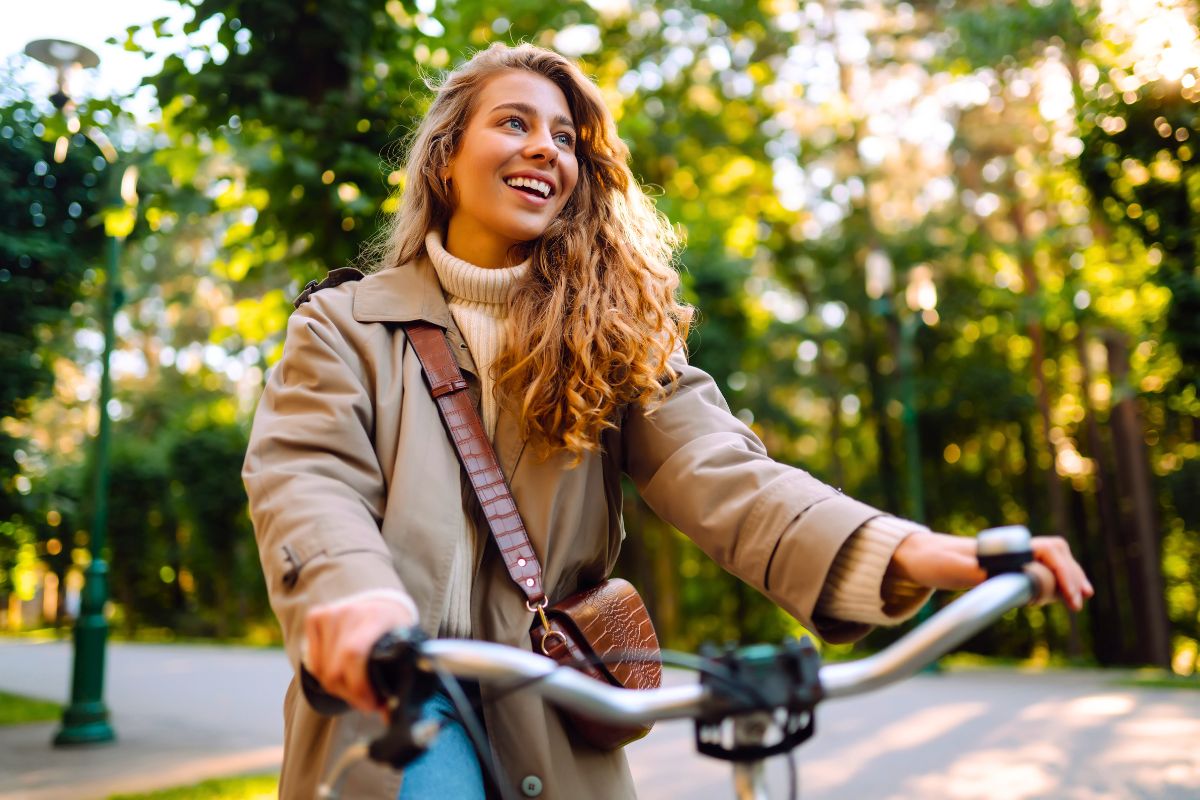 Known as "bicycle country" and the bicycle capital of the world, join the locals and zip off on a bike tour around The Hague.
As an integral part of Dutch culture, any city that you visit in the Netherlands is cyclist-friendly and some say there are more bicycles than residents in the country!
Tour around with ease (there are dedicated bike lanes on the main roads) and enjoy a round of sightseeing the pukka local way.
Westbroekpark, Kurhaus of Scheveningen, the Binnenhof, Noordeinde Palace, Peace Palace, Mauritshuis, The Royal Stables, Lange Voorhout and The Passage are some examples of the landmarks and attractions that these expeditions cover, and varying bike tours veer to specific locales.
Ranging from 2.5 to three-hour endeavors; bikes are included so all you need to bring along is yourself.
If you've already done all of your sightseeing in Den Haag, consider opting for a professionally guided 2.5-hour bike tour through Delft.
24 – Lap up a night out at the event venues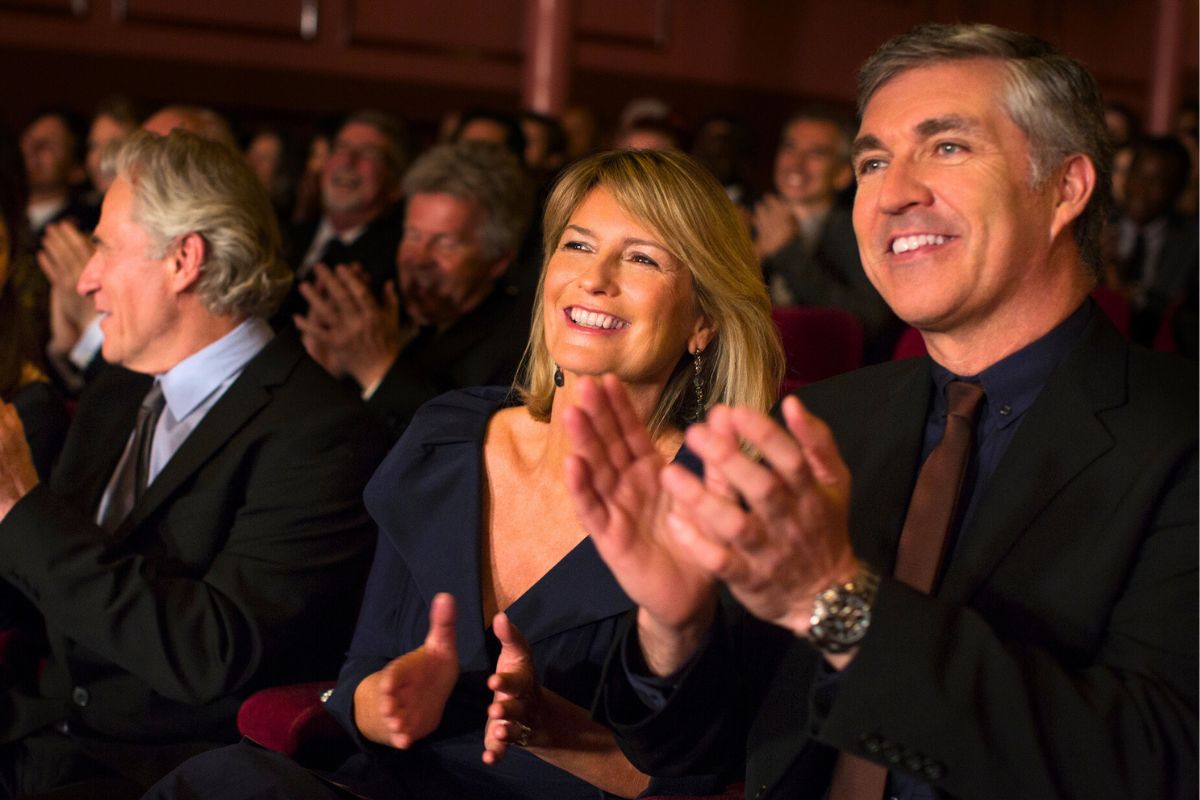 The Hague is one heck of a cultural treat — from museums to palaces to galleries and, and, and… Add a few more culture-filled bounties to your list with a night of theater at one of the city's best event venues.
Operating since 1904, what was once an actual circus ground was later converted into the AFAS Circus Theater (hence its name). Over 100 years later, the theater is now owned by Stage Entertainment, and since the 90s, some of the biggest shows have held the stage from The Phantom of the Opera to The Lion King, The Sound of Music, Miss Saigon and now Aïda.
Open for theatrical productions and doubling as a congress and business events center, the World Forum The Hague plays host to music concerts, plays, musicals, standup comedy shows and dance recitals like the ballet.
Founded in 1964 and rising to fame in the cabaret world, today the intimate Theater Pepijn The Hague favors stand-up (check out its Breakfast Comedy Club) and alternative artists and shows.
Plus, the supper theater is extra alluring donned with a cabaret library and vintage finishes.
25 – Dine on fresh seafood at Scheveningen Beach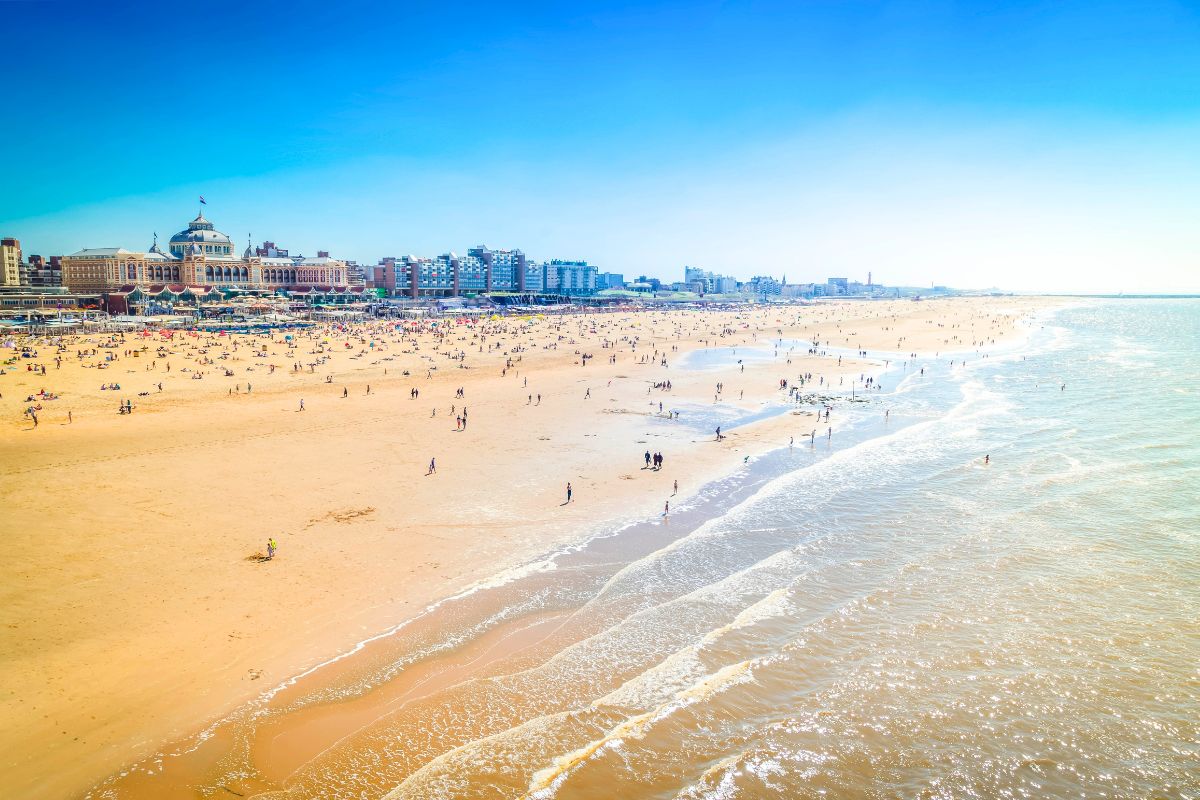 Flowing between the Netherlands, Denmark, Norway, Germany, Belgium, France and Great Britain, dip your toes into the North Sea's chilly waters down at Scheveningen Beach — if you're brave enough, try swimming in the ocean in the summer months.
Considered one of the only truly authentic coastal towns in the country, the 4.5-kilometer stretch of sandy shores is divided into four sections.
The main tourist beach where Scheveningen Boulevard is built is Nooderstrand (North Beach), running from the pier to the harbor. Super popular in the summer for sunbathing and beach activities, there are many restaurants and bars here, especially if you're in the mood for the freshest seafood!
To the north end of the pier is Zwarte Pad Strand (Black Path Beach) and summertime calls for epic beach parties here!
Zuiterstrand (South Beach) is ideal for travelers seeking to escape the crowds, and Kijkduin Beach is famed for its soft sand dunes, also boasting a quieter reprieve than the main beaches.
Whilst you're in the area, in between the city center and the beach stopover at Westbroekpark which flourishes in the warmer seasons. Stroll through its pretty rose garden and you can walk through the park to the beach areas.
Hire out an old-school rowing boat and float across the pond, grab a cuppa at the authentic tea house, and there is a restaurant here as well as playgrounds for kids.
26 – Shop The Hague's best markets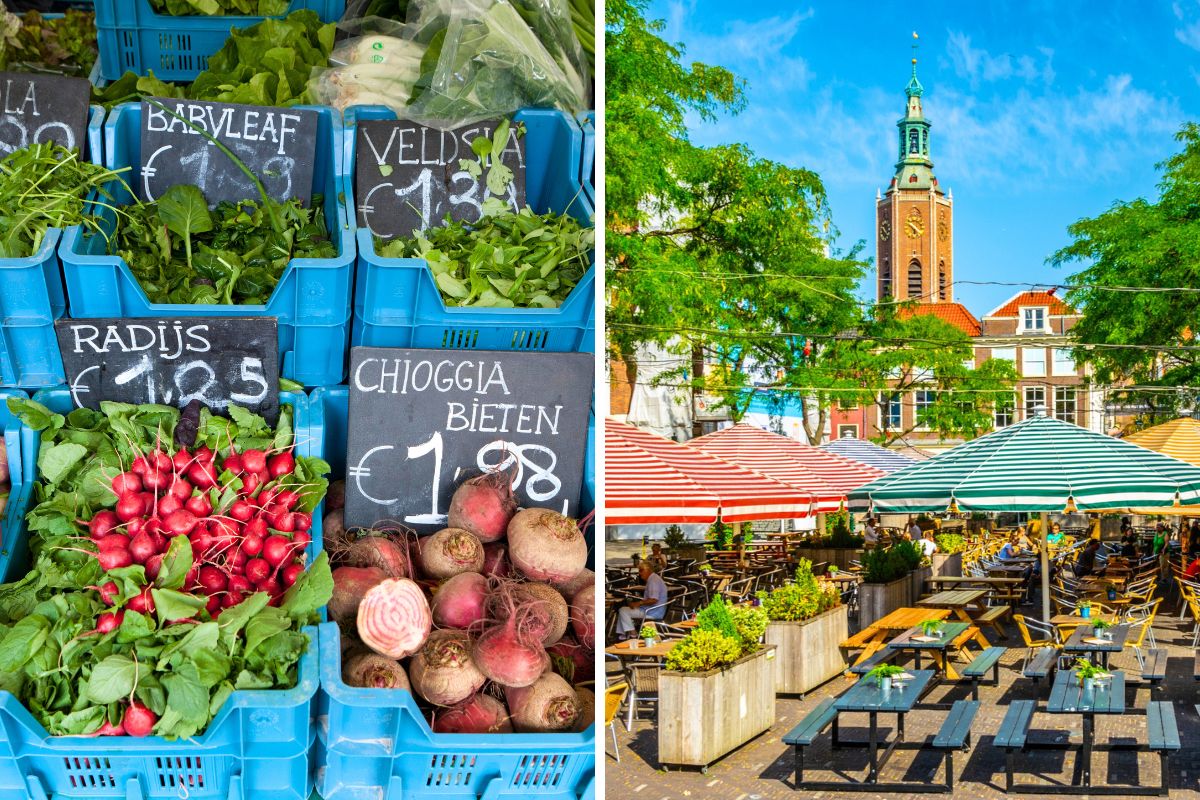 Who doesn't love a trip to a fabulous market? The Hague certainly has a couple of goodies up for show!
Introducing one of the biggest outdoor markets in Europe, and the largest in the Netherlands, easily mill away the hours at De Haagse Markt (also known as The Hague Market).
Opening up shop four times a week from 9 AM to 5 PM (on Mondays, Wednesdays, Fridays and Saturdays), hundreds flock to browse its stalls where international and exotic goods feature high.
Shop for affordable fashion, accessories, homeware, furniture, flowers and so much more, and its fresh produce offering is amazing, from the likes of cheeses to seafood to herbs and spices.
De Grote Markt, this shopping haven is where to come if you're searching for some trendy things to buy or cool souvenirs and its food-game is strong!
Also known as a place to enjoy live music, sweet sounds always fill the market square and the area surrounding the De Grote is famous for its music venues and bars — and sometimes, events and festivals are held here.
27 – Then, hit up the boutiques at Passage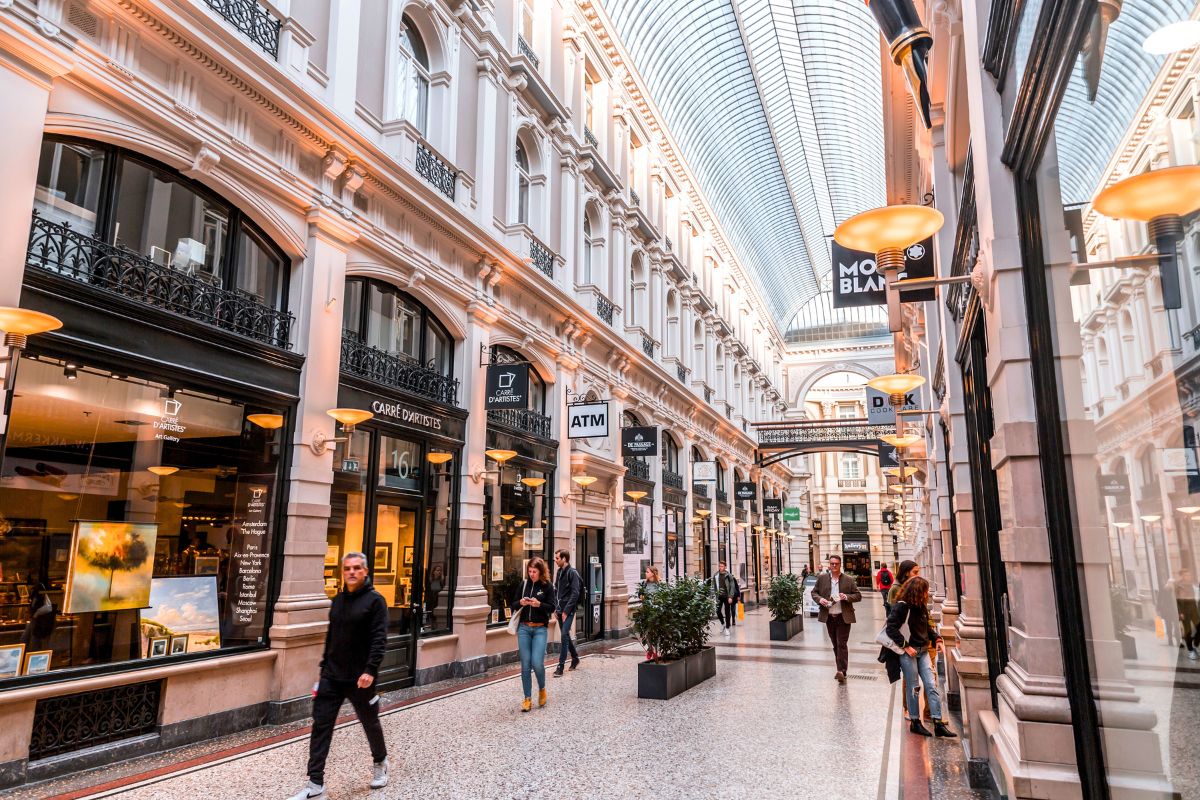 For those that prefer to do their shopping in an orderly fashion indoors, get lost in branded heaven at the country's oldest shopping mall, first opening its doors in 1882!
Close to 150 years old, De Passage has since undergone renovations and refurbishments to give it a more modern feel, yet facets of the building's old-school charm have still been retained.
Today, it hosts a wide range of department and boutique stores and is right next to De Grote Markt.
Looking for fashion, books, shoes, electronics or souvenirs? There are over 20 shops inside, including local and international brands, such as Mango, Ray Ban, Van Os tassen en koffers, Nespresso and Distrikt Nørrebro.
Feeling peckish or in desperate need of a coffee refuel? 8tea5, Hometown, Smoothie Company, Hop & Stork, and more have got you covered.
If you're not much of a shopper but your other half is, you can appreciate its grand architecture in the interim, like the gorgeous glass rooftop and sculpted façades.
28 – Eat, shop and repeat in Chinatown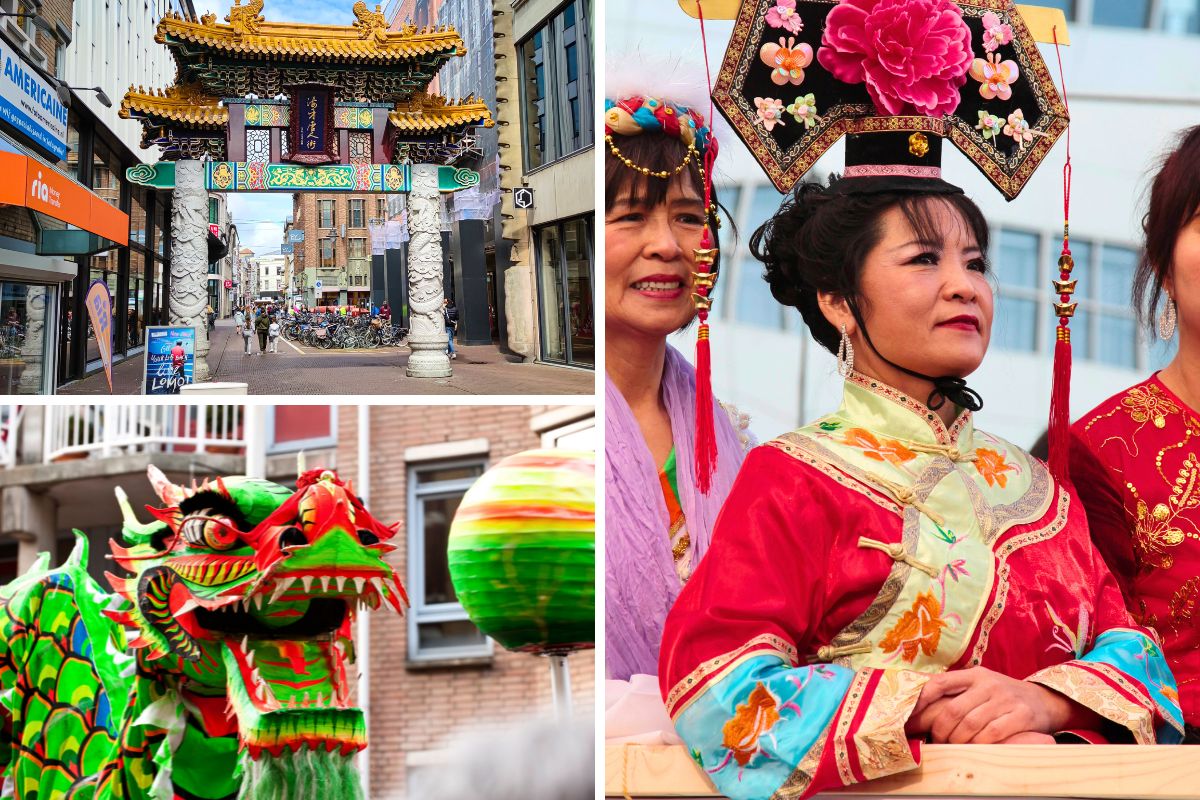 One of the beautiful things about traveling is the diversity of cultures that you get to experience. It's always a super cool discovery when you learn more about different ethnicities and backgrounds that you weren't necessarily expecting to see!
The moment you make your way into lively Chinatown The Hague, you're guaranteed to uncover a world of color, culture and cuisine unlike most places in the city, and the Chinese-Asian district has something for everyone.
Dine at Chinatown Dim Sum, Kimchi House Korean Restaurant, Momiji Ramen, Viet Street Food, Dayang Indonesisch Restaurant, Poke & Avocado 's-Gravenhage, Kaa Lun Palace and plenty more mouth-watering restaurants, with flavors from around Asia.
Stock up on authentic ingredients, herbs, spices and fresh produce from the supermarkets and specialty stores, or treat yourself to a massage, a new hair-do, or get your nails done. There are even a few acupuncturists around.
Shopaholics; stroll into the various interesting boutiques and pick up silk fabrics, jewels and oriental homeware.
When it's Chinese New Year or the Chinese Moon Festival, the streets transform into a parade of celebration!
29 – Taste traditional Dutch liquor at Van Kleef Distillery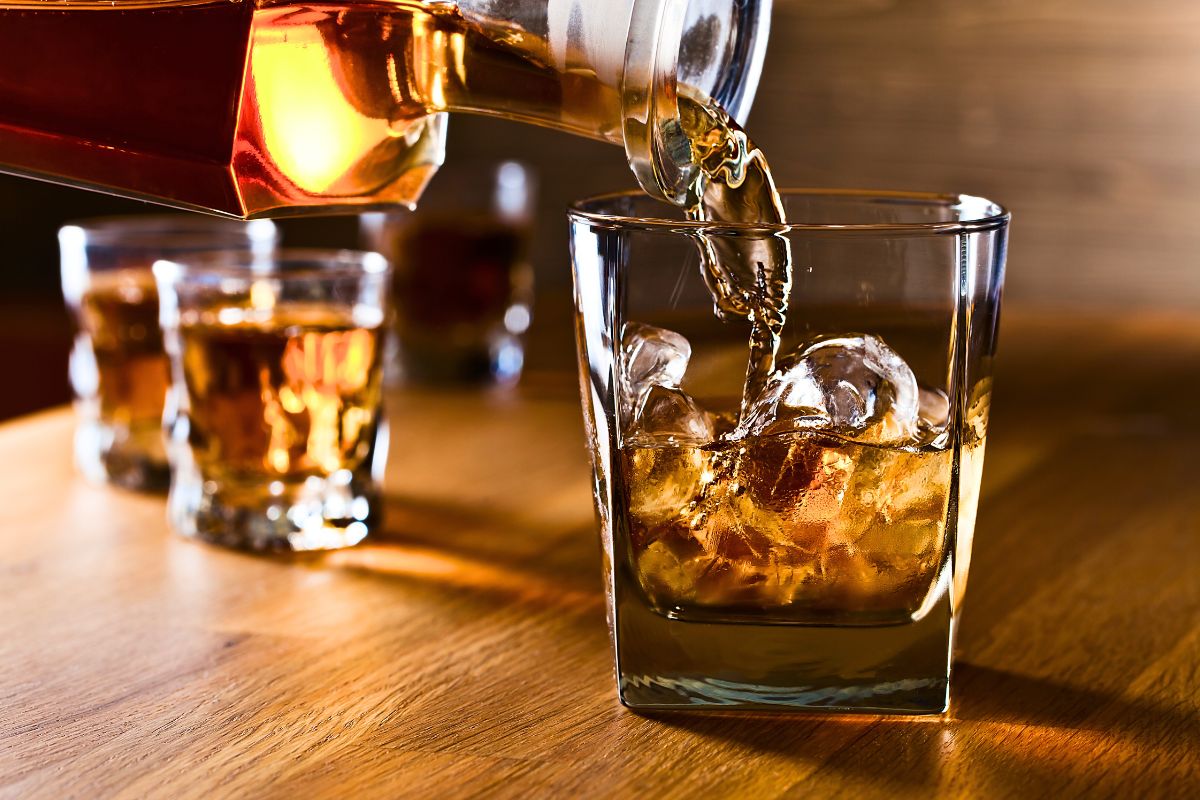 Have you ever tasted a tumbler of jenever before? Similar to gin, it's actually a traditional Dutch drink, and the Van Kleef Distillery are specialists in the liquor.
Producing bottles since 1842, step back in time during a tour of the antiquated distilling house where you'll get to sample traditional liqueurs and liquor from the barrels, and apart from jenever, Van Kleef also manufactures vodka, korenwijn (corn wine), gin and bottled cocktails.
The original distillery is no longer open, but guests can still visit the once-used factory which now acts as a museum. Scope out old distilling equipment like copper stills, barrels, and drankorgels (old-school holding booze racks).
There are two different types of tastings to choose from.
During the 1.5-hour Van Kleef Proeverij Tasting, kick things off with a short history lesson followed by an eight-glass tasting, accompanied by snacks to line the tummy.
Or, opt for a fun one hour and 45 minutes Van Kleef Cocktail Tasting experience and see what you think of their special Van Kleef "Vaccin" concoction (made from ginger liqueur and limoncello) as well as five other interesting cocktails.
30 – Snap pics next to murals during a street art tour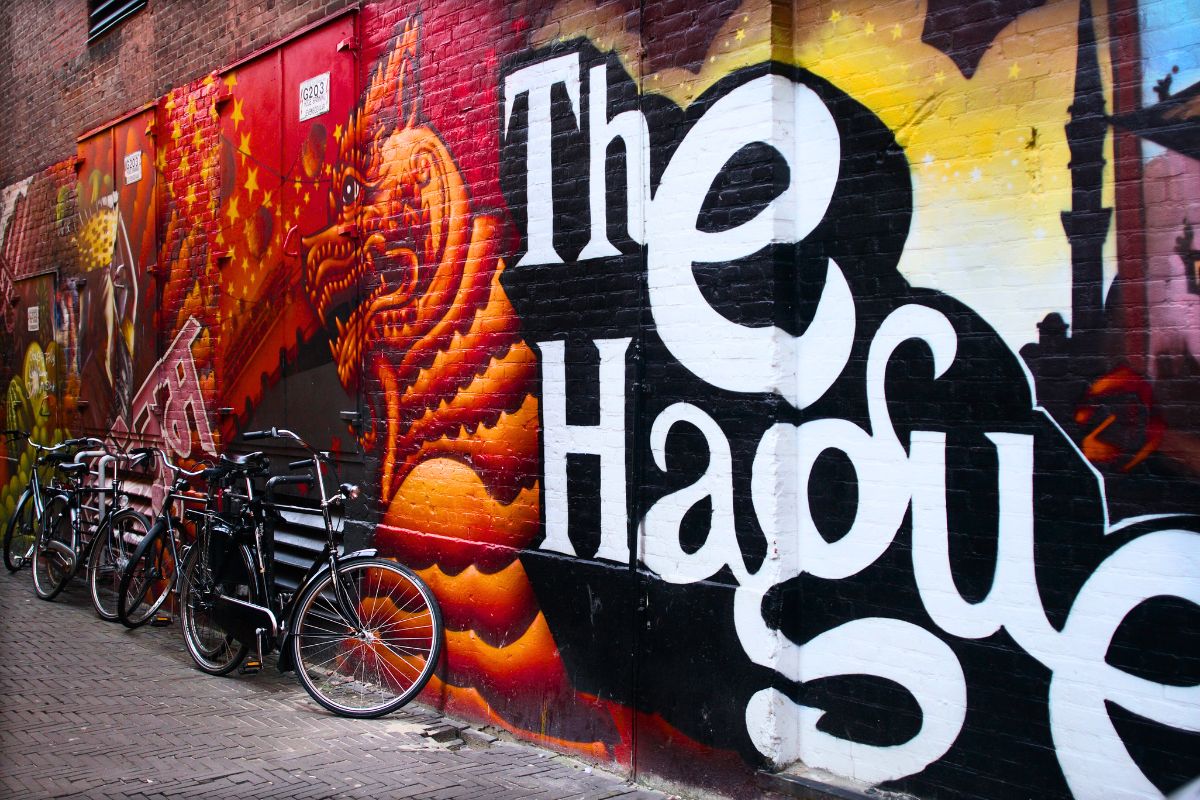 With so much art to discover in abundance in Den Haag, its creativity doesn't end and so it only makes sense that the street art scene is a prevalent one.
Under the expertise and guidance of a local, be shown the hottest murals and graffiti-laden walls during a Street Art Tour.
As a smart (and convenient) way to cover more ground than on foot, these ventures are by bike — which is way more popular than any mode of transport in the Netherlands anyway.
Ranging between two and 2.5 hours, cycle past building walls spluttered in artworks by local artists, ranging from small-scale to oversized murals, particularly around the urban-cool De Binckhorst area.
An up-and-coming industrial trendsetting neighborhood, the district heaves with art! During these special bike tours, uncover hidden street art that only residents know about.
Your super knowledgeable guide will also share information about the artworks, and fascinating facts about the artists behind them.
31 – Learn something at the National Monument Oranjehotel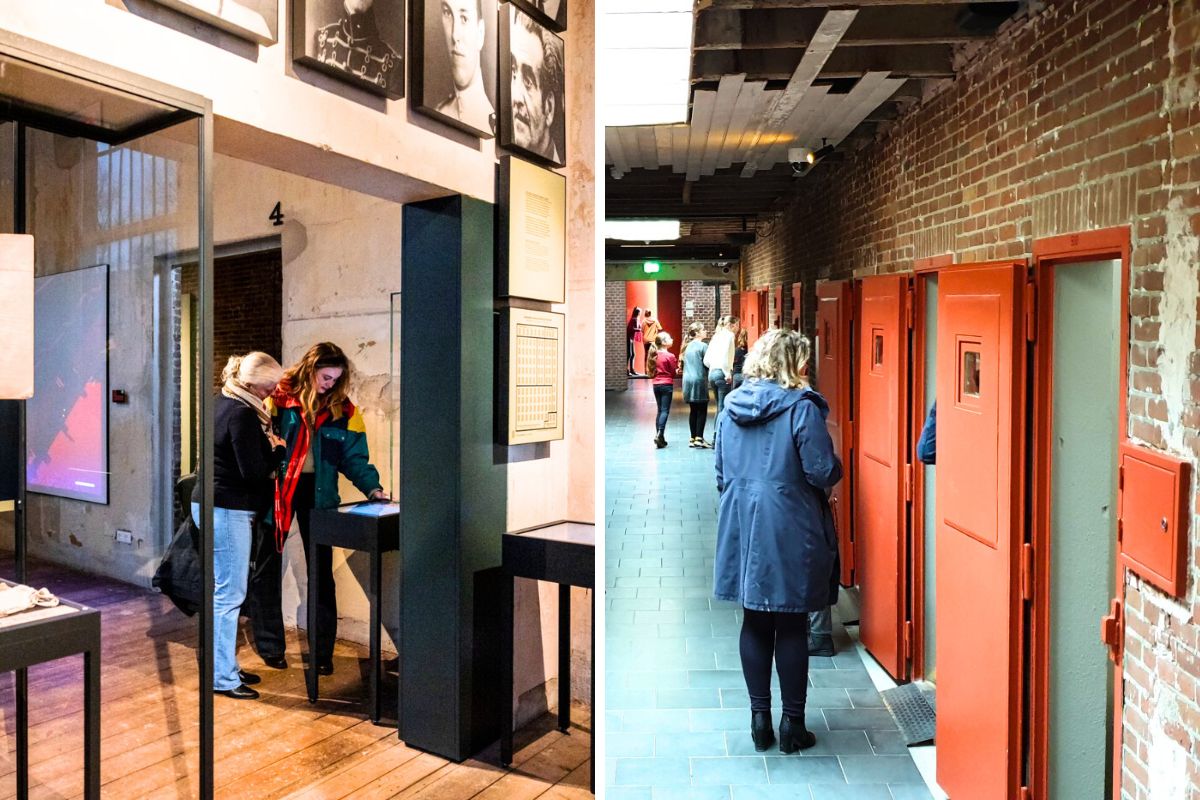 Are you fascinated with all things World War? A trip to the National Monument Oranjehotel might just send shivers down your spine — especially if you have family directly affected by the injustices of WWII.
A very special type of history museum, you could call this a living museum, converting original cells where prisoners were held during the German invasion.
Dubbed the nickname 'Oranjehotel' during the war, this particular prison was where German soldiers detained more than 25,000 innocents, whether it be Jews, Jehovah's Witnesses, members of the Resistance and anyone working on the black market during World War II.
Whilst no longer serving as a Nazi prison, the Scheveningen jail was still in use up until 2009!
After years of abandonment, it was decided to convert the former Nazi interrogation and persecution point into a memorial, to remember, respect and commemorate the lost lives. The Commemorative Centre opened up in 2019.
Investigate a permanent exhibition and learn more about prison life, daily regimes, the families inflicted, the occupation and the Resistance. There is a short video on display as well as photographs, documents and other video clips.
Through an audio tour, listen to eerie stories from prisoners, as well as personal letters and memoirs being narrated. You can also take a guided look at Cell 601 — where prisoners spent their last night on D row before execution… You can even spot actual inscriptions that they carved into the walls…
It's a somber yet eye-opening experience for all.
32 – Visit the Vermeer Centrum Delft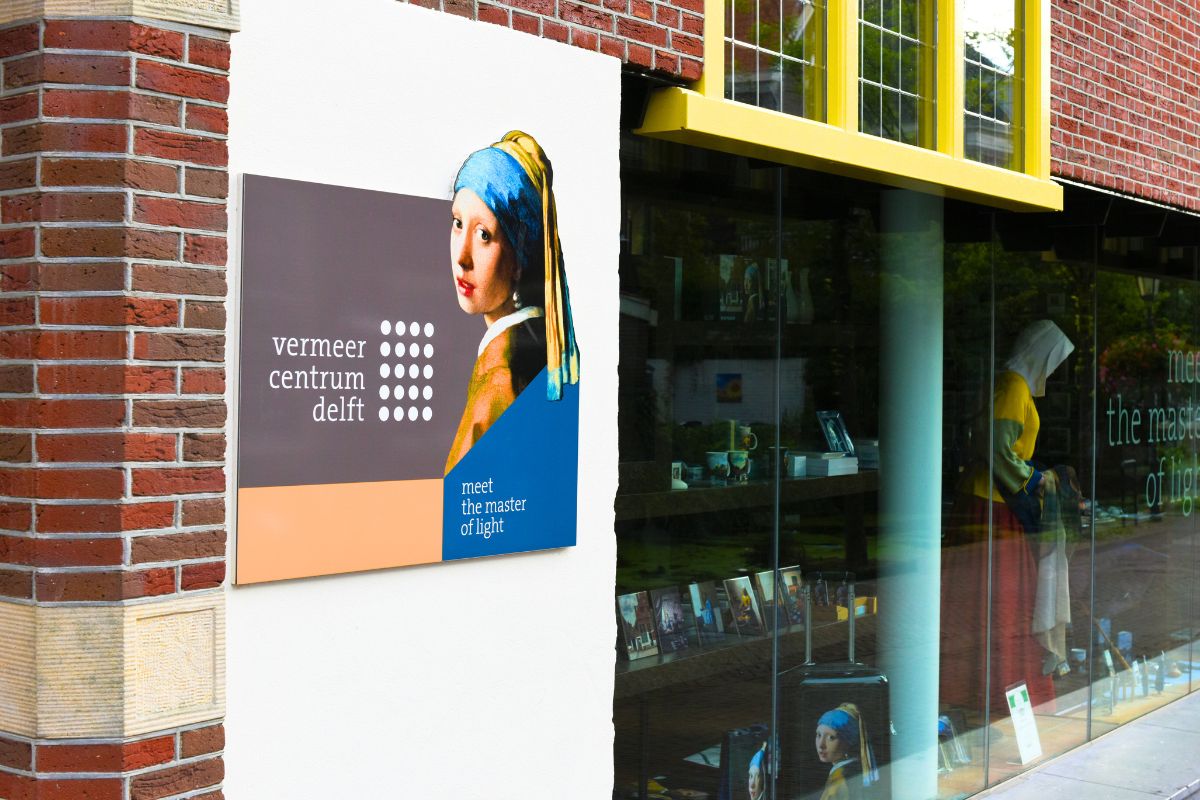 Step inside the mind of the artist behind The Girl with a Pearl Earring at the Vermeer Centrum Delft, and take a deep dive into the life and works of one of the Netherland's most acclaimed artists of the 17th century.
Born in Delft and where the artist spent his last days, the exhibition is dedicated to celebrating the artist and his life's work. In fact, the current museum site was the former Guild of St. Luke building where Vermeer worked as Dean for the institute of artists.
At the Centrum, you won't see any originals, however, all 37 paintings created by Vermeer are exhibited as reproductions in chronological order, and to exact scale.
Moving from one painting to the next, an audioguide provides more insight into each work. There is also a multitouch table and a short film for you to learn more about the man, his personal life as well as the Guild.
Make your way to the recreated studio where you'll get an understanding of how Vermeer worked, as well as why he was known as the 'master of light.' There are guided tours through the museum, as well as free guided tours every Sunday.
Got the little ones with you? Get involved in the fun Kids' Treasure Hunt – In search of Vermeer!
33 – Go climb at Klimmuur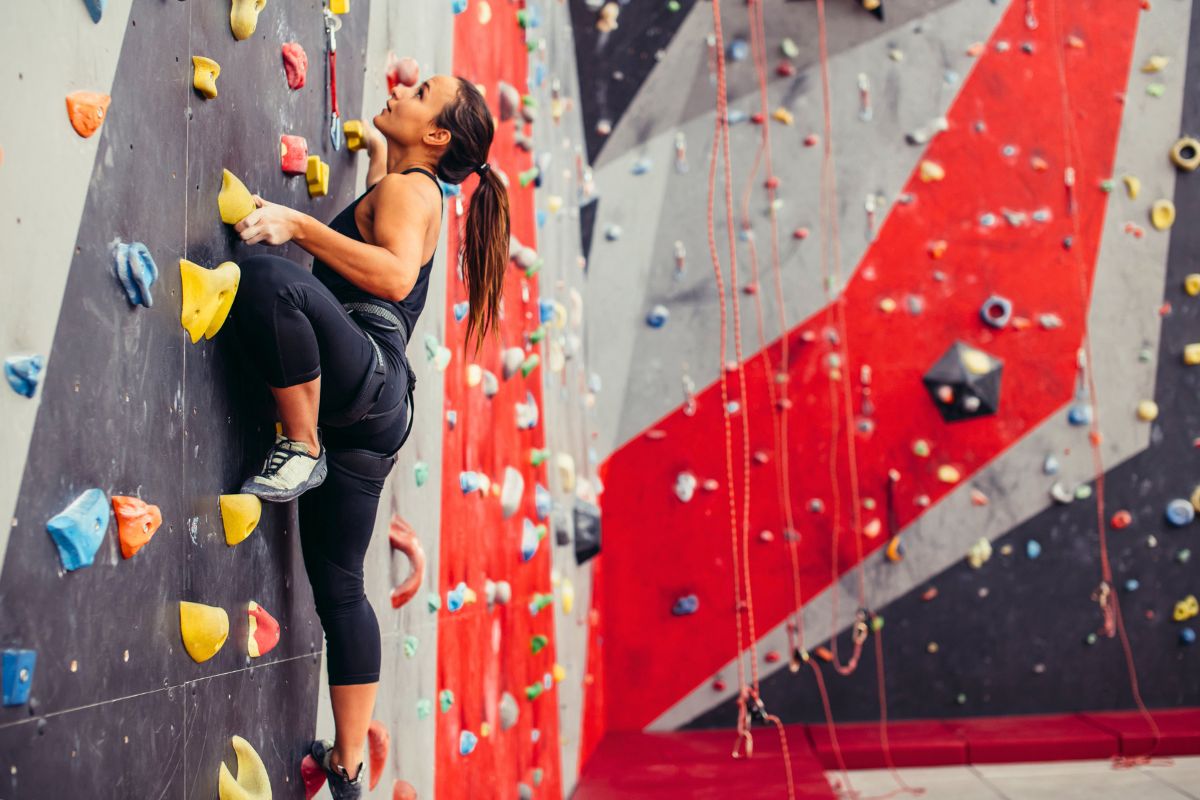 Here's one for all you rock monkeys; lace up your climbing shoes at Klimmuur and tackle the climbing wall — with two epic locations in The Hague.
Both centers offer two types of climbing lessons.
Cover the basics of belaying and sport climbing in one hour during a Climbing Introductory Lesson, or for a more extensive session, book the Basic Climbing Course including four two-hour lessons, and you will also receive an independent climbing certificate afterward.
At The Hague de Uithof's location, there are both indoor and outdoor climbing walls, reaching up to 21 meters.
Expect to find walls of all shapes and sizes. Indoors offers 140 routes, separated by 45 ropes and outside are 25 routes divided by 16 ropes. There is also a boulder wall reaching 4.5 meters high for those keen on bouldering.
The Hague Hollands Spoor's climbing wall is situated inside a climbing hall and so is its Beest Boulders section. The center sports over 100 routes laid out with 36 ropes. The bouldering hall is next level here with a whopping 180 boulders!
A great activity for all ages, the climbing walls are suitable for children with dedicated sessions for kids available.
34 – Meander around Het Plein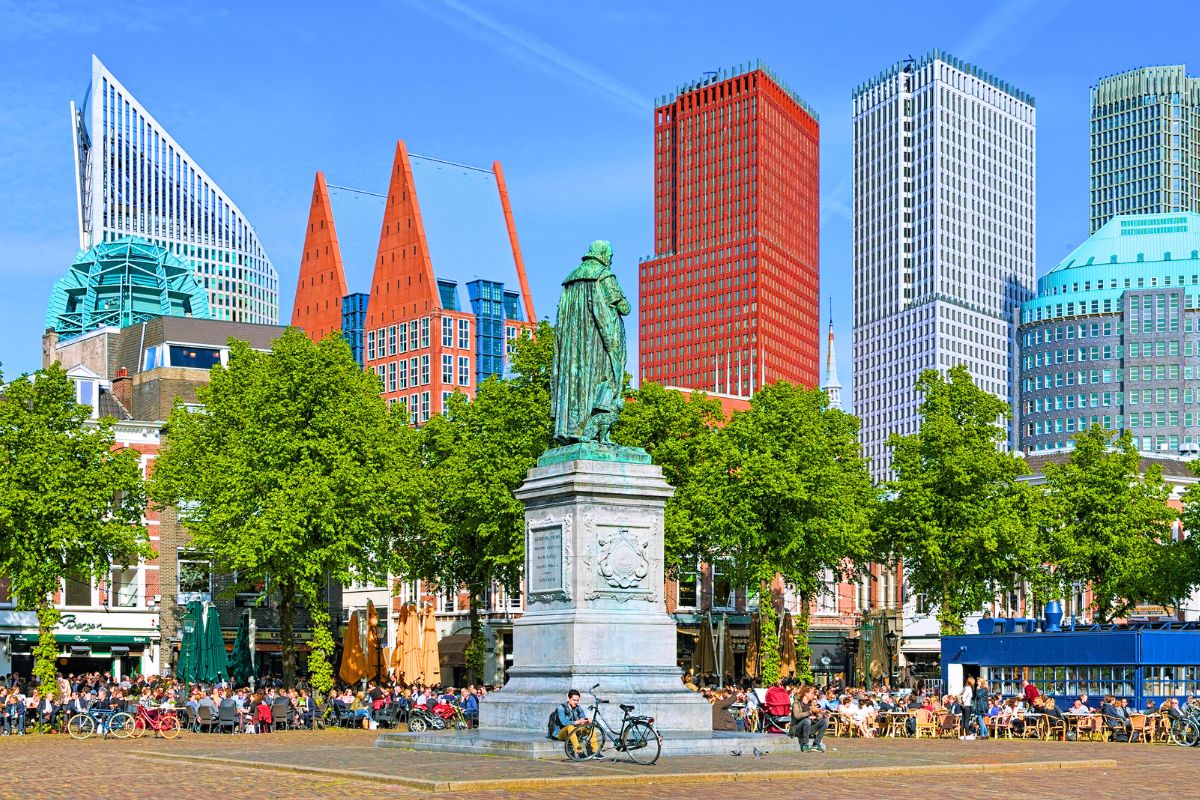 Bustling with people, cute cafes and locals enjoying an Aperol Spritz or glass of vino, Het Plein is situated right in the middle of the city's old town, right outside the Binnehof.
Interestingly, the town square once belonged to the ancient castle, and the space was where the grounds' gardens were set up.
Thanks to its location right outside the Binnehof, the area is well-maintained and the buildings surrounding Het Plein suit this atmosphere. It's also in the perfect position to many must-see attractions and so the square is always abuzz.
Pull up a chair at one of the lovely restaurants or street cafes for a bite to eat or a coffee and find yourself people-watching before you know it.
As the sun begins to set, the fairylights come on and the eateries transform from daytime spots to lively nights cafes and bars, and it becomes a serious vibe!
Sometimes, there are small flea markets set up here too.
In the center of the square, spot the statue of William the Silent, standing proudly here since 1848.
35 – Book a surf lesson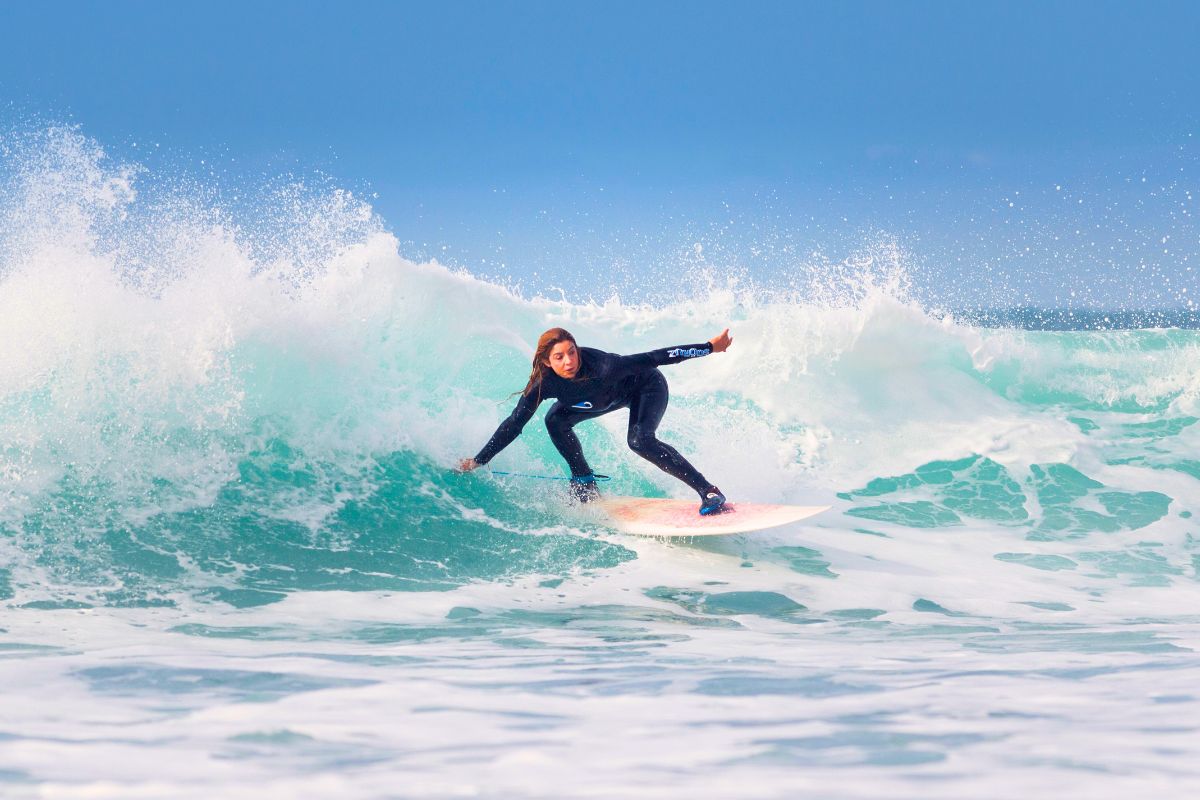 Take full advantage of The Hague's coastal positioning and learn the basics of surfing 101 with a surf lesson session down at Scheveningen Beach.
As you're just starting out, most surf lessons for beginners are between 1.5 to two hours, starting on the shoreline and ending in the water.
Limited to small groups so each individual gets enough personal attention and focus, begin with the fundamentals, such as learning how to position yourself on the board, going from paddling position to standing using your knees, how to paddle, ride the wave and curve your board.
Listen carefully to the safety instructions too before you enter the North Sea. Once you're ready and comfortable it's time to hit the ocean and go surfing — and not to fear, your guide is there to help give you a push when needed.
For this activity, you need to know how to swim well and have some level of fitness. All surfing gear and equipment is included in the lesson. The North Sea can reach super icy temperatures and so wetsuits and surf caps are provided to keep you warm.
If you are set on spending the entire day learning how to surf, there are a few full-day surf options — check out Aloha Surfschool.
36 – Sightsee alternatively with scavenger games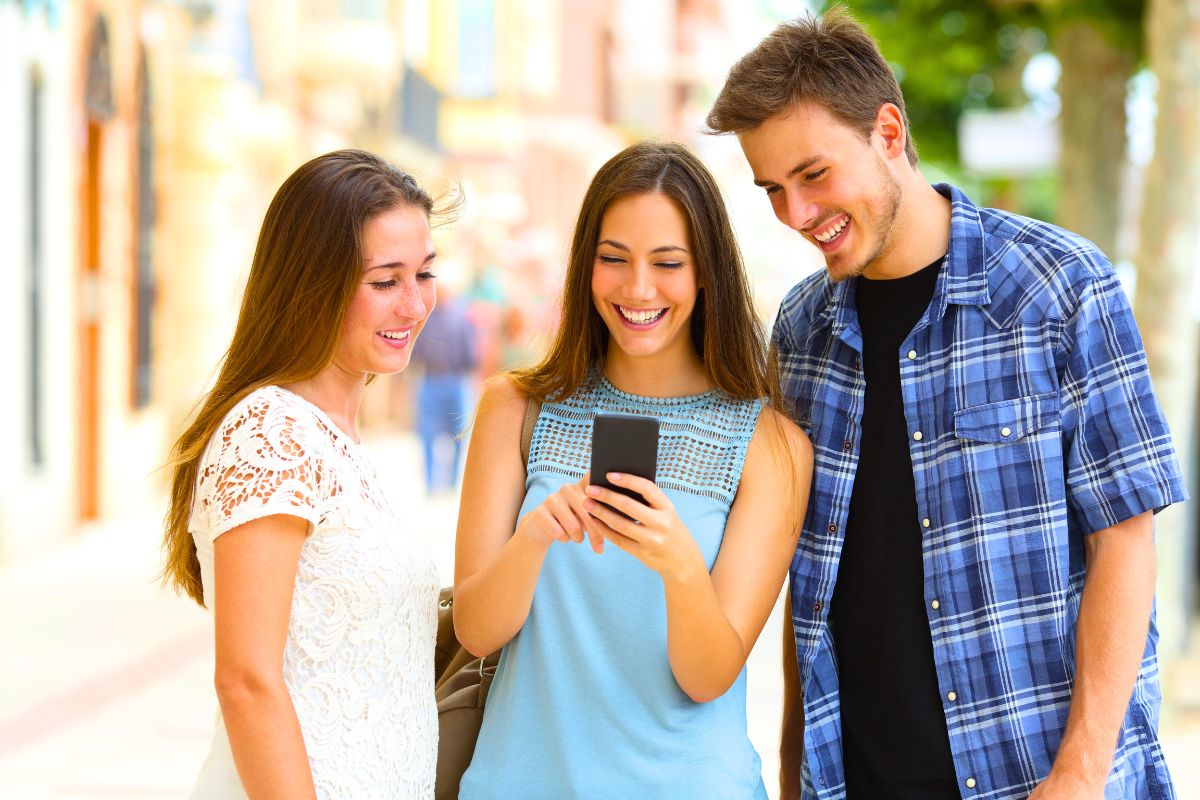 Traversing from one city landmark and attraction to the next is not everyone's cup of tea. If you're vacationing with a partner who isn't the biggest fan, consider these super fun city Scavenger Games as an alternative — so everyone is left feeling happy.
How does it work? Using your mobile phone, you'll be given a set of riddles that need solving. The catch? You'll only receive each new riddle once you solve the previous one, and each puzzle you will find at a different location.
Every location is in fact, an iconic or unique city landmark!
Designed as an interactive game, be introduced to fun facts and hidden city gems as you move from one destination to the next. Each scavenger hunt is strategically planned to lead you throughout the city, maneuvering through a few secret alleyways.
Ranging from 1.5 to two hours, there are various games to choose from, each one differing slightly in theme and the sights to cover.
For example, pick a hunt that focuses on the typical must-see Den Haag highlights, opt for a round centered on the Old Town, or trace the stories of the Dutch Resistance heroes with a history scavenger hunt.
37 – Play and create at Legoland Discovery Centre Scheveningen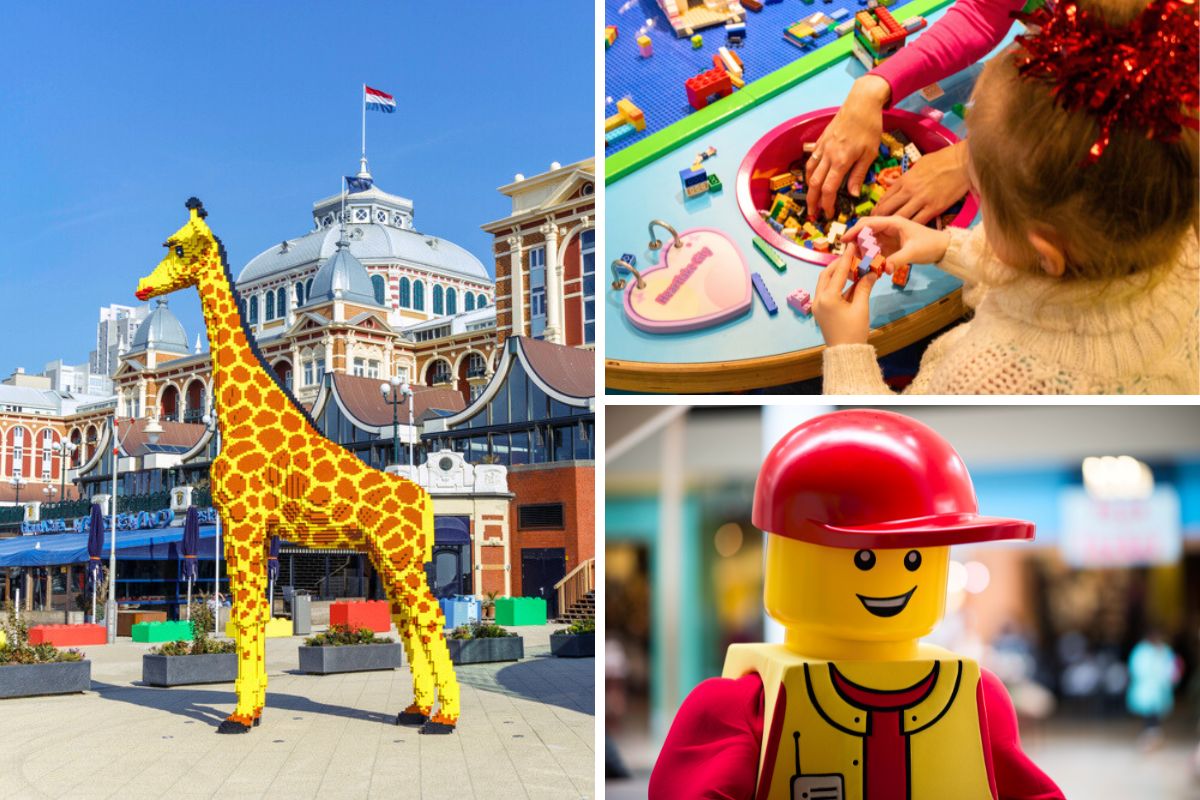 Loved for decades by both young and old, LEGO® toys were first manufactured in 1932 and have continued to win the hearts of parents, children and even adult players ever since.
So much so, there are now dedicated Legoland Discovery Centres including the one in Scheveningen!
A fantastic way to encourage the development of fine and gross motor skills, your kids will go dippy at the playground centered around all things LEGO®.
Divided into different sections, there is plenty to see and get involved in within the interactive setup, meshing the theme of 'build, play and learn.'
Combining over 1 million colorful blocks and featuring 2,500 minifigures, Miniland is a replica of The Hague's highlights including its most famous buildings and monuments.
Visit Master Wu, undergo your own training and construct your own fighting figurine at NINJAGO® Training Zone; or use your hands and pretend to be a mechanic building your own car made from LEGO® at the Build & Test zone.
The LEGO DUPLO® Park is specifically for the little ones, and the space is filled with the larger DUPLO® blocks. The Pirate Adventure – Soft Play is also just for children.
Board the Imagination Express and enjoy a ride through the LEGO® city, and catch a LEGO® movie at the 4D Cinema.
There are creative workshops to join under the guidance of a buildmaster, or for the young at heart, there are special Adult Nights where no kids are allowed in.
38 – Explore the Museon Omniversum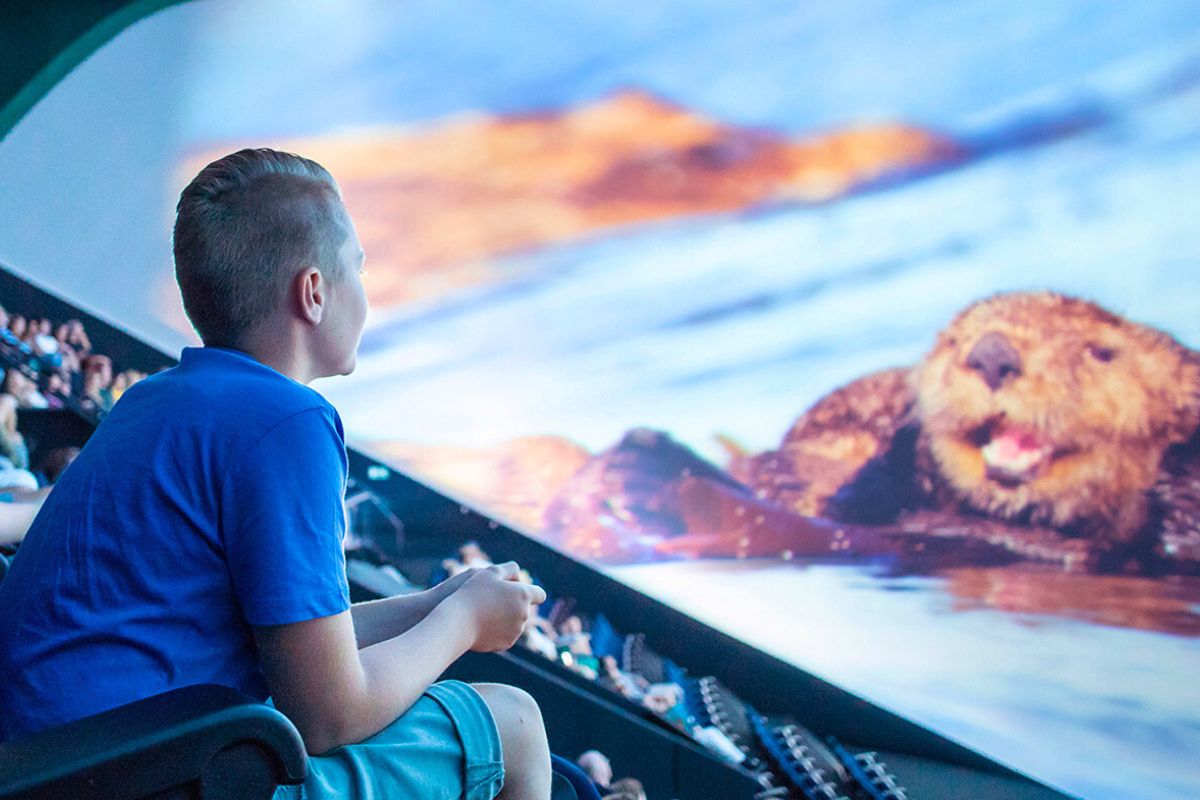 Travelers besotted with all things science, the Museon Omniversum is calling your name!
Open both day and night, the interactive science museum places an emphasis on exploring people, our Earth and all things sustainability through exhibitions, displays and hands-on features.
Temporary exhibitions follow themes from the likes of the Dinosaur Age through to space travel; or hunt down the permanent expos honing in on topics like the Romans, prehistory, satellites, volcanoes and the North Pole. One of the biggest is the 'One Planet Expo.'
The museum owns an extensive collection of objects pertaining to all things nature, technology and culture constantly on rotate, showcasing a handful at a time like telescopes, vintage interference devices, skeletons, fossils and so much more.
Planetarium shows, live concerts and science films all happen inside the Dome. Depending on the time of visit, uncover different day and night programs.
39 – Spin the slots at Holland Casino Scheveningen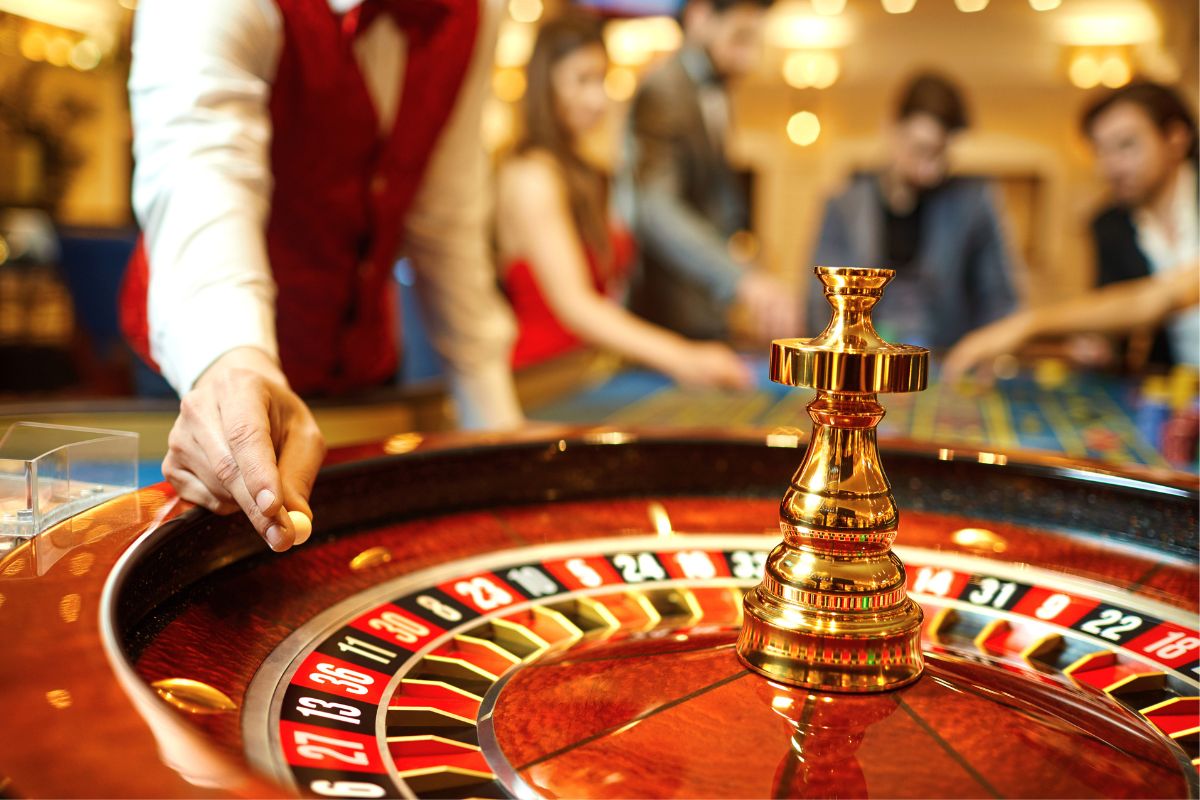 Feeling lucky? To be enjoyed responsibly, show off your poker skills at the Holland Casino Scheveningen or arrive for some good ol' fashioned gambling fun.
Expect to find all the classics such as roulette, blackjack, bingo, poker and baccarat, as well as dozens of slot machines.
Speaking of, there are the traditional spinning reel slots as well as modernized video slots to play, including the timeless fruit machines, or slot games involving poker, roulette and bingo tactics.
Boasting a wonderful location next to the seaside, don't forget to take a break and there is a great dining option to unwind at — or spend your winnings.
Don't be surprised to see live performances adding ambiance to the evening, and the casino has a strict dress code of 'stylish and well-groomed.' Identification is mandatory and no one under the age of 18 years old is allowed inside.
40 – Save the Fine Dining for a date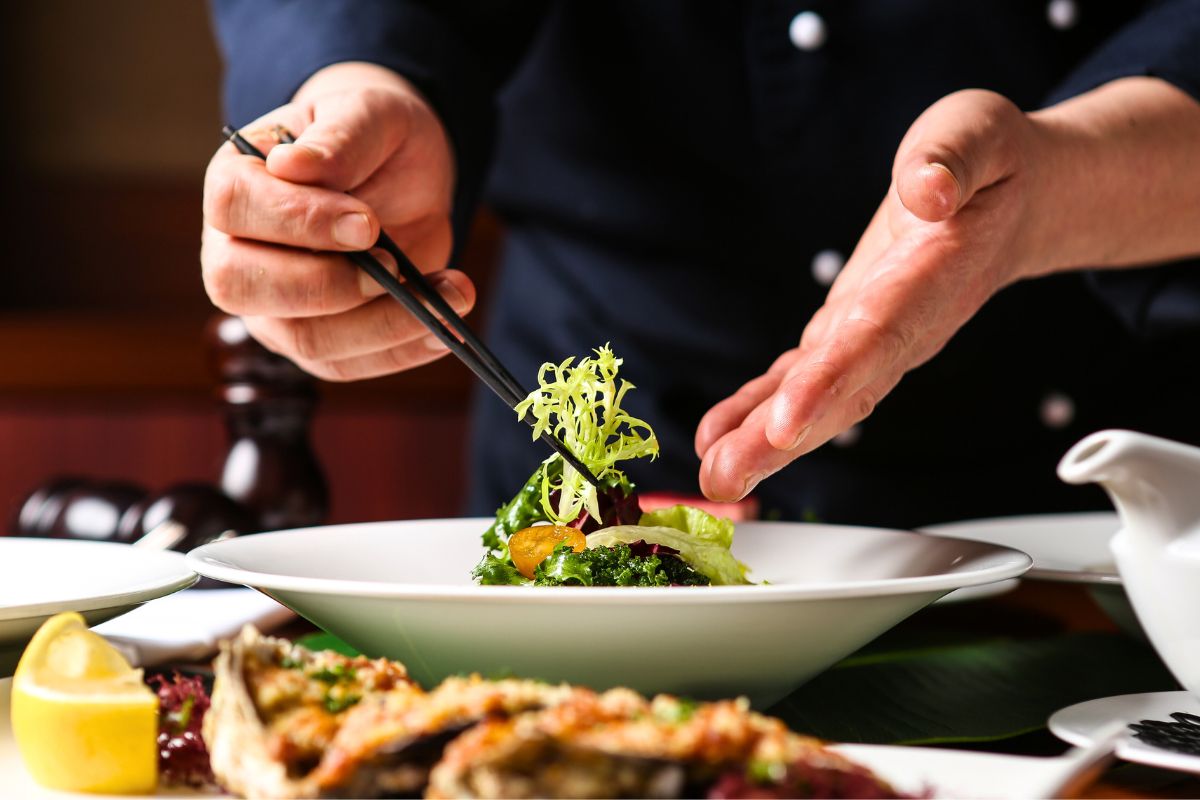 Fancy an evening (or afternoon) of fine dining? A spectacular idea for date night, get a taste of some of Den Haag's best restaurants.
Calla's is gorgeous, from the food presentation to the simple yet elegant interiors. Headed up by chef Ronald van Roon, the one-star Michelin restaurant offers both set and a la carte menus for lunch and dinner service, featuring tons of fresh produce straight from their garden.
Grab a seat around the chef's table on the ground floor, or take a romantic seat upstairs.
Focusing on Italian cuisine but incorporating French cooking techniques, Restaurant de Basiliek matches it with a fabulous vino menu featuring selections from around the world.
Decide if you'd like to sample a tasting menu (you have the option to choose specific dishes for this from the a la carte menu) or leave it up to the culinary pros and opt for the three-course Chef's Menu or the six-course Amuse Menu.
Warm and inviting, Restaurant Basaal is the place for plates of modern Dutch food. Using authentic flavors but presenting dishes in a contemporary fashion, the menu changes with the seasons.
There is both indoor and outdoor seating available.
41 – Party at the hottest nightlife spots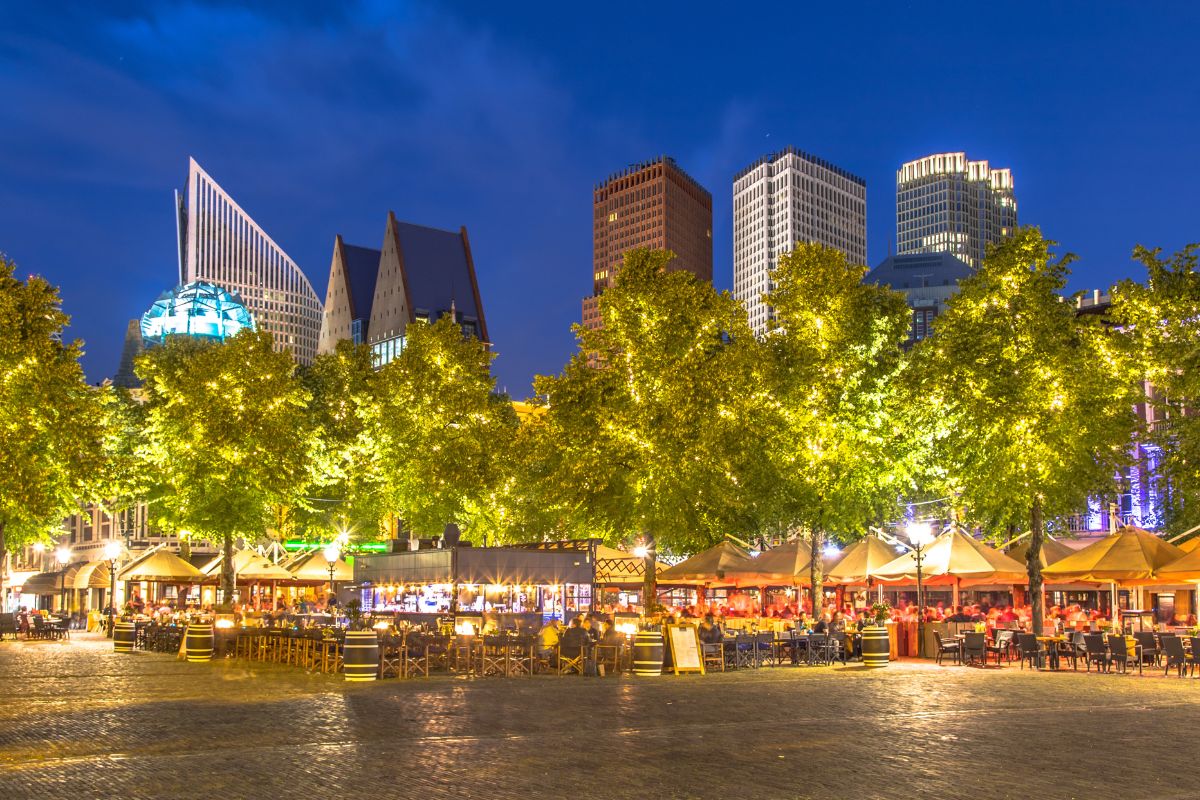 Let your hair down after a long day of city exploring and sightseeing and lap up the nightlife vibes of The Hague. Depending on your mood, take your pick of bars, clubs and comedy venues.
De Gekke Geit is your typical youthful bar setup, where the crowds that flitter in are usually backpackers or groups of friends on the prowl for a fun night out.
If live music is more your thing, De Zwarte Ruiter is located in the Grote Markt and has been winning over the crowds since 1988! An institution in its own right, it opens as a coffee shop in the day and transforms into a venue for gigs when the sun disappears.
Dancing queens and kings, shake it off at PIP Den Haag. Expect a typical nightclub setting with local and international DJs on the decks, and they also host other alternative events.
In the mood for a lighthearted affair? The ComedyCity Theatre is one of the only true comedy clubs in the city, open from Thursday to Saturday — and many of the standup acts are international.
Ever visited a proper authentic tiki bar? Lively, colorful, ambient and serving delicious rum cocktails, grab a drink, or four, at Den Haag's only tiki bar, VaVoom Tiki Room.
How to get to The Hague?
For international travelers flying directly into the Netherlands, there are two options for how to get to The Hague.
There is no airport in the city, so you will land at either Amsterdam Airport Schiphol (a one-hour drive from Den Haag) or Rotterdam The Hague Airport (45 minutes from The Hague via car).
Eliminate the hassles of organizing transport to your final destination with pre-booked airport transfers available from both airports.
Once you've landed and are ready to leave the airport, your private driver will be waiting outside the gates holding a sign with your name on it. Be transported in a comfortable vehicle directly to your stay, with no need to worry about figuring out taxis or public transport.
Where to stay in The Hague?
Nothing beats the feeling of returning to an amazing stay when you're traveling aboard. Here are some of the loveliest hotels in The Hague.
Fusing old-school charm with modern-day comforts, The Collector boasts an excellent central location, yet the hotel's surrounding area is nice and quiet — a perfect option for couples.
The 4-star Park Centraal Den Haag takes cues from different decades, effortlessly combining a variety of design styles to give it a grand art deco feel.
Another option with a fabulous positioning; Boutique Hotel Corona is set within a 17th-century building but offers guests contemporary interiors, and rooms and suites are well-equipped.
Stylish, comfortable and with all the luxury finishes, voco The Hague, an IHG Hotel lives up to its 4-star reputation.
With pops of color and art filling the rooms and hallways, the Boutique Hotel De Salon is ideal for those that prefer a more intimate stay and has an undeniable romantic air about it.
Bright, light and cozy, the Stadsvilla Hotel Mozaic Den Haag is great for families and offers multiple room options including a family suite.
Visiting The Hague on a budget?
There's nothing wrong with saving a few extra pennies here and there when on vacation — it just means more money for shopping or dining out.
For example, free walking tours in The Hague are one way of doing so, and there are a few options to take your pick from in The Hague, ranging from two to 2.5 hours ventures.
With a local expert on all things Den Haag leading the way, be shown the top city attractions, must-see sights and important landmarks without paying a dime. Hear fascinating anecdotes and insider titbits while learning something new at the same time during the free city tour.
Attractions like the Binnenhof, Mauritshuis, Escher in Het Paleis, Chinatown, Lange Voorhout, Grote Markt and Noordeinde Palace are some of the places that these tours cover.
Where to go next?
This wonderful country has so much to offer, with each town and city boasting something different and unique about it. There are many other fun things to do in the Netherlands, so if time affords you, explore some of its other incredible cities.
Under one hour away from Den Haag, there are plenty of fun things to do in Rotterdam — the second largest city in the Nederlands.
Photograph impressive architecture from bridges like the Erasmus Bridge to the beautiful Grote of Sint-Laurenskerk church. Go abseiling or ziplining down the Euromast Tower, hunt down the abstract Cube Houses (Kijk-Kubus), enjoy a Rotterdam boat tour and shop the urban-cool The Markthal market.
It's kind of a sin to leave the capital city off your travel itinerary when you're in the Netherlands, and you'll discover a multitude of fun things to do in Amsterdam.
Conveniently situated one hour and 15 minutes away, visit its stew of different museums from the Anne Frank to the famous Sexmuseum, take the tram through town, go beer tasting at the Heineken Experience brewery, visit its iconic districts, and stop by at least one coffee shop is a must — if even just to peek inside.
Final thoughts
From ice-skating and skiing with the kids to visiting iconic museums, shopping, street art spotting and boat tours through the canals, this is an incredible city!
Take full advantage of the beach in summer, or revel in its perfect European wintery moments.
Have you traveled to Den Haag before? What were some of your best travel memories during your time here, or your favorite things to do in The Hague? Share with us in the comments, we love hearing your travel stories.
As always, happy travels!