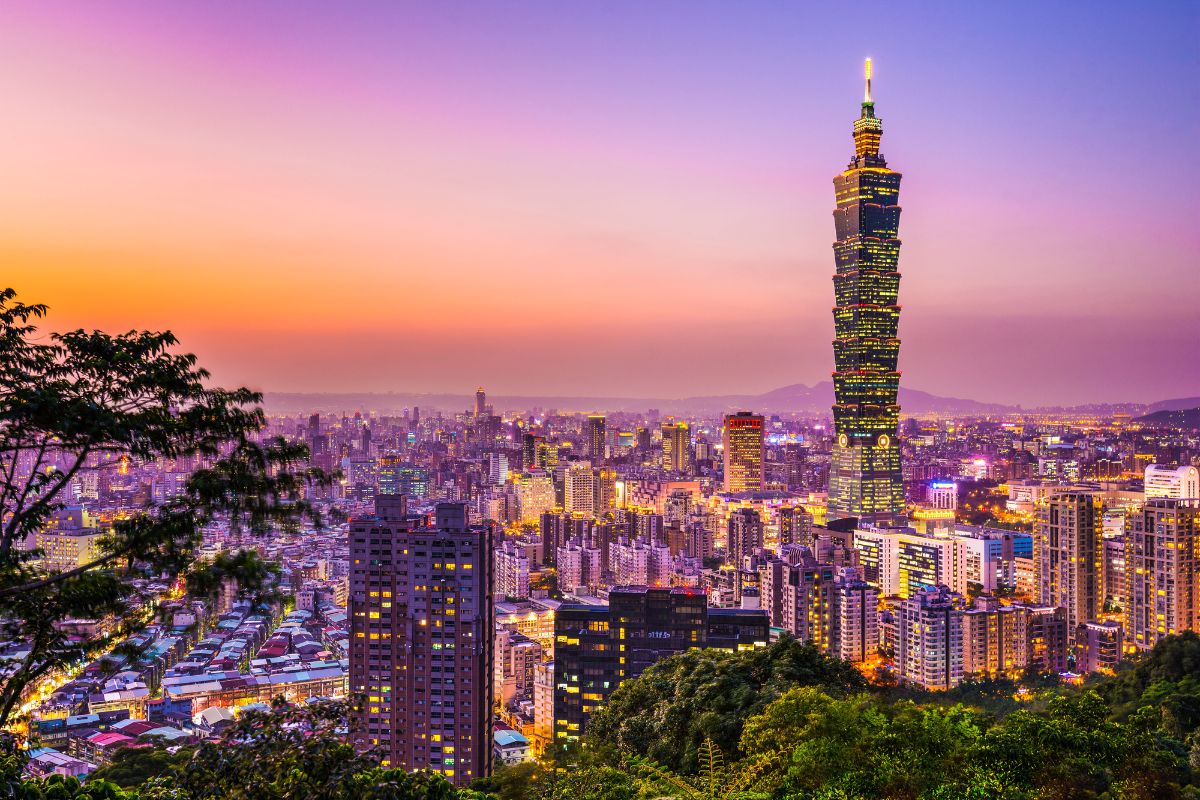 Travelers who thrive on arts and culture, you've landed in the right city, and Taipei will win your heart instantly. Born on an island, the capital is an urban city that's surrounded by lush landscapes and coastal topographies.
With an accumulation of Japanese, Chinese and European influences, there are many things to do in Taipei and sites you need to add to your bucket list.
Hunt down historic features among the skyscrapers, or venture further from the tourist hubs for a different perspective of this part of Taiwan.
Trek dormant volcanoes, hike mountain ranges, stop by the beach or explore a national park. Urbanites enjoy museums, galleries, cultural centers, fine-dining restaurants and boutique shopping outlets.
This leads to the night markets, which are on a whole other level in Taipei, and are the best places to find handmade crafts, unique goods and affordable fashion. Try some of Taiwan's famous street foods, like stinky tofu and bubble milk tea.
There are plentiful things to do and places to visit in Taipei. Here are 72 fun and unusual attractions and activities in Taipei to add to your travel itinerary.
1 – Take a step back through the ages at the National Palace Museum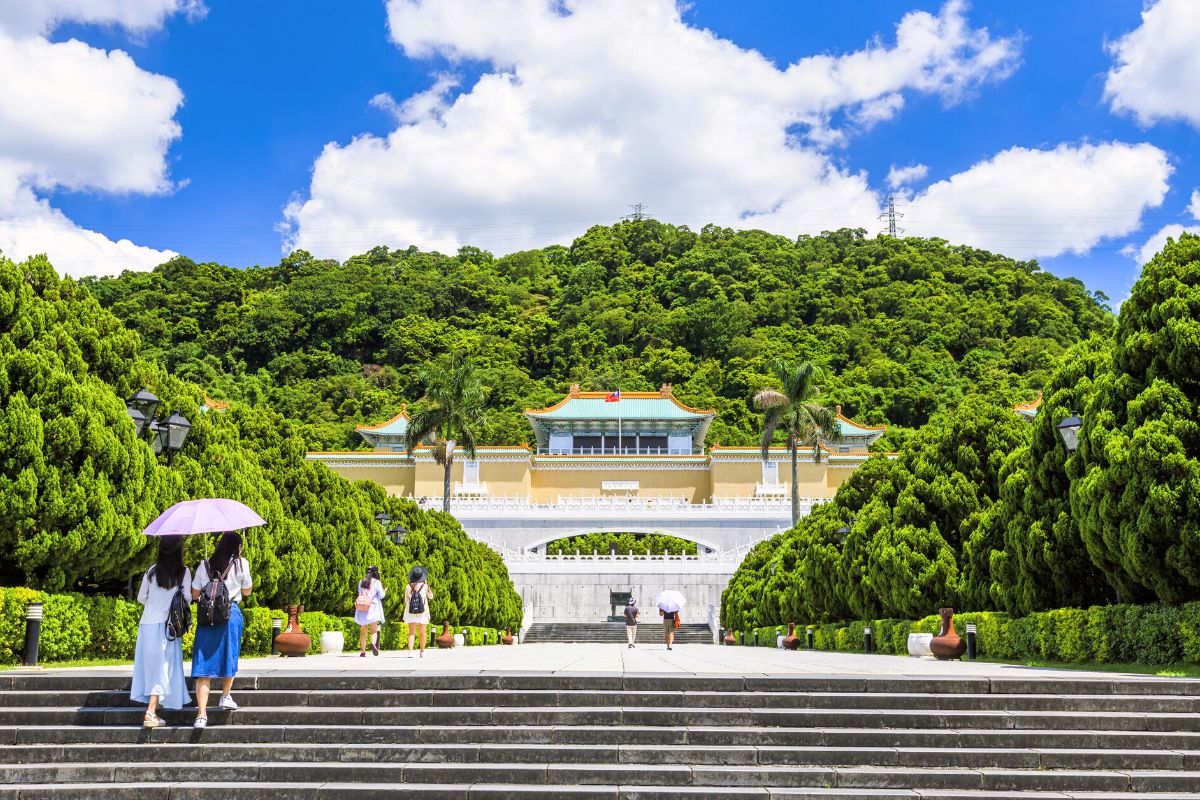 Nestled among lush hills, the National Palace Museum is the guardian of around 700,000 ancient Chinese artifacts and artworks and has been since 1965.
With its unique and interesting history, the museum is held in high regard by locals. Not just revered by the Taiwanese, the architectural and historical attraction is a highlight of many city tours.
Before landing in Taiwan, the last place some of the art collection stood was inside the royal family's palace in Beijing.
Within one day, the emperor of the Qing dynasty and his family were told to excavate the palace, and in a flash, thousands of artifacts and art were transferred to Taiwan for safekeeping.
Gathered and passed through generations, the relics, antiques and art pieces are the personal collections of Imperial China's royal families. These include the Song, Chin, Yuan, Ming and Qing dynasties.
The National Palace Museum was built to replicate the same style as ornate Chinese palaces, and the space is very grand – both inside and out.
Different gallery rooms showcase the categories to investigate, for example, bronzes, ceramics, paintings, calligraphy, curios, jade objects, rare books, documents, tapestries and more.
The exhibition hall is inside the main building, as well as the Children's Gallery. Stroll around the picturesque gardens afterward, divided into the Zhishan Garden and the Zhide Garden.
As one of the most visited sites in Taipei, skip the winding waiting lines and purchase your National Palace Museum ticket prior.
2 – Discover the National Chiang Kai-shek Memorial Hall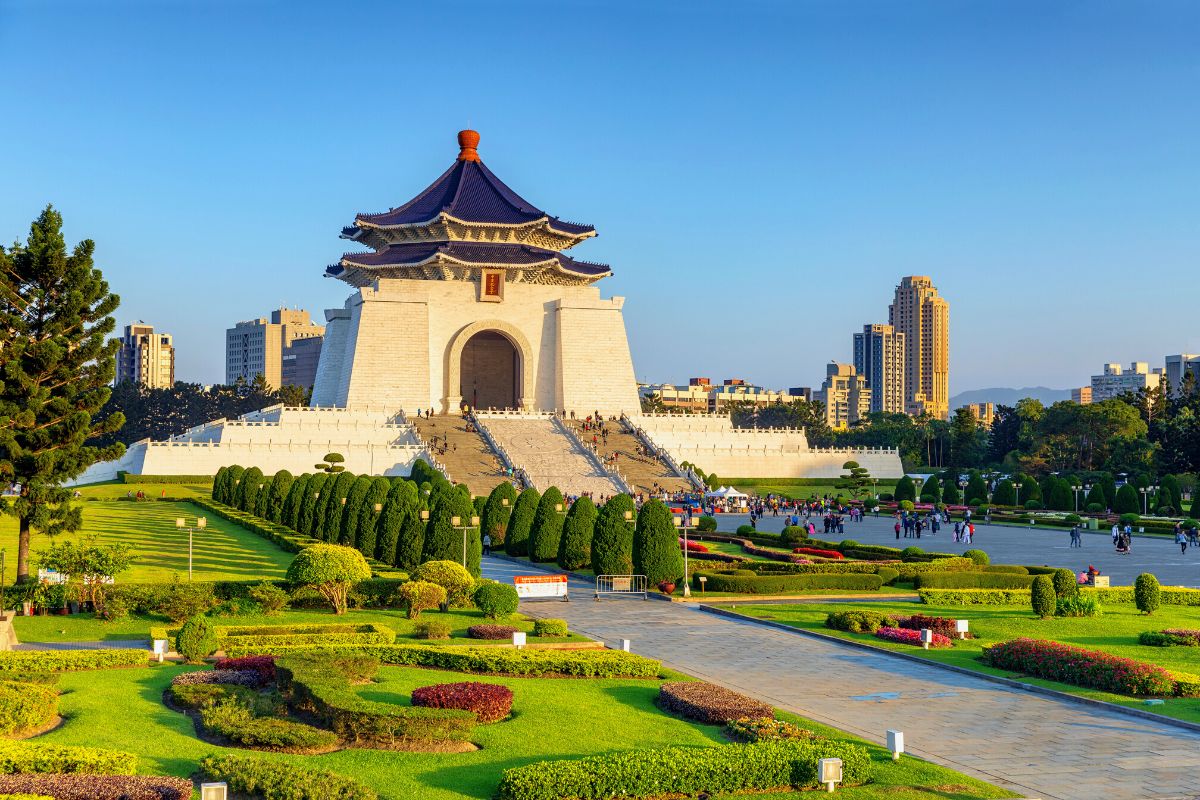 Constructed in memory of the first president of Taiwan, Chiang Kai-shek Memorial Hall is an incredibly massive memorial grounds where thousands of tourists flock annually.
Chiang Kai-shek was one of the founding members forming the resistance against communism in mainland China, known as the Nationalist Party, Kuomintang. Landing up in Taiwan, he became the country's first president under the new Republic of China.
Check out the impressive 75-meter-tall monument built in his honor, followed by a visit to the on-site museum and library.
The exhibit is a depiction of the former leader's life and the revolutions he made in China, however, it also celebrates the history of Taiwan.
Everything inside the complex has an air of grandeur about it, from the size of the courtyard to perfectly manicured garden greens to monster-high archways.
In past years, protests were held at the memorial hall, earning it the nickname Liberty Square! The white-jade stone archway is about 30-meters and lights up at night. Many performances, events and exhibitions happen at Chiang Kai-shek Memorial Hall.
3 – Visit the first temple in Taipei, Longshan Temple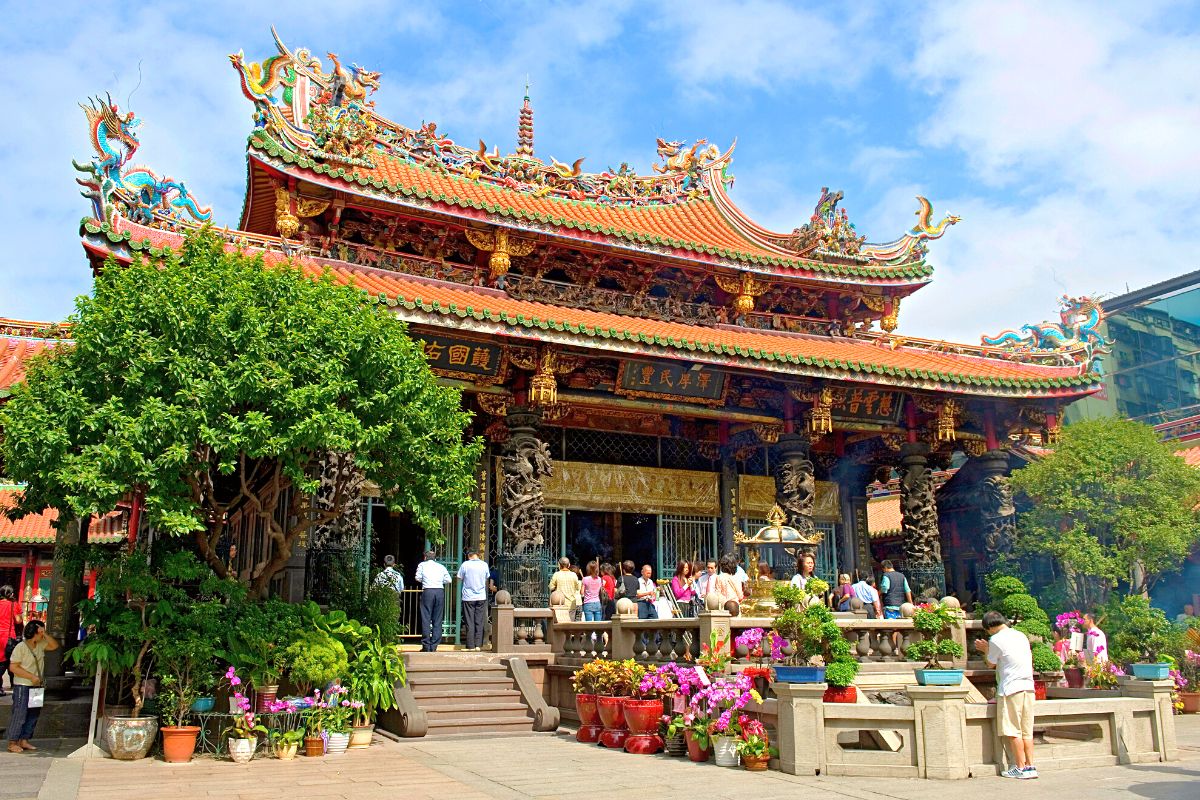 Feel Longshan Temple's rich history from the moment you arrive at the sacred grounds where Buddhism, Taoism and Confucianism are all honored. Constructed in 1738, the elaborate structures have quite literally stood the test of time, facing wars, natural disasters and invasions.
Although main parts and sections of the original complex have been destroyed by earthquakes and during battles, throughout the years the temple has been restored and renovated by the local community.
Examine the three main halls (Sanchuan Hall, Longmen Hall and Humen Hall) and keep your camera close by.
Look out for bronzed dragon statues curling around pillars, and other statuesque figurines like mythical unicorns and phoenixes. Trace ancient stories engraved and carved into the temple's stone walls.
Locate Longshan Temple during a walking tour around the oldest city district. As one of the most historic neighborhoods to explore, Taipei's first-ever temple is always included.
4 – Day trip to magical Jiufen and feel like you're in Japan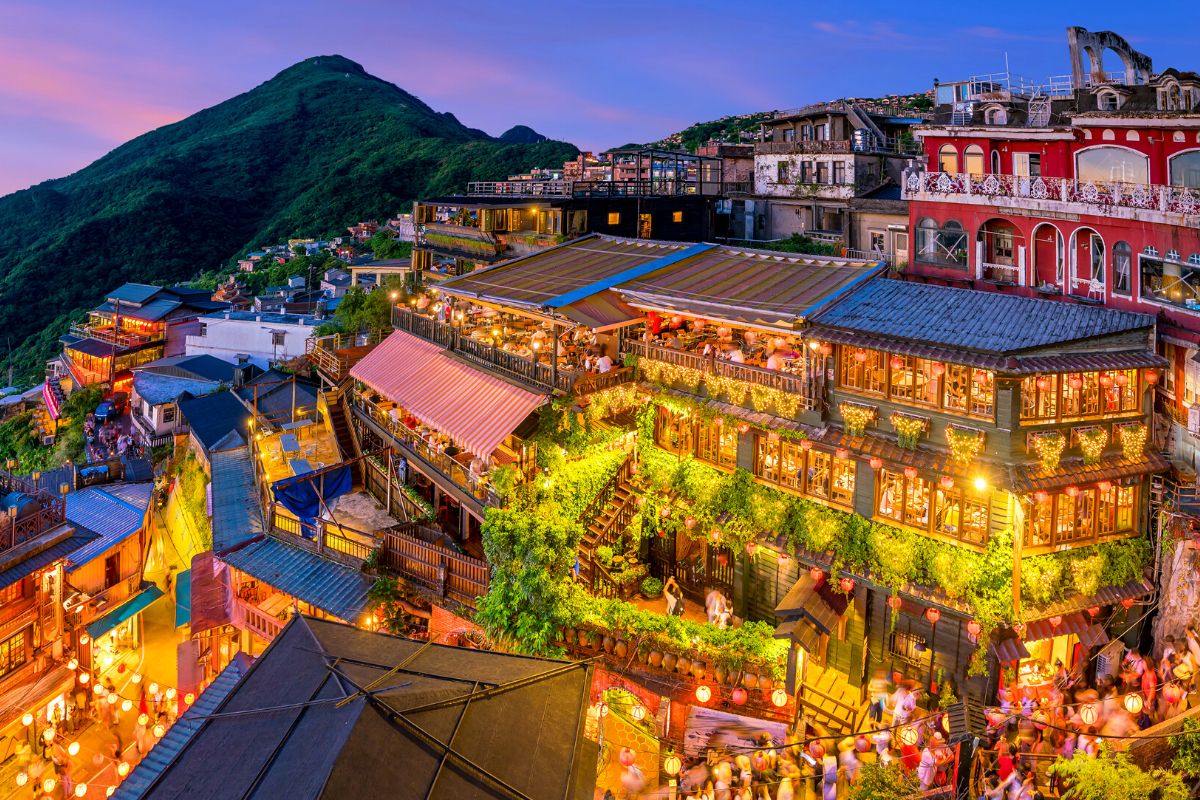 Jiufen is one of those towns described as magical and just 40 minutes from Taipei city, it's a day trip you simply cannot miss.
Unlike anywhere else in Taiwan, its renowned for its traditional teahouses and iconic street snacks, artsy souvenir and handicraft shops, and Studio Ghibli memorabilia. Rumor has it that A-Mei Teahouse is the exact teahouse that inspired the scenes in Studio Ghibli's Spirited Away movie.
Enjoy a traditional tea ceremony at the multi-story wooden tea house perched on the hillside, with lanterns hanging everywhere and views to die over from its balcony.
While hundreds flock to A-Mei, the oldest teahouse in Jiufen is, in fact, Jioufen Teahouse and its setup is extra authentic.
The heart and soul of the town is Jiufen Old Street, and the roadsides are brimming with curio shops and incredible street food stalls. Speaking of, you have to have a rolled peanut roll in Jiufen — you can find them in some places in Taipei but originating here, Jiufen has the best.
5 – Soar above the tallest building in Taiwan at TAIPEI 101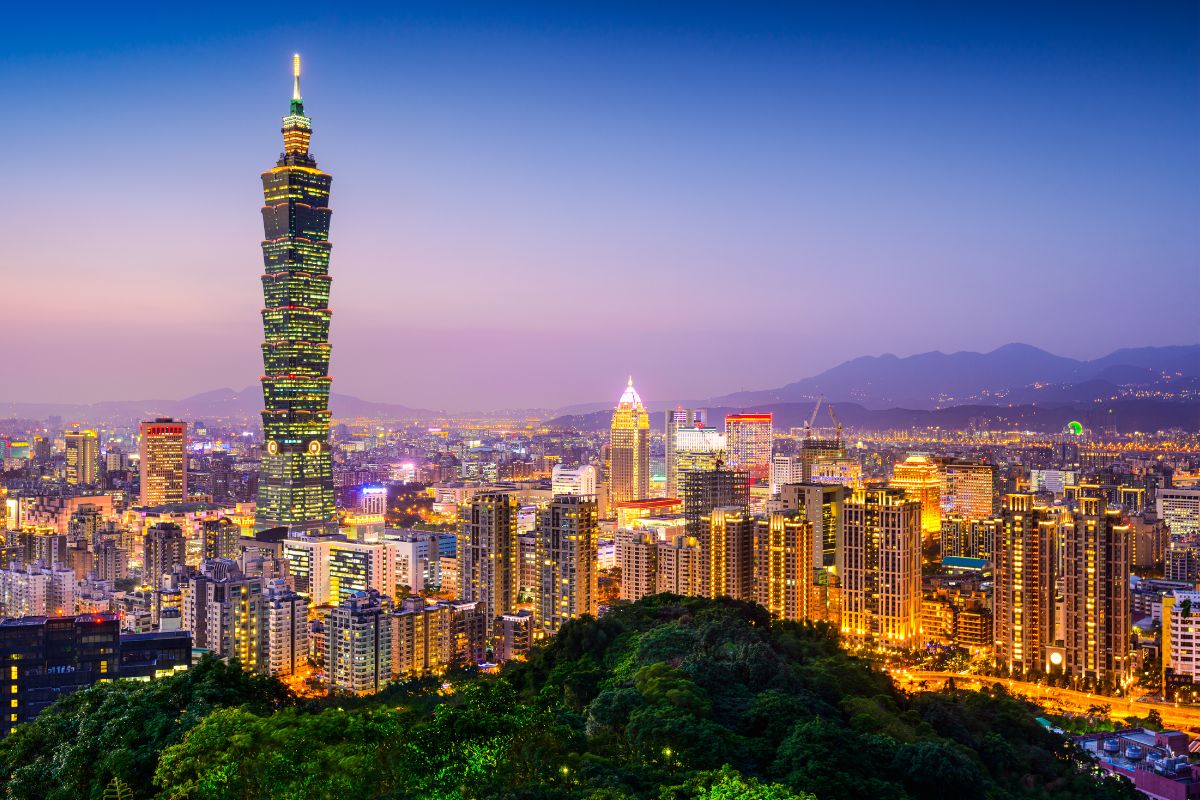 The iconic Taipei 101 stands proudly as the city's tallest skyscraper and provides the most insane views of Taipei that are unlike any other in town.
Whizz up to the 101st floor in the high-speed elevator to the indoor and outdoor secret garden. Outside is the 101 Skyline Skyline 460, an open-air viewing platform constructed 460 meters above the ground.
The city perspectives don't end here and Meet Taipei 360 on the 89th floor sports a second observation deck.
Sweeping 360-degree views, snap cool pics, take advantage of the telescope, stop by the coffee bar and grab a memento from the souvenir stall.
From here, take a flight of stairs up to the next level on floor 91 and enjoy an outdoor skyline tour from its view deck. Afterward, hit Taipei 101 shopping mall for a supply of luxury brands and outlets.
6 – Enjoy day tripping to Yehliu Geopark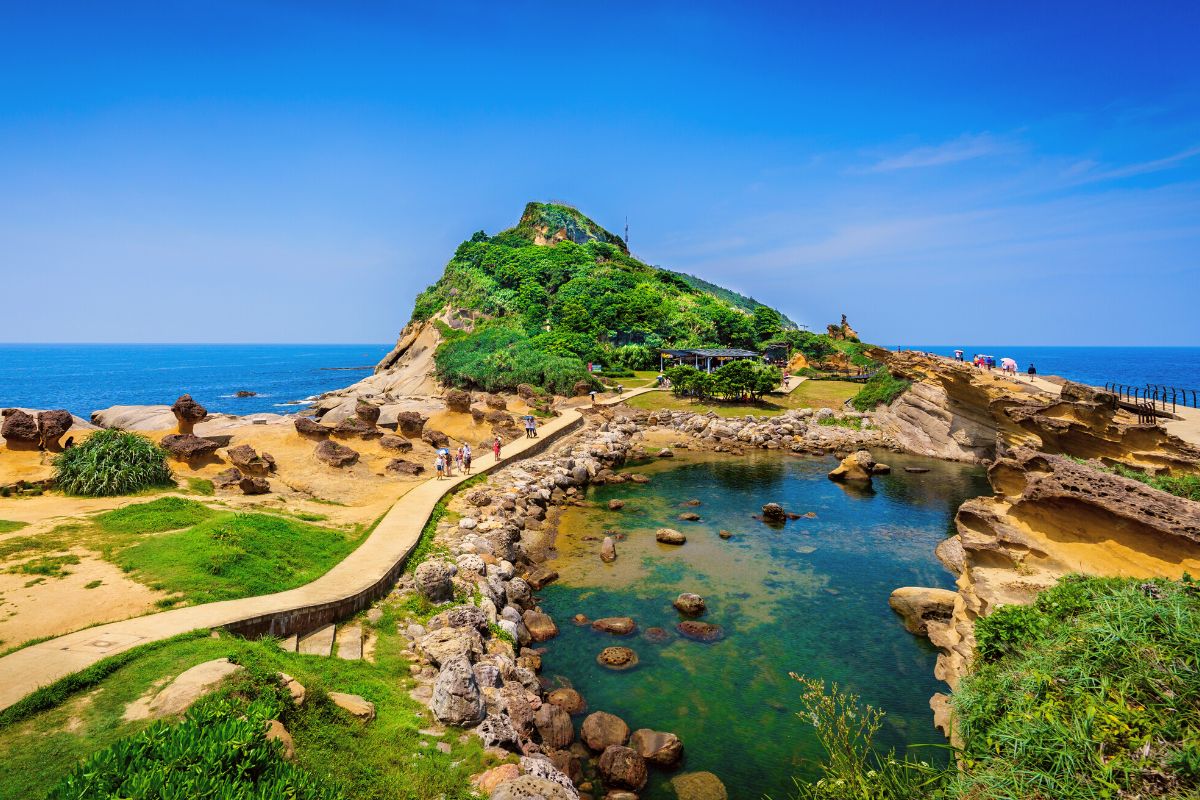 Consisting of a beach stretch no more than two kilometers long, the Yehliu Geopark is quite extraordinary and features some of the world's most noteworthy rock formations.
Let your imaginations run wild when you catch sight of the varying rocks in oblong shapes and sizes which have formed over the years due to sea erosion.
Some of the stones have naturally shaped themselves into familiar objects and, as a result, have been named accordingly. Walk in between rock pools and over boulders and search for the Kissing Rocks, Mushroom Rock, the Queen's Head, Fairy's Shoe, Sea Candles, Dragon's Head and others.
How to locate each rock? Simply look out for the rock formation that resembles its name. You can also give your own names to the objects, animals and people that your mind's eye conjures in the eroded rockeries.
Located in northern Taipei in the Wanli district, enjoy the coastal scenes around the cape area.
7 – Stop by the Taipei Fine Arts Museum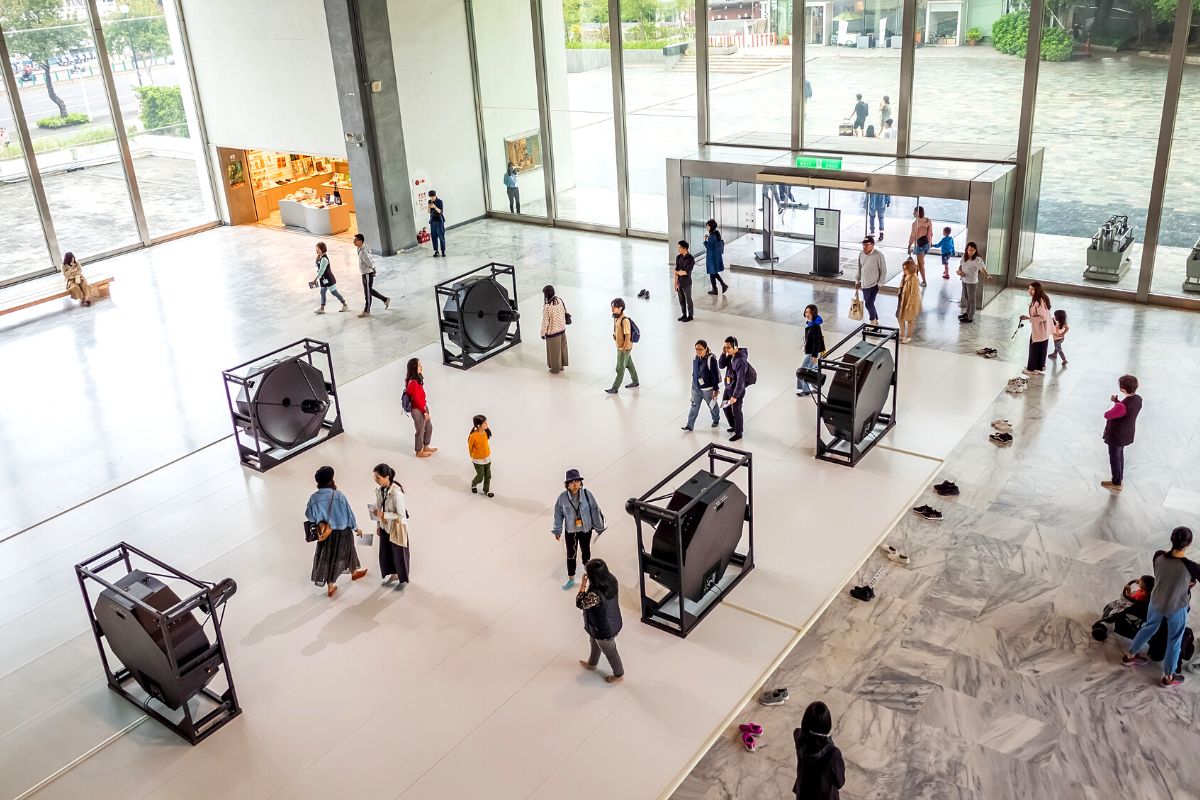 The Taipei Fine Arts Museum feels more like a modern gallery than a museum, and keeping up with its appearance, it hosts a delightful collection of contemporary art.
Open since 1983, drift through the hallways decorated in artworks by local and international artists, and the museum regularly updates exhibitions.
Not to fear if your art tastes prefer the classics, Taipei Fine Arts Museum houses a collection of ancient Chinese art and artifacts dating to the 19th century.
To make navigation easy, the museum is spaced out between four levels. As you enter, the first floor is where to find galleries 1A and 1B, dedicated to sculptural works and used for large-scale exhibitions.
The second floor hosts 2A and 2B and many of the historical works of art are here. For themed exhibitions, head to galleries 3A, 3B and 3C located on the third floor. Up-and-coming expos by young artists are held on the basement level in galleries D, E and F.
8 – Go paddleboarding in the outdoors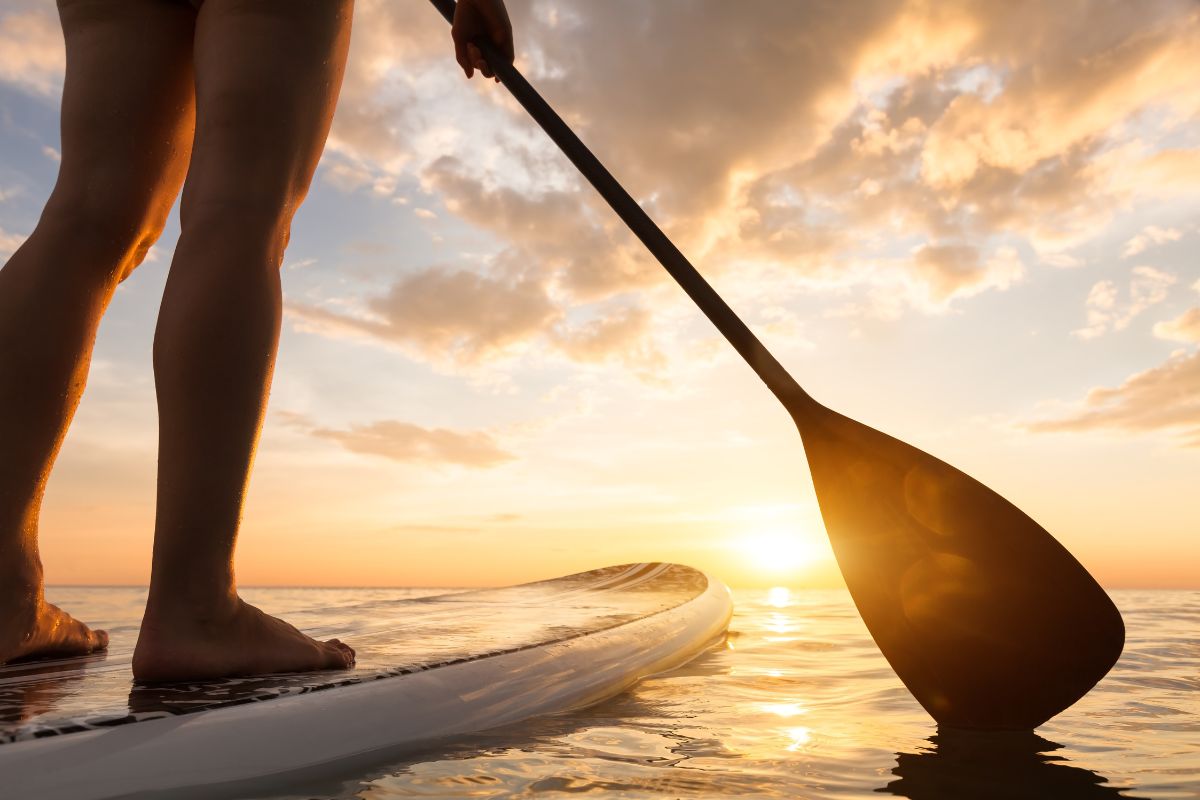 Have you ever tried stand-up paddle boarding before? If you've never had the chance before now, or it's already one of your top water sports to enjoy, there are paddle boarding opportunities around Taipei at varying locations.
Ocean lovers, take a SUPing adventure at sea around Jinshan Zhuhai Double Rocks and spend two hours cruising on the waters and exploring the rockeries up close.
Choose a similar expedition at the Shen'ao Elephant Trunk Rock in eastern New Taipei and paddle through the hollowed-out rock formation.
From afar, the ocean boulder actually looks like an elephant head and trunk. If you're hesitant about a sea venture, opt to go paddleboarding at Pinglin Riverside Park instead.
Before any SUPing activity starts, receive instructions on how to use the board and paddle, like maneuvering the board in the water, and all safety gear and equipment are provided.
9 – Admire Mother Nature at Taipei Botanical Garden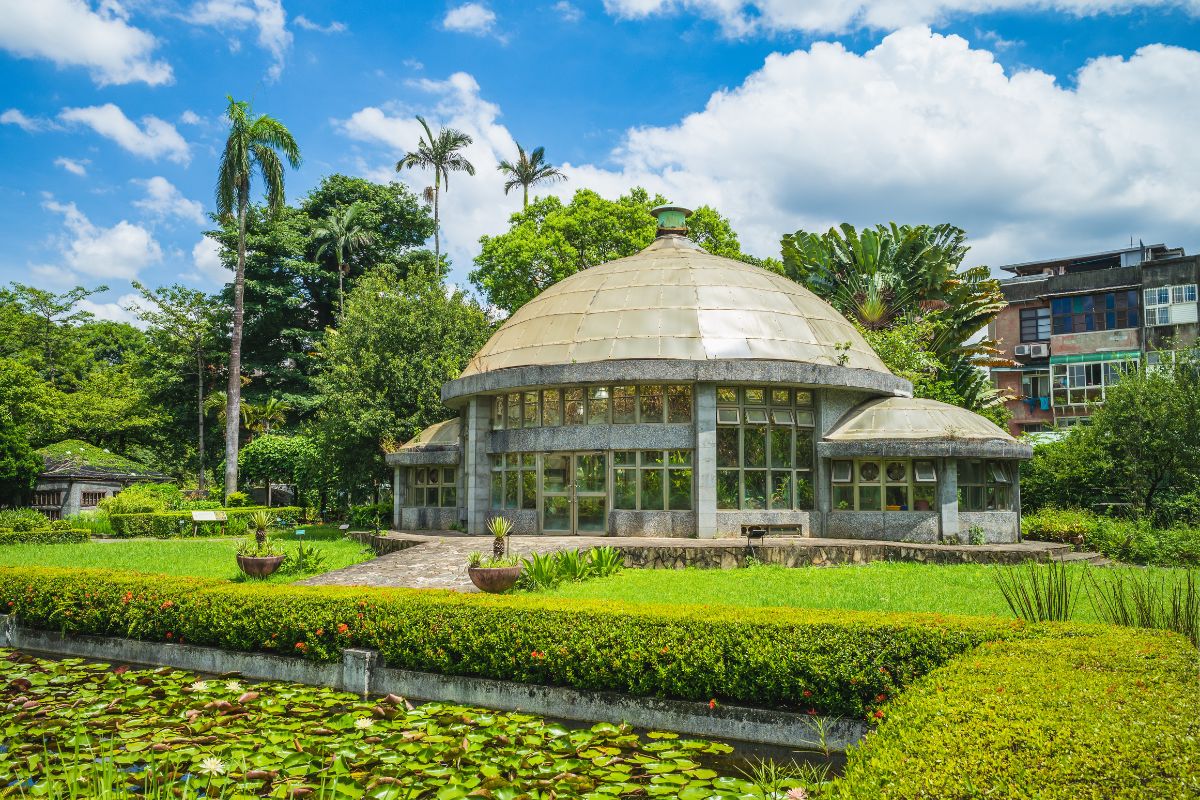 Stop to take a moment out from all the shopping, eating and historic sightseeing to spend some time in nature at the Taipei Botanical Garden. As the country's first-ever botanical garden, over more than 100 years, the gardens have been added to, from the setup to the specimens growing inside.
Originally constructed in 1896 as the Taipei Nursery, its name was changed in 1921. Along with the plants and florals, there are parts and buildings inside that remain from bygone eras.
Have a picnic around Taipei Lake and stop by the Guest House of Imperial Envoys museum. This former lodging of the Qing dynasty family was relocated inside the botanical garden in 1933 and today is named the Bu-Cheng-Shih-Sz Museum.
Wander around the Lotus ponds, spot varying birds and insects and step inside the gorgeous herbarium building which dates to 1924.
Look out for the collection of aquatic plants, Taiwanese indigenous types and ancient cycads and conifers. Flowers bloom according to their seasonal calendar, for example, in spring, see Tashiro Indian hawthorn and in winter, stop to admire the Flaming trumpets.
10 – Drop in at the National Taiwan Museum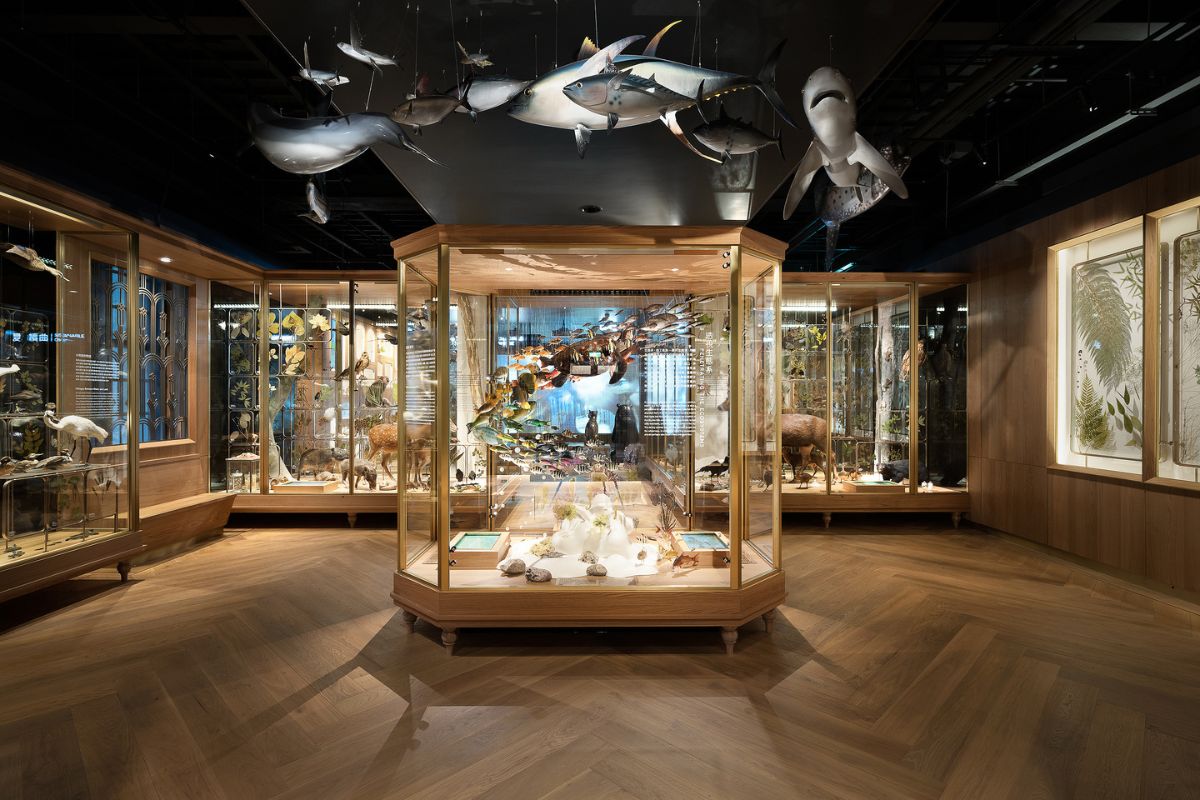 Not only the oldest in the city, but the National Taiwan Museum is also the country's longest-standing public museum.
Many museums in Taipei were founded in the last 50 years, housed in old historical buildings of importance, yet this one has always been a museum since it opened in 1908, even throughout wars and revolutions.
Initially, the museum was opened under Japanese authority, however, when the Republic of China government was established in Taiwan in 1949, it was taken over by the education department.
Undergoing construction for a few decades, its doors eventually reopened in 1999. Built in the style from the Japanese colonial era in Taiwan, the building's exterior is interesting to tour, and take photographs of.
There are gigantic columns at the entrance which follow inside and stretch up to its tall ceilings. Permanent exhibitions focus on topics like zoology, anthropology, earth science and botany.
At the museum, visitors can track the development and many splendors of Taiwanese culture, geology, flora, and fauna. Discover artifacts and learn about Taiwan's natural world and culture as you potter about the indoor and outdoor exhibitions.
11 – Go hopping around Taipei's famous temples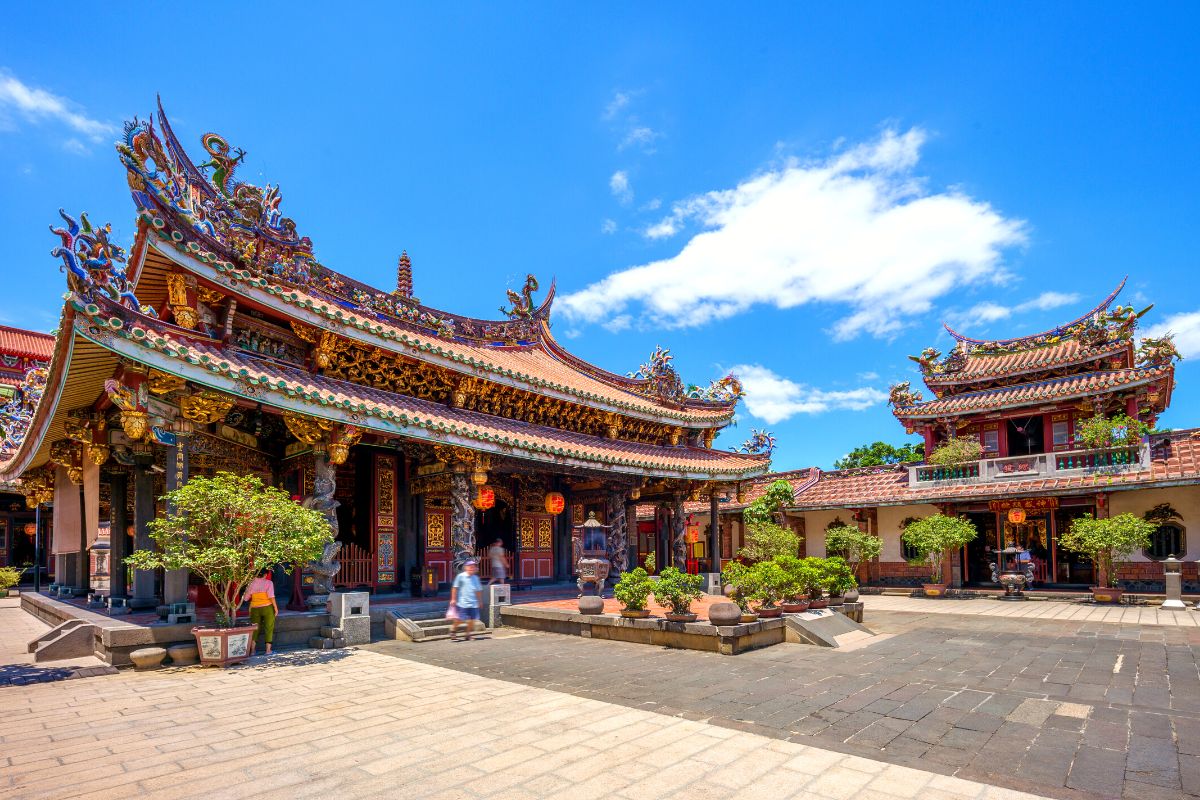 Visiting the districts around Taipei you'll uncover a multitude of eye-catching temples.
Look out for the dragons atop Dalongdong Baoan Temple, and it's renowned for its intricate art and sculptures… It's been recognized by UNESCO and awarded the Culture Heritage Conservation accolade.
The Taipei Confucius Temple in Datong was built in honor of the god himself, Confucius and is the only temple in Taiwan styled in Southern Fujian design. When the sunlight hits the red entrance doors of Hsing Tian Kong (also known as Xingtian Temple), it makes for a gorgeous moment on film.
Songshan Ciyou Temple, constructed in 1753, cannot be missed for its ancient importance and colorful entrance, with a dazzling six-tier roof. Even older, Guandu Temple dates back to the 1600s and is dedicated to the goddess of the sea, Mazu.
Xia-Hai City God Temple built in 1856 is also called the Temple of Love. It was formed to honor the City God and for matters of marriage, his wife is prayed to.
Taiwan is an island, after all, so it makes sense that there are a few temples dedicated to the ocean deity, and Ximending Mazu Temple is another one.
Officially, its name is Taipei Tianhou Temple and the temple looks pretty both day and night.
12 – Drink in the views from Maokong Gondola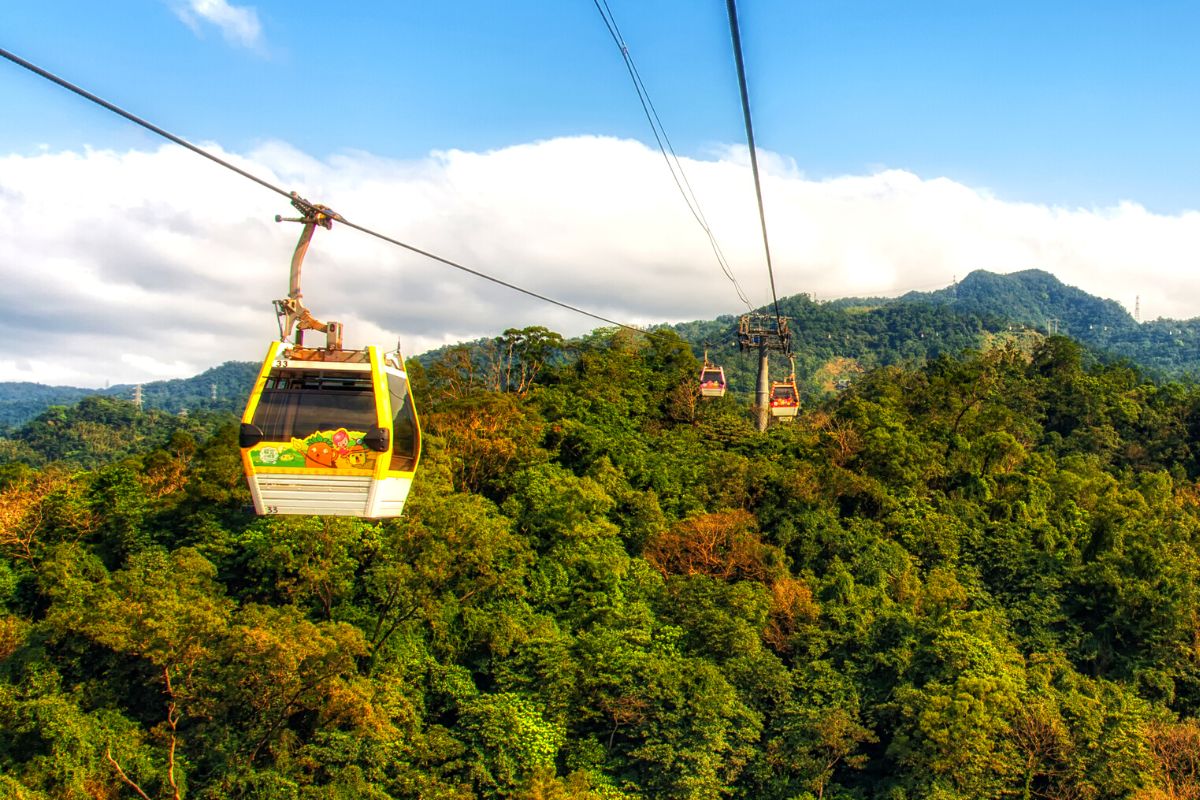 Experience a ride of a lifetime across Taipei's Wenshan area on the Maokong Gondola, with an impressive four stops en route. What better way to take in bird's eye views of the island and tick some of these famous city attractions off your Taipei bucket list?
Stopping off at four stations, land at the Taipei Zoo where two gondola stations are located (one for the south side of the zoo). Jump off at Zhinan Temple Station and explore the temple hidden by treetops.
The four-kilometer gondola ride starts and circles back to the Maokong Station where you can explore the region. This part of Taipei was once the country's biggest tea-growing area and there are activities to enjoy applicable to tea drinking and cultivation.
Take note, the Maokong Gondola gets very busy during weekends.
13 – Stop by Wenchang Temple during a bike tour
Dedicated to the Chinese god of literature and culture, Wenchang Temple is frequented by scholars and students who come to pray, make offerings and ask for good luck relating to their studies, especially during exams.
Constructed in the late 19th century under the Qing dynasty, the temple was once home to an academic academy and other educational endeavors.
During a morning bike tour around Taipei, stop off at Wenchang and have a look at the fine temple details of its curved rooftops and statues. Until midday, there's a daily fresh market around the complex too where vendors sell fresh produce, herbs and snacks.
Other city attractions to visit during a cycyle tour include the National Dr.Sun Yat-sen Memorial Hall, the Presidential Office Building, Bopiliao Historic Block and Longshan Temple.
A half-day biking tour is around four hours, and a full-day excursion covers eight hours of cycling and sightseeing.
14 – Pay tribute at the National Revolutionary Martyrs' Shrine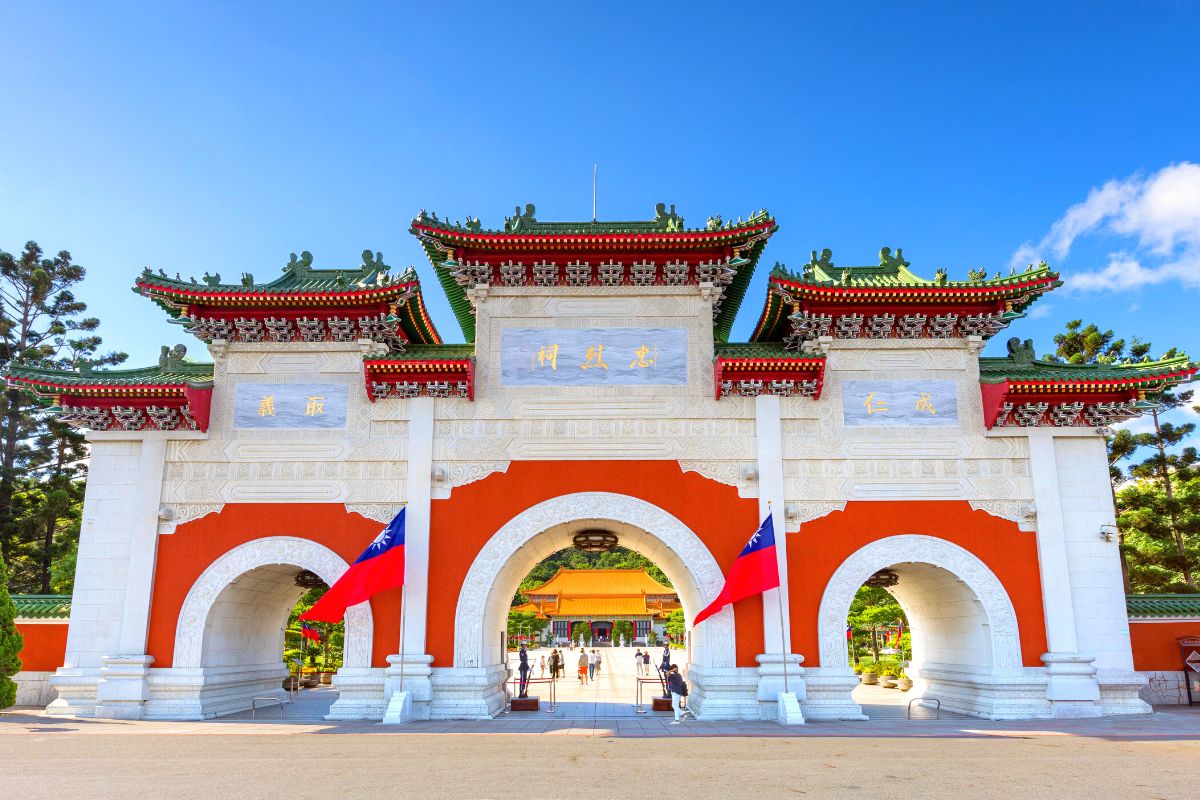 Architecturally influenced by Beijing's Hall of Supreme Harmony, the National Revolutionary Martyrs' Shrine was erected in honor of the soldiers that lost their lives during the Second Sino-Japanese War, as well as the Chinese Civil War.
The large-scale complex is surrounded by dense green trees and the main shrine inside looks strikingly similar to the hall in the Forbidden City. The inspiration is especially evident in its similar size, foundation pillars and elongated swooping tiered roofs. Apart from the shrine, there are some small exhibition rooms to visit as well.
However, the main attraction of the National Revolutionary Martyrs' Shrine is the guard-changing procession that takes place every hour. The complex main gate is policed by guards in traditionally blue uniforms, and they partake in a small ceremonial march when the guards change over.
There are many historically-enriching things to do in Taipei, as well as must-visit sites and the shrine is considered one of them. During city tours, witness the guards rotating shifts and spend some time taking photographs of the grand structures.
15 – Feel fascinated at the National Taiwan Science Education Center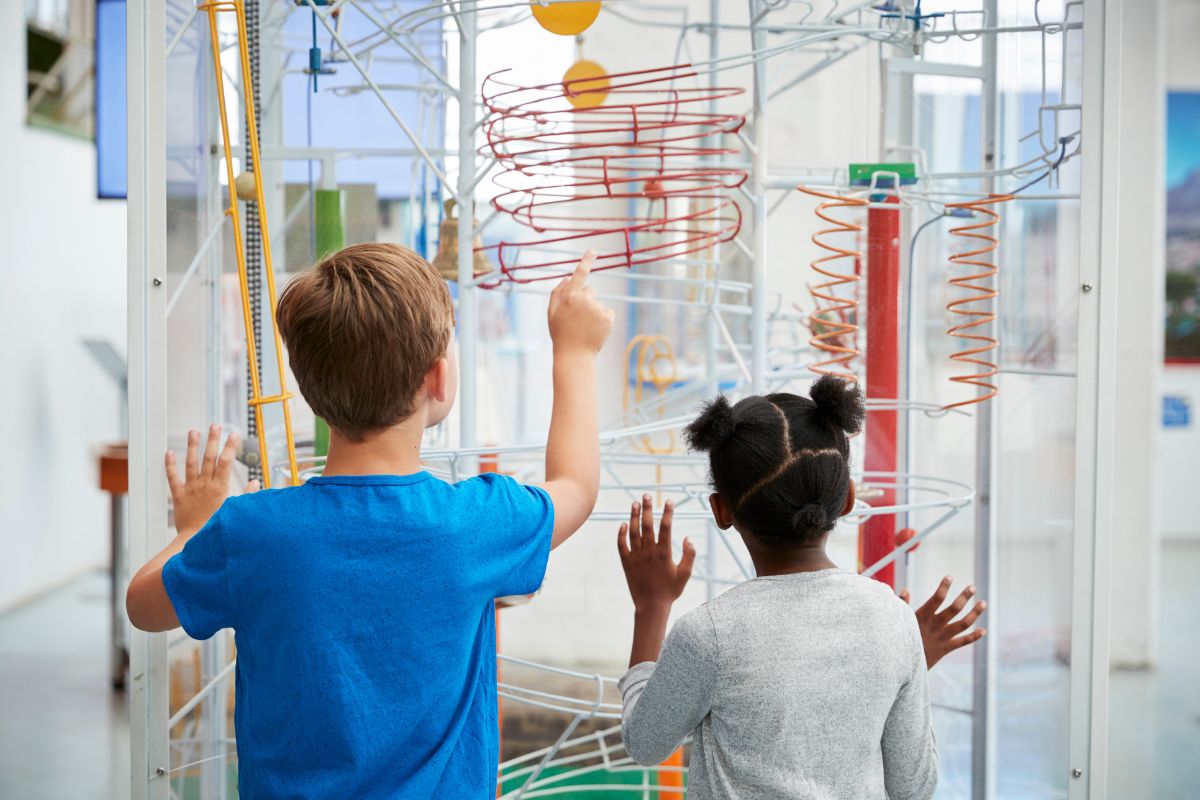 Featuring not just an educational expo, the National Taiwan Science Education Center has some fun workshops and activities to try. It's a great expedition for the entire family, with over 600 exhibits to plow through that cover the sciences, including biology, chemistry and physics.
Home to the Mystery of Life, Mystery of the Body, Biodiversity and People and Environment exhibits, the Life Science Exhibition Hall investigates all relatable matters.
Understand and learn more about quantum physics and science experiments at the Material Science Exhibition Hall, set up over two levels.
Here, attain knowledge through the Exploring the World of Physics and Exploring the World of Chemistry expositions and interactive displays. There's also a section within the Material Science Exhibition Hall dedicated solely to mathematics.
The little ones can have fun at the Science Playground or Science Laboratory, or watch a 3D movie at the theater. Try a tinkering workshop or one of the museum's 'DIY Experiences' and learn how to make all sorts, like magic piggy banks, soaps, kaleidoscopes and balancing birds.
16 – Go motorbiking around the city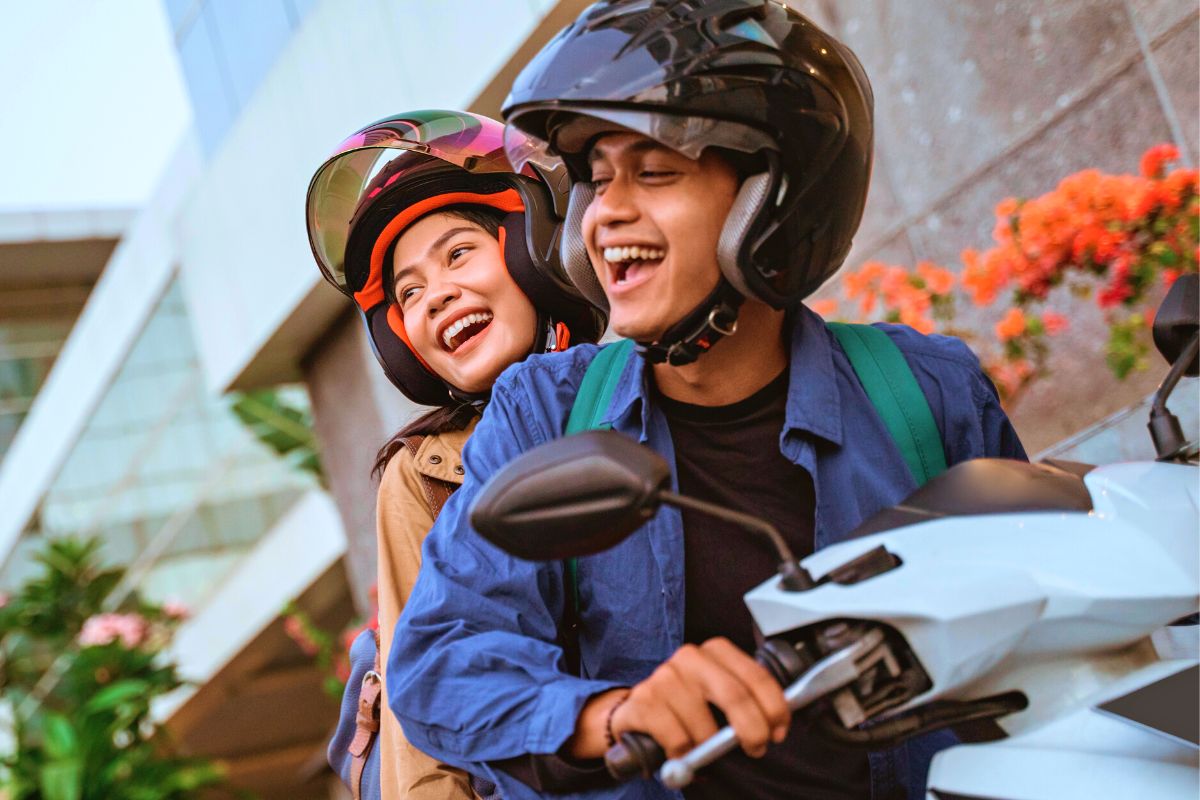 Like many cities in Southeast and East Asia, motorbikes are a popular mode of transport in Taipei (and across Taiwan). Act like a local and go motorbiking around town.
This is a great way to sightsee Taipei, especially if you've got limited time, like a few days or a weekend in the capital. Cover more ground zooming from one attraction to the next, avoiding multiple taxis, MRTs and walking from place to place.
Motorbike tours offer varying routes to choose between, which explore different areas and districts, and opt to ride either morning, evening or nighttime.
Some famous places to see along the drive include Beitou hot springs, night markets, Jiufen Old Town, Yangming Mountains, and other natural sites, scenes and routes. During this tour, you'll ride as a passenger, stopping for numerous photo opportunities.
17 – Head to Mengjia to see the Bopiliao Historical Block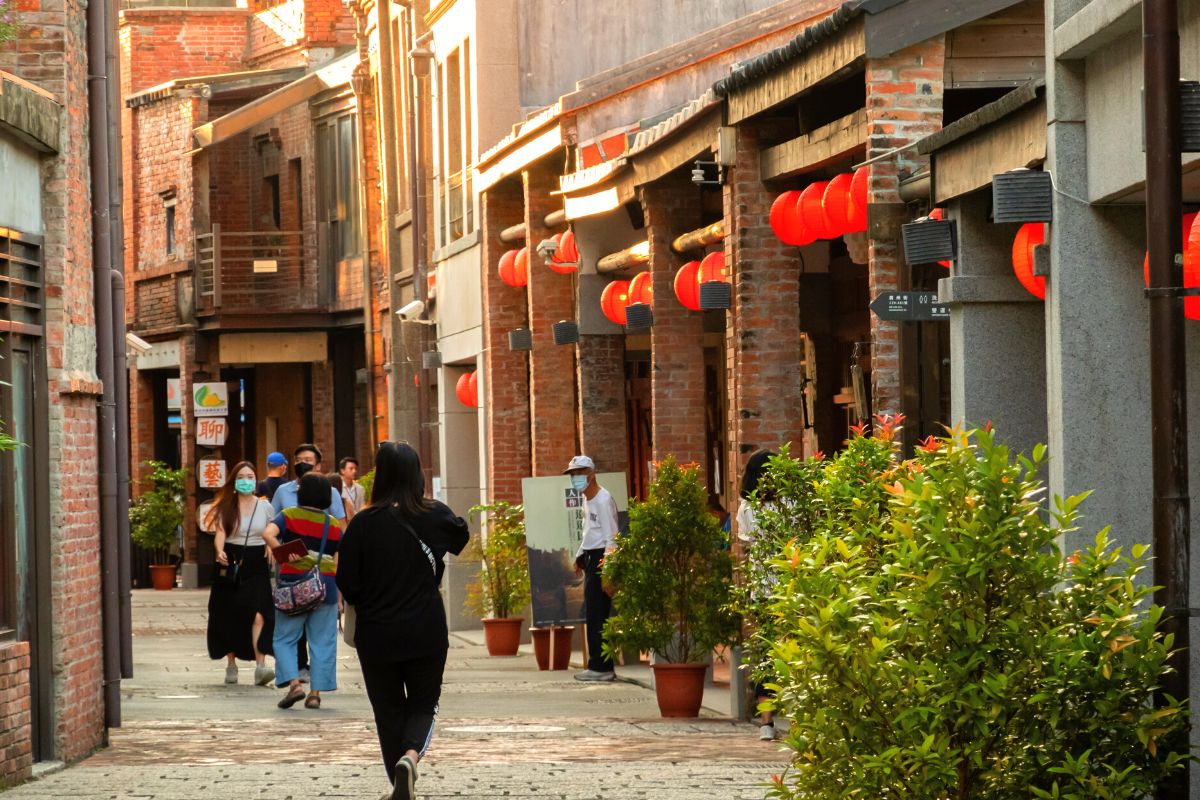 Completely different in looks from all other streets in the city, the Bopiliao Historical Block is also known as "Old Street" and feels completely elsewhere. As one of the oldest streets in Taipei, the red brick buildings have been beautifully preserved and date as far back as the Qing period.
Visit original shop houses and old Japanese-style structures and take many photographs in the industrial-cool setting. Circa 2009, the complex of old buildings underwent restoration and then opened as a public space.
Interestingly, throughout the different reigning parties, rulings and invasions, the buildings were never destroyed, but added onto and utilized. Add this to your list of Instagram-worthy moments in Taipei.
18 – Appreciate the Museum of Contemporary Art Taipei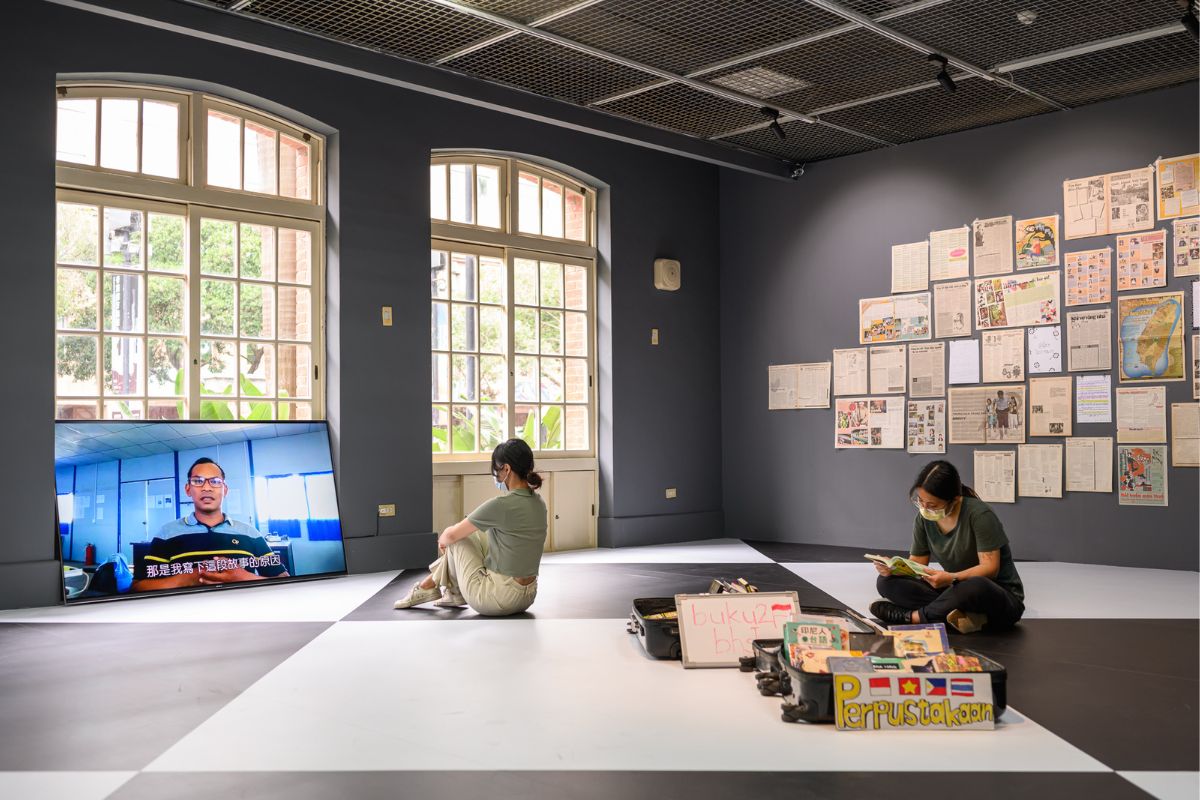 Since first opening its doors, the Museum of Contemporary Art in Taipei has always promoted artworks considered pioneering for their time.
Once used as the Taipei City Hall, the gallery institution opened in 2001 where it has hosted exhibitions ever since. Just like other MOCAs across the globe, the interiors are world-class.
Easily let time slip by wandering the different gallery rooms and their current exhibits. Spaces inside are really pretty, with seating available to sit in front of each artist's work and lap it all in.
Made for creatives, the museum has ensured that there are many inspiring spots and architectural delights inside to update your social feeds.
19 – Spend the day exploring Shifen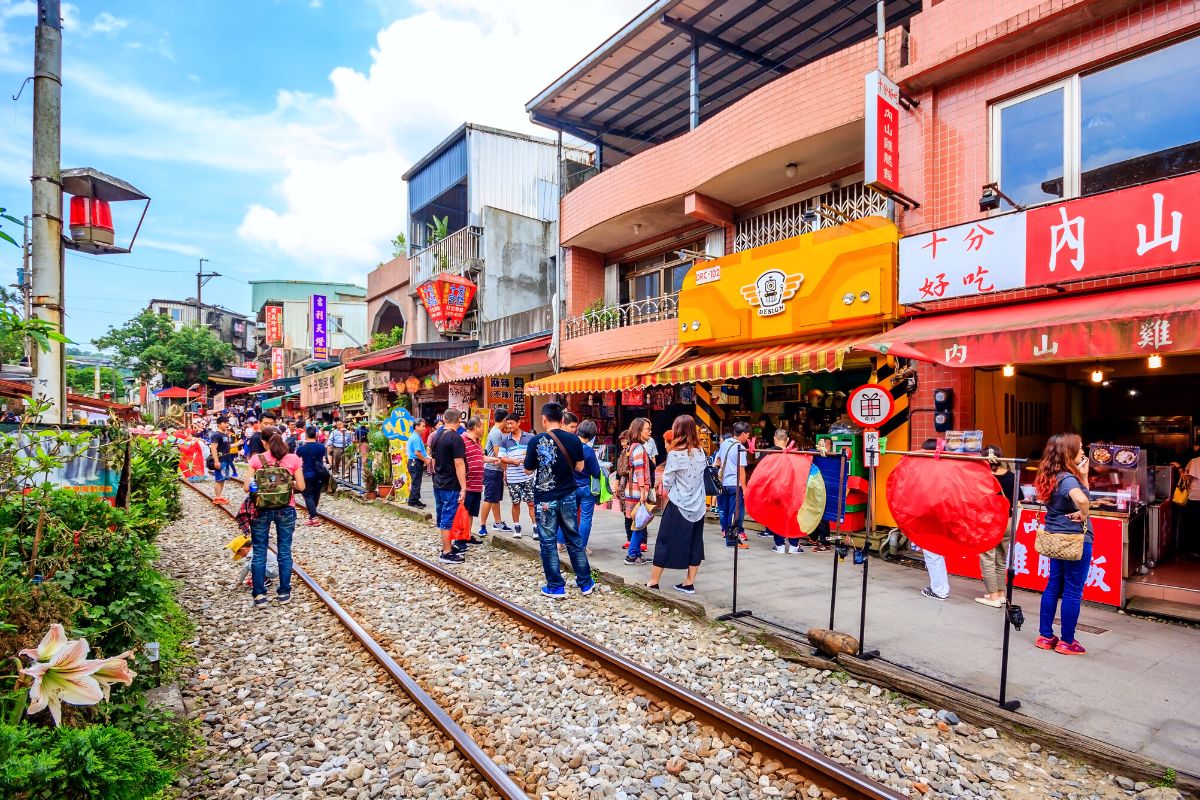 23 kilometers away from Jiufen is picturesque Shifen, located in Pingxi District. Its attractions are great features to check out, different from the usual Taipei scenes.
There's something utterly romantic about this part of Taiwan… Set off Chinese lanterns from the train tracks in Shifen, a must-do when in town. Purchase a lantern, write your personalized message and release it into the air. Watch as hundreds of other lanterns fly around the sky.
Get ready to shop the town's Old Street, which is separated by the railway line, either side of the tracks making up the 'Old Street.' There are souvenir shops selling keychains, and other keepsakes like bamboo flutes which you can get personally inscribed, mini lanterns, must-try street food and more!
A specialty of Shifen, try Liouge BBQ Stuffed Wings. Also, stop by Shifen Waterfall, known as the "Niagara Falls of Taiwan", with its multiple gushing falls, just a 20-minute walk from Old Street. And while in Shifen, visit the Jingan Suspension Bridge and the Shifen Station.
20 – Tour the Presidential Office Building
Comparing photos of the Presidential Office Building from now and then, it looks exactly the same! However, over the years, it has undergone restoration efforts to some of the original tin roofs, walls and other structures.
Home to parliament, you're unable to visit the inside of the building, unless taking a free walking tour provided by the office themselves.
Enjoy a guided inspection of the offices where you can see the main entrance, entrance hall, reception hall, the first-floor exhibit areas, the corridor, and south and north courtyards. (Large tour group bookings for 15 or more visitors are required at least three days in advance.)
Erected during the Japanese colonial era, it's a celebration of design from the time, specifically evident in the red bricks used in the construction.
Over 100 years old, it has had a few name changes, initially called the New Office of the Governor-General, then renamed to Chieh Shou Hall in 1950, and finally, its current title of Presidential Office Building in 2006.
21 – Feel transported at Fort San Domingo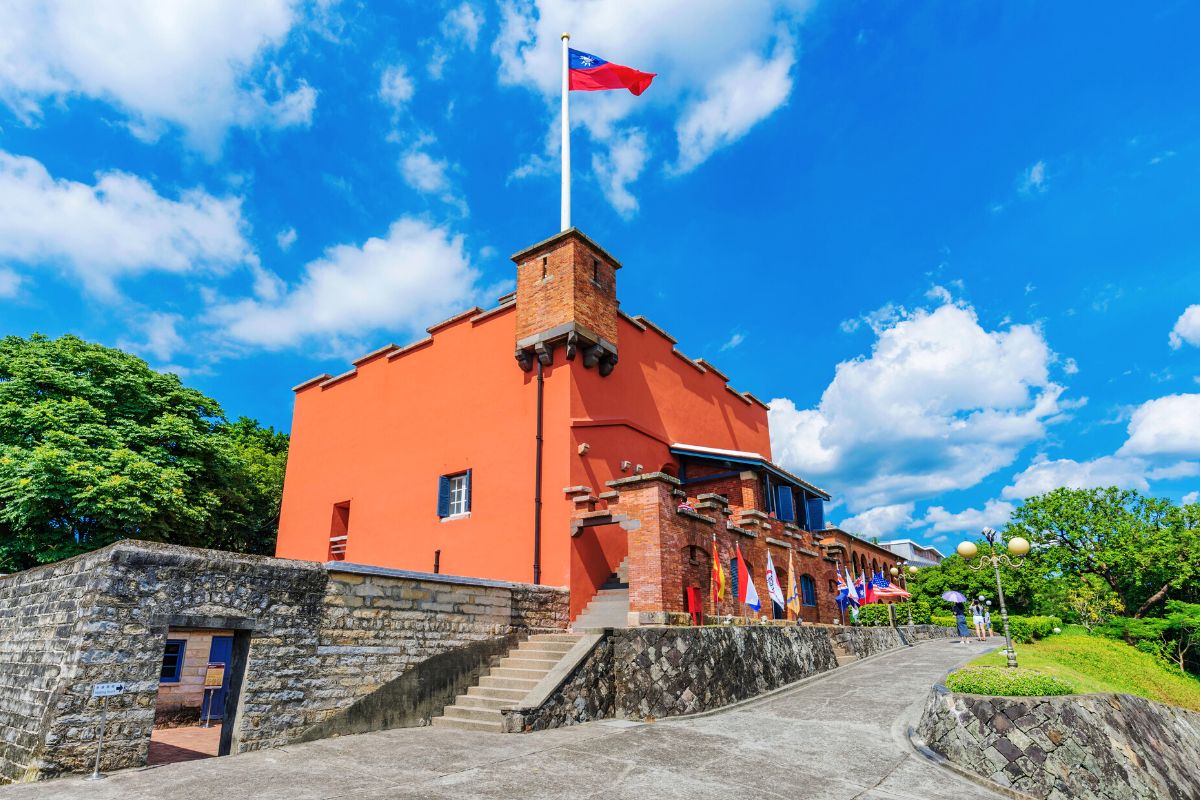 Is it Spanish? Dutch? Japanese? Fort San Domingo is an amalgamation of all three countries, plus more.
At the start, the fort was first built by the Spanish — who occupied northern Taiwan from 1626 to 1642, when the area was known as Formosa. Used as their war base, when the Dutch attacked, the Spaniards tore down the fort, which they had made primarily from wood.
The Dutch decided to rebuild the fort, this time using stone, and the entire stronghold was completed by 1744 and renamed Fort Antonio. Fast-forward to 1868 and the British, now in power, used the fortress as the British consulate and built an abode on the grounds
The Japanese were the last foreign country who used the fort until it finally settled under Taiwan's ownership.
Leading up to the main building, once-used cannons line the walkway.
Fascinatingly, the only hint of Chinese design influence is at the main entrance, which was once the "South Gate." This was added during the Qing dynasty. Found in the Danshui District, the natural scenery surrounding Fort San Domingo is very pretty.
22 – Bring the kids to Taipei Children Amusement Park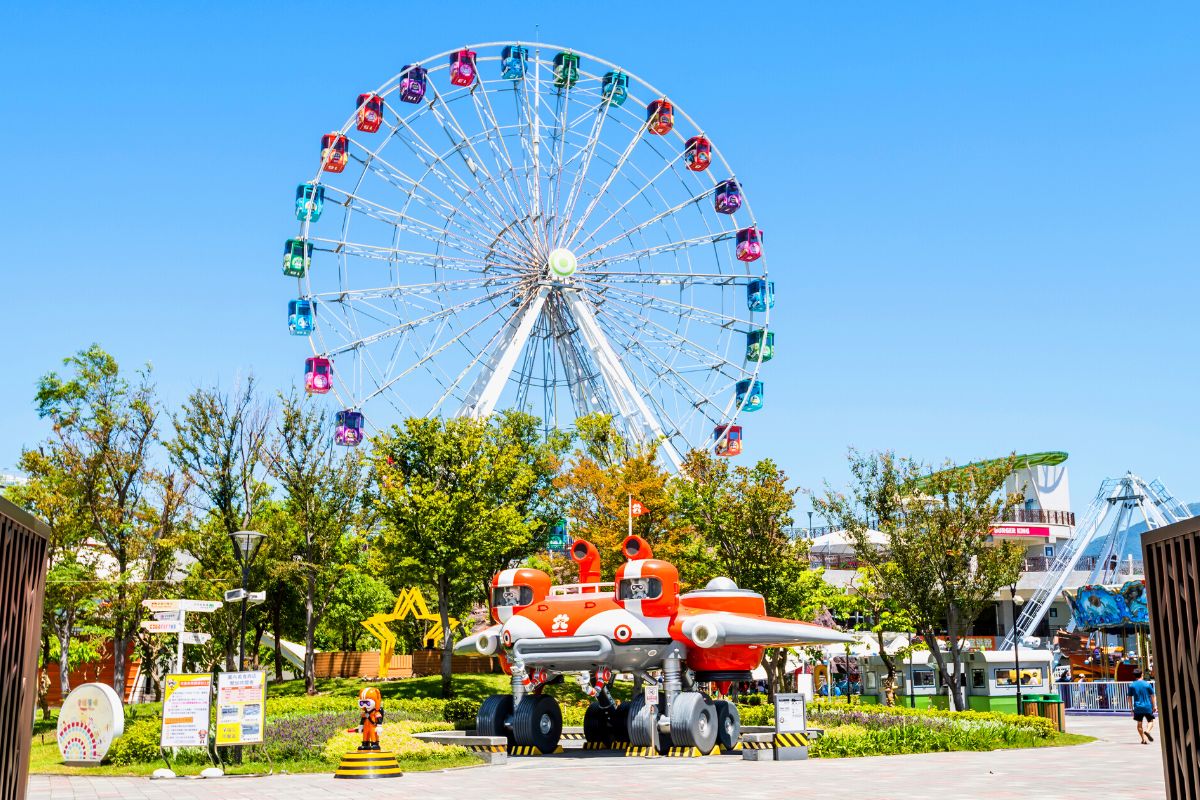 Feel transported back in time when arriving at Taipei Children Amusement Park, which feels like an old-school theme park.
Ditch the high-tech gadgets for a few hours and enjoy playing on the classic rides. The amusement park is divided into different sections making things easier to navigate.
Some of the large rides include Ocean Carousel, Crazy Bus (a flying bus), Wave Swinger (flying chairs) and the iconic Ferris Wheel, which has stunning views over Shilin.
Discover smaller rides inside Kawai World, including Kawai F1 Racing Car, Kawai Jurassic Swinger and Kawai Jungle Jungle. Just like retro game rooms, play one of their coin-operated machines.
Specially designed for kids, visit Snow Ship, Little Bumper Cars and Aqua Planet (open in summer only). Or, have fun at the indoor playground with its own sea-sand pit. For something extra, hop on board the Monorail and take a drive around the park complex.
23 – Enjoy lunch or afternoon tea at Beitou Museum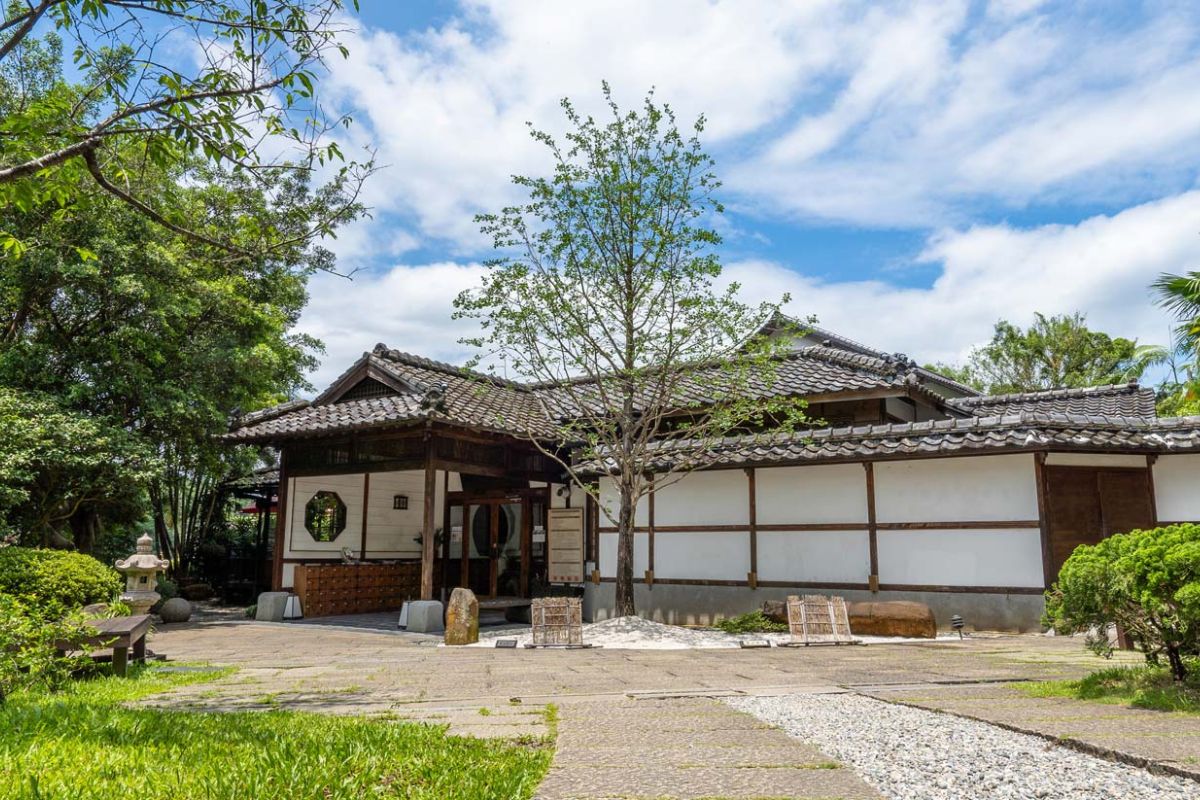 This beautiful building makes you feel as if you're somewhere in the Japanese highlands instead of Taipei, and the Beitou Museum is well worth a visit.
Located in the mountainous Beitou in northern Taipei, discover what was once a hotel, originally built by a Japanese family in 1921, and the accommodation replicates true traditional aesthetics.
The area here is renowned as the home of the hot springs, which have been a feature since the original hotel's opening. From its humble beginnings, the guest stay was later renovated and turned into a bigger and fancier hot spring hotel, adding a two-story building.
Today, walk around Beitou Museum and explore the traditional rooms and the hot spring baths. The Grand Room is where cultural performances would take place, like Geisha dances, and inside the Tea Room, learn about the customary sadō (Japanese tea ceremony).
Tour the Yiran House, where guests stayed overnight, the Shoyintsukuri, which was a communal living room and the Taoran House (the original reception area).
Take a photograph inside the Bathing Pool, which was the hot spring pool. Adding authenticity, the wooden structures, Shoji screen walls, carved elements, design shape and calligraphy are all typical features of Japan.
There are also permanent exhibitions to see, including the Taiwanese Indigenous Embroidery Works Exhibition.
24 – Go rock climbing Long Dong, i.e. Dragon Caves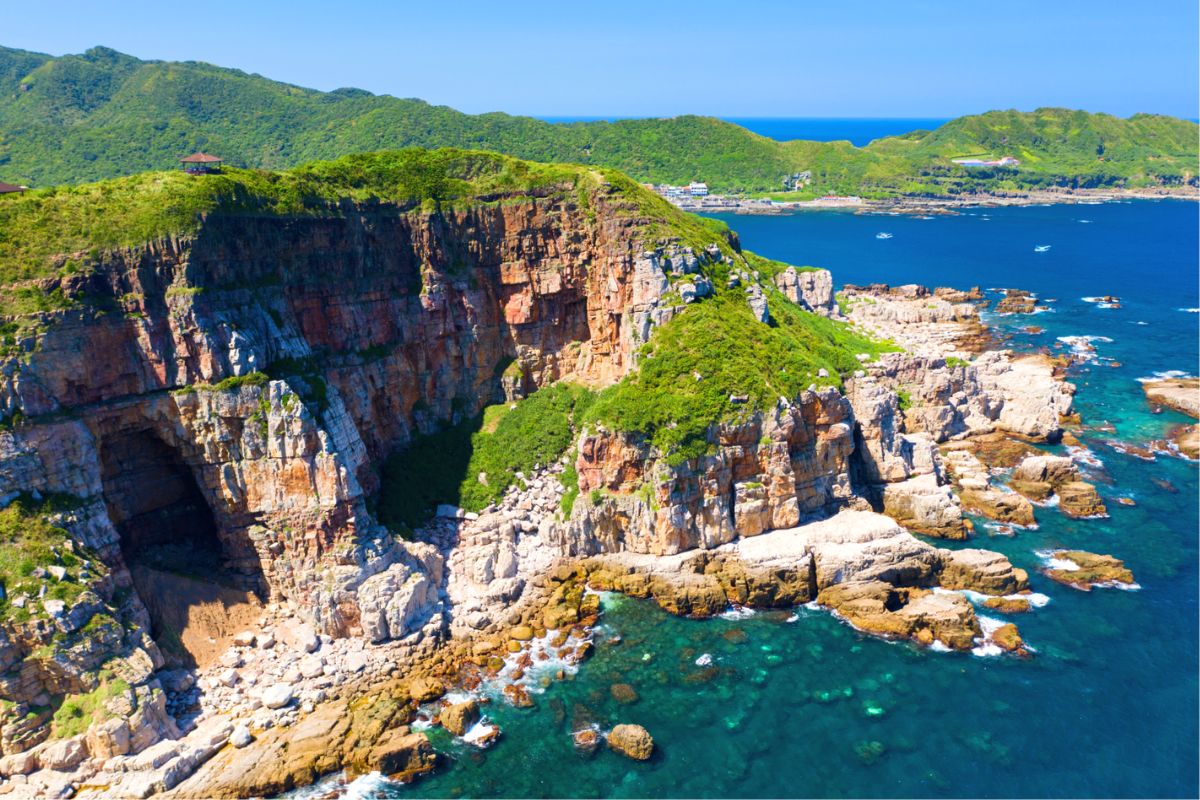 Commonly known to travelers as 'Dragon Caves', go rock climbing in the most magnificent setting. The cliffs are right by the ocean, which shows off lovely shades of blue in this part of Taipei.
The color of the rocks varies from silvery gray to sandstone red. A guided rock climbing expedition down the beach boulders is recommended, but you can also explore the rocky coastal terrain on your own – minus the rock climbing.
It's a frequented photo destination as the stones have formed natural pools, holes and hidden picnic spots. The beach is also a popular snorkel and cliff jumping location.
25 – Try all the exciting rides at Window on World Theme Park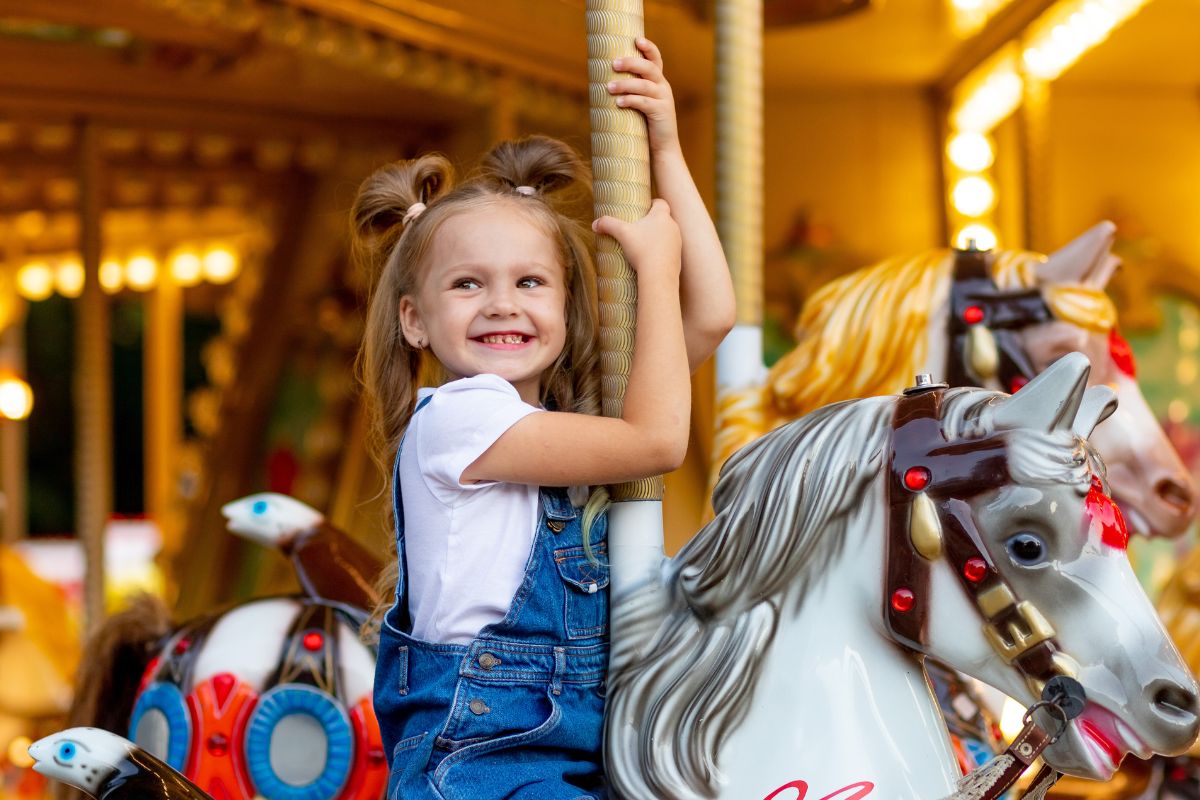 There's something so charming about a mini world, and at Window on World Theme Park, you can "travel" to different countries and continents all in one day!
Constructed in miniature form and dimensions to replicate independent destinations, start at Mini Taiwan. It highlights many famed city attractions, traditional houses and must-visit historical sites.
Cross countries and trace Mini China and iconic highlights like the Great Wall of China and the Forbidden City. The three other mini worlds cover continents, including Asia, Europe and America.
Apart from the miniature lands, there's an amusement park and a separate water park. At the Amusement Park, try out rides and attractions like Jumbo Wave Crazy Rapid, the WOC Tour Train, Merry-go-Round, Roller Coaster, Bumper Cars and the WOC Ferris Wheel.
Children can hop onto the Mining Train, the Rocking Boat, Bubu Car, Little Pilot, among others, and play at Robot Adventure (outdoors) or Funtaland (indoors).
Heading to Jumbo Wave Waterpark, get wet by water jets at Thunderstorm, chill out and swim at Nile Beach, or splash about with the kids at Water Mania.
26 – Day trip to Taroko Gorge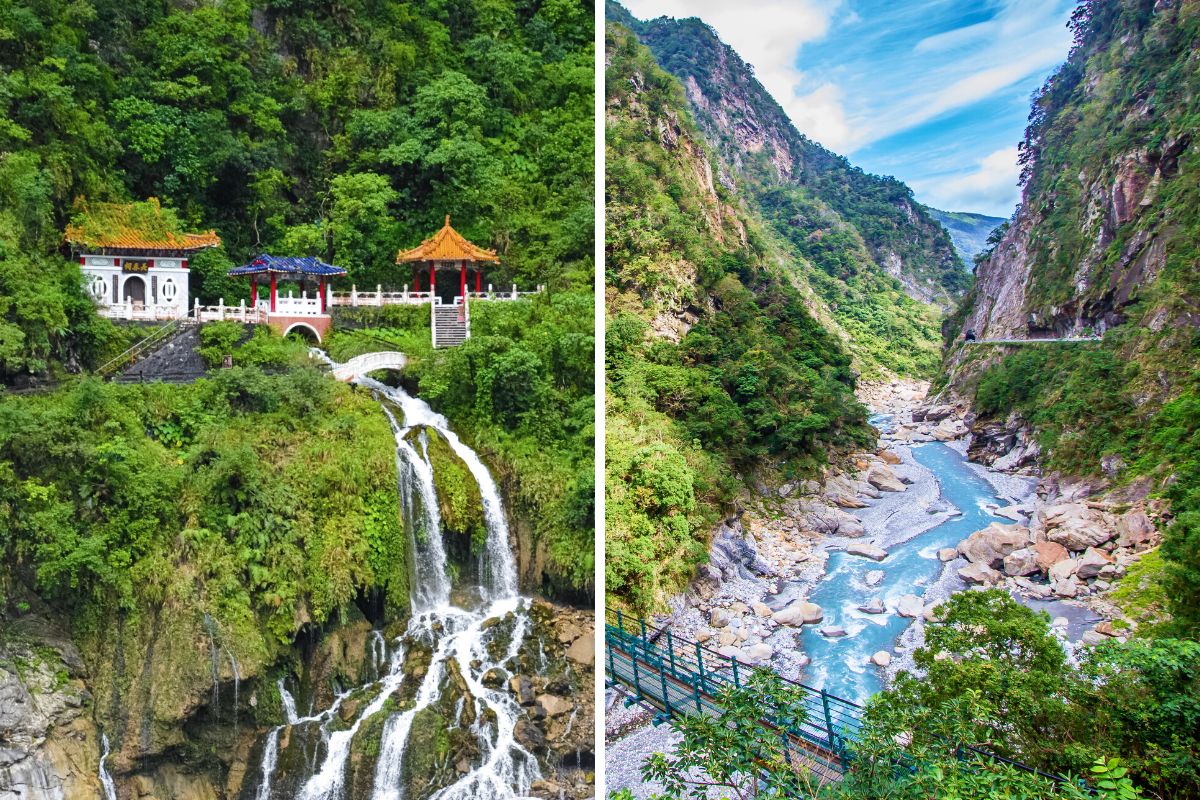 Wait until you take in the sights of Taroko Gorge, providing travelers with some of the most unique scenery around Taipei. This breathtaking gorge is inside the Taroko National Park, running around 18 kilometers long with hiking, cycle and exploration trails all along the way.
The Liwu River twists and gushes between the valleys of Taroko Gorge and its iridescent blue foaming waters are a major crowd pleaser. Take a day trip to the park to witness the magical ravine and other interesting sites.
Choose a walking trail that suits you and discover ancient shrines, pagodas, jungle boardwalks, waterfalls and wildlife.
For something magnificent, trek to the Water Curtain Cave and enter inside… From up above, water spits through cracks in the cave's rooftop, showering you in glistening droplets.
The best way to get to Taroko Gorge is via train, adding even more whimsical moments to this adventure. Take a 2.5-hour journey through to Hualien and then head to the national park from here.
27 – Learn something new at the National Dr. Sun Yat-sen Memorial Hall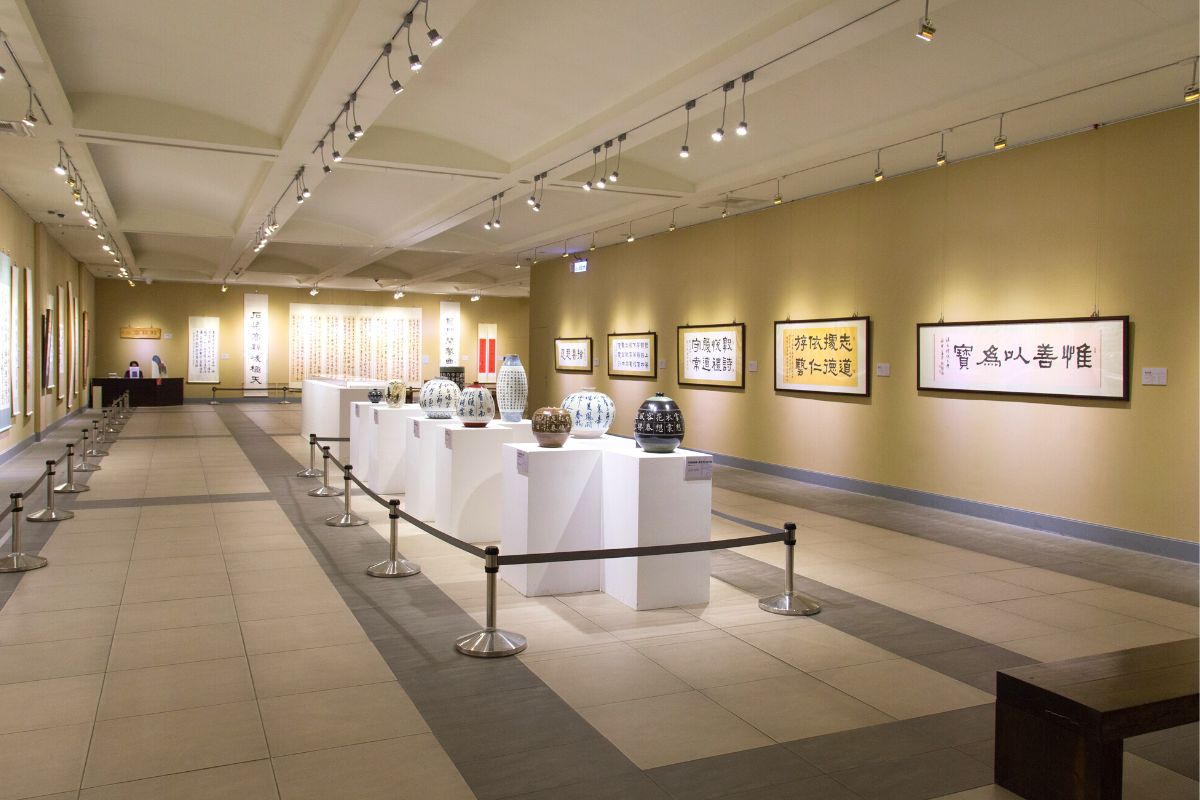 If you're in the Xinyi area and have some time to kill, take a mosey around the National Dr.Sun Yat-sen Memorial Hall. Boasting an impressive collection of more than 40,000 books at the library, the whole experience at the memorial hall is a knowledge-gratifying one.
Investigate the life and works of Dr. Sun Yat-sen through artifacts and historical texts at the exhibition center. Not just used as a museum space, the building is also utilized for live performances and hosts many cultural events too.
Inside the hall, squiz past the multimedia theater, performance hall and lecture halls. The memorial was built inside Zhongshan Park, and just outside the space are the prettiest Chinese gardens.
It's totally worth a walk in the park before or after your visit.
Built in 1972 to honor the first president of the Republic of China in Taiwan, a famous Chinese architect was drafted to design the building and its typical of Chinese design.
28 – Chill out at the best parks in Taipei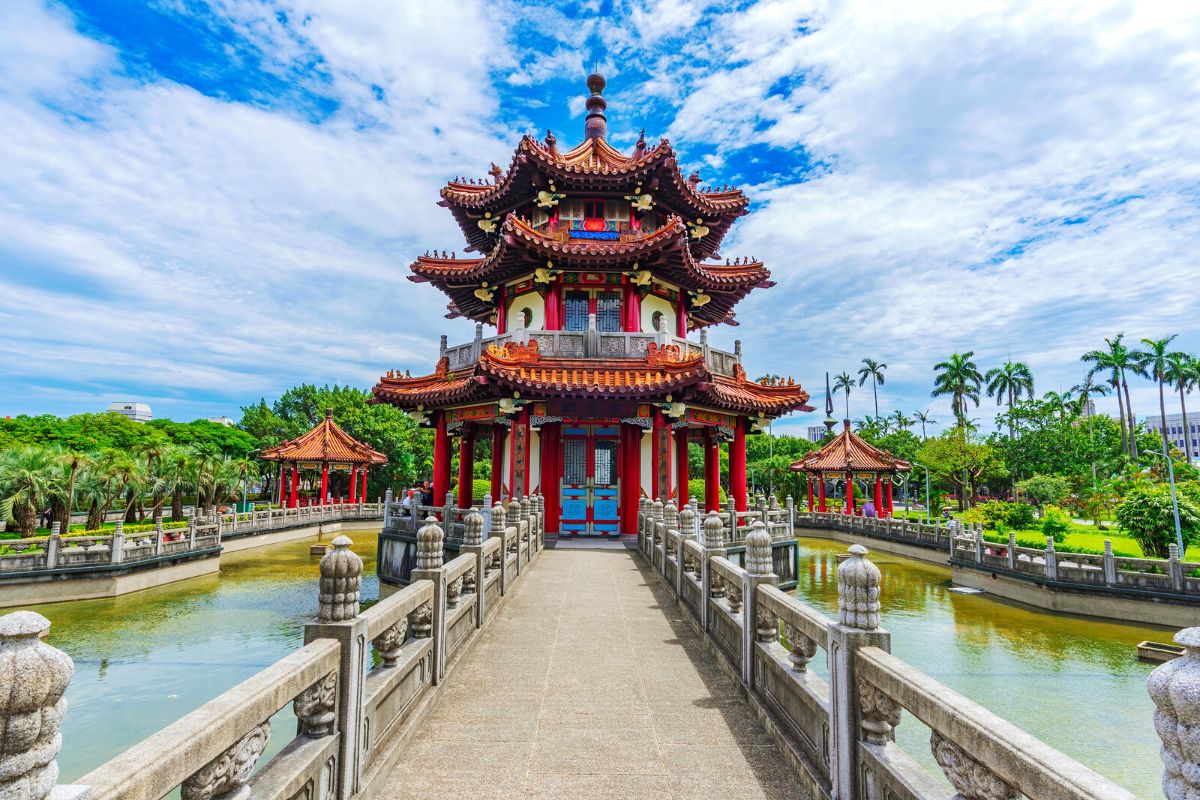 This lovely island offers tons of green spaces, natural attractions and moments in nature. Grab a book, pack a picnic or bring the kids for recreational time outdoors at Taipei's best parks.
Head to the eco-friendly district of Da'an and spend some time in the sunshine at the ever-green, dog-friendly Daan Forest Park, filled with grassy areas, tall trees, florals and ponds.
It's ideal for light exercise like jogging and there are art and cultural performances held on the music stage.
Head to Taiwan's first public city park, 2-28 Peace Memorial Park which took inspiration from European parks of the time in the early 1900s. Stroll the gardens, cross the cute red bridge and zen out around the pond features.
Dahu Park's lake is the main attraction and there's a Chinese-style bridge with a rounded arch underneath, which visitors can cross to get to either side.
An ideal park for families and fitness enthusiasts, make your way to Dajia Riverside Park. Located next to the river, it boasts a large park green and a kids' playground.
If you're visiting the Beitou area, for example, to see its iconic hot springs, stop by Beitou Park by the Beitou River. Find waterfalls, hot springs and its conservation area.
29 – Cross Baishihu Suspension Bridge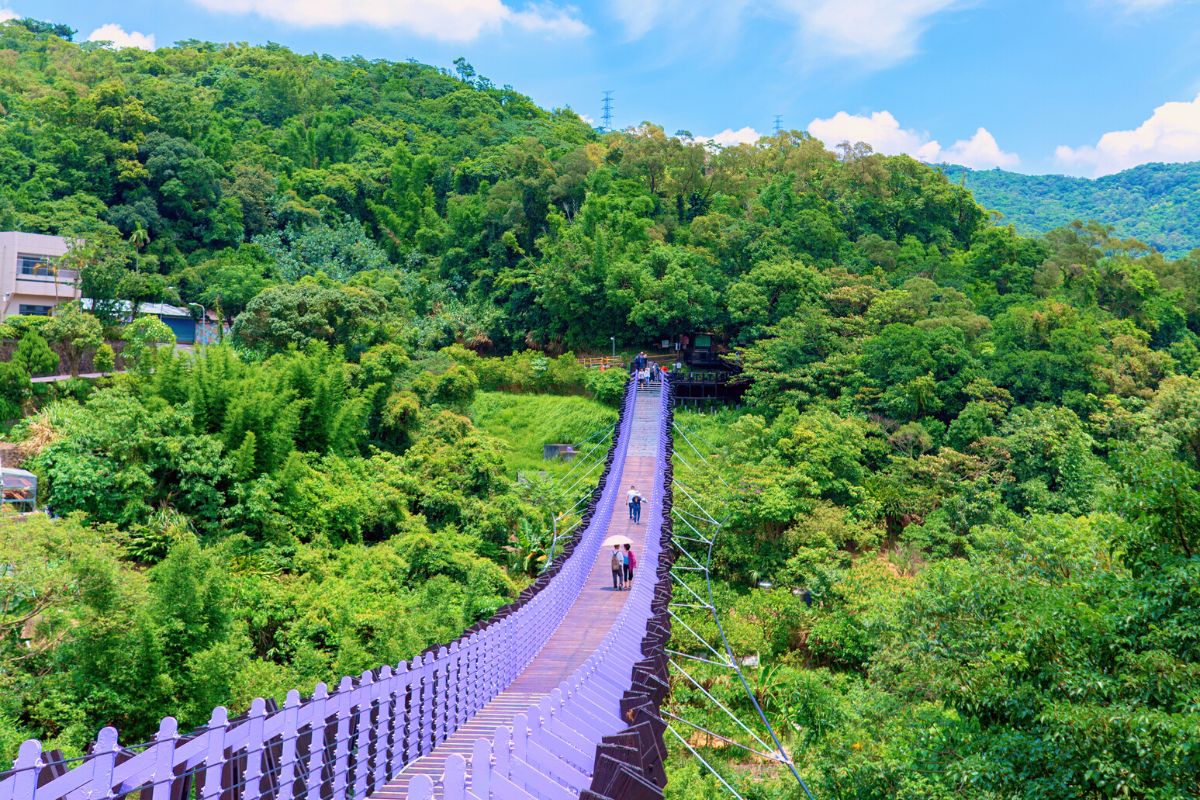 To reach Baishihu Suspension Bridge, venture through a jungle of green, which you continue to follow along this pathway between the trees.
Situated inside Baishihu in Neihu, as you navigate along the 20-minute-long walkway, cross over the Zhongyong and Daluntou mountain ranges.
At the end of the suspension bridge is the Baishihu Community and you can enjoy activities such as strawberry picking or visit an organic fruit farm.
Stop to chat with locals and partake in traditional art and craft workshops.
The design of the Baishihu Suspension Bridge is also well recognized as it was constructed in the shape of a traditional dragon boat.
30 – Enjoy the water, amusement and safari vibes at Leofoo Village Theme Park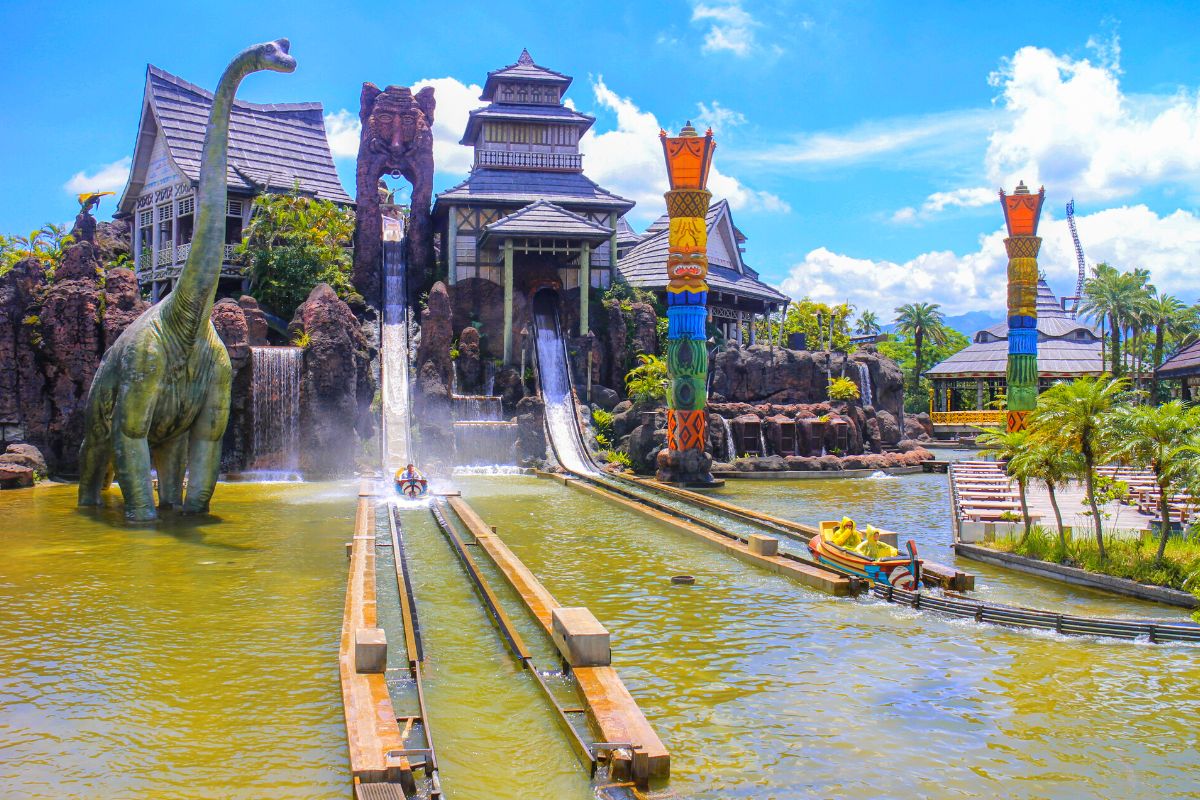 Walk among dinosaurs, soaring tribal masks, grand mosques, candy canes and larger-than-life tinman toy soldiers at Leofoo Village Theme Park. There's a very whimsical atmosphere here and it's known as the first fantasy-type world to "combine both amusement park and safari" features in one space.
Divided into four themed areas, come and find the Wild West, South Pacific, Arabian Kingdom and the African Safari zones. Say hello to real-life zebras, lemurs, bison and lions. To spot the animals roaming freely on the grounds, take a caged safari drive.
Designed with both children and adults in mind, there are more than 30 rides and park attractions.
Experience the Grand Canyon Rapid Rafting, The Condor Roller Coaster, the Wheel of Wind and Fire, The Drunken Wine Barrel spinning cups, the Ali Baba and the Forty Thieves carousel, Magic Carpet, Volcano Adventure and many more thrilling and fun rides.
Don't miss a park parade, and they also put on musical water shows.
31 – Spend time with the animals at Taipei Zoo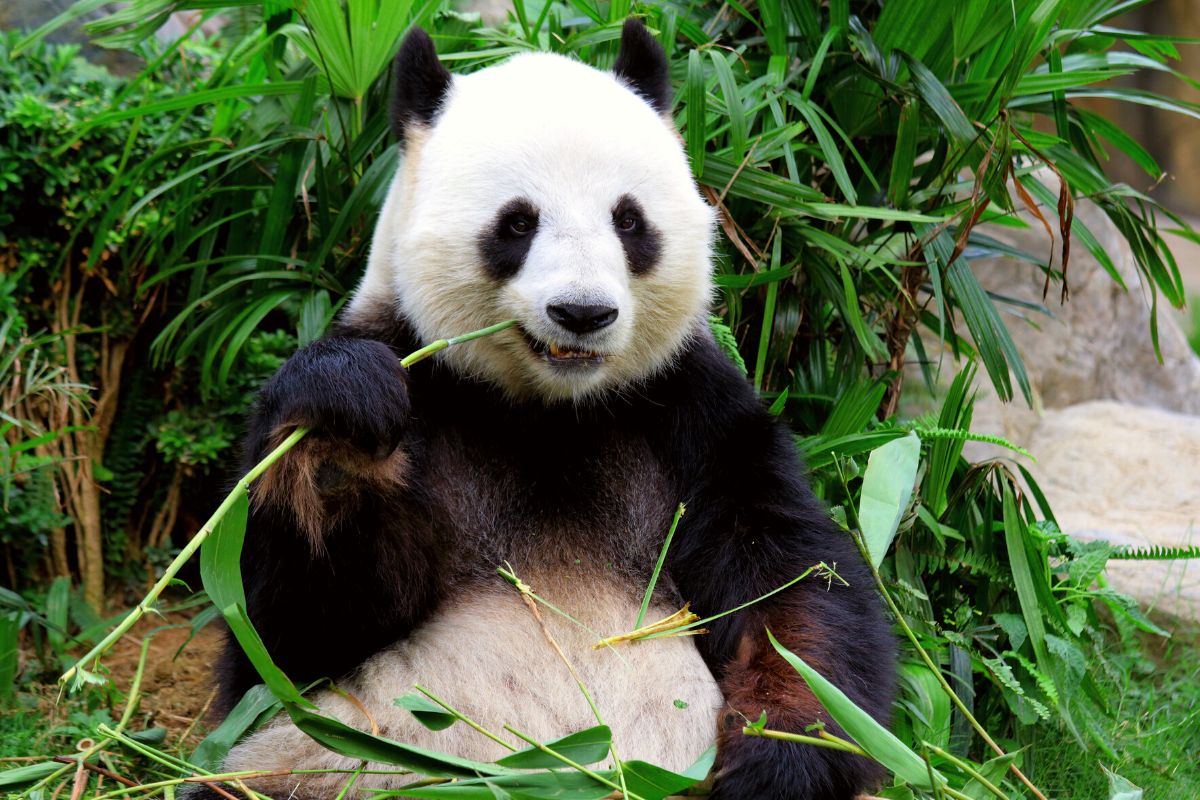 Spanning 165,000 square meters, meander around the Taipei Zoo for the chance to meet some amazing wildlife creatures.
With a focus on conservation, education, research and recreation, the animals are well-cared for, there's a veterinary hospital on-site and nearly half of the grounds are for the animals only, creating their natural habitats.
There are both indoor and outdoor spaces where different animals live.
In the outdoor zones, visit the 'African Animal Area', the 'Australian Animal Area', 'Desert Animal Area', 'Bird Zone', 'Tropical Rainforest Area', 'Formosan Animal Area' (wildlife indigenous to Taiwan live here) and the 'Children's Zoo'.
Inside, spot the 'Amphibian and Reptile House', 'Insectarium', 'Penguin House', 'Koala House', Education Center and the 'Giant Panda House'.One of the park's latest additions, the Pangolin Dome, hosts the 'Tropical Rainforest Area'.
Night safaris are available.
32 – Encounter local creativity at Treasure Hill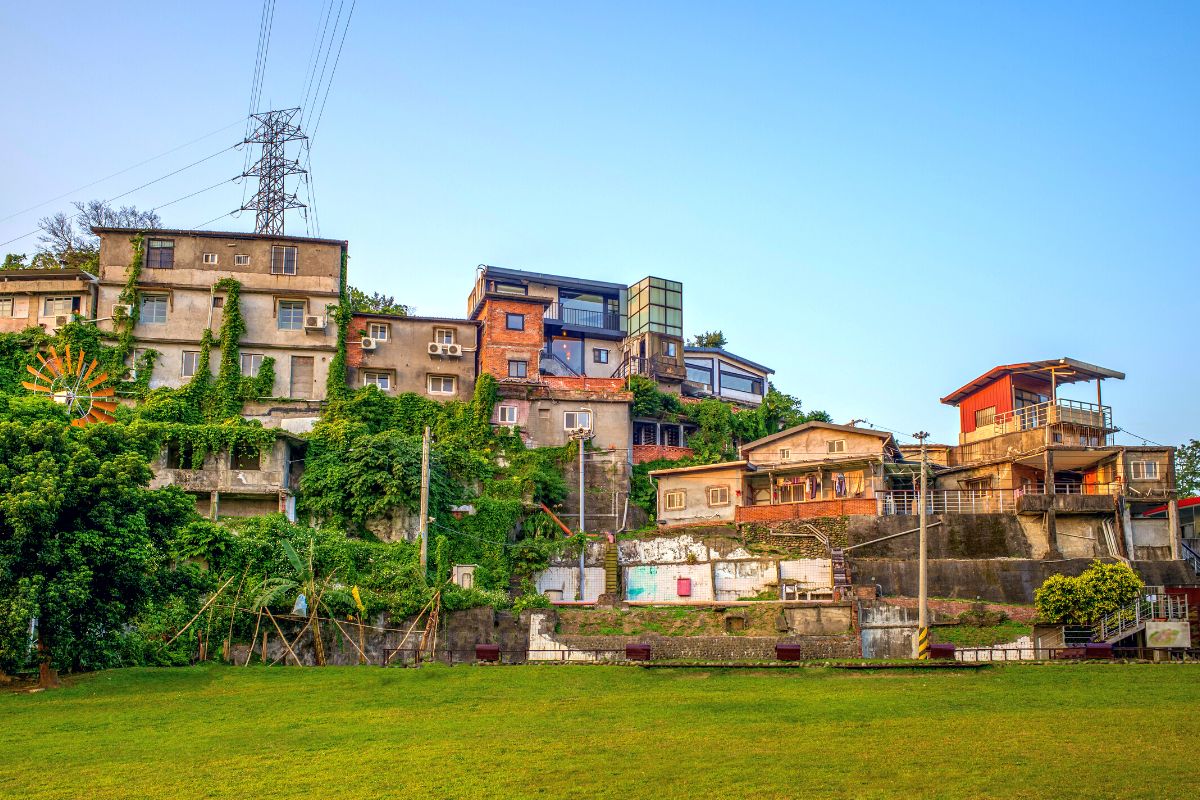 Commonly referred to as the Treasure Hill Artist Village, these clusters of rural buildings now house artist studios, galleries and shops.
The creative neighborhood is built on a small hillside in Gongguan, Daan District, and back in the day, it was occupied by the military.
Today, the atmosphere is completely laid-back and discover artists' homes, workshops and exhibitions casually set in between narrow streets and shipshape buildings, many of which have been left dilapidated.
For a place like Treasure Hill, it simply adds to the ambiance. There are a bunch of cute cafes around the area and Treasure Hill Artist Village hosts regular exhibitions.
Some walls are colored with graffiti art and you can take some great street photography around here.
33 – Wander the Lin Family Mansion and Garden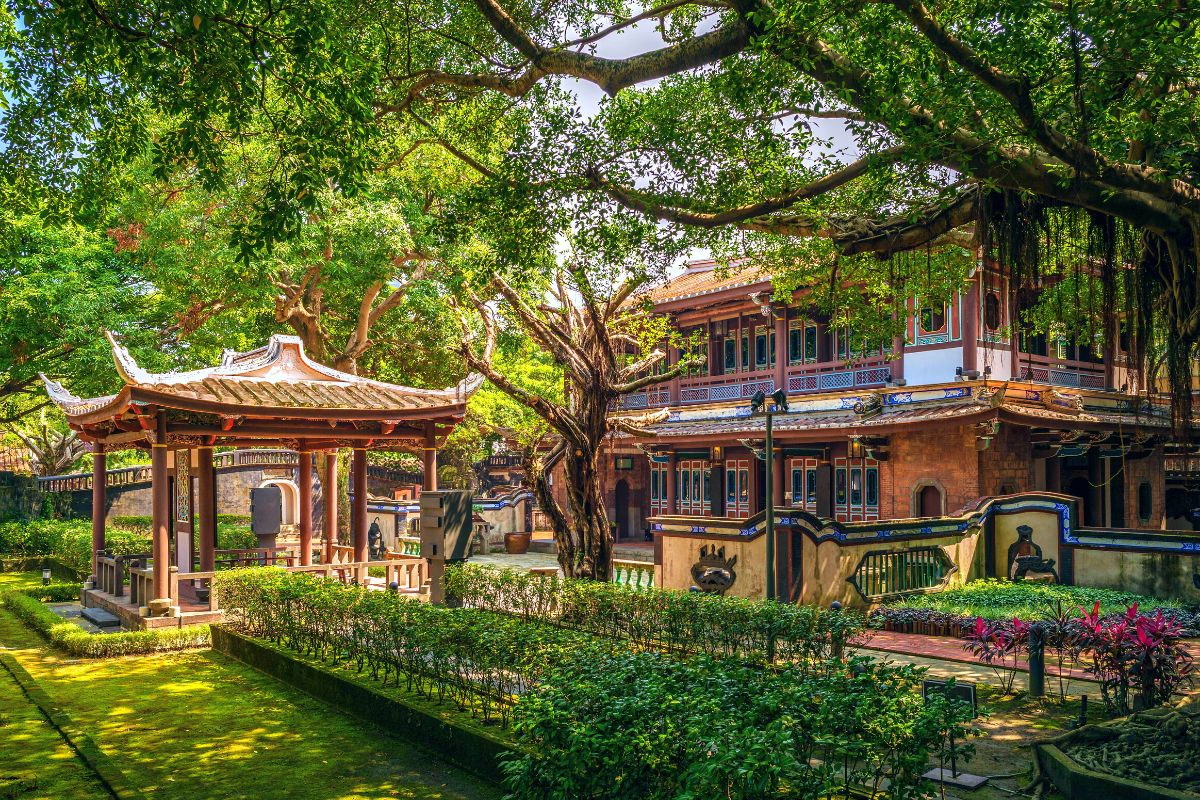 Not as common to boast grand gardens in modern times as it was back in the day, the Lin Family Mansion and Garden is one of the few places left in Taipei to see grandiose private gardens and old-school botanical features.
Enjoy a tour around the mansion, wandering through rooms and buildings. Explore the main house, the square pavilion, the Jigu Study library and the Fang-Jian study used for theatrical shows.
For pretty views, head to the Lai Ching Hall or cross the Rainbow-moon arched bridge and admire the florals at Shiang–Yu-Yi. Optimal for photo-taking, there are many unique corners and spaces in and around the Lin Family Mansion and Garden.
One of these is the double diamond-shaped pavilion next to the pond, which was constructed specifically for moon gazing. If visiting in the evening, the building is lit up in soft yellow lights with a different atmosphere to daytime.
34 – Head over in the late afternoon to Tamsui Fisherman's Wharf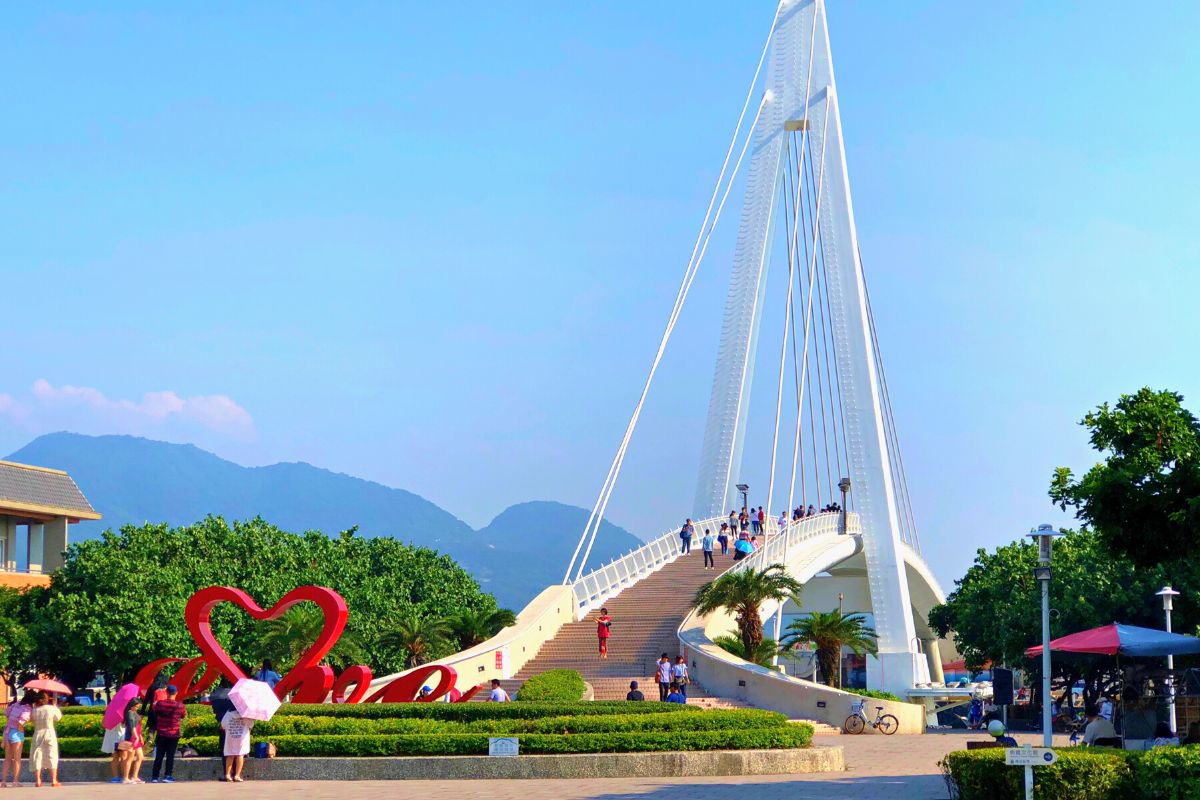 The place to be around sunset hour, Tamsui Fisherman's Wharf overlooks the Tamsui River and the fishing and sailboats docked at the port add the cherry to the surreal aquatic setting.
No matter the hour, the area is very pretty and if you're craving seafood, arrive here for some of the freshest in town. Right at the docks is the famous "Lover's Bridge" which extends across the water.
White in color, at night, it lights up and it is a walking bridge, so feel free to stroll and snap photographs from here.
At the end of the bridge is a local seafood market, past that are some small handicraft shops, and there are local restaurants around here too.
Also known as just Fisherman's Wharf, it's located in Tamsui in New Taipei in the northern part of the island.
35 – Ride the Miramar Ferris Wheel at Miramar Entertainment Park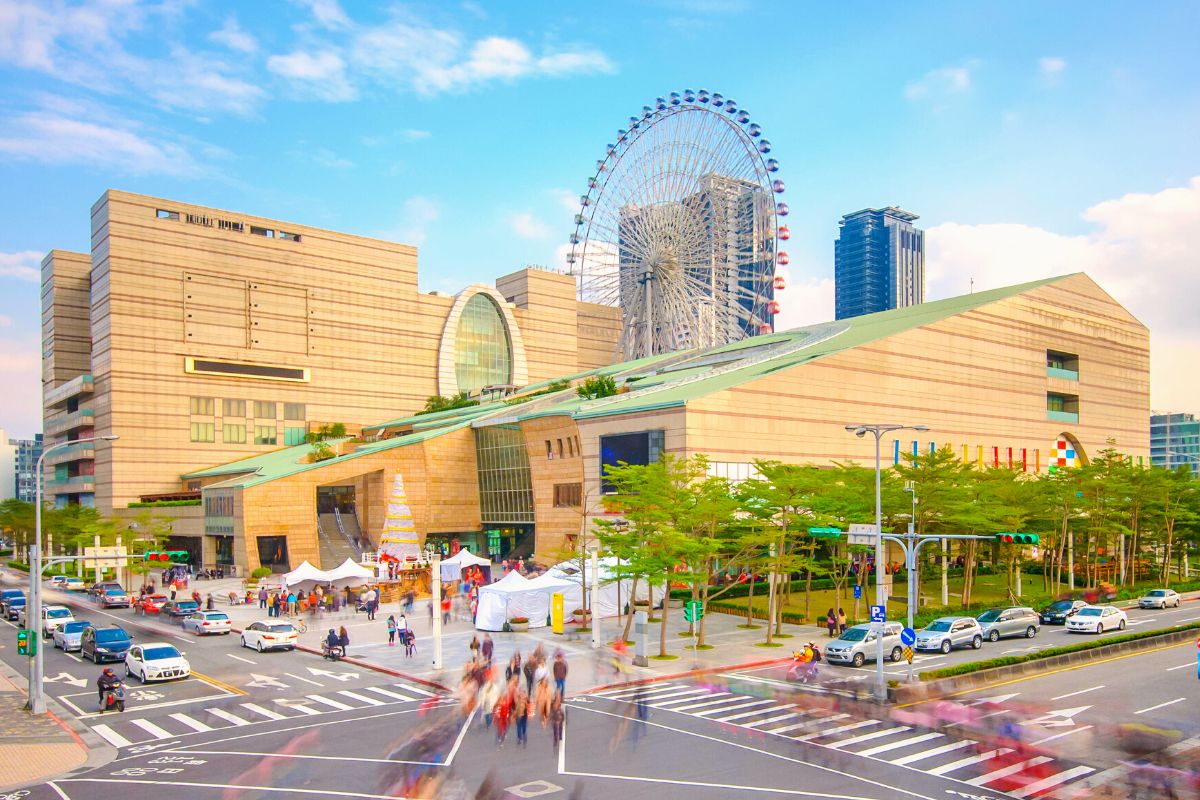 You could say Taipei was a city of ferris wheels at this rate… At Miramar Entertainment Park, spot another iconic one, the 95-meter-tall Miramar Ferris Wheel.
Ride the wheel when dusk falls and it lights up under the twinkling stars, and the view from up here at this time is super cool. For more entertainment, clamber onto the carousel and afterward watch a movie at the IMAX theater.
Apart from the fun and games, there's a shopping center here.
Spend the next few hours shopping between levels for cosmetics, jewelry, accessories, women's fashion, men's fashion (including tailors), homeware products and decor, outdoor gear, and more.
Dining options are available with various restaurants and food outlets providing Chinese, Western, European, Japanese and Korean cuisines.
36 – Shop or watch a show at The Red House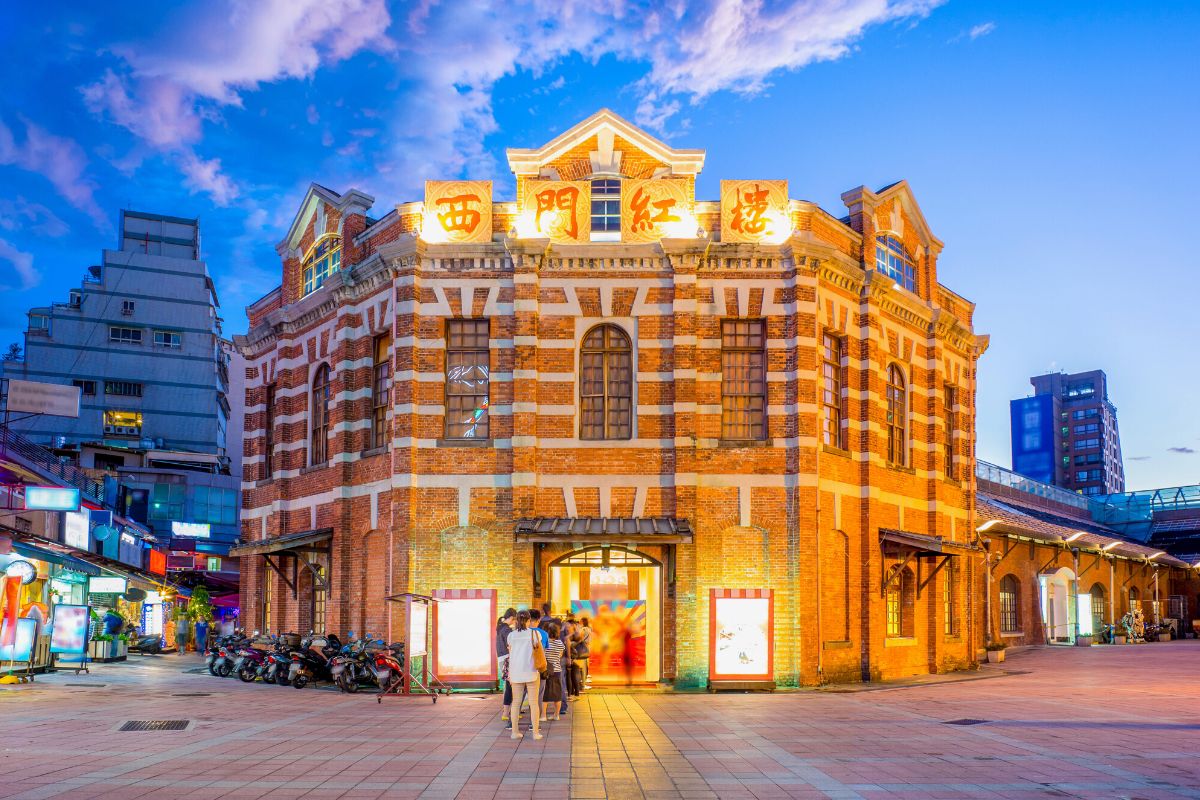 Back in the 1800s, the Red House building was once in full operation hosting theatrical plays and other live performances. Today you won't find anyone on stage, but the building hasn't been left to go unwanted.
Converted into a trendy market space, shop boutique stores and stalls for local handicrafts and other trendy items you thought you never needed until now.
As not to confuse you, The Red House has various nicknames, including Red House Theater, Ximen Red House and Ximen Honglou.
Conveniently located in Ximending, complete your round of shopping at the other malls and centers in the area afterward. Sometimes cultural events and exhibitions occur at The Red House.
37 – Get ready for the bright lights of Ximending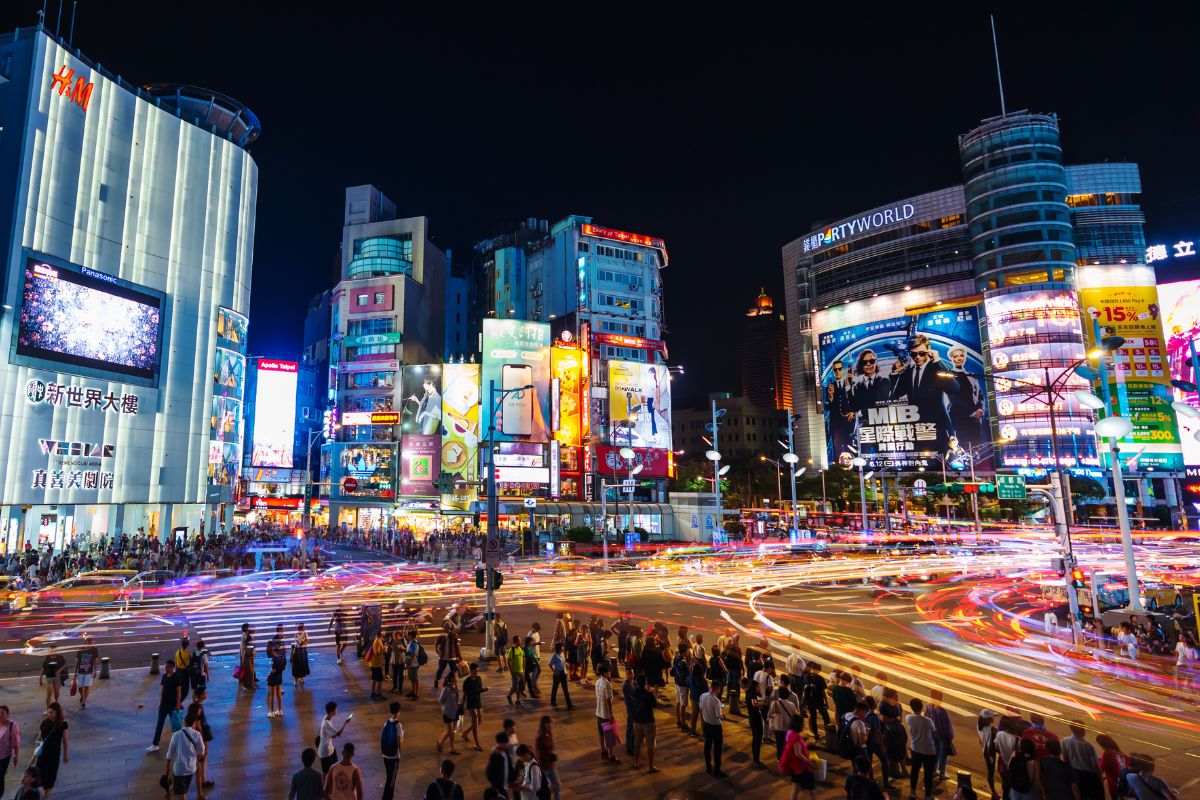 Full of life and color, one of the most popular neighborhoods to stay in Taipei is Ximending. It's easy to understand why many flock to the funky and bustling area, known for its late-night shopping, markets and street food.
Like many places around Taipei, Ximending is filled with Japanese influences and is affectionately called the "Harajuku Lane of Taipei." Right out of the Ximen MRT station is the Ximending Shopping District.
Frequented by local youth, down the alleyways are stalls selling cute phone accessories, trendy fast-fashion items, cafes, bars and street food snacks.
Speaking of, keeping up with its youthful crowds, stumble upon some funky food trends and interesting concoctions in Ximending.
Not only about the shopping and food, but the street art game around Ximending is also on point. In fact, there's a legalized space dedicated to artists wanting to express themselves known as Taipei Cinema Park.
Some famous works of art to hunt down in the area are Alex Face's iconic rabbit baby spotted throughout Southeast Asia and the piece 'Urban Hip Hop Culture' by Alberto Parron from Spain.
38 – Breathe in the fresh air at Yangmingshan National Park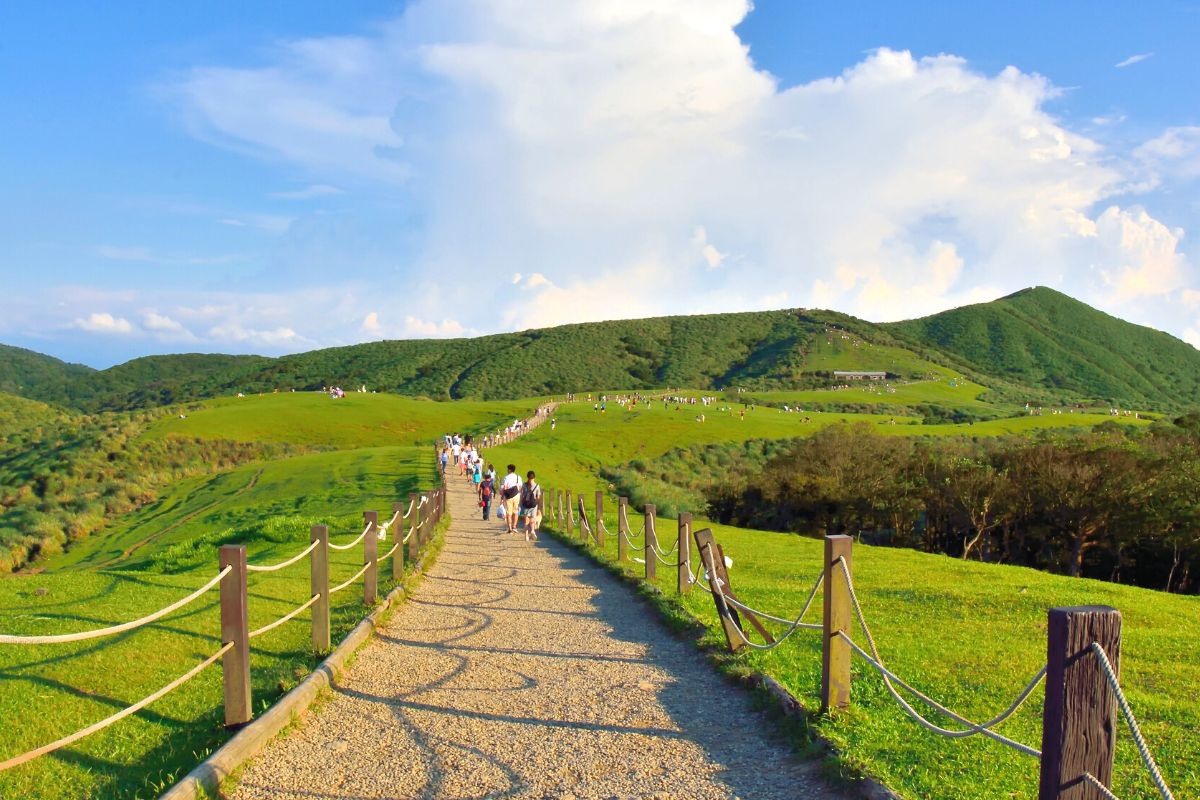 When the Cherry Blossoms are in bloom at Yangmingshan National Park, it's well worth the journey, however, even for an ordinary day trip, the natural scenery and surroundings are exemplary.
Constituting one of Taiwan's nine official national parks, there are many scenic walking trails to undertake.
Walk among flower fields, trek the hillsides spotting local wildlife along the way and take snapshots of the surrounding mountains.
The park is covered by three ranges; Mount Qixing, Mount Datun and Mount Guanyin. Renowned for its volcanic landscape, there are natural hot springs to visit within the reserve.
39 – Feel enthralled at the Taipei Astronomical Museum
Talk about an Instagram moment… The Taipei Astronomical Museum is educational, but the exhibits at this museum are also visually epic!
From interactive space-themed rides (check out the Cosmic Adventure) to insane light and digital installations, it's more than your ordinary exhibition. Wander through the different displays, discovering the Milky Way or the Solar System along the way.
The first floor explores the earth, from its history to natural phenomena. The second floor is dedicated to the universe, focusing on the sun, moon and constellations, and the third level is all about our galaxies.
Pretend to be sitting with the stars at the Dome Theater, plus there's a separate 3D theater where they screen documentaries. On the museum's rooftop is the Observatory, made up of two domes. Each has a special astronomical telescope for viewing into space and the sky.
40 – Put on your walking shoes and enjoy hiking around Taipei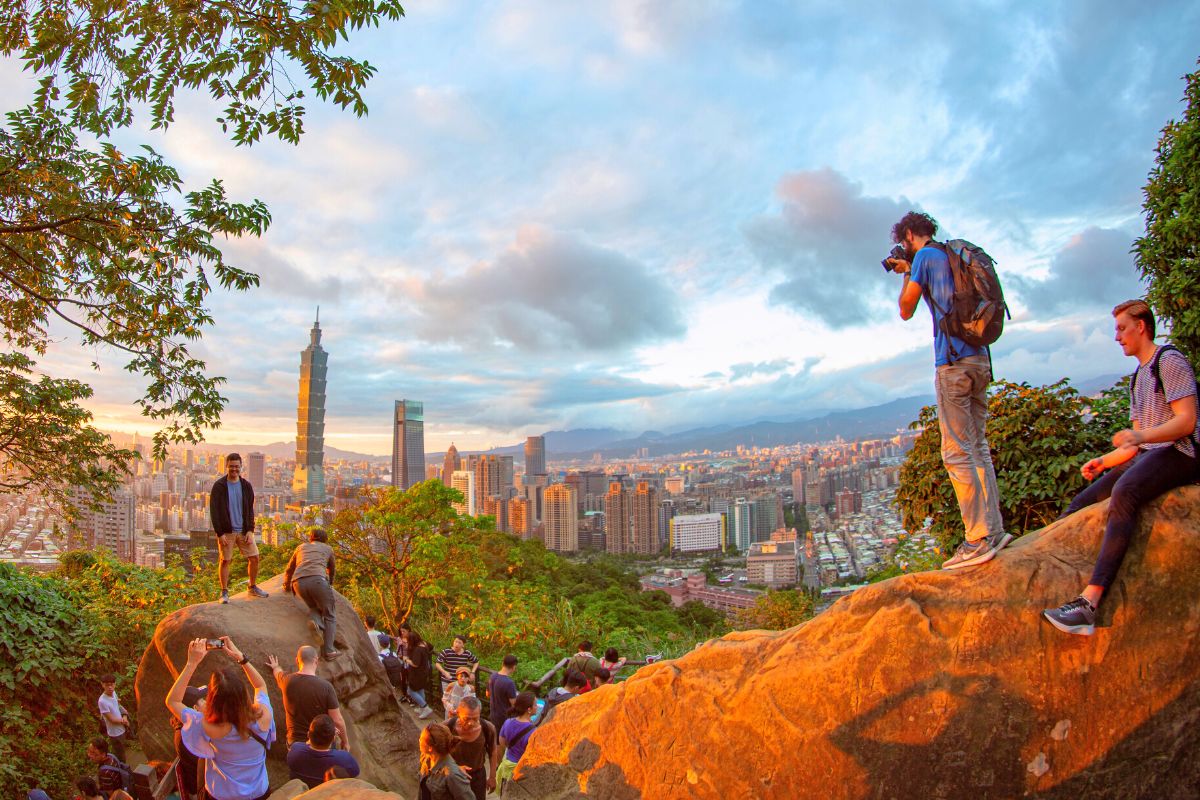 Did you know that two-thirds of the whole of Taiwan is made up of mountains? Go hiking around Taipei and trek some of the city's most famous trails.
The capital is enveloped by luscious hillsides and mountain peaks, so you don't need to travel far to take an afternoon or morning hike. Standing 183 meters above ground, Elephant Mountain is one of the most well-known city hikes and the Taipei 101 building is directly in front of the hill.
This is an easy enough hike for all levels and the views of Taipei are priceless. Jinmianshan Hiking Trail is another splendid city hike that is easy to access and the pathway offers hikers a varying terrain.
Hushan Hiking Trail, also known as Mount Tiger, ascends 140 meters above sea level and is relatively easy to conquer. Head one hour from the city and tackle the Boashan Trail in Hsinchu.
41 – Go hunting cherry blossoms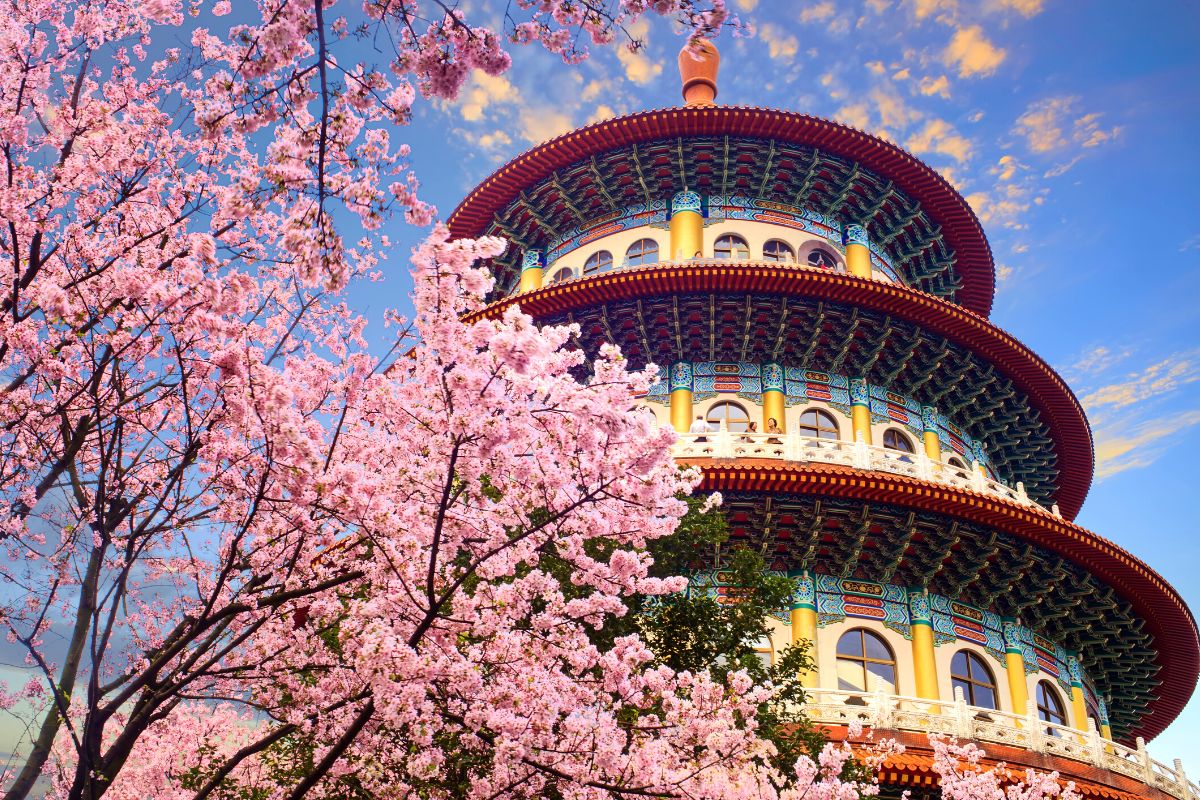 Sakuras, or cherry blossoms as they're commonly known, are especially synonymous with Japan, and because of Taiwan's past, it's no surprise the florals were planted in the mountains across Taiwan.
Blooming in wintertime, here are some of the best places to find cherry blossoms in Taipei. One of the most well-known spots to see the blossoms is at the start of Datun Mountain in Tamsui.
Right here is the Wuji Tianyuan Temple and behind the complex, there are rows of tall Sakura trees. Follow the 70-kilometer cherry blossom trail on Qingshan road in the Sanzhi district and see the florals varying in pastel shades.
Growing wildly across the mountainsides, the blossoms bloom particularly early for their season at the Yangmingshan National Park. In the middle of the city in the Neihu district near Shilin, Lohas Park is famed for its cherry blossom spotting and activities.
When in flower, the Lohas Cherry Blossom Festival is set up and in the evening, the park banks along the riverside where the trees grow are lit up for viewing.
The best time to spot cherry blossoms in Taipei is from late winter until spring. Sakuras bloom from mid-February through to the beginning of April, however, in Taipei, there are some places where the flowers bud early.
42 – Eat seafood or play ball in Tamsui district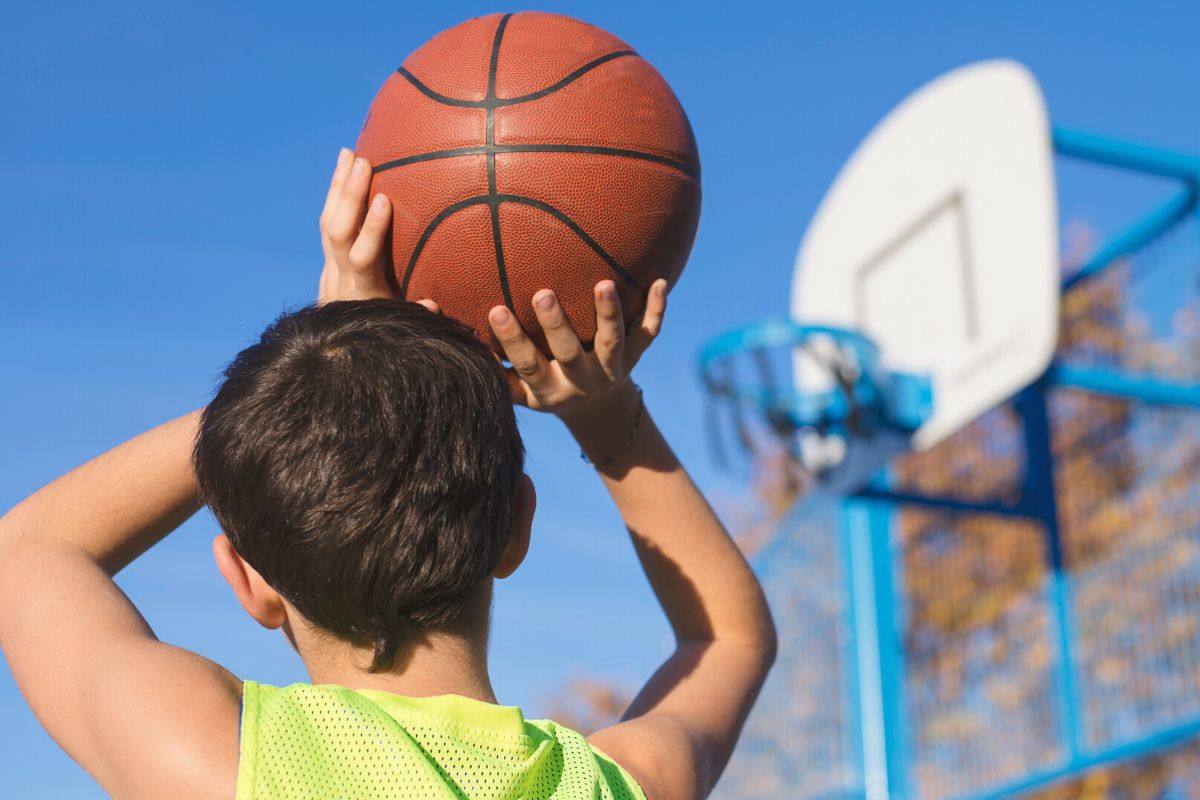 Found on the north side of New Taipei, this neighborhood is a must-visit for those looking to escape the city buzz. Thanks to its river-positioning, it naturally exudes a calming atmosphere.
Commonly known and referred to as Danshui, the area is home to a fishing community and daily local activities revolve around the water.
Stepping off the MRT, head to Danshui's Old Street where shopfronts line the road on either side selling clothes, souvenirs, handicrafts and street food. Enjoy local specialties from this part of Taipei at food vendors, or head to Fisherman's Wharf for seafood restaurant options.
Stroll along the riverside banks at the Tamsui Riverside Park and the grounds also have basketball and tennis courts to use. When composing your itinerary, there are things to do in Taipei that are located in Tamsui, such as Hongmao Castle, i.e. Fort San Domingo
There's a second ancient fort to check out in the area too, Hobe Fort. Popular Longshan Temple is in Danshui, as well as the unassuming but intricately detailed Tamsui Fuyou Temple.
43 – Discover Beitou Hot Springs' ancient purifying waters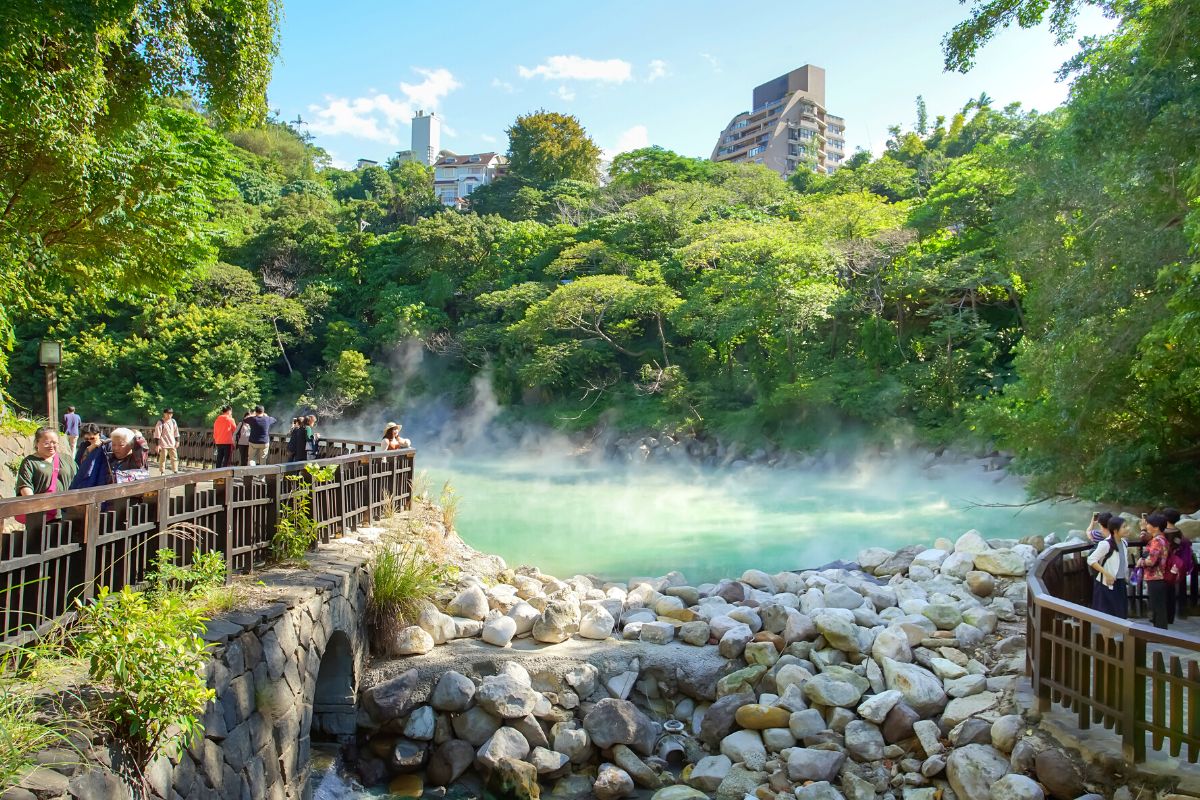 Created from natural, highly acidic green sulfur bacteria running through Beitou's valleys (down Yangming Mountain), the Beitou Hot Springs are extremely popular.
Beitou has many hot springs and there are a few hot spring activities to try. There are public springs around, like the large ones inside Thermal Valley.
Visitors once could dip their feet into the pools here, but this has been closed off in recent years. Stop by the Beitou Hot Spring Museum, an indoor feature built around an old public hot spring.
Learn about the culture and formalities of using hot springs and how they became so popular during the Japanese colonial period in Taiwan.
In the area is a collection of private hot springs, and some of these offer guest accommodation to spend the night. A few have the option to book a private hot spring room for the day too.
44 – Shop original designs and products at Huashan 1914 Creative Park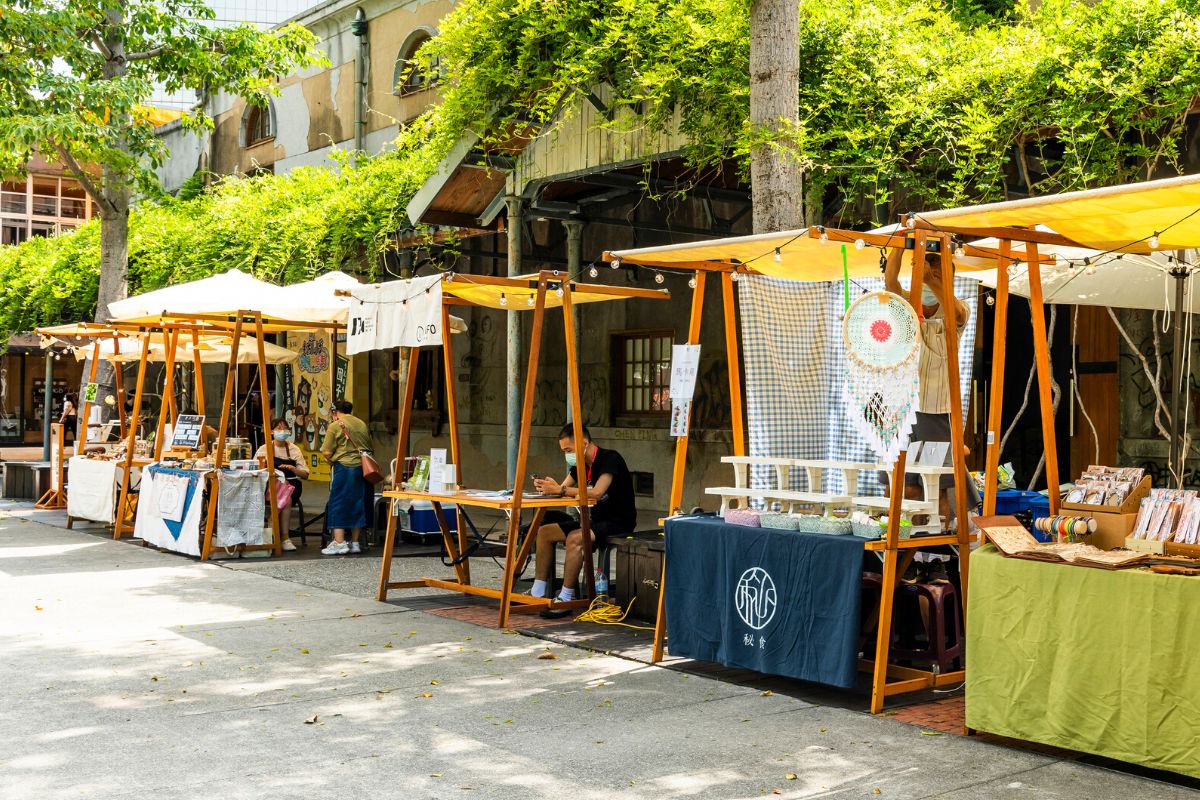 Once home to a Sake manufacturing plant back in 1914, Huashan 1914 Creative Park is now a cultural and artsy space in Taipei.
Today, the venue holds expos, shows and performances.
The park grounds are alluring, with walls dripping in greenery or showing remnants of the past.
Apart from the galleries and live performance spaces, there are restaurants to dine at and shops selling a range of creative goods.
Inside the Gala Asia outlet, they stock around 30 independent Asian brands across all categories.
In a separate block, buy stationery from Lettering Lab, or visit "Pacific Wind" by Kamaro'an specializing in indigenous handmade items and crafts.
The outdoor area hosts local markets and live acts.
45 – Watch a live match at Tianmu Baseball Stadium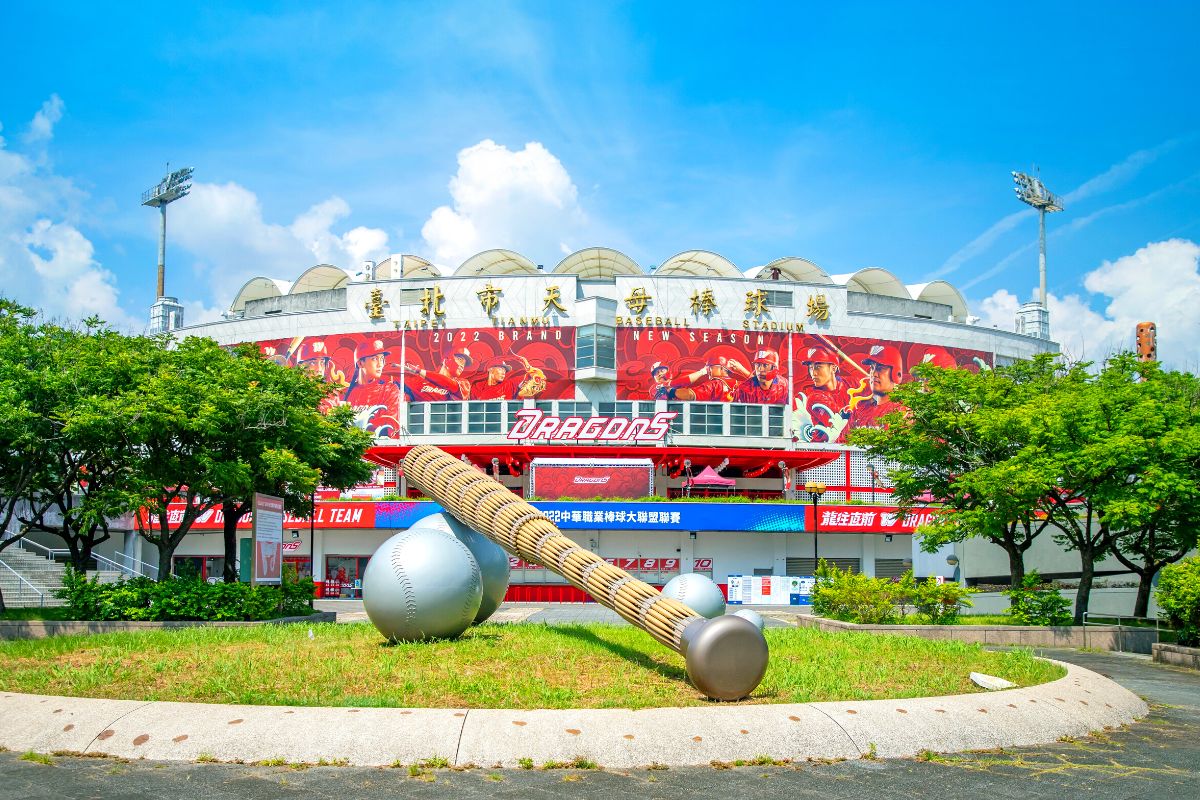 Fun fact: Taiwan has won the Little League World Series baseball tournament numerous times, and it's one of the country's most popular sports — to play and watch.
Constructed to international standards, catch a ball game at Tianmu Baseball Stadium. Regular matches take place at the stadium, and the spectators' atmosphere is a total vibe.
Before the turn of the century, the park opened up in 1999 and recently underwent some upgrades and refurbishing in 2020. With a 10,000-seat capacity, cheer along with the crowds or the cheerleaders up front.
46 – Discover hot springs, fumaroles and forests during a day trip to Qixing Mountain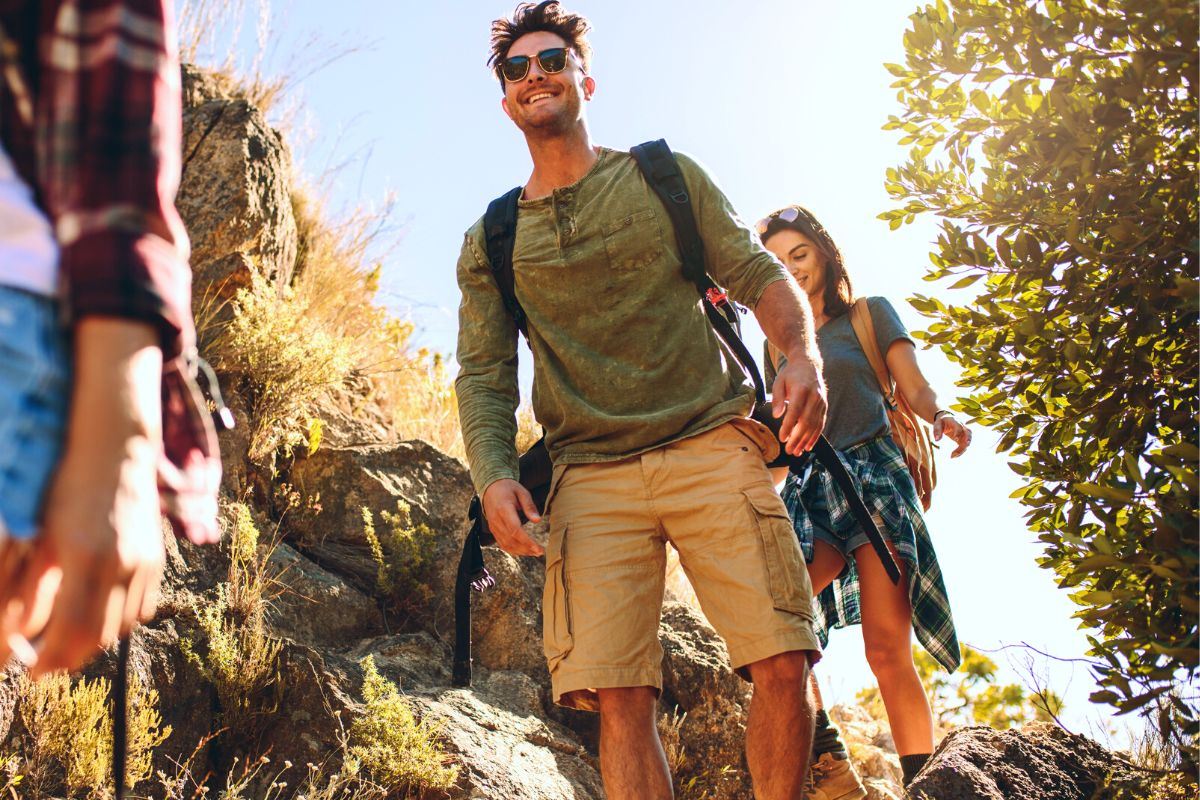 Taipei's highest peak, Qixing Mountain, is situated within the Yangmingshan National Park and is a great day trip for hiking and spending time outdoors.
More than just a mountain, it forms one of the dormant volcanoes that makes up the Datum Volcanic Group. Perched 1,120 meters above sea level, it's a favored location for a day trek in nature with unending views, surreal scenery, interesting fauna and wildlife to see.
Three hiking trails are favored at Qixing Mountain, each ranging in distance and sightseeing. The Xiaoyoukeng trailhead leads to fumarole spots to view the steaming gasses protruding from cracks in the earth's surface.
Lengshuikeng trail is super scenic and leads to natural hot springs, a waterfall and the white Milk Lake. While the Miaopu Trail is nearest to the MRT station and visitors center inside the park, it's the longest of the three treks and you won't pass by the hot springs or fumaroles.
47 – The original masters, taste bubble tea milk tea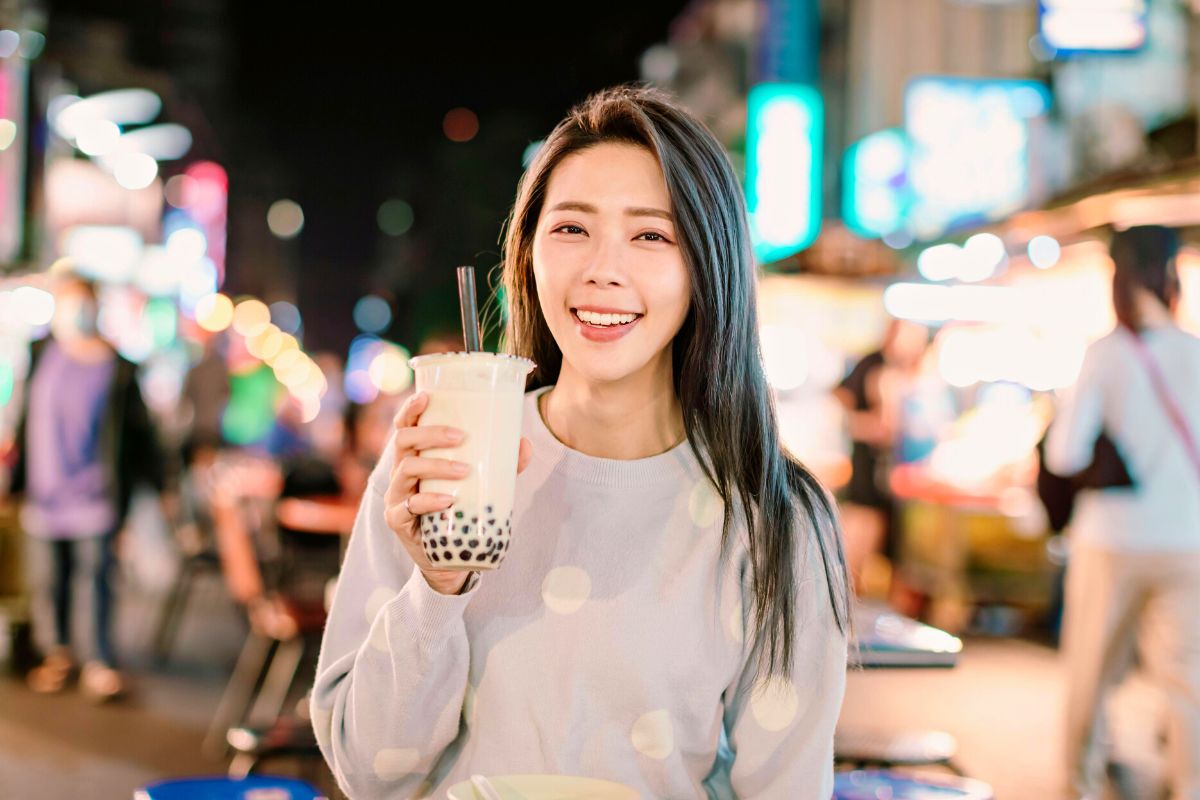 Did you know that the Taiwanese invented bubble tea, or pearl milk tea as it's also sometimes called? Bubble tea shops can now be found across the globe, however, for the most authentic variations you've ever tasted, you've got to try pearl milk tea in Taiwan.
Never tried bubble tea before? The base is a flavored milky tea and sweet chewy tapioca balls (now made in different flavors) are added to the cold drink.
According to local stories, it's speculated that Chun Shui Tang birthed the first milk tea drink in Taipei back in the early 80s and has been selling the milky drinks ever since.
Now found across the globe, Tiger Sugar hails from Taiwan and they've made a name for themselves thanks to their signature 'black sugar' syrup that they use in their teas.
Fighting back rumors, Hanlin Tea Room also claims that they created the first boba tea back in 1986 when they first opened their doors. A must-try signature is their Panda Boba Black Milk Tea.
Order one of Jenjudan's seasonal milk teas, which change every few months, try a classic version or a milk tea from their 'Brown Sugar Series'. For convenience sake, there are dozens of 50 Lan bubble tea stores throughout the city.
When the craving hits, just look out for one of their bright yellow shop fronts.
48 – Feel mesmerized at the Miniatures Museum of Taiwan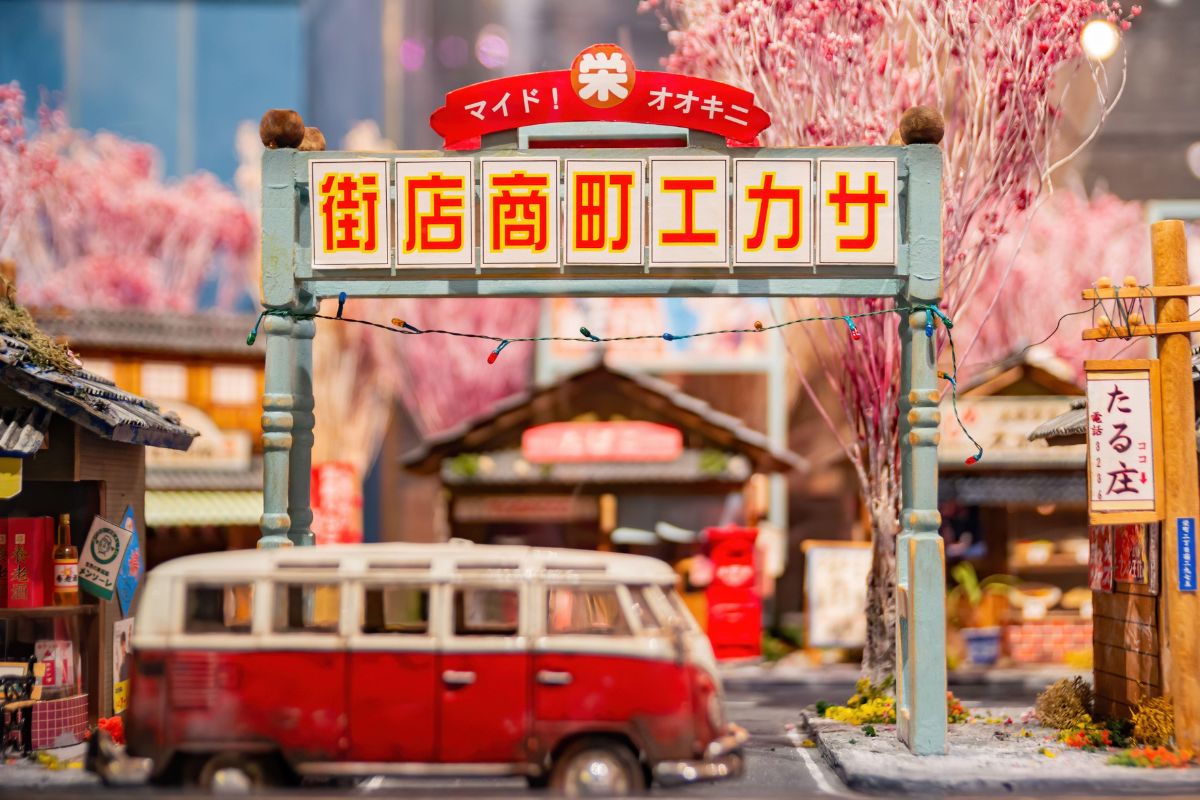 Searching for things to do in Taipei with kids? Owning the title of the very first of its kind in the whole of Asia, the entire family will love exploring the Miniatures Museum of Taiwan.
It's hard not to be impressed by the museum, showcasing whimsical reinterpretations of iconic buildings and famed sites in Taiwan in teeny-tiny miniature form.
There are also displays depicting scenes and moments throughout our world's history, as well as some fairytales brought to life from childhood novels and mythical tales. Divided into different rooms, walk past cabinets displaying the detailed mini-size models which follow a fantasy theme.
Get lost in the mini worlds, letting your mind run free to reimagine the scenarios and magical settings. It's kind of like playing among the most magnificent doll houses you've ever seen, and even as an adult, have fun here.
49 – Spend the night at the theater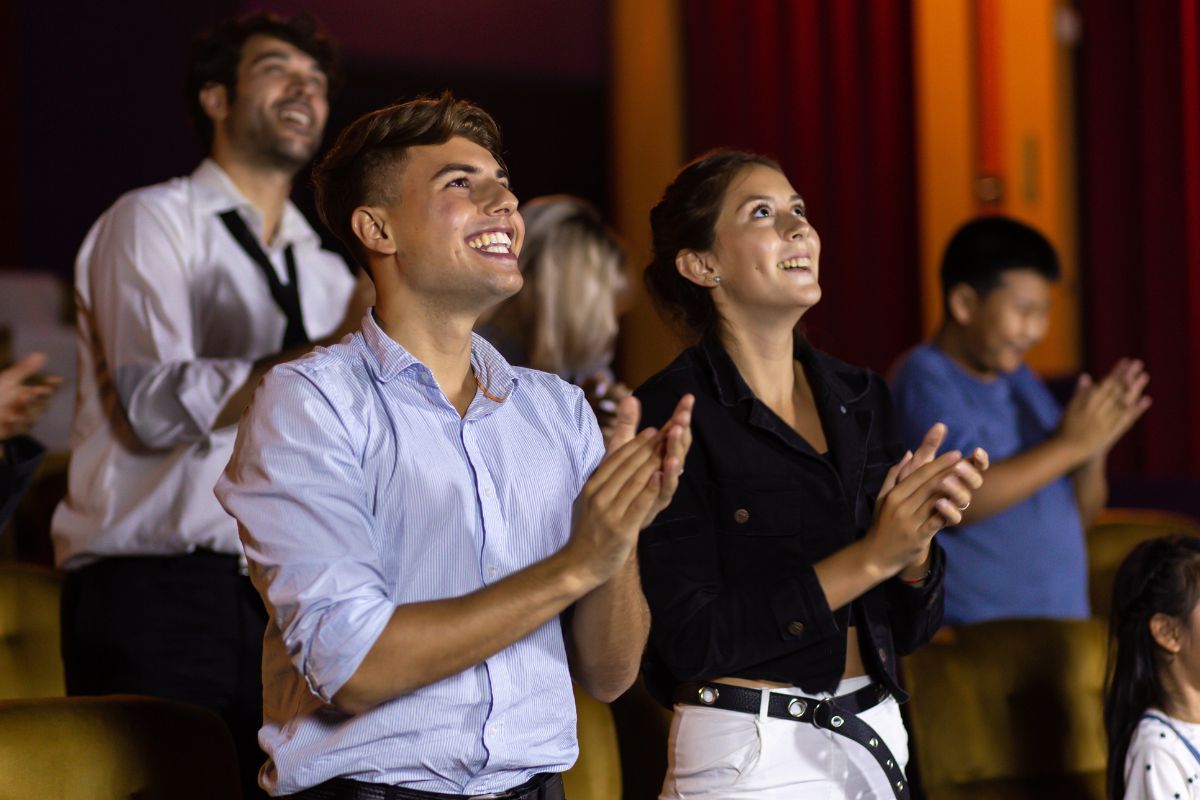 By now, you've noticed that Taipei is a hub for all things arts and culture, and one of the most culturally invigorating experiences is a day at the theater. The tradition of watching live performances and shows never gets old, and there are multiple theaters in Taipei.
As its name suggests, the Taiwan Traditional Theater Center highlights the traditional performing arts of Taiwan and is housed inside a geometrically-inspired building. It's home of the GuoGuang Opera Company, National Chinese Orchestra Taiwan and the Taiwan Music Institute.
Apart from a night out at the grand opera, partake in activities like a Taiwanese Glove Puppet-making workshop or check out the in-house exhibition. The former Taipei Cultural Center underwent major upgrades and is now known as the Metropolitan Hall.
The lavish auditorium hosts theatrical performances, opera shows, as well as lectures relating to arts and culture in Taiwan. Watch a traditional opera show or Glove Puppet show at Dadaocheng Theater, located on floors eight and nine of the Yongle Market building.
50 – Experience a cooking class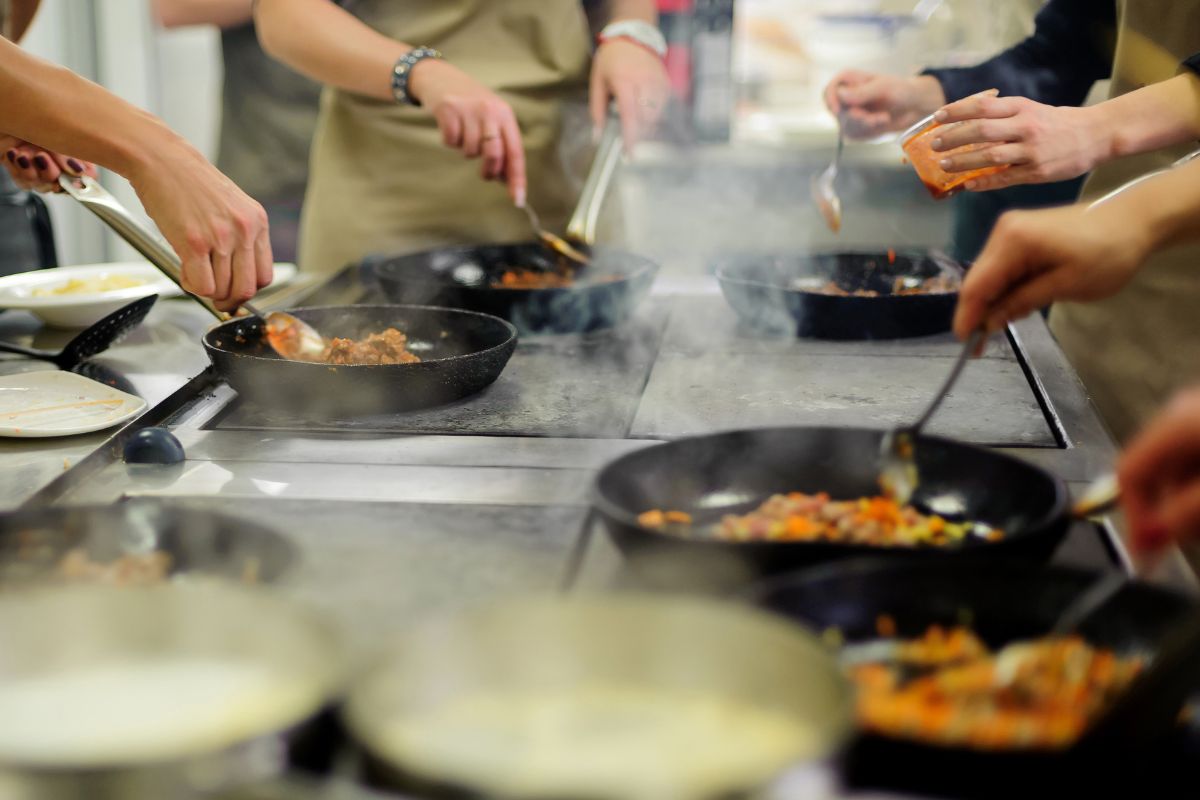 Taipei has a fascinating food scene and for a country that has experienced many different cultures in its time, the foods and flavors to taste nowadays are bellissimo. 
Learn how to recreate typical Taiwanese dishes during a cooking class, and then carry the recipe home to recreate in your own kitchen. Choose between an assortment of culinary lessons in Taipei.
Experienced cooks, try your hands at a gourmet cooking class and take away a bunch of new skills, techniques and fancy recipes.
During a street food cooking class, the focus is on 'xiao chi', meaning 'small eats'. Create some of Taiwan's most favored street foods, from steamed gua bao (Taiwanese pork belly buns) to bubble milk tea.
For something different, opt for a morning breakfast lesson and make traditional dishes enjoyed at the start of the day, like Dan Bing (Taiwanese egg crepe) and scallion pancakes.
Ever dreamt of being a chef? Spend four hours at a cooking academy and get a taste of what culinary school is all about.
During the hands-on experience, cover a few modules such as 'Knowing Taiwanese ingredients', 'Understanding the efficacy of ingredients' and 'Handmade cooking'.
All classes include a visit to a local market but vary in the dishes you make. Certain cooking lessons have a differing itinerary, for example, take a tour to a fish farm before class, or stop by a local village.
51 – Hunt down the Taipei City Walls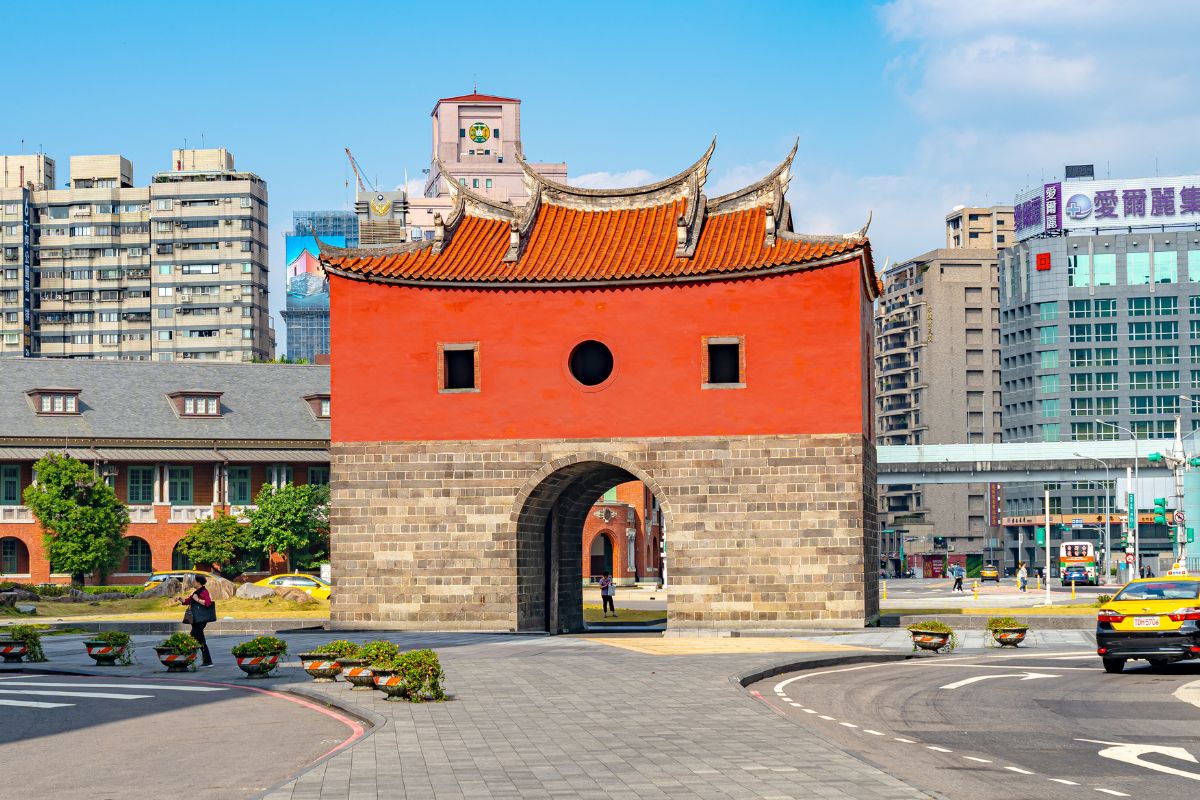 Back in the 1800s, Taipei was the first walled city in Taiwan, and in the old part of town, remnants of the ancient walls are still here. Erected by the Qing dynasty, the walls were built to mark and protect the city and included five access point gates.
These are the North Gate. West Gate, East Gate, South Gate, and Auxiliary South Gate, also known as the Little South Gate. The walls were later knocked down during the Japanese colonial reign, as well as the West Gate.
Out of the five gates, the only one untouched is the North Gate, used as the main gate back then. When Chiang Kai-shek was in power, he modified the other three remaining gates; East Gate, South Gate, and the Little South Gate.
Hunting down each structure, picture what Taipei was once like during the Qing dynasty.
Locate the five gates in the following areas: The North Gate is in Beimen, West Gate in Ximen, East Gate in Dongmen, South Gate by Nanmen and Little South Gate by Xiaonanmen.
52 – Gander at the Chiang Kai-shek Shilin Residence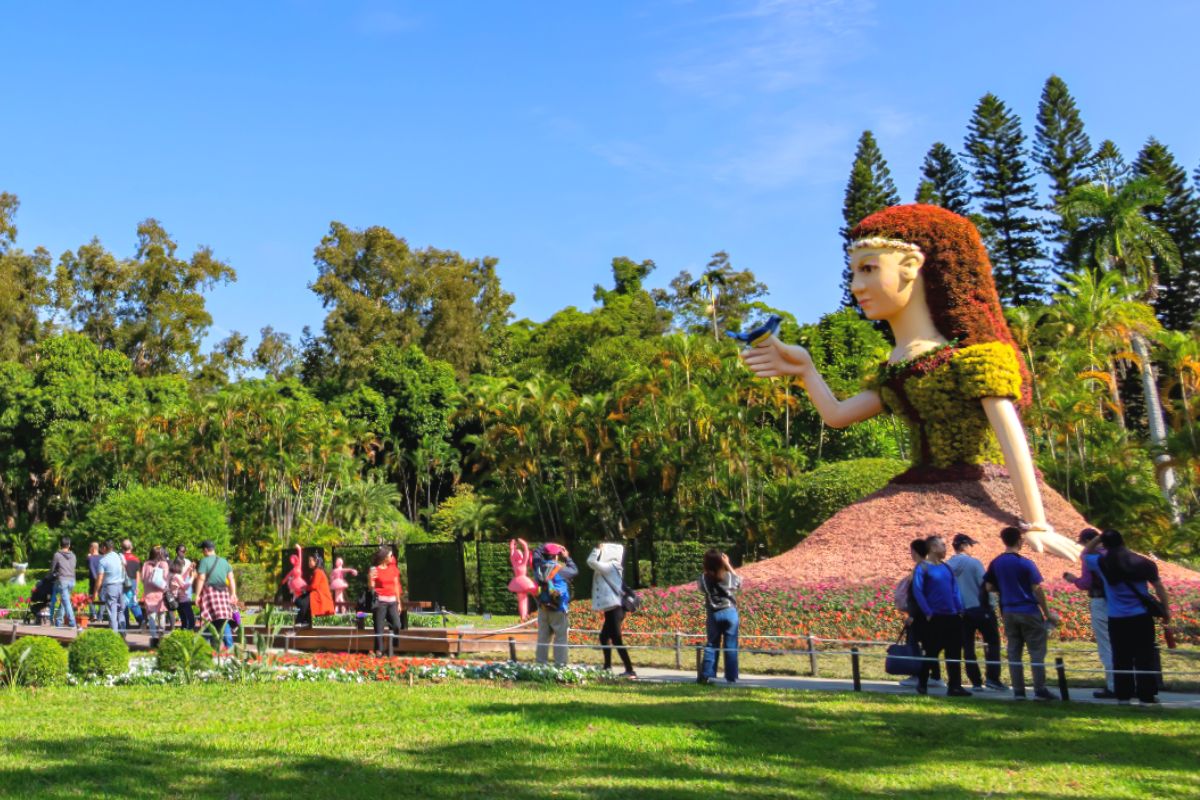 Filled with fruit trees and romantic gardens, stroll around Chiang Kai-shek Shilin Residence, once the home to Taiwan's first president. He served the country from 1949 until 1975 and lived at this exact residence for 25 years until his passing.
By 1996 the government had taken control of the dwelling, and it opened up for public viewing. The ground is famed for its elaborate gardens, creating the main feature here and there are multiple stylized ones to explore.
Taking inspiration from Chinese and European-style gardens, there are many pretty florals and landscapes inside the different areas. A highlight is the Rose Garden, where many tourists arrive to see the Victoria Chapel.
Discover some of the garden pavilions used by the family for different occasions and there are many flower shows and exhibitions held at the Chiang Kai-shek Shilin Residence.
53 – Prepare for a seafood extravaganza at Addiction Aquatic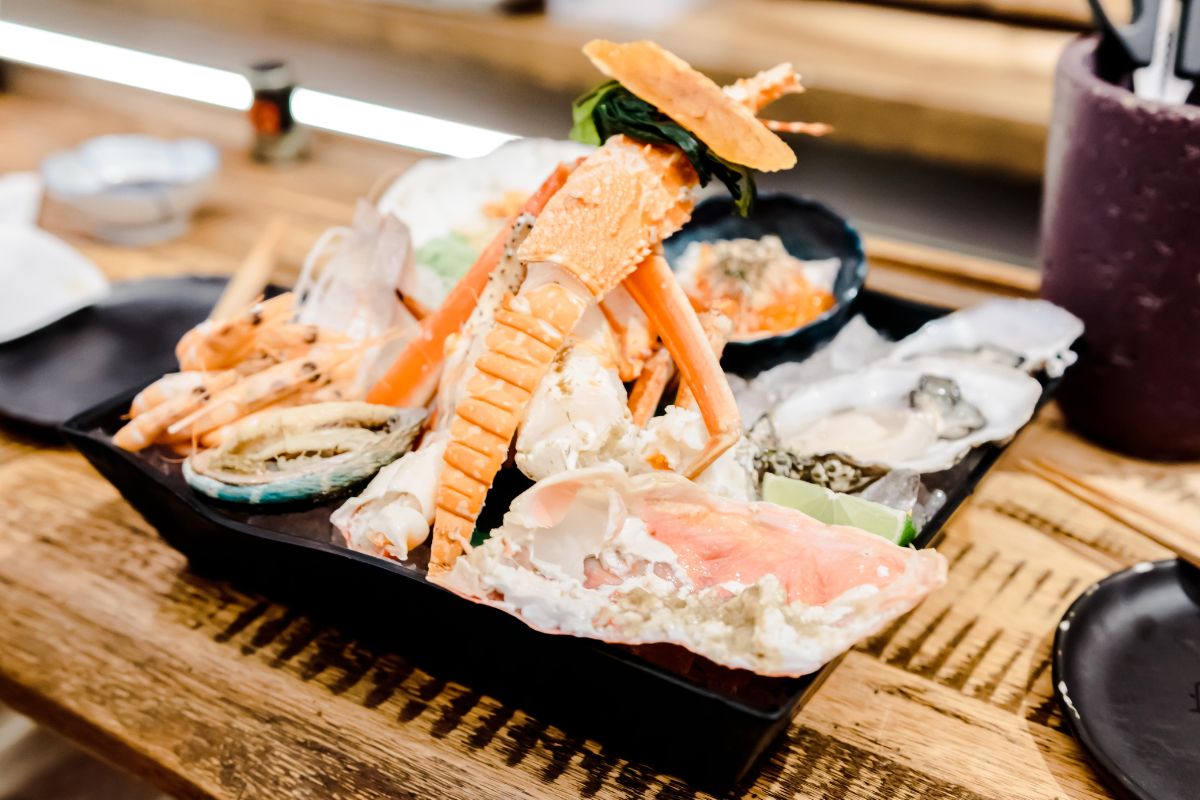 The best way to describe Addiction Aquatic is that it's an elevated dining and shopping experience. As the name suggests, it is related to all things oceanic and it's designed as a refined "seafood market", but it's far from the local markets around town.
Divided into 10 areas, start indoors at the 'Instantly Consumed Deli' for fresh sushi or the 'Sea Food Bar' for oysters or crab.
Try a seafood hotpot at area four, or the outdoors area five is where the BBQ action happens and food is best enjoyed with a glass of wine.
A fresh market and cooked foods deli cover areas six and seven. Find lifestyle products like homeware and cookware in area eight. The last spaces display flowers and fresh fruits on sale.
Addiction Aquatic is an opportunity to feast on seafood without paying exuberant restaurant prices.
54 – Book a food tour in Taipei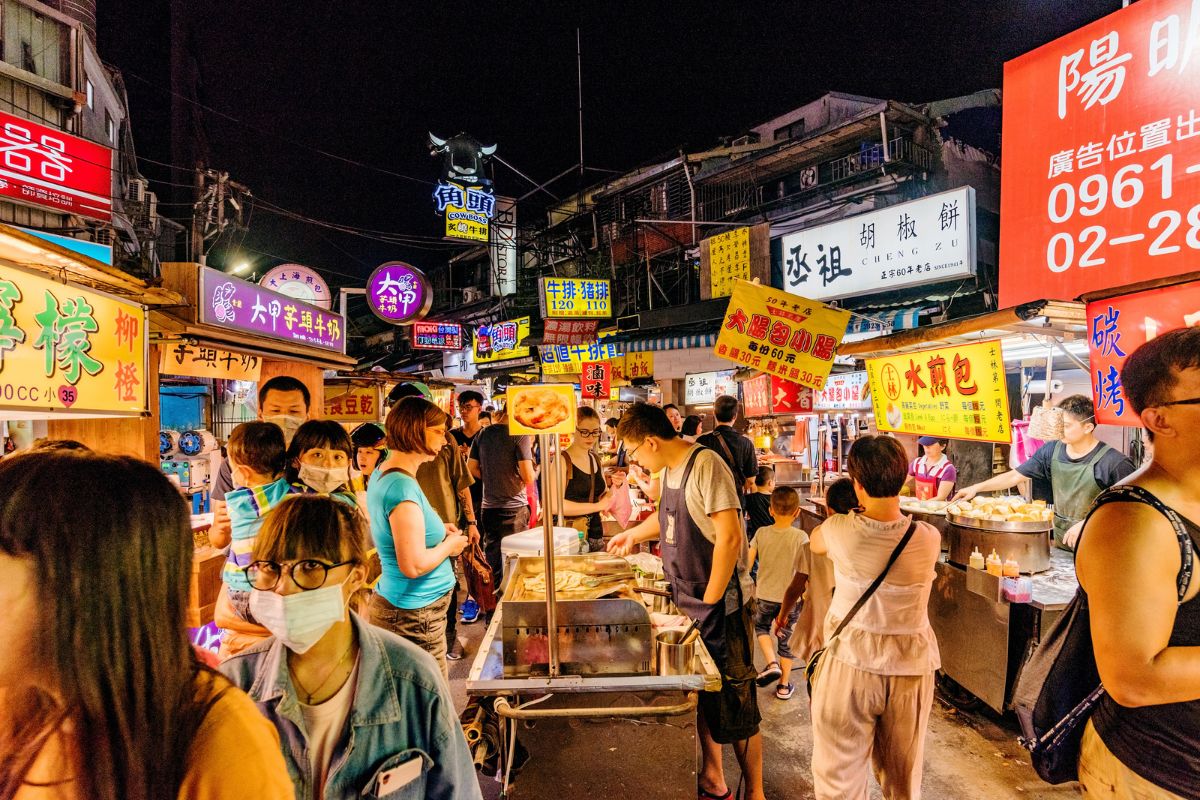 Looking for things to do in Taipei for foodies?
Yongkang Street in the Daan district is one of the best places to try Taipei's array of delicious street foods, but if you've already eaten your way through the stalls and vendors, take a dedicated food tour around the city.
A food tour to a night market is exciting, fun and full of surprises. One of the most popular foodie experiences in Taipei, you can even enjoy a Michelin Food Tour around a night market.
Tantalize your taste buds, explore historical Dadaocheng and savor flavors from the past, tasting all sorts of traditional Taiwanese delights.
Choose to tour a different Taipei district instead, like Xinyi or Zhongzheng. If you prefer to create your own food-touring itinerary, Wulai Old Street (in Wulai District) is another popular foodie destination.
Travelers specifically arrive to eat an array of traditional Taiwanese foods and learn about the cuisine of Taiwan's native tribes.
55 – Marvel at the architecture of the Taipei Music Center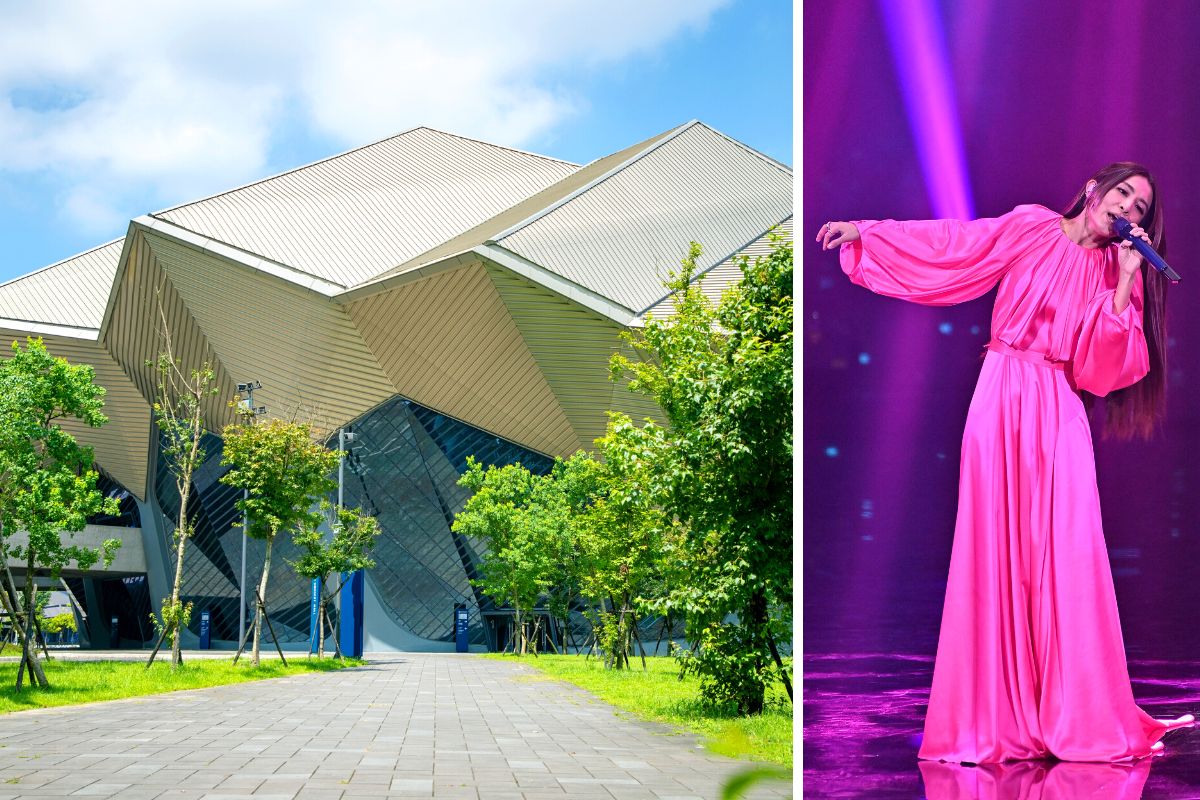 After 10 years of construction, the Taipei Music Center is finally open and the impressive geometric building is very cool. The plan for the center is to become a thriving central art space and its main focus is highlighting the Asian pop music culture scene.
Head to Nangang District in southeastern Taipei and take a walk around the venue. The Concert Hall hosts both indoor and outdoor performances, from talk shows to musicals.
Inside the seven-story Cultural Cube is a permanent exhibition exploring the history of pop music in Taiwan and its progression in the country over time.
Futuristic in its design, the Creative Hub building was created as an inspiring space for musicians and artists. It's equipped with a recording studio, a music-themed restaurant, a rehearsal area and music classrooms.
Connecting the Cultural Cube and Creative Hub is the public outdoor Plaza, utilized for markets and street performances.
56 – Treat yourselves to fine dining in the capital city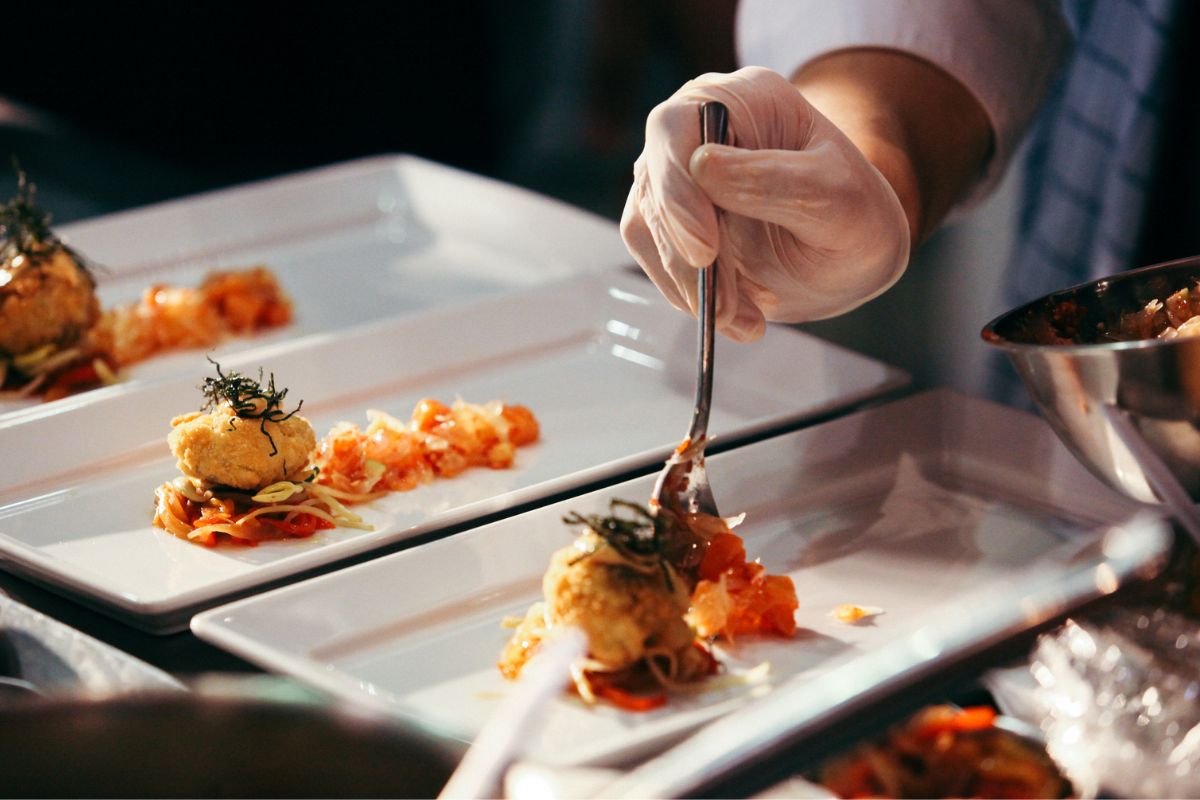 For a fabulous evening of excellent food, drinks and top-notch service, book a table at one of Taipei's fine dining restaurants. Discover many eateries that are Michelin-awarded — the food scene is that good!
Starting with the most pivoted award, Le Palais is the only three-star Michelin restaurant in Taipei. Cantonese specialists in the food game, their crispy roast duck is sensational.
Earning two stars by the Michelin Guide, Logy will transport you to the streets of Tokyo, or head to 12-seater omakase-style Sushi Amamoto for authentic Japanese flavors and techniques.
Not just a striking setup, Raw serves a stunning nine-course menu taking inspiration from Taiwanese cuisine, including its street foods.
The one-star Michelin category has given out the most accolades in Taipei. For innovative flavors, presentation and ingredient pairings, enjoy an evening at either Impromptu by Paul Lee or Longtail restaurant.
As the name hints, A Cut is a top-class steakhouse, or indulge in "contemporary French" from de nuit. Specializing in Edomae-style sushi (a modern take on Tokyo-style sushi), don't miss Sushi Akira in Zhongshan District.
57 – See the calla lilies at Zhuzihu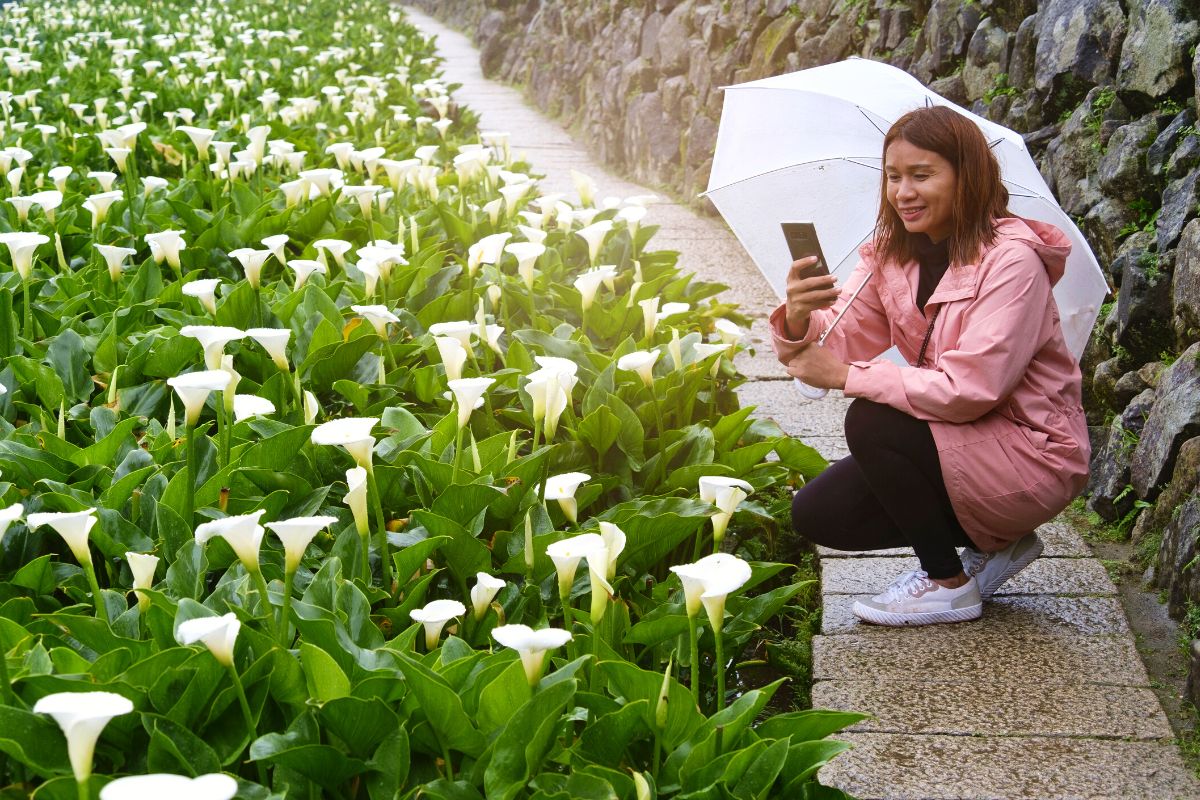 Go frolicking among the calla lily fields in Zhuzihu village. Nestled in between luscious mountains, the rows of flowers grow inside the local farming village living up in the ranges.
Situated over 600 meters above sea level and surrounded by Qixing Mountain, low clouds can often be seen rolling in over the area, creating a postcard-perfect moment. Calla lilies are not the only florals that grow in the dense area, and Hydrangeas are another species that grow here.
The best time to see the white lily fields is from February to May, and pastel-colored Hydrangeas bloom towards the end of May. Don't miss the Zhuzihu Calla Lily Festival or the Zhuzihu Hydrangea Festival if you're here in season.
58 – Shop your way through Dihua Street in Dadaocheng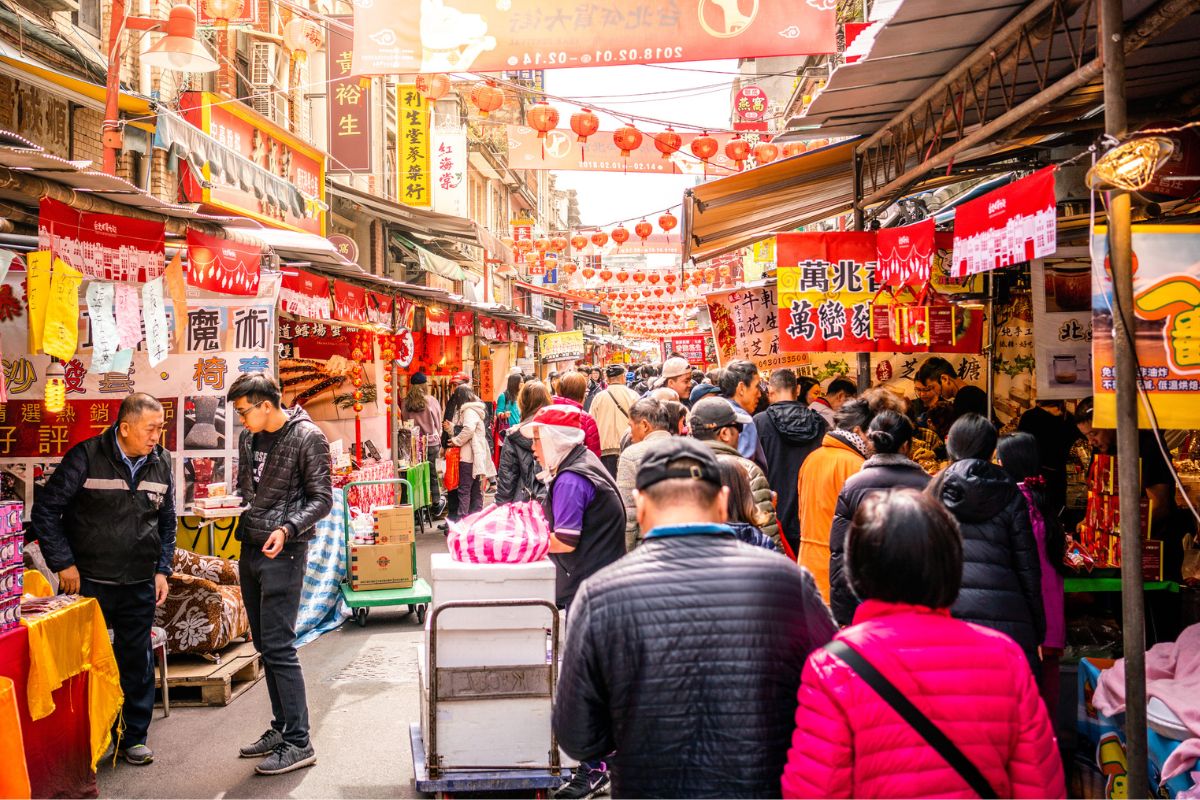 Stretching for about 800 meters, Dihua Street is always busy, as this is where to buy traditional Chinese medicine and herbs, as well as souvenirs. Found in Taipei's oldest neighborhood, Dadaocheng, the area sees visitors daily from both locals and tourists.
Buildings now used as shopfronts and cafes date back 150 years ago, constructed using red bricks and stone. Today, the entire neighborhood is quite trendy, and the vintage buildings add authenticity to the creative buzz in this side of Taipei.
Some historical sites to see include one of the old gates (the North Gate), FaChuKong Temple and Xiahai City God Temple. Shop night markets or a fabric market and visit a traditional tea house.
59 – Zen out at the Lin An Tai Historical House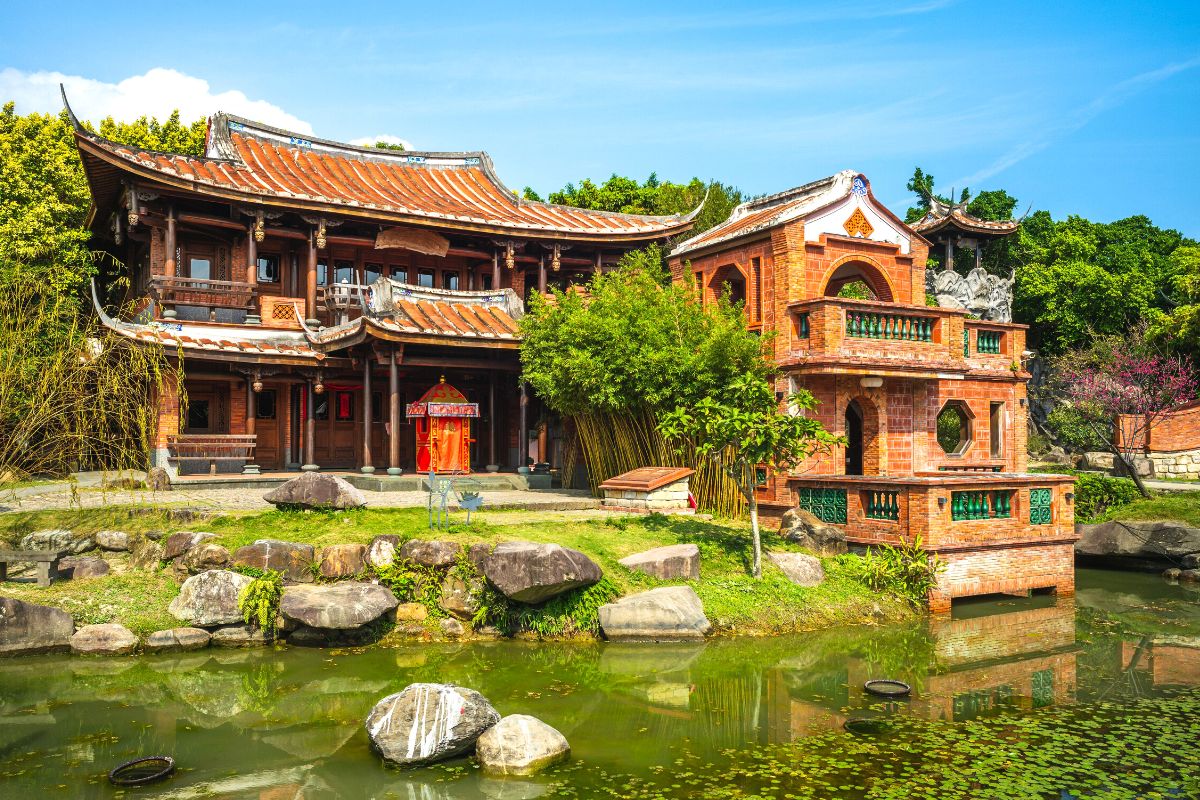 Have you always been intrigued by the principles of Feng Shui? Lin An Tai Historical House is a fabulous example of integrating these ancient Chinese practices into the setup.
It's believed that using Feng Shui in design forms a harmonious environment and good energy.
Feel as if you're stepping back into ancient China at the mansion museum. Facing a lotus pond to the one side, the red brick multi-tiered building features swooping rooftops and balconies.
Discover the different rooms inside the mansion and afterward, walk around the calming garden.
60 – Get ready to shop (and eat) til' you drop at the night markets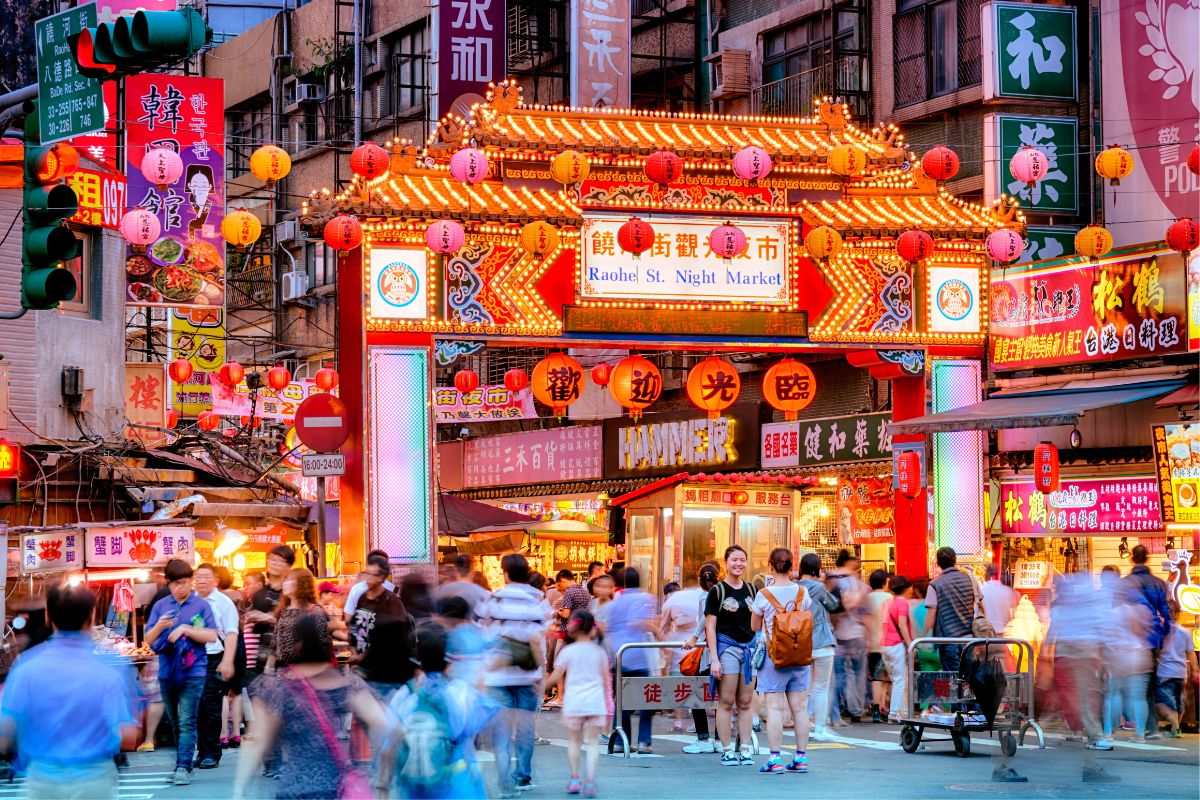 Make sure you've saved space in your suitcase for all the buying you'll be doing at Taipei's night markets. Whilst there are daytime operations, the city's nighttime shopping is lively and the markets are filled with more vendors and stalls.
Start with Shilin, one of Taipei's largest night markets. It's big, loud and vibrant, and pick up the usual market steals and other handcrafted goods.
The second night market to ever open in Taipei is the famed Raohe Night Market, known as a foodie destination. Stumble upon many interesting and unusual foods to try, including dishes that are considered medicinal in ancient Chinese medicine.
For all things fashion, head over to Wufenpu. Shop from typical market stalls, boutiques, or vendors with huge piles of clothing, shoes or accessories on the floor.
The biggest night market in south Taipei is Gongguan Night Market and with its location close to the National Taiwan University, shop for trendy goods and items.
Parallel to Gongguan Night Market is a small, local seafood market, Wuzhou Street Night Market, selling freshly cooked dishes. Many of the stalls at Shida Night Market are owned or run by young locals selling funky and hip goodies and clothing.
If you're not one for big crowds, get a taste of a truly local experience where food is extra cheap and ultra delicious at Nanjichang Night Market. A few street vendors here have been awarded the official Michelin Bib Gourmand award.
Some must-try foods include stinky tofu, sesame oil chicken, dumplings and taro shaved ice. Experience Japanese influence from foods to street culture at the iconic Ximending Night Market.
Known as the first official food market in the city, don't miss Ningxia Night Market. Must-try dishes and street foods include Lu Rou Fan (braised pork rice), pork liver soup, salted chicken, fried oysters and taro balls.
61 – Find orchids, succulents and fresh herbs at Jianguo Holiday Flower Market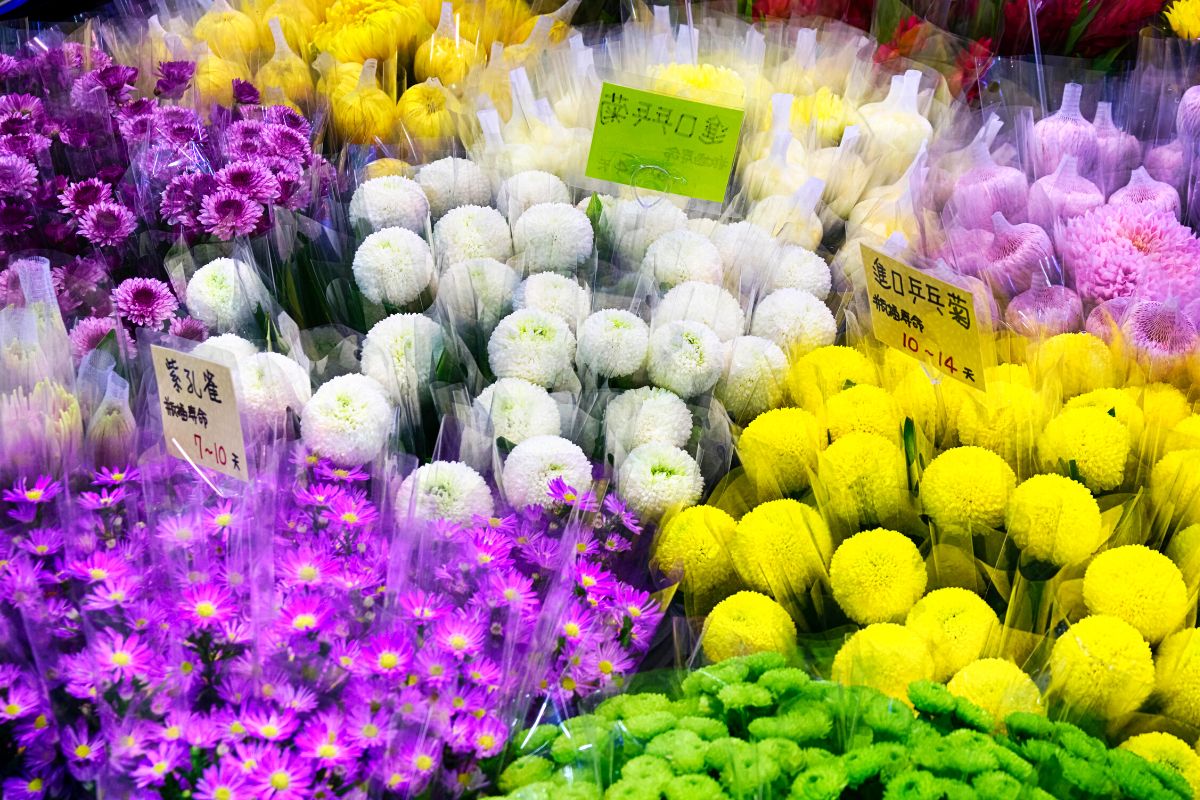 Brighten up your day at the Jianguo Holiday Flower Market, open on weekends and public holidays. Either arrive to buy a bunch of blooms for your hotel suite, or to photograph the colorful scenes.
Green fingers, stock up on gardening tools and accessories, and the market sell some flower and plant seedlings. Some vendors have fresh produce for sale, and one or two stalls also stock canisters of loose tea leaves.
Around the corner from the flower market is the Jade Market. Already here, stop by this market to discover a collection of Jade gemstones and other semi-precious stones and crystals sold in raw form or as jewelry or sculptures.
Situated in Daan District, the Daan MRT is a three-minute walk away from the market.
62 – Pay homage to a local contemporary artist at the Ju Ming Museum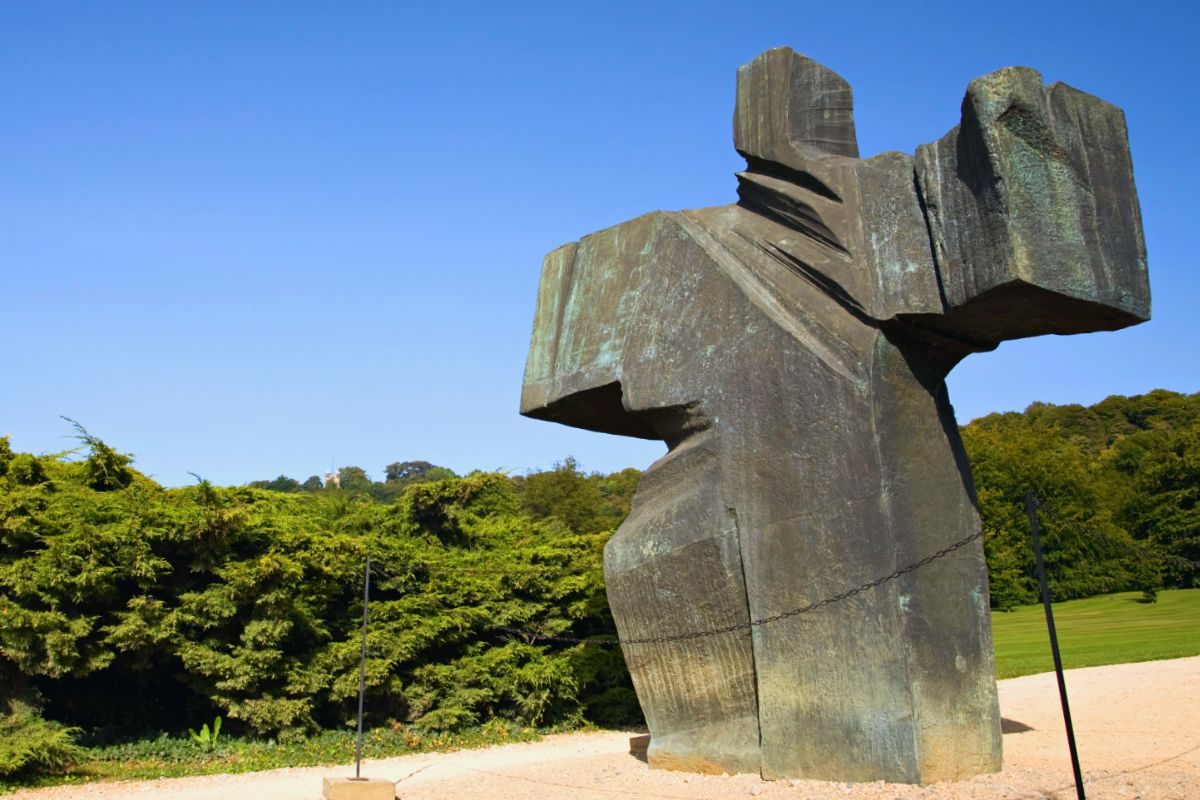 All of the Ju Ming Museum was designed and conceptualized by mixed media artist, Ju Ming, who rose to fame in Taiwan and then New York City in the 70s and 80s for his sculptural masterpieces.
Walking the outdoor and indoor spaces, find over 2000 different artworks and installations by the artist himself. From bronze to ceramics, styrofoam and more, Ming creates life-size pieces and figure works using a variety of mediums.
Abstract in his approach, his subjects take inspiration from local activities, human interactions and animals. Some of the artist's most well-known works are from his Taichi series, which he expanded for over 10 years.
There's an on-site coffee shop, teahouse and restaurant, as well as a creative store.
63 – Have a well-deserved spa day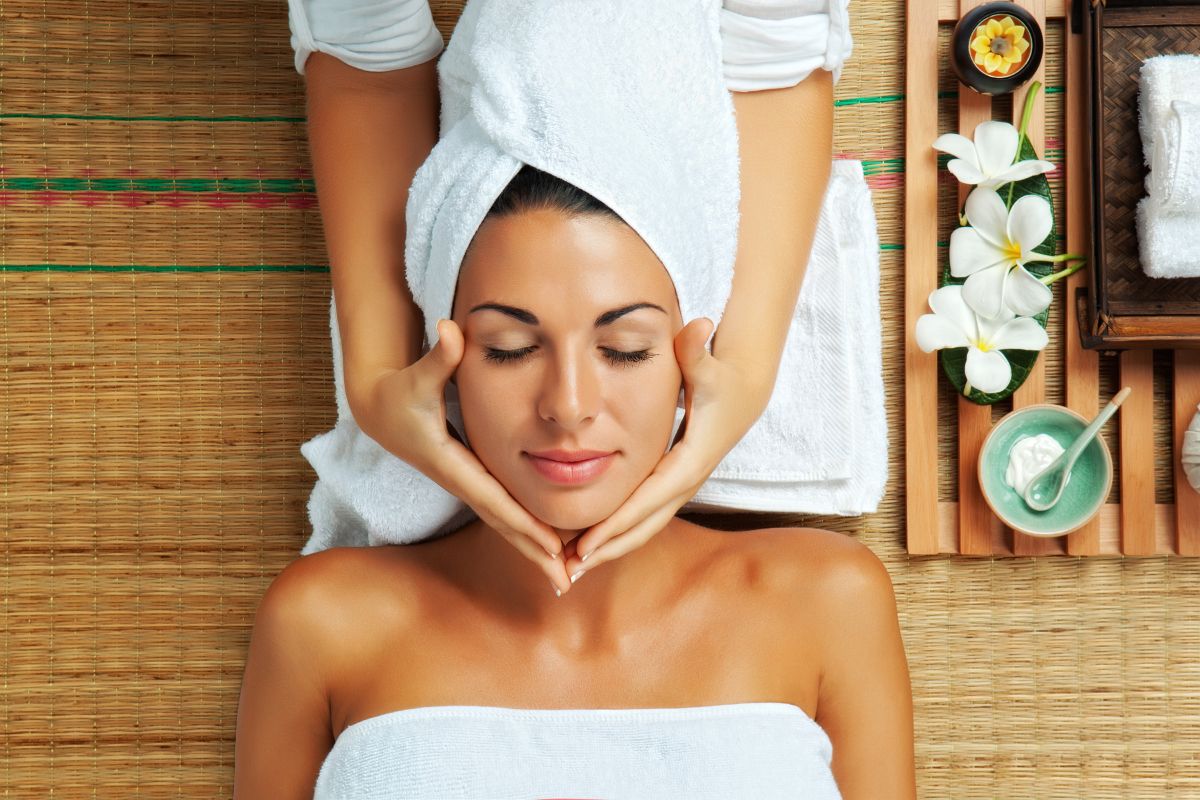 A vacation just isn't complete without some pampering… treat yourself to some downtime and book a spa treatment in Taipei.
One thing you'll notice around the city is the abundance of spas offering and focusing on foot massages, or reflexology. With three branches around the city, Six Star specializes in foot massages and is frequented by local celebrities too!
Reasonably priced, grab a foot massage at Qingsong Foot Massage in the Zhongshan area.
Do you prefer traditional massages? If you are fussed by aesthetics, the interiors at Relax 33 are trendy and contemporary, creating a feeling of zen in the air. Treating all the senses, book an aromatherapy treatment, or a classic oriental body massage.
Combining Japanese and Chinese principles, from the treatment to design, choose between various therapies at I-Ching Massage. Try their Five Elements Energy Oil Massage or Head Pressure Relief Massage.
Check yourself into one of Taipei's luxury spas. Some of the city's top treatment spaces include Qi Shiseido Salon and Spa (at the Shangri-La Far Eastern Taipei), The Spa at Mandarin Oriental and The Gaia Spa (at The Gaia Hotel).
Are you on the lookout to try something out of the ordinary regarding wellness? Unique to Taiwan, have you ever had a knife massage before?
Light Program Red House specializes in this ancient therapeutic technique, sometimes also called "knife therapy", as well as other alternative healing practices.
Holistic services that they offer are energy work, light breathwork workshops, chakra cleansing and reiki, tarot readings, and more.
64 – Eat stinky tofu in Shenkeng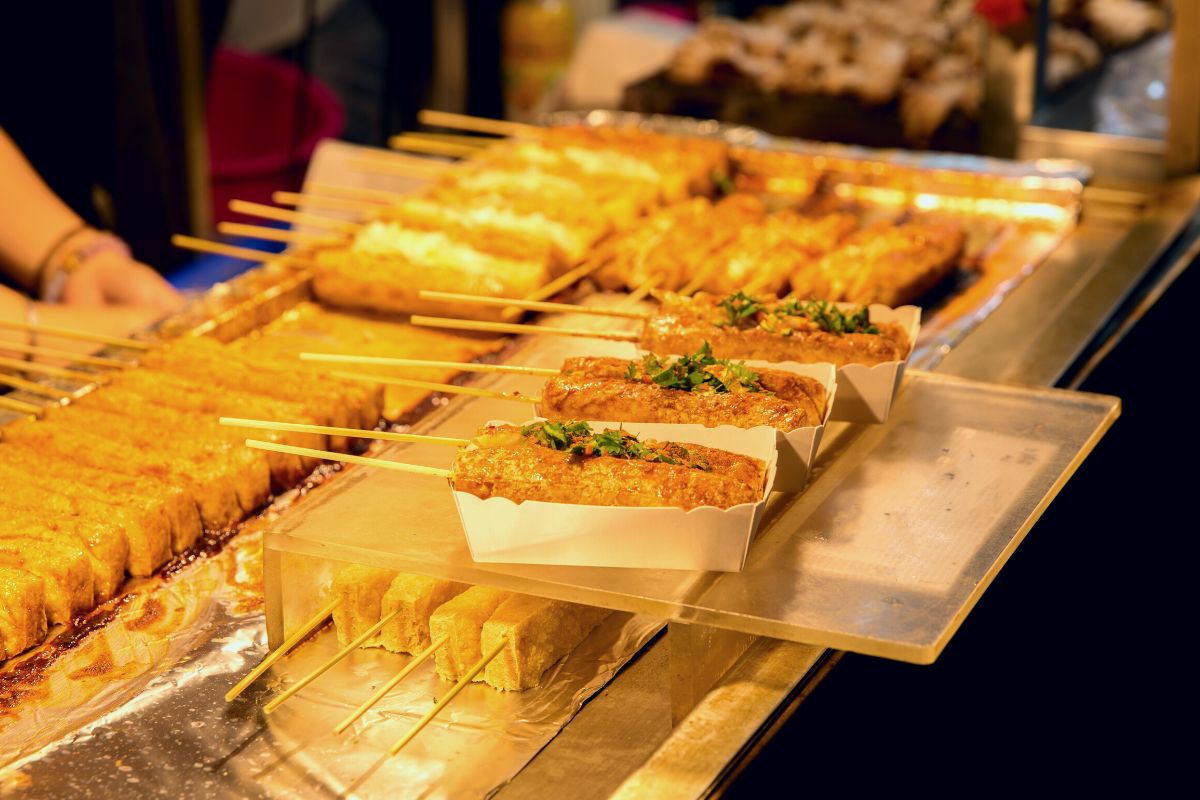 While there seems to be an avalanche of unusual street snacks to try in Taipei, stinky tofu is one of the country's most famous foods.
Shenkeng District in New Taipei is renowned for making some of the best stinky tofu in town, specifically at Shenkeng Old Street.
Closed off to motor vehicles, the roadsides along the old street are lined with brick buildings converted into restaurants and shops.
The local eateries and vendors here create all sorts of variations of the fermented soya bean. Some delicacies to try are tofu ice cream, fried tofu and tofu hotpot.
Once done tasting, take a stroll around the historic Shenkeng area, or do a round of shopping at Shenkeng Old Street.
65 – Visit Taipei's plethora of museums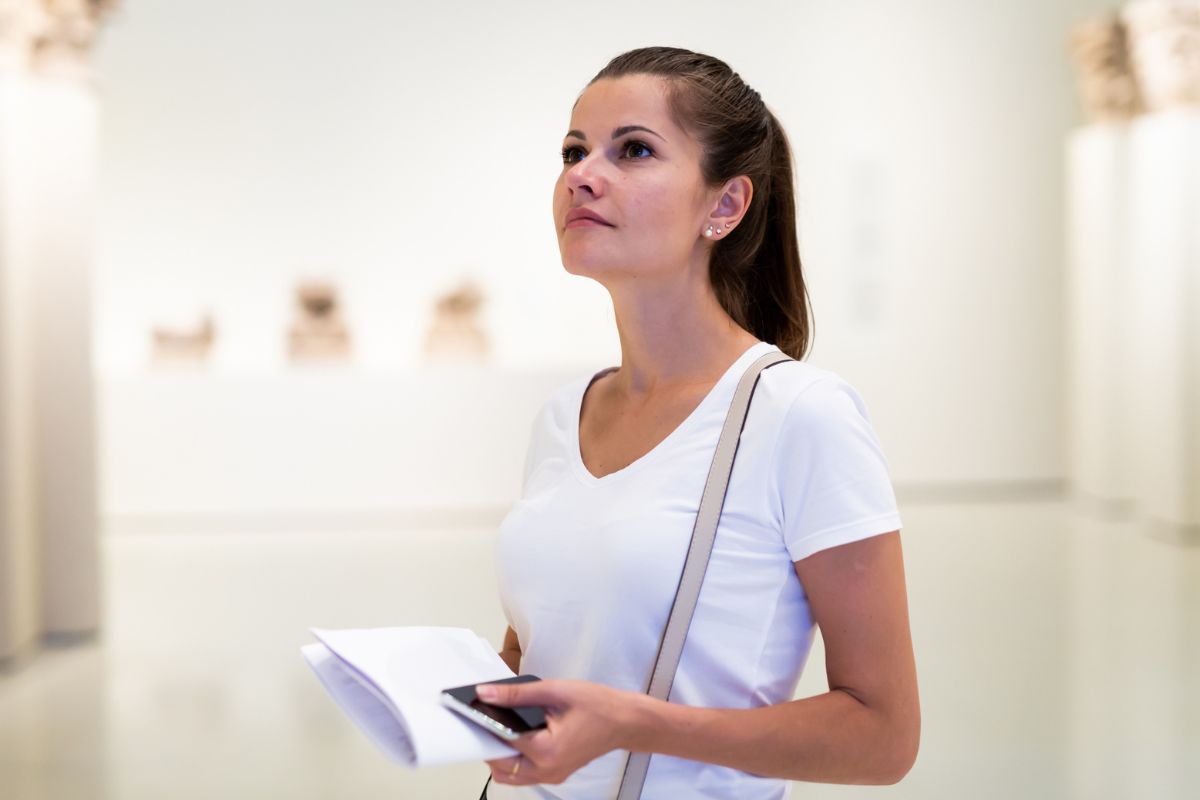 Don't miss some of Taipei's other museums. Visit one of the world's biggest tea museums, Ping-Lin Tea Museum in Pinglin District.
The National Taiwan Arts Education Center is the city's first public art gallery, opening in 1957. An interesting one, make your way to Zhongshan and explore the history of paper and how it's manufactured at Suho Paper Memorial Museum.
Highlighting a different traditional feature, the Evergreen Maritime Museum explores the history of boats and ships employed throughout Taiwan's history.
Using interactive displays and installations, trace Taiwan's historical and cultural developments at the Discovery Center of Taipei.
Looking into the future, not the past, at the Jut Art Museum explore 'experimental projects' that focus on design, architecture, art and culture.
66 – Jump into new worlds at VIVELAND VR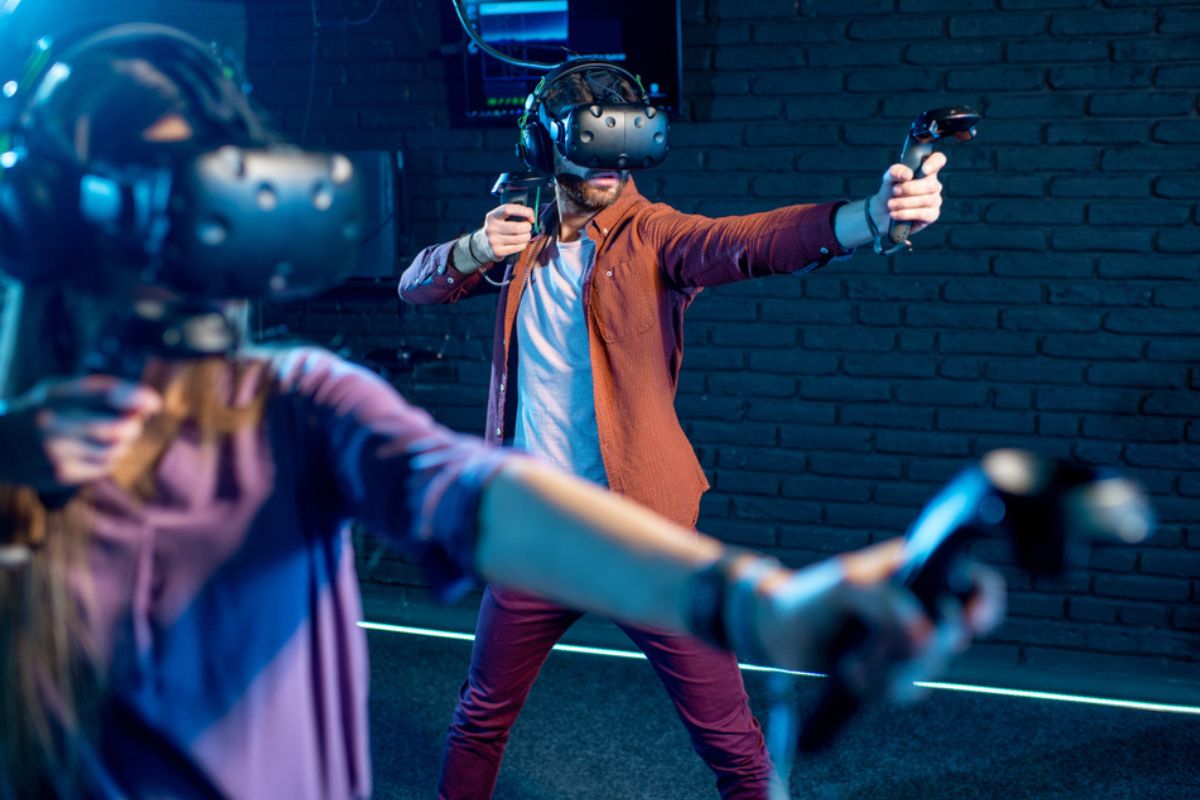 Ever tried out a virtual reality experience? Not only does VIVELAND VR allow you to partake in a virtual reality world, but it combines the fun escape room adventure into its setup.
Choose between a VR escape room experience, watch a VR movie instead or try one of their virtual reality games.
Categorized by adventure, horror, competition and E-sports, choose to play inside the Free-Roaming zones for games like Hide & Seek, Wizard and Dragon or Paranormal hotel.
Designated zones specifically cater to teens (focusing on shooting and E-sports) and family and kids for virtual realities titled Candy Hero, Magic Night Party and Fun Zoo.
Play baseball, tennis, ping pong or archery inside the VR Sports Arena or try out their single-player 4D Motion Sitting Experience.
Accommodating a maximum of six players, some of the VR Escape Room themes include Mission Sigma, Christmas Story, The Prison, Cyberpunk and Escape the lost Pyramid.
67 – Trace the intricate patterns at the Taipei Grand Mosque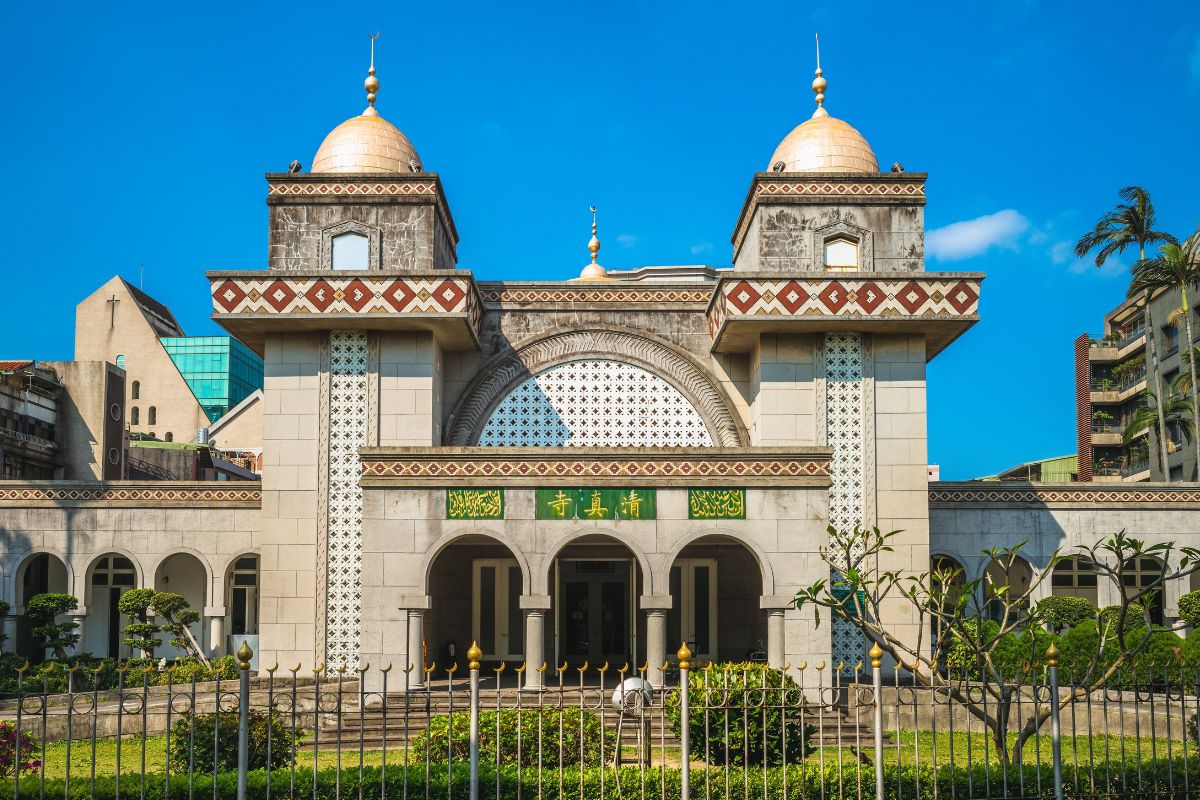 Built in 1960, the Taipei Grand Mosque is a perfect example of the country's accepting nature towards all cultures and religions, as it has done so much throughout its history.
Showing off Ottoman-style architecture, the mosque stands out against the typical city buildings and skyscrapers.
When the Taipei Grand Mosque was first founded in 1949, it was housed in a few Japanese-style houses, but by the end of 1960, the first mosque in Taipei was constructed and open for worship.
Travelers can come to explore its design, however, the main prayer hall and the second prayer hall are open for Muslim devotees only.
68 – Watch the Taiwanese opera at TaipeiEYE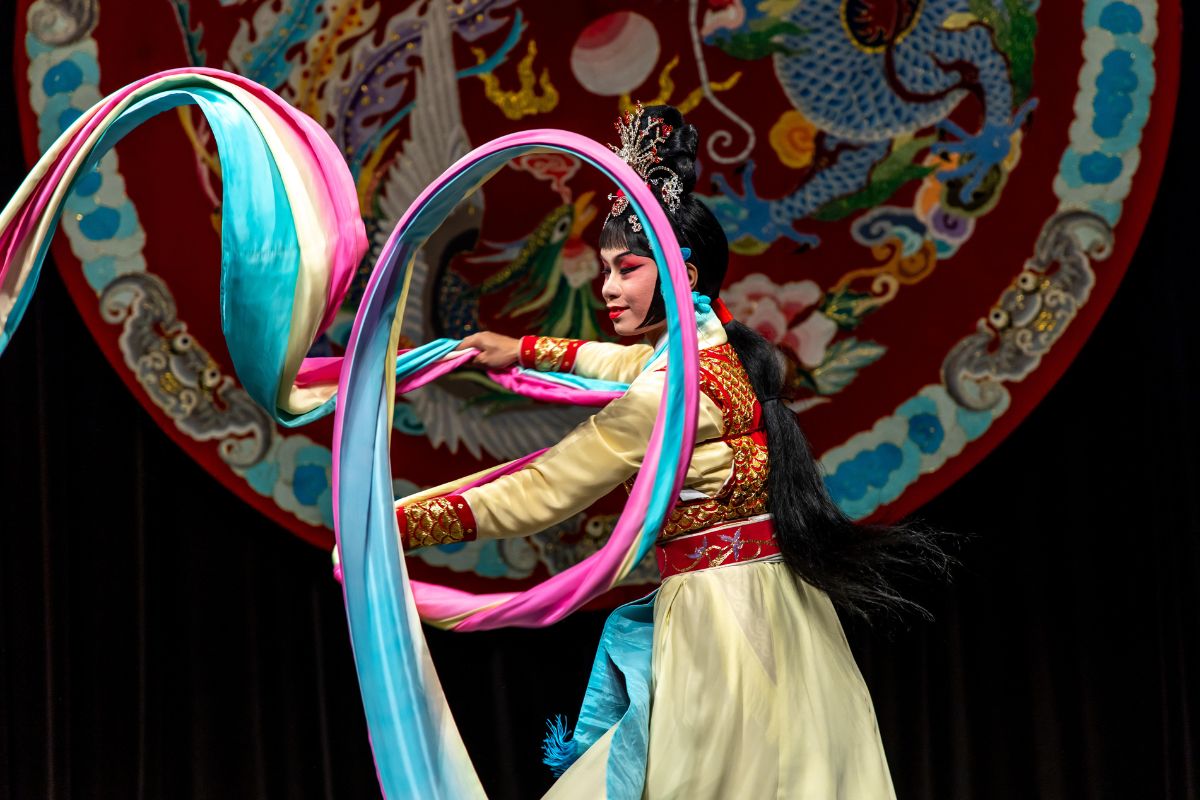 Add the TaipeiEYE to your list of cultural must-dos in Taipei and this is where to witness authentic Chinese and Taiwanese performing arts. From Chinese opera to puppet shows, traditional dance and folk music performances, ditch all things digital and appreciate this cultural endeavor.
In its earliest days, the famed Peking Opera hailing from Shanghai and Taiwanese opera troupes took to the original stage. The theater burnt down during WWII, but in 1989, efforts to rebuild the theater for traditional Chinese opera began.
By 2002, TaipeiEYE was open to the public and is now home to regular performing artists. These include the Acrobatic Troupe of the NTJCPA, Yuan-Xiang Aboriginal Dance Group, Taipei Puppet Theatre Company and Hsiao Hsi Yuan Puppet Theater company.
Productions by the Taipei Li-yuan Chinese Opera Theater and Jun-Yue Arts Theatre happen here too.
Apart from the live shows, there are a few exhibitions to investigate. 'Chinese Tradition Instrument Introduction', 'Shadow Puppetry Theatre', 'Paper-cutting' and 'Kuitou' (traditional headdresses) are a few topics to explore.
69 – Enter Wanli UFO Village if you dare…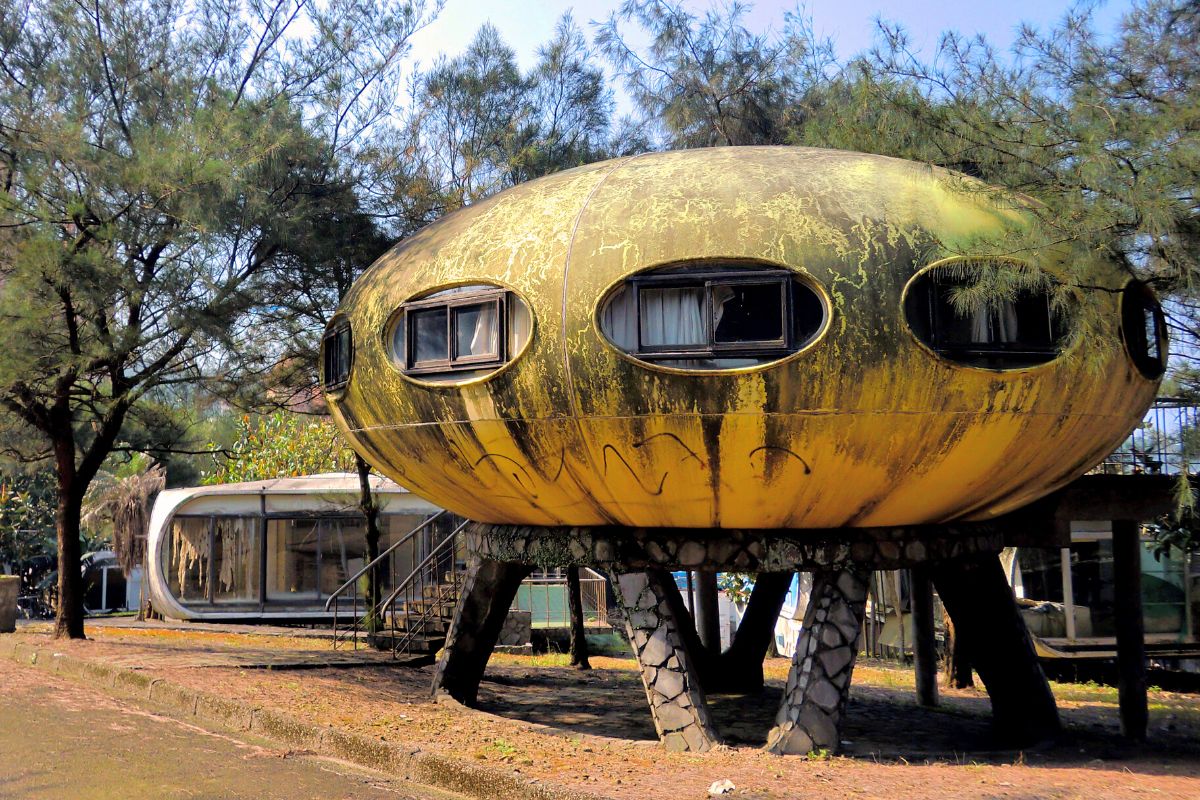 Do you have an affinity for the creepy? On the way to Yehliu Geopark, stop by the abandoned Wanli UFO Village in Wanli District. The town is now completely desolate, but tourists arrive to investigate the eerie UFO-shaped houses that have been left untouched.
No one can pinpoint the exact reason why the houses were excavated, but they were built in the 1960s by a Finnish architect, Matti Suuronen. He was known for his series of Futuro and Venturo homes, which are the same ones seen here.
The name of the deserted village is thanks to the houses' futuristic UFO shape, and today you can explore the interiors. Inside, it seems like residents left in a hurry, with rusty retro homeware and furnishings still in place.
70 – Do another round of shopping and eating at MAJI Square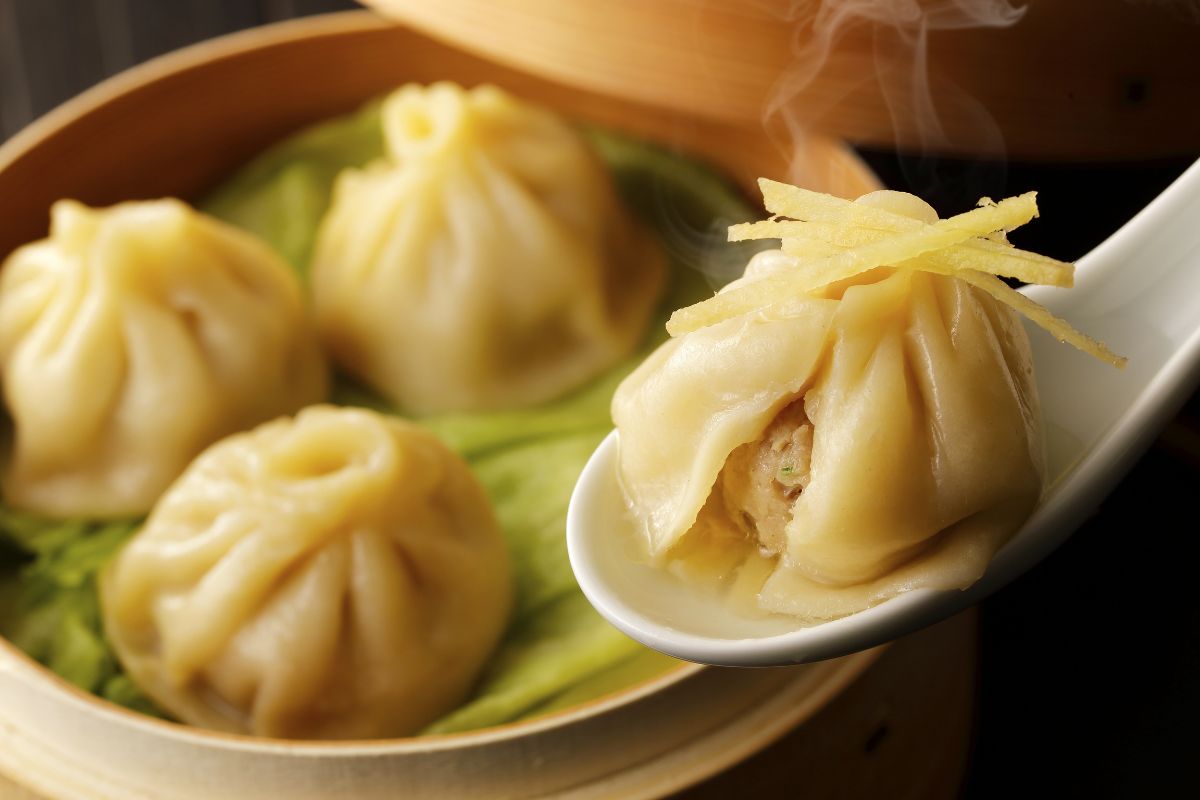 Constructed from old containers and wooden structures, MAJI Square oozes an urban trendiness and the shopping available suits the setup.
It's got a definitive flea market feel, with shops in Wendy houses or vendors displaying goods on pop-up tables. Local eateries are harbored inside used steel containers and farmers sell fresh produce and other products near the entrance.
MAJI Square is an open-air setting, partially covered where the restaurants and stalls are allocated. Shopping and eating aren't the only activities to enjoy and the space has a music garden for live performances as well as a bar and club, Triangle.
To reach the shopping destination, head to Yuanshan Plaza inside the Taipei Expo Park.
71 – Grab a drink at one of Taipei's best rooftop bars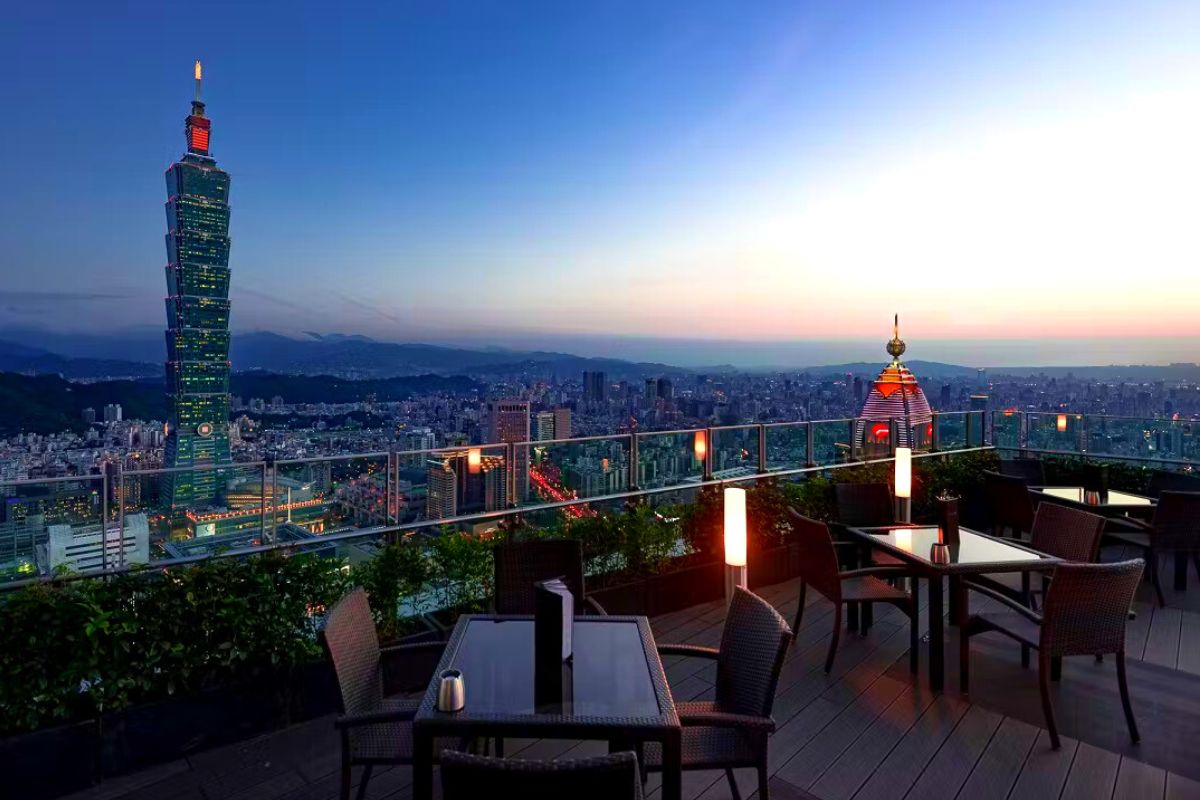 In the mood for a drink or two with views? End off your day with a glass of vino or specialty cocktail at one of the top rooftop bars, one of the most romantic things to do in Taipei for couples.
A mix of classy and cool, order a signature cocktail from CÉ LA VI Taipei and stay for the good vibes. When night falls, the rooftop bar welcomes DJs, but they also open as a day club sometimes.
Better than a rooftop bar is one featuring a pool, and elegant W Taipei's WET BAR transforms from day to night.
Heading up to the 45th floor, Morton's Sky Bar feels romantic and directly faces the iconic Taipei 101 skyscraper. Morton's is a worldwide famous steakhouse, so indulge in a glass of red and a perfect fillet whilst you're at it.
With not just one but two levels to enjoy, Frank Taipei only opens in the evening and closes late, always ensuring a good time. The large outdoor rooftop hosts regular parties, and lit up in neon lights, the ambiance at this venue is great, putting you right in the mood for a great night out.
72 – Take a pub crawl around the city's best bars, including craft beer hotspots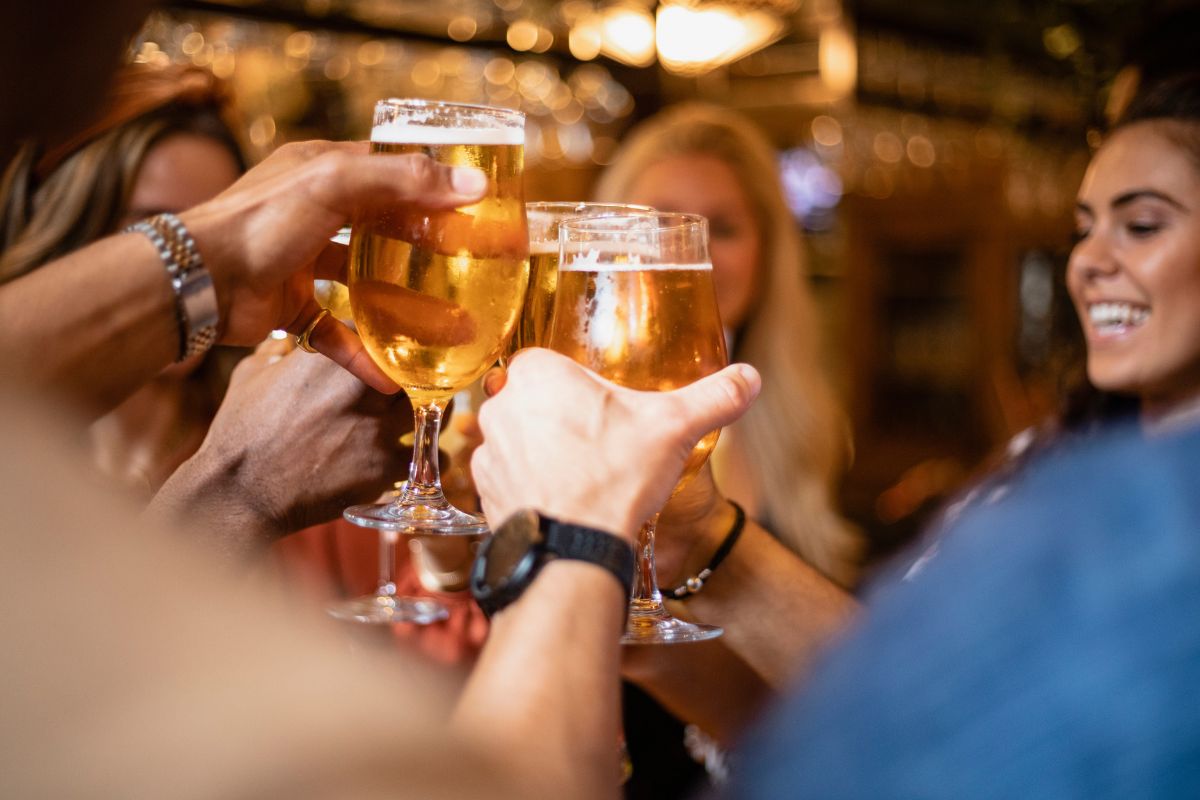 Craft beer has taken the world by storm over the last 10 years, and you'll find a focus on specialty brews in Taipei too.
Choose between over 200 craft beer bottles and cans at Crafted Beer & Co. Operating since 2016, they host weekly beer tastings or spend the evening picking your own from the bar.
Focusing on Taiwanese craft beer brands, in particular, the rustic laid-back setting at Driftwood is super inviting. They also stock ales and lagers from other countries.
Hailing all the way from Denmark, Mikkeller Bar has global locations, including the one in Taipei, and offers local brews as well as beers from their own brewery, shipped in kegs from Europe.
If you're not a beer drinker, spend the evening at one of the city's most illustrious bars. Awarded the 24th best bar in Asia, AHA Saloon is for drinkers who enjoy a good theme.
Stepping inside, feel transported back in time, set like an old-school drinking saloon, but a very classy one at that. Sip on bourbon, scotch or try one of their musically-inspired cocktails, like the Guns N' Roses or Walk on the Wild Side. On that note, the entire bar is music-themed.
Mixologists treat their patrons to one-of-a-kind concoctions at Ounce Taipei and the cocktail bar is an ambient spot for drinks with friends or a date out. Super stylish, put on something a little fancier, and stop by Bar Mood 吧沐. It's been listed on Asia's 50th Best Bar awards several times, gaining the title of 13th, 17th and 43rd best bar over the years.
How to get to Taipei?
Landing at Taoyuan International Airport, pre-organize an airport transfer from the airport to your accommodation in Taipei.
Alternatively, if you're comfortable navigating the city's MRT system for the first time, there is an airport MRT station. The 35-minute journey transports passengers directly to the Taipei Main Station.
Taipei Songshan Airport is the city's second airport. Some international flights land and depart from this airport, but most regional flights fly through here.
Where to stay in Taipei?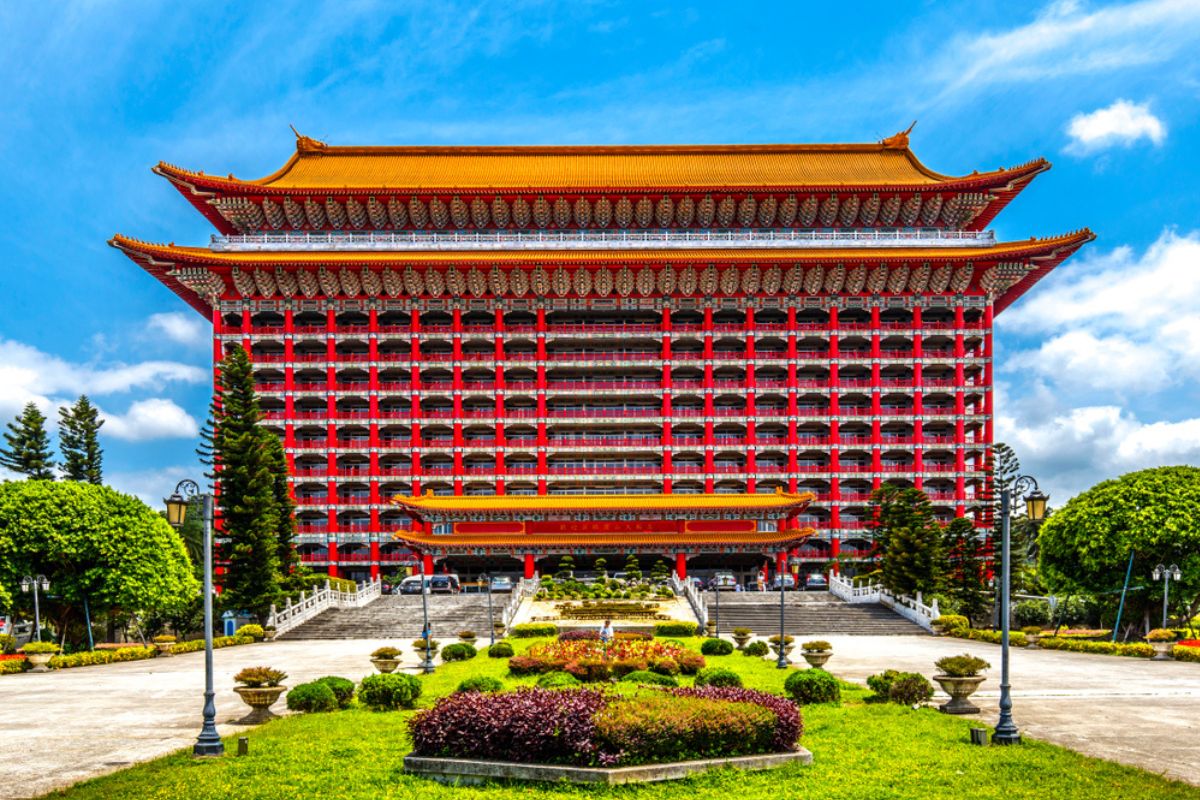 During a holiday to Taipei, you'll be doing a lot of city exploring and shopping. Nothing beats arriving at a luxurious suite, and here are some of Taipei's best hotels.
Both a landmark and a hotel, The Grand Hotel Taipei, with four gourmet restaurants and an impressive palace-like architecture, is the perfect combination between luxurious accommodation and a cultural experience.
Glitzy and glamorous, book a stay at the Grand Mayfull Taipei for total luxury and the rooms and suites are private, clean and contemporary.
You can't go wrong with a night at the Mandarin Oriental Taipei. With its world-class facilities, take advantage of the on-site pool, restaurants, bars and fitness and wellness center.
Experience the lifestyles of the rich and famous at the iconic W Taipei hotel. Just like the luxury hotel brand's other locations, Woobar is at the Taipei location, as well as an amazing rooftop bar and spa.
Ideal for business travelers, the Eslite Hotel is near Taipei Songshan Airport and is home to a Michelin award-winning restaurant.
Sporting a definitive organic feel, The Gaia Hotel has all the bells and whistles, and its Presidential Suite has a phenomenal spa bath with views.
Modern and boasting an amazing outdoor rooftop pool overlooking city skyscrapers, Caesar Park Hotel has a great location. A stay at the DoubleTree by Hilton never disappoints, nor does the Shangri-La Far Eastern.
Visiting Taipei on a budget?
The capital can become pricey if you're traveling for an extended period, so if you're looking to save, try a free walking tour in Taipei.
It's the chance to visit some of the best city attractions and go sightseeing with a knowledgeable guide, without costing a cent to book.
Where to go next?
If you've done all your sightseeing, or are craving different scenery, enjoy a few days outside of Taipei.
Three hours from the city, travel to the iconic Sun Moon Lake in the middle of Taiwan in the country's Central Mountain Range. Head to the southwest coast of Taiwan and spend some time in Taitung.
An exciting way to see the city is via a one-day cycle expedition, or take a leisurely few days to explore Taitung and its surrounding areas.
Many multiple-day tours to Taitung include a stop at Hualien and Yilan, but you can choose trips that just visit each area mentioned.
Final thoughts
Blessed by both nature and city adventures, there are many things to do in Taipei that cater to all travelers.
Start planning your itinerary now and make use of your time in the capital city wisely.
Happy and safe travels to Taipei.