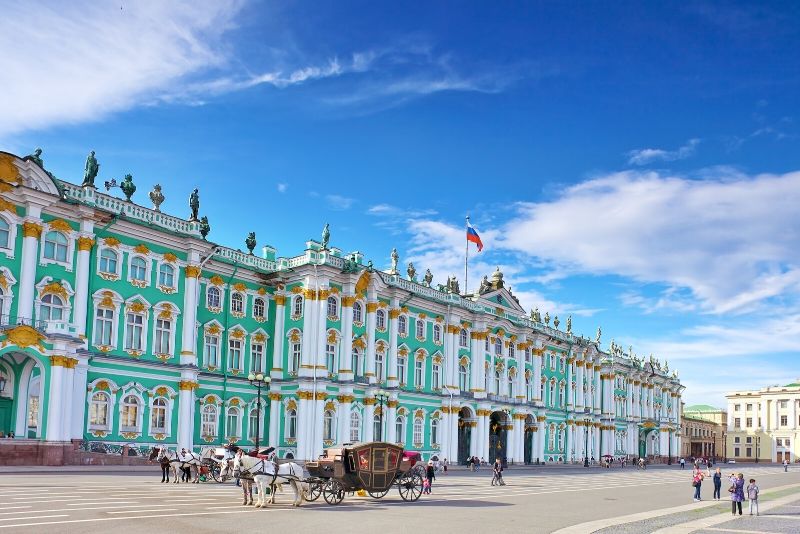 Looking to visit the State Hermitage Museum in Saint Petersburg? In this article, you will learn everything you need to know about Hermitage Museum tickets, including how to book Hermitage Museum tickets online, tickets price, discounted deals, guided tours, opening hours, the best time to visit, and some other useful tips.
Set in the Winter Palace, the Hermitage is the second-largest art museum in the world and was founded in 1764. Highlights range from seventh-century BC Scythian gold to some of Picasso's great Blue Period paintings, and an impressive 3-million people pass through the museum's doors each year to see the works on display.
Read on and discover why the Hermitage Museum is one of the most popular attractions in Saint Petersburg.
How much do Hermitage Museum tickets cost?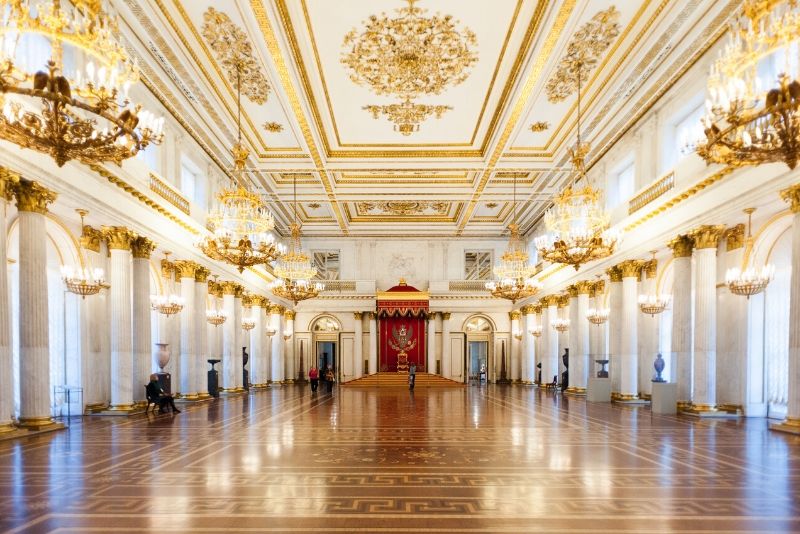 There is one primary type of Hermitage Museum ticket for the main complex of the museum, which gives you access to the museum and the rest of its buildings. Tickets can also be purchased for individual buildings, though they're only available at the box office.
On-site Hermitage Museum tickets price

You may book your tickets on-site at the ticket office or using the automatic machines.
Main complex entry ticket – 800 Rubles (€10)
Main complex entry ticket for Russian citizens – 400 Rubles (€5)
Entrance ticket to one of the buildings – 300 Rubles (€4)
Entrance to Staraya Derevnya Restoration and Storage Center – 550 Rubles (€6.50)
Online Hermitage Museum tickets price
You may book your tickets online on the official website. You can either book a 1-day pass or a 2-day pass. Note that tickets price are cheaper on the Russian version of the official website but I reserved for Russian citizens only.
1-Day Pass: US$ 17.95 (€16.50)
It includes access to the Main Museum Complex and General Staff Building for an entire day.
2-Day Pass: US$ 23.95 (€22)
It includes access to the Main Museum Complex, General Staff Building, Winter Palace of Peter the Great, Menshikov Palace, the Museum of the Imperial Porcelain Factory, for 2 full days.
Is it possible to visit the Hermitage Museum for free?
The third Tuesday of each month and December 7th offers free entry to the Hermitage Museum for individuals.
Pensioners (citizens of Russia), children under 18, students and disabled people can enter the museum for free throughout the year.
How do you book Hermitage Museum tickets?
You can either book your Hermitage Museum tickets on-site or online.
Book on-site
Head to the ticket office or use the automatic machines next to the entrance gate. This is the cheapest option. However, be aware that the Hermiage Museum is one of the top attractions of Saint Petersburg, and you may witness a very long queue at the entrance during high season.
Book online and skip the line

You can either book your tickets online via the official website (make sure to use the English version if you are not Russian) or use a travel website such as Viator or GetYourGuide. There are many travel websites selling Heritage Museum tickets & tours online. Use our search engine to compare all the different deals available and book the best deal for your desired date.
Buying tickets online means you can skip the line for entry to the Hermitage Museum. This is recommended as wait times at the box office are long, especially during the summer.
Are there any guided tours, and are they worth it?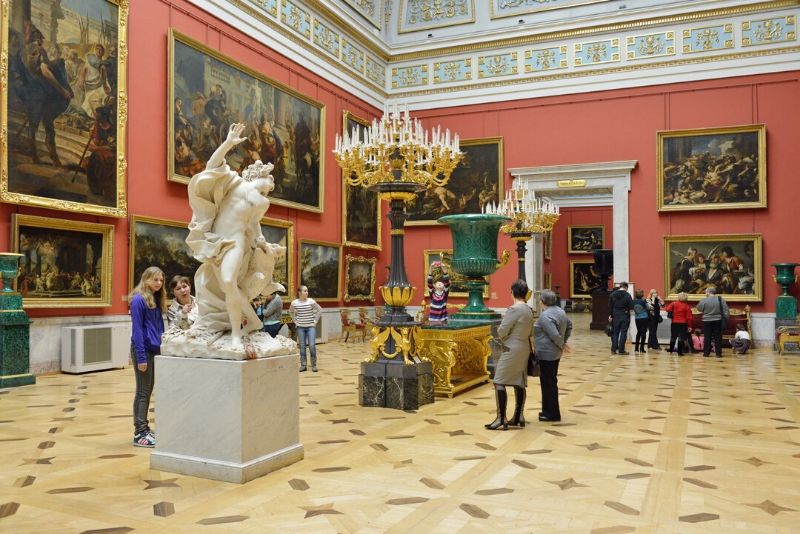 Learn more & ask questions: Guided tours are a great idea if you want to learn more about the museum's history and its art. The grounds at the museum are also vast, so exploring by yourself can be daunting. With a guide, you will see all the best parts of the museum without needing to worry about planning an itinerary.
Skip the line: By booking a guided tour, you will also avoid queuing at the entrance. Who wants to waste its precious holiday time queuing for hours? Meet your tour guide and head straight inside the museum.
A lot of choices: There is a wide range of guided tours available at the Hermitage Museum, for both individuals and group visits. Make sure to use our search engine and compare all the different guided tours. Pick the tour that fits best your needs and budget.
Are Hermitage Museum tickets included in any city attractions passes?
The Saint Petersburg CityPass is a popular pass for Saint Petersburg tourists and includes access to the Hermitage Museum. With the pass, you can visit up to four museums per day, including the Hermitage Museum. As well as the museums, the CityPass includes skip-the-line and several sightseeing tours.
What will I see?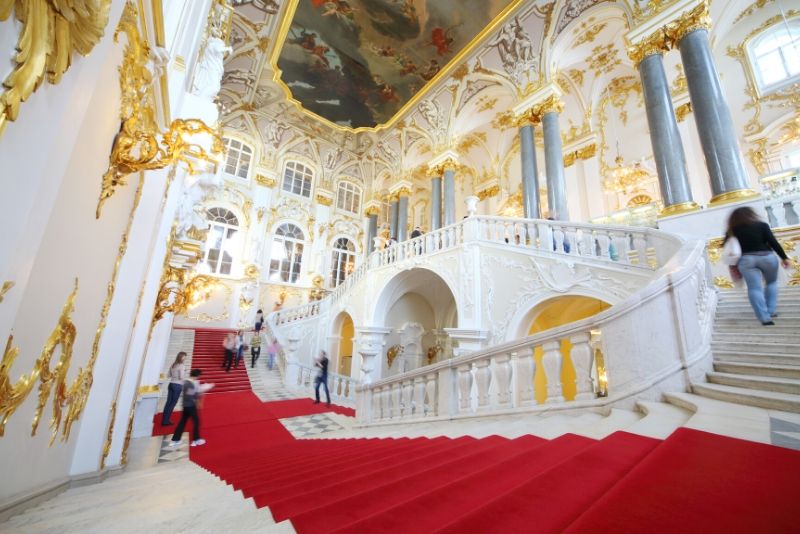 The grounds for the main complex at Hermitage Museum are huge and feature plenty of things to see. The Hermitage represents many collections from the tsars, which date back 300 years. There are collections of Rembrandts, paintings by Titian, Giorgione and Leonardo, Michelangelo's unfinished sculpture of a crouching boy, arguably the best collection of English art in Continental Europe. There are three floors at the Hermitage Museum: Ground Floor, First Floor, and Second Floor.
Ground Floor
The ground floor is where you will find exhibitions on primitive art, findings from ancient Soviet territory, Oriental art, and Egyptian and classical antiques. Here, you will also find a Treasure Gallery, which is located in the Golden Room and the Diamond Room. Visits to the Treasure Gallery can only be seen with a guide.
First floor
As you enter through the first floor, it's impossible not to notice the majestic 18th-century creation of marble, granite, and gold. Other highlights on the floor include the Malachite room with its exhibits of personal items from the imperial family. The Knights Hall is also on the first floor and features an array of armor. There is also plenty of Russian and European art on this floor.
Second floor
The third floor comprises Asian and Middle Eastern art, including Chinese Neolithic jade and archaic ceremonial bronze vessels from the Western Zhou dynasty. There are also rooms that feature medals and coins from these areas in the world, as well as more paintings from Europe.
What are the Hermitage Museum opening hours?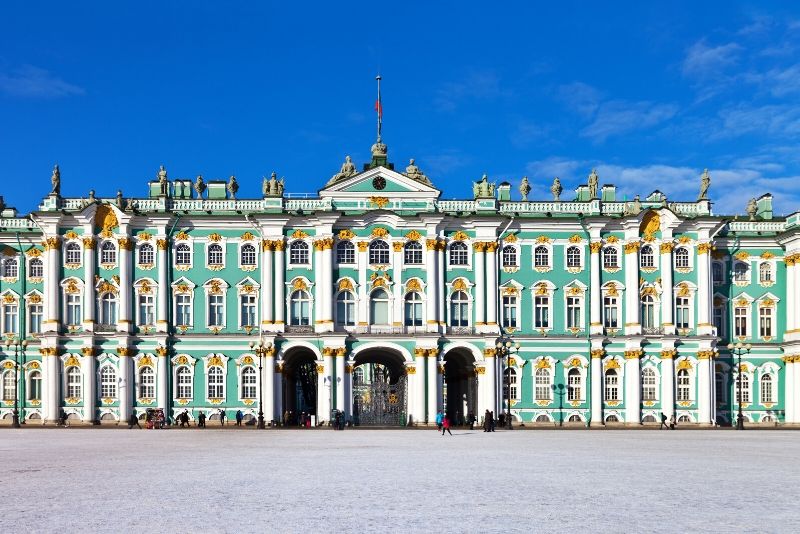 The Hermitage Museum is open six days a week, with the last admission taking place one hour before closing time. It's open for three extra hours on Wednesdays and Fridays. It's closed on Mondays.
Opening hours:
Tuesday – 10.30 am – 6 pm
Wednesday – 10.30 am – 9 pm
Thursday – 10.30 am – 6 pm
Friday – 10.30 – 9 pm
Saturday – 10.30 – 6 pm
Sunday 10.30 – 6 pm
When is the best time to visit?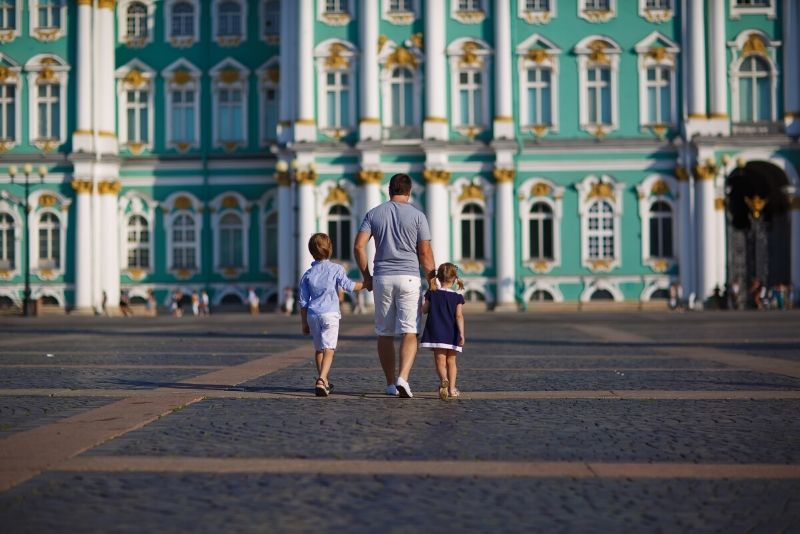 The Hermitage Museums is a year-round destination. Its indoor settings mean that Russia's extreme winters won't impact a visit, and it might also be a quieter time of the year to go. During the summer, the museum is at its peak with plenty of visitors from cruise ships.
There is no specific day of the week that is less busy than others, though mornings are generally quieter. Wednesdays and Fridays are also good days to visit as the museum is open until 9 pm and has a more extensive schedule. Crowds dip at around 4 pm on these days.
Travel tips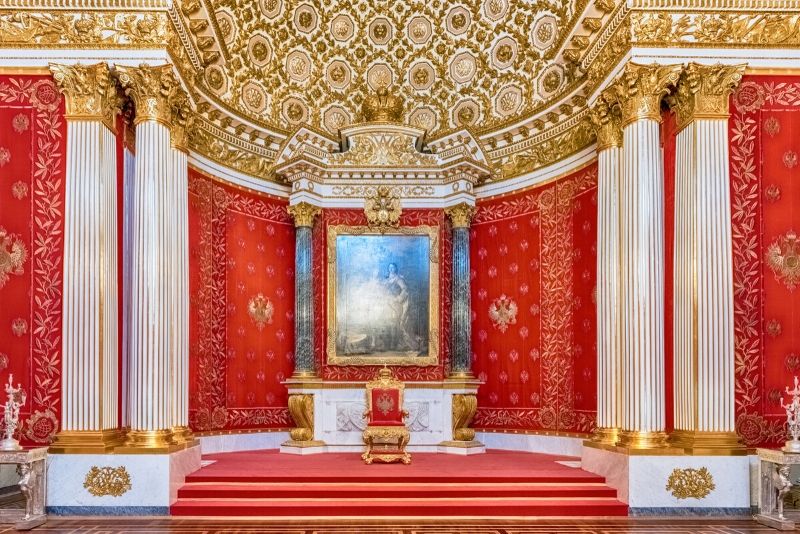 If possible, try and make two or three shorter visits, rather than doing everything in one go. There's so much to see [that] it's unlikely you'll take everything in one go.
Beware of unofficial guides who hang around the museum and tour tickets. Buy online, at the box office or with an official tour operator.
There is a cafe and internet cafe near the entrance on the ground floor that sells snacks
Backpacks, suitcases, large bags, umbrellas, and winter coats need to be left in the cloakroom.
Pictures and videos are permitted, but you can't use flash on your camera.
Audio guides are available in Russian, English, French, German, Spanish, Italian, Japanese, Chinese and Korean.