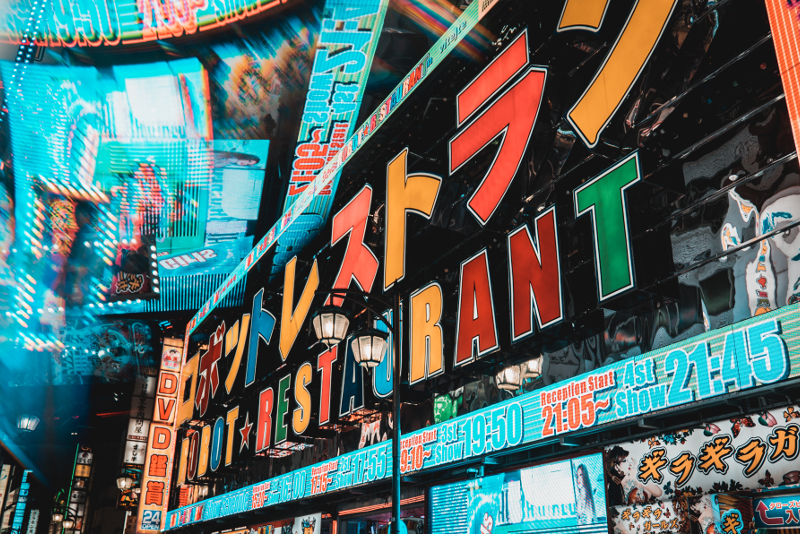 [ Unfortunately the Robot Restaurant has closed permanently in July 2020. ]
---
As one of Tokyo's most popular destinations, Robot Restaurant can be pricey, but luckily there are ways to find Robot Restaurant discount tickets and save some money.
Fortunately, there are travel sites such as Voyagin or Klook that offer discount tickets. In this post, we will guide you to finding ticket deals for the Robot Restaurant in Tokyo so you can have fun without going bankrupt.
Located in Shinjuku, the bustling, technological heart of the city, the Robot Cabaret Tokyo features a dazzling performance of robots, live music, singers, actors and dancers, and you'll never be left with a single minute to feel bored. This jam-packed performance is filled with action, laughter and thrills, making it one of the most memorable experiences you could have.
Dont feel like reading ahead? Click on the following button if you wish to book your Robot Restaurant tickets right now.
How much do Robot Restaurant tickets cost?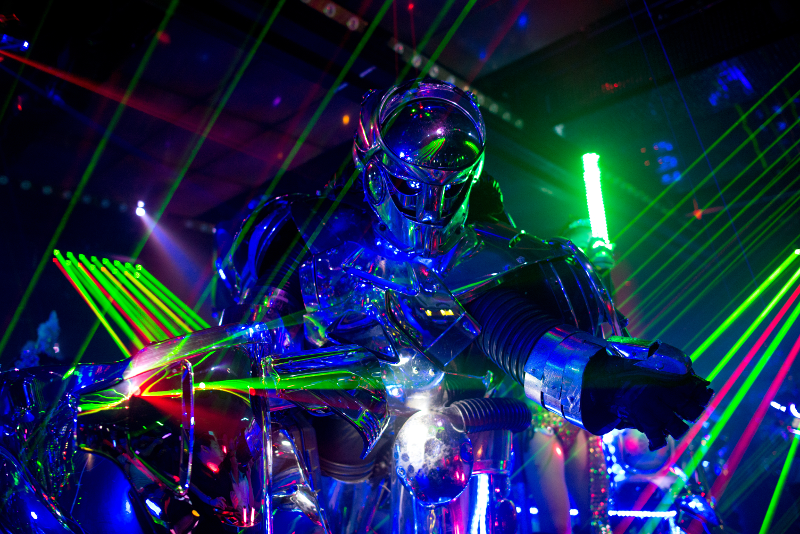 Tickets for the performance at Robot Restaurant in Tokyo costs 8000 Yen ($74) if you book on-site and 7500 Yen ($69) if you book online on the official website.
Meals are priced separately. Robot Restaurant offers 3 types of menu.
Menu A – grilled beef dinner box: 1500 Yen ($14)
Menu B – Japanese style dinner box: 1200 Yen ($11)
Menu C – robot suhi box: 1000 Yen ($9)
How do you find Robot Restaurant discount tickets?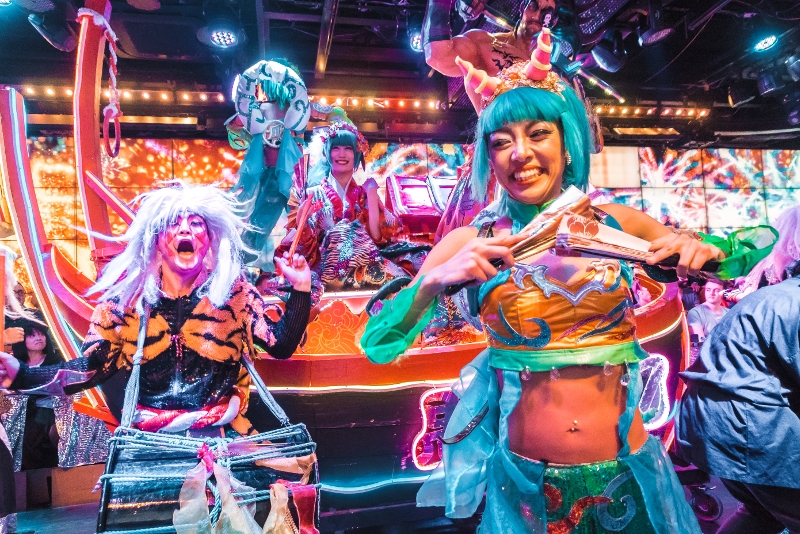 If you have already searched for Robot Restaurant discount tickets, you may have noticed, there are a lot of websites to book tickets online, including the official website.
Many travel websites propose discount tickets and like everyone you feel a bit lost. Should I book on the official website? Should I use Getyourguide, Viator, Voyagin, Klook? Which website do offer the best price?
Well, TourScanner helps travellers to compare all those travel websites for a specific attraction such as the Robot Restaurant in Tokyo. We strongly recommend you to compare all those deals so you can find the cheapest tickets available for your desire date. You may end up saving up to 40%.
Are there any combined tickets including robot show tickets and dinners in other restaurants?
If you wish to only visit the Robot Restaurant to enjoy the robot show and rather have dinner somewhere else, there are several combined tickets available. Try one of these combined tickets:
Robot show + Kawaii Monster Café: dive into two of the most weird and wonderful, colourful attractions in Tokyo with a thrilling performance from the Robot Cabaret first, followed up by a tasty treat at the unbelievable Monster Café.
Robot show + Samurai-themed restaurant: experience two very different sides of Tokyo's fascinating culture, with a bright, dazzling performance in the Robot Cabaret, followed by a delicious meal amongst the historically themed samurai surroundings.
Robot show + Kobe beef dinner expererience at Yakiniku Motoyama: catch the famous robot cabaret show and a short walk away, enjoy a multicourse dinner starring premium cuts of kobe beef.
What will you see?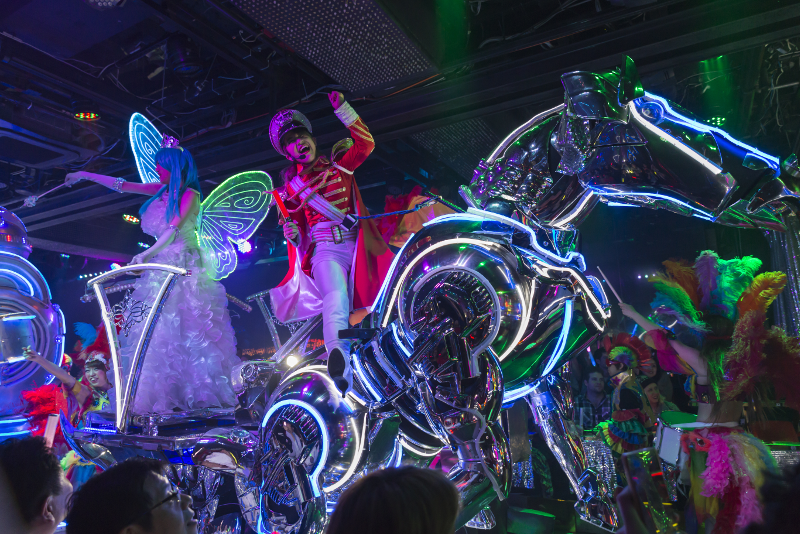 The robot show is a truly unique and must-see attraction, that will certainly stand out as one of the most memorable experiences you could encounter in Tokyo. Located in the Robot Restaurant in Shinjuku, it is situated right in the bustling heart of the city, and even before you get there, you'll feel dazzled by the chaos, crowds and incredible sights all around you.
The show itself is an unbelievable concoction of futuristic and historical themes, all brought together with a generous dose of music, neon lighting and live performances. From the moment you step into the restaurant for the performance, expect to be thrilled for every moment with complete sensory overload all around you. Every inch of the restaurant itself is festooned in colour, including mirrors and flashing lights across the walls, staircases, elevators and furniture. There's no avoiding the riotous and colourful chaos ahead of you. Look out for the crazy robot chairs on the way in, where you can choose to take a selfie to remember the experience.
Once you go inside, you'll first be greeted with a live music performance. This often includes performances singing famous songs in costume, and you might even get to see some robots performing too. On some occasions, visitors are also invited up on stage to enjoy a glass of sake and perform with the actors.
Following the music performance, you will then be led to the main show. This is usually divided into three main sections, with intervals between each. The show features a stunning array of performances from both humans and robots, including dancers, singers, drummers, warrior fights and much more.
It can be hard to know where to look though, as there will often be so many unbelievable things happening around you all at once! Audiences are also invited to take part with the performance by singing along or waving glow sticks, so get stuck in and enjoy being involved in the fun.
While it can certainly seem crazy and overwhelming, it is also possibly one of the most fun and exciting experiences you can have in Tokyo and definitely worth a visit.
What are Robot Restaurant's opening hours?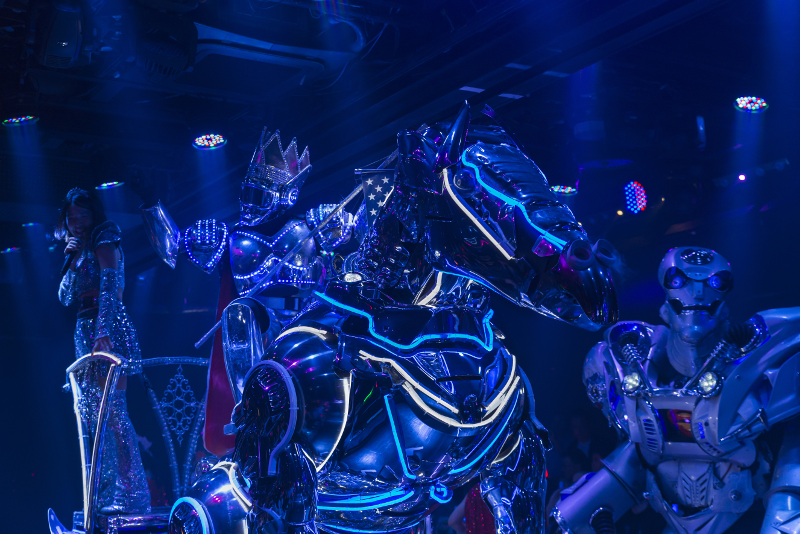 The Robot Restaurant is open daily between 3 pm to 11 pm, but show times for the actual performances are limited to 4 specific times a day. Shows take place at the following times each day, and guests must arrive 30 minutes in advance, at the latest: 3:30 pm, 5:30 pm, 7:30 pm and 9:30 pm.
How to get there?
Robot Restaurant is located in Shinjuku, and specifically in Kabukicho which is Tokyo's most notorious red light district. Take the metro and head to Shinjuku Station. Use the East exit and walk 10 mins til your reach the Robot Restaurant (google map link).
Travel tips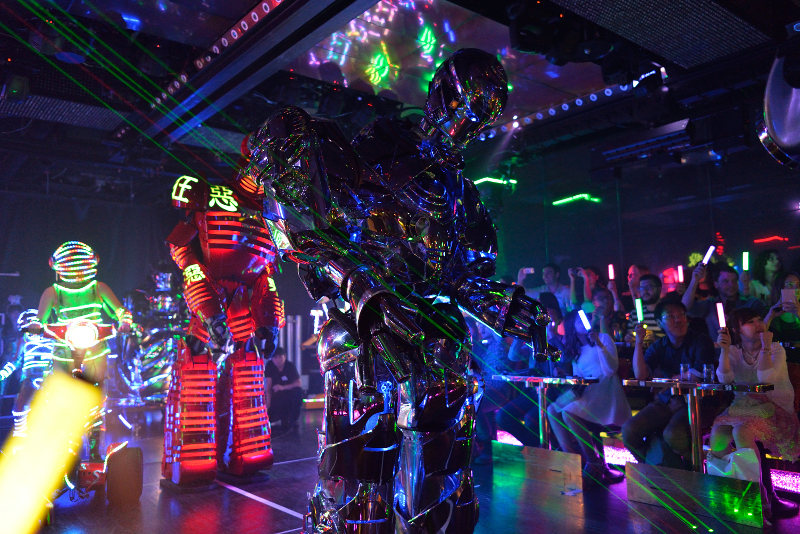 The Robot Cabaret Tokyo is a family-friendly and fun-filled experience, but be aware that there is a lot of loud music, noise, flashing lights and unexpected events. Because of the nature of the flashing lights, there is a lot of sensory stimulation and may not be suitable for those suffering from epilepsy or sensory sensitivity. It is also possible to request sound-reducing headphones for children if required.
When visiting, make sure that you arrive on time – you will need to be there 30 minutes before your chosen show time. Late arrivals will not be admitted.
There are some dress code regulations that all visitors should adhere to: sunglasses, costumes and visible tattoos are not allowed inside. If you have visible tattoos, make sure you wear appropriate clothing to keep them covered before going inside.
You will also not be admitted if you are intoxicated, so be sure you are in the perfect state of mind before you arrive.