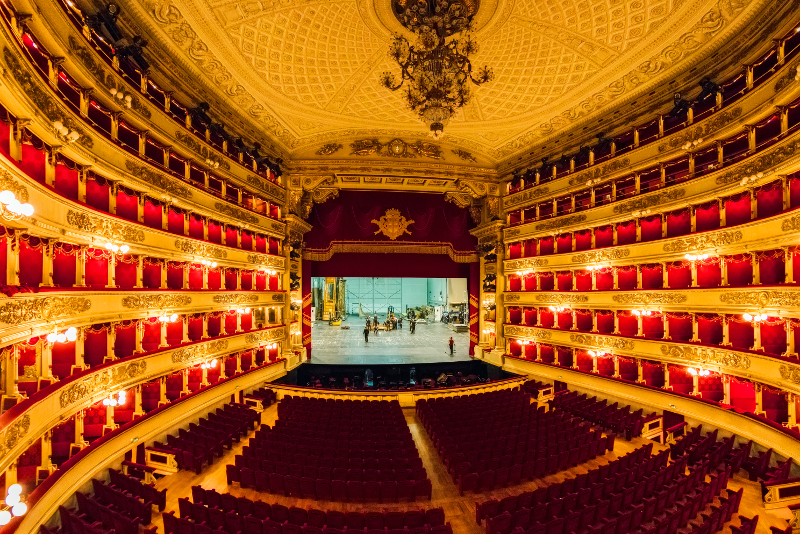 La Scala Theatre is an iconic and important part of Milan's cultural history, and a beautiful venue to explore. Before you set off to tour this breathtaking site, here are a few tips you should know in advance; learn more about tickets price, how to book online your La Scala theatre tour, how to get there, opening hours, and some other useful travel tips.
Click on the following link if you wish to book your La Scala theatre tour right now.
How much does La Scala theatre guided tour cost?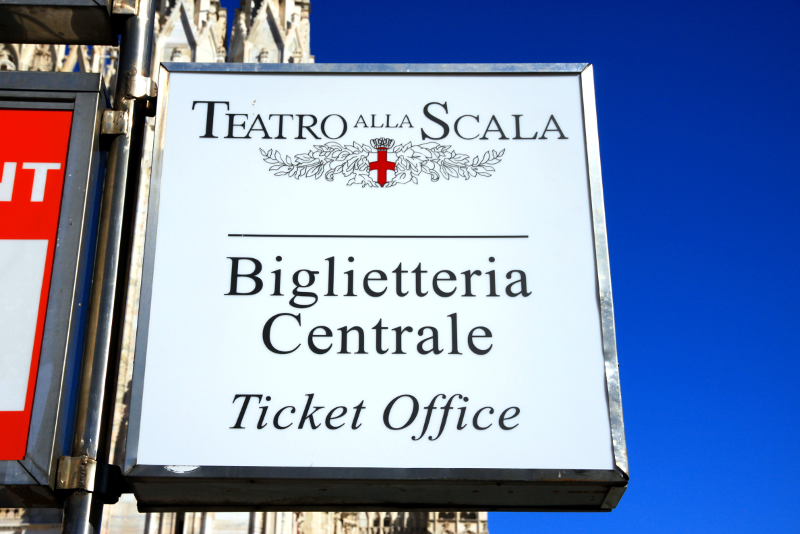 You can visit the La Scala Museum and the theatre. Find La Scala tickets price below.
La Scala Theatre Museum ticket
Tickets to visit the La Scala Theatre Museum cost €9 for standard adult entry and €6 for students over 12 years old and seniors over 65 years old. This includes entrance to the theatre museum only. Entry is free for children under 12 years old and disabled visitors.
Please note that this ticket allows you to see the theatre from the third-level boxes, but only when performances open to the public are not in progress. Want to see more? Book a tour and enjoy a visit of the foyer, the royal box, the historic boxes, and also the backstage.
La Scala Theatre guided tour

La Scala Theatre tour costs €25 per person and lasts 45 minutes. There is a maximum of 20 participants per tour, so we recommend you book as early as possible. Entry to the La Scala Museum is included in your tour ticket.
Is La Scala Theatre guided tour worth it? Should you book in advance?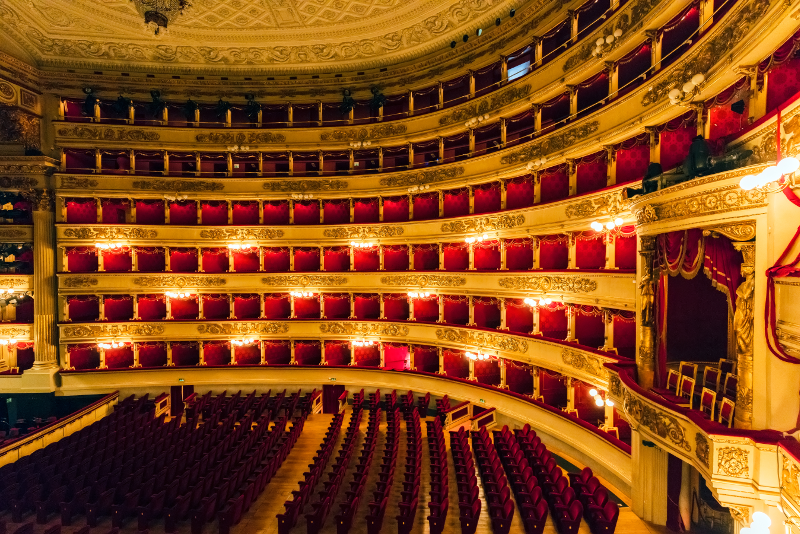 A guided tour can be a wonderful way to discover more about the history and splendour of a unique site like the La Scala Theatre in Milan, as your guide can help you learn much more than you might on a self-guided tour. Some of the great advantages of choosing a guided tour include:
Visit the most important parts of the theatre: With a guided tour, your guide is on hand to make sure you get to see all of the important sights in the Theatre, including the historic boxes, royal box, foyer, stalls, and even stage's mechanized movement system.
Avoid waiting or going at an inconvenient time: when you book a guided tour, you have the advantage of being able to skip the line and go straight in to meet your guide and group. It also means you get to choose a time that works for you, rather than having to plan your visit at a less convenient time, to avoid crowds.
Learn something fascinating: With a guide to tell you about the history of the theatre and its performances, you can take advantage of their expertise and knowledge to ask questions, and learn something new.
Should you book in advance? Absolutely!
The number of visitors is limited to 20 per tour. La Scala Theatre tour is often fully booked, especially during peak season. This is why we strongly recommend you to book online your tickets ahead of time to make sure your tickets are secure.
You can book your tour tickets on the official website or through a travel website such as Viator or Getyourguide. Make sure to compare all the deals available so you can pick the one that fit best your travel needs.
Are there any combined tickets including a tour to La Scala Theatre and other attractions?
You can combine a trip to the La Scala Theatre with some of Milan's other exciting cultural attractions, with a great value combined ticket. This is a great way of saving both time and money by paying one price for two great places, and also a chance to learn and discover more.
Why not try some of these fantastic combined ticket options when you visit Milan:
La Scala Theatre tickets + Duomo Cathedral: soak up the culture of this beautiful city with a combined trip to two of the most beautiful sights in Milan.
La Scala Theatre tickets + Sforza Castle: experience the fascinating heritage and history of Milan, with a tour of the historic theatre, followed by the famous former Renaissance fortress.
La Scala Theatre + Last Supper: visit the Theatre and learn more about its history and admire the Da Vinci's 'The Last Supper', a must-see in Milan.
Are La Scala Theatre tickets included in any attraction city passes?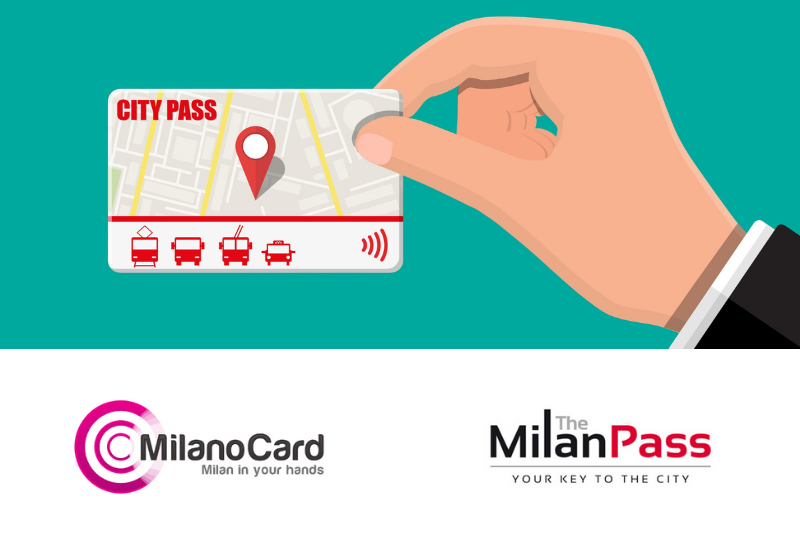 The Milan Pass
Entrance to the La Scala Theatre Museum is included with the Milan Pass. This city pass lasts for 48 hours, and includes entrance to a variety of attractions around the city. You can also enjoy exclusive tours with the pass, as well as access to a hop-on, hop-off bus, to take you around Milan's most well known sites.
The MilanoCard
MilanoCard is an attraction & travel card of Milan including free public transport and discounts at more than 500 attractions in Milan. If you buy the MilanoCard, you will only pay entrance to the La Scala Theatre Museum €5 instead of €9.
What will you see?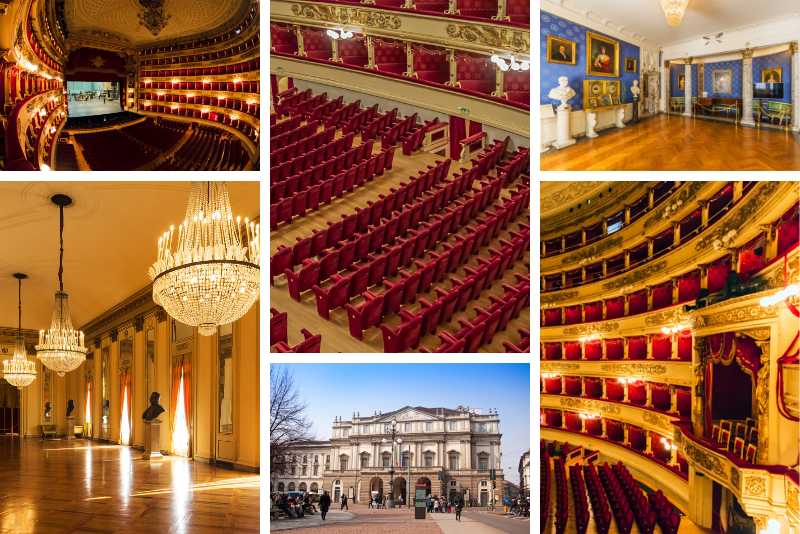 The La Scala Theatre was once the Ducal Theatre of Milan, but was burned down in a fire in 1776. After the theatre was destroyed, the Archduke of Austria was asked to create a new theatre, and in 1778, the new theatre, La Scala, was inaugurated. Through the theatre has met its fair share of challenges, with bombings causing fresh damage in the Second World War as well as natural damage over time, the theatre has been restored to its original glory, and retains its original 18th century charm, style and identity.
While the theatre is home to many prominent performances of the opera, ballet and other shows, the theatre also contains a museum, which is home to many original artefacts and souvenirs related to the theatre and its extensive history.
Visitors can explore the splendid interiors and take in the view from the prestigious theatre boxes when possible, as well as exploring the vast collection of historic papers, paintings, sketches and more, that provide an invaluable insight into the life of the theatre.
You can also learn more about the many performances the theatre has held over the years, with artwork, photography, costumes and more often on display.
What are the La Scala Theatre opening hours?
The La Scale Theatre Museum is open from 9 am to 5:30 pm, and is open 7 days a week, apart from 1 January, Easter Sunday, 1 May, 15 August, 7 December, 25 December, and the afternoons of 24 and 31 December.
While the museum remains open during performances or rehearsals, the auditorium is closed to visitors at these times.
What is the best time to visit the La Scala Theatre? How can you avoid the crowd?
The La Scala Theatre museum is busiest with visitors during the late morning to early afternoon periods. To avoid crowds or having to wait in line, it's best to visit either earlier in the morning, closer to opening time, or later in the afternoon.
How can you get to La Scala Theatre?
The La Scala Theatre is in Milan's city centre, and located opposite Milan's city hall. The entrance for the theatre museum is separate from the main theatre, and located on Largo Ghiringhelli.
As the theatre is in the city centre, it is easy to get to by public transport, taxi, underground, tram and train, with many public transport stops located close by. There is also parking available, however the theatre recommends using public transport wherever possible. For more information on specific lines and stops, please look at the official website.
Travel tips
Most visits to the museum start with a trip up to the boxes to take in the view from the seats there. This is limited to groups of 6 people at a time, and 4 people during rehearsal sessions.
The general tour of the theatre museum is self-guided, and it takes approximately 45 minutes to go around the full experience. However, there is no time limit placed, and you are welcome to stay as long as you like.
Photography is allowed during the museum experience, however flash photography is not permitted. During rehearsals, no kind of photography is allowed to be taken by visitors. Disabled access is available, and there are accessible lifts to take visitors up to the museum rooms and theatre boxes.
Visitors with children in prams and pushchairs can also use the lifts available to the rooms and boxes.