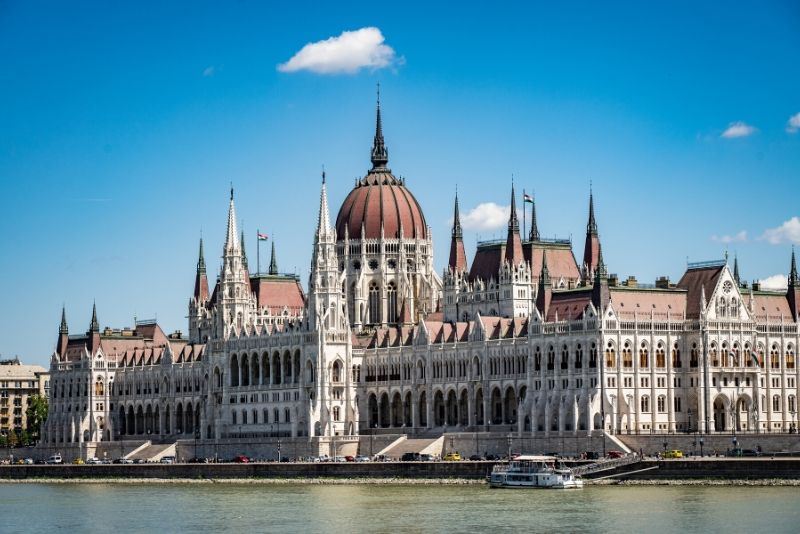 In this post, you will learn everything you need to know about Hungarian Parliament tickets including ticket price, how to book tickets online and skip the line, combined tickets with other attractions, opening hours, the best time to visit, and some other useful travel tips.
Located in the heart of Budapest, the Hungarian Parliament building is one of Europe's iconic architectural triumphs. It will come as no surprise to learn that Hungarian Parliament tickets are in high demand, with thousands flocking to Budapest to see the iconic landmark. The building is built in the Gothic Revival style and is the third-largest of its kind in the world, and a trip here is your chance to marvel at its grandness.
Don't feel like reading ahead? Book your Hungarian Parliament tickets right now.
How much do Hungarian Parliament Building tickets cost?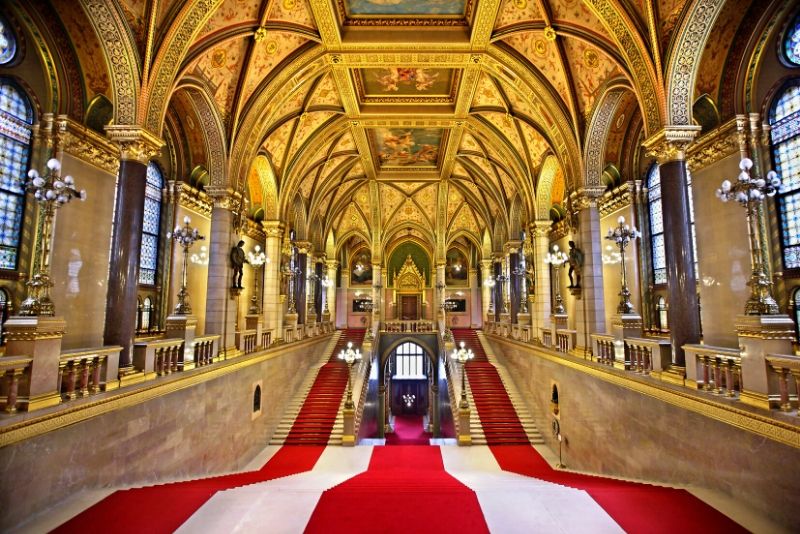 If you decide to visit the Hungarian Parliament building on a whim, you can purchase tickets at the Visitor Centre on the day of your visit. All entrance tickets feature guided tours, but you note that buying on the day means you face lengthy wait times and the tickets sell out quickly.
Hungarian Parliament Building ticket prices
HUF 3,500 (€10) for EU Citizens
HUF 6,700 (€19) for non-EU Citizens
HUF 1,900 (€5) for youths (aged between 6 to 24 years old) who are EU Citizens
HUF 3,500 (€10) for students (aged between 6 to 24 years old) who are non-EU Citizens
Free for children under the age of 6 years old
How do you book Hungarian Parliament tickets?
Book tickets on-site
You may book your tickets on-site at the Visitor Center next to the entrance gate. However, be aware that same-day tickets are sold in limited numbers and you may witness a very long queue.
Book tickets online – secure your spot and skip the line

Booking online and in advance is recommended to avoid long queues and the disappointment of tickets selling out. You can book Hungarian Parliament Building tickets through the official website or using a travel website such as GetYourGuide, Viator or Tiqets to name a few. There are a lot of deals including combined tours with other attractions in Budapest.
Use our search engine to compare all the different offers and pick the best deal for your desired date.
Are there any Hungarian Parliament Building guided tours, and are they worth it?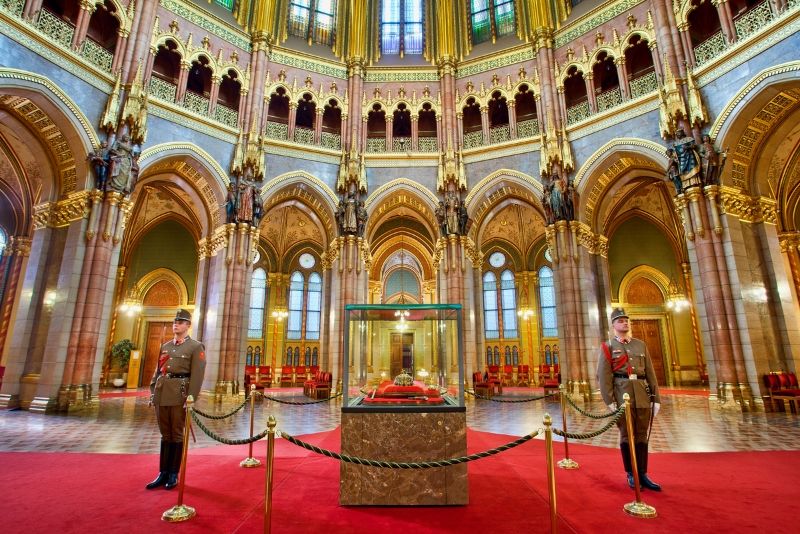 Guided tours are one of the key features of Hungarian Parliament tickets and come in several languages, including English, French, Spanish, German and Italian.
Guided tours last for between 45 minutes and 1 hour, and are included with tickets purchased through the official website or with an online tour operator such as GetYourGuide, Musement, Civitatis, and Viator.
Are there any combined Hungarian Parliament tours including other Budapest attractions?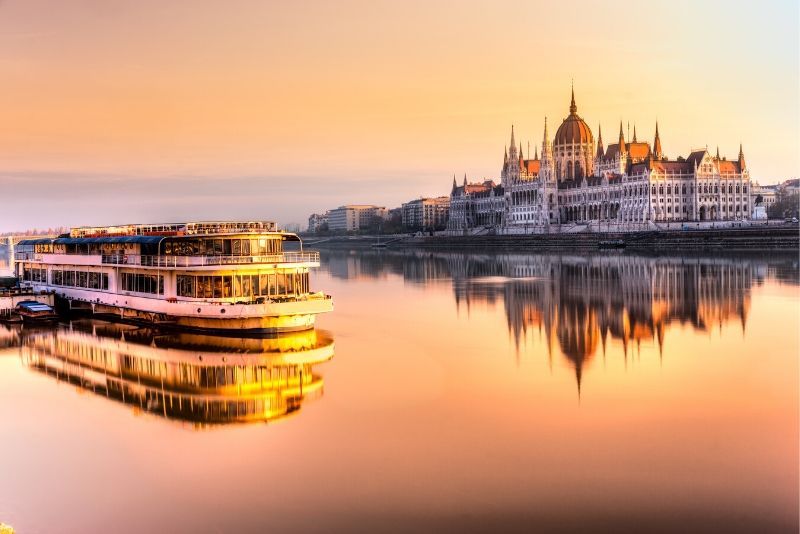 Hungarian Parliament Building is one of the city's primary attractions, but there are many other landmarks to visit. Fortunately, you can combine your Parliament Building visit with other tours, such as city walks, river tours and more. Below are the two most popular combined tours:
Parliament + City Tour – historic landmarks, such as Buda's Castle District, Gellert Hill and Heroes' Square are all on the agenda when you combine a visit to Parliament with a Budapest city tour.
Parliament + Danube River Boat Tour – enjoy sailing down the River Danube with its views of pretty bridges and historic buildings like St. Stephen's Basilica and the Great Market Hall
What will I see?
Hungarian Parliament is a grand building and features an impressive 691 rooms, 29 staircases, and 10 courtyards. In fact, the building covers 18,000 square meters, though some of the areas are reserved solely for the official parliament business. Yet, there is still plenty to do and see in the public spaces, including:
Cupola Room with the Hungarian Crown Jewels and Hungarian Holy Crown
Decorative central staircase with statues of Hungarian leaders and stained-glass windows
The Vaulted Hall and Session Room
What are the Budapest Parliament Building opening hours?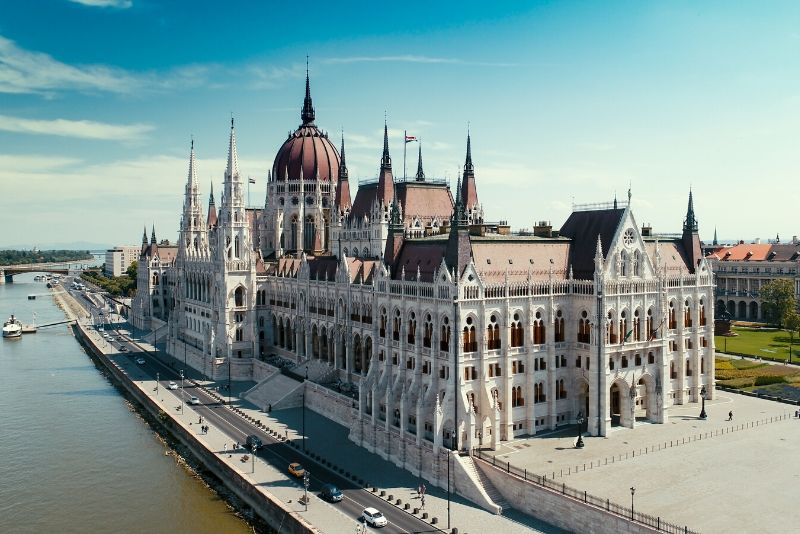 The Hungarian Parliament Building is open all year round with two seasons: April to October and November to March. Opening hours are different for each season.
April 1st to October 31st, 8 am to 6 pm
November 1st to March 31st, 8 am to 4 pm
Parliament is closed during holiday periods. These periods include:
National Day (March 15th)
Good Friday, Easter Sunday and Easter Monday
Labour Day (1st May)
Pentecost (Whitsun) and Pentecost Monday (9th and 10th of June)
St. Stephen's Day (20th August)
Republic Day (23rd October)
All Saints Day (Nov 1st)
Christmas Eve
Christmas Day
New Year's Day
When is the best time to visit?
No matter which time of year you visit the Hungarian Parliament Building, it's worth booking your tickets at least one month in advance. Hundreds and thousands of people visit, which means it's in high demand and sells out quickly.
You will be allocated a time to visit when you buy tickets online. This means you won't need to worry about it being overcrowded, as they only allow a specific number of people per allocated slot. Early mornings and towards the end of the day tend to be the quietest times to visit the Parliament Building. If you're buying tickets from the Visitor Centre, it's best to get there as early as possible, around 8 am.
Travel tips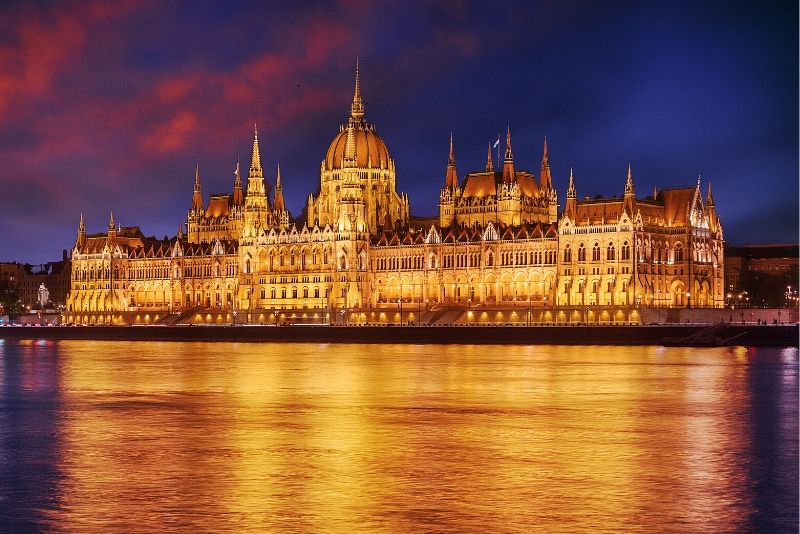 Book ahead and online – due to popularity, it's worth booking in advance to avoid disappointment and lengthy queues
Choose your language – tours are available in English, Spanish, French, Italian, Russian, German, Hungarian and Hebrew. You can select your language when purchasing tickets
Pay attention to the entry time on your ticket – don't be late! The Parliament Building is a popular attraction, and you might not be able to gain entry if you arrive after your allocated time
Except for security checks – be prepared for security checks before entry to the Hungarian Parliament Building
Proof of eligibility – many different tickets are available, and all visitors will need to show proof that they meet the requirements for a ticket. Eg, if you're from the EU, you will need to show an ID card that proves you're from a European Union country
Photos – Photos of the Dome and the Crown Hall are prohibited. However, you can take photos of other areas of the Parliament Building
Cancellations – guided tours can be canceled as late as the morning of admission if a parliamentary event is taking place
Symbols – visitors mustn't wear or display any symbols of dictatorship or bring flags or signs of protest into the building
Food – eating, drinking or smoking on the premises is prohibited
Animals – guide dogs are the only animals allowed in the building