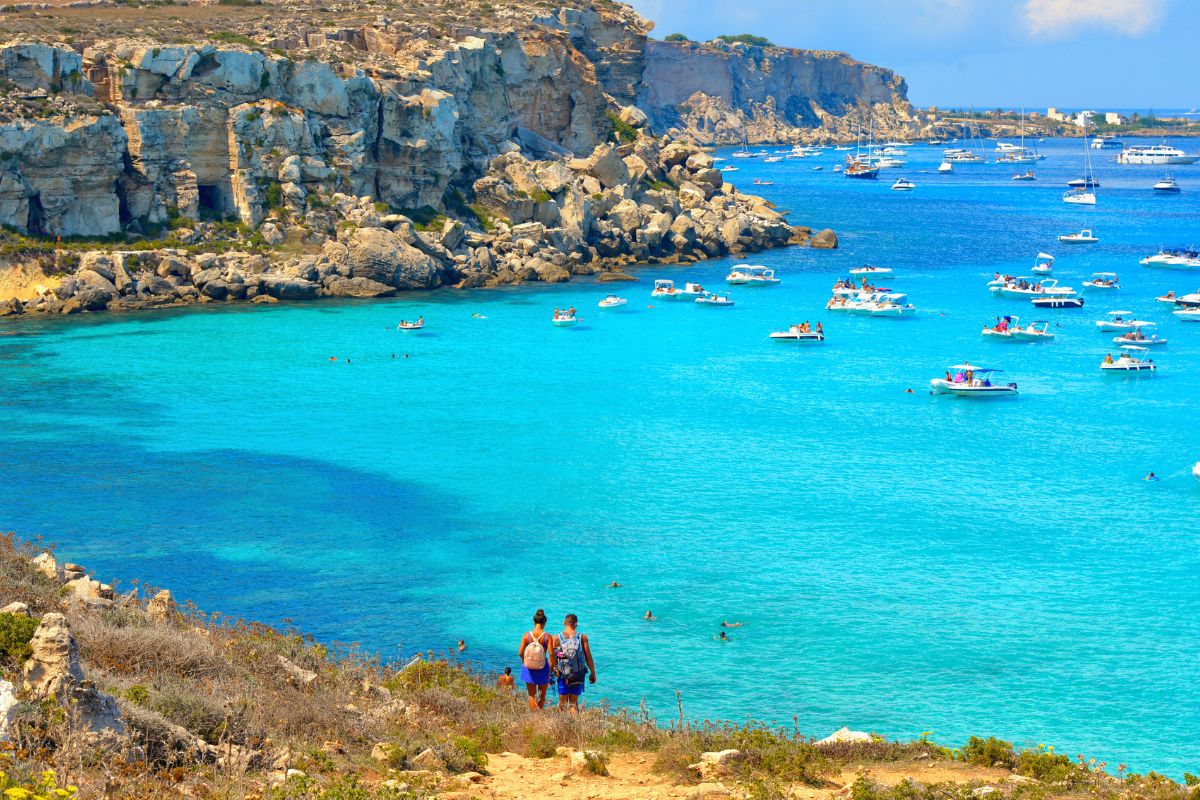 The Egadi Islands, just off the west coast of Sicily, are a wonderful tourist destination waiting to be discovered. Join Favignana boat tours, as well as Levanzo and Marettimo trips and immerse yourself into the beauty of these places!
The small archipelago is home to some of the the most beautiful and picturesque beaches, which are often accessible only by sea. Therefore, a boat tour is definitely the best way to visit them.
When planning a trip to the Egadi Islands, it is possible to visit Favignana and Levanzo in a single day, since they are quite close to each other. Marettimo, on the other hand, is located further away and usually requires a separate excursion.
In this travel guide, you'll learn all about boat trips from Trapani and what the islands have to offer.
How to get to Favignana and to the Egadi Islands?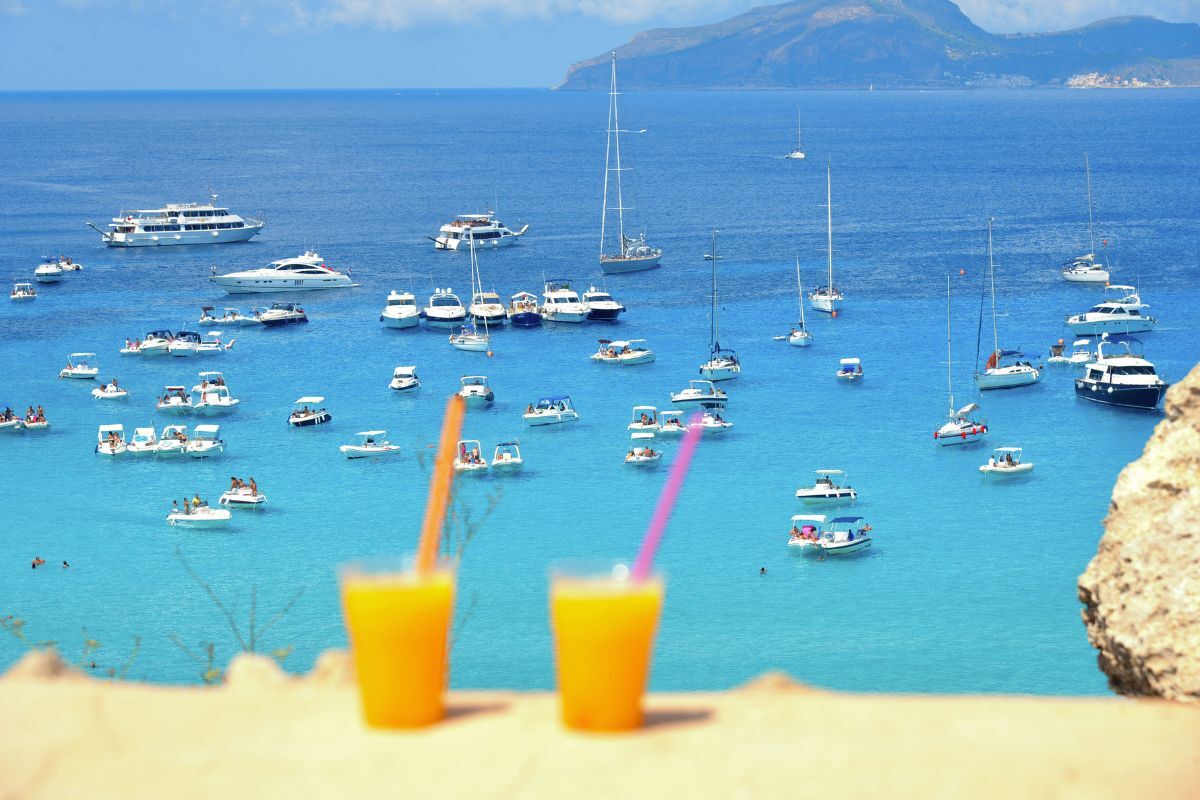 Getting to Favignana and the Egadi Islands is quite simple. There are ferries and boats that depart from Trapani and Marsala daily. Trapani is the nearest and best-connected city for travel to the islands, with several Egadi Islands boat tours departing from there.
It should be noted that it is not easy to move around on the island of Favignana and visit the most beautiful coves. The beaches are typically very small and often rocky. Therefore, the best way to visit Favignana and Levanzo is via boat tour from Trapani.
From Trapani to the Egadi Islands By Ferry
To reach the Egadi Islands from Trapani by ferry, you can choose from several ferry companies. The main ones are: Liberty Lines, Siremar, or Caronte Tourist.
The ferries depart from the port of Trapani and arrive at the main ports of each island. The length of the trip and prices vary, depending on the specific destination chosen.
Trapani to Favignana by ferry. The journey takes 30 minutes to 1 hour, depending on the ferry company and route. Prices fluctuate between €22 to €35 (round trip), depending on the season and seat availability. There are direct ferries to Favignana, as well as routes that also stop at other islands.
Trapani to Levanzo by ferry. It takes 25 minutes to 45 minutes to reach Levanzo, with a round-trip ticket ranging from €24 to €35 depending on the season and demand. There are two companies that operate the route to Levanzo, Liberty Lines Fast Ferries and Siremar. The former offers 14 ferry trips each day, lasting 25 minutes, while Siremar offers up to 3 runs per day that last about 45 minutes.
Trapani to Marettimo by ferry. At 21 km from Trapani, Marettimo is the furthest destination, and the journey takes about 2 hours. Round-trip ticket prices range from €34 to €45, but they can cost up to €60 if you don't buy them in advance.
To book your ticket, visit the ferry company's website or go to the ticket offices at the ports. We advise you to check schedules and travel times in advance to better organize your trip and to book early to ensure the best prices, especially in the high season and for longer journeys, such as to Marettimo.
Keep in mind that when traveling to Favignana or the other islands by ferry, you will have to buy the Egadi Islands entrance ticket, which costs €2.50 per person. The ticket must be purchased separately on the day of the cruise.
From Trapani to the Egadi Islands: Boat Tours
The Egadi Islands are small, and moving around when visiting them can be quite complicated. In addition, the sandy beaches on the islands are few and frequently crowded.
Thus, finding a place to rest can be a real challenge, especially in the summer months. The most convenient and best way to discover all the beauty these islands have to offer is with a boat trip to Favignana and the Egadi Islands.
You can enjoy all the privacy you desire and discover the areas where the water is best. A boat tour of the Egadi Islands will allow you to reach even the most remote areas with ease and explore unspoiled corners of paradise.
Boat tours include visits to the main tourist attractions on the islands, such as the renowned Tonnara (tuna-fishing nets) in Favignana or the Grotta del Genovese in Levanzo. These can be booked online, or by going directly to the ticket offices at the ports.
We recommend you take a look at Favignana boat tours from Trapani on TourScanner, so you can compare prices and choose the tour that suits you best!
It is important to book online in advance, especially during high season. Otherwise, you might miss out on the best deals or you might find that tickets are sold out.
What are the best Favignana boat tours?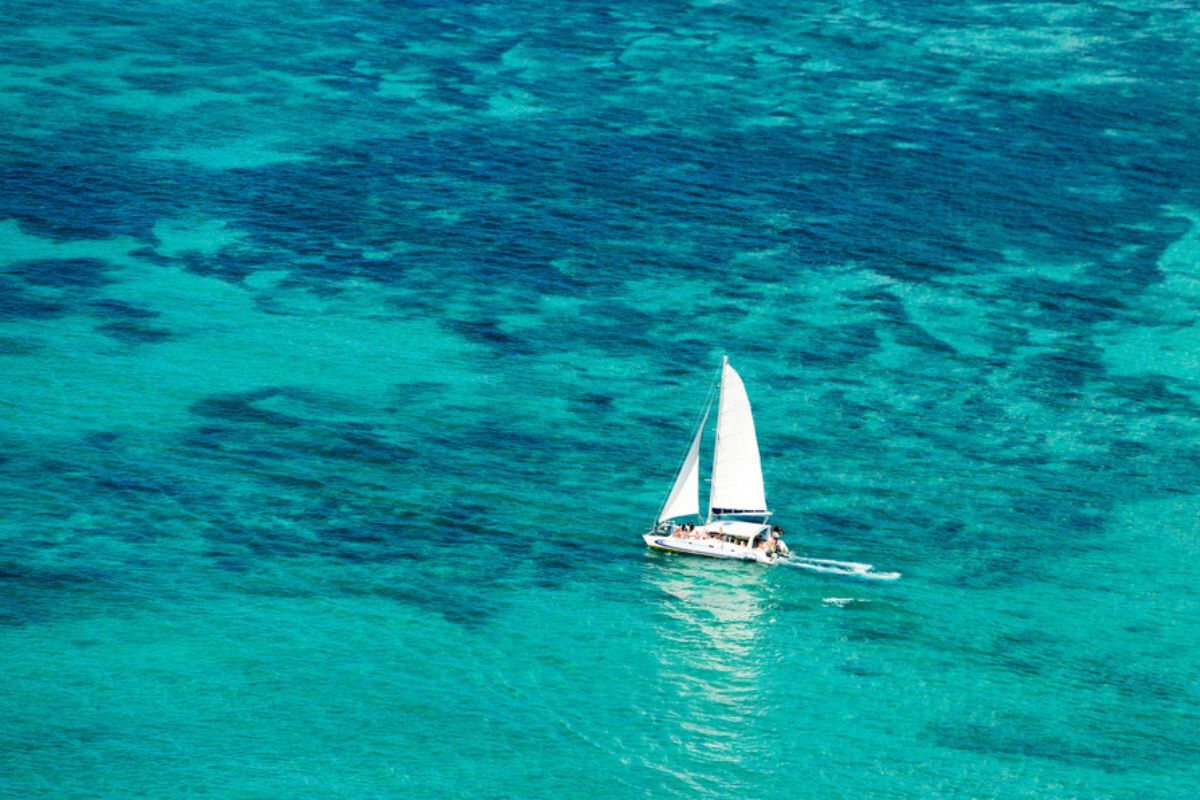 Fortunately, there are several boat tours to visit this corner of Sicily. Whether you prefer a short trip to explore the coastline and caves or a longer excursion to see more of the islands in a day, there is a boat tour that will meet your expectations. Typically, you will see Favignana and Levanzo in one day, as they are the two islands closest to Trapani, while Marettimo is covered on separate tours.
1 – Dinghy tour to Favignana and Levanzo from Trapani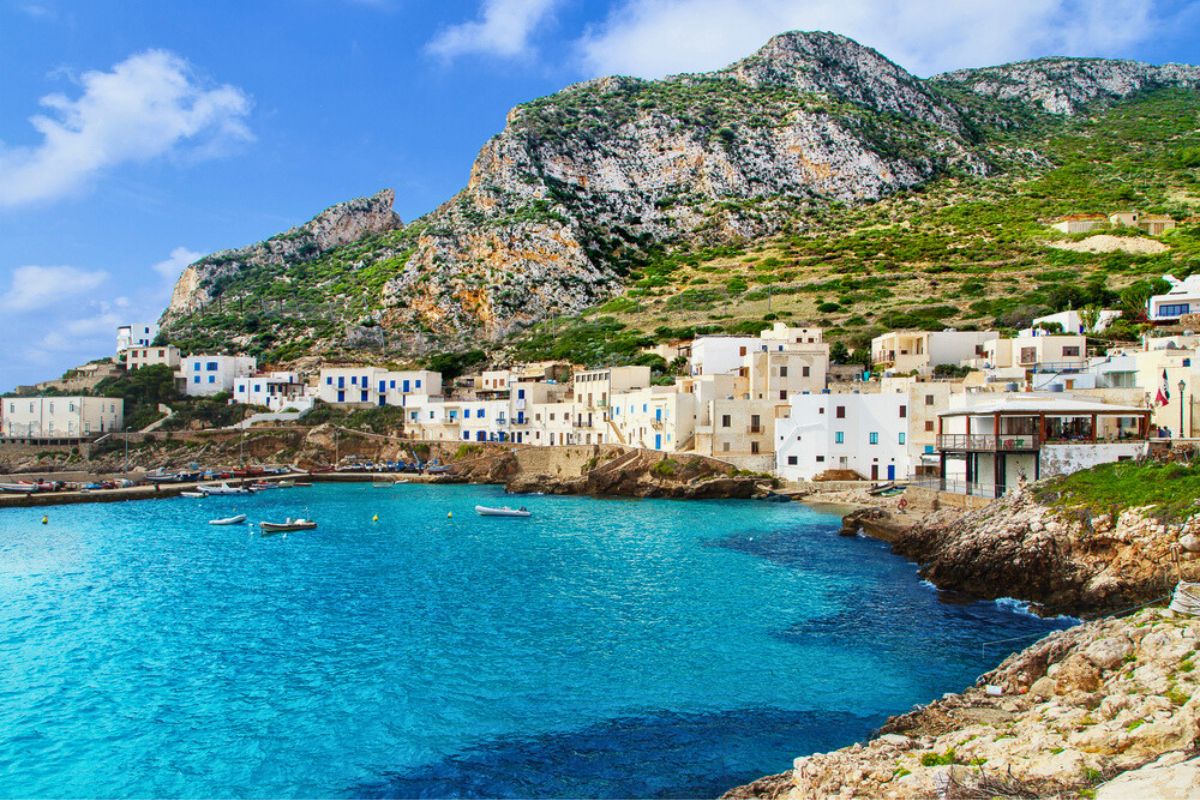 If you are looking for a more intimate boat tour, with a maximum of 12 people, we recommend an Egadi excursion by dinghy. Not only is it faster than other means, but it will also give you access to more hidden and unspoiled places.
As there are not many other boats around, you can enjoy the natural beauty of the islands without too many distractions. The captain will accompany you on your exploration of Favignana, where you can snorkel. A visit to the Lovers' Cave will be an experience not to be missed. Then you will have some free time to explore the island's town and enjoy a typical lunch with local delicacies.
The Egadi Islands tour continues to the island of Levanzo, where you can admire the coastline and picturesque local villages, as well as swim in bays such as Cala Fredda, Cala Minnola, and Cala Calcara, before returning to the port of Trapani around 6 P.M.
(Remember to check with your tour operator if lunch is included in your excursions to Favignana, Levanzo and Marettimo).
2 – Mini-cruise with lunch in Favignana and Levanzo from Trapani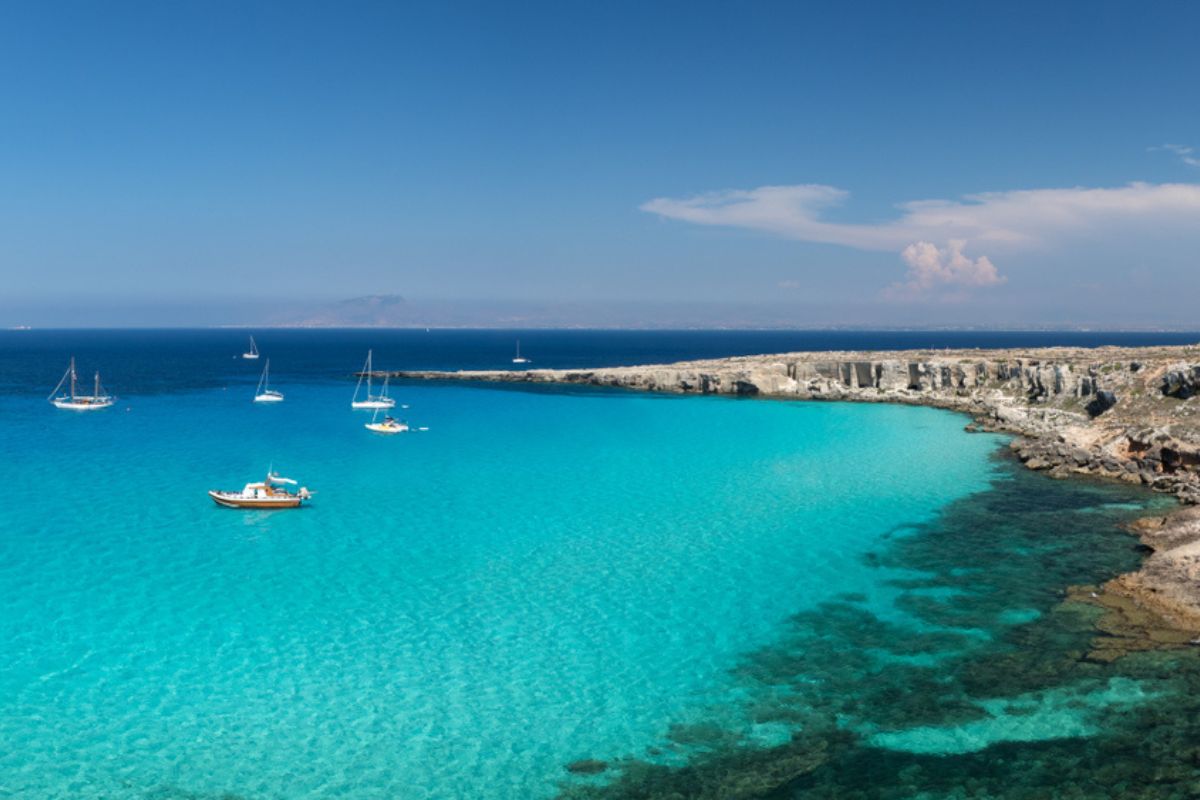 Mini-cruises accommodate more passengers, from 200 to 350! You need to keep this in mind when choosing the most suitable trip for you.
These are one of the most budget-friendly options and follow a slower pace, allowing you to enjoy the scenery and savor the moment without rushing. In addition, there are often other people on board to socialize with, making the trip more fun.
If you are in no hurry and want to enjoy a relaxing day at sea, a mini-cruise to the Egadi Islands is a great choice.
Departing from Trapani, you will set sail aboard a comfortable motorboat. Along the way, you can admire the surrounding islets and listen to the Captain's interesting stories and trivia.
On Egadi excursions from Favignana, you'll have 2 hours to explore the island and its town, and during the boat ride you can stop at the most picturesque bays for a swim in crystal-clear waters. At lunch, you can enjoy a delicious typical Sicilian meal on board, with your fellow travelers. You will also get to visit the picturesque village of Levanzo, famous for its turquoise and white houses, and stop at Cala Faraglione.
The tour is designed to accommodate and provide accessibility to travelers with limited mobility.
3 – Sailing boat tour with snorkeling in Favignana and Levanzo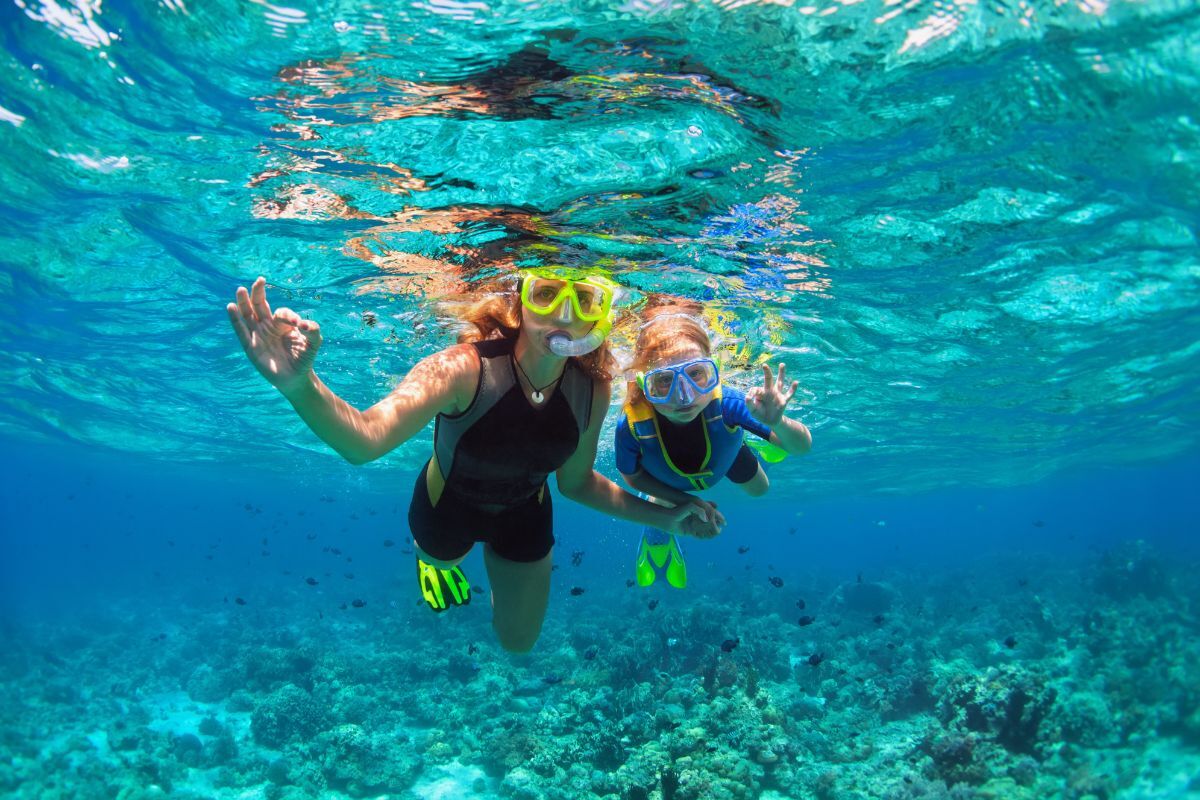 Embark on a private sailing tour where you will discover the most beautiful bays in the region. The boat tour to Favignana and the Egadi Islands is private, with a professional skipper on board to ensure safe and enjoyable sailing experience.
You can spend your time as you like, relaxing on the boat or taking a dip in the crystal clear waters.
On the tour, you will visit the islands of Favignana and Levanzo and have plenty of opportunities to stop for swimming and snorkeling. In addition, there will be free time to explore Favignana at your leisure. As you sail through the sea, exploring hidden beaches and coves, you will immerse yourself in the archipelago's unique and magical atmosphere.
A private tour has several advantages over a shared boat tour. Firstly, you will have the entire boat just for you and your fellow travelers, and you can decide the itinerary and stops during the trip!
Additionally, it can learn the basics of sailing, admire the scenery without the noise of the engine, and experience the natural beauty in a more authentic way – if you're lucky, you may even spot dolphins.
This boat tour is perfect for a group of up to 10 people and is available for about €1,000. So if you are traveling with friends or family and want to experience a day with more privacy, it can be a very affordable and unforgettable experience.
4 – Private tour with aperitif in Levanzo and dinner in Favignana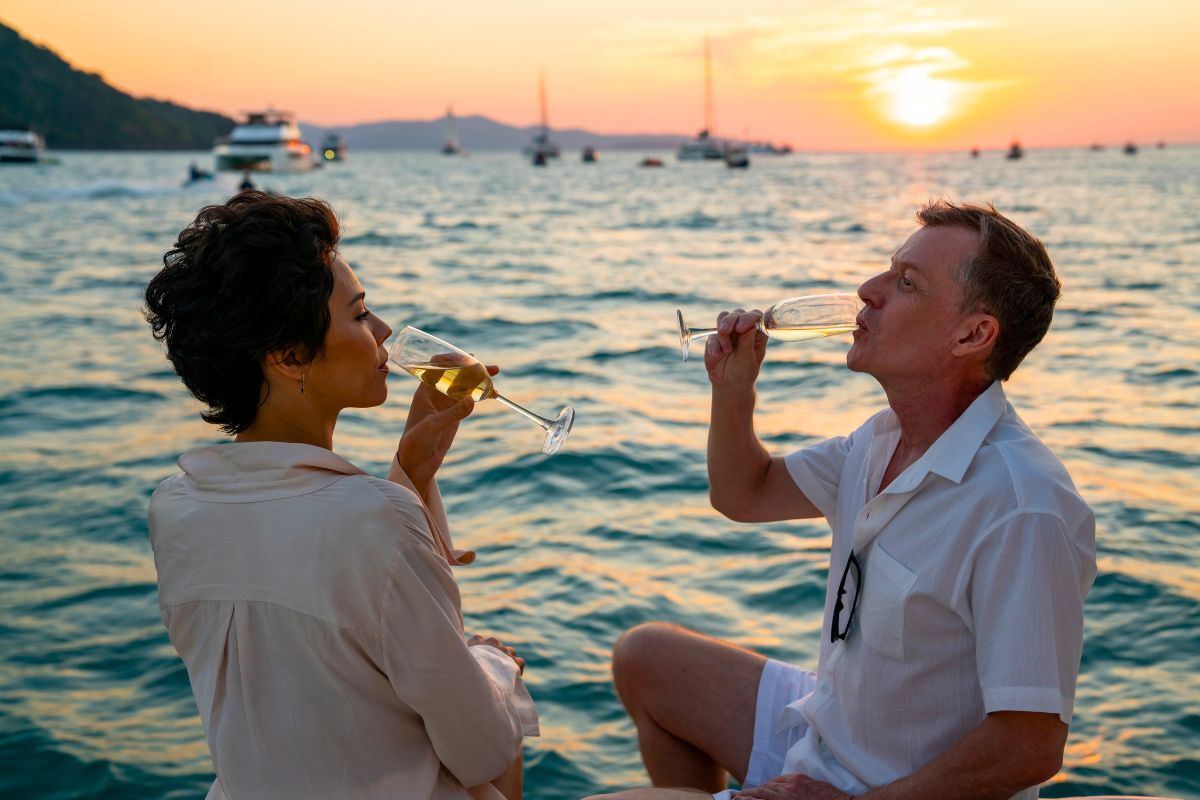 An evening tour to the Egadi Islands is perfect to celebrate a special occasion or simply to indulge in some relaxation and fun in a magical atmosphere.
The private tour includes an exclusive dinghy all to yourself, along with two skippers always at your service, so you won't miss a thing.
You will enjoy an apéritif overlooking the Faraglioni of Levanzo, in a truly special experience that will leave you speechless. Later, you will dine in Favignana in an enchanting location directly on the sea, where you can enjoy dishes based on fresh, local products.
The evening tour ends with a return to Trapani, arriving around 1 A.M.
This tour to Favignana and Levanzo is definitely one of the most enchanting and unforgettable tours available in the Egadi Islands.
5 – Boat tour to the Marettimo Caves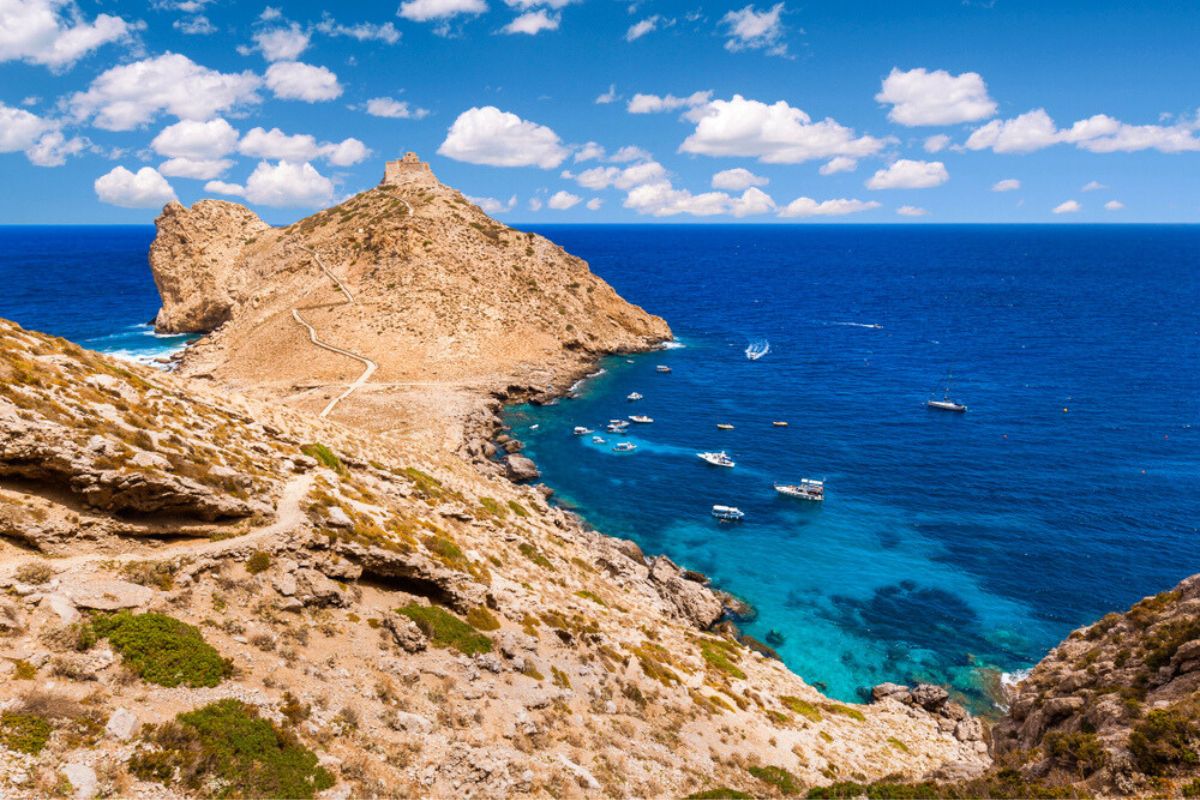 Excursions to Marettimo are one of the most thrilling day trips in the Egadi Islands. Due to the island's secluded location, the surrounding sea is crystal clear and the caves are often uncrowded.
On a boat tour in Marettimo you will get close to the rock walls and see how the water takes on different shades of blue, green and turquoise, creating a surreal atmosphere.
Marettimo's caves are especially well-known for the Grotta del Cammello, a huge camel-shaped cave that is about 8 meters tall and stretches about 100 meters.
Also worth visiting are Grotta del Presepe, Grotta della Pipa and Grotta della Ficaredda, among many others. With special boats and an experienced guide by your side, you can safely explore these hidden treasures on a tour of Marettimo, for an unforgettable excursion.
If you have time, stop by the island and also try trekking activities in Marettimo, we guarantee you won't regret it!
6 – Tour with lunch in Marettimo and visit to Levanzo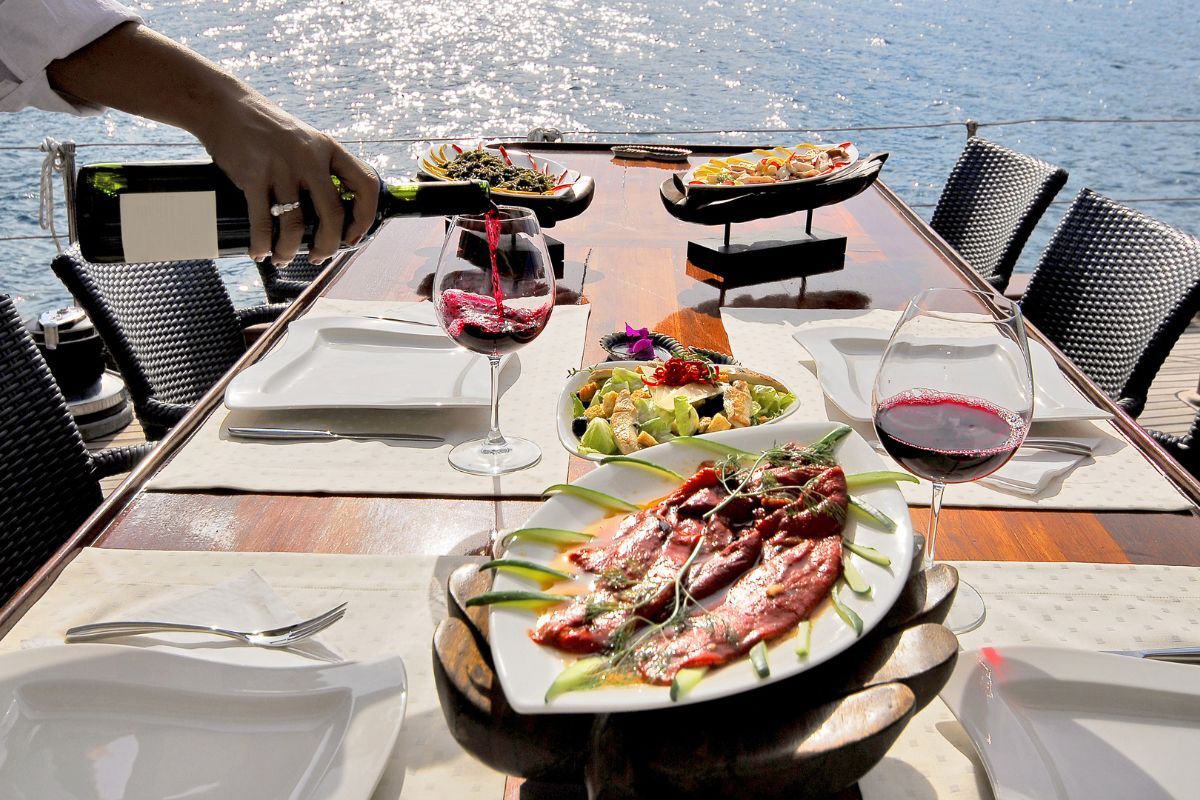 The adventure begins at the port of Trapani, where you will board the boat for the 1 hour and 30-minute journey to the island of Marettimo. Along the way, you'll enjoy spectacular views of the island and its most striking caves.
There will be at least two stops for swimming, with your experienced crew on hand to provide any assistance.
After visiting the island's most beautiful coves and caves, you will stop at the village of Marettimo, where you will have the opportunity to have lunch at a local restaurant. Enjoy free time to explore the narrow streets of the village or swim at the beach.
In the afternoon, you will depart for Levanzo, stopping briefly for one last swim and admiring the fantastic views of the island. This full-day tour will offer you the chance to enjoy the beauty of the Egadi Islands, discovering their natural wonders and hidden treasures, all in total relaxation and with expert assistance on hand.
Please note: this tour is not suitable for travelers with limited mobility.
7 – Private yacht tour with lunch in the Egadi Islands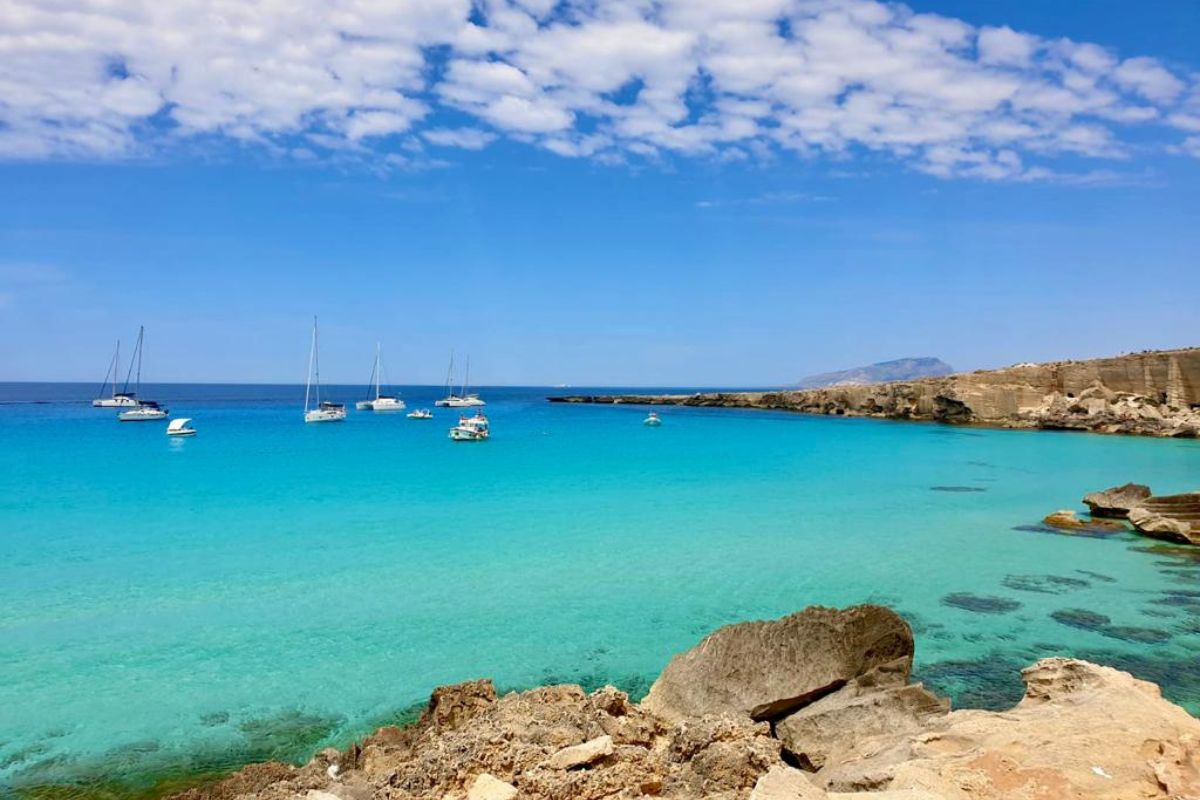 A yacht tour of the Egadi Islands promises a luxury experience like none other. Aboard your private yacht, you will enjoy personalized and completely customizable service, with a crew at your disposal to pamper you throughout the trip.
Yachts are also typically faster and steadier than other boats, which means you can cover more of the archipelago and reach the most remote parts of the islands swiftly and comfortably.
In addition, you will have many on-board amenities at your disposal, including a large cabin, private bathrooms, outdoor lounging areas and sun decks!
8 – Dinghy tour with brunch in the Egadi Islands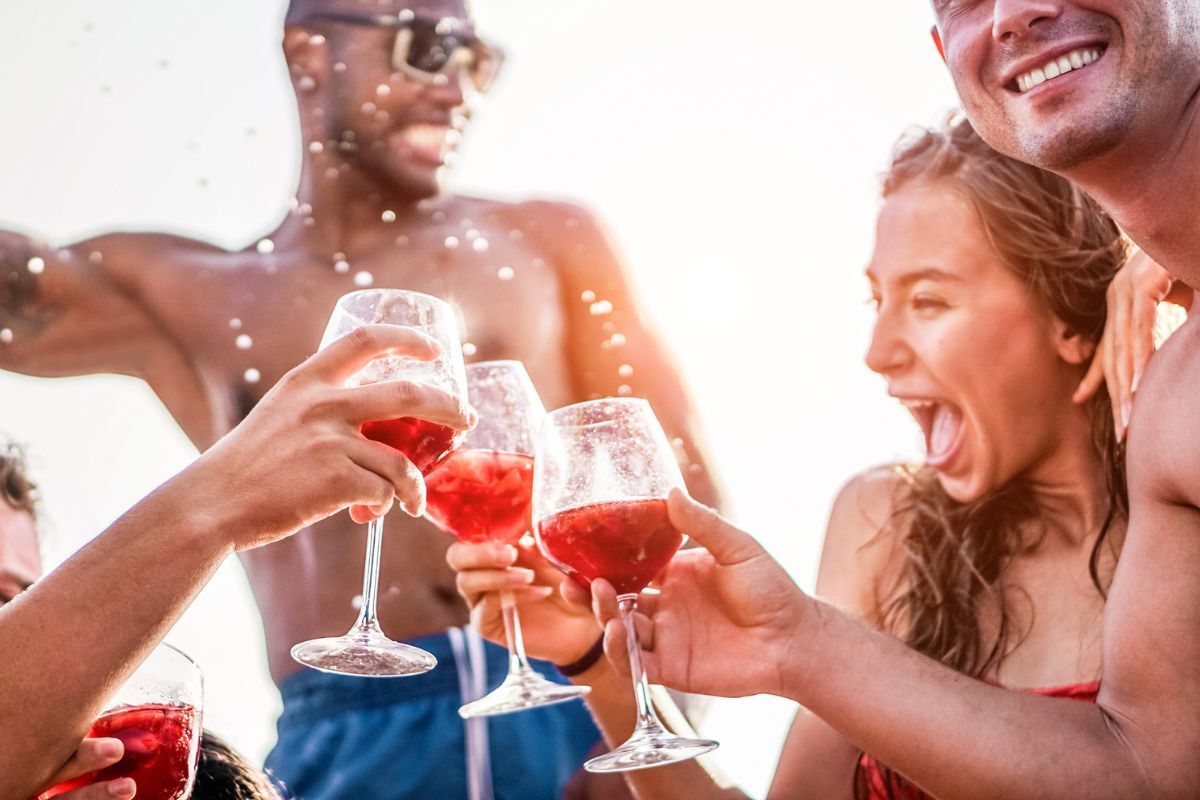 For those looking for an even more complete activity on a guided tour from Trapani, you can choose the dinghy tour with Sicilian apéritif or brunch included.
You can enjoy the typical delicacies of the region, such as panelle, arancini and fresh fish, accompanied by a glass of prosecco or local wine. These excursions will allow you discover the authentic flavors of Sicily in the unique and charming atmosphere aboard the dinghy.
9 – Private boat tour to Favignana and the Egadi Islands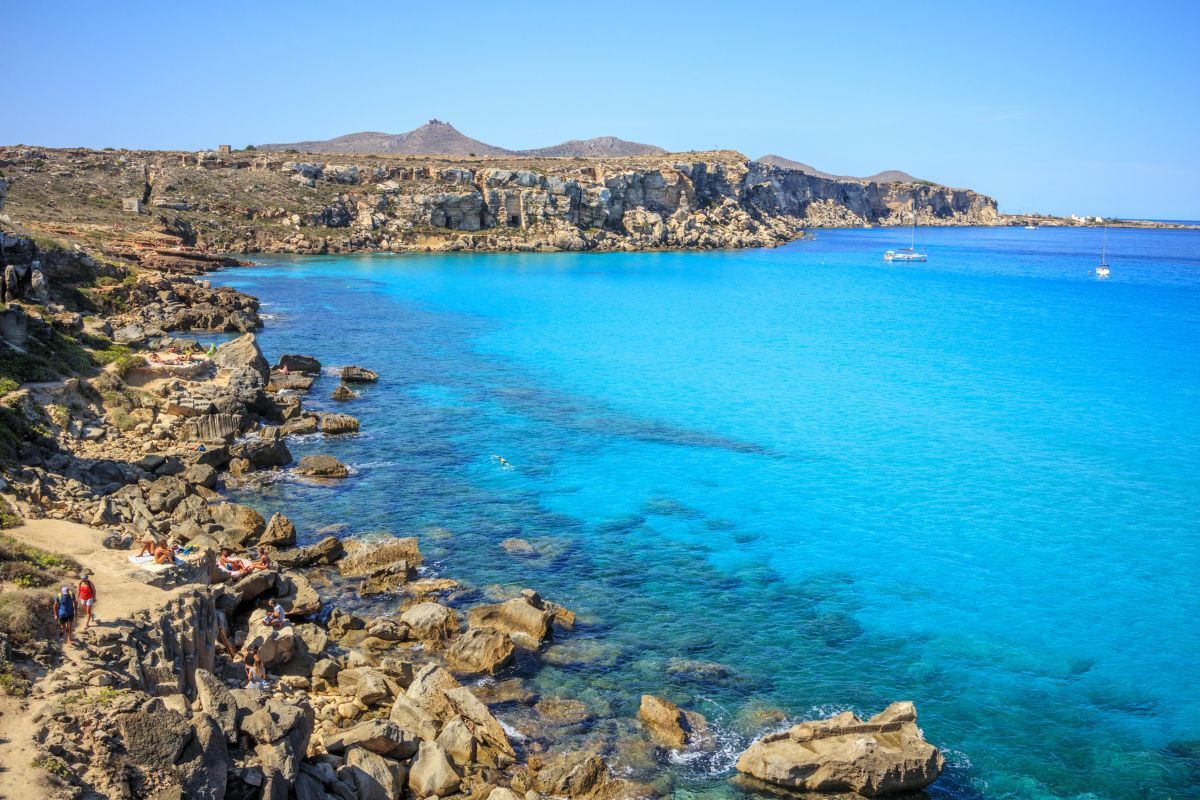 As you may have noticed, there is no shortage of tours to the Egadi Islands from Trapani, and there really is something for everyone!
However, if you feel like visiting the islands at your own pace, some companies offer customized tours that are tailored to the specific needs of travelers.
These tours allow you to choose where to stop and for how long and experience these corners of paradise in your own way!
10 – Boat trip to Favignana and city center tour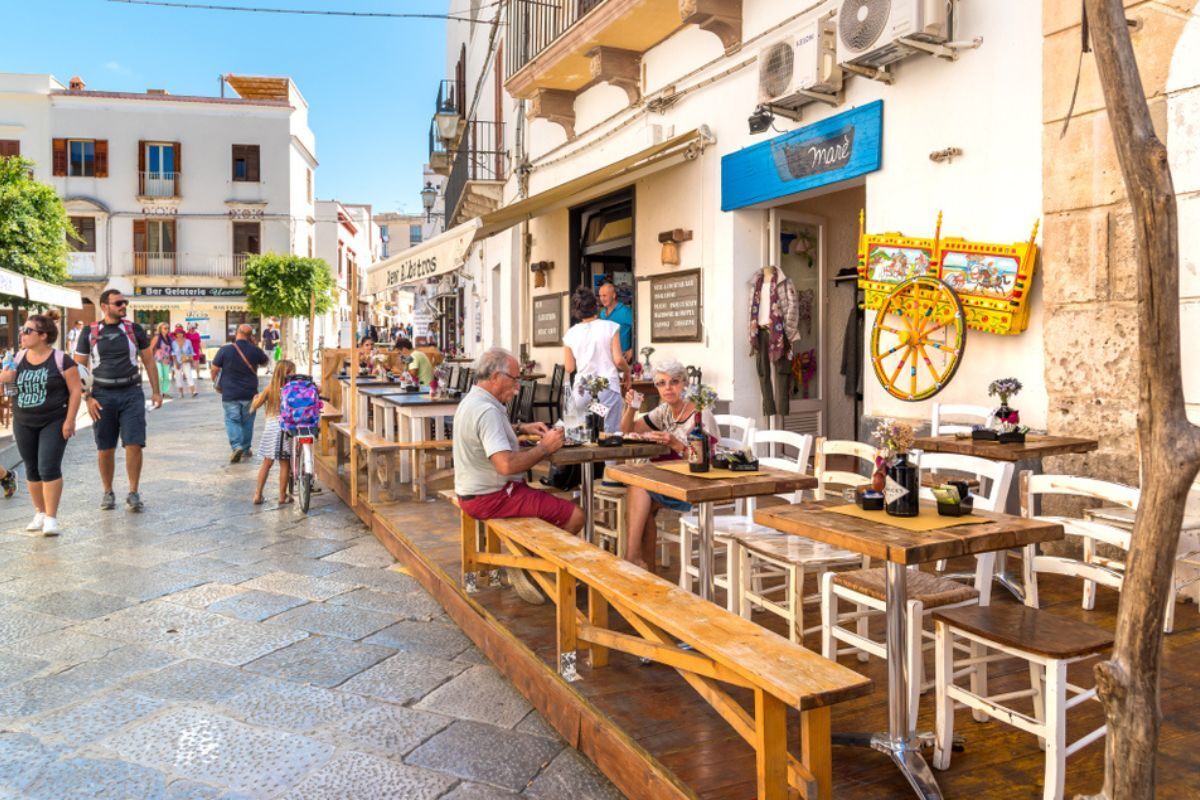 If you feel like focusing your attention on one island at a time, why not start with a trip to Favignana? As the most famous of the three islands, it really has everything for a fabulous vacation!
There are so many things to do and see on the island, that you are spoiled for choice:
See the beautiful salt pans and ancient windmills.
Explore the island coves and beaches.
Visit the Tonnara Florio, an ancient tuna fishery now converted into a museum, where you can learn about the history of tuna fishing and life on the island.
Take a bicycle or scooter excursion to explore the island and enjoy its breathtaking views.
Learn about the island's culinary traditions, such as its famous seafood salad, fish couscous, and ricotta cakes.
Dive or snorkel to discover the island's rich marine life and enjoy one of Favignana's most beautiful excursions ever.
Visit the seaside village of Favignana, with its whitewashed houses and local craft stores.
Admire the panoramic view of the island from the Castle of Santa Caterina, an imposing 17th-century fortress.
Relax on the island's beaches, or enjoy a picnic in the surrounding hills with breathtaking views.
Join a food and wine tour on the island, visiting local wineries and sampling local wines and delicacies.
Take a boat excursion to Favignana. This way, you can discover the island's coves and caves, many of which are not accessible by land.
How much do Favignana boat tours from Trapani cost?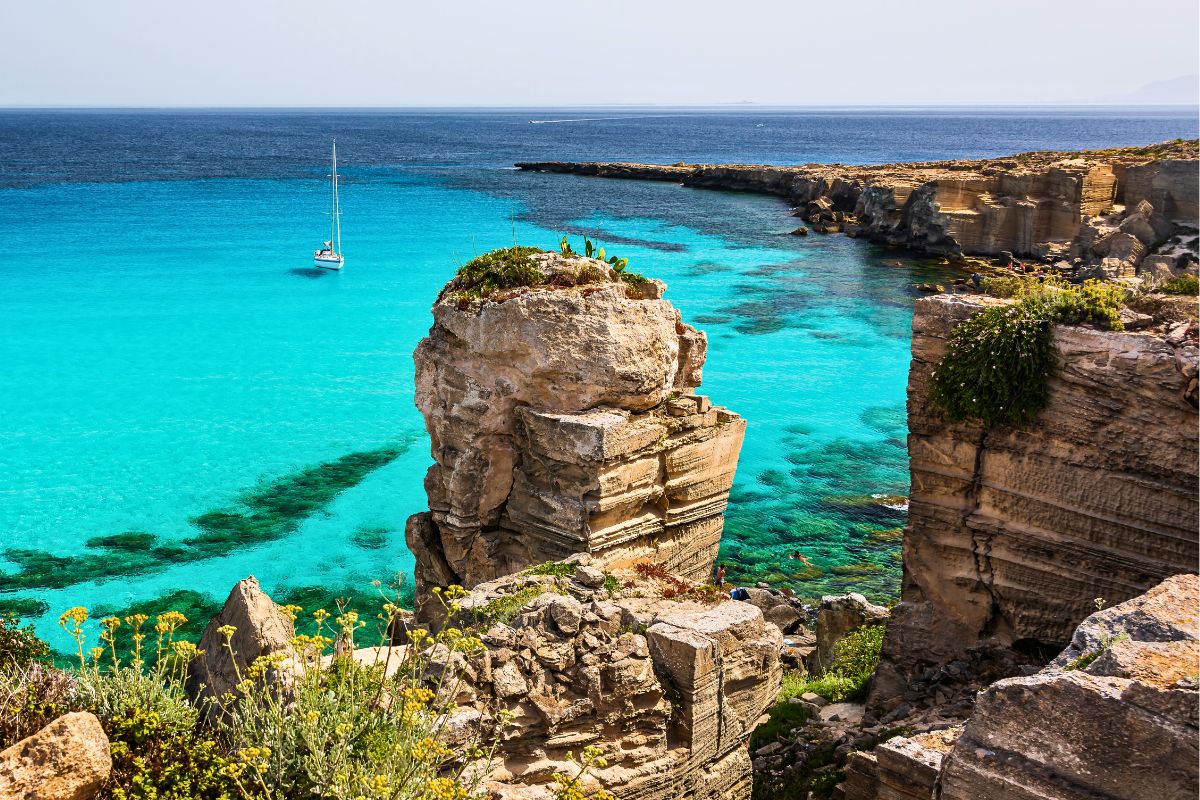 The cost of a boat tour to the Egadi Islands varies and depends on the following:
Type of boat: yacht, dinghy, sailboat, motorboat, etc.
Number of people: whether they are private tours just for you and your group or shared with other people. On dinghy tours, the maximum is 8 or 12 participants, while for sailing boats it is usually about 10, and for mini-cruises it can be up to 250 people.
Company: there are numerous companies offering boat tours to discover the beauty of the Egadi Islands.
Duration of the tour: Some tours can last half a day, others a full day or even several days.
Activities included: skipper, snorkeling equipment, lunch or dinner on board, appetizers, etc.
In any case, there are options for all budgets, and visitors can find tours to suit their budgets.
Boat trips to Favignana and Levanzo: prices
Prices for excursions to Favignana and Levanzo from Trapani start at around €40 per person for a mini-cruise and can cost €90-120 for an excursion by dinghy or sailboat, which includes lunch and hosts fewer passengers. As for private ones, however, the average price is €1,000 per boat.
Shared tours
Dinghy tours for up to 12 passengers. On a snorkeling excursion, the price starts from €80 up to €120-140 in the heart of the high season.
The cheapest option is the motorboat or mini-cruise tour to the Egadi Islands, which includes transfers, a visit to Favignana and Levanzo, and stops at the most picturesque coves. Prices start at €37 for adults and €22 for children up to age 12 and go up to This is the most budget-friendly option, as the ship can accommodate up to 245 travelers and does not include meals.
For the sailboat tour, with up to 12 participants, prices start from €100 for adults and €60 for children.
For a yacht tour with lunch, expect to pay about €50 for an 8-hour trip with up to 30 passengers. The price includes with food and drinks.
In a modern boat, up to 30 passengers, you can travel Favignana and Levanzo for about €65-70, with lunch on board and stops for snorkeling at the best spots in the Egadi Islands.
Private tours
The private evening tour with aperitif and dinner is offered to a minimum of two participants at a price of €580 each. The price for each passenger changes depending on the total number in your group, going down to €414 for groups of 3, €330 for 4 people, €280 for 5 travelers and €205 per person in case there are 8 guests on board.
If you leave with a group of friends or family and want more privacy to explore the best coves in the area, you can rent a private 10-meter dinghy that accommodates up to 12 passengers for €550 (total price).
Private tour prices for Favignana and Levanzo go up to €2,000 for customized boat tours for up to 30 passengers.
Boat tours departing from Favignana are cheaper, with prices starting around €30.
Boat tours in Marettimo: prices
In general, tour prices for excursions to Marettimo from Trapani start at around €50 for shared day tours and go up to around €1,500 for a full-day tour by private boat with skipper, snorkeling equipment, lunch and apéritif on board.
The 9-hour Marettimo Caves tour, in a boat accommodating up to 30 passengers, costs about €60 per person (adults).
The tour with lunch in Marettimo and a visit to Levanzo in a private boat, on the other hand, costs €1,300 for up to 8 passengers.
Depending on how you get to Trapani, you may need parking inside the marina to safely leave your car while you enjoy your visit to the islands. Keep in mind that many of the tours offered do not include parking fees.
It is important to pay attention to the prices offered and which services are included or not, to avoid any unpleasant surprises.
How long do tours to the Egadi Islands last?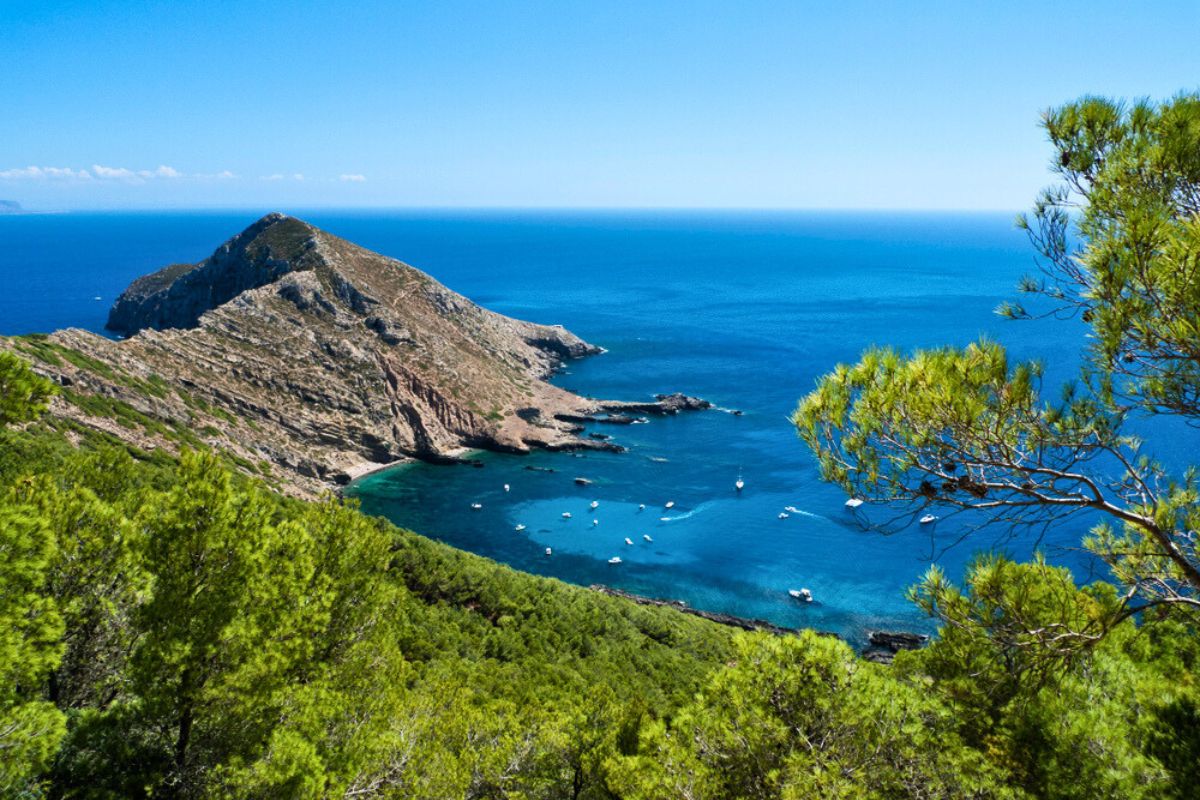 The duration of boat tours to the Egadi Islands can vary depending on the type of excursion you choose.
Most tours typically last 8 to 9 hours, allowing you to visit more than one island (Favignana and Levanzo together, or Marettimo) and enjoy a full day at sea, sometimes with lunch included.
Departure will be at about 9:00 A.M. and the boat tour will last until 5:00-6:00 P.M.
On the evening excursions, the meeting time is usually 5:00 P.M. and the return to the port is scheduled for 1:00 A.M.
In any case, remember that for each type of tour, you will need to show up at the designated meeting point at least 30 to 40 minutes early! These are specified on each company's webpage, so make sure to take any travel time that into account when planning your trip.
It is important to keep in mind that the time spent at sea also depends on weather conditions and sea traffic.
Can everyone participate in boat excursions to Favignana and the Egadi Islands?
If you are planning a boat excursion to the Egadi Islands and you have any disabilities, we recommend that you carefully check whether the boat you have chosen is wheelchair accessible.
Some of the larger boats, as in the case of mini-cruises may have ramps for boarding and alighting, but the smaller boats may not be able to accommodate travelers with disabilities.
In any case, it is always best to contact the tour operator in advance and ask all the necessary questions to ensure that the tour is suitable for your needs. Alternatively, you may consider booking a private tour so that you can discuss your specific needs with the boat captain in advance.
What are the best beaches to visit in Favignana and the other islands?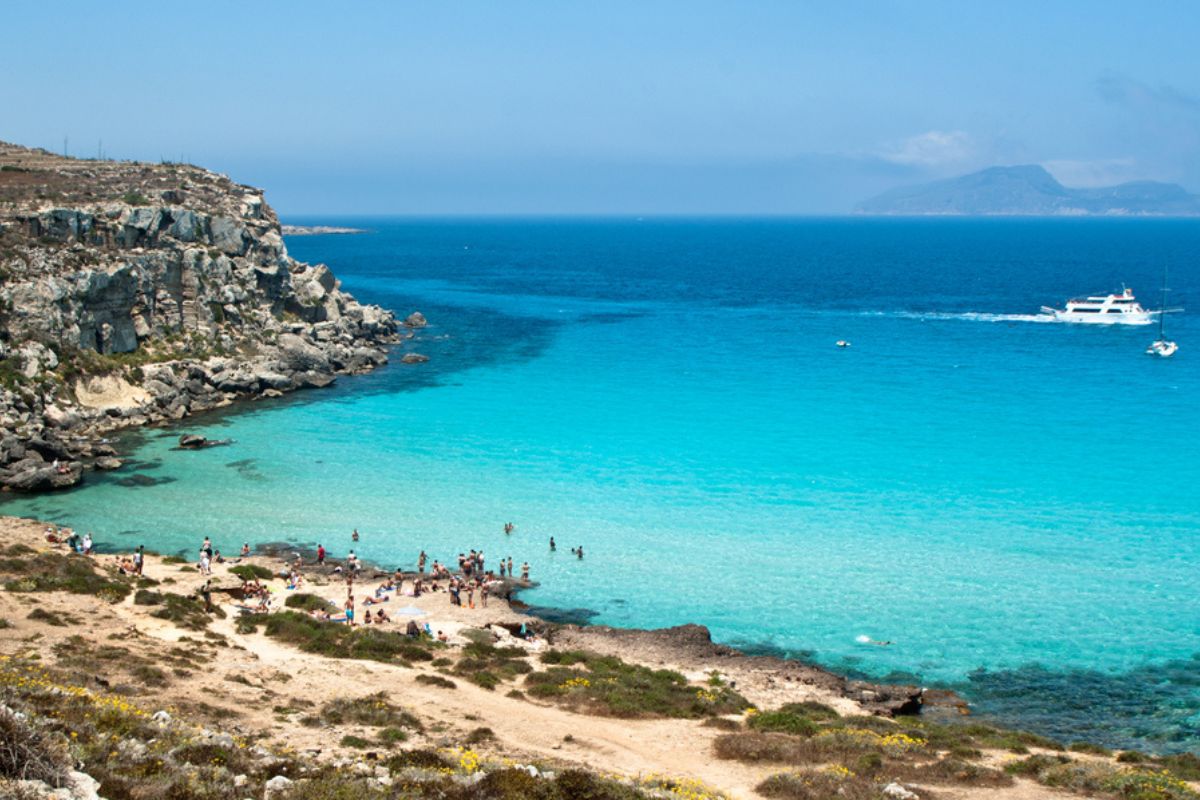 The Egadi Islands boat tour is the perfect choice for discovering the wonders of the Sicilian beaches in an unforgettable adventure. Find out which ones they are!
Favignana Island
Favignana is famed for its beautiful white sandy beaches and crystal clear waters, and we recommend you reach this island directly by boat, so you can enjoy the most memorable spots in peace.
Among the most famous and popular beaches are:
Cala Rossa. A beach of fine white sand, surrounded by high cliffs with pinkish colors, which create a unique and striking landscape.
Lido Burrone. A long stretch of white sand, equipped with umbrellas and sunbeds, ideal for families with children.
Cala Azzurra. A bay with crystal clear waters and intense colors, making it one of the most beautiful and photographed beaches on the island.
Cala Rotonda. A beach of white pebbles and azure sea, nestled between jagged cliffs and lush vegetation.
San Lorenzo Beach. A wild and uncrowded beach, surrounded by unspoiled nature and reachable only on foot or by bicycle.
Bue Marino Beach. The sea is amazing, with a seabed rich in underwater life. There are strong currents in the area, so it is best to rely on local guides for diving.
Cala Pozzo. This is one of the most sheltered corners from the winds, and also the wildest and most naturalistic on the island.
Scalo Cavallo Reef. Northwest of the island, this area features several caves with panoramic views of the sea.
Cala Graziosa. The bay consists of a series of small coves formed by rocks, which create natural pools where the water flows. It is ideal for children.
Marasolo Beach. Located on the south-central coast of Favignana. It consists of white sand and is surrounded by flat rocks, making it suitable for everyone.
Preveto Cove. Offers spectacular views of a deep blue, crystal clear sea.
Punta Fanfalo. This is a reef area ideal for diving and snorkeling. It is accessible by land or sea, but it is not recommended for children or people with limited mobility.
Punta Longa. Features a small fishing village and a small harbor. It is easily accessible and offers rocks and coves.
Punta Sottile. This is an area full of inlets created by the forces of the sea, ideal for watching the sunset.
The Slip. This is a small cove with a deep turquoise sea. It is characterized by flat rocks and a sandy seabed.
Levanzo Island
The island of Levanzo, the smallest of the Egadi Islands, offers beaches of great beauty and charm. Among the best-known and most popular are:
Cala Dogana. A beach of white pebbles and stones, surrounded by wild and unspoiled nature, making it the perfect place for those seeking tranquility and relaxation.
Cala Minnola. A bay with crystal clear sea and intense colors, surrounded by high cliffs and dense and lush Mediterranean vegetation.
Cala Fredda. A small beach of pebbles and white pebbles, surrounded by unspoiled nature and reachable only on foot or by boat.
Cala Faraglione. A beach with crystal-clear waters and intense colors, set between very high rock walls and accessible only by boat.
Cala Tramontana. Located to the north and, in addition to being the largest bay, is rich in vegetation and ideal for snorkeling.
Cala Calcara. This is one of the wildest bays on the island, perfect for taking a boat tour and diving to see fish.
Marettimo Island
Marettimo, the most remote island of the Egadi Islands, is a true paradise for nature and sea lovers. The beaches here are less crowded and can often be reached only by boat or on foot, but the beauty of the places amply repays the effort. Some of the most beautiful and striking beaches in Marettimo are:
Cretazzo Beach. A small beach of white sand and pebbles, surrounded by high cliffs and reachable only by boat.
Cala Manione and Scalo Maestro. The northernmost bays on the island, with a crystal clear sea that takes on shades of blue and green.
Punta Libeccio and Cala Nera. A beach of black pebbles, set in a sheltered cove and accessible only on foot or by boat.
Praia dei Nacchi. A beach reached by a pleasant 20-minute walk, with sandy stretches and a perfect compromise between beauty and comfort.
Zotta Muletti. A walkable cliff on the west side of the island, with a walk of about an hour and a half in the shade of pine trees and convenient access to the water.
Old Scalo and New Scalo. The two beaches are located at the ports on the north and south sides of the island and are mostly frequented by locals.
What is the best time to visit Favignana and the Egadi Islands?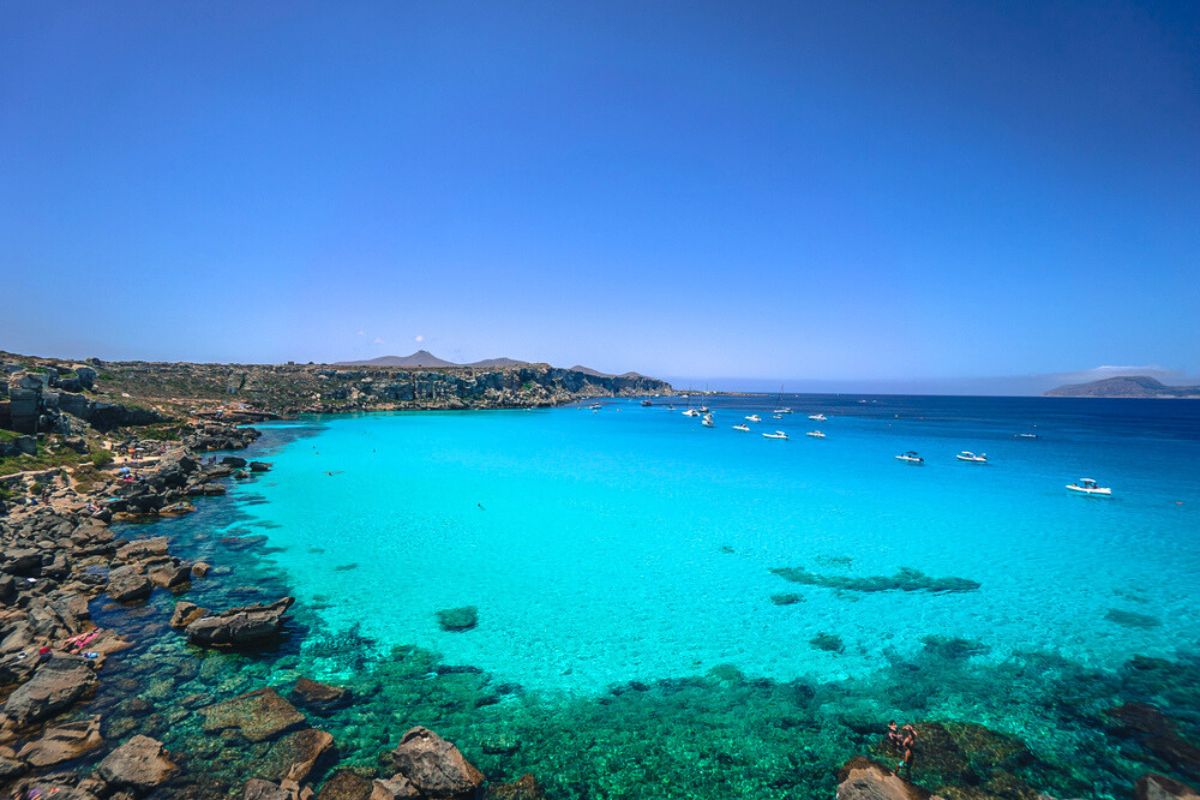 The best time to visit the Egadi Islands is during spring and summer. During these seasons, the weather is mild, and the waters are warm and inviting for swimming and water activities.
Spring is arguably better, as temperatures are still moderate and the islands are less crowded. These months are a good choice for travelers looking for a quieter destination.
During the summer, the Egadi Islands are very popular with Italian and foreign tourists, so it is advisable to book in advance.
Travel tips
Here are some useful tips for travelers visiting the Egadi Islands by boat:
Bring comfortable clothes and a bathing suit. The weather in summer can be very hot, so be sure to wear light clothing. Also, bring comfortable shoes for walking on the sand and rocks.
Bring the right equipment with you. If you plan to snorkel or scuba dive, be sure to bring the necessary gear. Some companies offer rentals, while other times, it is included in the tour price.
Don't forget to bring: towel, sunscreen, sunglasses, hat and your camera.
Respect the environment. The Egadi Islands are a protected area, so it is important to respect the environment and not leave trash on the beaches or in the sea. Also, it is forbidden to collect shells and other natural relics.
Make sure you have water and food with you. Some tours do not include food and drinks, so make sure you confirm the details with your tour operator.
Book tours in advance. If you are eager to join a boat tour, be sure to book in advance to ensure availability. There are several companies that offer excursions, so consider the different options before you book.
If you have more days available when you return from your boat excursion to Favignana, also check out the best guided tours in Trapani so you don't miss anything!
The Egadi Islands are a wonderful tourist destination with so much to offer visitors. Follow these tips and enjoy your visit to the fullest!