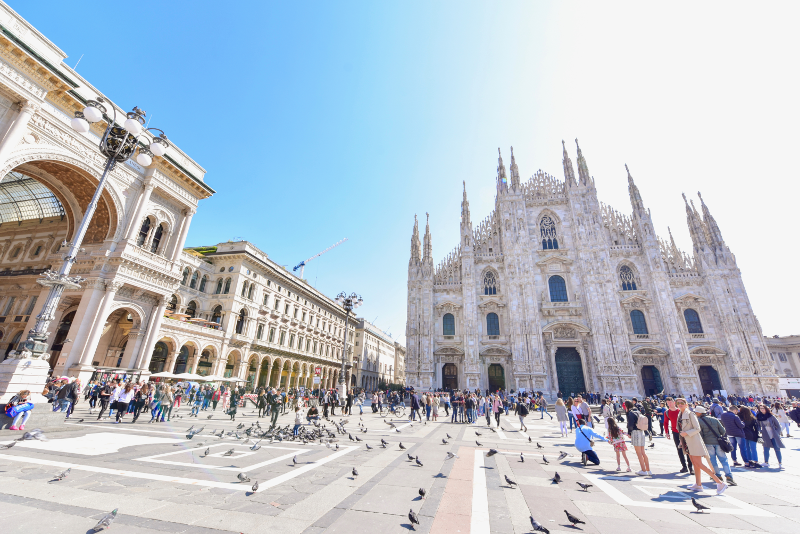 Are you looking for the best way to get your Milan Duomo tickets online? Find out all about how much they cost, how to skip the line with advance tickets, who is eligible for discounts, what to see inside, and more!
On this post, you will find a complete guide to getting tickets for the Duomo in Milan, including:
The behemoth Duomo di Milano Cathedral is the fourth-largest Christian place of worship in the world, covering an area of 109,641 square feet. The cathedral dates back to 1386 AD and remains dedicated to St Mary of the Nativity. The magnificent structure took approximately six centuries to complete. People from all over the world visit this sacred Italian landmark.
Ready to visit this impressive architectural gems of Italy? Don't feel like reading ahead? Click on the following link if you wish to book Milan Duomo tickets right now.
How much do Milan Duomo tickets cost?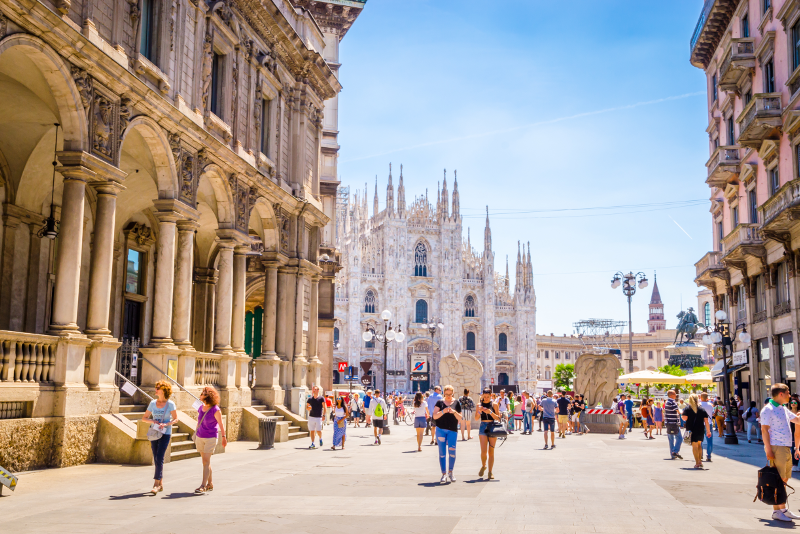 Milan Duomo is divided into several areas. Visitors may book a single ticket for a specific area or a combined ticket including several areas.
Milan Duomo single ticket prices
1. Cathedral: full (€3), reduced (€2)
2. Archaeological area Baptistery of San Giovanni Alle Fonti: full (€8), reduced (€4)
3. Archaeological area Baptistery of St. Stephen: free entry
4. Duomo Museum – Church of San Gottardo in Corte: (€3), reduced (€1) 
5. Crypt of St. Charles: free entry

6. Rooftops:
Access by stairs

: full (€3), reduced (€2) 
Access by lift: full (€3), reduced (€2) 

Fast-track access by lift: full (€23), reduced (€12)
Milan Duomo combined tickets prices
There are 4 different combined tickets and all include the areas listed below. The only difference is the access to the rooftops.
Cathedral
Crypt of Saint Charles

Archaeological area

Duomo Museum
Church of San Gottardo in Corte
1 – Culture Pass – no access to the rooftops: full (€8), reduced (€4) 
2 – Duomo Pass Stairs – access to the rooftops by stairs: full (€13), reduced (€7) 
3 – Duomo Pass Lift – access to the rooftops by lift: full (€17), reduced (€9) 
4- Fast Track Pass – fast track by lift: full (€25), reduced (€13) 
Who are eligible for discounts?
Children aged between 6 to 11 years old and visitors belonging to religious groups or school students are eligible for reduced rate for all single & combined tickets.
Individuals below 26 years are also eligible for reduce rate for the culture pass only. 
How do you book Milan Duomo tickets in advance? How do you skip the line?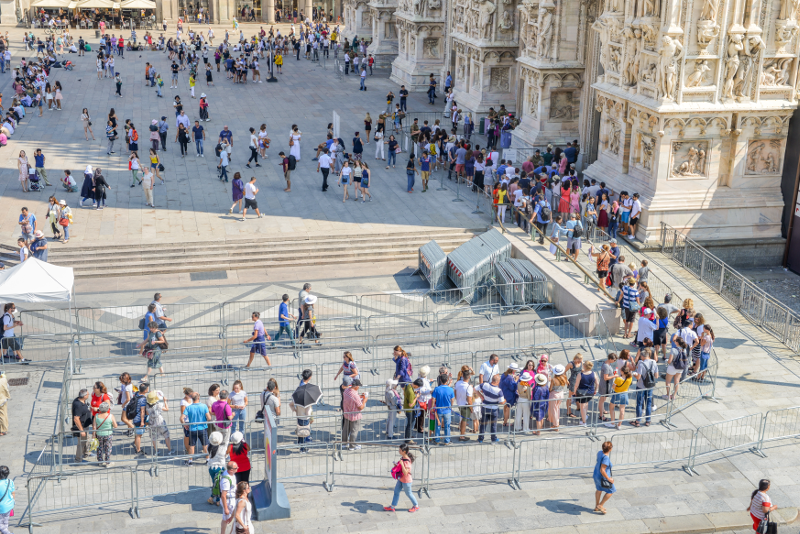 Milan Duomo is one of Milan' busiest tourist attractions and the queue is incredibly long during the day – often meaning that you are standing around for hours before you enter the Cathedral.
If you wish to skip the line, you should aim to book Milan Duomo skip the line tickets online in order to avoid having to wait a long time at the entrance. 
Visitors to the Milan Duomo can either book their skip the line tickets online from the official website (named "fast track pass") or from an online travel agency such as Getyourguide, Musement, Headout or Viator to name a few.
It is best to compare prices between providers before making a purchase as discounts are often available and can save you some money.
Are Milan Duomo tickets included in the Milan Pass?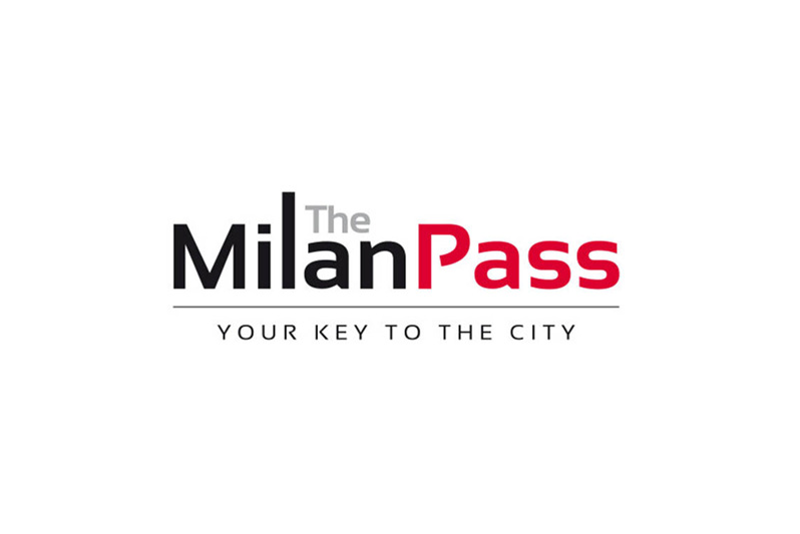 Yes! The Milan Pass is one of the most popular tourist passes in Milan. It is easy-to-use and offer you free entrances to Milan's most popular attractions, including the Duomo.
Are there any combined tickets including Milan Duomo tickets and other attractions?
If you are visiting Milan for the first time or planning to stay there for a few days, opt for combined tickets that let you visit the Milan Duomo and other attractions in the city. Below are the most popular ones.
Milan Duomo + Last Supper: head to the Santa Maria Delle Grazie church and marvel at Leonardo da Vinci's Last Supper masterpiece.
Milan Duomo + Sforza Castle: explore all the secrets hidden in the Sforza Castle of Milan, one of the symbols of the city.
Milan Duomo + La Scala Theater: visit La Scala, one of the world's most important opera houses. A must visit for any classical music fan! 
Are there any Milan Duomo guided tours? Are they worth it?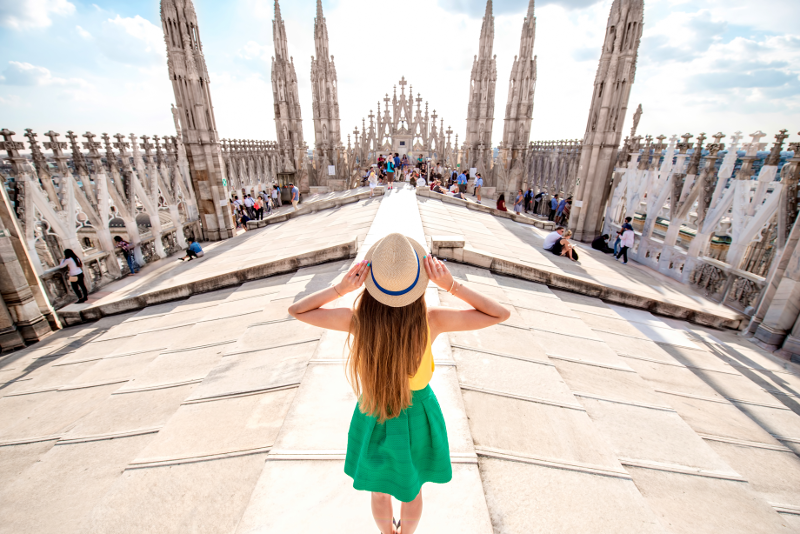 A guided tour can be a great way of making sure you get to experience all of the important areas of Milan Duomo, as well as saving valuable time by skipping the line.
Just walk straight past the crowds to go inside and enjoy the tour. Your guide will explain the history of the Duomo and answer all the questions you may have.
There are several types of guided tours: small group, private, audioguide. Pick the one that fit best your needs and enjoy the visit.
What will you see?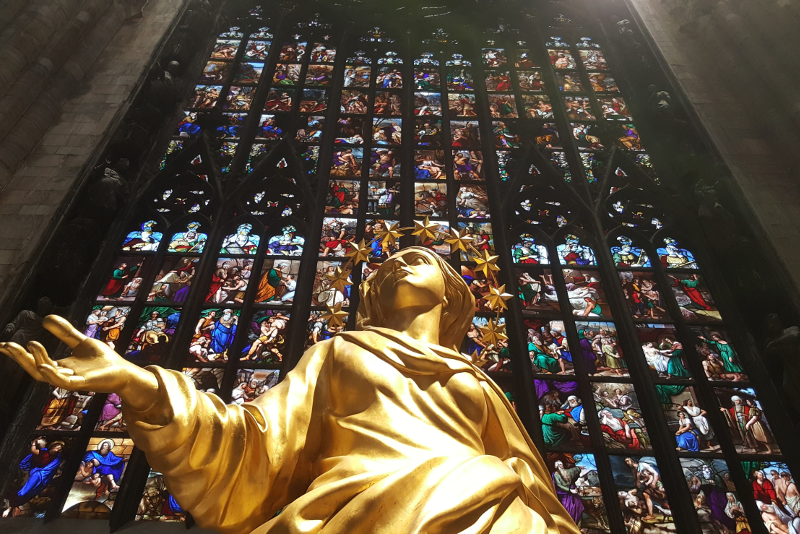 Booking Milan Duomo advance tickets gives you the experience of a lifetime, as you come face-to-face with the largest cathedral in Italy and the third-largest place of worship in Europe. It also houses a number of exquisite statues. Do not forget to take in the 3,400 statues, 135 gargoyles and 700 figures adorning the walls and corners of the Duomo.
After exploring the courtyard and the interior of the cathedral, get to the rooftop, where you'll spy Madonnina, the gold-colored statue of Mary on the highest spire, and enjoy a breathtaking view of Milan's skyline. If the weather's clear, you be able to spot the snow-capped peaks of the Alps.
One must-see attraction of the Duomo is the sundial on the floor, present near the main entrance. Astronomers from the Accademia di Brera introduced this still functional artifact into the cathedral in 1768.
The best thing about Milan Duomo is you get to see a mixture of different art and architectural styles, thanks to the prolonged building time. Though the main style is Gothic, there is an intelligent combination of Neoclassical, Neogothic and late Renaissance art forms.
What is the best time to visit the Duomo of Milan? How to avoid the crowd?
Milan Duomo is a popular attraction. Hence, it's crowded throughout the year, with serpentine queues. It's best to plan your visit on weekdays, early morning or late afternoon, when the number of visitors is less. In addition, it's advisable to skip the line by booking tickets in advance.
What are the Milan Duomo opening hours?
The opening times for Milan Duomo during winter (November to April) is 9:30 am to 4:30 pm from Monday to Friday. On Saturdays, Sundays and public holidays, the opening hours are from 9 am to 5 pm.
In summer (May-October), the cathedral remains open from 9 am to 6 pm every day.
Travel tips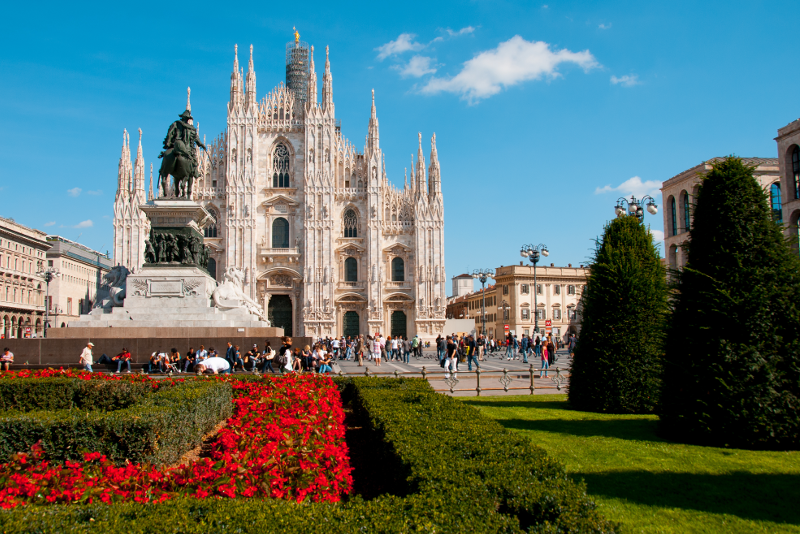 Carry a valid photo ID card and voucher.
Once you scan your ticket, it remains valid for three days.
Carry a small bottle of water and apply a generous coat of sunscreen, especially if you plan to visit the rooftop.
You cannot carry large bags, metal items, or glass objects inside the Duomo due to security restrictions.
Wear modest clothes, covering your shoulder and knees, when visiting Milan Duomo.