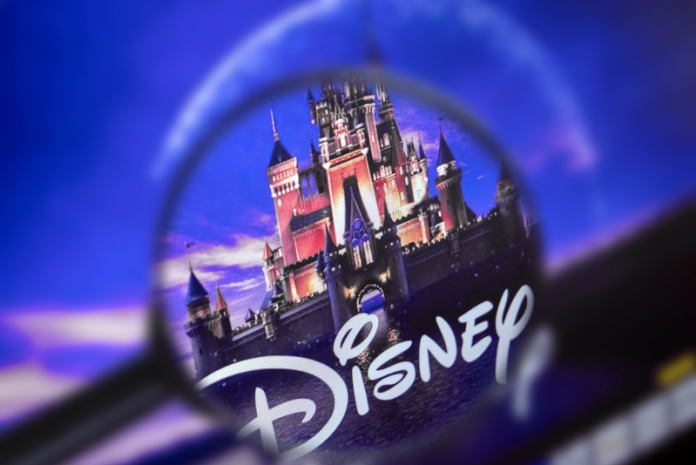 Wondering where to find cheap Disneyland Tokyo tickets online? If you want to enjoy the wonders of Disneyland Tokyo without breaking the bank, you've come to the right place. A magical place for adults and children alike, people come from all over to see Mickey and the gang. But purchasing Disneyland Tokyo tickets is often expensive.
Fear not, though. We've put this comprehensive guide together so that you can experience the magic of Disneyland without emptying your bank account. In this guide, we'll tell you:
If you can't wait to find out how much you can save, jump straight to our Disneyland Tokyo ticket comparison below:
How much do Disneyland Tokyo tickets cost?
It's good to know regular prices for Disneyland Tokyo tickets, as it will help you to better understand how much you can save with deals on tickets. There are different ticket types, including one-day passes or multiple-day passes (known as Magic Passports) and different parks (Disneyland and DisneySea).
Disneyland Tokyo ticket price depends on several factors:
1 – One or two parks – Disneyland Tokyo features two theme parks: Disneyland and DisneySea.
2 – Visit duration – Select from 1-day, 2-day, 3-day and 4-day Magic Passports. You can also choose between a 2-park Annual Pass, Disneyland Annual Pass, and DisneySea Annual Pass.
3 – Time of visit – Other ticket options include Starlight Passport (for use after 3 pm on weekends and holidays) and After 6 Passport (for use after 6 pm on weekdays).
4 – Group tickets – If there is a group of 25 or more, you can purchase discounted group tickets.
5 – Online or onsite – Disneyland Tokyo ticket prices are fixed, meaning they're the same whether you purchase on the official website or at the gate. However, some special deals may be available on the official website from time to time. Iit's also important to remember that you are likely to face lengthy queues if you are buying them at the park directly.
UPDATED 2019-20 ticket prices for Disneyland and DisneySea Tokyo
1-Day Tickets
1-day Magic Passport ticket (Tokyo Disneyland or Tokyo DisneySea): ¥7,500 (US$69) for adults; ¥6,500 (US$60) for juniors; ¥4,900 (US$45) for children; and ¥6,800 (US$63) for seniors.
1-day Starlight Passport (from 3 pm on weekends and holidays): ¥5,500 (US$50) for adults; ¥4,800 (US$45) for juniors; and ¥3,600 (US$33) for children.
After 6 Passport (from 6 pm on weekdays): ¥4,300 (US$40) for adults, juniors and children.
Multi-Day Tickets
2-day Magic Passport: ¥13,400 (US$124) for adults; ¥11,800 (US$109) for juniors; and ¥8,800 (US$81) for children.
3-day Magic Passport: ¥18,100 (US$167) for adults; ¥15,800 (US$145) for juniors; and ¥11,800 (US$109) for children.
4-day Magic Passport: ¥22,800 (US$210) for adults; ¥19,800 (US$182) for juniors; and ¥14,800 (US$136) for children.
Annual Passports
2-park Annual Passports: ¥91,000 (US$838) for adults; ¥76,000 (US$700) for seniors; and ¥57,000 (US$525) for children;
Tokyo Disneyland Annual Passport: ¥62,000 (US$571) for adults; ¥52,000 (US$479) for seniors; and ¥40,000 (US$369) for children.
Tokyo DisneySea Annual Passport: ¥62,000 (US$571) for adults; ¥52,000 (US$479) for seniors; and ¥40,000 (US$369) for children.
Adult tickets include ages 18-64; junior tickets include ages 12-17; child tickets include ages 4-11; and senior tickets include ages 65 and up. Children 3 and under are admitted for free.
Tickets cover entrance and access to all rides. However, food and beverages, transport services and items at the gift shops aren't included in the entry ticket price.
Purchasing Disneyland Tokyo tickets certainly aren't cheap. Fortunately, you can find money-saving deals when you book online with third-party tour operators. Here's how you get those deals…
How do you find cheap Disneyland Tokyo tickets?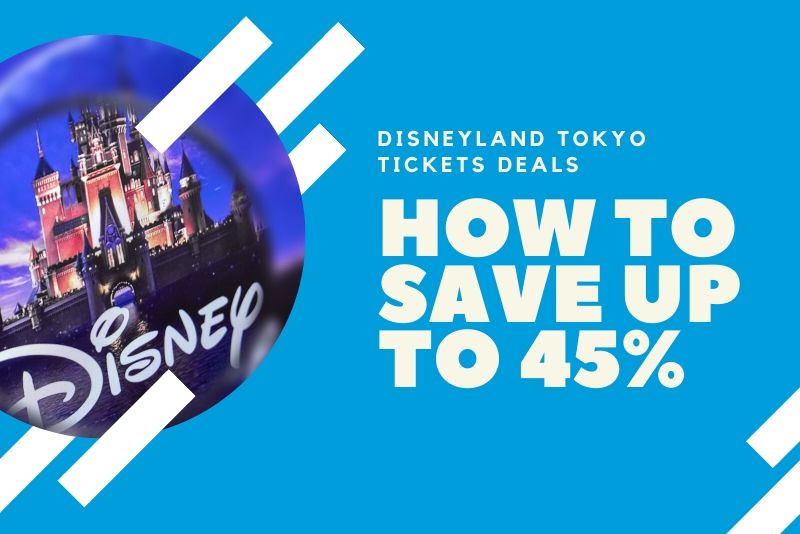 If you've gone to Google and typed "cheap Disneyland Tokyo tickets", you're likely to be overwhelmed by the sheer volume of results. Searching through the different options is like finding the perfect needle in a giant haystack and can be frustrating as your "opened-browser" tabs multiply.
There are many websites where you can buy tickets, including the official website. But do you book with Disney directly or use third-party websites like GetYourGuide, Voyagin, Klook, or Viator? Which site offer the cheapest tickets?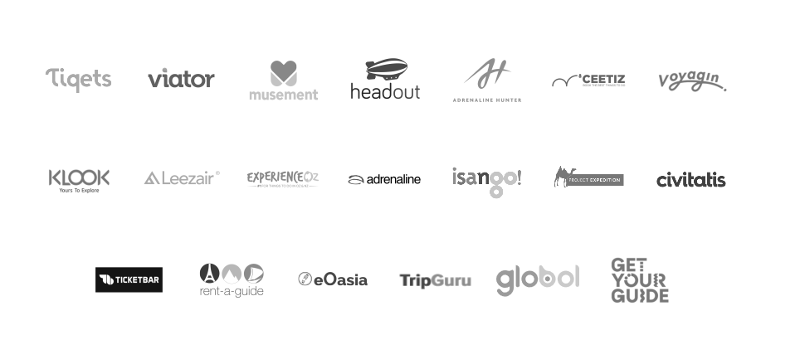 Then you have the travel blogs, which might recommend you book with a specific website. Some travel agencies also offer their version of a "best-price guarantee" if you book with them directly. There is no one website with the very best deal — different sites appeal to different people depending on the type of ticket they're after.
But how do you compare all those deals to find the ticket option that's right for you without spending hours and hours going through each website?
TourScanner complies offers for particular attractions like Disneyland Tokyo in one handy place, meaning you can check through the best offers with ease. Each month sees hundreds of new deals, with discount prices varying significantly — and TourScanner tracks them to keep you up to date.
We hope that our search engine helps you find the cheapest tickets available for your desired date. Check the latest Disneyland Tokyo tickets below:
How do you skip the lines?
Anyone who has been to a theme park (especially a Disney one) will know just how busy they can get. Much of that initial excitement disappears after realising you have to wait 45 minutes to 2 hours to get on one ride.
Skip the line at the gate
You can skip the initial gate where you purchase tickets if you buy your Disneyland Tokyo ticket online. It's best to download and print your ticket if you're booking through the official website, as the other options are in Japanese (more on that later).
Reduce attraction wait times
Disneyland Tokyo uses a system called FASTPASS, which allows you to check wait times for rides and avoid waiting in long lines. It's free and is included with your entry ticket.
Here's how to use FASTPASS:
Activate your FASTPASS – Head to the attraction's Disney FASTPASS area and scan the admission park ticket onto the reader of the FASTPASS machine.
Get your time – You will receive a paper slip with an hour window for expedited attraction boarding.
Head to attraction – Head to your attraction during the designated hour window and enjoy the ride without waiting in a lengthy queue.
Which attractions can you ride?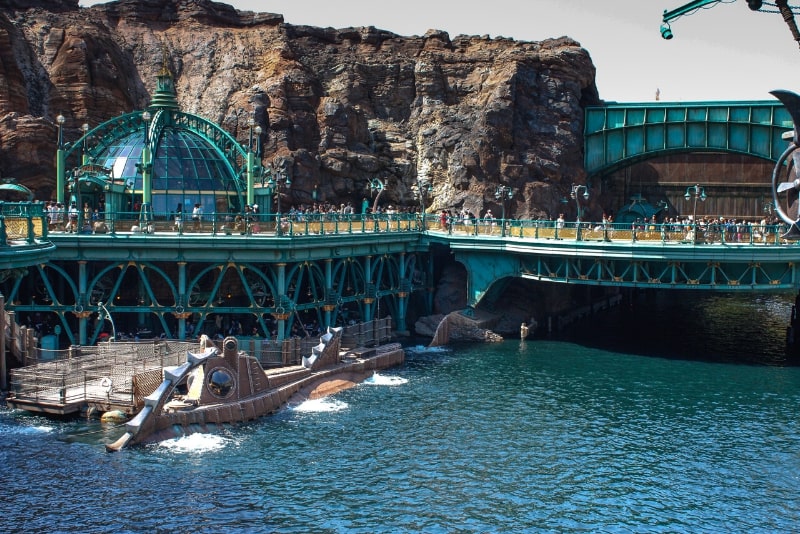 Disneyland Tokyo has many attractions and offers adults and children plenty of fun-filled adventures. Attractions include themes related to all-time great movies, such as Pirates of the Carribean, Toy Story, and Star Wars. There are 66 attractions in total at Disneyland and DisneySea Tokyo. Here are some of the best ones:
Buzz Lightyear's Astro Blazers (Disneyland)
Star Wars: The Adventure Continues (Disneyland)
Splash Mountain (Disneyland)
Space Mountain (Disneyland)
Big Thunder Mountain (Disneyland)
Haunted Mansion (Disneyland)
Nemo and Friends Searider (DisneySea)
Toy Story Mania (DisneySea)
20,000 Leagues Under the Sea (DisneySea)
Indiana Jones Adventure: Temple of the Crystal Skull (DisneySea)
When is the best time to visit Disneyland Tokyo? How can you avoid the crowds?
If something includes the word "Disney" you can be sure it's going to be popular, and Disneyland Tokyo is no exception. It's a year-round destination, with some times much busier than others. Public holidays (Christmas, Easter and Summer) are when the park is at its most active, so expect full capacity during these times. This is also when specific seasonal schedules are in effect.
Weekends are busier than weekdays, especially during the daytime. However, there are ways to visit Disneyland Tokyo during quieter moments. The After 6 Passport provides entry to the park on weekdays after 6 pm. The crowds aren't as busy during these times.
What are the Disneyland Tokyo opening hours?
Disneyland & DisneySea Tokyo are open daily from 9 am until 10 pm all year long.
How to get to Disneyland from Tokyo centre?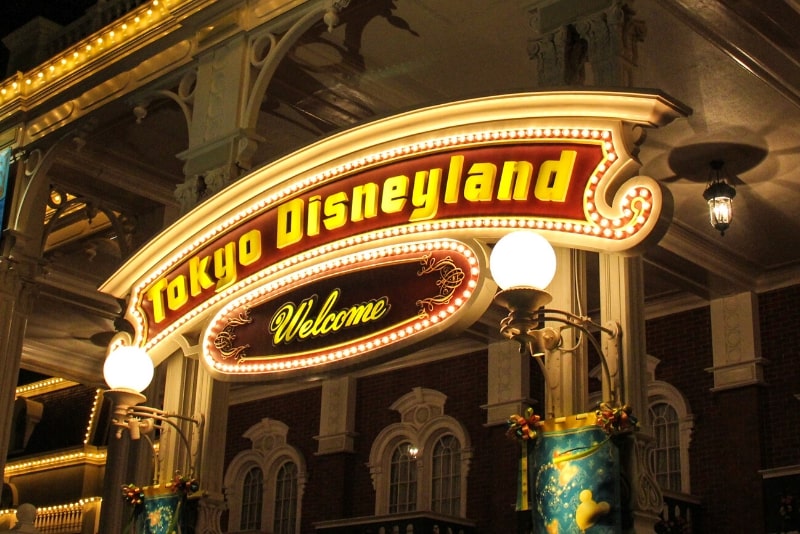 Disneyland Tokyo is located around 16km (10 miles) from Tokyo City.
By car: Follow the coast of the bay going to Chiba using the Wangan Expressway.
By train: Get off at Maihama Station on the JR (Japan Railway) Keiyo Line / Musashino Line. Maihama Station is about 15 minutes from Tokyo City.
By Bus: There are various shuttle buses available from Tokyo City, including the Express Bus from Shinjuku Station.
Travel  tips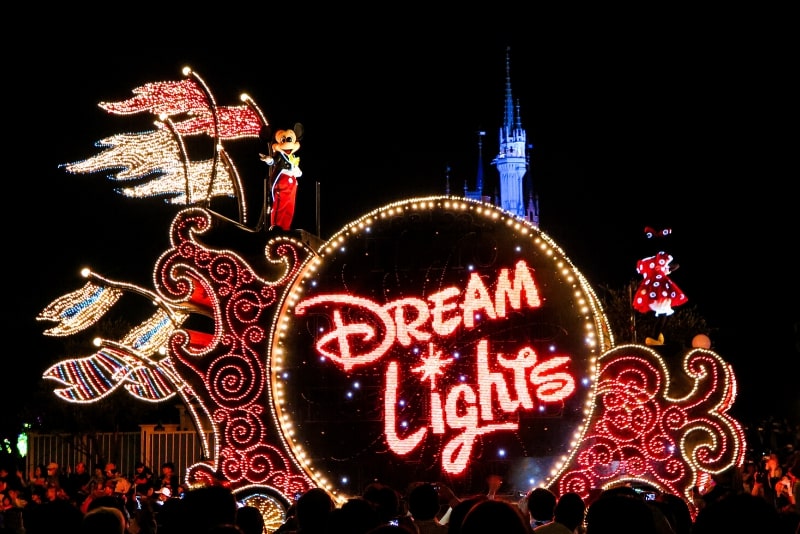 Scan your entry ticket at FASTPASS booths to get wait times for attractions and hour windows where you don't need to queue.
Multiple-day passes typically include entry to Disneyland and DisneySea Tokyo. Check the ticket type for specific entry days to each park.
Decide well in advance (around 1 month) when you want to visit, just in case you can take advantage of seasonal attractions.
Book restaurants in advance if you want to avoid them being at full capacity.
Use the Guide Map (on offer in the park) to get the most out of your visit.