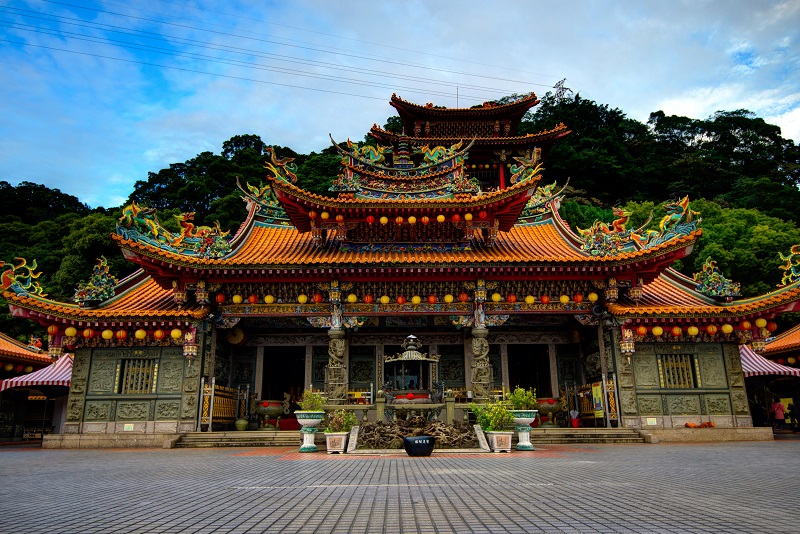 Want to venture out of Taipei for a day? Need a break and you want to get away from the buzzing sound of a busy city? We have curated the best day trips from Taipei – a list of awesome places to visit. From stunning temples to amazing seaside towns, pick you next favorite destination.
1. Pingxi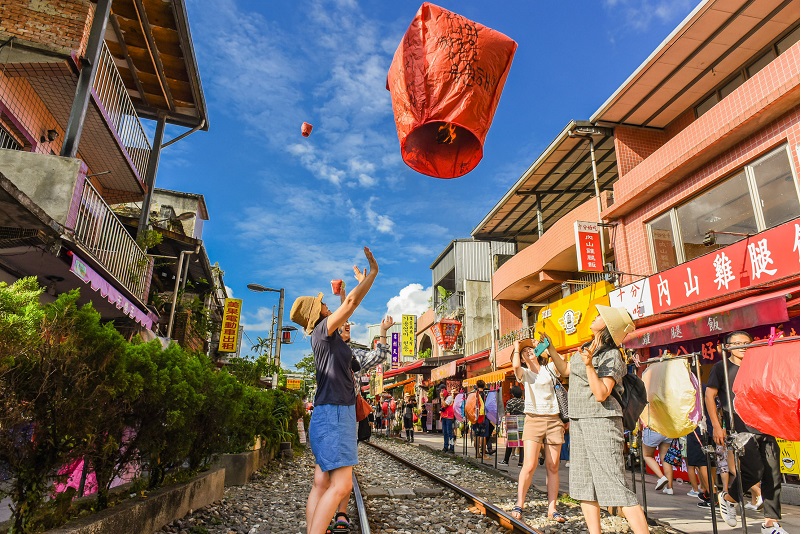 Pingxi is a rural district in the New Taipei Municipality which surrounds Taipei. Located just 29 kilometers east of the capital, Pingxi is a quick and easy day trip from Taipei's city center! Nowadays known for its yearly Sky Lantern Festival, its old mining days are now far behind.
As said before, if lucky enough to be in Pingxi during the first full moon of the Chinese Lunar New Year, experience the magical Sky Lantern Festival! Indeed, during this yearly celebration, hundreds of thousands of colorful lanterns are launched into the sky. Originally a military tactic in the 3rd century, it's now a symbol of joy and togetherness. 
Then visit the Jington Mining Industry Museum to discover more about the district's mining days. Back in the days, the museum used to be the employee's dormitory. Now, it hosts exhibitions and key objects from the district's industrial era.
Car: 30 minutes
Train (801): 2 hours and 38 minutes 
Bus (795): 1 hour and 51 minutes
2. Jiufen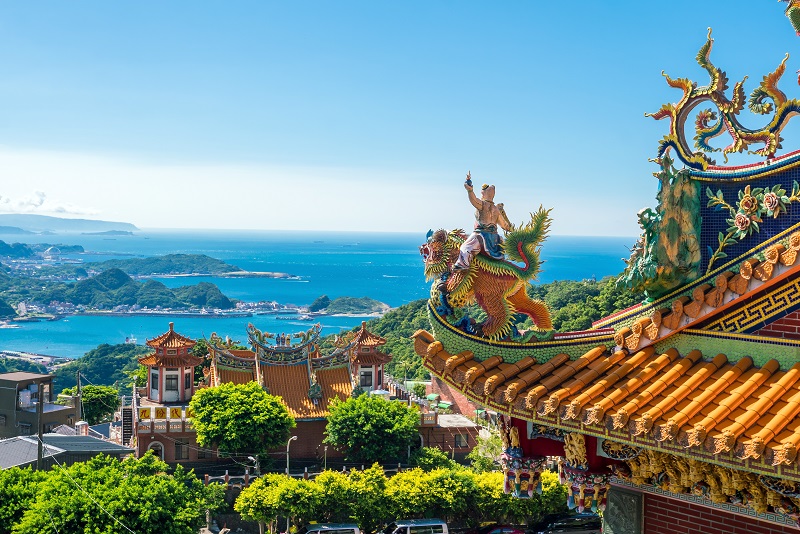 Jiufen is a mountain area in New Taipei City's Ruifang District. The area used to be a gold mining area. Located 509km south of the capital, it's one of those beautiful day trips from Taipei to discover another city!
The first thing to do in Jiufen is, of course, wander through its street markets and get a taste of its famous Taro meatballs! Nowadays known all over the country, they formerly come from Jiufen and as such, the best ones can be found there.
Also, visit the Kite Museum to see precisely why the city inspired Miyazaki for the iconic Spirited Away Movie. Finally, also visit the Gold Museum to learn more about the city's history, from the Japanese colonization to the discovery of gold mines.
Car: 31 minutes
Train (line 801): 1 hour and 20 minutes 
Bus (line 1062): 1 hour and 26 minutes 
3. Taroko Gorge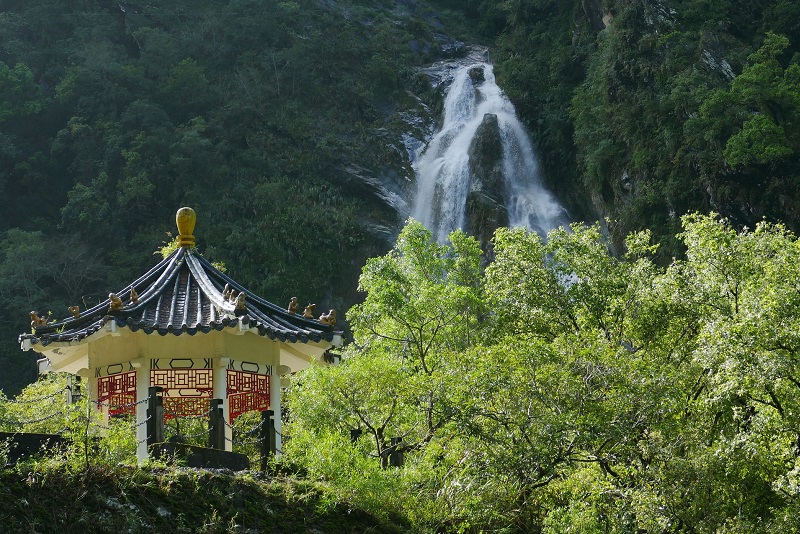 Taroko Gorge is one of Taiwan's nine national parks. It spans the municipality of Taichung as well as both Nantou and Hualien county. Located 154 kilometers southeast of Taipei, Taroko Gorge is one of those cool day trips from Taipei for nature lovers! 
There are many things to see in this impressive 19 kilometers long canyon. The park is mainly formed by metamorphic rocks (marble, gneiss, schists, etc…) and has remarkable relief, which makes it perfect for hiking and river tracing! With its peak being Located 3400 meters over sea level, the view should be stunning!
The Taroko Gorge also has over 200 butterfly species, 140 bird species, 30 mammal and reptile species as well as 15 fish species. Additionally, the climate is subtropical, which means that it can rain a lot. Dress accordingly and beware of land and rockslides, which can seriously be harmful. 
One of the park's most famous sighting is the picturesque Eternal Spring Shine Memorial. It commemorates the death of the 212 veterans who died between 1956 and 1960 while constructing the area's highway. Also, get to the Swallow Grotto, which offers a beautiful view of the river below. Finally, don't miss the famous Jhuilu Old Trail. Only 35 inches wide in places, it's advised to hike it with the help of a tour operator.
Car: 3 hours and 37 minutes
Train (to Zuoying then Caoya Station): 2 hours and 35 minutes 
4. Yehliu Geopark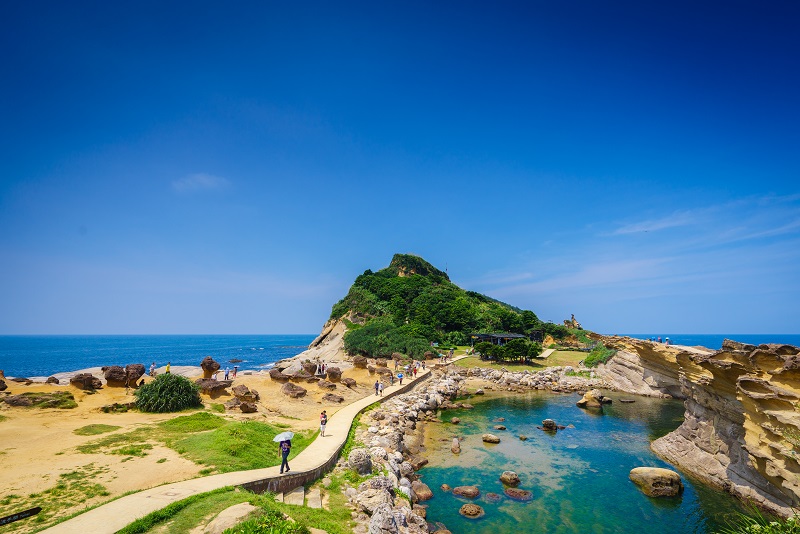 Yehliu is a geopark in New Taipei City's Wanli District. The name translates to "wild willow". Known for its curious figures shaped by erosion, Yehliu is one of those intriguing day trips from Taipei. It's located just 37 kilometers north of the capital.
The cape stretches along 1.7 kilometers and it was formed by thousand years of geological activity. There is plenty to see at the geopark! From the Queen's Head but also the Princess Head to the Sea Candles, Fairy Shoe, Ginger Rocks, etc. nothing looks like there, and those weird rocks are sure to be diverting! It's a must-see!
Car: 30 minutes
Bus (1815 line): 1 hour and 26 minutes
5. Taichung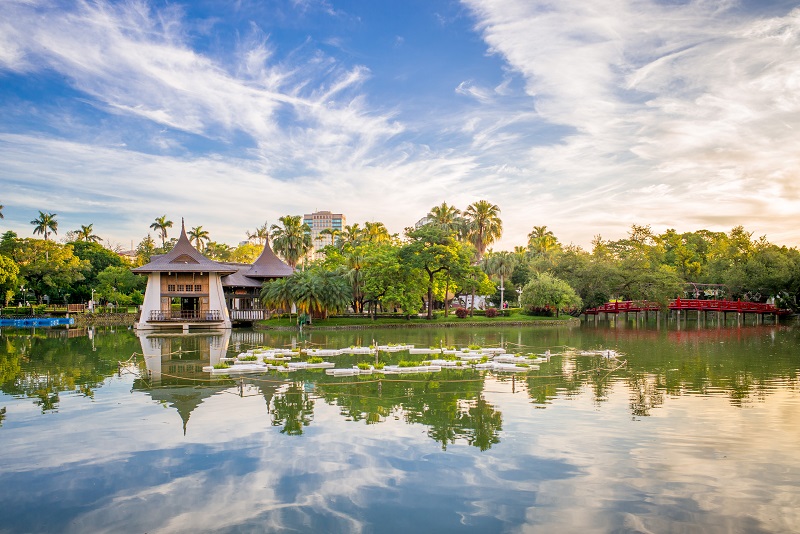 Taichung is a municipality in Central Taiwan. It's the island's third-largest city right after Taipei and Kaohsiung. Located 168 kilometers southwest of Taiwan, Taichung can be a nice change of air and interesting day trip from Taipei.
Start your journey there by strolling down Taichung city streets. Just like in the rest of Taiwan, enjoy delicious street food there! Also, find gems of souvenirs in enchanting night markets. 
Then, stop by the magnificent Taichung Park. There, relax by the shade and admire the beautiful fauna and flora. Then head to the intriguing Rainbow Village where colourful artworks by former soldier Huang Yung-Fu are displayed on deserted houses. 
Finally, why not visit the world-renown National Museum of Natural Science? What makes it unique is that it fits seven different museums into one. Very well put, this museum has several sections for all different areas of science. Exhibitions, experiments, gardens, … it's the perfect recreational day-trip from Taipei for children! 
Car: 1 hour and 43 minutes
Train (via Xinwuri): 1 hour and 33 minutes
Bus (via Taiwan Business Bank): 2 hours and 43 minutes 
6. Tamsui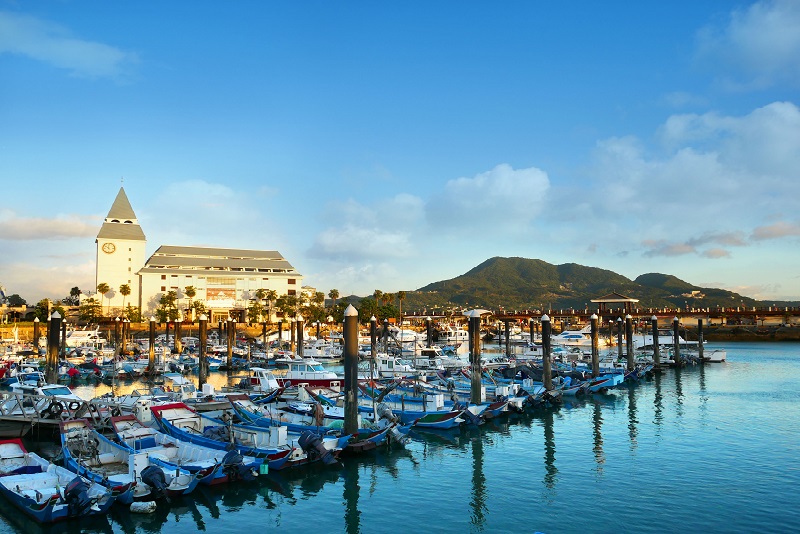 Tamsui is a seaside district in New Taipei City. Named after the river of the same name, it means "freshwater". It's both known for its beautiful sunsets and Native Taiwanese culture. Located just 25 kilometers away from the capital, it's an easy day trip from Taipei.
Head to its famous riverside! Sit down by the river and enjoy the food at one of its seafood restaurants. Also, go for a cruise if the weather allows it. On the same page, it's also possible to visit the Fisherman's Wharf to stroll and get a taste of local culture.
Car: 23 minutes 
Metro: 39 minutes 
7. Houtong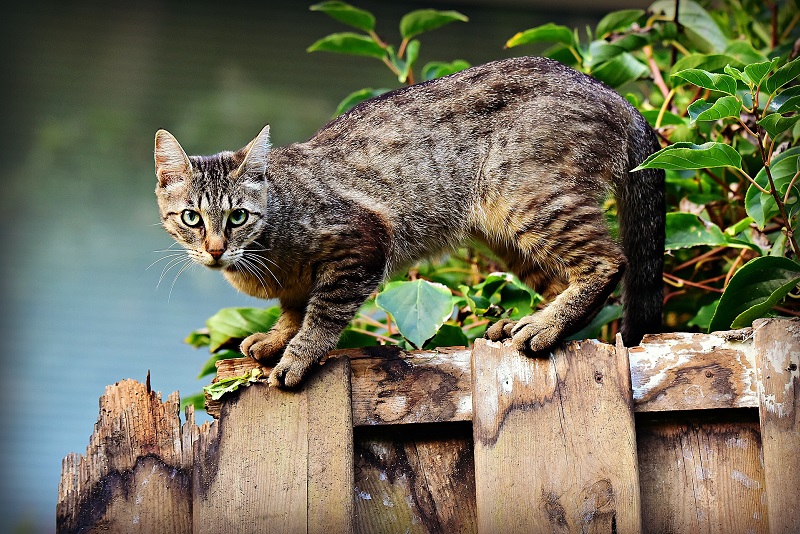 Houtong is a village in the Ruifang District of New Taipei Municipality. Located just 39 kilometers east of Taipei's city center, Houtong is known for being the famous cat village! 
Before being Taiwan's top destination for cat lovers, Houtong used to be a coal-mining city. After the industry declined in the 90s, the population mostly emigrated elsewhere, prompting stray cats to take over the village!
It was in 2008 when locals organized themselves to offer cats a better life that the city became a tourist attraction. Aside from petting and feeding cute cats, the city nowadays is filled with restaurants, cafés and other places to chill and enjoy the city's strange vibe. Houtong also is Keelung's river starting point admiring large bodies of water is your thing!
Car: 32 minutes
Train (801 line): 1 hour and 3 minutes
Bus (1062 line): 1 hour and 44 minutes
8. Wulai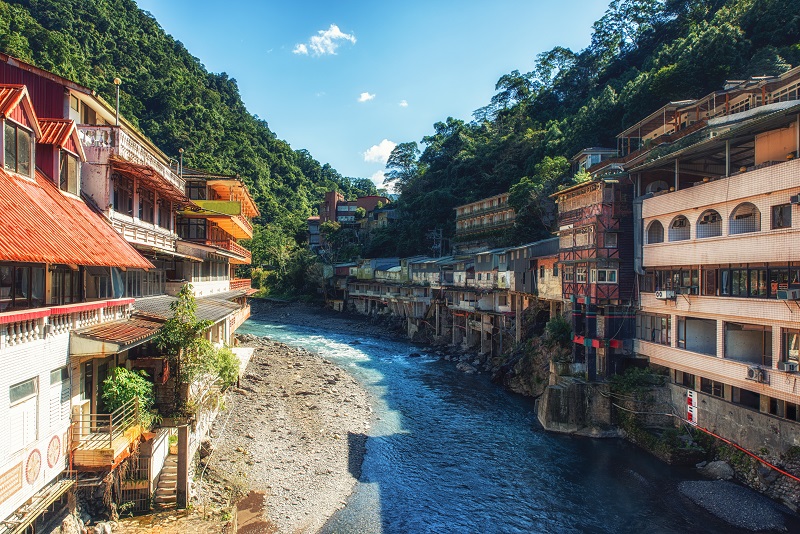 Wulai is a small town in New Taipei City. It's known for its relaxing hot springs and also its Aboriginal culture. It's a highly popular destination for both locals and tourists as the scenery is dream-like. Located just 25 kilometers south of the capital, it's one of that easy day trips from Taipei for those looking to chill.
Well, Wulai is the place to be if looking for bathing! It has numerous hot springs all surrounded by beautiful scenery that'll leave anyone thinking they're in a fairytale. Indeed, most of the hotels are located by the water. It's like Venice, but more relaxing!
Don't forget to taste local food as it's so unique. Try the seasoned rice steamed in bamboo, its wild boar or even its sticky rice candy!
Car: 26 minutes
Bus (849 line): 1 hour and 26 minutes
9. Miaoli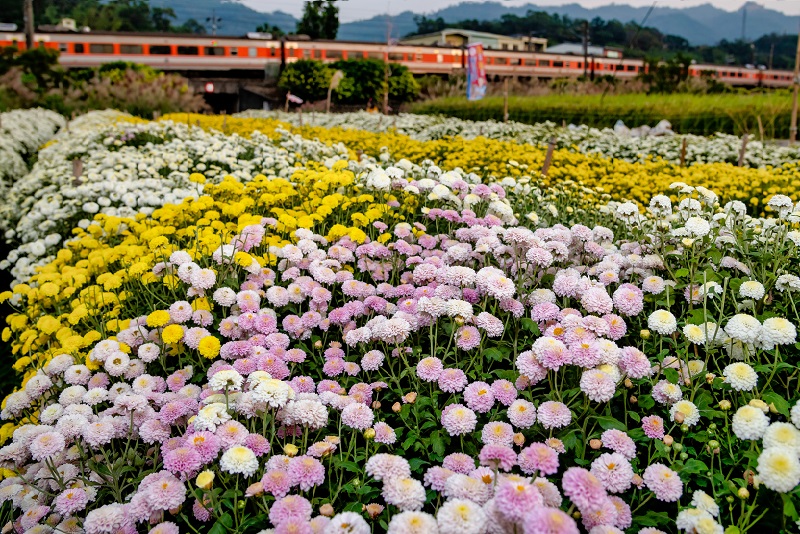 Miaoli is a city in Miaoli County. It's known for having a relatively high percentage of Hakka people, China's leading ethnic group. Located 120 kilometers southeast of the capital, Miaoli makes one of those exciting day trips from Taipei to discover one of the island's many cultures.
Start your journey at the Miaoli Hakka Culture Park. There, learn these people's rich history. Indeed, they're descendants of the royal Han dynasty. Get to know their history, customs, food and traditional costumes. 
Then, let yourself be guided by the smell of flowers and head to the Zhong She Guanguang Flower Market! Indeed, the flowers bloom all year round in Miaoli, and a wide array of flower types are displayed! 
Finally, animal lovers can also visit the Flying Cow Ranch. Feed lambs, cows and other ducks! Learn how to make yoghurt and ice cream! Visit the butterfly garden! It's a beautiful activity for children to get closer with nature and know exactly how food ends up on their plate.
Train: 47 minutes
Car: 1 hour and 12 minutes
Bus: 2 hours
10. Keelung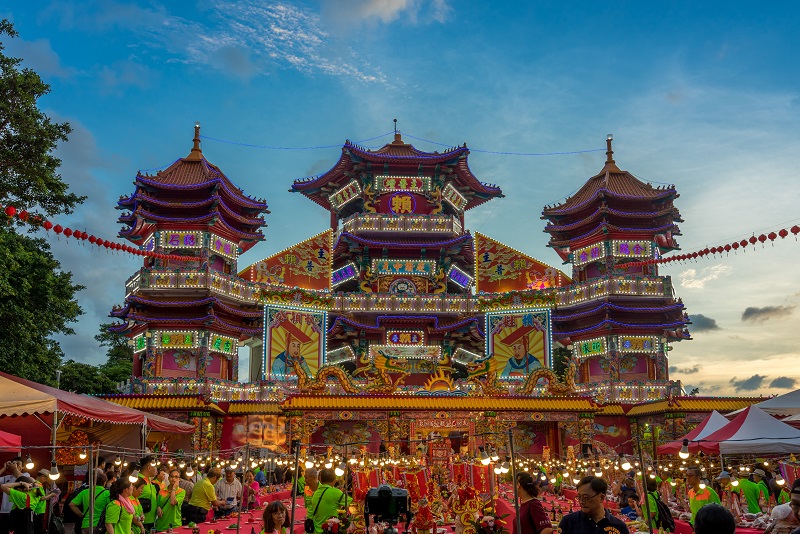 Keelung is a port city which borders the New Taipei City municipality. It's mainly known for being Taiwan's second-largest seaport after Kaohsiung. Located 25km southeast of the capital, Keelung is one of those quiet day trip from Taipei as the city isn't much popular for tourists at all!
Start your visit by heading to the marvellous Zhuputan Temple! There's a folk costume museum inside that can be visited to learn more about local culture. If the adventurous kind, also visit the Tsu-song Old Mansion which is an impressive abandoned house surrounded by nature. Then, of course, pass by its night market. More focused on seafood, you'll be able to grab a bite to finish your day!
Car: 19 minutes 
Train (801 line): 41 minutes 
Bus (1802 line): 34 minutes
11. Fulong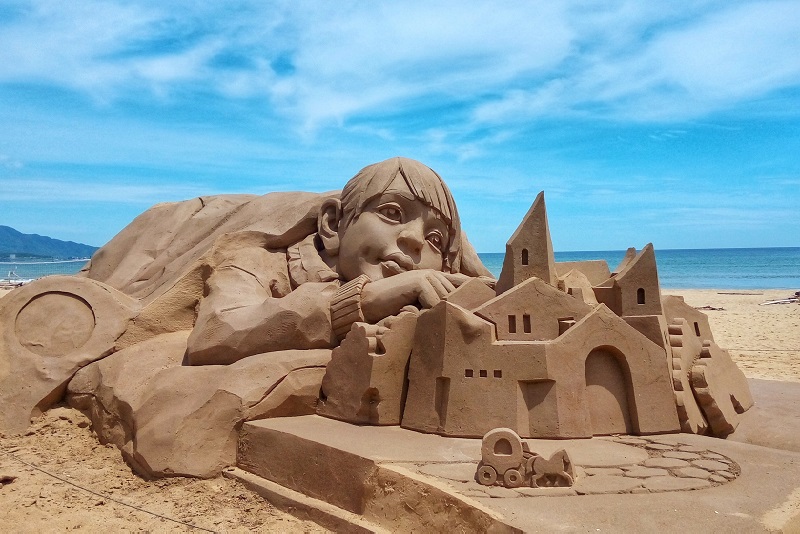 Fulong is a town in the rural Gongliao District of the New Taipei Municipality. The city is most known for its beach, which is the ideal place to surf. Located 12km north of the capital's city center, it's one of those short yet beautiful day trips from Taipei.
Tourists coming to Fulong mainly take it as an opportunity to chill at Fulong Beach. If an adrenaline junkie, surf or rent a boat! The sand can be pretty hot during the summer season so bring a pair of shoes and an umbrella. Don't worry: it's possible to rent one and the prices there are meager! Also, the beach is famous for its impressive and beautiful sand statues. 
If tired of sunbathing after a few hours, head to Ling Jiou San! It's a massive Buddhist monastery whose beauty will leave anyone absolutely speechless. It's built right above Fulong's cliffs so it's unmissable!
Car: 49 minutes
Train: 1 hour and 36 minutes
Bus: 1 hour and 58 minutes
12. Kaohsiung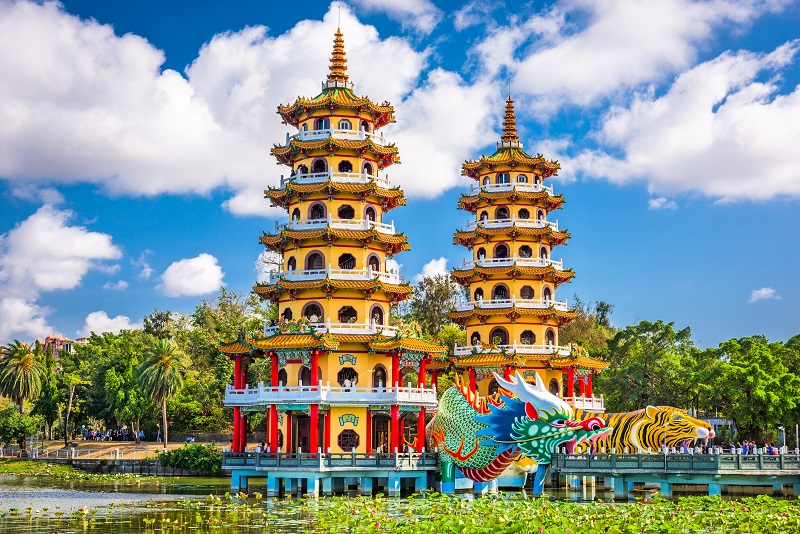 Kaohsiung is a coastal municipality located south of Taiwan. It's known as Taiwan's largest seaport! Along with the capital and Taichung, Kaohsiung is one of Taiwan's largest metropolis except it's more laid-back. Located 352km south of the capital, Kaohsiung can be an exciting day trip from Taipei.
There are many things to do in Kaohsiung. Try your luck at the Dragon and Tiger Pagodas which are two unusual temples: enter them through a dragon and tiger's mouth. Then make a stop at the Dome of Light, the whole world's most extensive work of glass art. Finally, rent bikes and visit Cijin Island, which is known for its black sand beach and also the best seafood in all of the municipality!
Car: 3 hours and 36 minutes
Train (via Guiren): 2 hours and 31 minutes  
Bus: 5 hours and 10 minutes 
13. Qingjing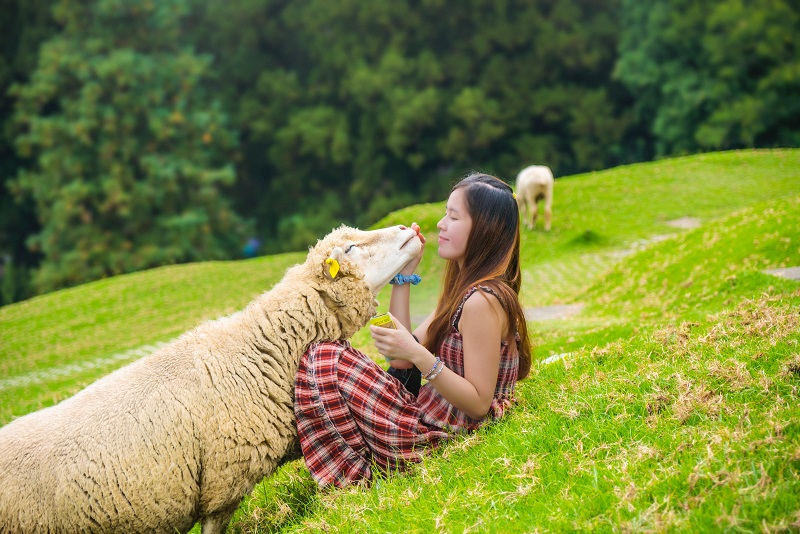 Qingjing is a farm in Nantou County's Ren'ai Township. The farm prides itself on being a dreamy get-away from the urban buzzing atmosphere. Located 268 kilometers south of the capital, Qingjing is one of those ideal day trips from Taipei to relax and enjoy what nature has to offer.
There are many things to do in Qingjing farm besides interacting with animals. Of course, don't miss out on petting and feeding farm animals, attending a sheep-shearing or horse-riding show!
However, the placement on the farm (which is located on a mountain) makes for beautiful scenery. Visit the Small Swiss Garden which is especially breath-taking at dawn when the mountain's misty clouds come down and the fountains lit up as the suns finally sets. Also, hike down the eight themed trails among which the beautiful Sakura and Tea Garden Trail.
Car: 3 hours and 30 minutes
Direct bus ride (available in touristic agencies): about 4 hours and 45 minutes
14. Ping-Lin Tea Industry Museum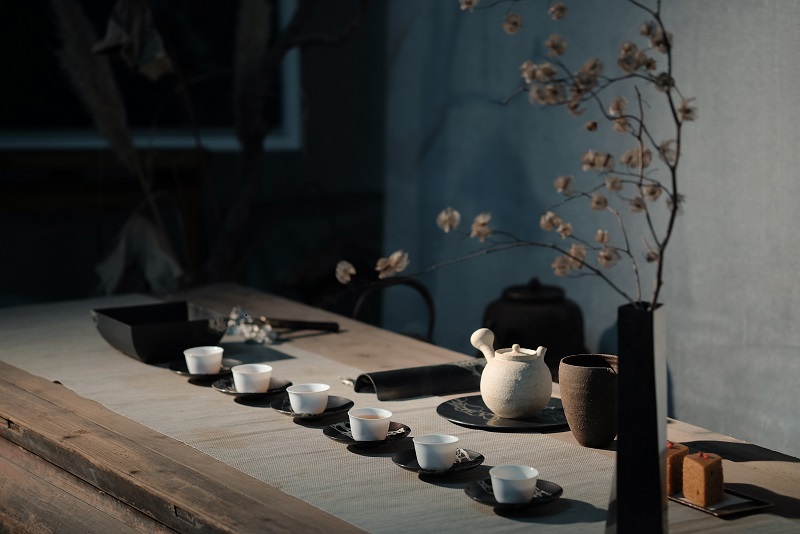 Ping-Lin Tea Museum is a museum in New Taipei City's Ping-Lin district. It's one of the world's largest tea museum. Indeed, the city of Ping-Lin is known worldwide for being one of the two producers of the delicious Pouchong tea. Located just 36 kilometers south of the capital's city center, Ping-Lin Tea Museum is one of those perfect day trips from Taipei for tea aficionados!
Several exhibitions areas are showcasing the history of tea and its consumption in Taiwan. Enriching information about tea allows understanding East Asia's culture and customs better. See a collection of objects related to tea and tea-making in the city of Ping-Lin. Additionally, there are seasonal exhibitions.
Car: 27 minutes
Metro (to Muzha) + Bus (to Shihting) + Taxi: 1 hour 
15. Yangmingshan National Park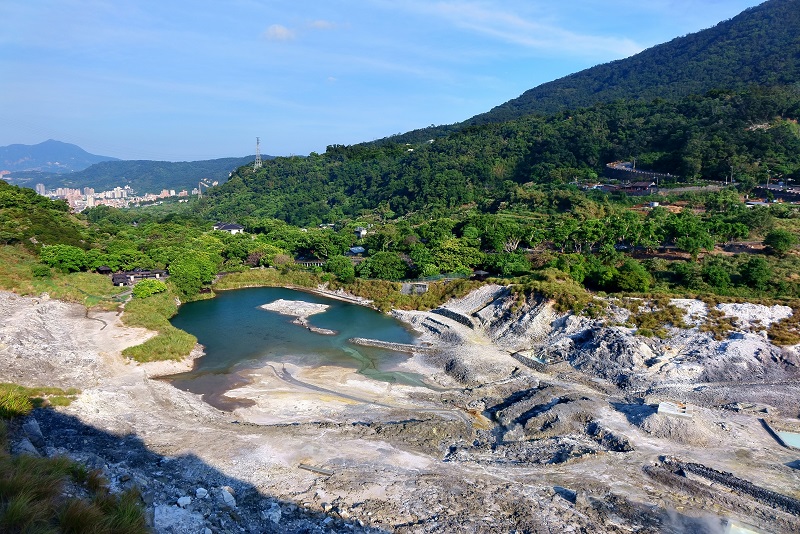 The Yangmingshan National Park is one of Taiwan's nine national parks. Located right between the capital and the New Taipei municipality, the national park is one of those easy yet exciting day trips from Taipei.
There is plenty to see and do in the Yangmingshan National Park. Indeed, the park is renown for its beautiful cherry blossoms, relaxing hot springs, impressive sulfur blocks and fumarole, and, most importantly, the gigantic Seven Star Mountain! It's only Taiwan's tallest dormant volcano at 3,675 feet tall and it began erupting a mere 700,000 years ago!
Car: 23 minutes
Bus (S15 line): 40 minutes
16. Sun Moon Lake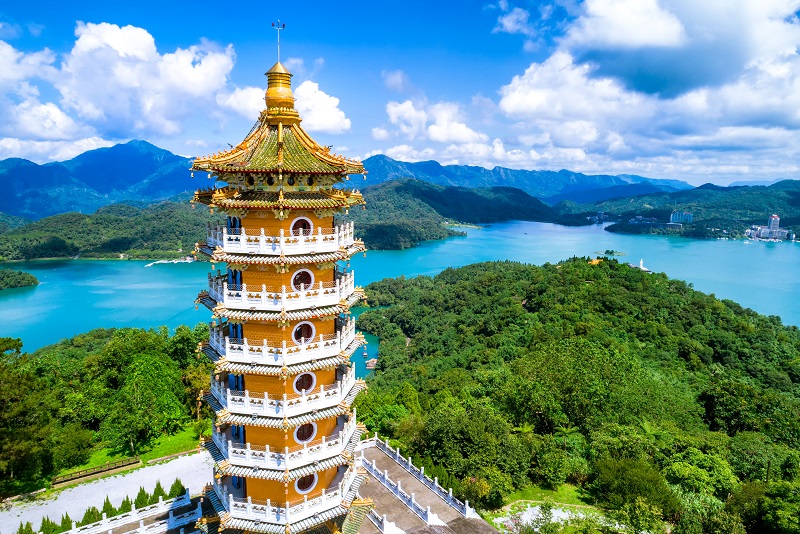 Sun Moon Lake is a lake located in Nantou County's Yuchi Township. It's Taiwan's largest body of water. Its name derives from its shape; indeed while the east side looks like a sun, the west side resembles a moon. Located 261km south of Taipei, Sun Moon Lake is one of those refreshing day trips from Taipei.
To make the most of your time at Sun Moon Lake, book accommodation there. Indeed, bathing at the lake is forbidden. It's mainly enjoyed as a place to unwind, gather your thoughts and reflect in a friendly and calm atmosphere. Take in the stunning scenery of the lake! If one of those spiritual people, then you're most likely to fall in love with Sun Moon Lake.
Car: 2 hours and 35 minutes 
Train (to Taichung) + Bus: 3 hours and 20 minutes
Bus: 4 hours
17. Yilan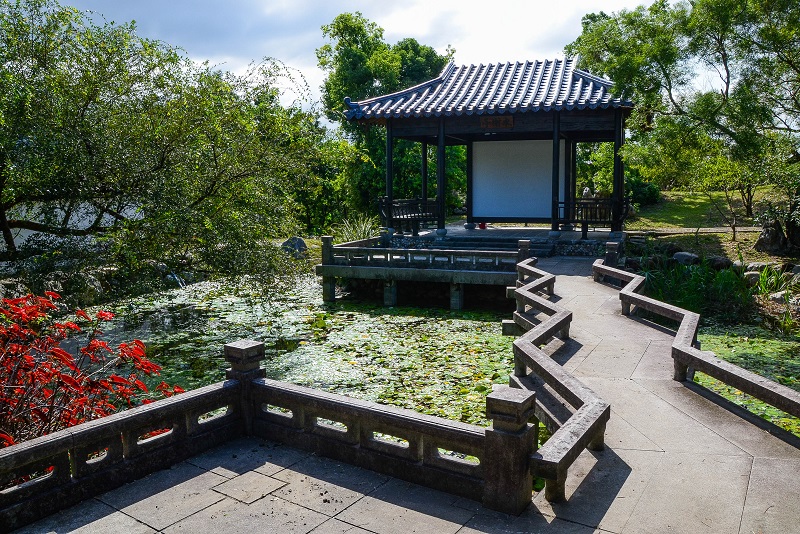 Yilan is a county in northeastern of Taiwan. It's known for being home to several wonders of Mother Nature. Yilan is perfect for people who like beautiful sceneries and therapeutical get-aways. Located just 52km southeast of Taipei, it's one of those ideal day trips from Taipei to just relax!
Start with the Dongshan River Water Park! Ideal for children, it has several areas: The Ecological Conservation one, the Water Activities one, the Leisure Activities one, a Water Bus as well as an Outdoor Theater. Or head to the picturesque Jimmy Square where picture book's characters leave their paper pages to mingle with us, humans!
If in dire need of a therapeutic moment, then why not try the Su'ao Cold Spring? It's the only calcium bicarbonate in the whole of Taiwan! It's the perfect place to cool down when it gets too hot and the water is believed to have benefits for joints and muscles.
If not a fan of cold springs, also try the hot version! Head to Jiaoxi Hot Spring whose warm spring pool will put anyone into a dreamy haze. Jiaoxi's story is also pretty cool! The reason why the water is so hot is that ten thousand years ago, a volcano erupted, and magma stayed underground. When in contact with water, the latter instantly heats up!
Car: 46 minutes
Bus: 1 hour and 10 minutes 
Train: 2 hours and 21 minutes 
18. Yingge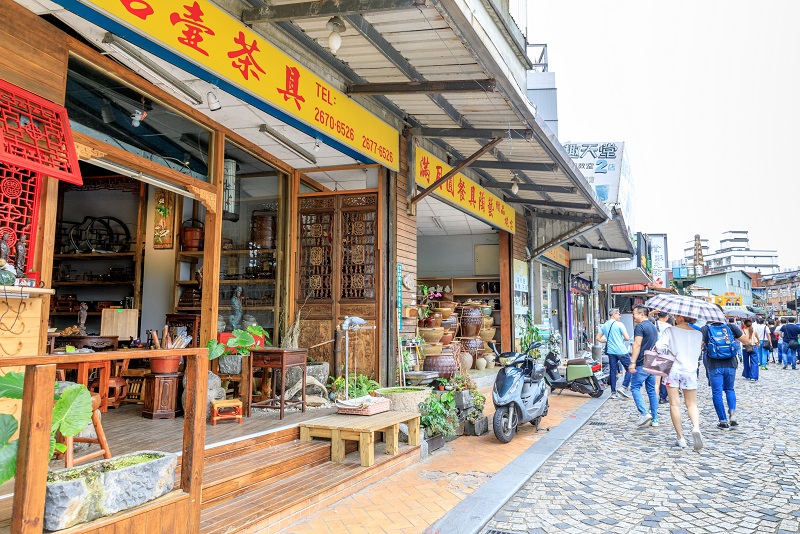 Yingge is an urban district in New Taipei City. Located just 27km northeast of Taipei, right on the Dahan River, it's one of those short yet interesting day trips from Taipei. Indeed, the district is most famous for its porcelain production.
Of course, you can't go to Yingge without passing by its famed Ceramics Museum. Indeed, the area is renown all over Taiwan for producing the finest ceramics ever since high-quality clay deposits have been found in the early 19th century. Don't forget to stroll down Old Street to find and buy the best pottery! That could become the most prized souvenir from your Taiwanese trip!
Car: 23 minutes
Train (801 line): 28 minutes
Bus (9102 line): 26 minutes
19. Hualien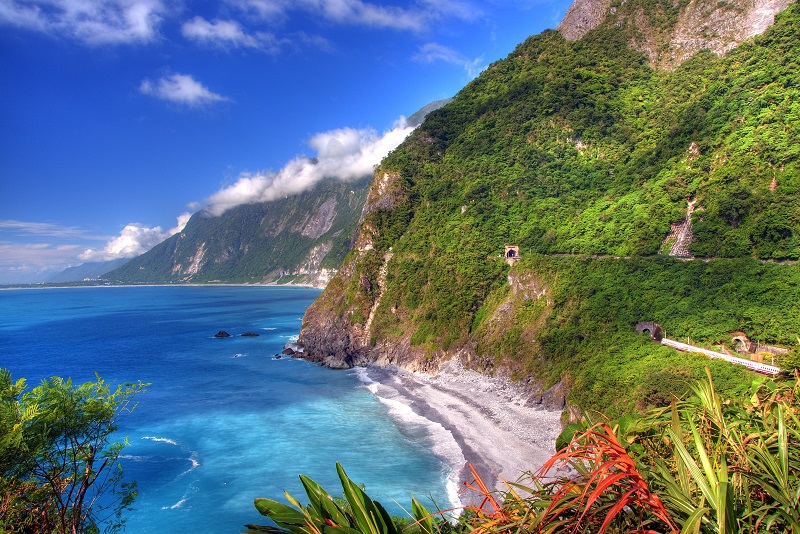 Hualien is a county on Taiwan's east coast. It's known for being surrounded by nature. It's also viewed as one of Taiwan's most precious jewel as it's located right between mountains and the Pacific Ocean. Located 162km southeast of the capital, Hualien is one of those day trips from Taipei for the adventurous kind.
We've already mentioned the fantastic Taroko Gorge which partly spans Hualien. The county has even more to offer! Indeed, start your trip with Qing Shui Cliffs which are located along a beautiful beach. It's prohibited to swim there, but the sight alone suffices. Indeed, the water changes color: from navy blue to emerald to blue lagoon. 
Then head to Mukumugi Valley, one of nature's best-kept secret. The valley is so precious that only 600 visitors are allowed daily. Swim in its crystal clear water and enjoy the culture of the aboriginals inhabiting the area by, for instance, tasting their food.
Finally, visit the Farglory Ocean Park, which mainly focuses on marine biology. With exhibitions as well as experiments that can be performed, it's the best way to have fun while learning!
Car: 2 hours and 47 minutes 
Train: 2 hours and 12 minutes
20. Alishan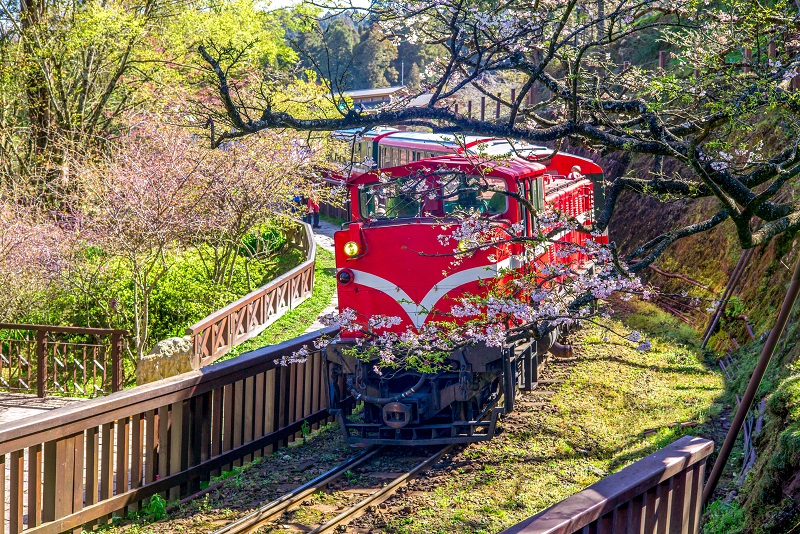 Alishan is a mountain township in Chiayi County. Most of the area is covered by the Alishan National Scenic Area which is considered one of Taiwan's biggest attraction. Located 327km south of the capital, Alishan is one of those lengthy yet fulfilling day trips from Taipei.
Head to Alishan's top attraction Jhushan. It's a train from the town's station that leads to the peak on Alishan's east side. There, see a stunning sunrise over Yushan. There's a platform nearby if not the athletic type, but it's also possible to hike to the peak.
Then go to the Giant Trees Trail near Shermuh station. It's always super pleasant to stroll down a forest and enjoy what nature has to offer the best, which is its stunning scenery. This one is particularly nice because millennium giant cypresses trees surround the area.
Finally, if in need of thrills, then maybe quench your adrenaline thirst with the Greater Tashan Trail. Its highest peak is at 2663 meters tall so bring comfortable hiking shoes. The area isn't too touristy, so it's the perfect spot for people who don't like crowds!
Car: 4 hours
Train (to Chiayi) + Bus: 5 hours
Bus: 7 hours and 10 minutes
21. Thousand Island Lake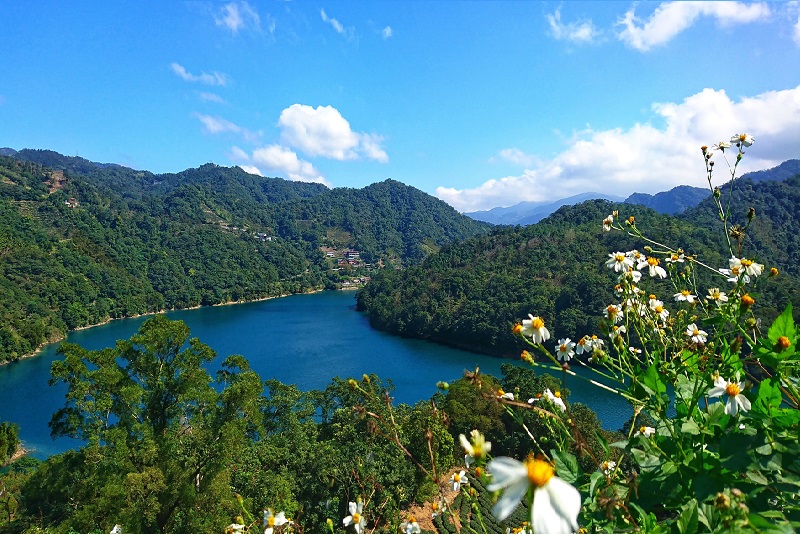 Thousand Island Lake is located in New Taipei City's Shiding district. It's derived from Mainland China's Qiando lake. The fact that it's situated right in the middle of the area gives the impression that thousands of islands are scattered. Located 24km northeastern of Taipei, it's one of those short and relaxing day trips from Taipei.
The lake is a hidden secret for tourists and locals alike. Indeed, lodged on mountains, it's the perfect get-away from the crowded (and frankly polluted) streets of the capital. Because tea hills surround the area, enjoy a nice cuppa under the shade an umbrella (it gets hot in the summer!) and even learn how to make it.
Car: 37 minutes
22. Puli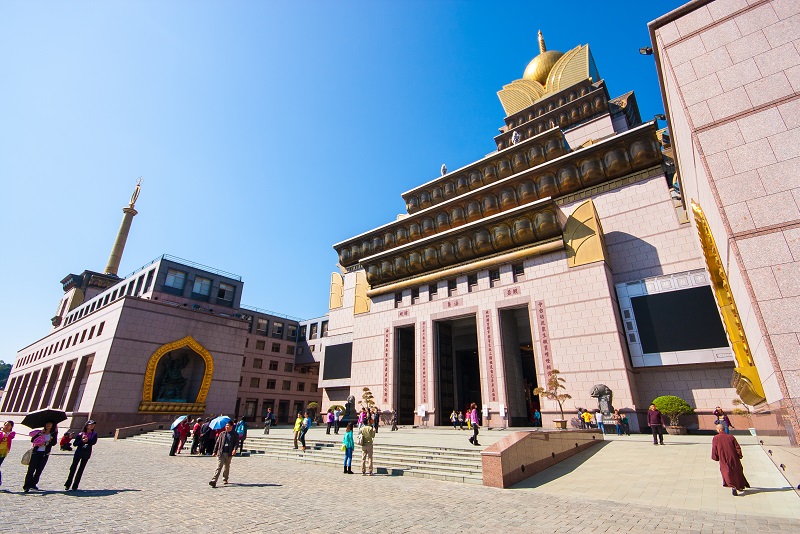 Puli is an urban township in Nantou County. It's known for its good weather, excellent wine and clean waters. Located 236km south of the capital, Puli is one of those strategic day trips from Taipei as it's located near many other landmarks.
There are several things to do in Puli itself, though. Start, for instance, with the Chung-tai Shan Monastery. To make it short: it's the tallest Buddhist monastery in the whole world with 33 stories. See it for yourself in order to fully take in how massive it is.
Also, visit the New Era Sculpture Park with its quite peculiar status. If an art aficionado, then definitely should check out this spot. The statues were created by local artists and the area act as a spa and hotel as well.
Finally, for another weird yet exciting experience, head to the Paper Dome. It's a church building that was entirely built using paper tubes as its foundation. There's a giant frog sculpture nearby which should appeal to children. Overall, the atmosphere is slightly surreal and should make for a great afternoon activity.
Car: 2 hours and 22 minutes
Train (to Taichung) + Bus: 2 hours and 47 minutes
Bus: 4 hours
23. Taitung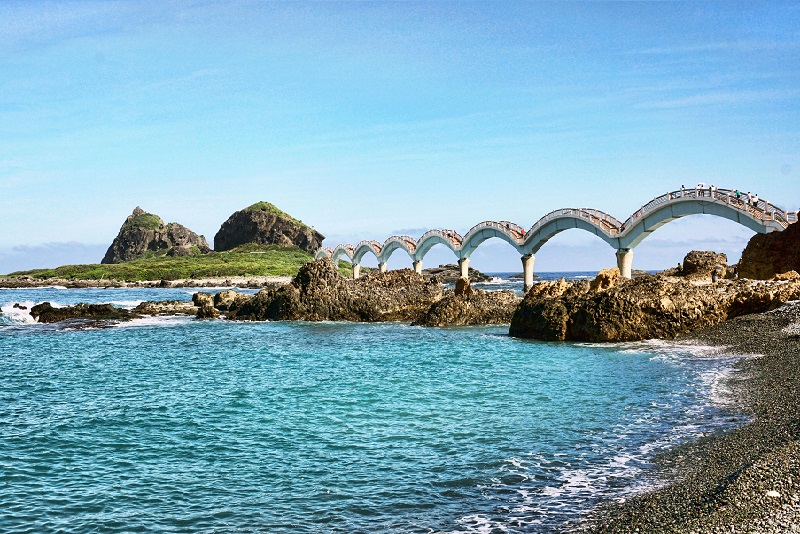 Taitung is a city in Taitung County. It's a rural strip along Taiwan's west coast. Located 331 kilometers southeast of the capital, it's one of those ideal day trips from Taipei if you're mainly looking for informal leisure activities.
There are many things to do around Taitung. Start with the National Museum of Prehistory. The museum is dedicated to the discovery of over 1,500 stone coffins and other artefacts belonging to the Aboriginal Peinan culture.
Then head to the Taoist Tianhou Temple. It's an incredibly famous temple around the area, and it's dedicated to the Chinese goddess of water Mazu. The exquisite ornaments will boggle your mind and make for incredible memories.
Finally, visit the Taitung Railway Art Village. Indeed, the city converted many buildings of the famous old railway station into a platform for local artists to showcase their artwork and get the recognition they deserve. If an art lover, then it might just be the right spot! 
Plane: 2 hours
Car: 5 hours and 23 minute
Train: 3 hours and 32 minute
And that concludes our list of exciting day trips from Taipei! We hope you'll enjoy your stay in Taiwan and make as many incredible memories as possible :-).