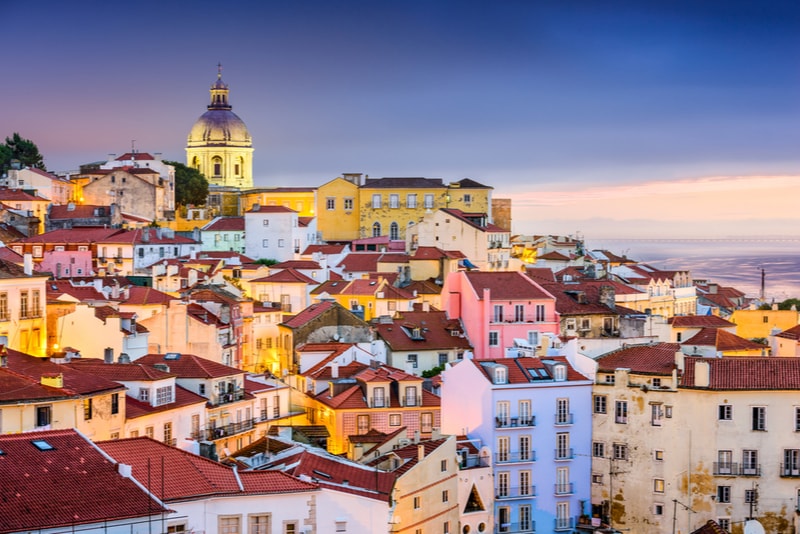 Get away from the bustling Portuguese capital and enjoy amazing day trips from Lisbon. Depending on what type of day trip you would like, you can choose from cultural, natural, sightseeing and wine tasting.
Portugal goes from medieval castles to captivating cities, cobblestone villages, spectacular golden beaches and beyond. Great food and the awe-inspiring scenery is just the beginning!
Want to know the best day trips from Lisbon? Find out all about how much they cost, their duration, what to see, what to do, what to eat, and more!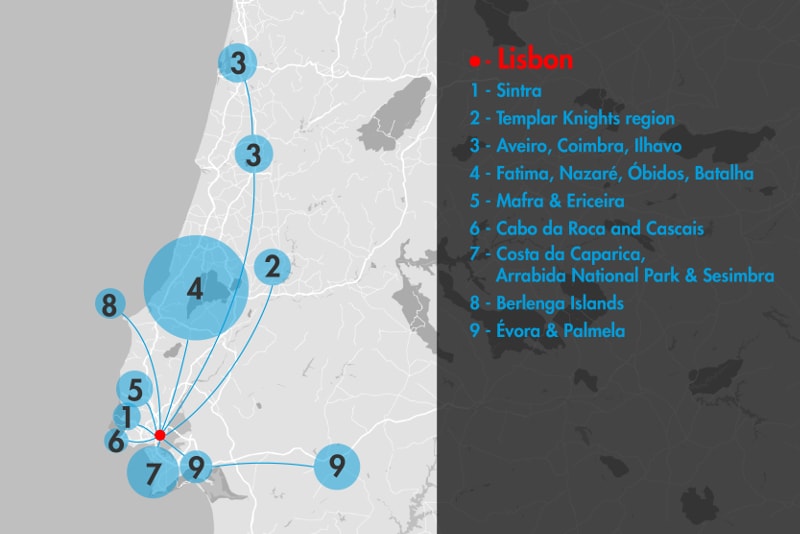 Cultural day trips from Lisbon
1. Sintra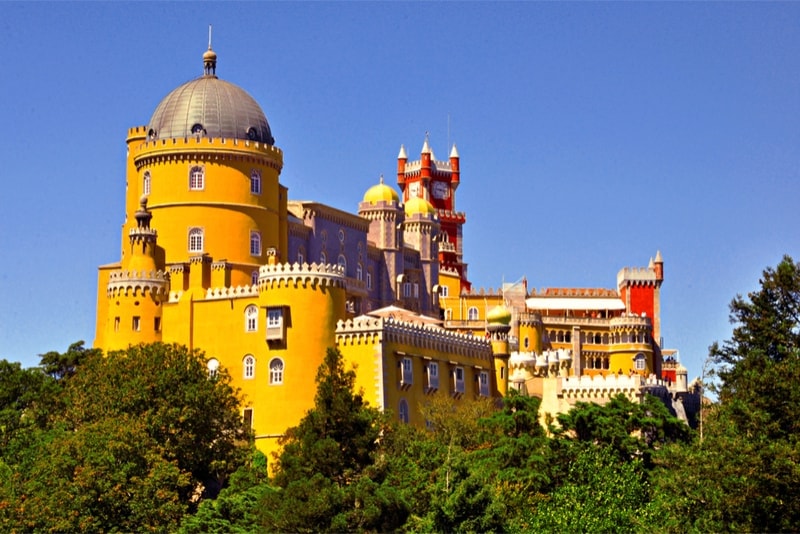 Experience Portugal's natural and historical beauty on a day trip from Lisbon to the beautiful Sintra. Well-recognized for its magic where locals and tourists get away from the city. You can start your day trip from Lisbon to the historic town of Sintra, where you will be able to discover the main attractions.
Visit Pena Park, where you will immerse yourself into the variety of paths, trees and other plants. Walk up to Pena National Palace where you will be astonished by the views and inspired by Manueline art. Pena Palace is on a steep hill but there is a bus that takes you from the entrance up to the Palace for 3€, very advisable for the elderly. The same with Castle of the Moors, you can reach atop getting bus line 434.
Visit the National Palace where the Portuguese royal family used to spend their summers between the 15th and 16th centuries. The National Palace is in the heart of the old town so it is easy to find. Explore Quinta da Regaleria situated in the park of Sintra accessible by car or bus.
Sintra is easily accessible by train from Cais do Sodré or Rossio station, it takes around 30 minutes and the views you get overlooking the seaside are beautiful. Also easily reachable by car from Lisbon by taking the A16 motorway following the signs to Sintra for about 25 minutes approximately.
There are many day trips from Lisbon to Sintra down to its proximity, just a half an hour ride you can spend your day in Sintra to unwind. Usually, the day trips last for 8 hours and you can choose from private tours to group tours, or you can also have the option of complementing the trip by visiting another village such as Cascais.
The prices are very reasonable considering it includes transportation there and back, tickets to enter as many attractions as you desire, a lovely informative explanation of all the exciting facts Sintra has to offer. Consider a price range between 45 and 80€ depending on what tours and day trip you choose.
If you prefer visiting the attractions independently that is also an option. There are tickets for visiting the Park and Pena Palace, the National Palace of Sintra, the Castle of the Moors available online which are the best idea to skip the line.
Head over to TourScanner and compare the best prices for tours.
Sintra day trips from Lisbon
2. Templar Knights region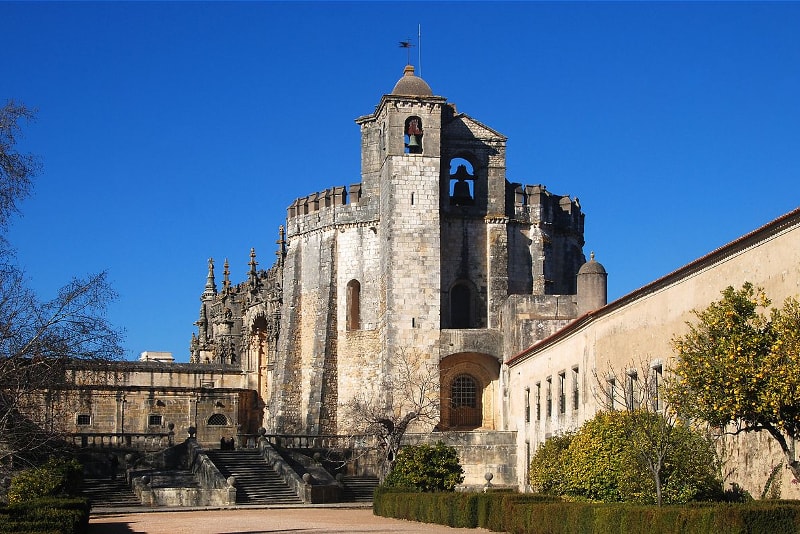 On this cultural-historical day trip from Lisbon you can get to know the villages of Constância and Tomar, to discover the history of the Knights Templar (the elite fighting force back in their days).
Not only this but also you can visit the Almourol Castle which was built by the Knights Templar and is an excellent example of the military architecture from the medieval times; or the Convent of Christ, considered a UNESCO World Heritage Site.
There are numerous day trips from Lisbon to the historic Templar region, offering from private tours to small group tours where they ensure you with a personalized and valuable experience. Depending on which tour you book, you can take a look at TourScanner and compare prices.
If you prefer to go by yourself, getting to Tomar and Constância are easy to reach by train. The railway station is conveniently located near to the historic centre and is connected to Lisbon from Santa Apolonia and Lisbon Oriente railway stations just 2 hours away approximately. If you are wondering how to get there by bus, this option is easily cost-effective. Rede Expressos and Rodoviária do Tejo are the best companies.
Tomar is a small city so getting around by foot is good but if you prefer other alternatives, there are plenty of tuk tuk's or a touristic city bus which takes you to the main touristic points.
Templar Knights region day trips from Lisbon
 3. Aveiro, Coimbra, Ilhavo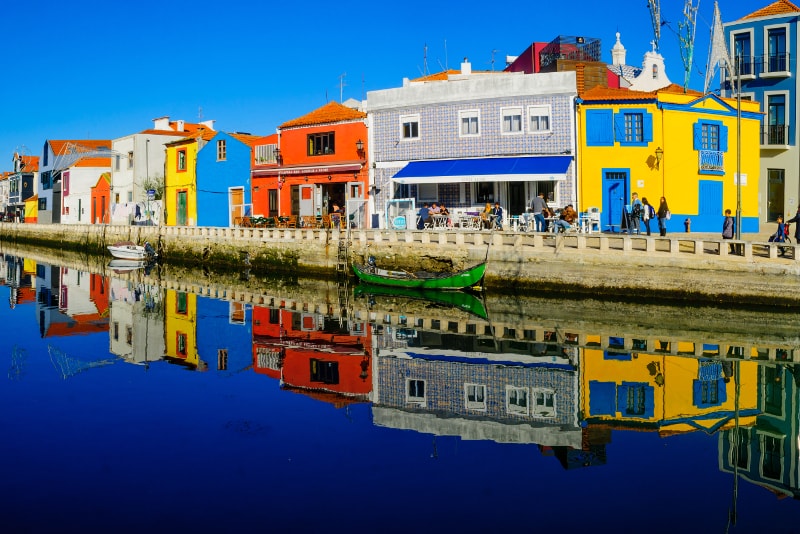 Explore three of Portugal's picturesque central cities on a full-day trip from Lisbon. Aveiro, often called as the "Venice of Portugal", it's a city filled with canals and delicious traditional pastries.
Easily navigable by foot but there is also an Aveiro City Tour bus that passes by the main tourist zones and monuments. For bicycle lovers there is also a convenient way to see Aveiro using BUGA service.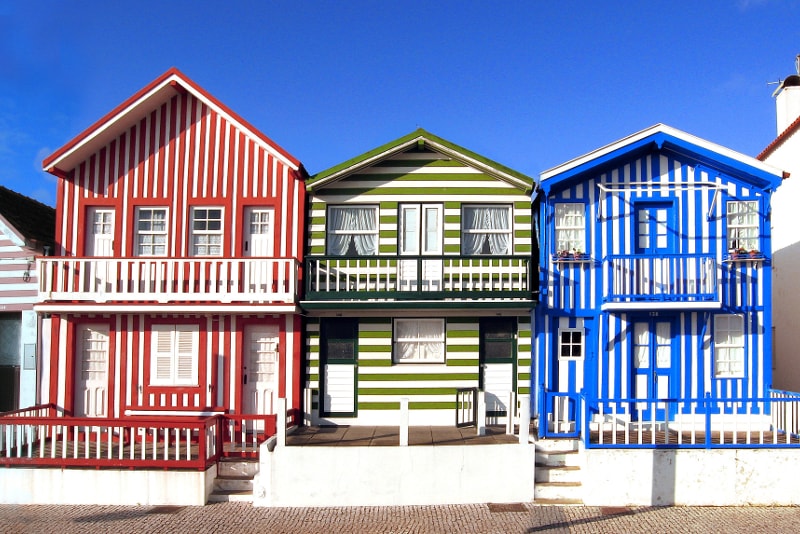 On the way to Coimbra you can visit the town of Ílhavo, there you can visit the Maritime Museum of Ílhavo where you can learn the history of the maritime tradition of the Portuguese.
Head to the highly-recognized University town of Coimbra and get to know one of the most beautiful libraries worldwide, Joanina's Library. Wandering around you will encounter Santa Clara-a-Velha's Monastery or "Portugal dos Pequenitos" where you can find the greatest monuments of Portugal and some from all over the world in miniature.
Hot tip;  Make the most of your visit by checking out our recommended list of fun things to do in Coimbra.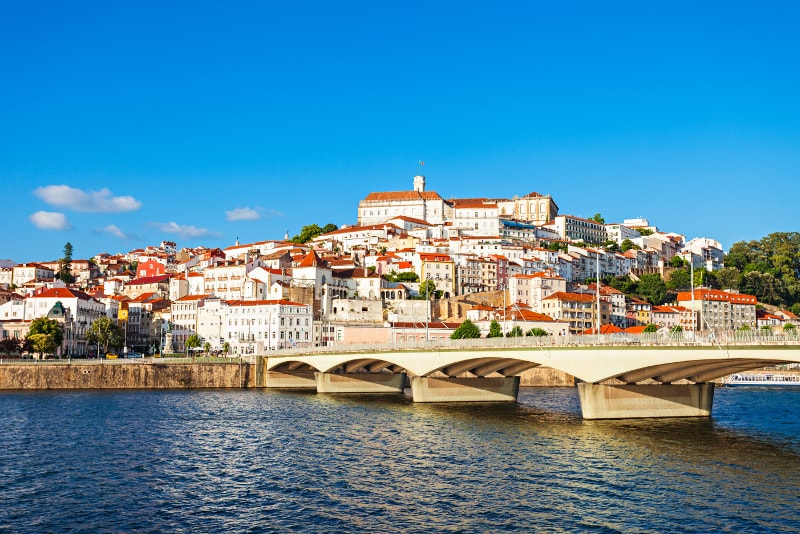 Getting around Coimbra is also possible and the advantage is the main attractions are in walking distance to each other. Nevertheless, it is hilly so you might like to travel around by local buses, trolleys or electric cars.
Getting a train or bus to each of these places is possible if you prefer going independently, all three cities have good connections by train operated by Comboios Portugal or by coach if you prefer with Red Expressos and Renex.
This day trip from Lisbon lasts for a day approximately and there are many different tours to choose from, whether you want to visit Aveiro and Coimbra or you would like to try going on a "Moliceiro" along the canal in Aveiro.
This may be a convenient option due to the fact there is quite a distance between each city and travelling by car, train or bus might take you longer.
Have a look on TourScanner and find which tour/day trip is better suited for you!
Aveiro, Coimbra, Ilhavo day trips from Lisbon
4. Fatima, Nazare, Obidos, Batalha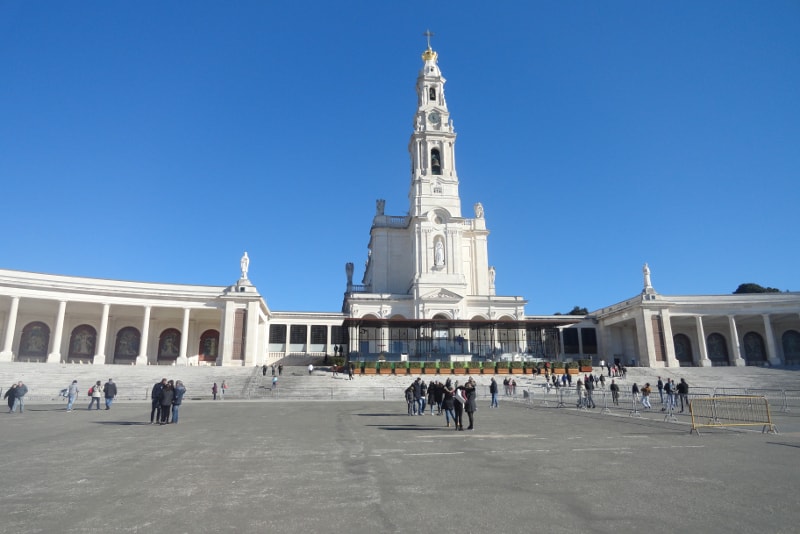 Book an entrancing day trip from Lisbon to the towns of Fátima, Nazaré, Óbidos and Batalha. Head north to these small villages cobblestone streets. You should try the traditional Ginja liqueur served in a small cup of chocolate which you can eat!
There is also a train connection between Lisbon-Entrecampos station that can take you directly to Óbidos.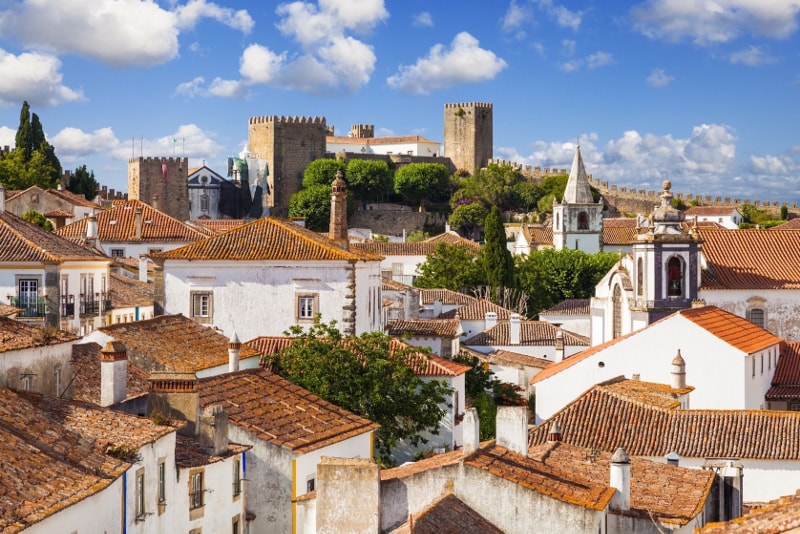 Getting around is easily done as it's largely pedestrianized. Next stop could be Nazaré, a traditional fishing village and also very renown for being a famous place to surf. You can enjoy a spectacular view of the Atlantic Ocean from there and the beaches are amazing.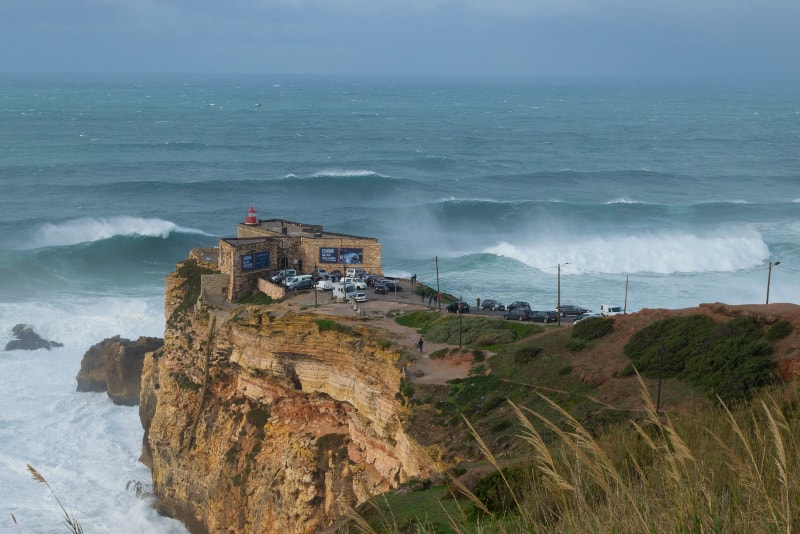 You can get there by bus operated by Rede Expressos catching the bus from Sete Rios bus station in Lisbon; or a train runs through Linha do Oeste line from Oriente station in Lisbon.
Getting around on foot is okay but if you would like to get the views of the Atlantic Ocean there is a funicular that can take you up to the mountain where you will be rewarded by the views.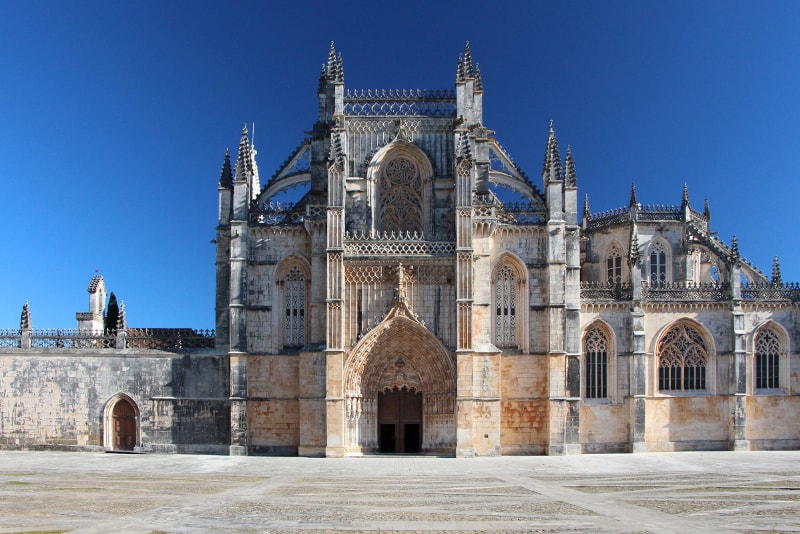 Continue to Batalha, a singular town which holds a Gothic masterpiece monastery, declared a World Heritage site by UNESCO. Connected with Lisbon by Red Expressos bus company or the nearest cities such as Leiria and Fátima are connected with Rodoviária do Tejo.
Your last stop could be in Fátima, once an important pilgrimage site where you can visit the Sanctuary of Fátima, a basilica that attracts millions of Catholic pilgrims every year.
There are buses every hour from the bus station Sete Rios in Lisbon run by Red Expressos. Once you get there Fátima is easily navigable and famous Sanctuary is easy to find.
If you prefer to be taken to each of these cities on a day trip from Lisbon where you will be able to see all these towns on the go, there are tours available! Compare prices on TourScanner to find which day trip is better suited for you.
Fatima, Nazare, Obidos, Batalha day trips from Lisbon
5. Mafra & Ericeira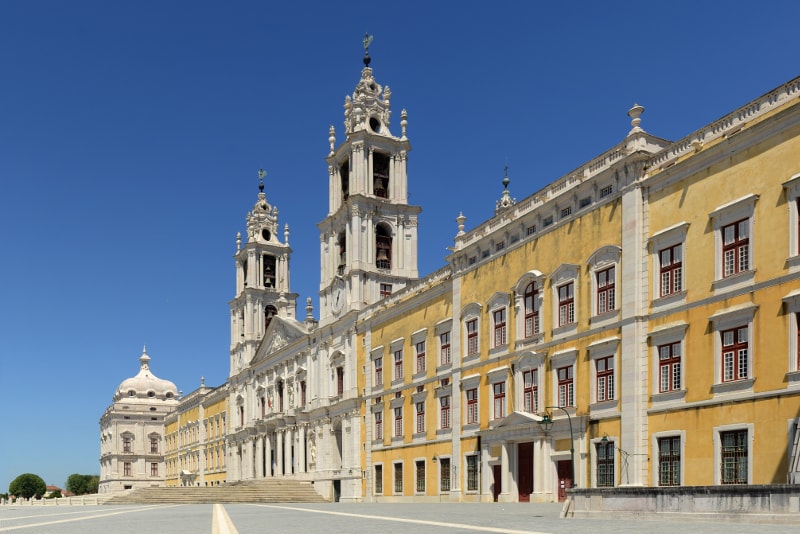 Just 30 km from Lisbon, take a day trip from Lisbon to Mafra and Ericeira. Mafra, a small town which holds one of Europe's largest palaces: Palacio de Mafra. You can take a coach service operated by Mafrense which leaves from Campo Grande. Just a 10 km ride from the coastal village you can find Ericeira, a quaint fishing village.
The best way to reach Ericeira by public transport is by bus, departing from stop number 5 at Campo Grande bus station in Lisbon. The cost is 6.25€.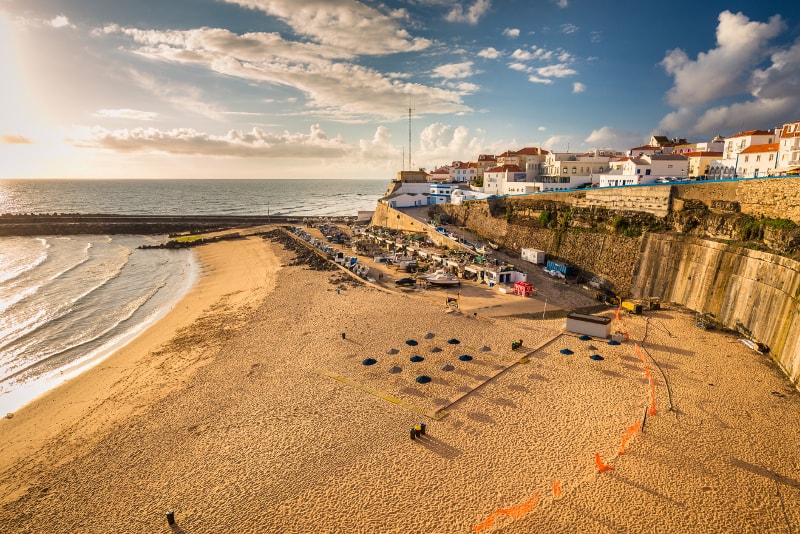 There are tours available for mountain biking from Mafra Palace to Ericeira which takes you through lush green valleys. Not only this, but there are also surfing lessons available to do in Ericeira if you are looking for something more exciting! Head over to TourScanner to compare prices and see if any catch your attention!
Mafra & Ericeira day trips from Lisbon
Nature & beach day trips from Lisbon
6. Cascais & Cabo da Roca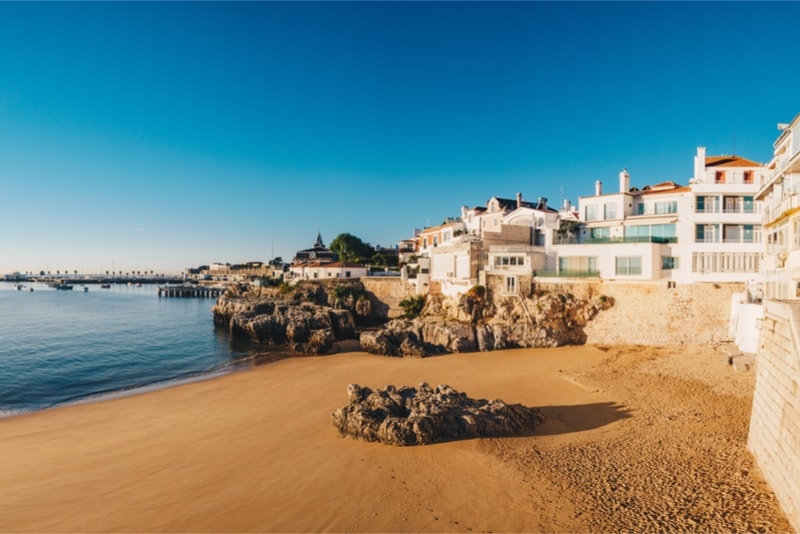 Take a scenic drive along the coast to Cascais, known as the "Portuguese Riviera" where you can walk around the old town, Cabo da Roca, bike (possible to rent from the old town) or walk along the promenade overlooking the Atlantic Ocean towards Guincho beach and stop on your way to see the famous Boca do Inferno and Cresmina Dunes.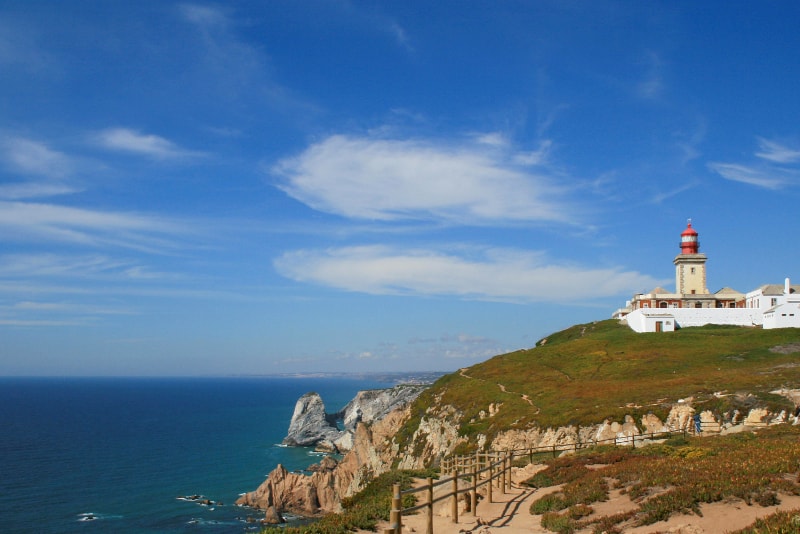 Continue to Cabo da Roca, the most western point of the European Continent where you will be astonished by is 140-meter cliffs over the Atlantic Ocean.
Cascais is easy to get to from Lisbon by car or by train which takes 30 minutes from Cais do Sodré railway station. A return ticket costs 5€.
Maybe Cabo da Roca and Guincho Beach can be harder to reach so usually booking a tour is a convenient option.
The duration of this day trip is around 5-6 hours. Head over to TourScanner where you can compare prices.
Cascais & Cabo da Roca day trips from Lisbon
7. Costa da Caparica, Arrabida National Park & Sesimbra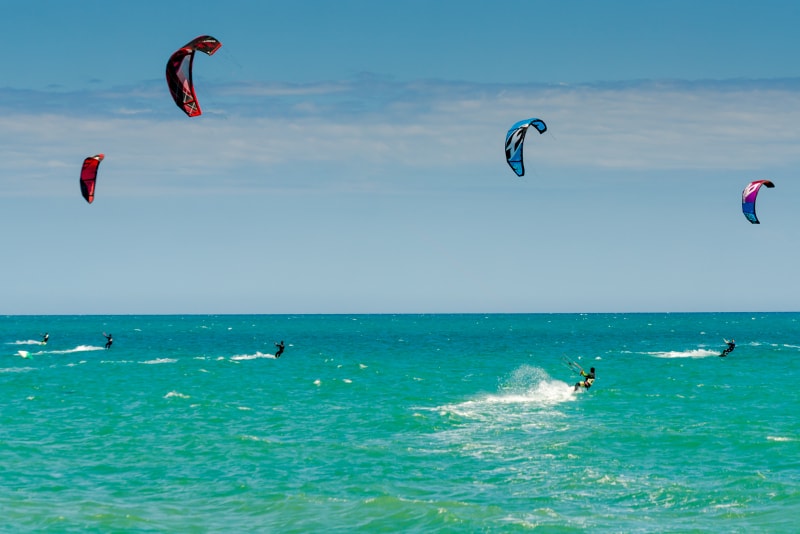 Get away from the bustling city and book a day trip from Lisbon to Arrabida National Park, Sesimbra and Costa Caparica. Discover the beauty of Arrabida Natural Park and gaze over the lush green forests towards the Atlantic Ocean and the beautiful golden beaches below.
Stop in Sesimbra, a typical fishing town where you can stroll along lively streets and walk along the beaches. You can also visit the castle which is the national monument. Drive up on the way to Lisbon and stop in Costa da Caparica where you can find spectacular long golden beaches perfect for walking or surfing.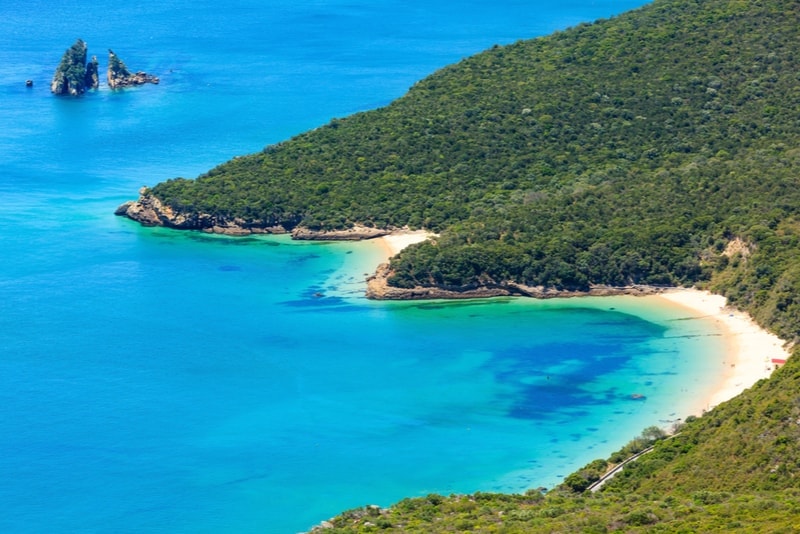 You can also easily reach these spots by car or bus.
By car is the quickest option if you cross the 25 de Abril bridge towards the south and follow the signs that direct you pretty easily.
There are also direct buses departing daily from Praça de Espanha and Praça de Areeiro to Costa da Caparica.
There are no direct trains so I wouldn't contemplate that option. To get to Sesimbra is tricky by train as it doesn't exist but there are direct buses from Lisbon to Sesimbra operated by TST bus company.
There are buses from Setubal that leave you close to the Arrabida National Park but still difficult to reach.
As you can see, reaching these places by public transport can be tedious. That's why there are many day trip tours from Lisbon that give you the chance to visit these 3 places in a whole day. Perfect for not getting into such a hassle having to work out how to get there and back. You can check prices and tours on TourScanner.
Arrabida National Park day trips from Lisbon
8. Berlenga Islands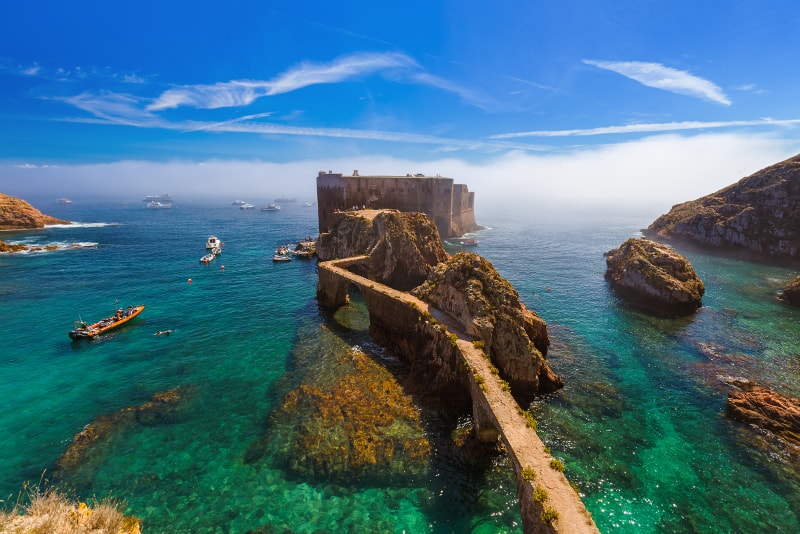 If you want to visit the perfect postcard island, head over to the fishing village of Peniche where you can board a boat to Berlenga Islands. Explore the Nature Reserve of Berlengas and wander along the beautiful paths of the UNESCO Biosphere Reserve. You can also explore the island's caves if you would like to book some extra activities such as kayaking or a glass-bottom boat.
If you'd like to get to Berlenga Islands by yourself, by bus is perfectly reachable. Catch a bus departing from Sete Rios bus station in Lisbon, operated by Rede Expressos.
Book a private tour or a group tour for a more personalized and valuable experience. It is known to be a very touristic attraction so the prices can be a bit high, head over to TourScanner and search for the perfect day trip. Berlenga Islands is a must!
Berlenga islands day trips from Lisbon
Sightseeing & Wine tasting day trips from Lisbon
9. Palmela & Evora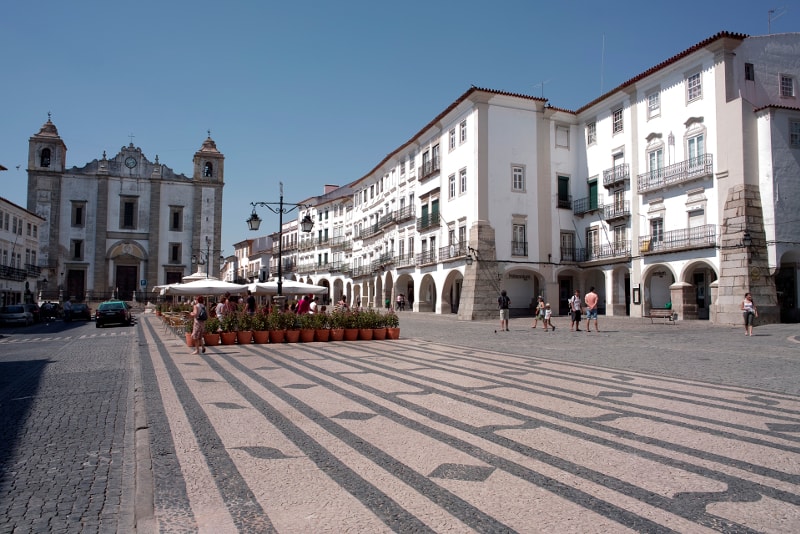 Want to experience the Alentejo Region? Pass by the beautiful city of Palmela and head over to Évora, one of the oldest and most enchanting cities of Portugal. Évora is known for being full of different architectural styles, from Moorish, Renaissance to Gothic style.
There you can visit the most emblematic site of Évora: the Roman Temple, also known as the Temple of Diana. A Roman-Gothic Church of the XIII century where you can climb up to the tower and have a panoramic view of the city and surroundings.
Évora is also renown for producing some of the best Portuguese wines. So its recommended to visit a local farm where you can taste the best Alentejo wine. A private tour is well suited for this kind of trip so you can have a more personalized and valuable experience of all the history Évora has to offer. If you prefer another type of tour, search on TourScanner and compare prices, tours that adjust to your budget.
Évora is reachable in several ways:. You can either catch a direct bus operated by Rede Expressos, by car taking the A2 and then A6 following the signs to Évora or there are trains that go daily to Évora and are known to be very comfortable. You can check the timetables on the website of Comboios de Portugal.
Evora day trips from Lisbon
Hope you enjoyed my selection of day trips from Lisbon. Wishing you a great time in Portugal. Have fun!
Like this article? Share it on Pinterest 😉