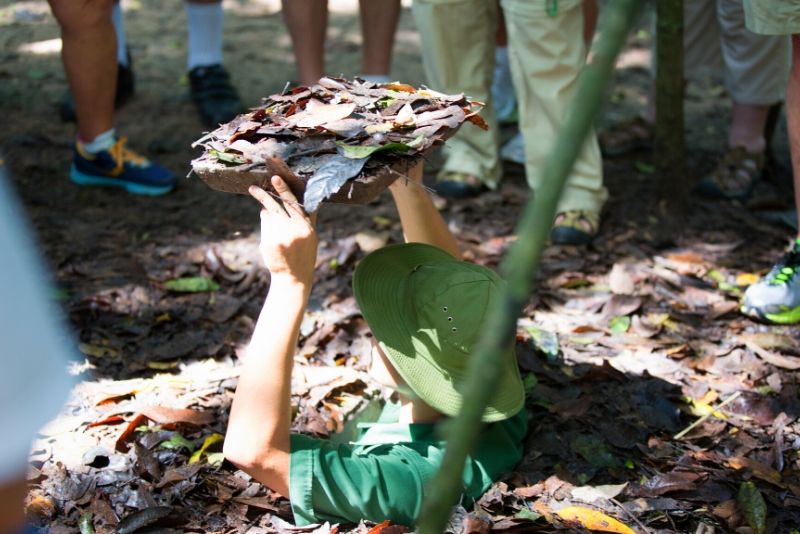 In this post, you learn everything you need to know about Cu Chi tunnels tours from HCMC (Ho Chi Minh City), including how much do guided tours cost, what are the most popular tours, how to book tours online, the best time to visit the Cu Chi tunnels, how to get there, and some other useful travel tips.
Cu Chi tunnels tours from HCMC present a chance to see one of Vietnam's most iconic attractions. Initially built as protection from French air raids in the 1940s, the Cu Chi tunnels were also used during the Vietnam War. They act as an important historical backdrop to the country and form a vital component of Vietnam's history.
So, read on and find out all about Cu Chi tunnels tours from HCMC.
What will I see at the Cu Chi tunnels?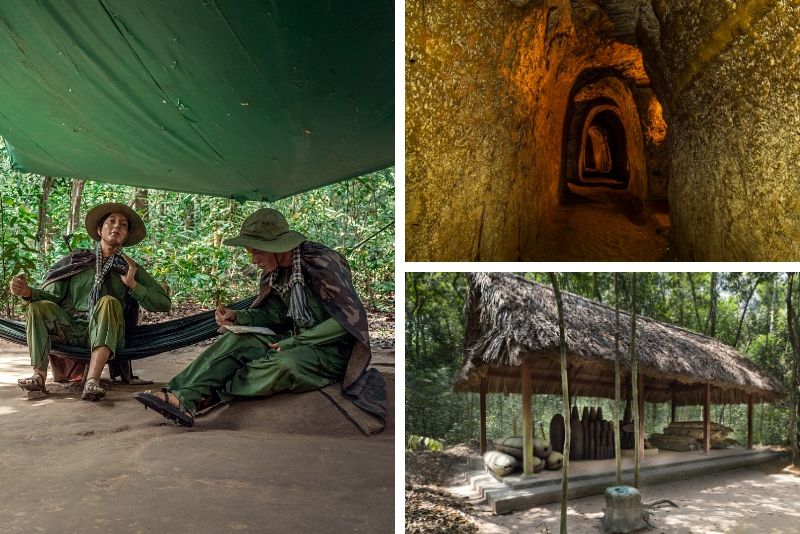 During a Cu Chi tunnels tour from HCMC, you will explore the 155-mile long tunnels that contained living areas, kitchens, storage facilities, armories, and hospitals. They stretch all the way to the Cambodian border and took around 25 years to construct. Trips include the chance to visit museums and watch documentaries, see artifacts from the war, explore exhibits, examine replica booby traps and even shoot a gun at the shooting range.
On a Cu Chi tunnel tours from HCMC, you will certainly visit either the famous Ben Dinh or Ben Duoc tunnels, or both if you decide to book a full-day tour.
Ben Dinh
These days, there are only two tunnel systems open to the public. Ben Dinh is the closest one to HCMC, located around 50km from the city. Its proximity to HCMC makes it the most popular of the two with tourists, which means it gets fairly busy.
The Ben Dinh tunnels provide a good understanding of what life was like for the Viet Cong during the war. A section of the tunnels is slightly wider than most, which makes them roomier when exploring. Once inside, you can see to see barracks, a nursery, sleeping quarters, and meeting rooms. There are also replicas of booby traps that were used during the war, as well as old army equipment and weaponry just outside the tunnels.
Ben Duoc
Ben Duoc is arguably the more authentic of the two tunnels and is less configured than the more tourist-friendly Ben Dinh. It's about 70km from HCMC, and a trip here provides the opportunity to take in the scenic Vietnamese countryside.
Some parts of the tunnels are so small that you're required you to crawl on all fours, which provides an authentic insight into what it was like on a day-to-day basis for the Viet Cong. A trip to Ben Duoc typically sees fewer tourists than Ben Dinh.
What are the most popular Cu Chi tunnels tours from HCMC? Are they worth it?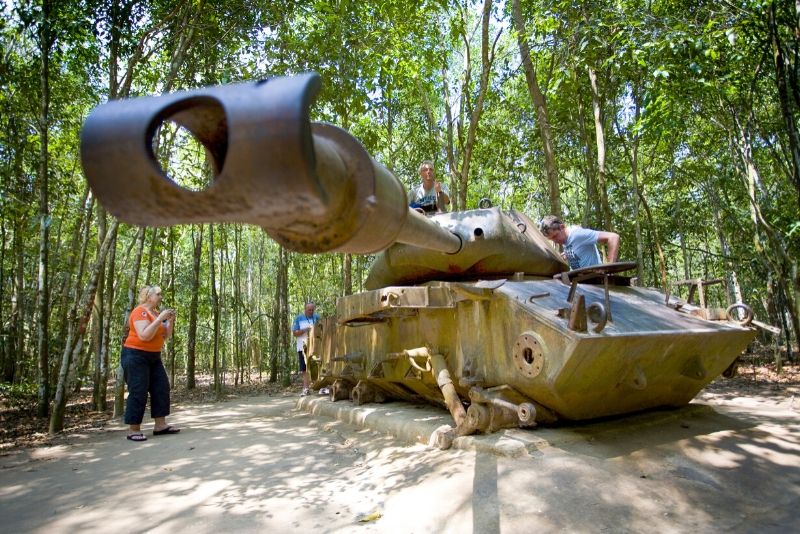 Tours range between half and full-day trips and include transport to and from HCMC. The most common Cu Chi tunnels tours from HCMC include a trip to Ben Dinh, which is 20km closer to HCMC. Visitors who want to see Ben Duoc tunnels should check before booking, as it's often an added option with tour operators. The most popular tour types include:
Bus tours and boat tours – the two primary transport types for Cu Chi tunnels tours from HCMC include the use of a bus or boat. Buses usually come in the form of an air-conditioned minivan, while boat tours include a ride down Mekong Delta river, which is a tourist attraction in its own right. Count around US$ 30 for a small group bus tour and US$ 80 for a boat tour departing from HCMC.
Private tours – if you're looking for a more personal experience, a private tour is the best option. You will still share the tunnel space with other tourists but will have access to your own guide. You will travel in your private car with your personal driver and guide. Private tours are more pricy but you can customize your itinerary and you share the vehicule with your family or friends only.
How can you book a Cu Chi tunnels guided tour from HCMC online?
Tickets for the Cu Chi tunnels are available at the location, which you can purchase once you've arrived. However, it's best to use a tour operator if you want to book in advance and avoid the lines. You can relax safe in the knowledge that a tour company will take care of all the major details, such as arranging tickets and transportation.
Several online travel agencies provide Cu Chi tunnels tours from HCMC, including well-known companies like GetYourGuide and Viator. Use our search engine, compare all the deals available, and pick the tour that suits best your itinerary and budget.
Are there any combined tours including the Cu Chi tunnels and other attractions?
Many people who go on Cu Chi tunnels tours from HCMC combine their visit with another attraction. Tour operators typically offer combined trips to landmarks near HCMC, such as:
Mekong Delta River
The Mekong Delta is a vast maze of rivers that makes up its own little water world. While cruising along the river, you can expect to see canals, streams and even markets and houses, which are surrounded by lush greens of the Vietnamese countryside.
Countryside
Countryside tours offer the chance to see the stark contrast of life compared to the bustling city of Ho Chi Minh. During the tour, visitors will learn about cricket-raising and paper-making at the local farms while getting a taste of rural life.
Ho Chi Minh City
From street stalls selling local food to boutique shops, Ho Chi Minh City is a lively metropolis and Vietnam's most vibrant city. A visit here includes seeing majestic temples up close and personal and contrasting skyscrapers that dominate the city's skyline.
How to get to the Cu Chi tunnels from HCMC? How long does it take to get there?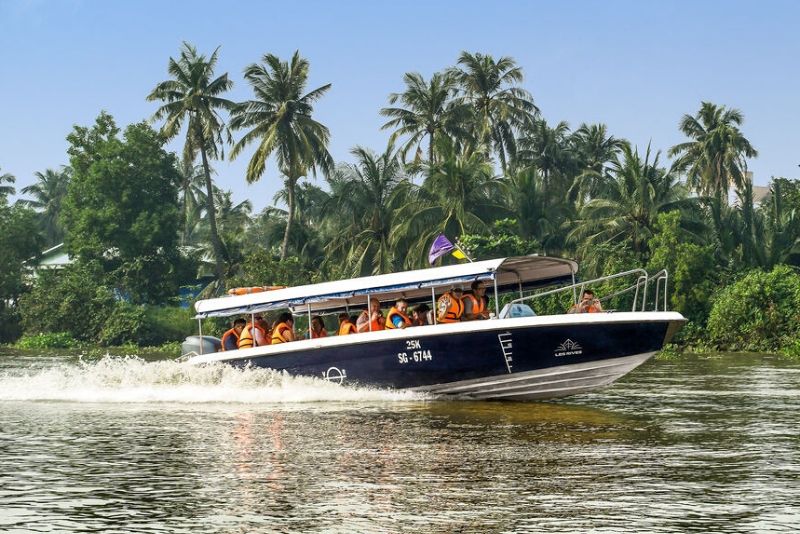 The Cu Chi tunnels are located between 50 and 70 km from HCMC, and take around 1hr and 30 minutes to reach. There is no shortage of options for getting to the tunnels, with tour companies providing a variety of transport methods.
By bus, car or motorbike – most tour operators offer several transport options. If you're on a group tour, expect to travel by bus or minivan. If it's a private tour, your transport method will be a car or motorbike, depending on your preference. Land tours take around 90 minutes from HCMC.
By boat – many operators offer a boat tour – often in the form of a speedboat – which includes a cruise down the Mekong Delta River. Journey time is about 1hr 15 mins.
Public transport and taxis – it's possible to reach the tunnels using public transport. You can hire a taxi, which costs around 1,350,000 Vietnamese Dong (€55) or can get on two buses from HCMC, which will take you to Ben Duoc.
What is the best time to visit the Cu Chi tunnels? How can you avoid the crowd?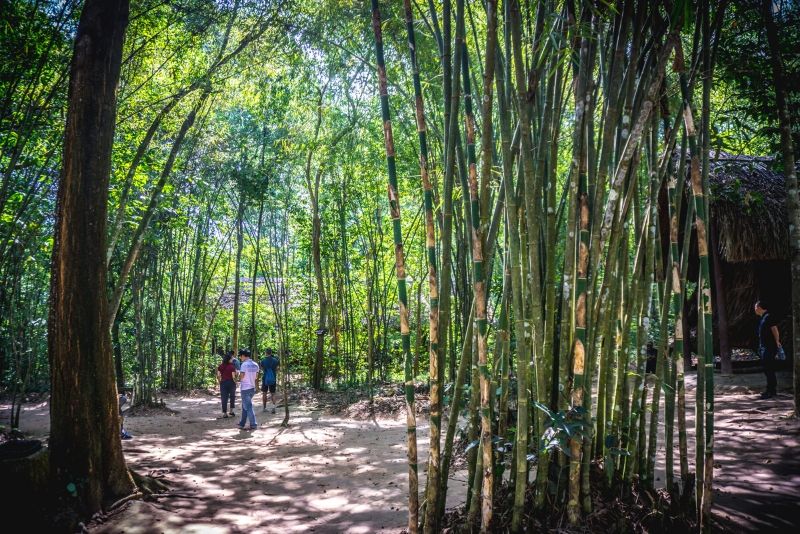 The best time to visit Cu Chi tunnels from HCMC is during the dry season, which is October to April. The weather is hotter, so it's recommended that you bring plenty of suncreams to avoid sunburn. However, the dry season is generally more favorable as there is no rain. During the rainy season (May to November), the tunnels are flood resistant but can be muddier than usual and also quite damp.
Cu Chi tunnels are open between 8 am and 5 pm Monday to Sunday, with early mornings being the best time to visit. The tunnels are quieter during the am, which means there are fewer crowds in the confined spaces.
Travel tips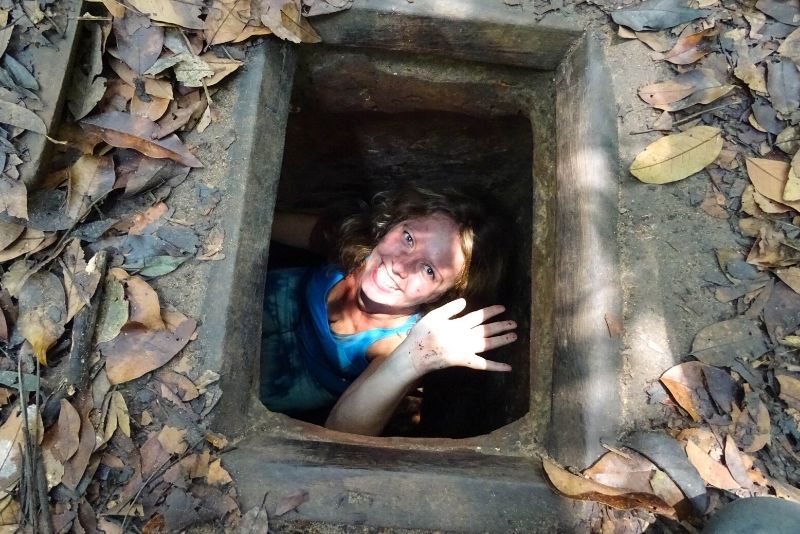 It's best to wear clothes that you don't mind getting dirty as you will be in small underground tunnels
Wear comfortable footwear as you will be doing plenty of walking
The tunnels are known to have bats inside them
If you are claustrophobic, it's best to avoid the tunnels
There are several restaurants and places to get snacks around the Cu Chi tunnels
The tunnels are open all-year-round, including during national holidays such as Tet