Vietnam's complicated political history remains one of the biggest attractions today. Visitors are keen on learning about the unique style of warfare that was brought about by the Vietnam War and they want to see the harsh environment that soldiers had to face.
The Cu Chi Tunnels are a sobering reminder of wartimes, but also offer a look into the ingenuity and willpower of the Viet Cong. A day trip to the Cu Chi tunnels is an unmissable adventure and is an integral part of understanding the country's history and culture of the people.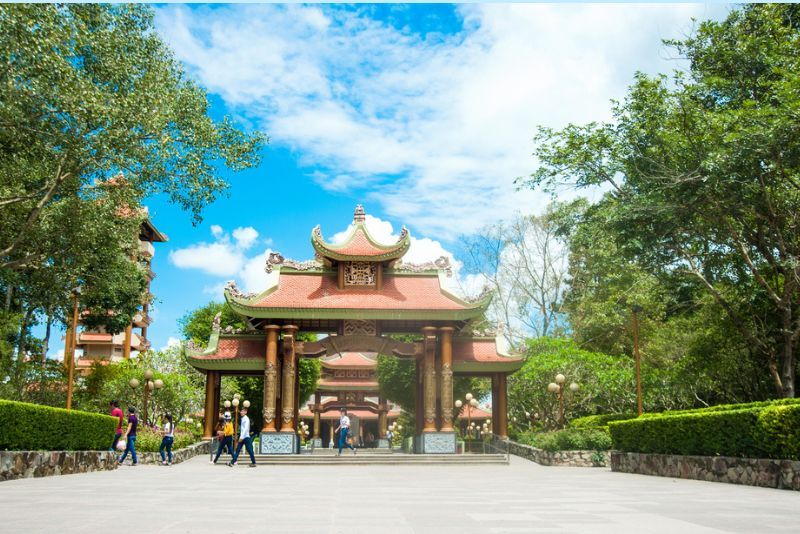 Here is all you need to know about the Cu Chi Tunnels, one of the most striking destinations for day trips from Ho Chi Minh City.
How to get to the Cu Chi Tunnels from Ho Chi Minh City?
The Cu Chi Tunnels are northwest of Ho Chi Minh City. There are 2 locations to visit; Ben Dinh and Ben Duoc. Ben Dinh is the preferred option for day tours to the Cu Chi Tunnels, as some tunnels have been widened for tourists and the location is closer to the city.
From Ho Chi Minh City to Cu Chi Tunnels by car
The Ben Dinh location is about an hour northwest of Ho Chi Minh City. Follow the QL22 road for 15 kilometers, past the Tan Phu district. Turn right onto TL8 for a further 7 km and make another right onto Cây Bài for the last 10 km.
There are clear road signs directing you to the tunnels. You can rent a car, hire a driver for the day, book a taxi from an app or take a motorcycle if you want to travel on your own.
Guided tour to Cu Chi Tunnels from Ho Chi Minh City
The best way to enjoy a Cu Chi Tunnels day tour is with a guided tour. You can ride in a comfortable air-conditioned vehicle and take in all the sights and sounds along the way.
These tours leave from District 1 or offer hotel pickup, taking all the stress out of arranging transportation. You can also take a tour by speedboat along the Saigon River.
How much does the entrance ticket to Cu Chi Tunnels cost?
The 2 Cu Chi Tunnel locations have different entry fees:
Ben Duoc: VND 110,000 per person (US$4.50)
Ben Dinh: VND 90,000 per person (US$3.80)
What is the typical itinerary?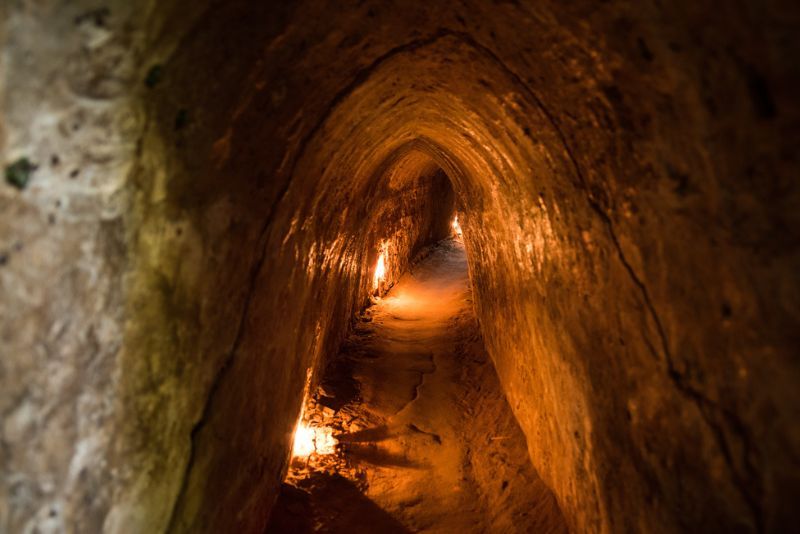 Cu Chi Tunnel day trips start early in the morning with hotel pick-up or meeting between 7 AM and 8 AM. There are tours departing by bus and others by speedboat along the Saigon River.
The first stop on the tour is the Heroic District. Here you will follow an expert local guide through the complex network of tunnels and learn about how people lived underground during the war.
After a daunting trip through the tunnels, you can enjoy a selection of local specialities like fresh tapioca, fruit and even a beer. There will also be the chance to shoot military-grade weapons like an M16 or AK-47.
You will return to the original meeting point in district 1 or get dropped off at your hotel.
What kinds of tours are available to go to Cu Chi Tunnels?
There are several Cu Chi Tunnels Tours to choose from. Join a group for an exciting outing, or keep it low-key with a private driver for the day.
Guided tours to Cu Chi Tunnels from Ho Chi Minh City
The most popular Cu Chi Tunnels day trip is a guided tour from Ho Chi Minh City. Join a large or small group and take a guided tour of Vietnam's most remarkable military location. You can also choose between bus tours and speedboat tours, depending on your budget and travel needs.
Guided tours include your entrance fee and light snacks, but there are optional extra fees for the shooting range and other activities at the Cu Chi Tunnel attraction. Smaller tours offer hotel pickup in Districts 1 and 3 while larger tours depart from a central location in District 1.
Private tour to Cu Chi Tunnels from Ho Chi Minh City
Enjoy the comfort of a private tour to Cu Chi Tunnels to soak in this destination at your own pace. An expert guide will pick you up in the morning in a private car or minivan and start the pleasant countryside drive.
Take a private tour through the tunnels, bunkers and battlefields and take advantage of your private guide to ask as many questions as you'd like. After the tour, you can sit down for a delectable lunch of local delicacies and test your skills at the shooting range.
You will be dropped off at your hotel between 4 pm and 5 pm.
Day trip to Cu Chi Tunnels plus Mekong Delta from Ho Chi Minh City
Make the most out of your day outside the city by combining a visit to the Cu Chi Tunnels and the Mekong Delta. These are the two most visited attractions in Ho Chi Minh City and pair perfectly together for an adventure-filled full-day tour.
First, you will visit the Cu Chi Tunnels and learn the gruesome history of the Vietnam War. After that, you will venture into the Mekong Delta, where you will enjoy a relaxing rowboat ride through the palm tree-lined river.
Enjoy a delectable local lunch before stepping onto a speedboat to visit the other attractions in the delta. This includes a honey farm, a coconut candy factory and family homes.
Enjoy your last moments in this tranquil setting with a performance by local musicians before heading back to the hustle and bustle of the city.

How much does a day trip to Cu Chi Tunnels from Ho Chi Minh City cost?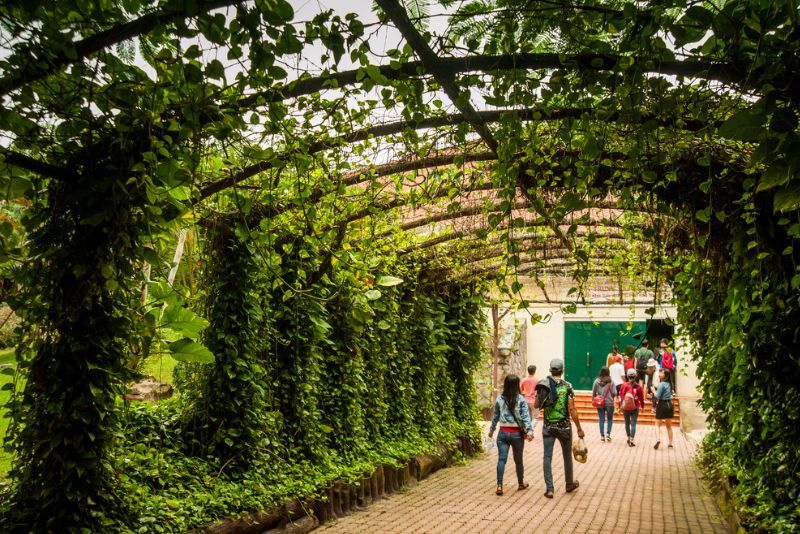 A basic day tour to the Cu Chi Tunnels starts from US$20 per person and includes your entry fees and comfortable transport. Additional costs include lunch and activities like shooting at the gun range. If you want to opt for the tour on the speedboat, it will be US$100 per person.
Taking a private tour of the Cu Chi Tunnels costs US$85 per person and includes hotel transfers and a hearty lunch.
A combination tour of the Cu Chi Tunnels and the Mekong Delta costs between US$55 and US$80 per person, depending on the size of the tour and the optional extras you request.
What will you see and do?
A Cu Chi Tunnel day trip will take you back in time to one of the most horrific periods in Vietnamese history. The vast tunnel network winds for hundreds of kilometers and you will see a fraction of its impressive construction.
Head underground with a local guide to see where the Viet Cong bunkered down, creating make-shift rooms, living spaces and even hospitals. The battlefield is littered with army equipment like tanks and helicopters, where you can pose for photos.
Another of the most popular sights in the tunnels is the collection of brutal booby traps around the grounds and in the tunnels. Visitors also get to watch a short historic film to help them better understand the complexity of the tunnels and the war as a whole.
What are the opening times?
The Cu Chi Tunnels are open 7 days per week from 8 AM to 5 PM.
When is the best time to visit Cu Chi Tunnels?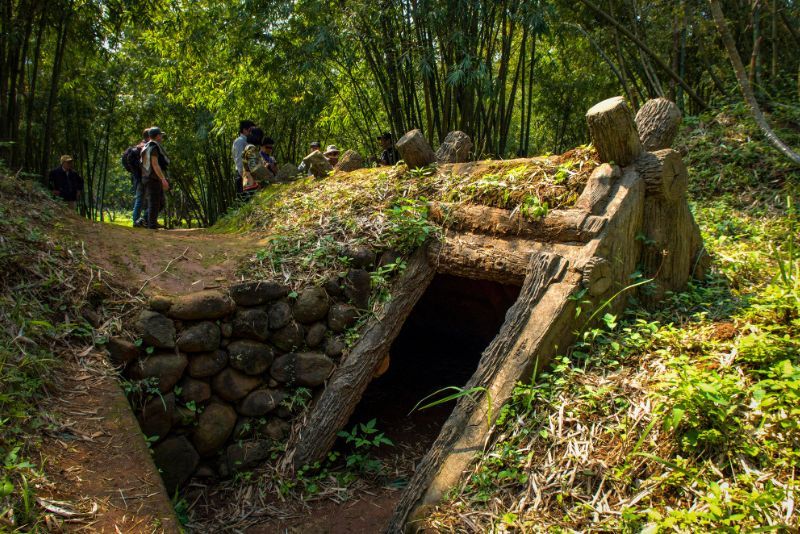 The best time to visit the Cu Chi Tunnels is during the dry season, which is from November to April. Although the tunnels do not flood and you can visit them during the wet season, which is from May to October, it is not ideal.
The wet conditions can make it muddy and there is an increase in insects, making it uncomfortable.
Travel tips
Wear sunscreen and insect repellent.
Wear walking sandals or sneakers for comfort.
You should wear clothes that can get a little dirty, especially if you are in the tunnels.
Bring your ID if you want to use the shooting range.
The tunnels are not advisable for people with claustrophobia, but there is still plenty to do apart from going underground.