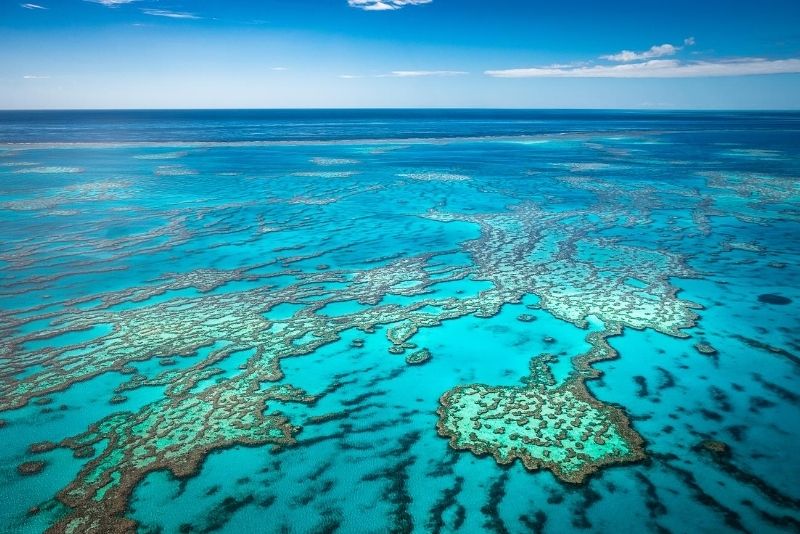 Approximately two million people make the journey to Far North Queensland every year, teeming with excitement. With so many different tours departing from Cairns offering sailing, snorkeling, diving, and more, choosing the most appropriate option can be overwhelming.
Thankfully, we've done the research so that you don't have to! If you're looking for the best Great Barrier Reef tours from Cairns, look no further!
Composed of nearly 3,000 individual reefs and 900 picturesque islands, the UNESCO World Heritage-listed Great Barrier Reef boasts breathtaking beauty in every direction. Colorful fish, vibrant coral, and sizzling rays of year-round sunshine make this iconic Australian destination one of the world's most revered natural attractions.
Don't feel like reading ahead? Click below to compare ALL of the tours available and save 30% or more.
1 – Great Barrier Reef: Premium Catamaran Cruise from Cairns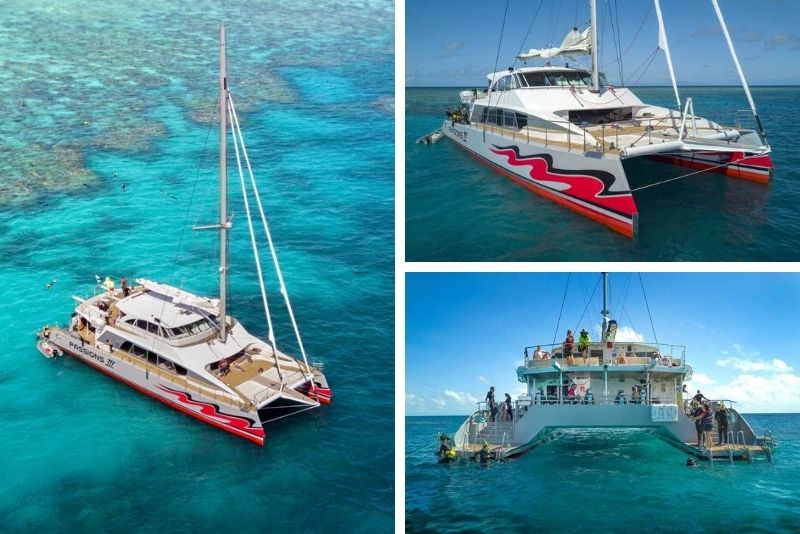 There's no better feeling than lounging on the netted deck with the wind in your hair. That's exactly what you'll be experiencing en route to two glorious reef sites aboard a state-of-the-art catamaran. Depending on the day's conditions, some snorkeling locations boast greater underwater visibility than others, with the crew always aiming to find the most serene spots.
The full-day tour lasts 9 hours, sets sail at 8am, and offers full cancellation and refunds up to 24 hours before departure. $175 AUD will include morning and afternoon tea, high-quality snorkeling equipment, complimentary snorkel tours, and the option to either snorkel, swim, or dive (optional add-on) amongst the marine life.
2 – Great Barrier Reef Snorkeling and Diving Cruise from Cairns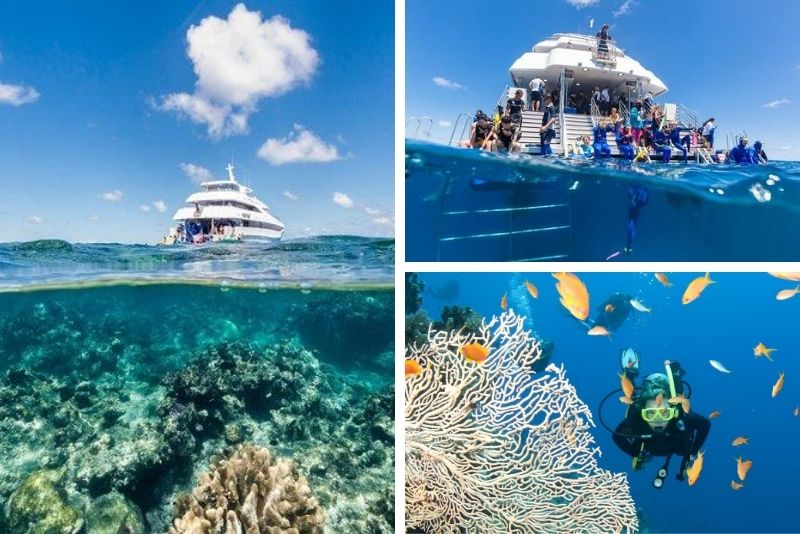 Suitable for beginner-level swimmers as well as water sports enthusiasts, this cruise takes you out to a pair of vibrant reef locations on a luxurious superyacht – work on the tan on th open-air deck or relax and take a break from the sun in the air-conditioned modern lounges.
While moorings change depending on the conditions, tours usually visit one of the Outer Great Barrier Reef spots (Saxon Reef or Norman Reef) in the morning before continuing to North Hastings Reef in the afternoon, with a freshly-cooked lunch in the middle.
The tour lasts approximately 8 hours and 30 minutes and departs from Cairns at 7am. $165 AUD includes a glass of wine, use of all equipment, a buffet BBQ lunch, and 5 hours of reef time. Optional extras, such as a helicopter flight, are available at an extra cost.
3 – Premium Reef and Coral Cay Cruise at High Speed from Cairns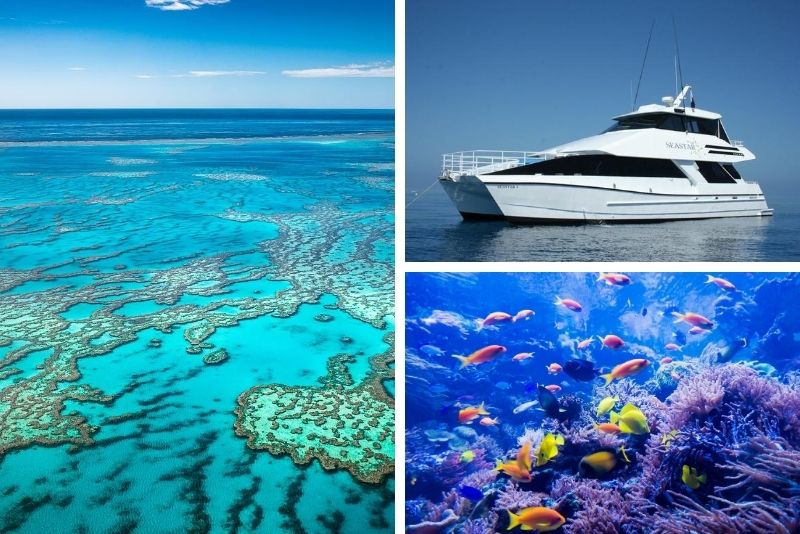 With a maximum of 36 participants on any one day, this tour is far more intimate and personal than most of its competitors. Onboard the Seastar 1, you'll reach your first diving or snorkeling spot – Michaelmas Cay – just 1 hour and 15 minutes after departure.
Once there, explore the waters to your heart's content or simply kick back on the untouched, postcard-worthy beach. Next stop: the equally impressive Hastings Reef, sitting on the very outer edge on the Great Barrier Reef.
The full-day tour departs from Cairns at 7:30am. $200 AUD includes morning and afternoon tea, a scrumptious buffet lunch, guided snorkel tours at both locations, and most impressively, a glass-bottom boat throughout.
4 – Cairns: Green Island & Reef Full-Day Sailing Cruise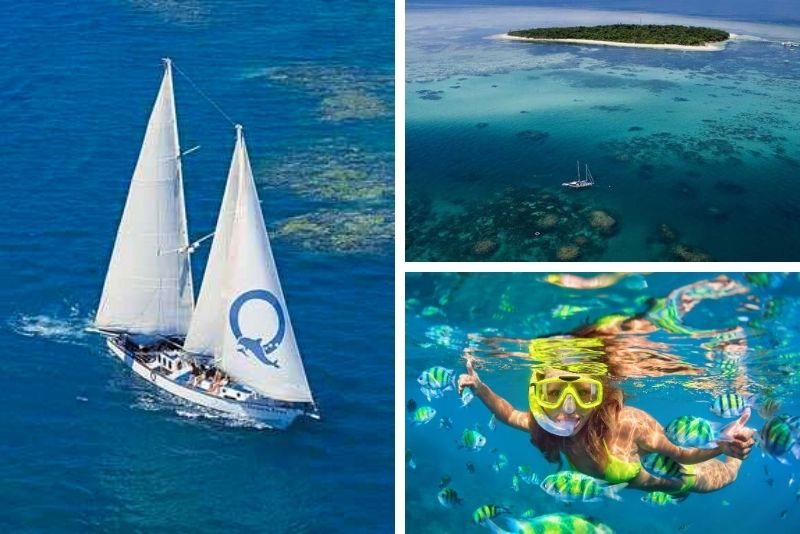 The smallest boat so far – a classic 16-meter sailing vessel – welcomes a maximum of 25 exclusive guests, meaning that you'll have more one-on-one time with the informative marine biologist and won't have to fight your way through hoards of tourists to cash in on the smorgasbord lunch. In addition to the ample diving and snorkeling opportunities, visitors have plenty of time to chill on the beautiful Green Island.
The tour lasts about 9 hours and typically leaves the Cairns dock at 8am. $215 per person includes top-quality snorkeling gear, wetsuits, a glass of wine, a tropical afternoon tea,  and snorkeling tours – with the optional add-on for scuba diving.
Cancellation is available up to 24 hours in advance to receive a full refund (trust us though, this unforgettable experience is not one that you want to pass up).
5 – Great Barrier Reef Luxury Snorkel and Dive Cruise from Cairns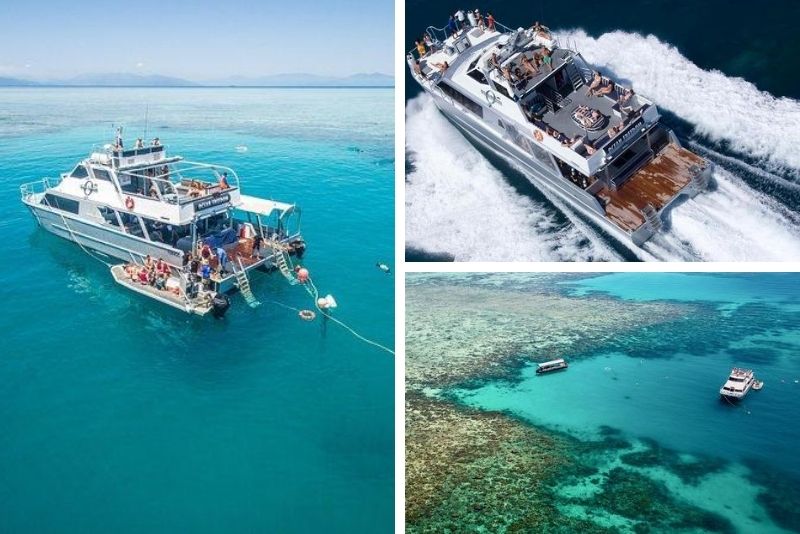 If you're all about high-class luxury and prefer having more room to move, then the 65-foot (20-meter) catamaran presents as an excellent option. A maximum of 75 people will set sail from Cairns Reef Fleet Terminal to Upolu Cay. From there, visitors climb aboard a glass-bottom boat – have your camera at the ready, because the marine life swimming underneath is guaranteed to amaze.
Swimming zone number two is a marine hotspot known as the Wonder Wall, which descends a whopping 14 meters below the surface and is teeming with coral and wildlife.
The tour lasts 9 hours, departing from Cairns at 7:15am. Upwards of $213.50 includes a tantalizing buffet lunch with seafood, professional snorkeling equipment, ongoing crew assistance, refreshments throughout the day, and showers on board.
6 – Great Barrier Reef Scenic Helicopter Tour and Cruise from Cairns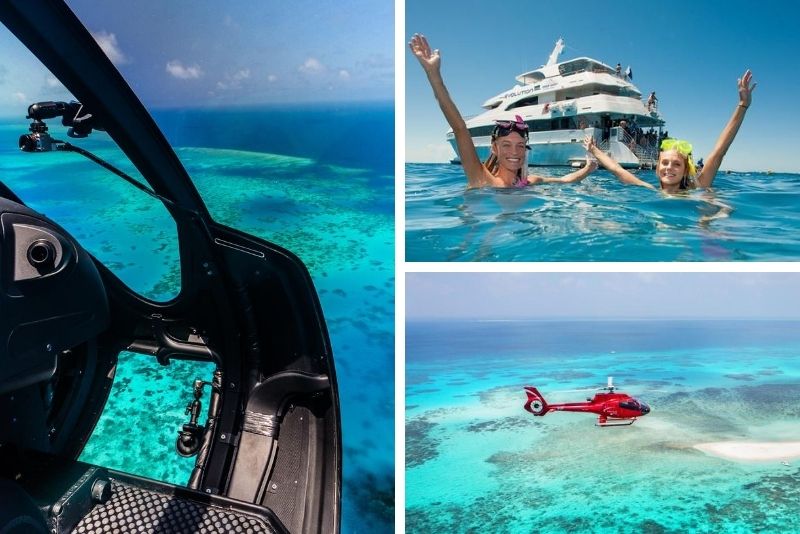 Seeing the world-renowned Great Barrier Reef from on or below the surface is incredible. Seeing it from a birds-eye view as you whip through the skies in a helicopter provides a whole new jealousy-inducing perspective. You'll still be blessed with the opportunity to swim, snorkel, and/or scuba – the helicopter is simply the means of transport.
Three options are available to choose from:
Fly to the reef, snorkel and explore, and then fly back to Cairns.
Boat to the reef, snorkel and explore, and then fly back to Cairns.
Fly to the reef, snorkel and explore, and then boat back to Cairns.
Option 1 and option 2 commence at 12:40pm while option 3 departs at 7:30am.
Starting at $405, these packages include at least one overhead helicopter flight; a freshly-made BBQ lunch featuring fresh fish, sausages, steak, salads, and pasta; snorkeling equipment; and free refunds up until 24 hours before departure.
Note that scuba diving within 48 hours of flying is not recommended and hotel pickup is not included (although Cairns is a small city with plenty of parking, so making your own way to the departure point shouldn't be a hassle).
7 – 2-Day Best of Cairns and the Great Barrier Reef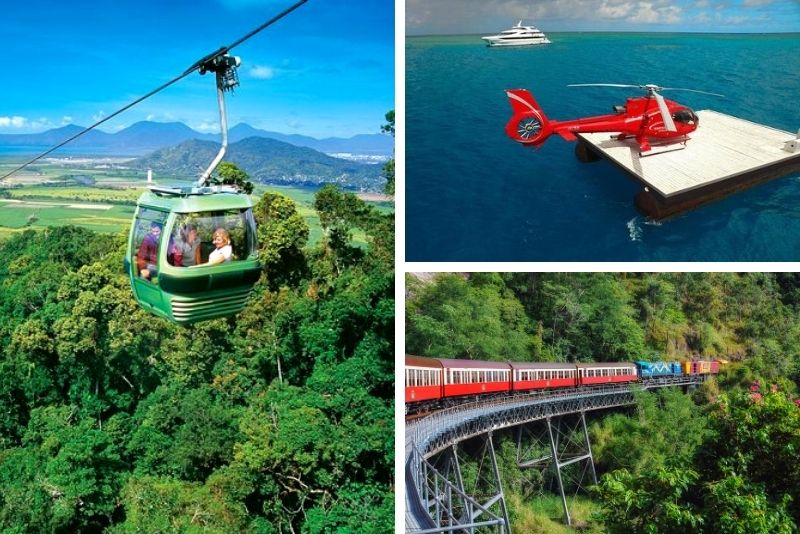 Cairns is renowned for being home to the largest coral reef system on Earth. But the Tropical North Queensland city has another trick up its sleeve: it's the gateway to some of the oldest and most beautiful tropical rainforests on the planet. This tour combines the best of both worlds, tackling the rainforest-based Kuranda Village on day one and the reef on day two.
Kuranda village sits in the tropical mountains northwest of Cairns – you'll see the village and its surroundings first-hand with rides on both the Kuranda Scenic Railway and the Skyrail Rainforest Cableway. This portion of the two-day tour provides an insight into Aboriginal culture and gets you up close and personal with land-based Aussie wildlife (did someone say koalas?).
$614 includes hotel pickup and drop-off (from Cairns only), a 25-minute one-way helicopter tour from the Great Barrier Reef to Cairns, professional guides, lunch, and the Great Barrier Reef Cruise.
8 – Green Island Reef Catamaran Cruise from Cairns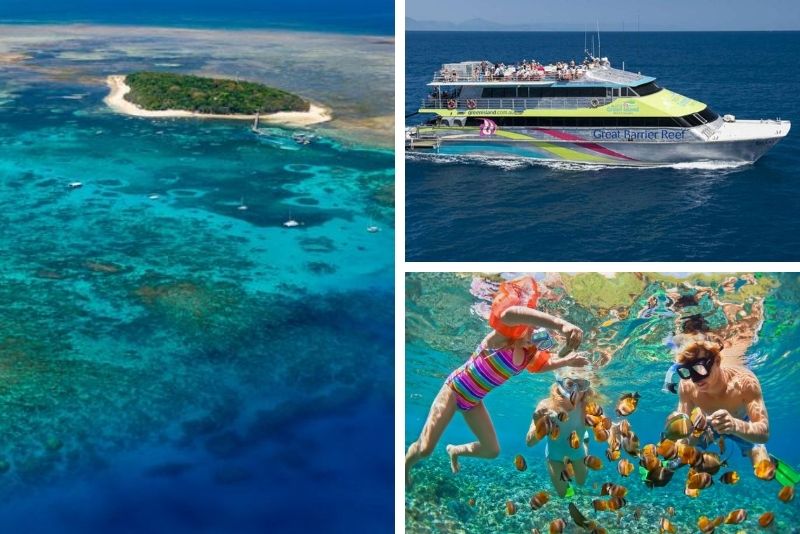 For those who want to experience all the beauty of the Great Barrier Reef but don't want to splurge on unnecessary bells and whistles, this tour aught to do the trick.
Starting at just $99, this option entices the budget-savvy traveler while still offering ample time to snorkel through the colorful coral gardens off the coast of Green Island and surround yourself with spectacular fish.
Full-day tours offer time to laze on a sandy beach, while half-day tours suit those pressed for time. Depending on which you choose, you'll set sail in either the modern catamaran, 'Reef Rocket'; or a larger, air-conditioned 35-meter catamaran.
9 – Cairns: Outer Great Barrier Reef Full-Day Tour & Live Music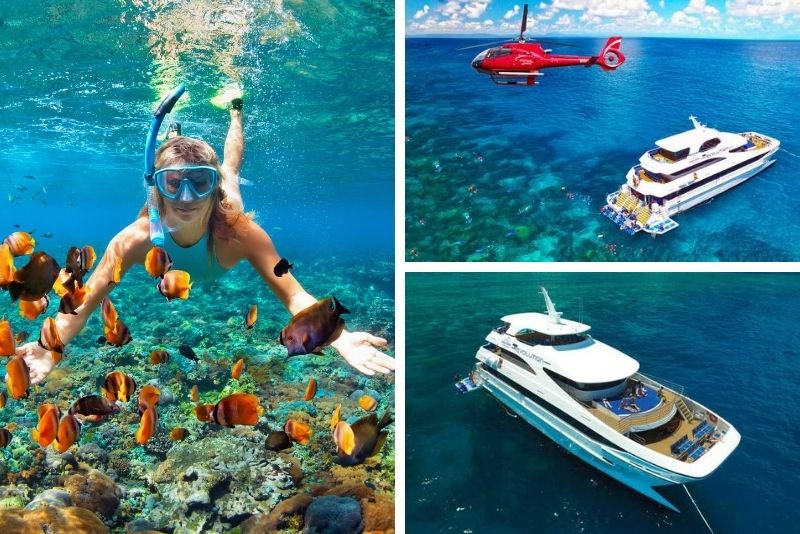 Five hours of snorkeling at two exclusive mooring locations is the perfect way to check out this globally-adored slice of Mother Nature. What sets this tour apart from the others is the live music, performed by an Aussie artist on the return leg of the journey.
The vessel departs at 8:15am and typically returns at around 4:30pm. $165 per person includes a gourmet BBQ lunch, snorkeling equipment with an optional guided lesson from one of the staff members, afternoon tea, a glass of wine, and a fruit and cheese platter.
Plenty of optional extras are available for purchase too, such as photos, helicopter tours, and diving.
10 – Outer Great Barrier Reef Cruise Including Scenic Heli Flight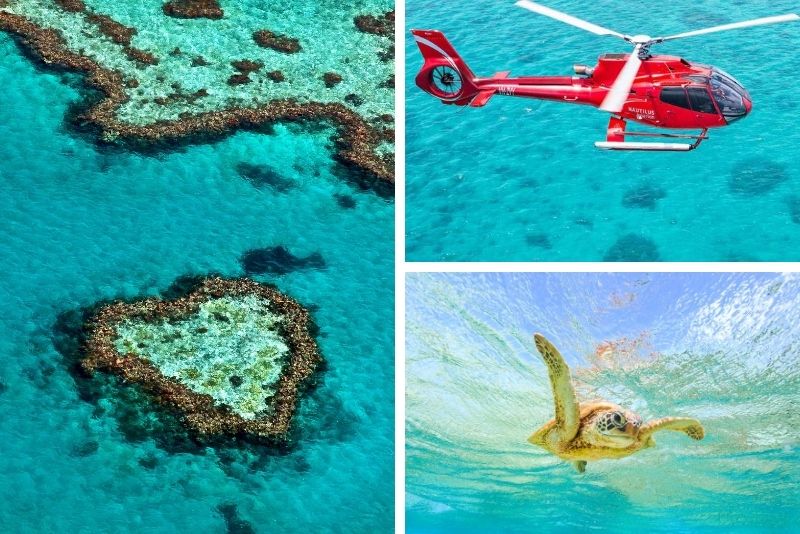 On 'Evolution', one of the fastest and largest commercial catamarans that services the Great Barrier Reef, you'll venture across the pristine waters to two spectacular swimming destinations in the Outer Reef.
Sunbathe on the deck or relax in the air-conditioned lounges – either way, you're in for a treat. With room for 150 passengers on the boat, this option is perfect for the socialites.
$368 grants you access to a 10-minute Scenic Helicopter Flight to and from the exclusive Heli-Pontoon on the Outer Reef, in addition to all of the features and amenities listed in the aforementioned number 9 on this list.
11 – Barrier Reef Snorkeling with Helicopter, Cruise or Both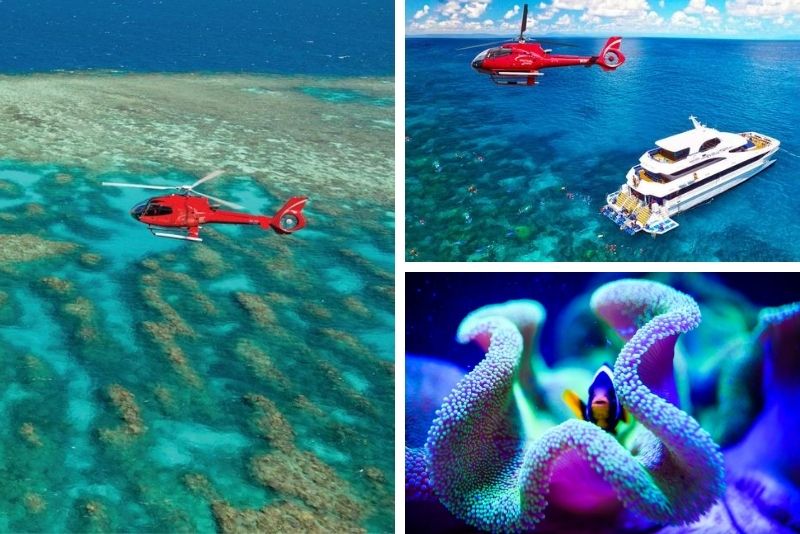 If you're itching to take in the wonder of the Great Barrier Reef from all possible angles, then look no further. This tour kicks off with a scenic flight from Cairns over the Reef and the sand cays. Thereafter, you'll be given 1.5 hours to spend swimming or snorkeling in the wildlife haven that is Hastings Reef.
Three options are available to choose from:
Fly to the reef, snorkel and explore, and then fly back to Cairns.
Cruise to the reef, snorkel and explore, and then fly back to Cairns.
Fly to the reef, snorkel and explore, and then cruise by boat back to Cairns.
You'll receive all this, plus a classic Aussie BBQ lunch, snorkeling gear, and a complimentary glass of wine for $399 per person. Cancel up to 24 hours in advance to receive a full refund.
12 – 2-Day Reef and Rainforest Package Combo: Green Island Cruise and Kuranda Day Trip
Want to see everything that Cairns has to offer on land and sea, and still be able to sleep in your own bed? Look no further. With hotel pickup and drop-off on both days, this hassle-free tour takes you on an adventure through the reef (with a cruise to Green Island) and through the rainforest (with a visit to the rainforest village of Kuranda).
The activity is advertised to have a maximum of 9 travelers, so you won't feel forced to socialize. Have the camera at the ready because you'll be gawking at the views from the Kuranda Scenic Rail, hanging out with koalas, and snapping selfies with turtles.
Trips start at $394 AUD and include a coral viewing tour in a semi-submarine at no extra charge. Note: unlike some alternatives, this option is final-sale and incurs a 100% cancellation penalty.
13 – Ultimate Great Barrier Reef Cruise with Marine World Pontoon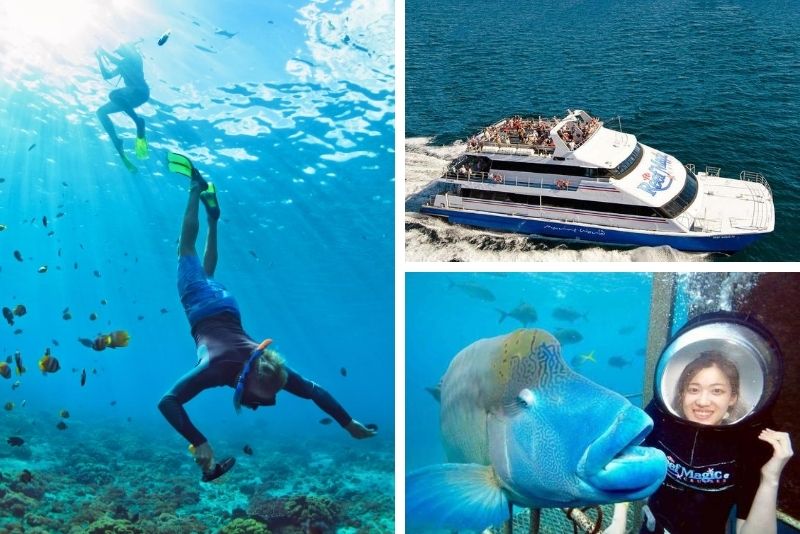 A high-speed catamaran guarantees a smooth ride out to the Outer Reef, where the magic of the Great Barrier Reef truly shines through. Once anchored, you'll have access to a wide range of free onboard activities including a semi-submersible tour, viewings from a glass-bottom boat, and the 'underwater reef viewing observatory'. Or, join a marine biologist from the multilingual crew on a guided snorkel safari!
Prices start at $239 per person, tours last for approximately 8 hours, and you'll depart from the Cairns dock at 8:30am. Refreshments are available all day, highlighted by a delicious chef-prepared buffet lunch.
14 – Cairns: Snorkel & Dive a Secluded Great Barrier Reef Island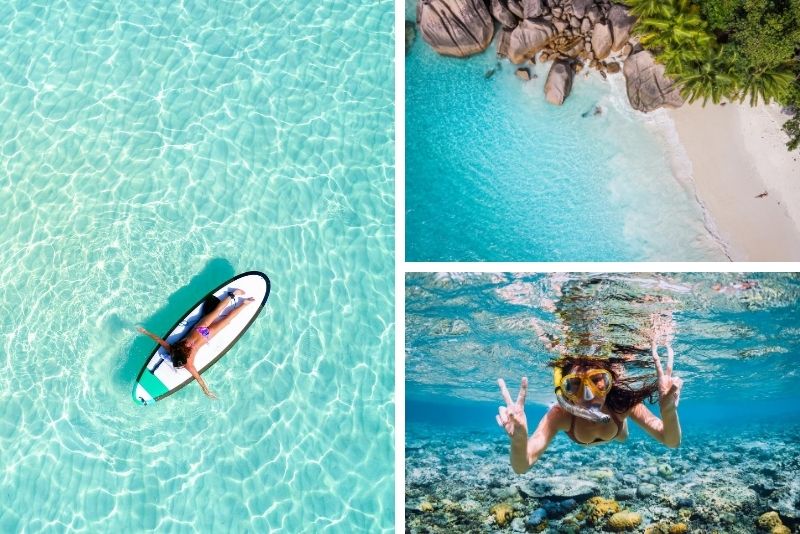 Can't stand crowds? Does the thought of a selfie stick make you want to hurl? Then this tour is perfect – it's secluded, small, and far away from the hoards of potentially-obnoxious tourists.
The tour starts with a relaxing 30-minute cruise down the colorful Mulgrave River – keep your eyes peeled for crocodiles! You'll arrive at the untouched paradise that is Frankland Islands National Park, an area less popular but also less affected by coral bleaching than most Great Barrier Reef destinations.
A maximum of 30 visitors are permitted on the island daily, so make sure to book in advance. Tours start at $99 per person and included a prepackaged lunch, snorkeling equipment, and morning and afternoon tea
15 – Reef and Rainforest Tandem Sky Dive in Cairns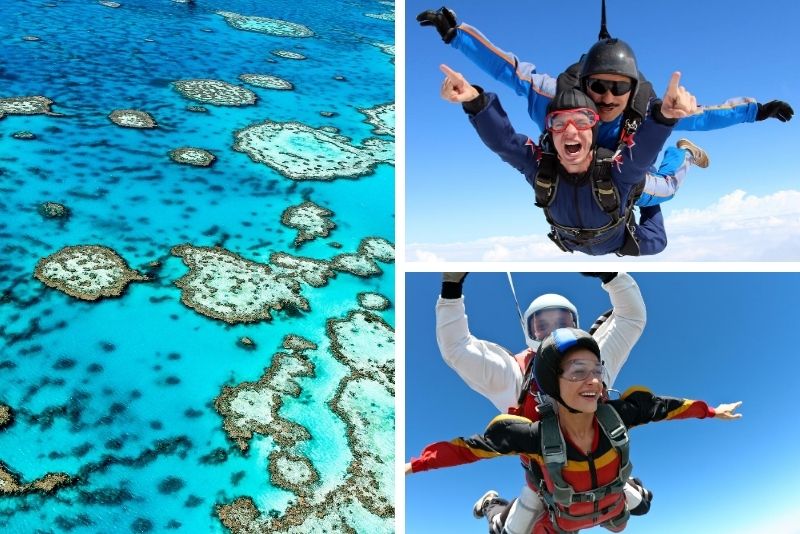 Adrenaline junkies, this one's for you! Jump out of a plane from up to 15,000 feet over, arguably, the most picturesque natural vista on the planet. No previous experience required – with a professional tandem diver strapped to your back, all that you have to worry about is soaking in the unbeatable views of UNESCO rainforests and reefs from above.
Prices start at $274 AUD and come with free cancellation up to 24 hours beforehand.
We hope that you have enjoyed our selection of the best Great Barrier Reef tours from Cairns. If you are looking for more activities to do in Cairns, take a look at our list of the most fun things to do in Cairns!
Don't hesitate to comment below if you have any questions. Have fun 🙂