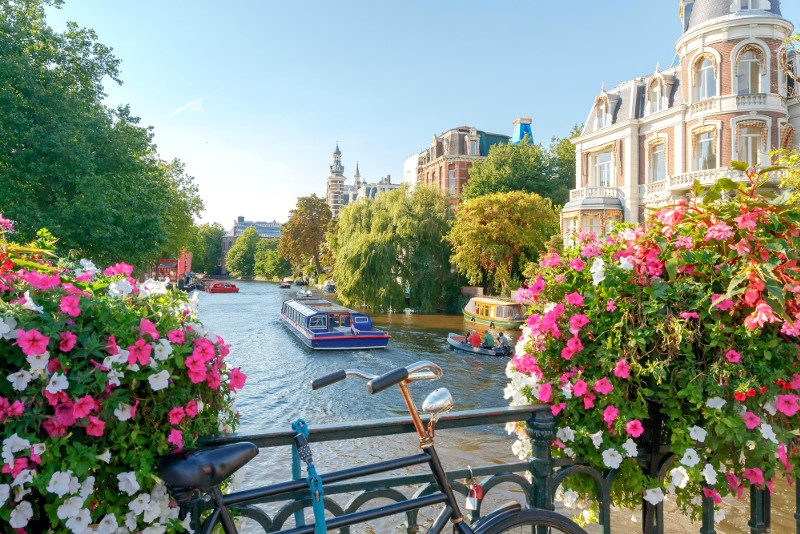 A visit to the Dutch capital isn't complete without Amsterdam canal cruises, picturesque trips along 17th-century waterways lined with townhouses, trees and landmark sights. Navigating this gorgeous backdrop is a wonderful way to get to know this beautiful city as its charms, character and attractions unfold in front of your eyes.
With so many canal trips to choose from, it can be difficult to know where to start. So that's where we come in with our pick of the 15 best Amsterdam canal cruises.
1 – Amsterdam: 1.5-Hour Evening Canal Cruise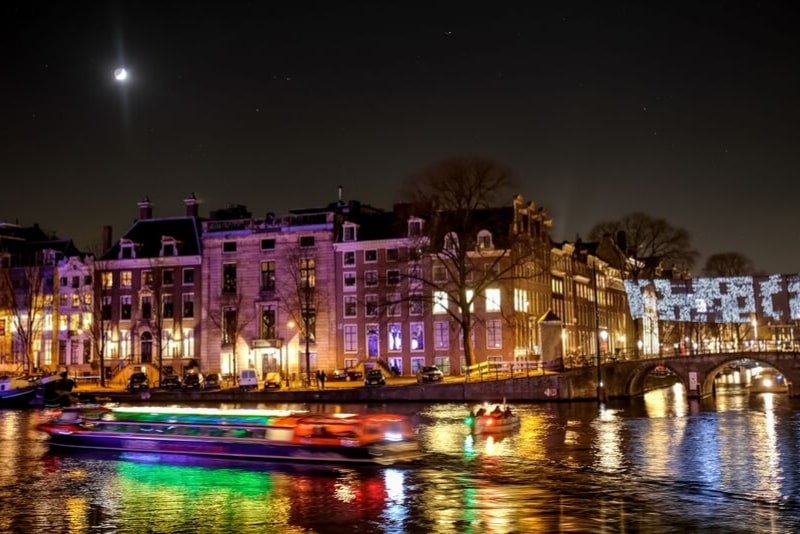 Embark on an evening canal cruise that shows off the city sights and lights. During this 90-minute cruise along the Dutch capital's scenic waterways sip on drinks from the bar as you glide past some of its most famous and captivating sights. They include the Golden Bend and the Skinny Bridge, a beautiful river crossing that sparkles under the illumination of its many lights.
During this enchanting Amsterdam canal ride, your guide will also provide you with insights into the history of some of the city's tourist hotspots as well as pointing out noteworthy restaurants and nightclubs.
2 – Volendam, Marken & Windmills with Free 1-Hour Canal Cruise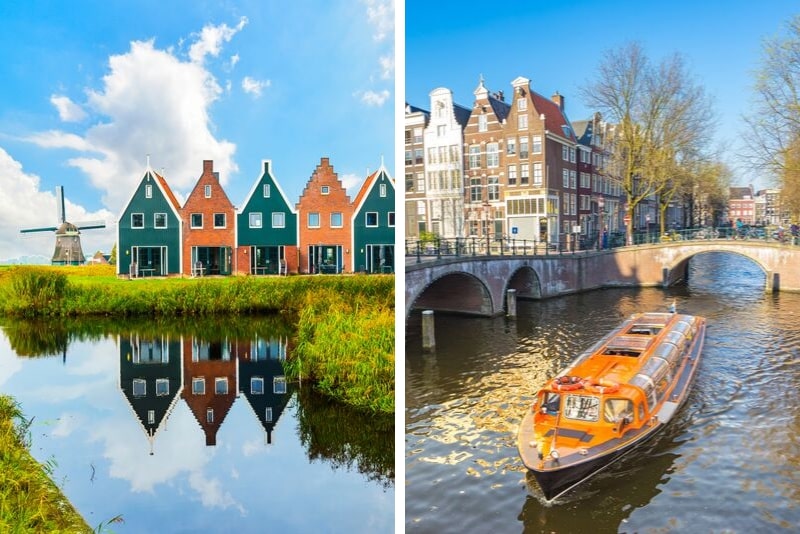 Some of the best things in life are free including a complimentary Amsterdam canal cruise that comes with this half-day visit to the beautiful green-covered Dutch countryside. Your adventure into a rustic wonderland of windmills and dikes includes visits to the timbered houses and historic windmills of Zaanse Schans and lunch at a traditional fish restaurant in the fishing village of Volendam.
This is followed by a trip to the island community of Marken to visit a wooden shoemaker and a cheese shop that makes cheese using traditional Dutch methods. Included in the price of this countryside excursion is a one-hour canal trip that can be used anytime during your stay in Amsterdam.
3 – City Canal Cruise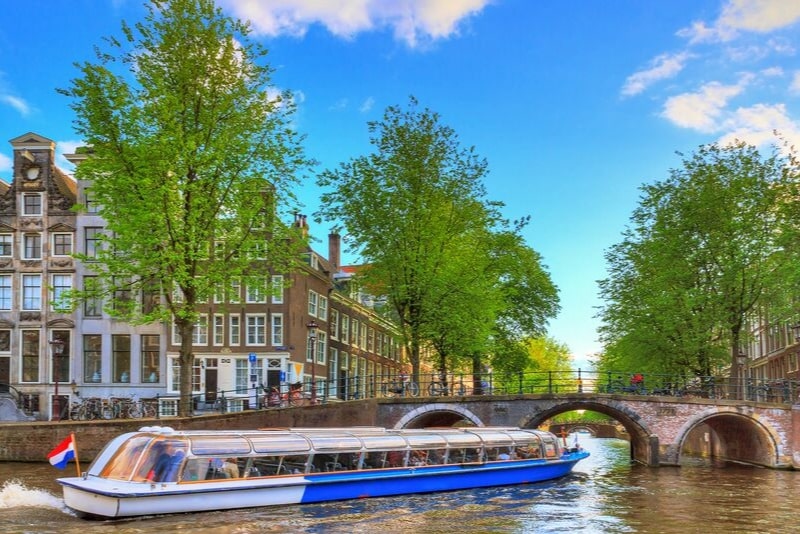 Soak up some of the best sights in the city with a 75-minute cruise through the Dutch capital's most famous waterways. Amsterdam is a canal city, so it makes perfect sense to do some of your sightseeing by water. During this cruise, you'll enjoy awe-inspiring views of the historic centre and its centuries-old buildings as well as some of the modern buildings that are defining the dynamic 21st-century metropolis.
Highlights of this boat ride include the historical centre and Overhoeks. This is the city's newest quarter, and it comprises residential, retail, office and cultural spaces.
4 – Amsterdam: Van Gogh Museum Ticket and City Canal Cruise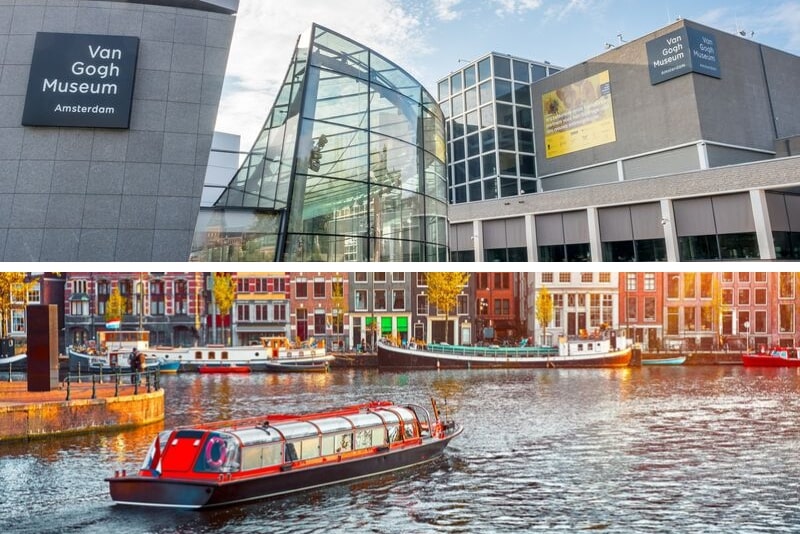 Save time and money while exploring the Dutch capital with a ticket that combines an Amsterdam canal cruise with post-impressionist masterpieces by Vincent van Gogh. Your enchanting trip starts with a visit to the Van Gogh Museum which showcases a rich collection of works by one of the most influential painters in the history of Western art. These include Sunflowers, from 1889, The Bedroom, from 1888 and Wheatfield with Crows, from 1890.
Afterwards, enjoy a leisurely cruise along the canals of the bohemian and cosmopolitan De Pijp district which will take you by traditional merchant houses and numerous bridges and houseboats.
5 – Amsterdam: Hop-On Hop-Off Bus Tour with Boat Option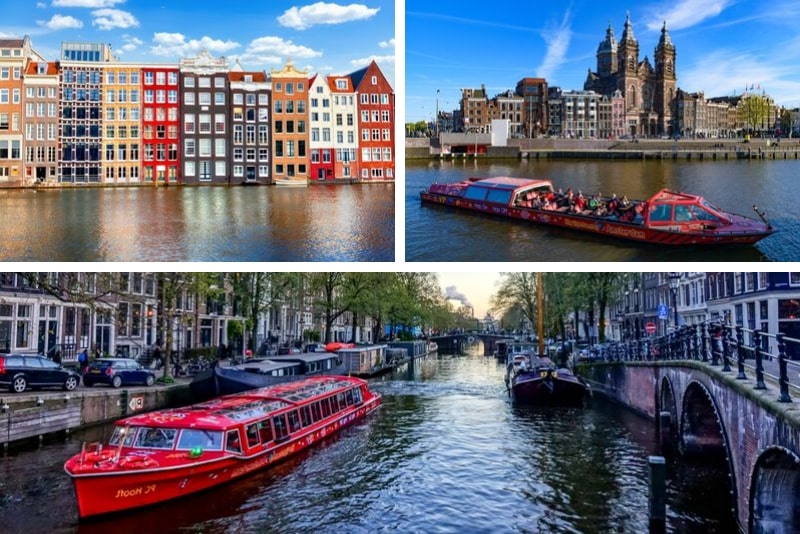 From cool clubs and trendy neighbourhoods to lazy canals and historic buildings, Amsterdam has it all. To make the most of your time in the Dutch capital consider seeing the best bits at your own pace with a hop-on hop-off bus tour that also includes a hop-on hop-off boat tour. This fun-packed experience encompasses 11 bus stops and 10 stops across two hop-off boat routes.
All stops are near major attractions such as the Anne Frank House, the Van Gogh Museum, the Church of St. Nicholas and the Red Light District. Included in this tour are a free city map and a GPS guide with 18 languages.
6 – Amsterdam Evening Canal Cruise with 4-Course Dinner and Drinks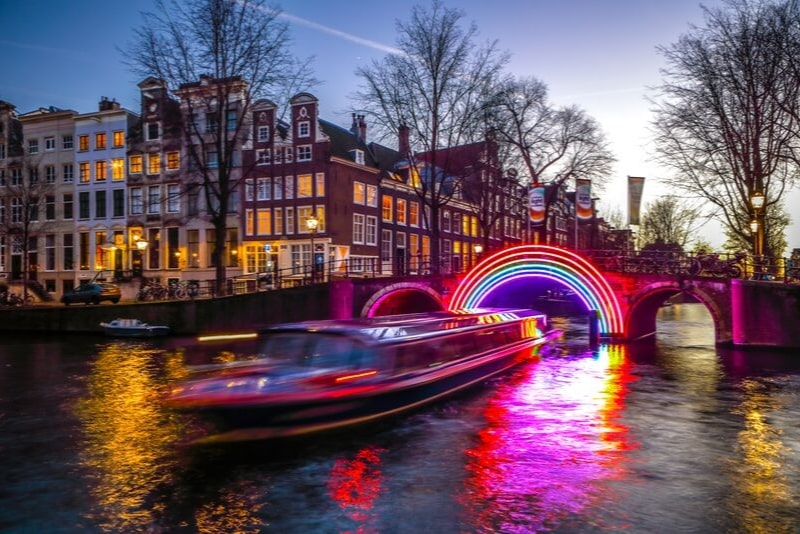 Amsterdam's canals provide a spectacular setting for an intimate evening of good food and fine wine. Marvel at illuminated city sites such as the Skinny Bridge and the Hermitage Museum as you sip on drinks and tuck into a four-course meal that is freshly prepared and cooked on board.
Dine outside or inside the lower saloon and choose from meat, fish and vegetarian options. The price of this Amsterdam canal cruise includes alcoholic beverages, soft drinks, and tea and coffee.
7 – Keukenhof Gardens Half-Day Guided Tour from Amsterdam with Free 1-Hour Cruise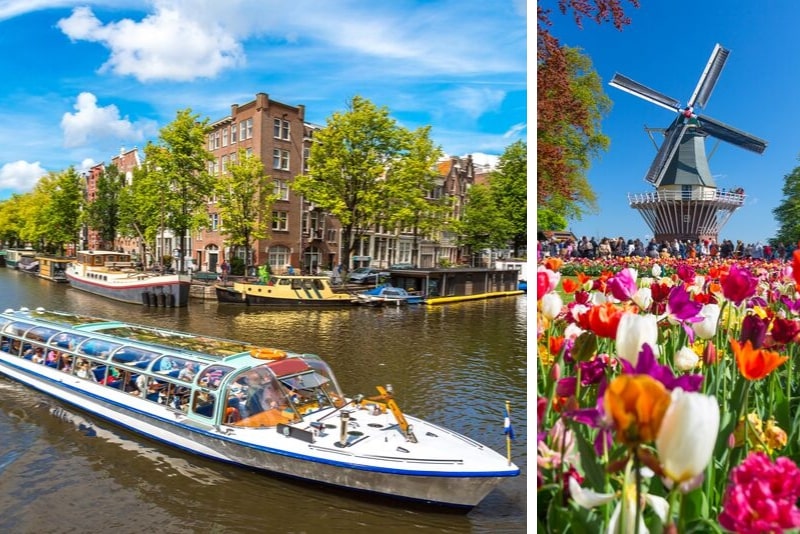 Immerse yourself in a sea of soft, fresh, and fragrant flowers as you travel through the Dutch countryside to visit iconic tulip fields at Keukenhof Gardens. This botanical wonderland boasts more than 800 varieties of tulips and other spring flowers spread across a 32-hectare site.
The gardens are only open from March through to May when the flowers are in bloom and a remarkable sight. Bring a picnic with you and enjoy this al fresco feast during your three hours in this picturesque setting. This countryside excursion also includes a complimentary one-hour boat cruise of Amsterdam's canals.
8 – Amsterdam: Dutch Cheese & Wine Cruise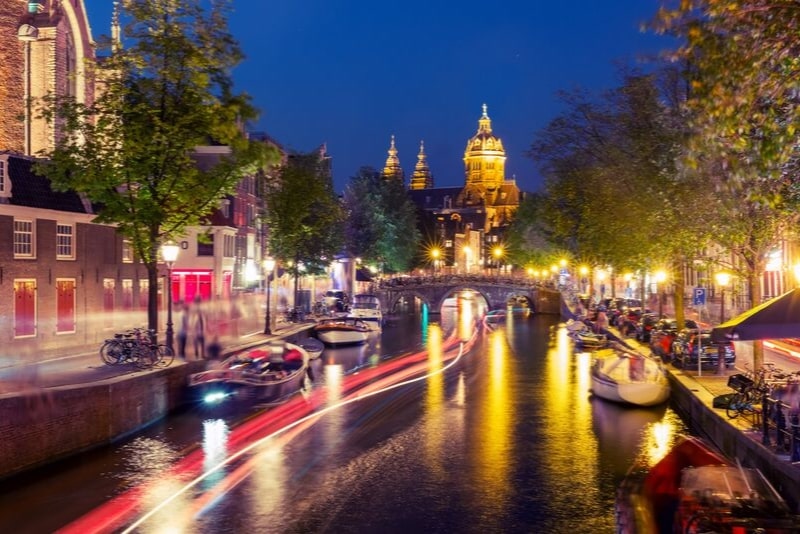 Watch the sights of Amsterdam slowly light up whilst enjoying a fine selection of tasty Henri Willig cheeses. Wash them down with refreshing glasses of wine and look across the water at such illuminated landmarks as the Skinny Bridge. This crossing over the Amstel River is also known as Magere Brug and has a history that stretches back to the 11th century, although the present bridge was constructed in 1934.
As you sail along the water on your boat tour you'll hear expert commentary about the Dutch capital and some of the places that make it such a fascinating place. This magical cruise is a wonderful way to round-off your day or start your evening.
9 – A'DAM LOOKOUT & Canal Cruise & Heineken Experience – Rock the City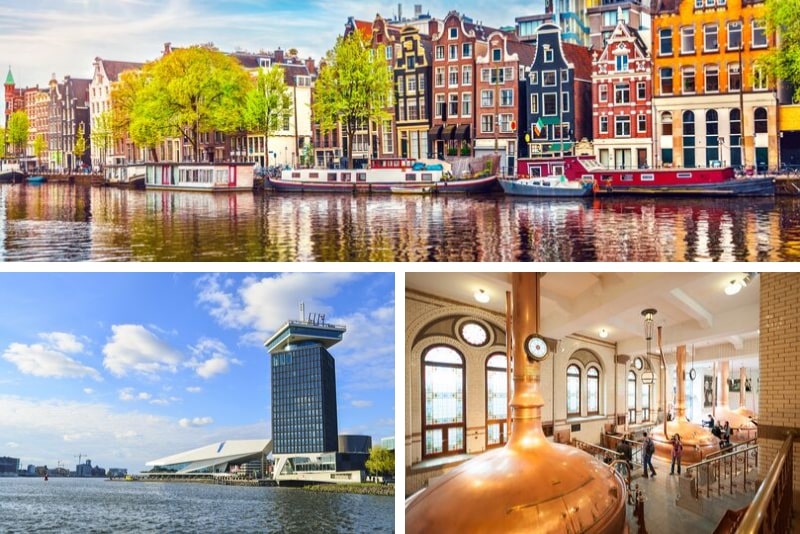 Embark on a day of sightseeing adventures with a combination ticket that includes an Amsterdam canal cruise past iconic sights and visits to two wildly popular attractions.
The fun starts with panoramic 360-degree views of the city from the top of the A'DAM LOOKOUT. This observation tower also has Europe's highest swing where visitors can swing 100 metres above the ground.
Afterwards, climb aboard your boat for a memorable one-way cruise along the 17th-century canal system. You'll pass under iconic bridges and pull up at the Heineken Experience, an interactive tour through the history of the beer maker.
Also included with this canal tour combo ticket are two drinks at the Heineken attraction.
10 – Van Gogh Museum and Rijksmuseum skip-the-line guided visit, lunch and cruise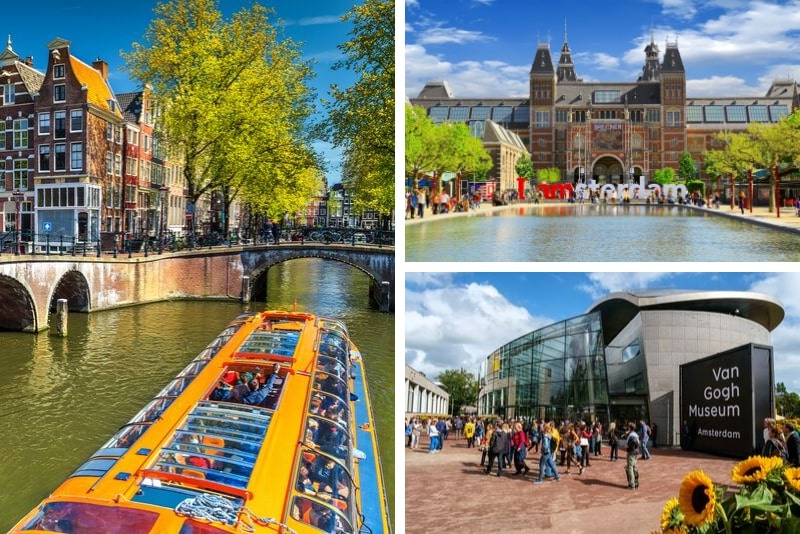 Enjoy a hassle-free way to experience major Amsterdam attractions with a cruise combo ticket that lets you skip the queues at the Van Gogh Museum and Rijksmuseum. This riveting full-day tour starts at the Rijksmuseum, which is dedicated to Dutch art and history from the Middle Ages to the present day.
After lunch at the museum, which is included in the price of the tour, it's off to cruise the city's UNESCO-protected canal district on a boat tour. This is a wonderful introduction to the city that will take you past churches, towers and charming canal houses.
Then it's into the Van Gogh Museum, a treasure trove of work by the Dutch master and other 19th-century painters.
11 – Amsterdam Canals Pizza Cruise Including Drinks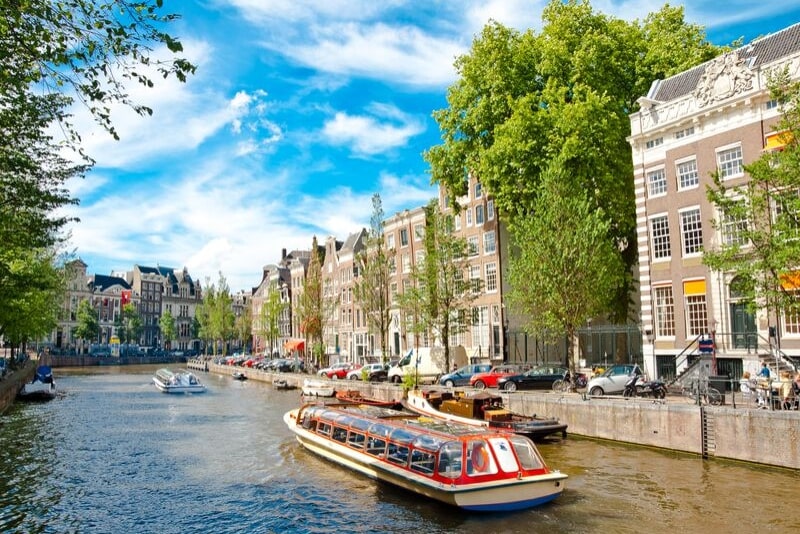 Feast on a delicious pizza straight from the oven followed by delicious scoops of Ben and Jerry's ice cream as you glide past some of Amsterdam's most famous sights. This canal ride and dinner cruise is both a treat for the eyes and the taste buds.
As you sail along the Dutch capital's atmospheric waterways your guide will reveal fascinating insights into landmark buildings and structures. There is a choice of six pizza types and also included in the price of this 90-minute cruise are unlimited soft drinks, beer and wine.
12 – Amsterdam Dutch Wine and Cheese Candlelight Cruise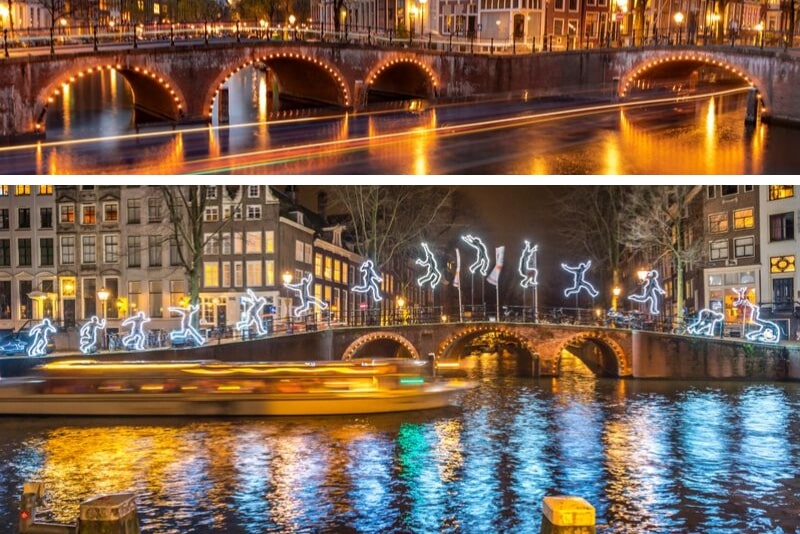 Amsterdam's canals are a gorgeous sight but even more so when illuminated by the city lights. This romantic setting is simply breathtaking when glimpsed from a candlelit boat cruise. The evening canal cruise is set aboard a glass-enclosed boat from which there are stunning views from every angle.
As the captain navigates the 17th-century waterways and the candles flicker in the night air, savour a glass of wine or soft drink, Dutch cheeses, pickled cucumbers and other snacks. Your leisurely return journey will take you through the Canal Belt of the Amstel River and under bridges festooned with lights.
13 – Rijksmuseum: Skip-the-Line Ticket and 1-Hour Cruise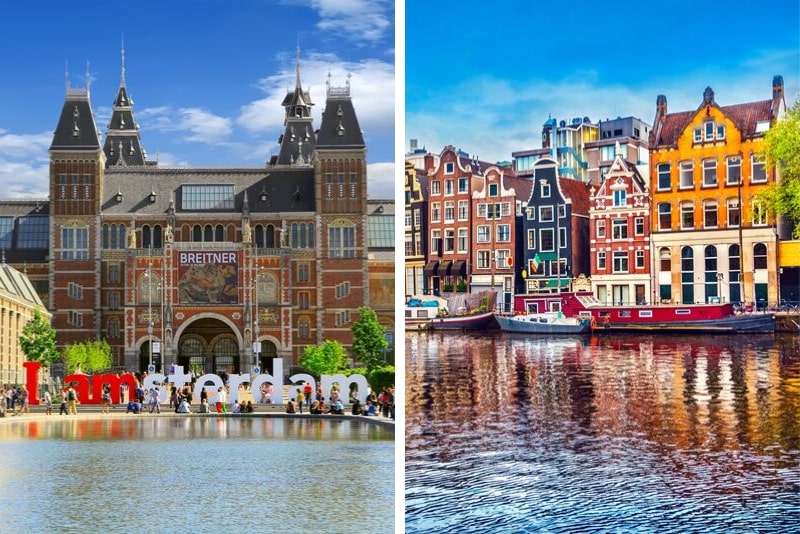 Browse stunning collections of centuries-old art at the Rijksmuseum and go on a one-hour Amsterdam canal cruise with this combination deal. Climb aboard the boat for a picturesque tour that takes in the home of Anne Frank, the old Port of Amsterdam and canal side buildings and merchant houses in a variety of styles.
When you disembark you'll whizz past the queues for fast track entry into the Rijksmuseum, the Museum of the Netherlands. Once inside, wander through exhibition halls filled with art and artefacts from the Middle Ages. Among the highlights are more than 2,000 paintings from the Dutch Golden Age, a period that spanned the 17th century.
14 – Amsterdam Canal Cruise and Entrance to Xtracold Icebar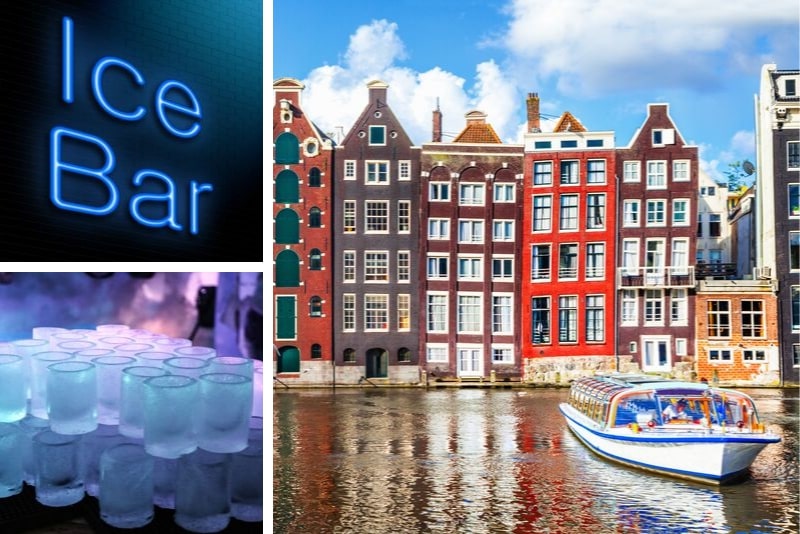 Combine your Amsterdam canal ride with drinks in one of the coolest places in the city, the Xtracold Icebar, which is made entirely of ice, even the glasses. With this combination ticket, you can take the tour in one go or each option separately.
As you travel along atmospheric waterways inside your luxury glass-topped boat you'll pass a wealth of enchanting sights including 16th and 17th-century merchant buildings and the Anne Frank House.
When you arrive at the icebar you'll skip the line and be able to enjoy three complimentary drinks. Also included in the price are the special clothes you will need to enjoy the sub-zero drinking experience.
15 – Amsterdam Walking Tour and Canal Cruise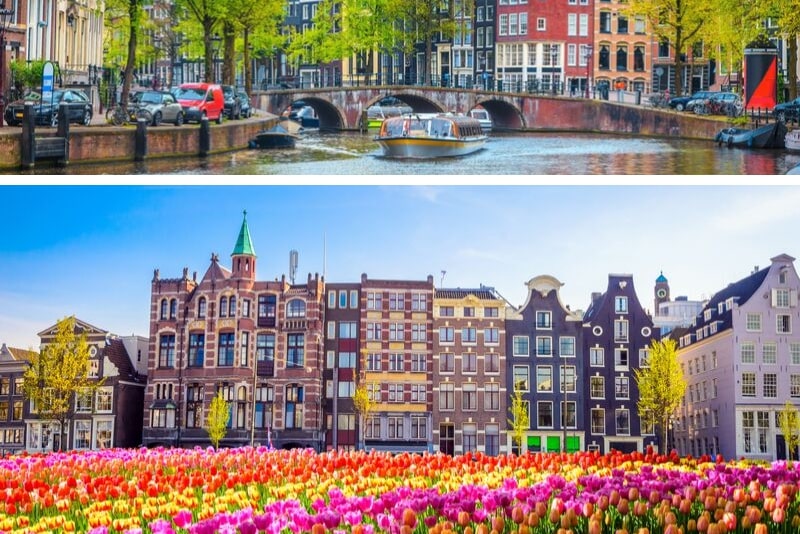 Explore the Dutch capital on land and by water with a three-hour walking tour and one-hour canal boat ride. The experience starts with a guided tour through colourful neighbourhoods and covers some of the most important sights in the city including the Anne Frank House, West Church and the 17th-century Royal Palace of Amsterdam, a colossal building on Dam Square.
As well as regaling you with stories about the capital's long history your guide will also furnish you with lots of insider tips about the best restaurants, activities and attractions. Then it's time for the one-hour canal cruise and unrivalled views of Amsterdam's cityscape from the water.
Looking for something else? Didn't find the right cruise? Click on the following link to see the full list of Amsterdam canal cruises.