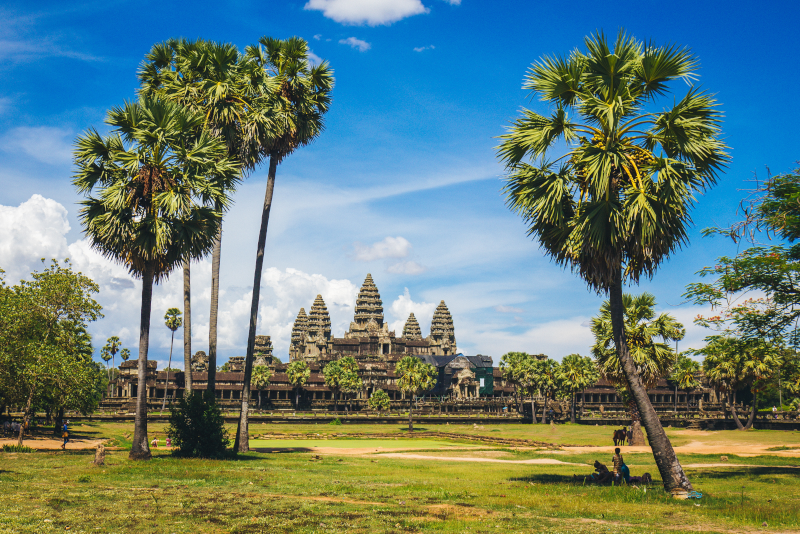 From helicopter rides and tours of hidden temples to fun photo tours, the best Angkor temples tours have it all. Whether you are a photographer, a history lover, or simply someone looking for fun, there's almost certainly a perfect Angkor temples tour just waiting for you.
1- Discover Angkor Wat on a bike tour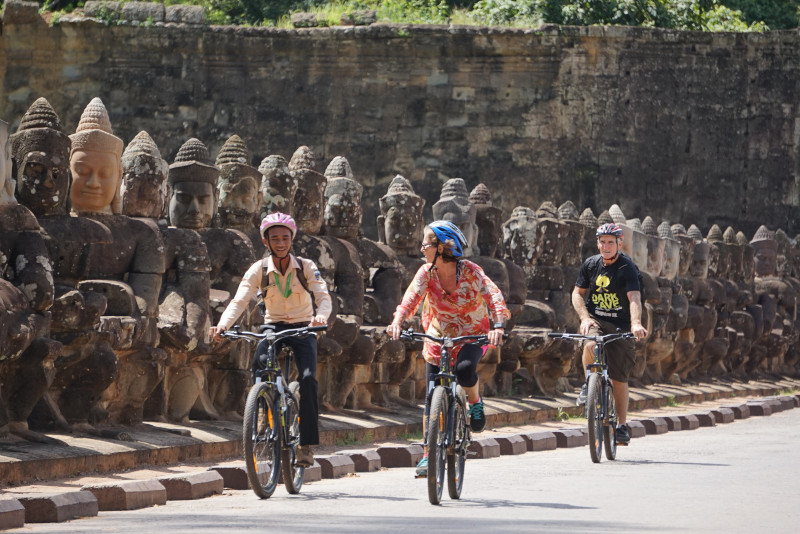 Enjoy a full-day bicycling along quiet trails to see a different side of the majestic Angkor temples at the World Heritage site. An experienced local guide will show you highlights of Angkor temples.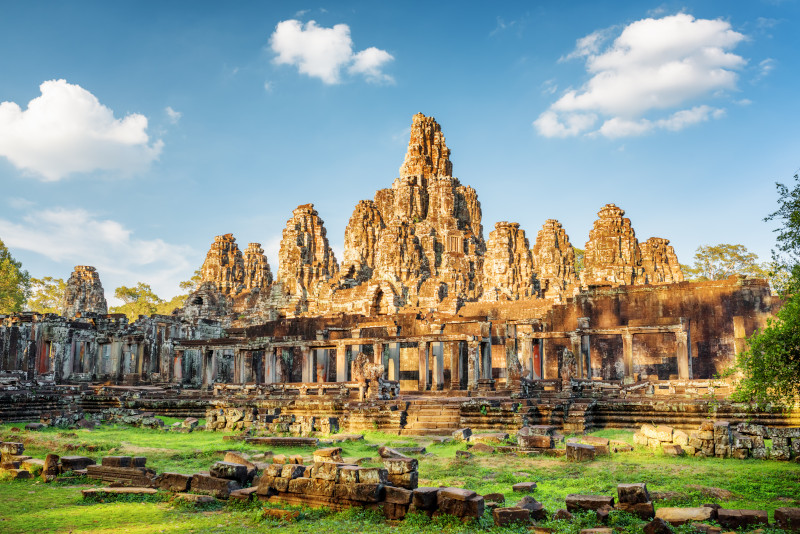 Cycle around the ancient ruins, a bike tour is the best way to explore the hidden temples that only a few tourists find. Join a tour suitable for the entire family and escape the crowd!
2- Go on a jeep safari to Angkor Wat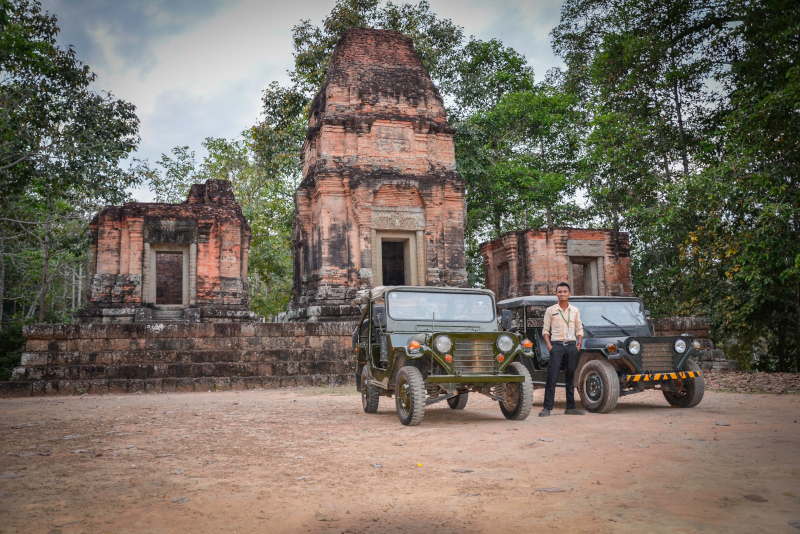 Go on an unforgettable jeep tour around some of the most spectacular temples in Cambodia. Take your time, explore each one for as long as you like, and stop at any spot you find interesting along the way.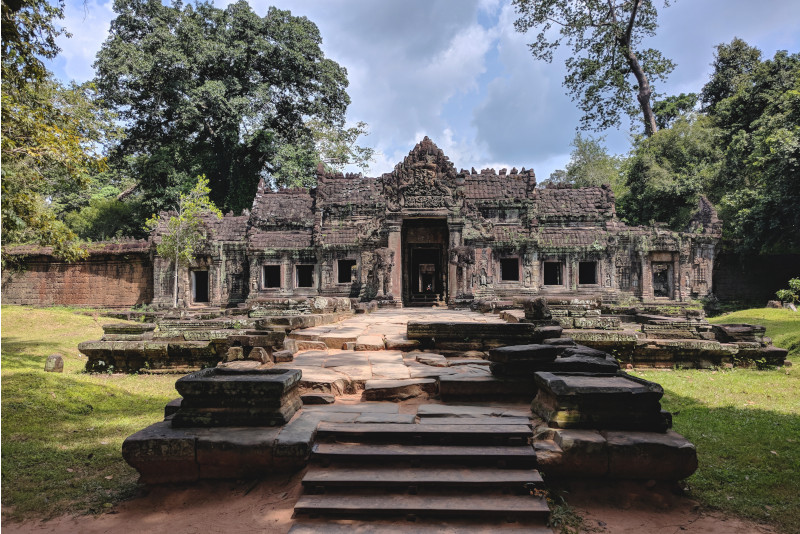 Above all, a vintage jeep will let you discover all the hidden places in a comfortable and tailor-made tour!
3- Explore Angkor hidden temples on a car tour

Take a full-day trip by car and marvel at the UNESCO-listed majesty of Angkor temples. This private tour will provide you the opportunity to see mysterious temples like Bayon, Ta Phrom and explore the beauty of Siem Reap and its surrounding areas. A car tour is perfect for small groups and family!
4- Catch moments of pure beauty with a photo tour in Angkor Wat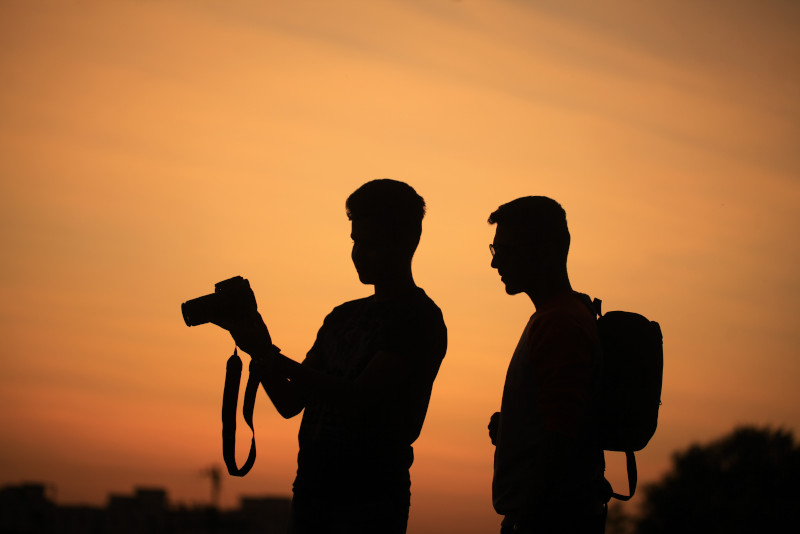 Stop as much as you want to take amazing photos along the photo tour. Travel back to the 12th-century Khmer Empire and explore the magnificent monuments of Angkor temples.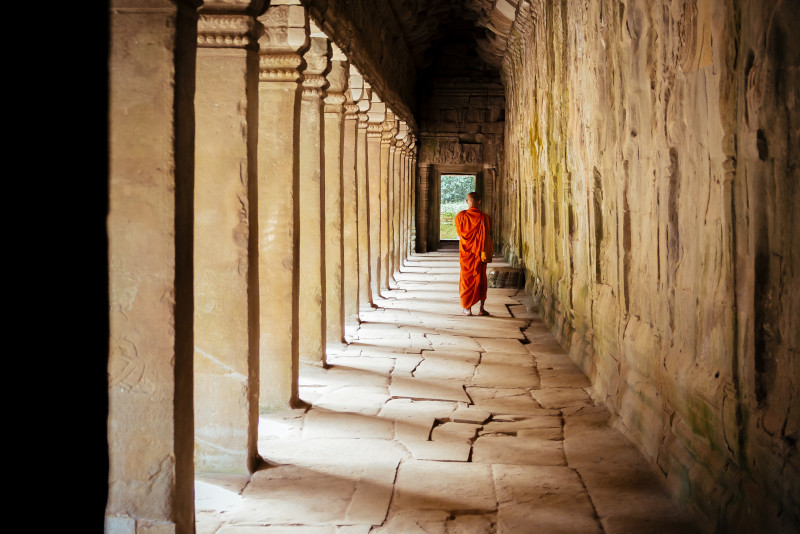 Stroll towards the temples to admire the hidden places. Visit the most iconic temples and make memories for a lifetime.
5- Glide down the zip line through Angkor temples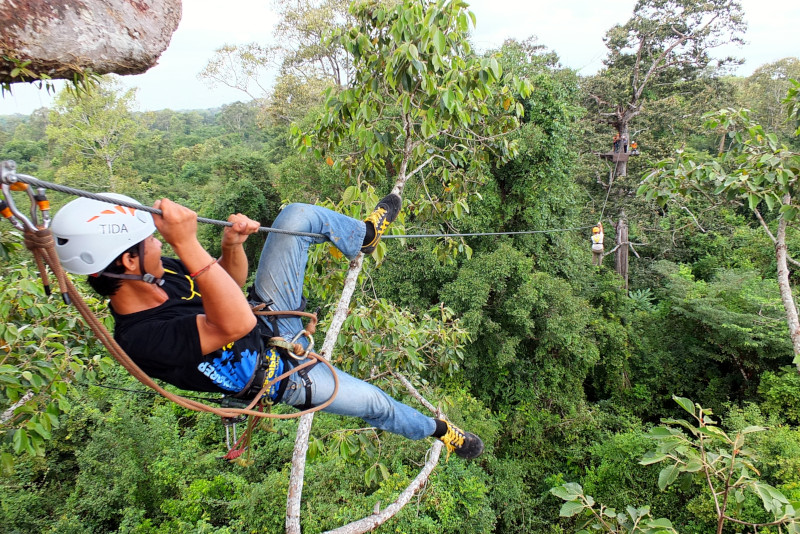 Experience the beauty of this Unesco World Heritage site in a unique zip line tour. Glide down the zip line and get your adrenaline pumping on this adventure through Angkor rainforest and archeological park. Enjoy spectacular views on a series of 21 thrilling zip lines, sky bridges, and abseils.
6- Hop aboard a tuk-tuk and discover Angkor Wat with style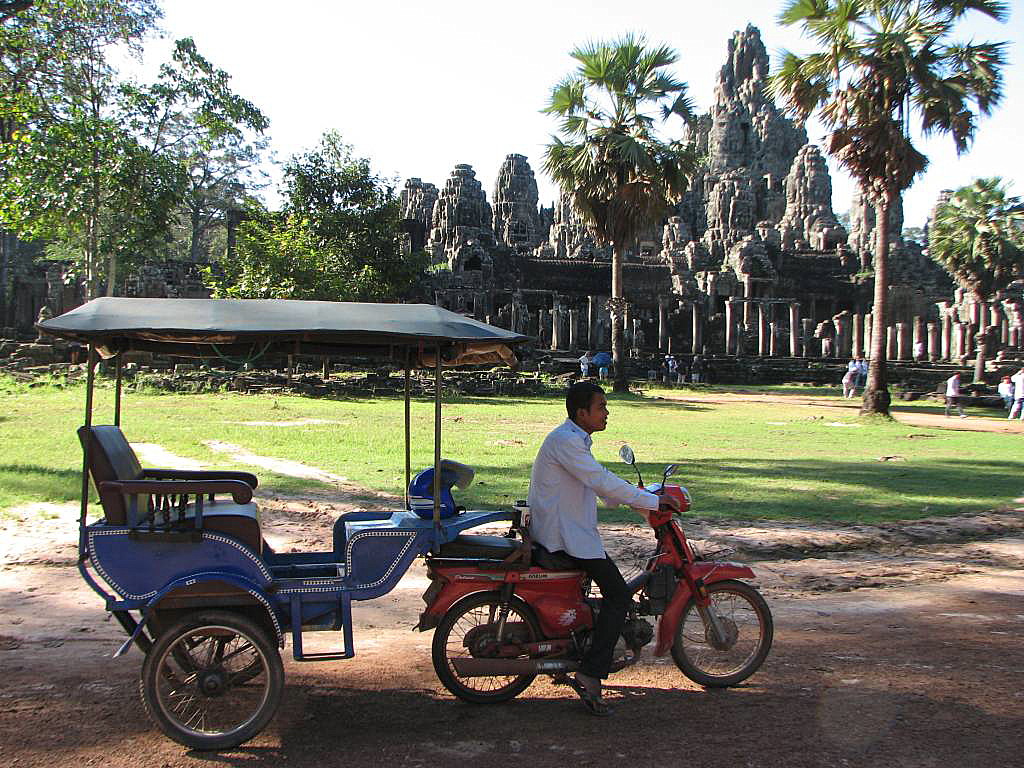 Traveling by tuk-tuk is a good choice to get around the vast site and wind through narrow passageways. Absolutely the best way to immerse your taste buds in Cambodian culture.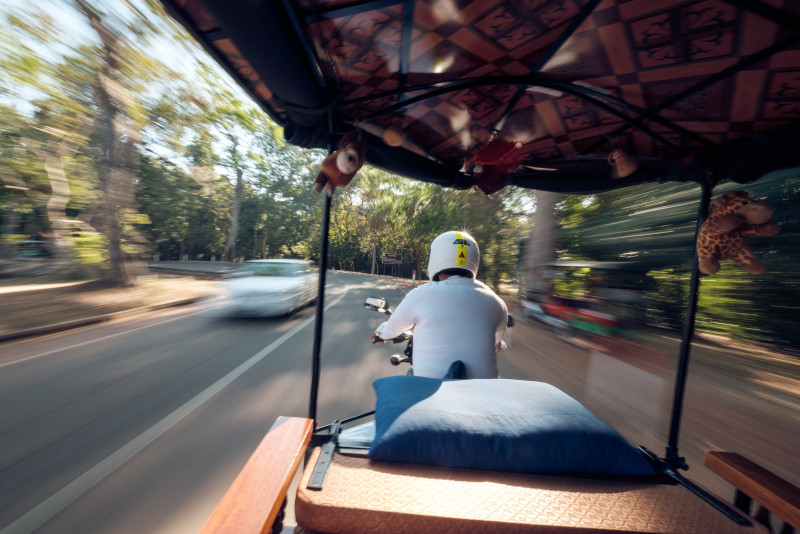 Go on a funny tuk-tuk tour and visit the park including the Terrace of the Elephants, Bayon Temple and other key locations. Hear commentary about Angkor's history while appreciating this wonder!
7- Capture unique pictures on an Angkor Wat sunrise tour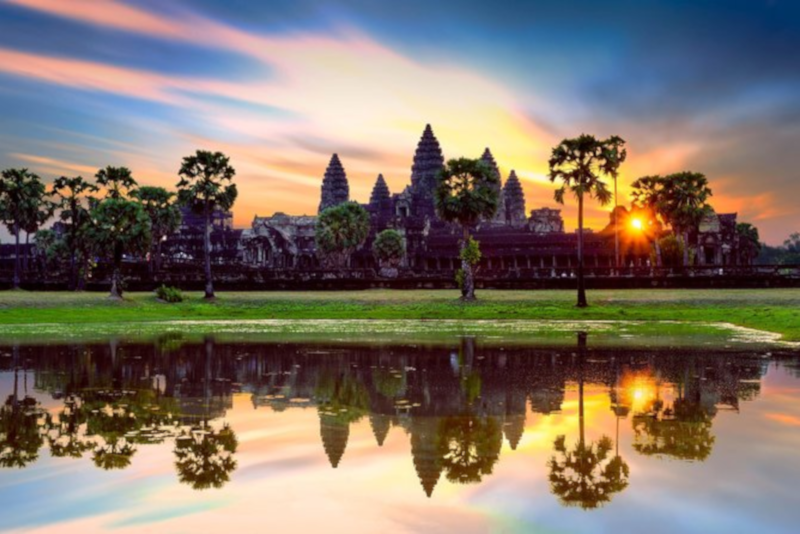 If you want a romantic tour or just experience Angkor temples on a different light, take a sunrise tour. Beat the crowds on a sunrise tour and reach the site in time to watch the sunrise over the temple complex or hop on board a sunset river cruise along the Tonle Sap and soak up the beautiful atmosphere!
8- Fly over Angkor Wat on a hot air balloon ride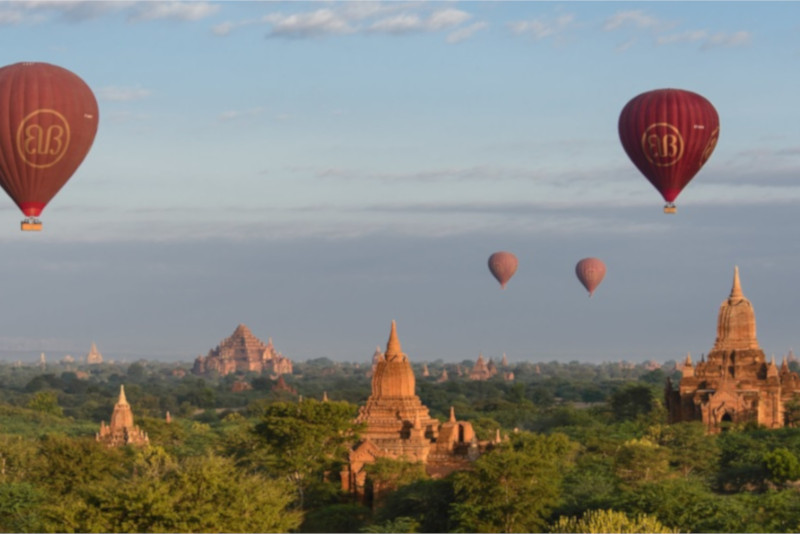 Enjoy a hot air balloon ride over the majestic Angkor temples and admire the hundreds of fine bas-relief carvings. Have a bird's eye view on the picturesque Cambodian countryside with its rice fields and villages. Add a touch of romance and take a ride at the sunset. Don't miss this unique way to explore the surroundings.
9- Go on an original Vespa tour through Angkor Wat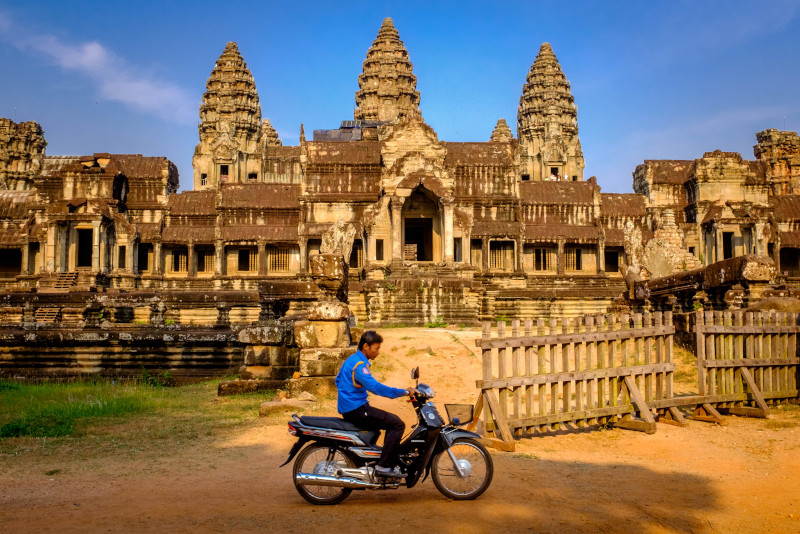 Cruise through the countryside of Siem Reap and reach Angkor on the back of a Vespa scooter. You will discover many hidden jewels not everyone is lucky enough to see. Listen and learn about the history of the Khmer empire from a very knowledgeable guide.
Most importantly, this tour is exclusive because everything is designed to be as personal and as far away from the crowds as possible.
10- Visit Angkor Thom and set foot in an Indiana Jones filming location
If you are an Indiana Jones fan and you're visiting Angkor, you cannot miss the Angkor Thom Scavenger hunt tour. Upon arrival, receive a map and a set of clues and start unlocking the answers while exploring the temples.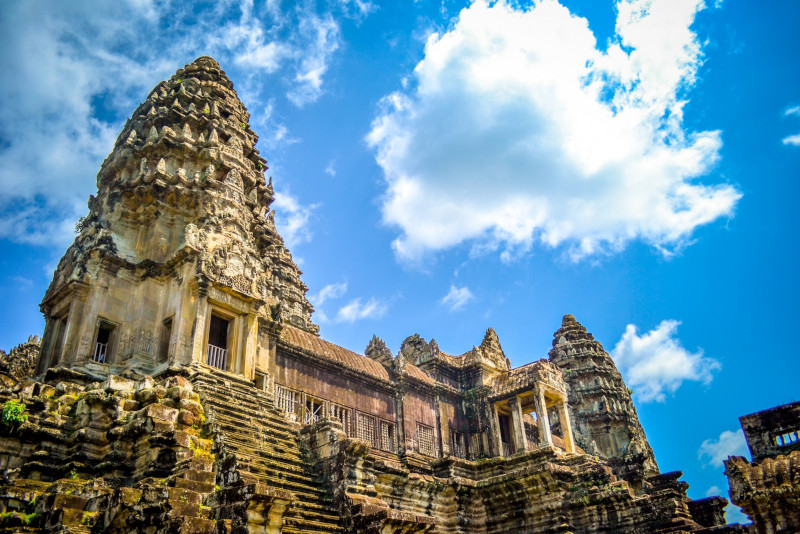 Learn about Angkor history through a treasure hunt, look for hidden carvings and unusual temple views.
11- Join an A

ngkor Wat Helicopter Tour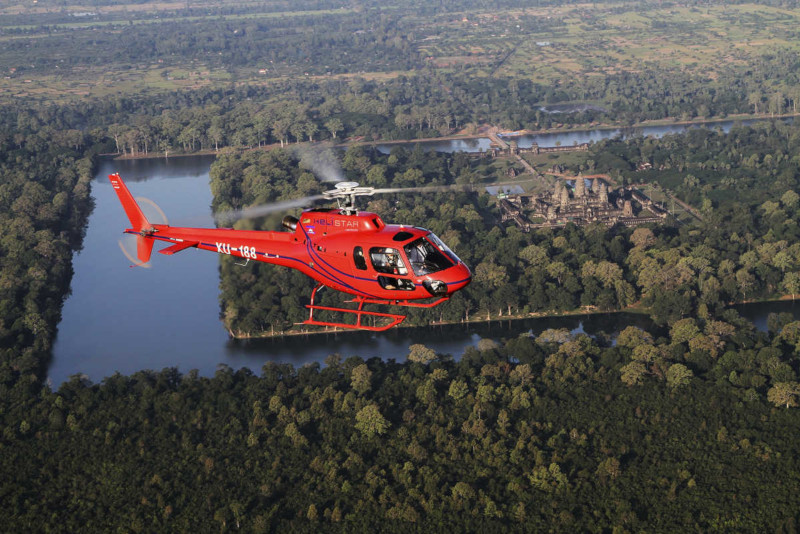 Take the chance to explore remote temples and let a personal guide explain to you the beauty of these hidden place. Fly alongside the magnificent Angkor temples and have unparalleled views of the temples on a helicopter tour. Marvel at the size and design of a structure built some 900 years ago.
12- Fully Explore Angkor Wat in a multi-day tour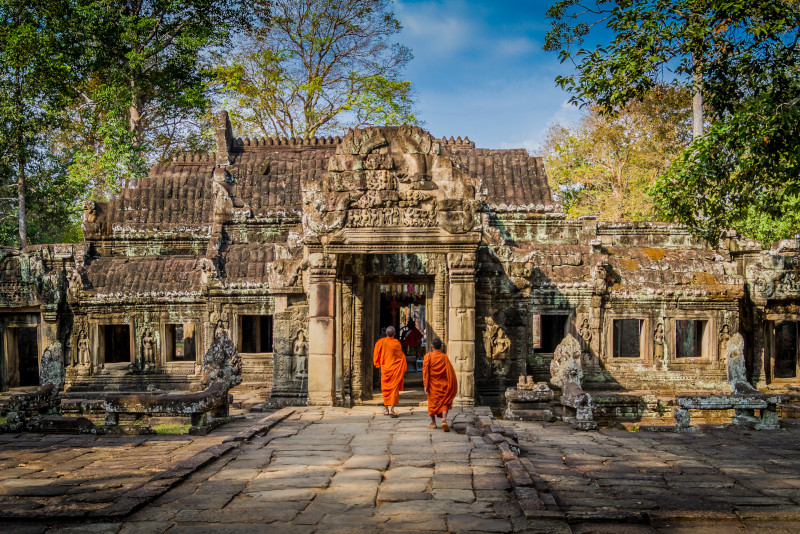 Join a multi-day tour of Angkor Temples and get the opportunity to visit both the small and big circuits. You will see Bayon temple, with the smiling faces, Angkor Wat Park, the garden temple of Beng Mealea or Jungle temple and also the South Gate of Angkor Thom, one of the 12th-century capital city gates.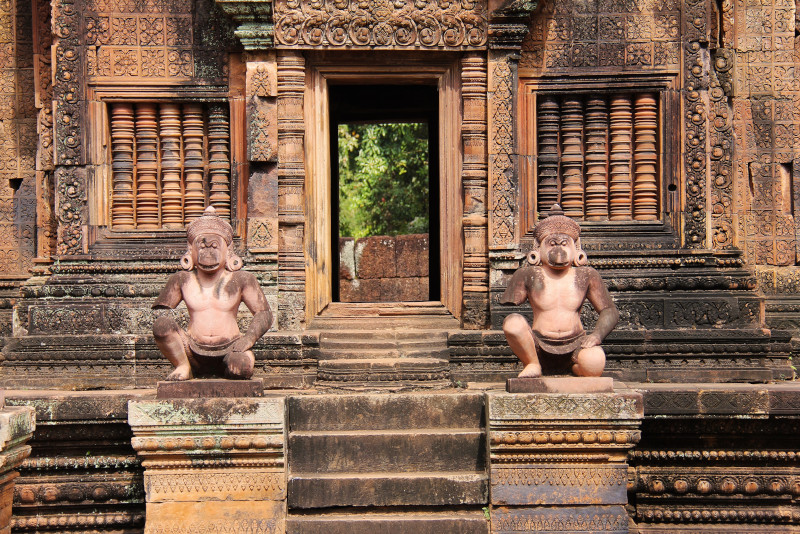 Take more time to have a complete tour around this unique site and chose from different types of multi-day tours.
What will I see? A bit of history…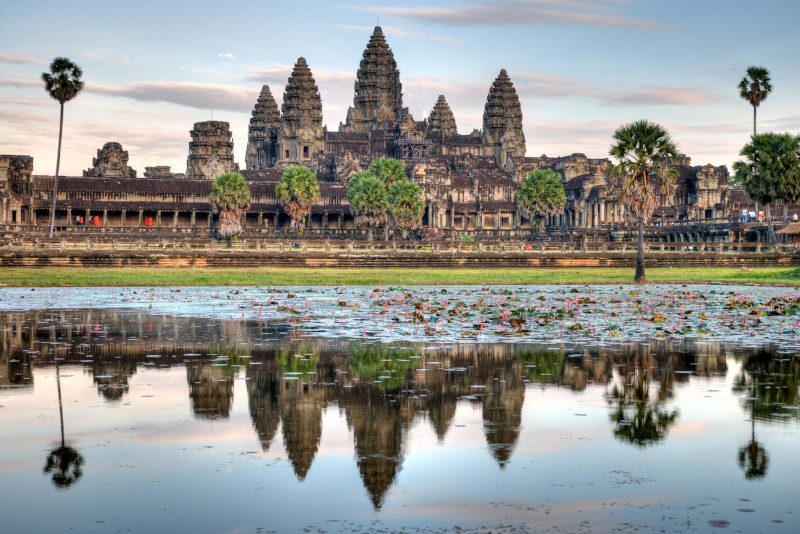 Located five miles north of the modern Cambodian city of Siem Reap, Angkor is an enormous complex of temples built by the Khmer King Suryavarman II in the early 12th century.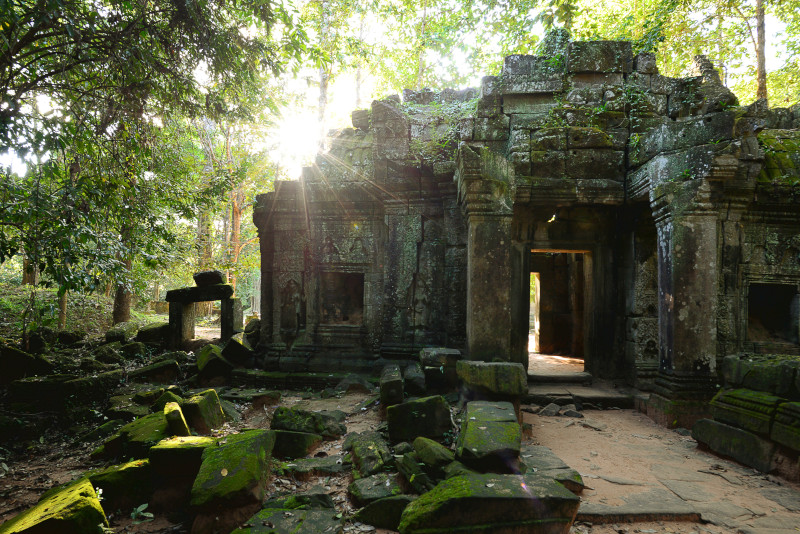 While the word "Angkor" means "capital city" in the Khmer language, the word "Wat" means "temple." Angkor temples were initially designed as Hindu temples and later transformed into a Buddhist site.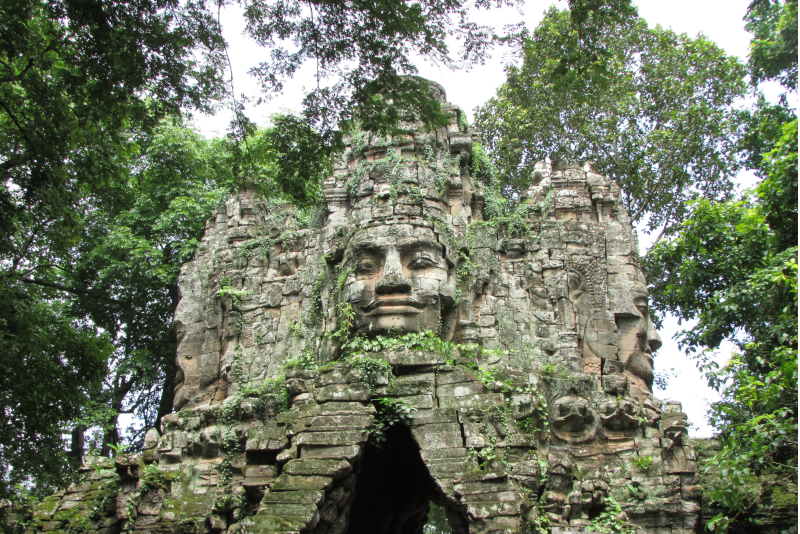 When the capital was moved to Angkor Thom due to a rival tribe pillaging, Angkor Wat only remained a religious spot. Unfortunately, although Angkor temples remained in use until fairly recently—into the 1800s—the site has sustained significant damage, from forest overgrowth to earthquakes to war.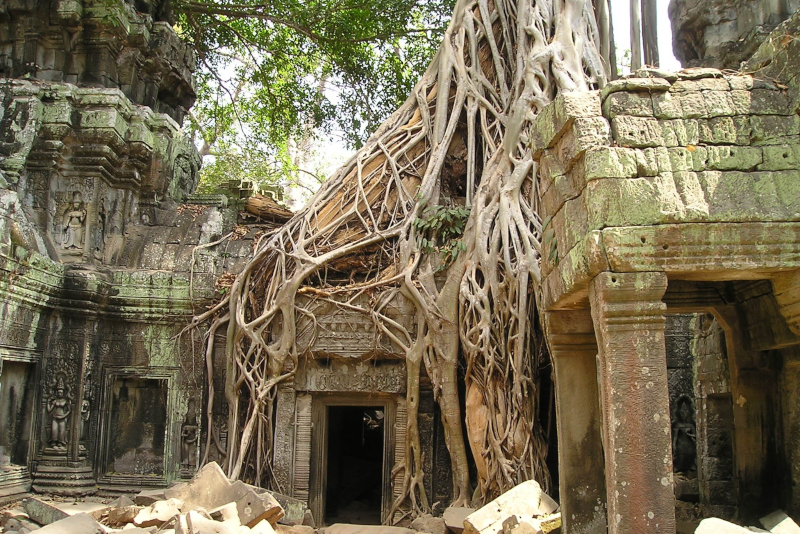 In the early 1900s, a commission was established by the French to restore the site for tourism purpose. Subsequently, Angkor temples miraculously sustained relatively minimal damage during the civil war in the 1970s.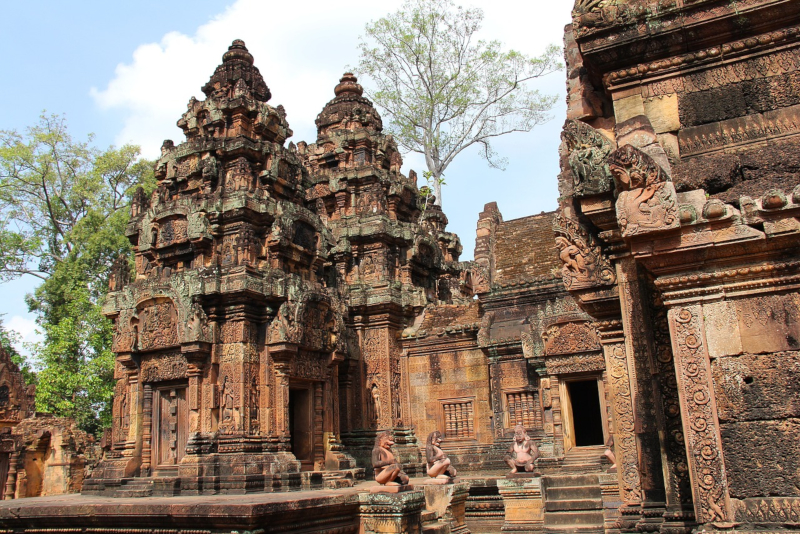 Don't miss the chance to visit a UNESCO World Heritage site, scroll down and hop on board on this virtual tour!
How much do Angkor Wat tours cost?
The cost of a tour of Angkor Wat depends mainly from the duration of the tour, the type of tour (for instance bike, jeep, tuk-tuk…) and if it is a private or a group tour. Keep in mind that prices can change depending on the season you're traveling. Usually, the cost is between 20$ for minibus group tour up to 400$ for multiple days' tours.
There are many travel websites where you can book tours in Angkor temples. Prices are very competitive and discounts are offered on a regular basis. Make sure you do a price comparison before booking as you will often find generous discounts. Therefore, use TourScanner to compare all the deals available.
Are there any tours or things to do outside Angkor temples?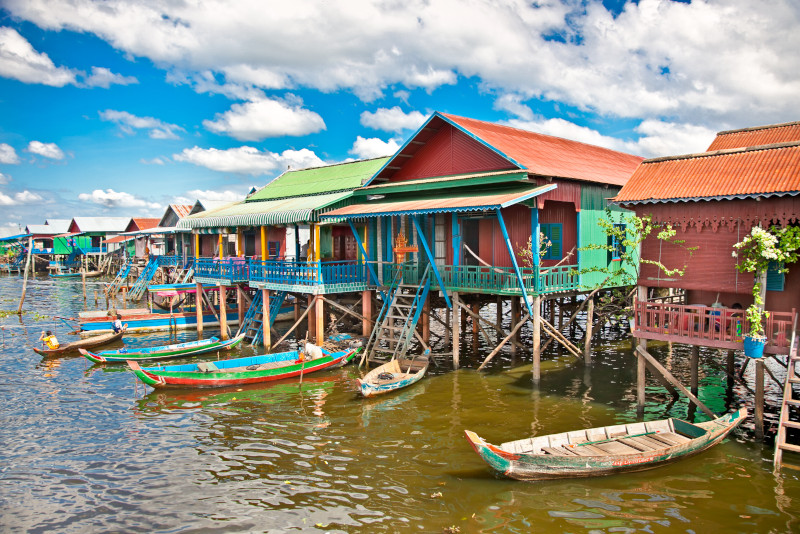 Absolutely there are a lot of things to do outside Siem Reap and Angkor. Find below some cool suggestions of things to do outside Angkor.
Horse riding: opt for a horseback riding tour to discover Cambodia's countryside and access to places that are usually unreachable.
Floating Village: explore the floating village of Kompong Phluk, located on the Tonle Sap Lake,  get an up-close view of the lifestyle and culture of this unique Southeast Asian lake community.
Aspara dance show: witness Cambodia's Apsara dance show, a dance show that was practiced in the royal palaces and dates from way back the 9th century.
Cooking class: take part in an interactive workshop in a rural village outside Siem Reap and show off your cooking skills.
Angkor National Museum: gain access to one of the most incredible collections of Buddha statues and travel back to the golden era of the ancient Khmer Kingdom.
Phare, the Cambodian circus: experience the arts culture of Cambodia at Siem Reap's Phare Circus and see young performers use theatre, dance, music and modern circus;
Food tours: visit the food markets and taste local Siem Reap food, have the opportunity of biting into some tasty regional dishes.
Spa: experience traditional Khmer massages in a local spa, with the use of passive stretching and gentle pressure along energy lines to relax the body and ease muscular tension.
Tonle Sap Lake: explore Tonle Sap Lake, the largest freshwater lake in South East Asia and ride through the mangrove forest.
Yoga: relax and get rejuvenated in a yoga session, enjoy the sunset while having yourself cool down in a soulful spot.
We hope this comprehensive guide helped you know a little more about Angkor temples tours and if you have any question please do not hesitate in asking!