Poland's southwestern city of Wrocław has long been one of the country's best-kept secrets but it is fast growing to become a must-visit destination. The city's history dates back more than 1,000 years and there is no better way to explore this than on foot.
A free walking tour in Wrocław will take you through the winding medieval streets, past colorful facades and dramatic architecture. These free tours are designed to give you an insider's perspective into the city's history and the chance to see some remarkable hidden gems up close.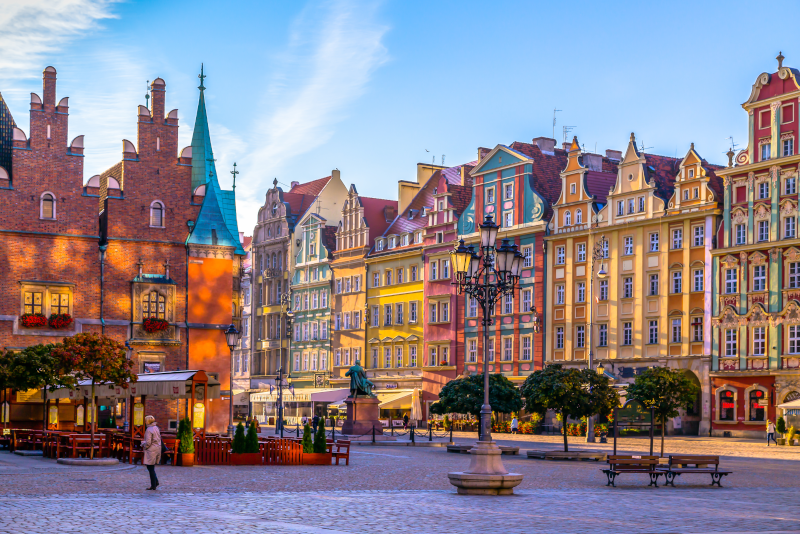 Here's all you need to know about free walking guided visits, one of the most worthwhile sightseeing tours in Wrocław.
How do free walking tours in Wrocław work?
Free walking tours in Wrocław have become increasingly popular in recent years as they provide tourists with an affordable and authentic way of experiencing this incredible city.
These tours are completely free to book and participate in, but it is encouraged that you tip your tour guide at the end of the tour. The amount you decide to tip is completely up to you.
How much should you tip for a free walking tour in Wrocław?
When deciding how much to tip, think about the effort that your guide put into the tour and how much you enjoyed the tour overall.
Most tour participants tend to tip between €10 and €15 per person, but some people tip as much as €50 for outstanding tours.
What are the best free walking tours in Wrocław?
There are several kinds of free walking tours in Wrocław, each focusing on a specific district in the city or sharing knowledge about a specific topic.
Old Town Wrocław free tour
This is the most popular free walking tour in Wrocław and is the best way to get to know the beautiful city upon your arrival. You will wind through the alleys and squares of the old town and see the most prominent historic landmarks.
These captivating walking tours will help you learn about the layout of the Old Town and understand more about the history that has unfolded in its streets.
You will go back through more than 1000 years of history, starting on the Rynek. This main market square is an iconic location in the city with its colorful medieval buildings, impressive gothic City hall and 14th-century St. Elizabeth's Church.
The tour takes you through the charming historic streets and your expert local guide will share an abundance of knowledge about the city and its history. It is considered one of the fastest developing cities in Europe.
On this tour you will see both historic sites and contemporary developments, helping you understand the city's past, present and future.
World War II and Jewish Quarter free tour
History buffs and WWII enthusiasts will thoroughly enjoy a war-centric walking tour of Wrocław. The war was the most devastating event in the city's long-spanning history and this tour offers a sobering look at the impact of the war.
You will also see how the Jewish community stood strong and have rebuilt their neighborhood to be one of the most vibrant in the city today.
Wrocław was one of the last strongholds of the Third Reich and its wartime journey unfolded in a very different way than the rest of Poland and Europe.
The tour takes you on a journey through time and into the Jewish Quarter and you will visit the White Stork Synagogue, a prolific symbol of the city's resilience and faith.
You will also fast forward to present-day Poland and see the reconstruction of the city under Polish rule. The tour guide will also touch on communist rule and what Wrocław looked like during Soviet times.
This tour is a 2-hour journey through the last 100 years of Wrocław and gives a comprehensive look at the aftermath of the biggest war the world has ever seen.
Wrocław Islands and Bridges free tour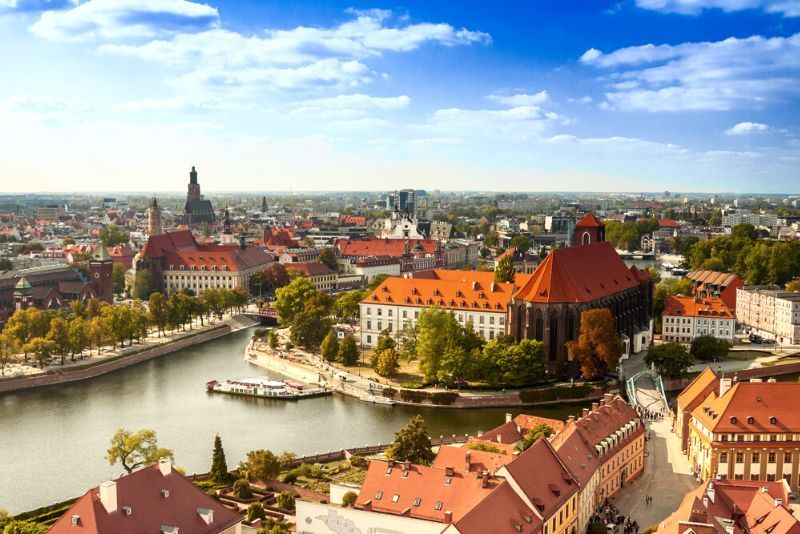 Visitors call Wrocław the Polish Venice thanks to its 300 bridges and 21 islands. You will walk along the banks of the Oder River and admire the intricate craftsmanship of the most notable bridges while your guide shares entertaining stories about the islands.
These bridges and waterways create a romantic and jovial atmosphere. Here you will find lots of bars and restaurants in between a mixture of university buildings, all adding to the vibrant nature of the area.
This is an excellent tour if you want to see some of the city's hidden treasures and enjoy a relaxing walk through one of the most beautiful areas in Europe.
In which languages are the tours operated?
Walking tours in Wrocław are all in English but the guides are usually Polish and can speak Polish. There is also a tour available in Spanish and some guides can also speak German.
Where does it start?
All free tours in Wrocław start close to the Aleksander Fredro statue. It is in a central location close to McDonalds and the Town Hall Clock tower. Your guide will be holding a sign, a colorful umbrella, or a bright item of clothing for you to easily identify them.
How long does it last?
The shortest free walking tour in Wrocław lasts 1 hour and 45 minutes while the longest one lasts 2.5 hours. Most tours last around 2 hours but they could be a little shorter or longer depending on the pace and size of the group.
When is the best time to join a free walking tour in Wrocław?
Taking a free walking tour in Wrocław is the best way to find your way in a new city. Book your tour for the first day of your trip to get a lay of the land and see all the biggest attractions on foot.
These tours also offer valuable insight into the history and culture of Wrocław which will make the rest of your stay all the more enjoyable.
Should it be booked online?
It is always best to book a free walking tour online.
It is free to book.
No credit cards are needed.
Your space is reserved as these tours fill up fast.
The tour guide can prepare for the number of people who will show up.
Gives you peace of mind.
Which other types of sightseeing tours can be done in Wrocław?