The largest and arguably most breathtaking lake in Italy really does have something for everyone. From its quaint medieval villages to its dazzling scenery and thrilling watersports, you could spend endless time around the shores of Lake Garda.
It would be impossible to cover the region in a day, as it spans over 370 square kilometers. However, it's possible to explore the eastern shores on a Lake Garda day trip from Verona.
The City of Love is just a short journey from the lake by car, bus or train.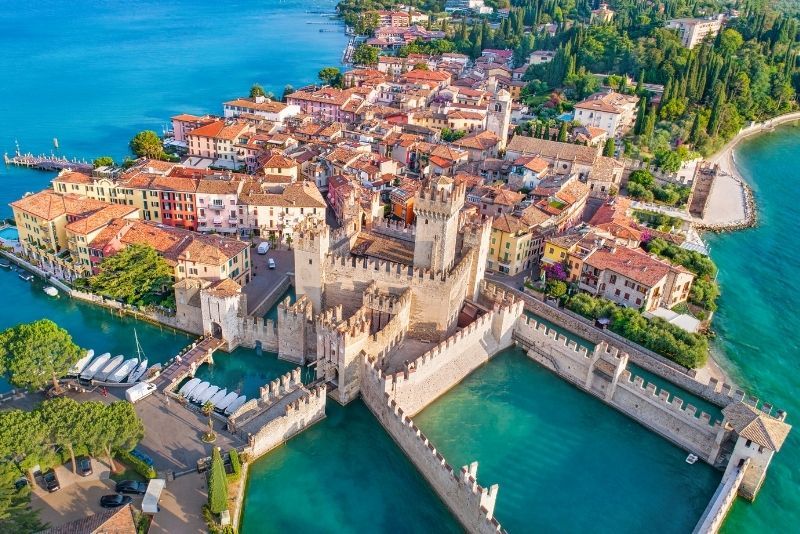 How to get to Lake Garda from Verona?
Lake Garda is the largest lake in Italy and its southeastern shores are located around 30 kilometers west of the city of Verona.
From Verona to Lake Garda by car
A jaunt to Lake Garda by car can take anywhere from 40 minutes to 1.5 hours, depending on which town or region you wish to visit. The closest town to Verona is Peschiera del Garda and the route is easy to navigate.
You'll head south out of the city on the SS12 before joining the A4/E70 towards Modena. From there, you'll follow signs for Peschiera which will take you directly into the lakeside town.
From Verona to Lake Garda by public transport
Lake Garda accounts for such a large area that there are many ways to access it, depending on the town you wish to visit. The easiest jaunt to the lake is by train from Verona to Peschiera del Garda station. This takes just 13 minutes and tickets vary between €4 and €17.
If you wish to travel to a destination such as Sirmione, you can take a direct bus from Verona's Via Milano/S.Zeno bus stop. The bus will be marked as heading to Colombare and the journey to Lake Garda takes around 45 minutes. You'll pay between €1 and €3 for a ticket.
Guided tour to Lake Garda from Verona
Most Lake Garda day tours last just four hours. You'll meet at a central spot in Verona around 8:30 AM. One of the most popular meeting points is Via Teatro Ristori. You'll arrive back in the city in time for a late lunch.
What is the typical itinerary of a day tour to Lake Garda from Verona?
While some Lake Garda day trips will pick you up from your accommodation, it's more common for you to make your way to the departure location independently. You'll board your bus and start the short journey to the lakeshore.
There are often several stops along the way, before reaching the final destination of Sirmione. These can include Punta San Vigilio and Bardolino. You'll explore the towns on foot, either as part of a guided tour or at your own leisure during some free time. Often, you'll also discover Lake Garda from the water during a boat trip too.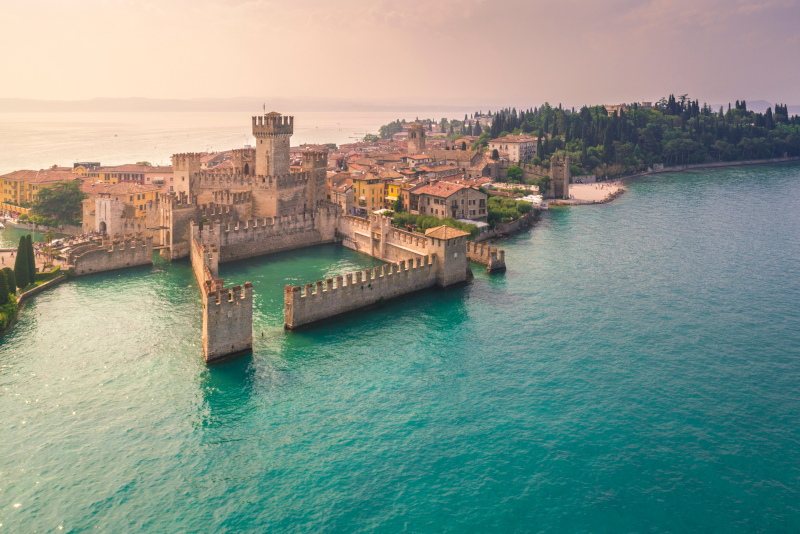 What kinds of tours are available to go to Lake Garda?
If you're after Lake Garda activities, there are plenty of choices from wine tastings to sailing courses — you'll never be bored. If you wish to take a Lake Garda day trip from neighboring Verona, you can choose whether to travel as part of a group or privately.
Day trip to Lake Garda from Verona
This Lake Garda tour travels to the shores of Sirmione, one of the region's most-loved towns. You'll start by traveling to Lake Garda via bus, where you'll stop to admire the sights and take a photo of the scenery.
You'll then hop onto a boat and discover the lake from the water. Arriving in Sirmione, you'll embark on a walking tour of the town and learn about its history. You'll then have some free time to relax by the water's edge.
Private day trip to Lake Garda from Verona
Visit several of Lake Garda's most exquisite gems on this day trip. You start with a stop at the picturesque Punta San Vigilio which is surrounded by tall, imposing conifers and boasts some of the bluest waters around.
You'll continue to Bardolino where you can stroll through the streets of the traditional fishing village before enjoying a local lunch. You'll then explore Peschiera del Garda and Sirmione before ending your Lake Garda day tour.
How much does a tour to Lake Garda from Verona cost?
Lake Garda day trips cost €75 and last for four hours. Round-trip transportation, a boat ride and an English-speaking guide are all included.
If you wish to book a private excursion, you can expect to pay €470 per person. This includes a tour guide, round-trip transfers, a boat trip and lunch. The tour is suitable for up to eight guests.
You'll receive a larger discount per head if there are more participants. For example, if you travel in a group of eight on a Lake Garda day tour, each adult will pay €179.
What will you see and do in Lake Garda?
Sirmione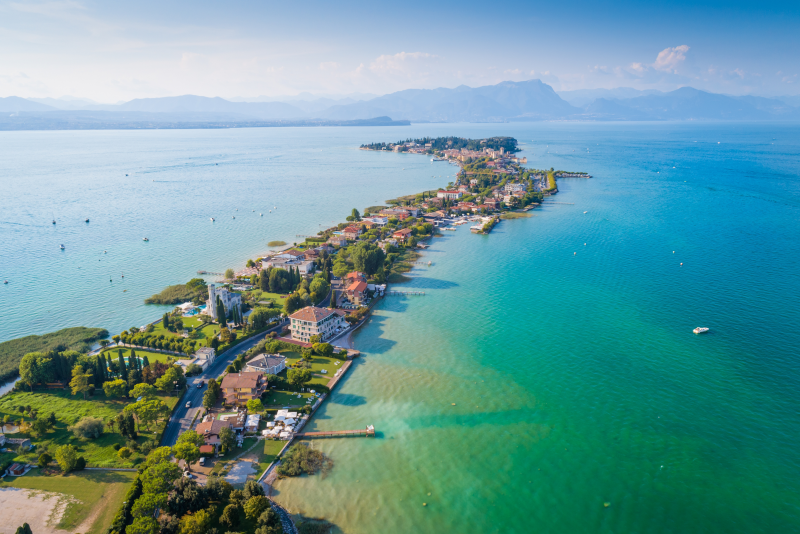 Sirmione is home to a number of historical and cultural sights to explore. The town's most prominent landmark is the Castello Scaligero, a 13th-century fortress that sits directly on the lake itself.
Other notable sights in Sirmione include the 15th-century Church of Santa Maria Della Neve and the Grotte di Catullo, an archaeologically significant Roman villa. All Lake Garda excursions make a stop at Sirmione.
Gardaland Resort
Gardaland Resort is a fun and family-friendly way to spend a day on the lake. Located in Castelnuovo del Garda, the theme park boasts over 30 rides and attractions and there is something to suit every taste. For thrill-seekers, there are fast-paced roller coasters and water slides.
Those who prefer to take a more gentle approach can watch one of the shows performed daily or step into Peppa Pig Land. There is even a Legoland water park inside which features tons of interactive water activities and games.
If splashing about isn't for you, you can watch many other creatures do so at the Sea Life aquarium located on-site.
Bardolino
Bardolino is a slow-paced and quiet town on the shores of Lake Garda that is known for its wine and oil production. While you won't see many grand monuments or attractions in the town, it's the perfect place to visit for some peace and tranquility. After all, that is what Lake Garda is all about.
You can enjoy a glass of wine while gazing upon the glistening stretch of water. Alternatively, you might enjoy slurping up a plate of local risotto after ambling through the alleys and back streets, and counting the numerous churches along the way.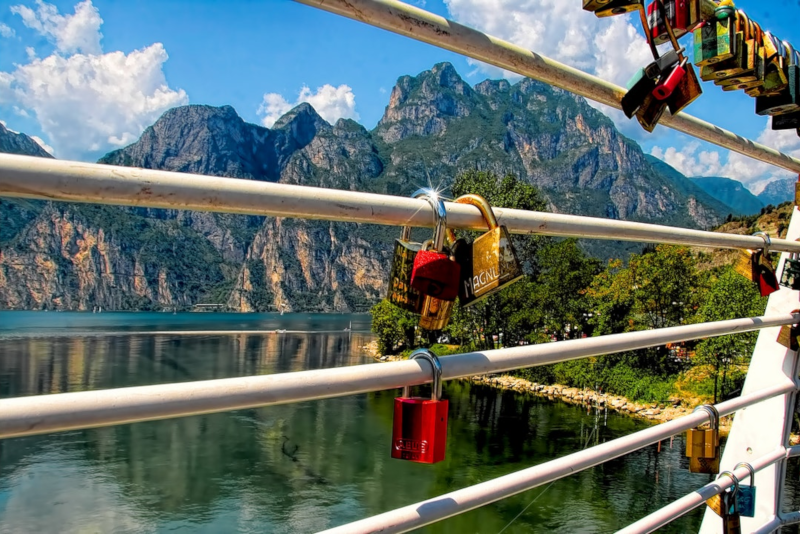 When is the best time to visit Lake Garda?
As it's a destination on the water, the best time for you to take a day tour to Lake Garda is during the early summer months. During May and June, you'll experience balmy temperatures between 23 and 27 degrees Celsius, which is perfect for swimming.
You'll find that while everything is open during the late spring and early summer, the crowds haven't yet arrived for the high season.
Are there any tours to Lake Garda from other cities in Italy?
Yes, there are other tours departing from several other cities in Italy:
Travel tips
There is plenty to do on the lake. In order to make the most of your trip, try an activity such as paddle boarding or sailing.
If you have time to spare in your itinerary, stay in Lake Garda for a few days and hire a car to explore the northern shores.
In order to see more of what's on offer, book a Lake Garda day trip that travels to a few different towns.