Southern Italy's charming town of Tropea is the perfect gateway point for day tours to the Aeolian Islands.
This unforgettable journey will take you through the mesmerizing beauty of these unique volcanic islands, with visits to historic centers and quaint streets, active volcanoes and exotic beaches.
A day trip to the Aeolian Islands from Tropea offers a captivating blend of adventure and tranquility. You will be transported to a world where natural wonders and cultural treasures intertwine, leaving you with cherished memories of the Aeolian Islands' splendor.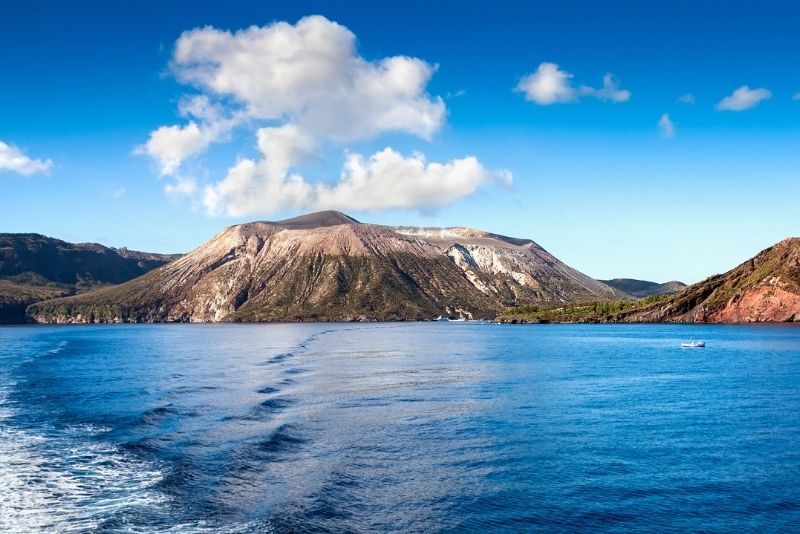 Here's all you need to know about the Aeolian Islands, one of the most exciting day trips from Tropea.
How to get to the Aeolian Islands from Tropea?
The Aeolian Islands is a cluster of islands west of Tropea in the Tyrrhenian Sea.
From Tropea to the Aeolian Islands by ferry
The closest ferry port to Tropea that offers transport to the Aeolian Islands is located in Milazzo, Sicily, a 2-hour drive away from Tropea.
Guided tour to the Aeolian Islands from Tropea
A guided day trip to the Aeolian Islands from Tropea is an all-day affair with departure from the port of Tropea before 8 AM. This is the best way to see this natural wonder, eliminating the worry of arranging your own transportation and mapping out an itinerary.
What is the typical itinerary?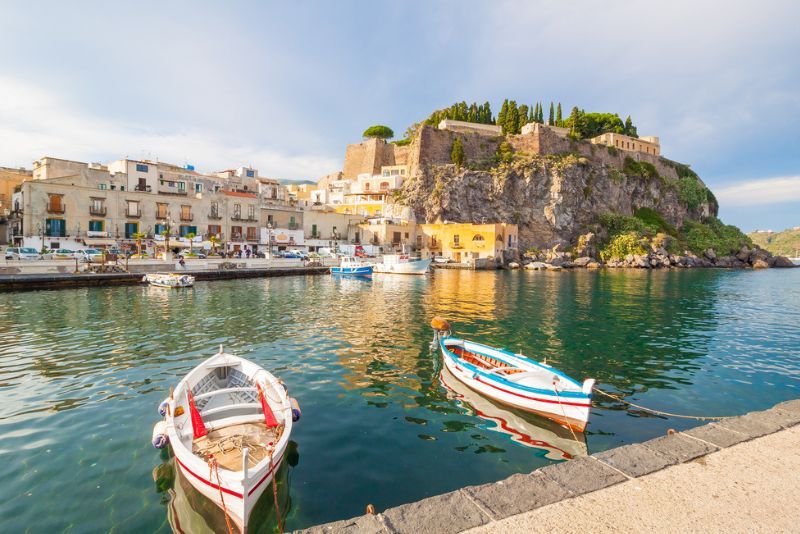 Experience the best of the Aeolian Islands as you depart from the Port of Tropea around 8 AM and start your tour with a 2-hour sightseeing boat cruise.
The first stop is the picturesque island of Stromboli where you can immerse yourself in the traditional village of San Vincenzo. Here you will have free time to wander along quaint village streets, marvel at the majestic Mount Stromboli or take a plunge in its shadow on the black sand beaches.
The next part of your journey takes you to Lipari, the largest of the Aeolian Islands. Explore historical landmarks such as the Acropolis and Lipari Cathedral, or simply soak in the tranquil ambiance at Marina Corta and Marina Lunga.
Finally, venture a short distance south to the captivating island of Vulcano, known for its ongoing volcanic activity. Witness the fascinating jets of steam emanating from the volcano, often considered the mythological home of Hephaestus. Embark on a scenic trek along the volcanic trail and be rewarded with breathtaking views from the crater, leaving you in awe of the island's natural splendor.
Alternatively, you can book a tour that visits Stromboli and Panarea, where you can visit the local village or have a swim. You will then continue on to see Stromboli's fiery spirit illuminate the horizon at dusk.
What kinds of tours are available to go to the Aeolian Islands?
Guided tours to Stromboli from Tropea
If you are interested in just visiting Stromboli, take a simple guided tour to the Aeolian Islands that makes one stop. You will have a relaxing cruise to Stromboli and enjoy 4 hours of free time to explore the island.
This day trip from Tropea only lasts 8 hours and is perfect for travelers who enjoy a relaxing excursion.
Day trip to Stromboli plus Panarea from Tropea
Visit two of the most popular Aeolian Islands with this fantastic day trip from Tropea.
You will have plenty of free time to explore both islands with opportunities to swim, shop and dine. As the sun sets, you will witness the might of Stromboli as it fires lava into the darkening sky.
Day tour to Stromboli plus Lipari and Vulcano from Tropea
This is the most popular day trip to the Aeolian Islands, with a range of activities on offer.
The guided group tour leaves you with plenty of free time to explore the islands and offers a convenient and cost-effective way to see as much of the Aeolian Islands as possible.
You can visit multiple islands and get a feel for local life, culture, history and the power of nature.
How much does a day trip to the Aeolian Islands from Tropea cost?
A day tour to the Aeolian islands is priced between €65 and €70 per person. This price does not include your landing fees which typically cost around €5, or entry fees to any activity you would like to partake in on each island.
For a tour that only journeys to Stromboli, you can expect to pay from €65 per person, while a day trip to both Stromboli and Panarea will cost around €70 per person. A day trip that includes Stromoboli, Lipari and Vulcano will cost from €65 per person.
What will you see and do?
Day tours to the Aeolian Islands visit multiple islands in one day. Choose an itinerary that includes the islands that most appeal to you, either focusing on nature, culture or a combination of the two.
Stromboli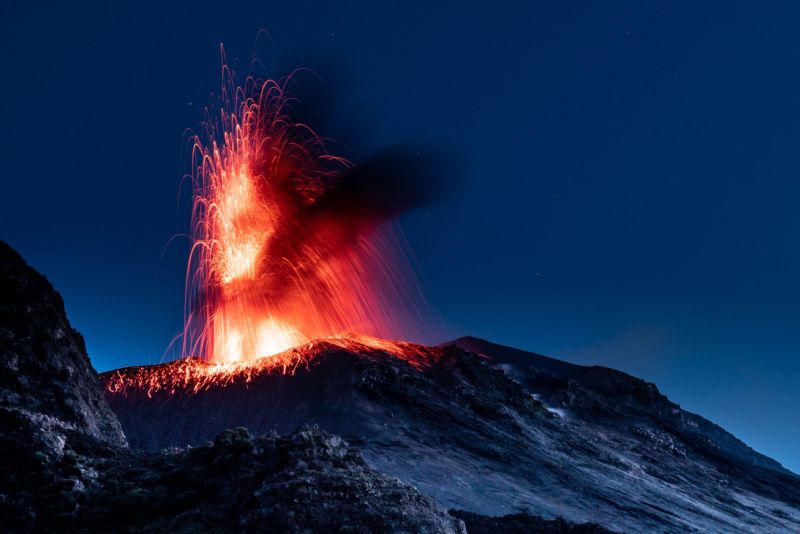 The mighty island of Stromboli beckons with its raw and untamed beauty and is fondly referred to as the Lighthouse of the Mediterranean. You will come across an active volcano, mesmerizing black beaches and villages oozing charm. A special treat is witnessing the volcano's might from a safe distance as the sun starts to set.
Panarea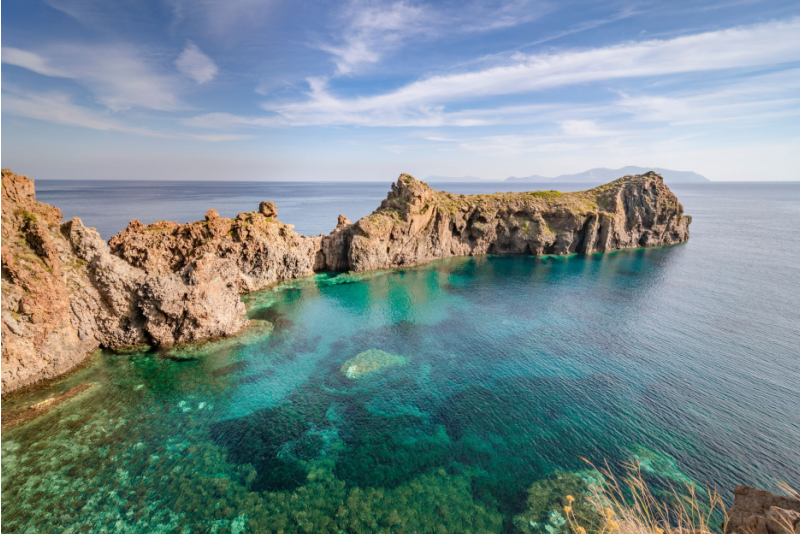 This idyllic island boasts a historic center filled with quaint streets, boutiques and restaurants, offering a delightful ambiance to explore.
As you wander through ancient alleys, you'll discover the charming Church of San Pietro and have the opportunity to visit the prehistoric village of Capo Malattese and the famous beach of Cala Junco, adding an extra touch of adventure to your Panarea experience.
Lipari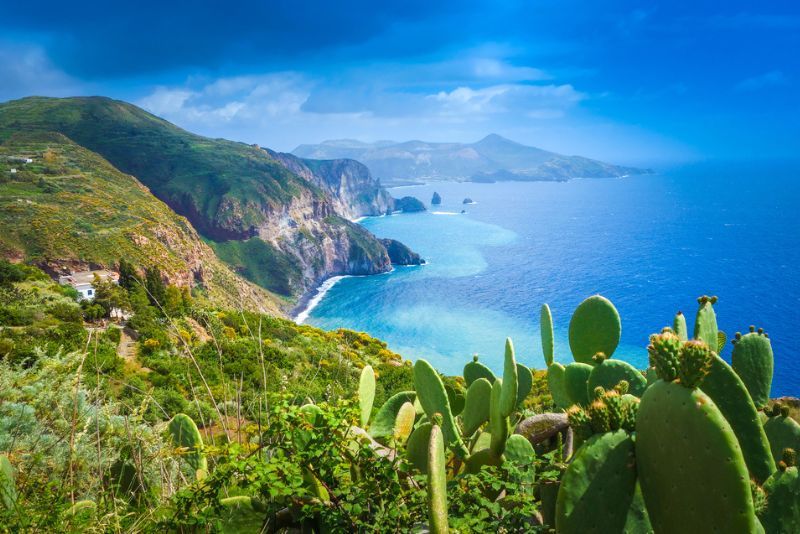 Lipari is the largest of the Aeolian Islands and is a captivating destination that blends natural beauty with a rich historical heritage. Its picturesque harbor, bustling with activity, welcomes visitors with a vibrant atmosphere.
Explore Lipari's charming old town, adorned with colorful buildings and narrow streets, and uncover its fascinating archaeological museum showcasing artifacts that tell the island's captivating story.
Vulcano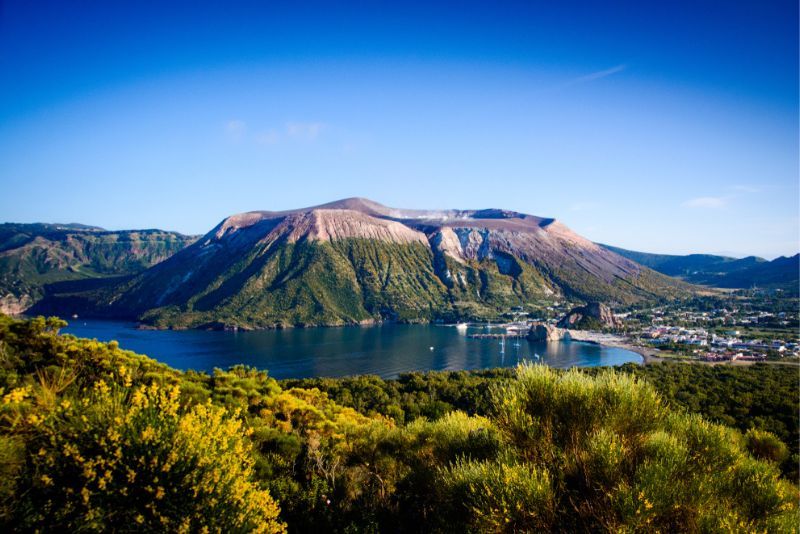 Vulcano offers a unique and captivating experience for visitors. Known for its therapeutic mud baths and hot springs, Vulcano invites travelers to indulge in rejuvenating wellness rituals. Hike up to the Gran Cratere, the island's main volcano, for breathtaking panoramic views of the surrounding islands and the volcanic landscape.
When is the best time to visit the Aeolian Islands?
For the best weather and optimal beach conditions, the best time to visit the Aeolian Islands is in the summer months from June to September. During this time the weather is warm and sunny, and the sea temperatures are perfect for swimming and other water activities.
However, these are also the busiest months, and the islands can get crowded, particularly in July and August. For a balance between good weather and fewer crowds, consider visiting in the shoulder seasons of late spring (April to June) and early autumn (September and October).
Are there any tours to the Aeolian Islands from other cities in Italy?
Yes, there are tours departing from another city in Italy:
Travel tips
Bring sun protection swimwear, a towel, comfortable shoes for walking or hiking, and a change of clothes if you plan to swim or take a mud bath.
Though the islands have restaurants and shops, it's a good idea to carry water and some snacks, especially for the travel times and if you plan to hike or spend the day on a less populated beach.
Pack a camera to ensure you capture the phenomenal sight of an erupting volcano!