Tucked away in the southwest of France, the colorful city of Toulouse is famed for its beautiful pink brick buildings. The ornate architecture will have you grabbing for your cameras, and the sleepy squares will lure you in with the promise of people watching over coffee and pastries.
We think that free walking tours in Toulouse are one of the best ways to explore, taking you deep into the heart of this inviting city.
How do free walking tours in Toulouse work?
Free walking tours in Toulouse are a fun way to immerse yourself in city life, learning insider secrets from your expert local guide. You will visit the famous landmarks and discover some history along the way.
There are no defined prices for free Toulouse tours. Instead, after the walk, you just give your guide a tip, which can be as much or as little as you like. Take some cash with you on the day and pay what you think is deserved.
How much should you tip for a free walking tour in Toulouse?
Prices are not fixed for free tours in Toulouse which encourages the guide to provide the best service possible. There's no right or wrong amount when it comes to the tip, but most people tend to offer between €10 and €15 per person.
When deciding how much to give, think about the tour length and the knowledge of your guide. If you enjoyed your experience, then feel free to be more generous.
What are the best free walking tours in Toulouse?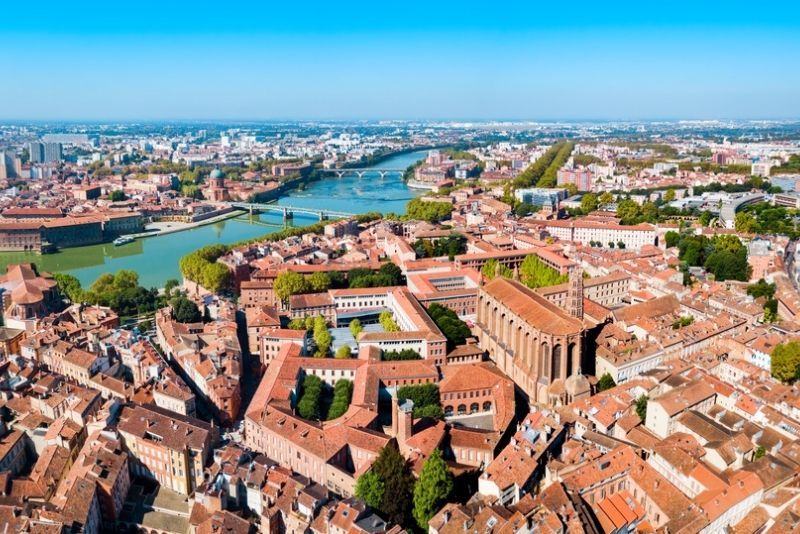 There are a few different Toulouse walking tours to choose from, each with a slightly different theme. See which one floats your boat and book accordingly. Or, if you can't decide, why not try more than one and see the city from a couple of different perspectives.
History and culture free walking tour of Toulouse
If it's your first time in Toulouse, this free walking tour gives a great overview of the "Pink City". You'll see the famous squares, landmarks, and monuments and discover how culture and heritage combine to give Toulouse its charm.
The tour begins in the Place du Président Thomas Wilson, before continuing to admire the Gothic and Baroque architecture at Toulouse Cathedral. Then you'll swing by the Fine Arts Museum and the Musée des Augustins, which is housed in a 14th-century monastery.
Next up is a 16th century Renaissance palace which is home to the splendid Hôtel d'Assézat. Further on, you'll stroll along the Garonne River and enjoy photogenic views of the 500-year-old Pont Neuf.
The walk finishes with stops at the iconic Church of the Jacobins and the Saint Sernin Basilica, which is the largest Romanesque church in the world.
Off the beaten track Toulouse free walking tour
Discover a more unusual side of the city on this off-beat free walking tour in Toulouse. Starting at Capitol Square, you will explore streets that few tourists visit and decipher 29 hidden artworks along the way.
Learn about the bloodthirsty history of the Convent of the Jacobins and check out the monuments lining the River Garonne. Then it's on to the Basilica of Our Lady of the Daurade, and the stunning Plaza del la Trinidad.
Your guide will regale you with curious tales and astonishing anecdotes as you delve deeper into the legends that surround this intriguing city.
Spanish exiles in Toulouse – war themed free walking tour
See the city in a different light as your guide recounts how 150,000 Spaniards fled their home country after the Civil War and settled in Toulouse. Hear about key characters and heroes from these turbulent times and discover how the city became a haven full of promise for the future.
Places visited include Dupuy Square, the Capitol, Saint Georges Square, the former PSOE (Spanish Socialist Workers' Party) headquarters, and the Paseo del Exilio Republicano.
In which languages are free walking tours in Toulouse operated?
The free tours in Toulouse are currently conducted in English, Spanish, and Catalan. As more walking tours are added we expect other languages to become available.
English is widely spoken in Toulouse so you shouldn't have a problem finding a tour to suit you.
Where do free walking tours in Toulouse start?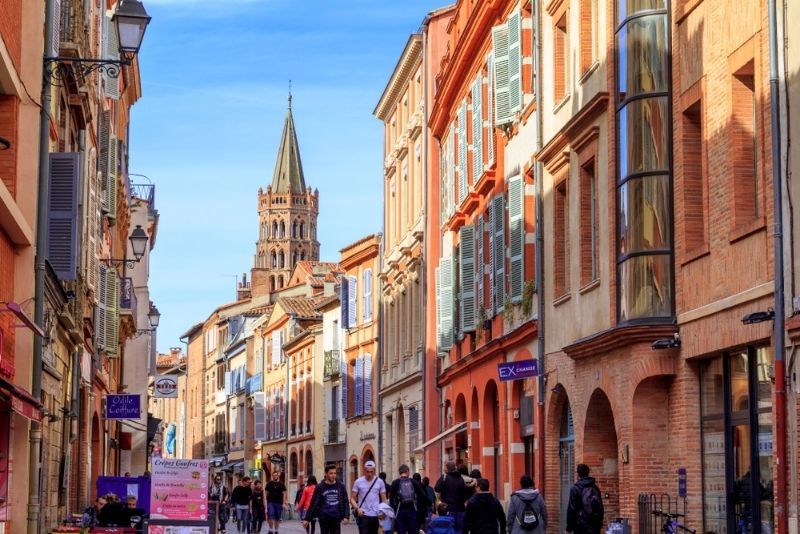 Most free walking tours in Toulouse begin at Capitol Square, usually in front of the Grand Balcon Hotel. Guides will have a name-board or identifying feature like a colored umbrella so be sure to keep an eye out.
Some walks also start in Dupuy Square, from beside the Halle aux Garins, while others kick off from the entrance to the St. Etienne underground car park.
All these locations are easy to find on foot, or by public transport.
How long do free walking tours in Toulouse last?
Free tours in Toulouse usually last between two and three hours, which is plenty of time to see the major sights and get a feel for the city.
The excursions are relaxed with lots of stops along the way so the walking will not be strenuous. It's a good idea to wear comfortable shoes.
When is the best time to join a free walking tour in Toulouse?
It's a good idea to arrange free walking tours in Toulouse for the beginning of your stay. They are a superb introduction to the city, and the guide can give you handy tips about places to eat and attractions to visit.
Mornings are often quieter and cooler on the streets, so head out before lunch to avoid the crowds and the heat. Outside of summer, wandering through the city is enjoyable at any time of day.
Should Toulouse free walking tours be booked online?
These tours are very popular ways to explore the city on a budget, so don't leave booking until the last minute as places fill up fast. Compare prices online before your trip so you can secure the best deals for your chosen date.
Having a confirmed reservation will also save you time while you are away as you won't have to research things to do during your stay. Online bookings for free walking tours in Toulouse are not chargeable, and there are no cancellation fees if your plans change. You don't even need to put in any credit card details.