Easily one of New Zealand's most underrated natural gems, Skippers Canyon is an awe-inspiring journey through the majestic South Island mountain ranges.
A winding road carves its way along a breathtaking landscape of rugged mountains, dramatic cliffs and lush greenery — seeming like you've stepped into a postcard.
But it's not just about the beauty — the area also offers a bounty of adventure activities, which is why Skippers Canyon day trips from Queenstown are becoming more popular every year.
From jet boating and rafting to hiking and 4WD excursions, you can explore the wild beauty of this unique canyon in a variety of ways.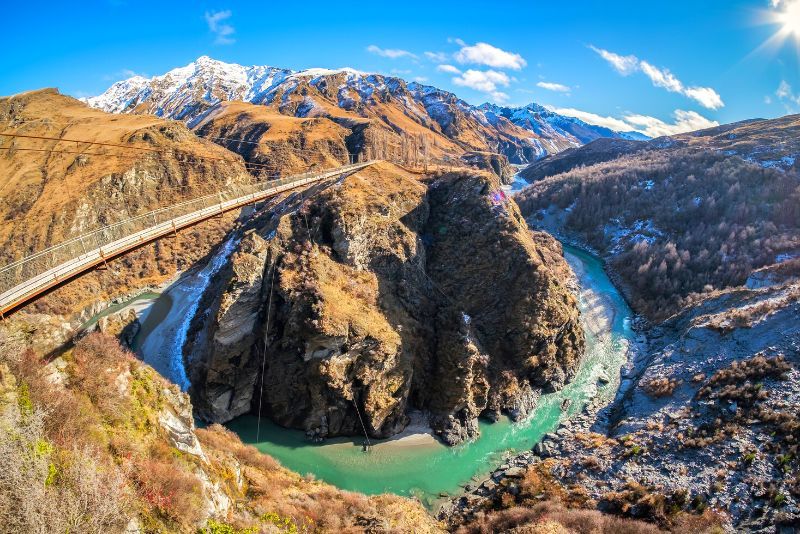 Here's all you need to know about Skippers Canyon, one of the most exciting day trips from Queenstown.
How to get to Skippers Canyon From Queenstown?
Skippers Canyon is located approximately 22 kilometers from Queenstown, on New Zealand's South Island. It can easily be accessed by car or guided tour. Skippers Road, the main route to the canyon, is a beautiful drive and an attraction in its own right.
From Queenstown to Skippers Canyon by car
To reach the canyon by car, you'll need to drive north from Queenstown, crossing the Shotover River before reaching Coronet Point.
From there, simply follow Skippers Rod for about 15 kilometers. The entire journey should take about 45 minutes.
From Queenstown to Skippers Canyon Guided Tours
The most straightforward way to access Skippers Canyon is by taking a guided tour.
These tours usually depart from Queenstown and pick you up from your accommodation, stopping at various points for photo opportunities and short hikes before arriving at the canyon.
Durations vary but generally range from 4-5 hours.
What is the typical itinerary?
Guided Skippers Canyon day trips from Queenstown generally start with convenient hotel pickup.
You'll then meet your friendly local guide and take the scenic drive along Skippers Road in a 4WD, reaching a maximum height of 3,199 feet (975 meters).
This winding route is a great way to take in stunning views of the landscape, including the Wakatipu Basin and Shotover River Valley. Lookout spots Lighthouse Rock or Plane Table.
Since Skippers Canyon has a rich history of gold mining, some tours will stop at Deep Creek for gold panning.
Depending on the tour you choose, extra activities could include jet boating, white water rafting or hiking. Many tours also incorporate a delicious lunch, morning tea or afternoon tea.
At the end of your tour, you'll be taken back to your hotel in Queenstown.
What kinds of tours are available to go to Skippers Canyon?
There are several different tours available to visit Skippers Canyon, each offering something unique depending on your interests, budget and the time you have available.
Small group Skippers Canyon 4WD sightseeing tour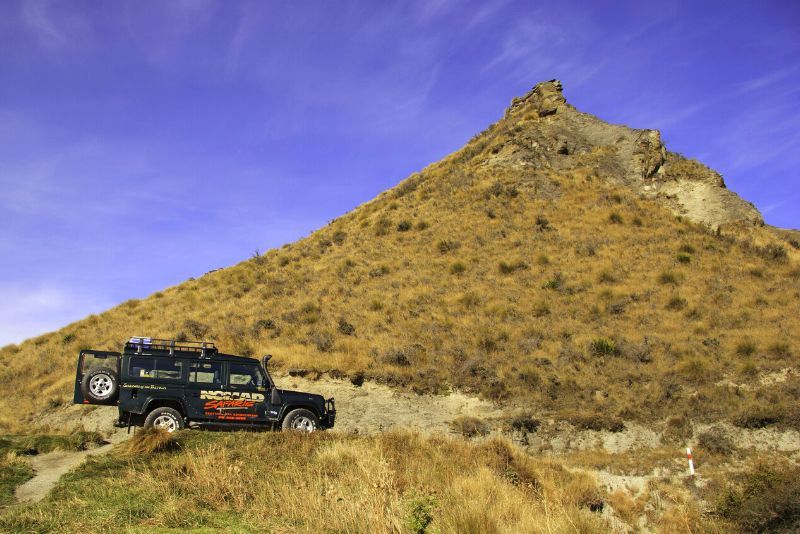 The most popular and budget-friendly choice is the small group Skippers Canyon sightseeing tour. This half-day jeep trip includes pickup from Queenstown, a scenic drive along Skippers Road and stops at various lookout points.
You'll also get to learn about the area's gold rush history and have plenty of opportunities for photos.
Private Skippers Canyon 4WD sightseeing tour
Suited to couples, small groups and families, a private Skippers Canyon sightseeing tour offers a similar itinerary as the small group tour but with exclusive use of the vehicle and guide.
Due to the private style, you can customize your tour to suit your interests and spend more or less time at each stop.
Skippers Canyon 4WD day trip plus whitewater rafting or jet boat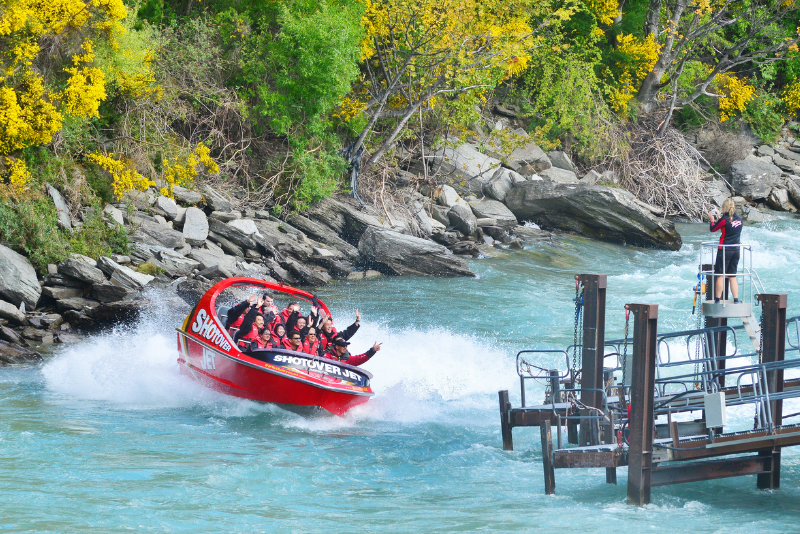 For a more adventurous experience, consider taking a Skippers Canyon day trip that include a whitewater rafting tour or jet boat adventure.
This option includes hotel pickup, basic sightseeing and a thrilling journey on the Shotover River. The river is usually gentle, making this suitable for families.
Skippers Canyon photography focused tour
Skippers Canyon is a photographer's paradise, so if you're looking to get the perfect shot, there are photography-focused tours available too. These tours are led by talented photographers who will take you to all of the prime spots.
You'll learn compositional tips and tricks as well as the history of this beautiful region.
How much does a day trip to the Skippers Canyon From Queenstown cost?
The price of a Skippers Canyon day trip from Queenstown varies depending on the type of tour you choose but they are usually between US$100 and US$150.
For example, the cost of a small group sightseeing tour is around US$100 to US$170 per person, while private tours start at around US$450 but can accommodate a group of up to six people.
Jet boat and white water rafting combo tours are between US$60 and US$150 per person, while group or private photography tours are around US$210 per person or US$850 per group (of up to 5 people) respectively.
What will you see and do?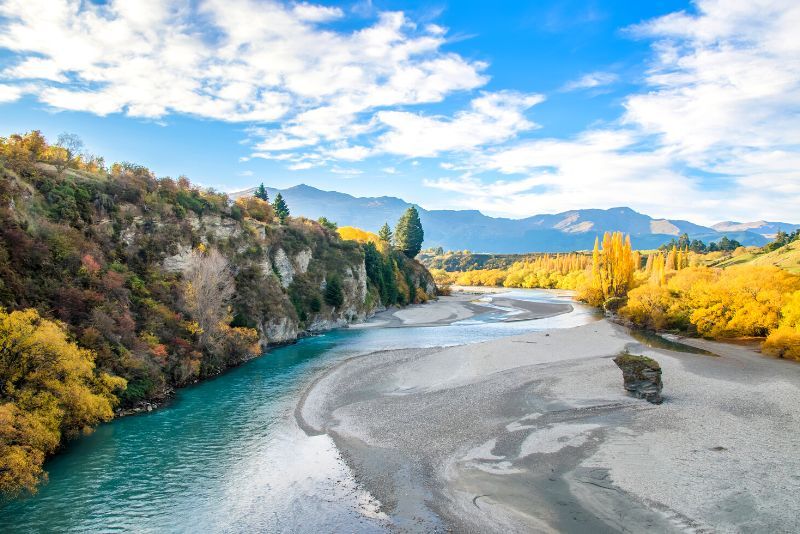 On day trips to Skippers Canyon, the main attraction is the winding Skippers Road — a small, narrow and steep road that follows the Shotover River. It has a number of hairpin turns and is considered one of New Zealand's most scenic drives.
You'll get to enjoy views of the river rapids, waterfalls and native bush as you drive along this route toward the restored Skippers township.
You'll also have plenty of opportunities for photos at different lookout points along the way, such as Lighthouse Rock, Skippers Point and Coronet Peak Lookout.
Skippers Bridge is another beloved spot — at over 300 feet long and high (roughly 90 meters), this suspension bridge offers spectacular views of the canyon and river below.
You may also get to spend time in Deep Creek, a former or take a thrilling jet boat ride on the Shotover River.
When is the best time to visit Skippers Canyon?
The best time to visit Skippers Canyon is during the summer months (December - February) when the days are longer and warmer. It also means you'll likely have a more pleasant time for outdoor activities.
Travel tips
Book your tour online and in advance as spots are limited and can fill up quickly.
Wear comfortablze clothing, sturdy shoes and a hat.
Lastly, don't forget your camera — there are plenty of opportunities for beautiful photos.