Strasbourg is an idyllic and fascinating place to visit, with so much to do and see. Taking a free walking tour of Strasbourg is an excellent way to see this charming city, from its medieval buildings to its more modern attractions.
Check out the beautiful Cathedral of Notre Dame de Strasbourg, enjoy the blending of French and German culture and take in all the sights of the city as you are guided around the Capital of Alsace.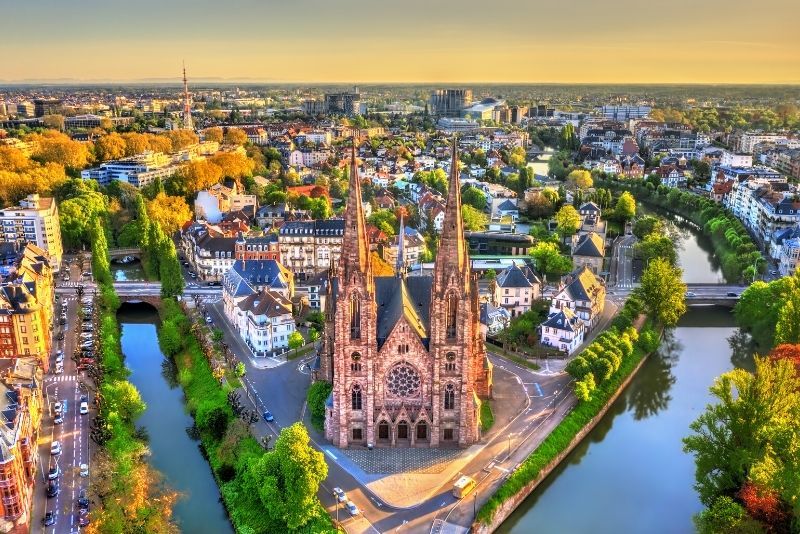 Here is all you need to know about free walking tours, one of the best options for sightseeing tours in Strasbourg.
How do free walking tours in Strasbourg work?
The first thing to remember is that you don't pay anything upfront.
After the tour is done, you pay as much as you want in the form of a tip depending on how good the tour was and what you think it was worth. You should bring cash along with you, and then each traveler can pay as much as they wish for the experience.
How much should you tip for a free walking tour in Strasbourg?
It is really up to you to decide how much you wish to tip for the tour that you took. There may be reasons why you wish to pay more – for example, if you were given free samples of food or drink, or had an exceptional tour guide.
In general, most travelers choose to tip between €10 and €15 per person, but if you decide to go slightly lower or higher that is for you to decide.
What are the best free walking tours in Strasbourg?
Historic free walking tours in Strasbourg
Beginning at the incredible Cathedral of Notre Dame de Strasbourg, these tours will take you to many sights dating back to the Roman Empire and medieval times, before focusing on World War II and the more modern history of this city.
Be prepared to visit the Church of Santo Tomas, Gutenberg Square, the Covered Bridges and also the University of Strasbourg and Kleber Square.
Famous squares of Strasbourg walking tours
Some of these squares will appear in other tours as well, making up some of the most famous places to visit in the whole city. On this tour, you will explore the vibrant old city and its monuments while also experiencing the Strasbourg of today, and its many exciting activities and foods available.
Originating at the Cathedral with its 1000 years of history, you will wander from square to square taking in the buildings, monuments and stories as you go. The places of interest include Gutenberg, Kleber, Republique and Saint-Etienne squares among others.
You will also visit the French and German districts and see the culture of both as well as the unique mixed culture of Alsace itself.
Night time free tours in Strasbourg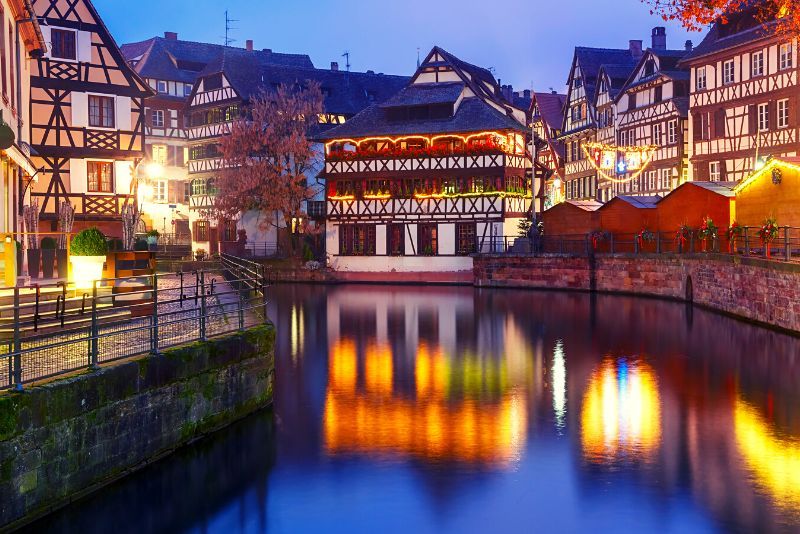 There are options for free walking tours in Strasbourg centered on the legends and mysteries that are so rife in this historic city. By viewing the city at night, you will see it lit up and also see a different side of Strasbourg than you would see during the day.
Many of these tours meet at the Galeries Lafayette and focus on individuals that lived in Strasbourg and events that happened here.
You will learn about the dance fever that took hundreds of lives in 1518, the cruel and unusual punishments enacted on witches near the iconic Covered Bridges and end up at the Cathedral which is truly spooky and impressive at night.
In which languages are free walking tours in Strasbourg operated?
Free walking tours in Strasbourg are mostly available in English, though you can also find tours in Spanish, French and others if you search all of the options.
You may also find that if you are looking for a specific language but be limited on the times you can take your free tour so be sure to book online.
Where do free walking tours in Strasbourg start?
In general one of the main places where free tours in Strasbourg start is the Cathedral of Notre Dame de Strasbourg. This historic building has a premium place on any tour and is a popular choice as a starting point for your free walking tour in Strasbourg.
Some tours do have different starting points so make sure you check before you go. You will also see when you look at each tour that they will have a particular color of umbrella or sign to help you find the start of your free walking tour and keep up with your guide.
How long do free walking tours in Strasbourg last?
While each of the free tours in Strasbourg may vary in length of time, expect to spend around 2 hours on your tour. Some may be slightly shorter or longer, and others may offer a few suggestions for where you can go next.
A lot of tour guides know the best places to eat and visit so you can continue your own tour for much longer than 2 hours.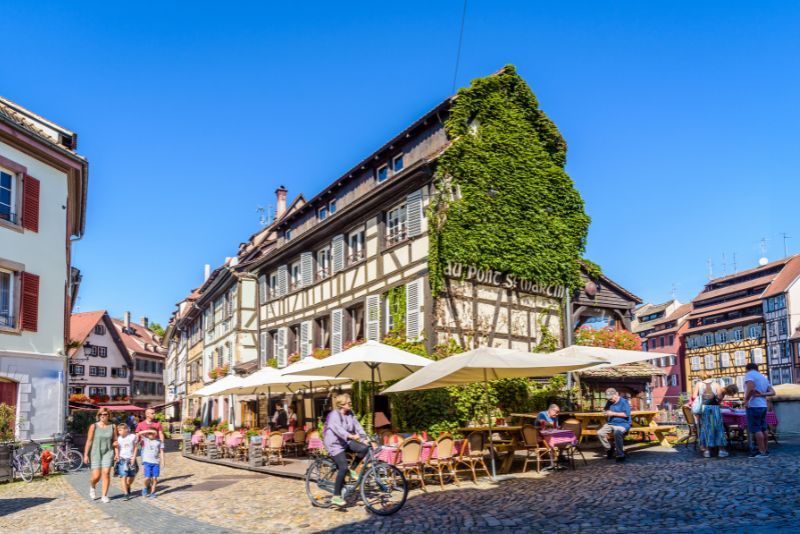 When is the best time to join a free walking tour in Strasbourg?
When you take your free walking tour in Strasbourg is entirely up to you, though it is far better to go at the beginning of your stay if you can. If you wait until the end of your trip you may discover some of the city's hidden gems that you would have loved to explore more thoroughly if you had the time.
A free tour in Strasbourg is also the best and cheapest way to find your way around a new place, and help you plan out how to spend the rest of your trip.
You can usually go in the morning or the early afternoon, so you can choose if you would rather have your lunch before the tour or after, though if you choose after you may see some recommendations for delicious spots to try some of the tasty Alsace cuisines.
Should Strasbourg free walking tours be booked online?
Whenever possible you should always book your free walking tour in Strasbourg online the day before. As they are pay-as-you-wish, some tours need a minimum number to go ahead.
It is also free to reserve a place, and you will know ahead of time where you are meeting which will save you precious exploring time. Go ahead and book your free tour of Strasbourg today.