Split is an increasingly popular tourist destination and is known for its stunning coast, blue waters and favorable weather. The city has a wide range of activities and attractions that will make your vacation memorable.
After experiencing the city on foot, you can explore the area by sea on a snorkeling tour! Why not put on your mask and go snorkeling in Split for a first-hand underwater experience of the Dalmatian coast?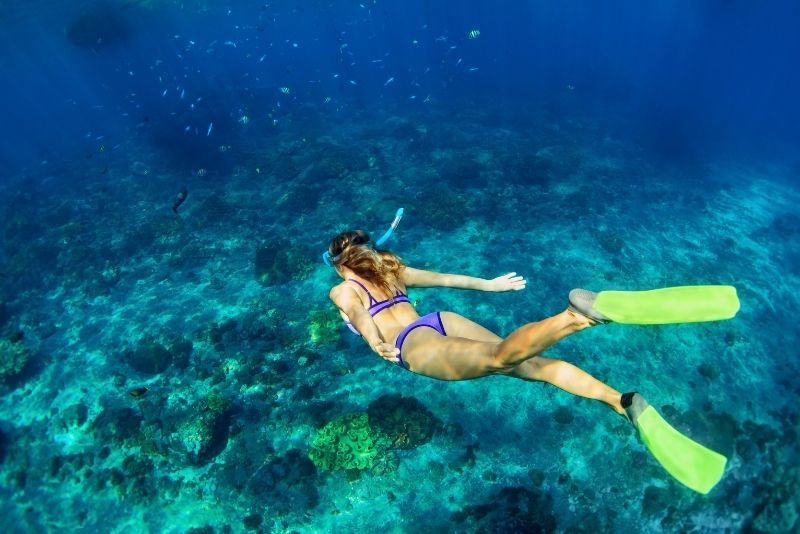 You will find below everything you need to know about taking a snorkeling tour, one of the most fun outdoor adventures in Split.
What are the best snorkeling tours in Split?
Split is blessed with numerous snorkeling spots, ranging from the incredibly clear waters of the Blue Lagoon and the Blue Cave to the mountainous island of Hvar, which is recognized by UNESCO. Even the small town of Vis has great underwater life but is rarely visited by tourists.
Booking snorkeling or boat tours in Split is one of the best ways to explore the waters of the Adriatic coast while having a once-in-a-lifetime experience. While there are many tours to choose from, some of the best include:
Sea kayaking and snorkeling excursion in Brela from Split
Enjoy a four-hour tour that allows you to explore the waters at Brela. The tour begins with kayaking at a beach in a small but beautiful town surrounded by the mountains of Biokovo.
The tour then continues by gently paddling your sea kayak to the crystal blue waters of Vrulja Beach, where you can dive and snorkel as much as you would like.
Sea kayaking, snorkeling and cliff jumping tour from Split
Spend your vacation kayaking and snorkeling into the sunset along the Adriatic coast. This tour begins at Bene Beach where you will begin paddling with the assistance of an instructor. Then you'll head to Kasjuni Beach, which is surrounded by cliffs. There you can jump into the sea and enjoy the best snorkeling experience.
Full-day swimming and snorkeling tour in Split
Spend all-day exploring the Adriatic coast and its waters on this swimming and snorkeling tour! The tour will take you to the islands of Brač and Šolta where you can swim and snorkel for a few hours.
Afterward, you can refuel and enjoy a freshly prepared lunch then make your way to Stomorska to wander through the village.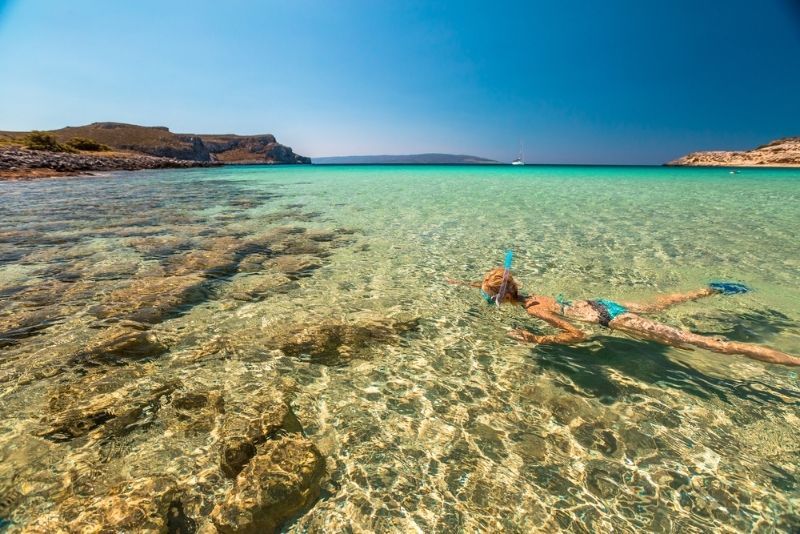 How much do snorkeling tours in Split cost?
The cost of snorkeling tours in Split varies based on the type of tour and the tour provider.
A kayak snorkeling tour typically costs between €40 and €50 per person for group tours. Combined tours cost around €150 and include visits to six islands with entry fees and additional extras.
A private sea kayaking trip with snorkeling costs around €70 and private group boat tours with snorkeling start at around €1,000.
You can take a combination group tour to Blue Cave and 6 islands with snorkeling for €150.
A private combination tour that includes a visit to Blue Cave, 5 islands & a snorkeling speedboat tour cost around €1,940. This is suitable for a group of 12 and includes snacks and drinks.
What is included in a snorkeling tour in Split?
Every snorkeling tour in Split provides you with a different experience. Some include just the basics, while others include extra benefits based on the tour operator and the type of snorkeling tour you participate in. Most snorkeling tours in Split include the following:
Snorkeling equipment
Bottled water
Professional guide
Round-trip transportation from the designated meeting spot
Lunch
Lifejacket
GoPro camera for underwater photos
Live tour guide (for group and combined tours)
Where do snorkeling tours in Split start?
Snorkeling tours can begin anywhere in Split, depending on the agency and the tour itinerary. However, the majority of tour operators that offer snorkeling tours in Split start at Bene Beach.
Visitors should meet in front of St. Francis church by the end of the Riva promenade, where a tour bus will be waiting to transport them to and from the destination.
How long do snorkeling tours in Split last?
Snorkeling tours in Split vary in duration based on which tour you book. Most of the tours last anywhere from three to four hours, but you can also book full-day excursions that last anywhere from seven to eleven hours.
When is the best time for a snorkeling tour in Split?
The best time to go snorkeling in Split is during the summer because the weather is warmer. Most tours begin in the morning, so plan accordingly. This schedule allows you to stroll through the streets, take in the nightlife and admire the beautiful city.
Are there any combos available with snorkeling tours in Split?
If you only have a short time in Split and want to make the most of it, combined tours are a great way to do so. They help you save money and time by allowing you to visit other interesting attractions in addition to snorkeling. The combined tours listed below include snorkeling as part of their itinerary.
Blue Cave, 5 islands & snorkeling speedboat tour
Begin your Adriatic adventure at the Blue Cave, followed by a trip to the 160-meter-long Monk Seal Cave, snorkeling at Stiniva Beach and Budikovac Island and a visit to the ancient town of Hvar.
Blue Cave and 6 islands tour with snorkeling
Enjoy a 12-hour tour of the most popular Adriatic highlights. You will start at the Blue Cave and then continue to Hvar for lunch, followed by a snorkeling session on the island of Brac. Other add-ons such as lavender and olive oil, are available at an additional cost.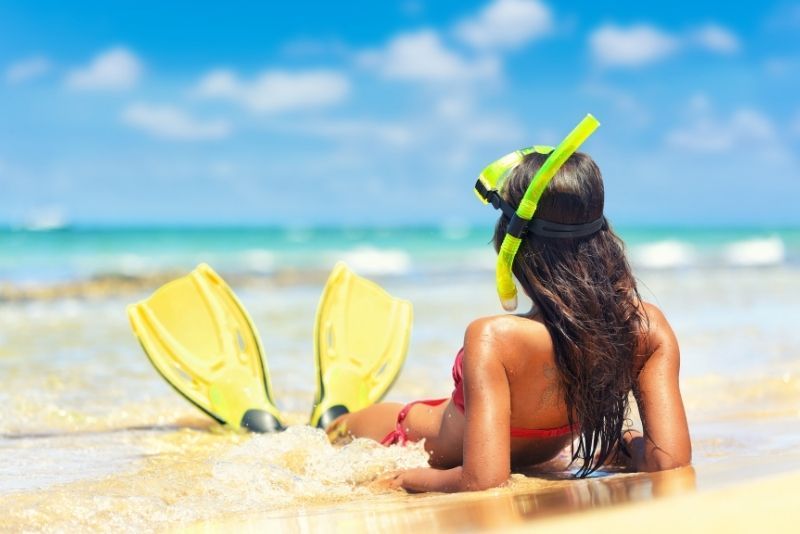 Are children allowed on a snorkeling tour in Split?
Children are permitted to participate in snorkeling tours. They must be accompanied by an adult and should also know how to swim.
Is it safe to take a snorkeling tour in Split?
Split is one of the safest places to snorkel, as the water is calm, the ocean currents are not too strong and the marine life is friendly. If you have any pre-existing medical conditions, such as panic attacks, anxiety, lung or heart problems, or seizures, you should consult your doctor before snorkeling.
What happens in case of bad weather?
If your snorkeling tour in Split is canceled due to inclement weather, the tour operator will offer you a full refund or the chance to reschedule your tour for another day.
Which other outdoor activities can be done in Split?
Travel tips
Bring your swimming gear, especially your swimsuit and a towel. Most tours will not provide you with any gear!
Arrive at the meeting point at least 15 minutes before the start of the tour.
Bring lots of sunscreen! The sun can be intense, especially in the middle of the day.
Pack a waterproof camera to take pictures of your snorkeling adventure.
Bring snacks and drinks with you to enjoy on the boat.