The longest island in the Dalmatian archipelago, Brac (pronounced "Bratch") is favored by holidaymakers for its proximity to Split. Located just off the Croatian coast, it's a great place to sample the region's picturesque beaches and authentic island lifestyle.
A Brac day trip from Split makes for the perfect outing. The island offers crystal clear waters and uninterrupted views over the Adriatic Sea from Vidova Gora — the highest peak on the seaboard.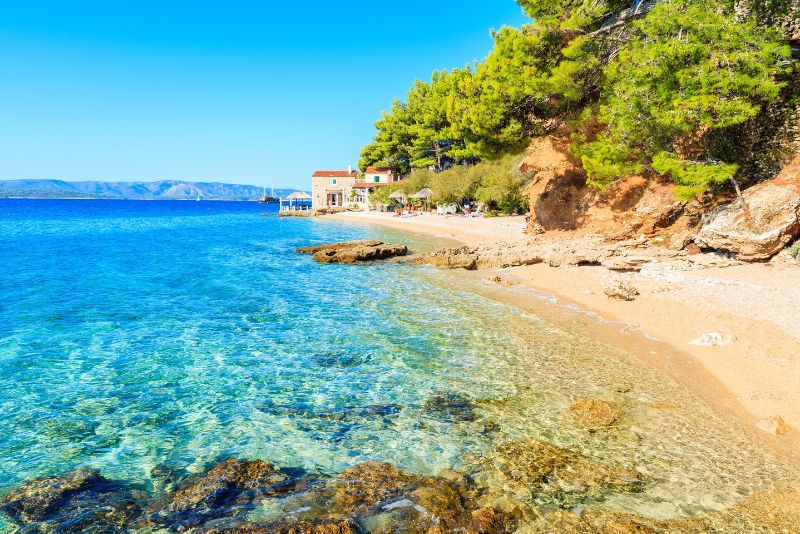 How to get to Brac island from Split?
Brac island is located 20 kilometers southeast of Split in the Adriatic Sea. You can reach Brac via car, ferry, boat, airplane or a guided tour.
From Split to Brac island by car
If traveling by car, you will have to cross Brac Channel via ferry. Ferries carrying passengers and cars depart from Split harbor, and dock at Supetar on the island's north coast.
The ferries are operated by Jadrolinija and the crossing takes about an hour. Vehicle ferry rates range from €18 to €20, each way, depending on the season.
From Split to Brac island by ferry or boat
Passenger ferries are the fastest and cheapest way to reach Brac island. These ferries depart from Split Harbor and dock at Supetar.
The ferries make between seven to 15 crossings per day, starting at 6 AM and ending at 1 AM. Rates range from €4 in the low season to €5 in the high season, each way.
Jadrolinija and Krilo also offer catamaran trips to Bol and Milna on Brac island during the high season. For rates and schedules, it is best to check with the companies directly.
You can also arrange a private boat transfer to the island.
From Split to Brac island by airplane
Visitors can journey to Brac island on an airplane tour from Split. Planes depart from Split airport and land at Brac airport, 5 kilometers from Bol.
Croatia Airlines, as well as other private charter companies, fly to the island.
Guided day tour to Brac island from Split
If you want a hassle-free experience, a guided day trip to Brac Island may be the best option.
There are several half- and full-day boat tours and cruises available. These range in duration from four to 10 hours and prices start at €92 per person.
The tours start at the port in Split and include transport to and from Brac Island.
What is the typical itinerary of a day tour to Brac island from Split?
Day trips from Split to Brac island embark early in the morning from the city's port (although some operators offer a pickup service at an additional fee).
A typical jaunt to Brac island by boat takes approximately 10 hours, with costs starting at €120 per person.
Trip itineraries vary from operator to operator but all of them will guarantee you a beautiful day out on the water with plenty of time to swim, sunbathe and relax, and soak up the aquamarine sights of the Dalmatian Coast.
Most operators include snorkeling gear in their fee and some also include lunch. If lunch is not included, your captain will usually dock somewhere you can disembark and enjoy a meal in a local restaurant.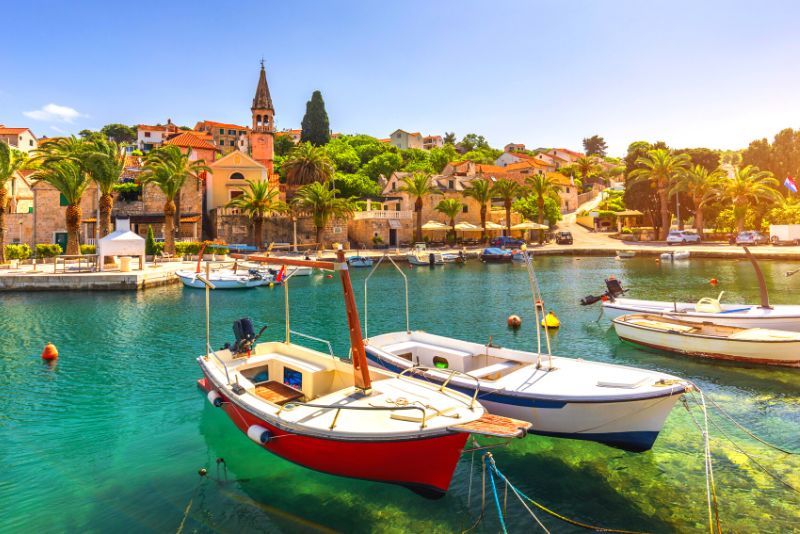 A day trip to Brac island will certainly include a few stops to see some of the area's most beautiful spots, such as Golden Horn Beach in Bol and the Blue Caves.
There are other captivating places to explore nearby like the islands of Hvar and Milna, the picturesque fishing village of Stomorska on Solta island, and the botanically-rich Pakleni isles.
After a day out on the water, all-day trips to Brac island will end at the port in Split.
What kinds of tours are available to go to Brac island?
There are several day trips and tours available from Split to Brac island. Whether you want to enjoy a leisurely sail or a fun jaunt to Brac in a speedboat, there is sure to be an option to fit your budget and schedule — from sundowner trips to full-day excursions.
Day trip to Brac island from Split
These guided group trips to Brac island embark from the port in Split and last about 10 hours. Visit some of the most popular spots around Brac and soak up the Mediterranean sun with these great value excursions.
Luxury day trips to Brac island from Split
Exploring the Adriatic Sea by speedboat is a faster way to get around, so you will be able to see much more than on a standard boat trip. Depending on your guide, sites to visit include the Blue Lagoon, Blue Caves and Golden Horn Beach.
These luxury guided trips are also limited to small numbers so that you can enjoy some privacy on board.
Private day tours to Brac island from Split
Private Brac island tours can be arranged by boat for small groups of up to 12 people. These private tours are an ideal way to explore the Middle Dalmatian Islands and offer you the opportunity to choose the itinerary for the day.
4-Island boat tour from Split
These Split boat tours offer multiple stops and the opportunity to see Brac island, as well as some of the other islands on the Dalmatian Coast.
Departing from Split, this full-day tour drops anchor at Zlatni Beach on Brac island, the Pakleni Islands, Hvar Island and Solta. The tour is limited to 12 people and the price includes snorkeling equipment, bottled water, and all fees and taxes.
Sunset cruises to Brac island from Split
If you're short on time, a sunset cruise to Brac Island is the perfect option. Departing from Split in the late afternoon, this private boat tour lasts about four hours. It includes a snorkeling experience and a restaurant stop at Sutivan village on Brac.
Half-day all-inclusive cruise to Brac island and Solta from Split
This cruise from Split stops at Brac island for swimming and snorkeling. It then heads on to the port town of Stomorska on Solta island to check out the local sights and sounds. The multi-island tour includes lunch and all taxes and handling fees.
How much does a tour to Brac island from Split cost?
Guided cruises and boat excursions start at €92 per person for an all-inclusive half-day cruise to Brac and Solta islands.
Full-day excursions via boat start at €120 and usually include snorkeling gear and bottled water, as well as stops at several top sites.
Private tours allow you to set your own itinerary for the day and start from €1,250 per group of up to 12 people.
Private sunset cruises are priced from €550 per group of up to 11 people.
What will you see and do on Brac island?
You can choose to explore the island's culture and cuisine, see some historical sites or simply relax on its famous sandy beaches. Sign up for a local gourmet tour or join a wine tasting session to sample the island's unique Plavac Mali wine.
If you're interested in history, visit the Blaca Hermitage and the small village of Skrip, which is the oldest on the island and has a native museum.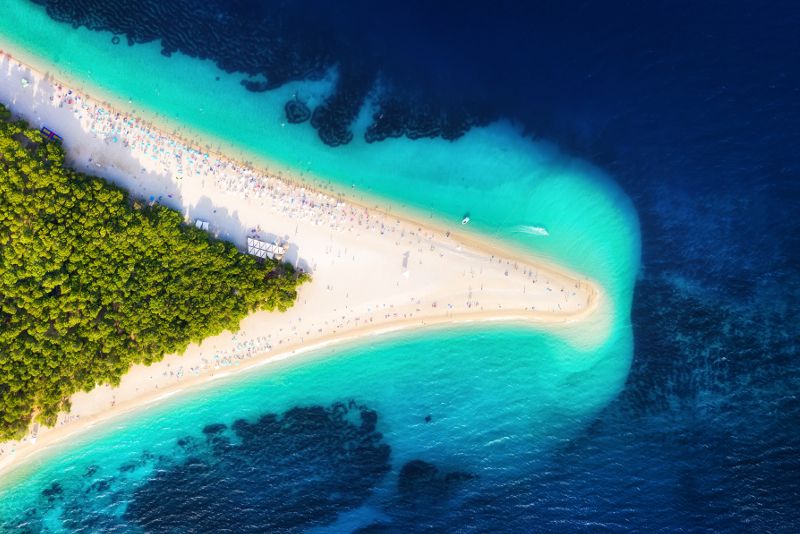 See the famous white stone in Pucisca on the northern coast of the island. These stones have been used to construct important buildings around the world, including the White House in Washington DC.  See age-old masonry skills at the Stone Mason School, open to visitors from September to May.
Of course, no trip to the island would be complete without a stop at the world-famous Zlatni Rat Beach (Golden Horn) near Bol. You can choose to simply relax or try fishing, kayaking, windsurfing, snorkeling and wakeboarding.
There are also various hiking and mountain bike trails you can follow to explore the island. The most popular ones include the Sutivan Olive Oil Path and the Obrsje-Blaca Trail which winds along the coastline and takes you past Blaca Monastery.
The must-see site of Vidova Gora can also be reached by bike or on foot in around 2.5 hours from the center of Bol.
When is the best time to visit Brac island?
The best time to visit Brac island is from May to September when the weather is fine and all the shops and attractions are open. From June onwards, the water is a balmy 23 degrees Celsius with August offering the warmest days (30 degrees Celsius on average).
It is one of the most popular destinations for a day tour from Split, so head off early to get the most out of your day.
Travel tips
Ferry tickets from Split to Brac island cannot be booked in advance. It's best to arrive at least an hour before you want to embark to purchase your tickets.
There aren't many shops on the island (especially around some of the sights), so bring small notes to pay for restroom fees, as well as water and snacks.
Chairs and umbrellas are available to rent at the Golden Horn and are free after 5 PM.
Bol and Supetar are the most popular towns on the island and most services are concentrated here.