Home to golden beaches, year-round sunshine and some of the most breathtaking scuba diving opportunities in the world, Sharm El Sheikh has long been a favorite among relaxation-seeking travelers. Perched at the southern end of the Sinai Peninsula, this paradise embodies what "vacation" is all about.
Perhaps the polar opposite to that concept is Cairo. This metropolitan area, flanked by the great Pyramids, is the largest in all of Africa and, and thanks to its countless historic, fascinating landmarks, is one of the world's most popular tourist destinations.
The two cities are much closer than you think, and with several day trips from Sharm El Sheikh to Cairo available, you can soak up the best of both worlds.
Here's all you need to know about Cairo, one of the most exciting day trips from Sharm El Sheikh.
How to get to Cairo From Sharm El Sheikh?
Sharm El Sheikh is about 500 km from Cairo, and is easily accessible by car, by plane, or with a hassle-free guided tour.
From Sharm El Sheikh to Cairo by car
The drive from Sharm El Sheikh to Cairo takes around 5.5 hours. The majority of the route is through the Sinai desert, driving up the Gulf of Suez coast on the El Tor - Sharm El Sheikh Road. Once you get to Suez, merge onto Highway 50 and you'll be in Cario about 90 minutes later.
From Sharm El Sheikh to Cairo by bus
If you want to take public transport, there are regular buses running from Sharm El Sheikh to Cairo with Go Bus. The journey takes around 8 hours and prices start from around US$10.
From Sharm El Sheikh to Cairo by plane
To avoid the long drive, most visitors prefer to fly from Sharm El Sheikh to Cairo. It only takes around one hour and there are multiple flights throughout the day. Prices start from around US$50 per person (one way).
Guided tour to Cairo From Sharm El Sheikh
The most convenient and least stressful way to get from Sharm El Sheikh to Cairo is with a guided tour. Guided tours offer round-trip transportation (typically by plane), and will make all the necessary arrangements so you can have an enjoyable and hassle-free experience.
Tours last anywhere from 12 to 18 hours, and will pick you up from and return you to your hotel.
What is the typical itinerary?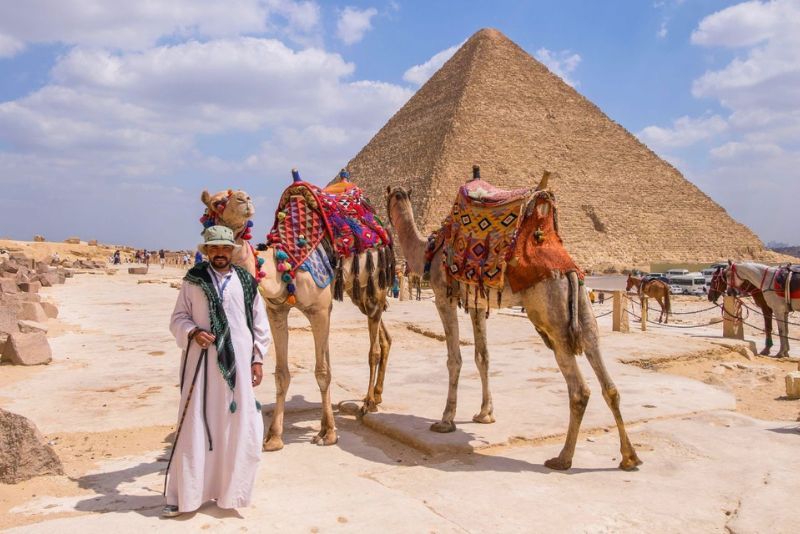 While each tour can vary in length and activities, they follow a similar structure that involves round-trip flights and visits to popular attractions. Typically, the day will start with an early morning hotel pickup and airport transport to Sharm El Sheikh International Airport for the one-hour flight to Cairo.
Once there, you'll visit a handpicked selection of Cairo's famous sights, usually involving the Great Pyramids and the Sphinx at the Giza Plateau, the Egyptian Museum (the oldest archaeological museum in the Middle East), and the Khan el-Khalili bazaar.
In between visiting sites, you'll stop for lunch at a local restaurant, with some free time to explore Cairo's neighborhoods on your own. When the day is done, you'll be taken back to Cairo airport for a flight to Sharm El Sheikh, followed by hotel drop-off.
What kinds of tours are available to go to Cairo?
Guided Day Tour to Cairo from Sharm El Sheikh by Plane
The most popular option, this guided tour offers a hassle-free way to see the best of Cairo in a single day. Since you'll fly from one city to the other, you'll have more time to explore the sites and attractions.
The tour usually includes hotel pickup, airfare, local transport in Cairo, entrance fees to tourist attractions and lunch at a local restaurant.
Guided Day Tour to Cairo from Sharm El Sheikh by Luxury Bus
This is a longer day trip option, but generally a more budget-friendly one. Most of the sites covered are the same as in the plane tour, but this option involves taking a luxury bus to Cairo rather than flying.
These tours start very early (around 2 AM), but you'll have plenty of time to catch up on sleep on the bus.
Day Tour to Cairo by plane, plus ATV ride, Felucca ride and Camel Ride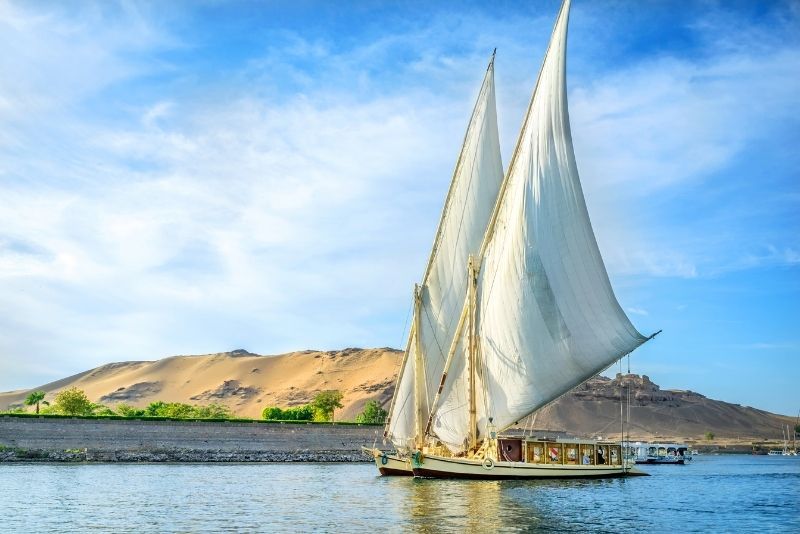 Designed for more adventurous travelers, this day tour combines all the usual Cairo sites (such as the Pyramids and the Egyptian Museum) with some unique outdoor activities.
First, you'll be taken on an exciting quad bike tour around the desert area near Giza. Then you'll get to ride a camel, before sailing along the Nile River on a traditional felucca boat.
2-Day Tour to Cairo from Sharm El Sheikh
To get the most out of your time in Cairo, 2-day tours from Sharm El Sheikh offer a more comprehensive experience and a deeper look into the Egyptian capital's diverse attractions.
You'll have time to check out the Giza Pyramids, the Egyptian Museum, Islamic Cairo, Coptic Cairo, the Alabaster Mosque, the Khan El-Khalili bazaar and more. You'll also have some free time for further exploration in Cairo's neighborhoods.
Accommodation at a 4 or 5-star hotel is included, as well as breakfast and your very own Egyptologist guide.
2-Day Cairo & Alexandria Private Tour
Suited to travelers who want to see more of Egypt, this private tour covers Cairo and Alexandria in 2 days. On day one, you'll get to check out all the main haunts in Cairo, including the Pyramids of Giza, the Sphinx, and the Egyptian Museum.
On day two, you'll drive for around 3 hours to Alexandria, where you'll get to see the Roman Theater, the Citadel of Qaitbay and the El Abbas El Morsi Mosque, among others.
How much does a day trip to Cairo from Sharm El Sheikh cost?
Day trips to Cairo from Sharm El Sheikh by bus are the cheapest, with prices ranging from US$80-$250 per person, depending on the attractions visited and the level of luxury you want.
Day trips to Cairo from Sharm El Sheikh by plane range from US$250 to US$400 per person, offering a shorter travel time and more time for sightseeing.
Comprehensive 2-day tours to Cairo usually cost US$350 to US$470 per person, while excursions that also visit Alexandria cost around US$450 per person.
What will you see and do?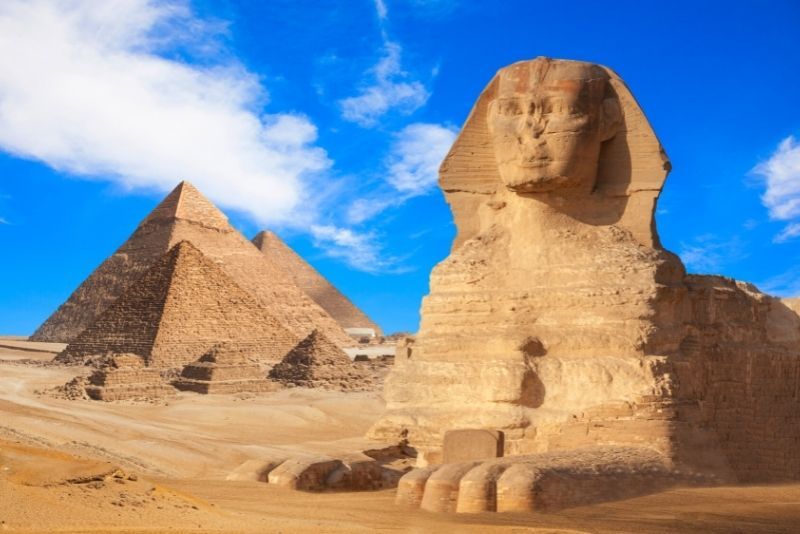 Each day trip to Cairo from Sharm El Sheikh is different. Generally speaking, you can expect to see at least a handful of the following attractions.
The Great Pyramids of Giza
One of the seven wonders of the world, and one of Egypt's top attractions - you can't visit Cairo without checking out the Great Pyramids, or the equally impressive Sphinx.
The Egyptian Museum
The Egyptian Museum houses a huge collection of over 120,000 ancient artifacts, from mummies to ancient jewelry, artwork and the famous Tutankhamun collection, complete with gold death mask.
Khan el-Khalili Bazaar
The bustling Khan el-Khalili Bazaar — the biggest in the Middle East — sells everything from souvenirs, perfumes, jewelry and spices to traditional clothing, street food, and hookah pipes. It's a fascinating insight into the local culture and an excellent place to pick up souvenirs.
Islamic Cairo
Tours often visit Islamic Cairo, which shows off an important part of the city's history. The mosques, in particular, including the Mosque of al-Azhar and the Ibn Tulun Mosque, are stunning.
Alexandria
Some of the 2-day trips to Cairo include a visit to Alexandria, Egypt's second-largest city. During your time there, you'll be able to visit the Catacombs of Kom el Shoqafa and the Citadel of Qaitbay fortress, as well as soak up the relaxing atmosphere of the Mediterranean waterfront.
When is the best time to visit Cairo?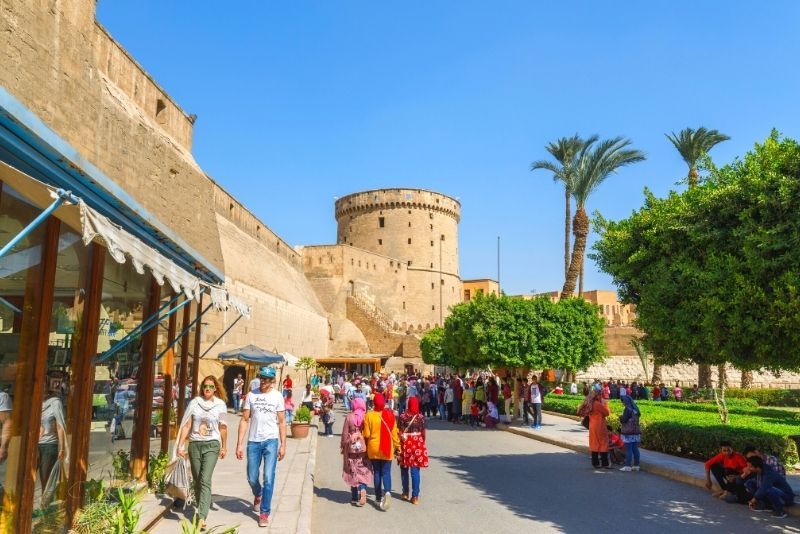 The best time to visit Cairo is from October to April, during the cooler months, when daytime temperatures are pleasant. Winters are mild, though nights can be chilly. It's ideal for exploring the pyramids, the markets, and the city's historical sites. However, during the peak tourist season (December to February) Cairo's attractions can get crowded.
Are there any tours to Cairo from other cities in Egypt?
Yes, there are tours departing from other cities in Egypt:
Travel tips
Cairo is more conservative than Sharm el Sheikh. Women should consider wearing long skirts or pants and covering their shoulders.
Carry a bottle of water, wear a hat, and apply sunscreen, especially when visiting outdoor sites.
If you shop in the markets, remember that bargaining is common. Start by offering about half of the asking price and negotiate from there.
Cairo's traffic can be chaotic, so factor in potential delays when moving between sites.