While the Egyptian port city of Alexandria offers many charms of its own, nothing beats the grandeur and world-famous attractions of Cairo.
A Cairo day trip from Alexandria provides the ideal opportunity to experience Egypt's vibrant capital with a local guide leading the way and ensuring that you don't miss a thing. See the iconic Pyramids of Giza and enjoy incredible views over the Nile River.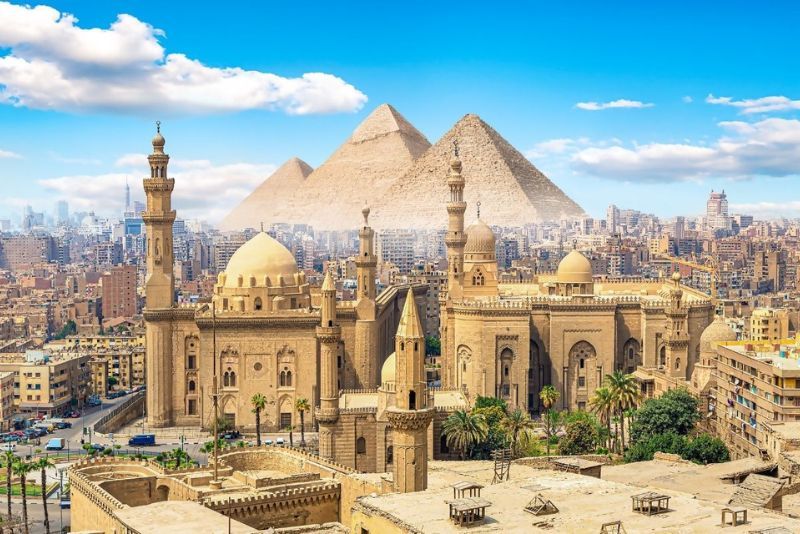 Here's all you need to know about Cairo, one of the most spellbinding day trips from Alexandria.
How to get to Cairo from Alexandria?
Cairo is Egypt's capital city and is situated on the banks of the Nile River, roughly 200 kilometers southeast of Alexandria.
From Alexandria to Cairo by car
Driving from Alexandria to Cairo is fairly straightforward as all you need to do is head in a southeasterly direction on Route 75, which will take you all the way to the capital city. The drive should take roughly 2 hours depending on traffic.
From Alexandria to Cairo by bus
Buses depart the Alexandria Moharam Bek station for the Tahrir station in Cairo around three times a day and offer an affordable and convenient way to reach the capital city. You can expect the bus journey to take around 3 hours.
Guided tour to Cairo from Alexandria
Joining a guided tour to Cairo from Alexandria allows you to visit Egypt's capital without having to rent a car or navigate public transport. These full-day excursions, usually lasting around 12 hours, are led by a local guide who takes care of your itinerary and travel arrangements.
What is the typical itinerary?
Cairo day trips typically begin with a pickup from your hotel in Alexandria at around 7 AM. You'll leave the port city behind and make your way to Cairo in a comfortable, air-conditioned vehicle with an experienced guide.
Once in Cairo, you'll see some of the city's main attractions including the Pyramids of Giza, the Sphinx, the Great Pyramid of Cheops, the Museum of Egyptian Antiquities, El Khalili Bazaar and other points of interest.
You'll stop for lunch and there will be plenty of opportunities to take photographs and ask your guide questions about the various attractions on the tour's itinerary. After an action-packed day exploring Cairo, you'll be taken back to your hotel in Cairo.
What kinds of tours are available to go to Cairo?
Cairo tours departing from Alexandria fall into three main categories, including guided tours, private excursions and overnight trips, thus ensuring that there is a suitable option for every budget and preference.
Guided tours to Cairo from Alexandria
Guided tours to Cairo from Alexandria are one of the most popular options available as they provide an affordable opportunity to visit the capital city with a knowledgeable local guide at your side.
As there will be other tour participants on the excursion, you'll get to meet new people and enjoy the experience alongside like-minded travelers. Some tours have a designated pickup point, but most can arrange pickup and drop-off from your hotel or from Alexandria port.
Private tour to Cairo from Alexandria
When you book a private tour to Cairo from Alexandria, you and your travel companions will be the only participants on the tour, providing you with a more personalized experience and more opportunities to interact with your guide.
You may also get to customize your itinerary so that you can spend more time at the attractions that interest you the most. Enjoy the convenience of pickup and drop-off at your hotel or the Alexandria port. Most private tours also include lunch and bottled water.
2-Day tour to Cairo from Alexandria
Make the most of your time in Cairo by opting for an overnight tour. With these tours, you get to spend a night in a comfortable guesthouse and explore the city after dark. You'll also get more time to see all of the city's major attractions.
When choosing a 2-day tour, you can choose between a private tour or a shared group experience. Either way, most 2-day tours to Cairo from Alexandria include lunch and/or breakfast, plus entrance fees to the sites and museums.
How much does a day trip to Cairo from Alexandria cost?
Basic guided Cairo day trips from Alexandria typically cost around US$75 per person for a shared group experience including transport and excluding food and drinks.
Private Cairo day trips from Alexandria usually cost at least US$150 per person including transport and lunch at a local restaurant. The price of private tours may also depend on the time of tour participants.
When it comes to 2-day Cairo trips from Alexandria, you can expect to pay around US$275 per person for a guided group experience and roughly US$400 per person for a private excursion including transport and accommodation.
What will you see and do?
Located on the banks of the mighty Nile River, Cairo is an ancient city that is home to a plethora of world-famous attractions. Although the city is best known for the Pyramids of Giza, you'll also get to see bazaars, museums and so much more.
Pyramids of Giza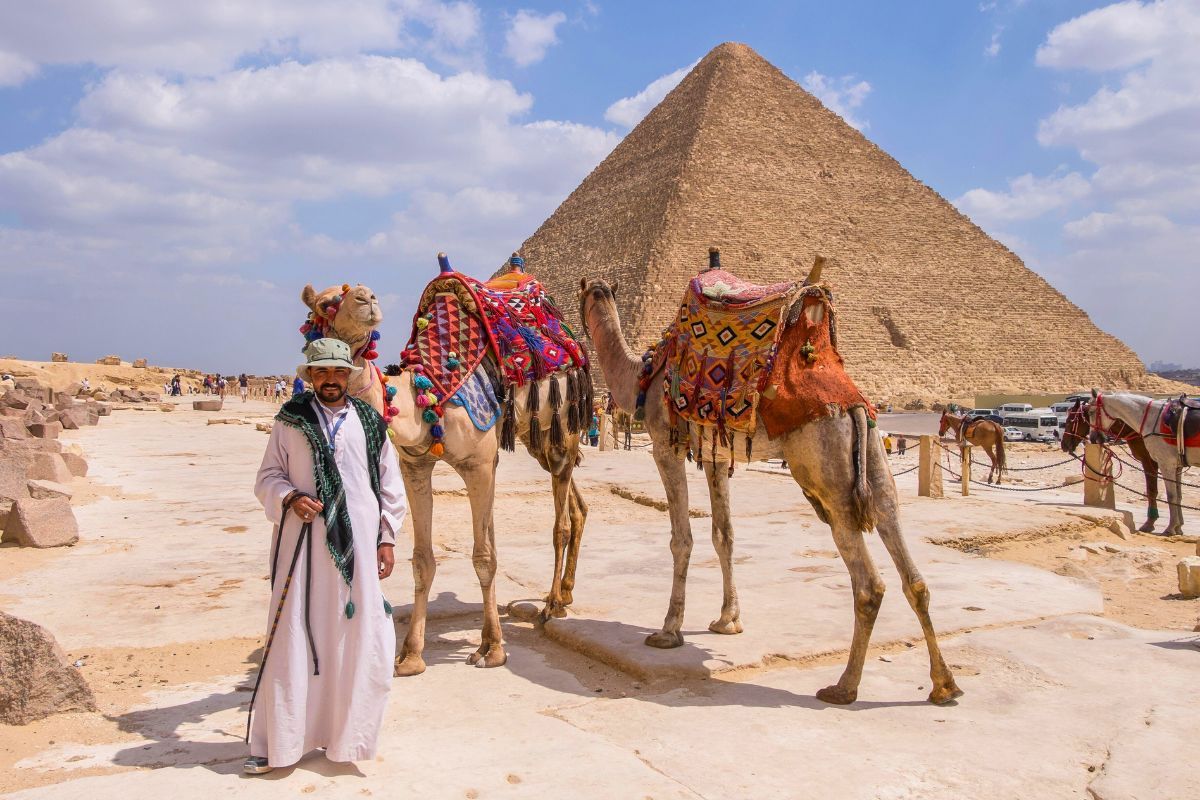 The Giza Pyramids, which were built in roughly 2550 BC, are listed as one of the Seven Wonders of the World and are one of Egypt's most famous attractions. The three magnificent pyramids were constructed with millions of stone blocks and are considered an architectural marvel.
The Valley Temple of Khafre
Located just 30 minutes away from downtown Cairo, the Valley Temple of Khafre provides an excellent example of how advanced the Ancient Egyptians really were. The temple was originally built for the purpose of mummification and, despite its age, remains in excellent condition.
The Great Sphinx of Giza
The Great Sphinx of Giza is an impressive limestone sculpture of a reclining sphinx, which is said to be the guardian of the large funeral complex. The mythical creature, which has the head of a man and the body of a lion, often appears in Egyptian stories and legends.
The Museum of Egyptian Antiquities
The Egyptian Museum of Antiquities is home to the largest collection of Egyptian art in the world. This is the perfect place to gain a deeper understanding of Egyptian history and culture as you view the phenomenal exhibits on display, including an exhibit dedicated to Tutankhamun.
Khan El Khalili Bazaar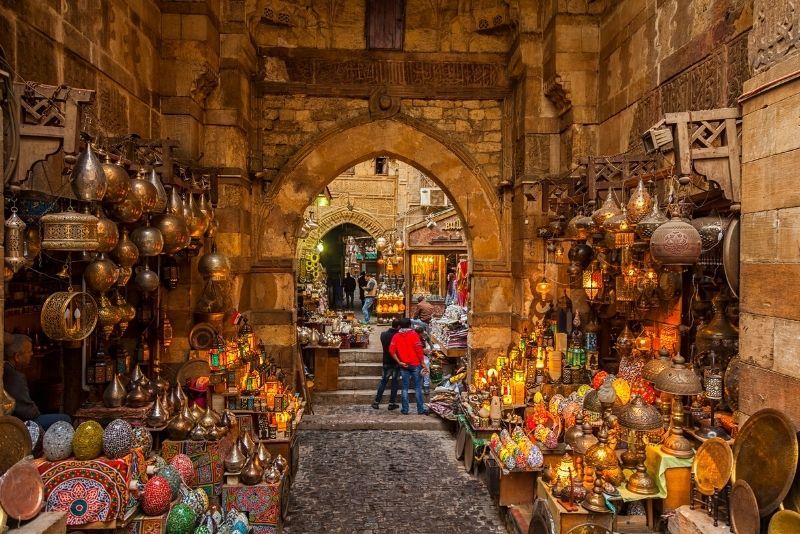 Known for its brassware, perfumes, copper, leather and antiques, the Khan El Khalili Bazaar is a vibrant market that gives you an insight into local life in Cairo. This is a great place to chat with locals, purchase souvenirs and simply stroll through the dozens of colorful shops.
When is the best time to visit Cairo?
The best time to visit Cairo depends on weather, crowds and events. October to April offers cooler temperatures and is the peak tourist season, with December to February being the most pleasant but also the most crowded. Conversely, May to September is hotter with fewer tourists, but you'll need to tolerate high temperatures.
You should also consider events like Ramadan, which varies each year and alters local business hours, Moulid festivals that honor Muslim saints and the Cairo International Film Festival in November when planning your visit.
Are there day trips from Alexandria to other places in Egypt?
Yes, there are day trips to other places in Egypt:
Are there any tours to Cairo from other cities in Egypt?
Yes, there are tours departing from other cities in Egypt:
Travel tips
Get ready to haggle. In local markets, like Khan El Khalili, bargaining is expected.
Sample the Cuisine. Don't miss trying local delicacies. "Koshari" is a must!
Pack Toilet Essentials. Carry tissues and hand sanitizer; not all restrooms will have supplies.
Mind Local Etiquette. Public displays of affection are frowned upon; be respectful.
Carry Some Cash for Tipping. Small tips ("baksheesh") are expected and appreciated. For small services, like bathroom attendant and hotel bellman, you can give 5 to 10 Egyptian pounds (E£). For a half-day tour, the driver and guide would expect E£25 and E£50, respectively. Double that amount for a full-day tour. For restaurants, you can leave 10% of the total bill for your server.