The heartwarming story of Maria, Captain von Trapp and his 7 children is one that lives on decades after its release. The iconic music, breathtaking Austrian scenery and unforgettable story all draw fans to Salzburg to see where this monumental film was made and to recreate some of their favorite scenes.
These tours will quickly be one of your favorite things and inspire a song in your heart. Here is everything you need to know about a Sound of Music tour in Salzburg.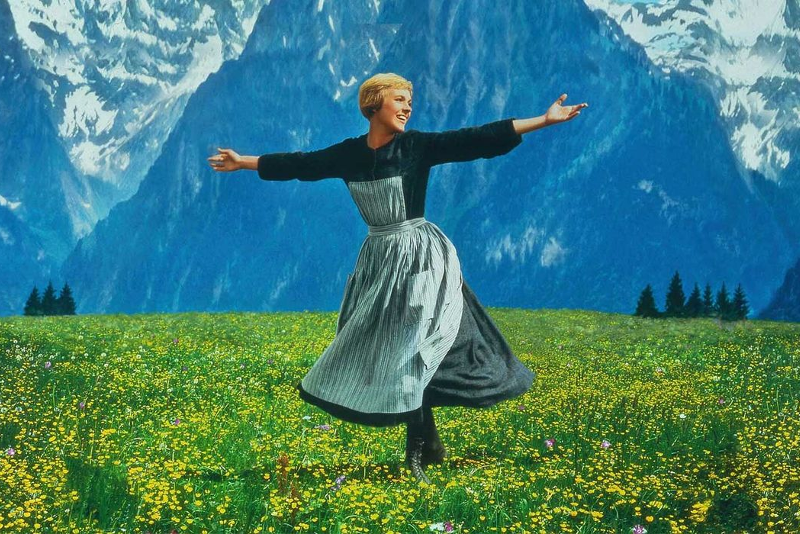 You will find below all you need to know about Sound of Music tours, one of the most fun options for sightseeing tours in Salzburg.
What are the best Sound of Music tours in Salzburg?

Original Sound of Music Tour
This classic Sound of Music tour in Salzburg is a must for movie fans of all ages. The tour takes you to the most iconic filming locations in and around the city, all the while sharing stories and music as you move between locations.
You will see Schloss Leopoldskron which served as the exterior for the Von Trapp house as well as Nonnberg Abbey where Maria was in service before becoming a governess. You will also see unforgettable locations like Hellebrunn Garden, St. Gilden and Mondsee before returning to Mirabell Garden where Maria and the children performed Do-Re-Mi.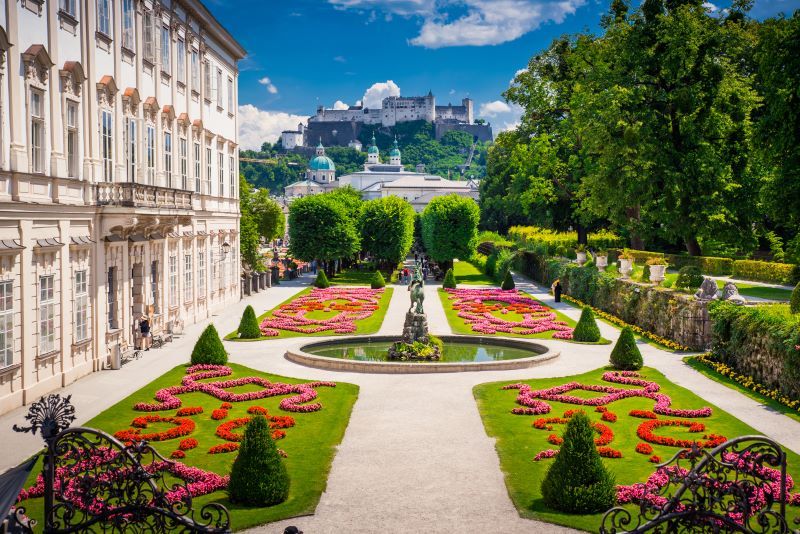 Sound of Music Culture Walk with a local
Experience the magic of Salzburg through the eyes of a local with this charming Sound of Music tour. You will see various important historical locations in the city as well as memorable filming locations from the movie.
Start the walking tour at Pegasusbrunnen where Maria and the children were dancing to the tune of Do-Re-Mi before going further back in time to Mozartplatz where a statue of the maestro himself stands proudly. Residenzplatz and Herbert-von-Karajan-Platz are two more scenic stops on the tour and you will also visit the landmark Salzburg Cathedral and Nonnberg Convent.
Salzburg Sound of Music Bike Tour
Take a leasurely bike ride through the tranquil countryside of Salzburg, just how Maria and the children would have done. See stunning historical landmarks and hear tales about the real von Trapp family that inspired the film.
You will see Schloss Frohnburg, Schloss Hellbrunn and Schloss Leopoldskron which were all key locations in the film as well as Nonnberg Convent where Maria was living. Pedal down the oldest stately avenue in Central Europe and indulge in the peaceful atmosphere of the Austrian countryside.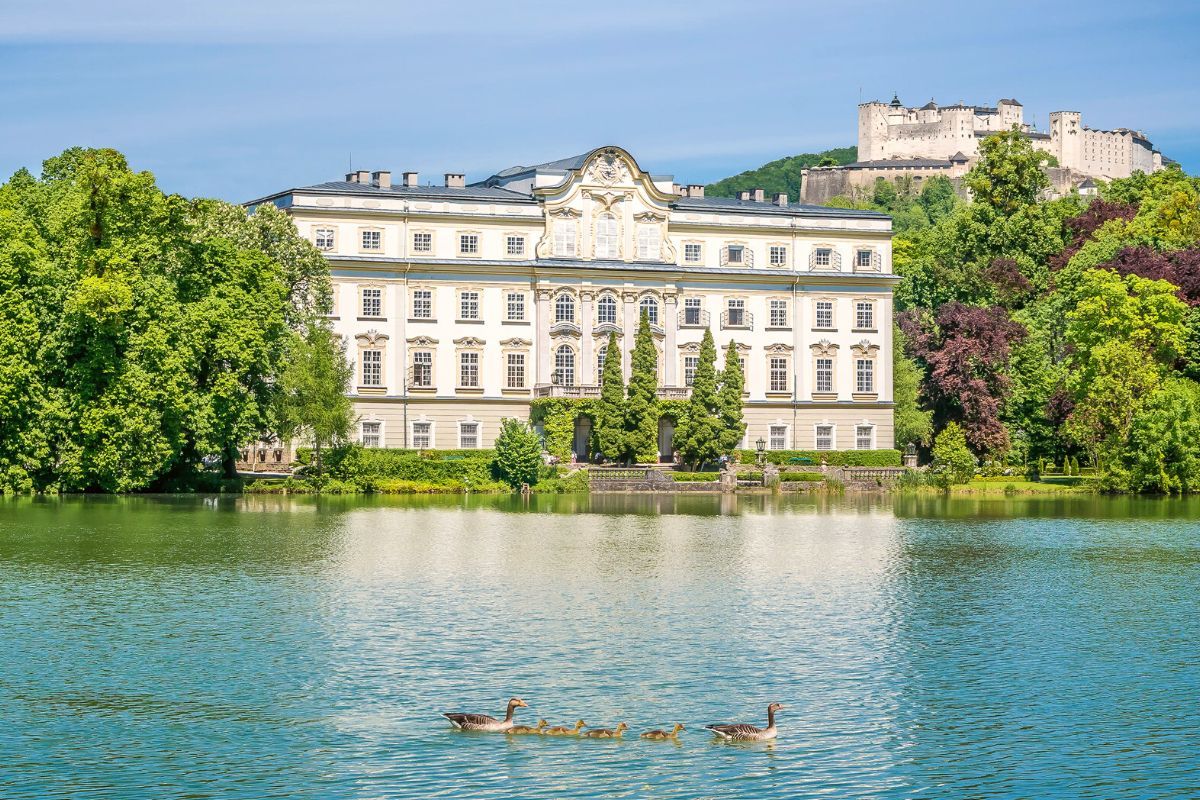 Sound of Music Exploration Game
This Sound of Music tour in Salzburg is an alternative experience that takes you on an exhilarating quest through the city. Help the von Trapp family escape without by solving clues and riddles along the way.
The scavenger game uses an app to guide you to famous locations like the Do-Re-Mi stairs, Salzburg Dom, Salzburger Marionettentheater and the Nonnberg church. You will learn about their relevance to the film's setting and also dig into the city's mysterious past as the tour divulges fascinating secrets of Salzburg.
Sound of Music Tour with Schnitzel and Noodles
Explore the fairytale landscape of Salzkammergut where Sound of Music was filmed before ending your day with a delectable three-course meal of lunch or dinner at Restaurant Herzl.
Walk in the footsteps of Maria and the von Trapps at Schloss Leopoldskron and see where Liezl and Rolf serenaded each other in the famous gazebo. You will also visit Lake Wolfgang and the unmissable white and yellow Mondsee Wedding Chapel where Maria walked down the aisle.
You end the day with a traditional Austrian spread at the famous Restaurant Herzl where Julie Andrews and Christopher Plumber often dined. Naturally, this meal will include Schnitzel with Noodles, just like Maria would have liked it.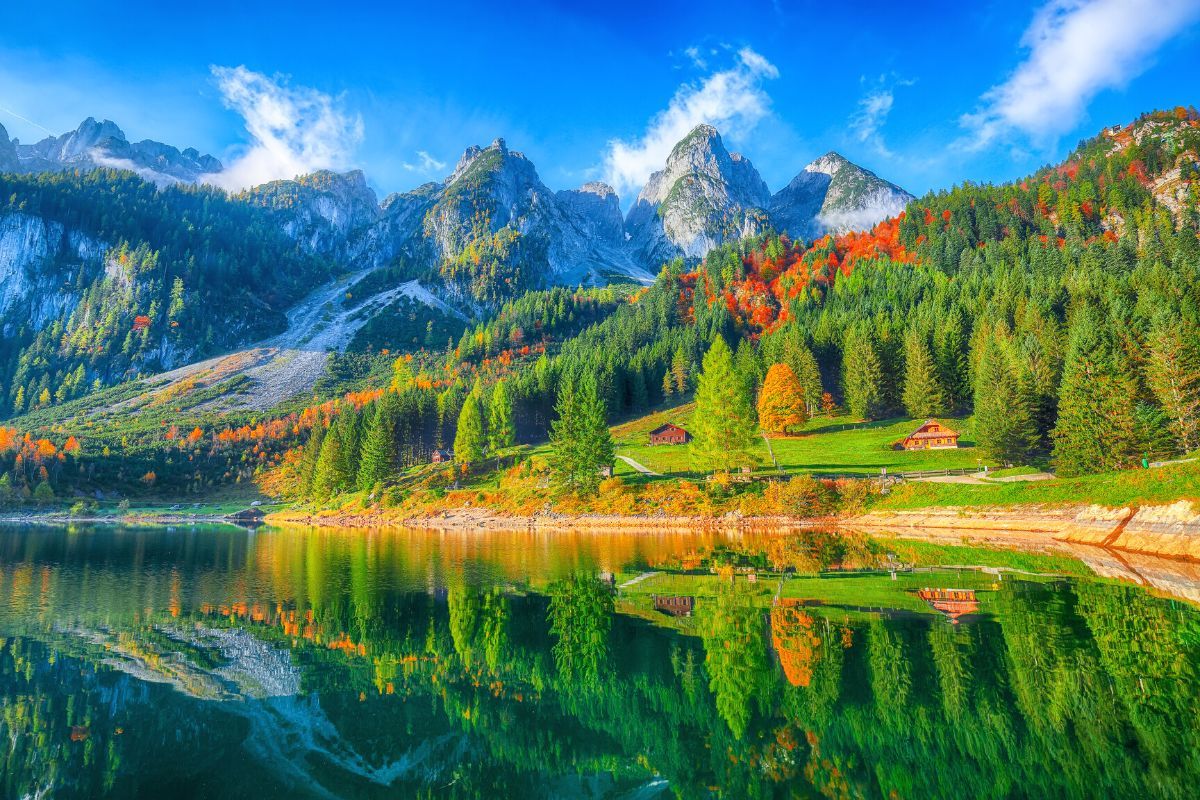 How much do Sound of Music tours in Salzburg cost?
The average cost of a Sound of Music tour in Salzburg is around €50 per person with private tours costing around €400 per person.
A walking tour with a local is between €40 and €60 per person while a cycle tour is only around €30 per person.
You can do the Sound of Music Exploration Experience for only €10 and multiple people can join on one phone or each person can buy the experience separately.
The hunger-busting tour with Schnitzel and Noodles costs around €80 and includes a selection of delectable Austrian dishes.
What is included in a Sound of Music tour in Salzburg?
The original Sound of Music Tours in Salzburg includes a knowledgeable guide that will provide heaps of entertainment along the way. You will be driven in a luxury couch between the stops but most tours do not include the entrance tickets at the various places.
Bike tours include the use of bicycles and safety gear and the Exploration Experience comes with an app that you can access unlimitedly.
The food is also included in the price if you book a Sound of Music Tour in Salzburg that offers food.
Where do Sound of Music tours in Salzburg start?
Tours start at various central points across the city and often depend on who the tour operator is and where their offices are located.
You will receive the exact meeting instructions when booking your ticket and your tour operator will ensure that you understand the directions clearly.
How long do Sound of Music tours in Salzburg last?
Most Sound of Music tours in Salzburg last along 4 hours as there is quite some driving involved between locations.
The exploration game only lasts around 1.5 hour, but you can move at your own pace.
The culture walk is also short, between 60 and 90 minutes.
Tours that include lunch or dinner are around 5 hours long, allowing for time to slowly enjoy your meal.
When is the best time for a Sound of Music tour in Salzburg?
Most tours have morning and early afternoon departures and either one will serve up an unforgettable experience.
You can take this tour at the end of your trip, after seeing all the historic sights of Salzburg. This way you will end it on a high note and leave the city with a song in your heart.
Are there any combos available with Sound of Music tours in Salzburg?
Original Sound of Music Tour and Salt Mine Combo
This unexpected combo shows you the most fascinating parts of the Salzburg region in one exciting day. First you will visit the captivating underground world of Berchtesgaden Salt Mines just across the German border. After emerging above ground you will continue to all the most famous Sound of Music spots.
Original Sound of Music Tour and Historic Walking Tour
This como offers two of the most popular options in Salzberg and covers just about everything there is to see in the city. Start with a visit to historical icons like the Salzberg Cathedral and move on to filming locations for Sound of Music.
Travel tips
Make sure your phone is fully charged to enjoy the Sound of Music Exploration activity.
Wear comfortable shoes for the tours as you will walk on uneven ground at many of the old historic landmarks.
Don't eat before doing a tour that includes food. You will want to have room to enjoy the bountiful offerings.