This idyllic Greek island in the Dodecanese archipelago is famed for its pristine beaches and charming old town. Red-roofed houses cling to the sweeping hillsides, and boats bob up and down in the harbor below.
You can take a day trip to Symi Island from Rhodes where exploring quaint villages and swimming in sparkling bays are both on the agenda. Here's how you can make it happen.
How to get to Symi Island from Rhodes?
Located in the Dodecanese, tiny Symi is only accessible by sea from neighboring islands like Rhodes and Kos, or from Athens.
From Rhodes to Symi Island by ferry
If you want to journey to Symi from Rhodes without a guide, then you can hop on the public ferry which runs throughout summer between May and September. The trip takes about an hour and there are up to four sailings a day,
Guided tour to Symi Island from Rhodes
If relaxation is high on your to-do list, then taking a guided day trip to Symi Island from Rhodes is the way to go. Most tours last a full day so you can make the most of your visit, with an expert local on hand to show you the way.
Some Symi excursions include hotel transfers to make your experience hassle-free.
What is the typical itinerary of a day tour to Symi Island from Rhodes?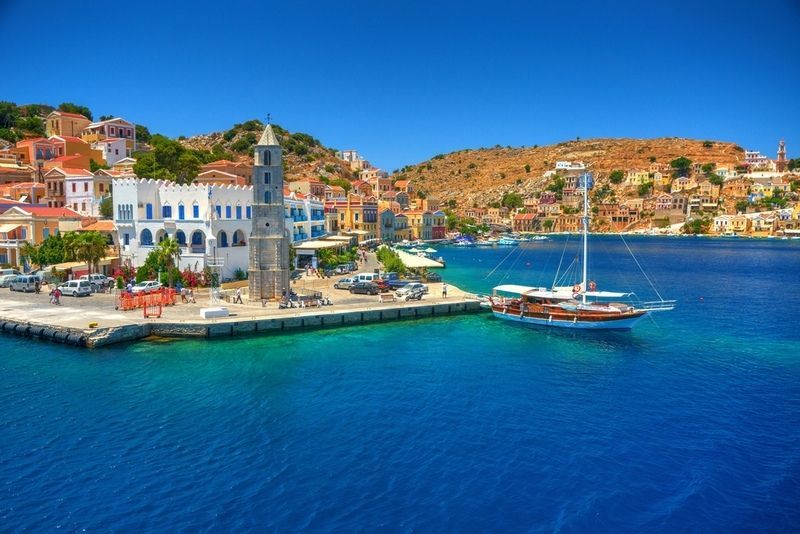 Your day trip to Symi Island begins with a hotel transfer, or at a designated meeting point at the harbor. Then it's time for a relaxing cruise by ferry, motor yacht, or speed boat.
On arrival at Symi, you will have free time to explore. Wander through the old town, check out the monasteries, and soak up the views. Lunch can be purchased on the island.
Several Symi Island day tours from Rhodes include a swimming stop at St George's Bay before heading home in time for dinner.
What kind of tours are available to go to Symi Island?
Choosing the best jaunt to Symi Island is easy as there are just a few different types of excursions to consider.
Guided tour to Symi Island from Rhodes
This small-group excursion is the most popular and cost-effective Symi Island day trip from Rhodes. Some tours offer transfers while others ask you to meet at the harbor.
The boat ride to Symi is by public ferry or motorboat, so if you have a preference, double-check the details before booking. If you travel by motorboat, there is often a swimming stop included.
You will explore Symi Island with a guide and have the opportunity to purchase lunch before returning to Rhodes.
Tour to Symi Island from Rhodes without a guide
Having a local expert on hand to tell you about the sights is useful, but not compulsory. These tours include return ferry tickets with time for independent exploration on the island.
Private tour to Symi Island from Rhodes
Enjoy a cruise on your own luxury yacht on this exclusive day tour to Symi Island from Rhodes. Relax on deck with complimentary drinks and a buffet lunch while taking in the views.
Explore the island at your leisure, then rejoin the boat for swimming and snorkeling. Hotel pick-ups are provided.
2-day tour of Symi Island and Rhodes
Combine sightseeing in Rhodes with some laid-back Symi Island life on this two-day tour. Day one is all about Rhodes, and you will visit sites like Filerimos, Kritinia Castle, and Embonas.
Head off to Symi Island on the second day, which follows the itinerary for the above guided tours.
How much does a tour to Symi Island from Rhodes cost?
The guided Symi Island day trip from Rhodes starts at €55 per person. This includes hotel pick-ups and drop offs.
For Symi tours without a guide, expect to pay between €37 and €51 depending on the boat type and whether land transfers are included.
A private tour to Symi Island from Rhodes is €2000 for up to 25 passengers. Transfers, lunch, drinks, and snorkel gear are provided.
The 2-day Symi Island and Rhodes tour is priced at €135. This includes transfers in an air-conditioned vehicle, lunch on day one, cruise tickets, and snorkel gear. Guided tours are €425. Accommodation and most meals are at your own expense.
What will you see and do on Symi Island?
Once on Symi Island, you will have plenty of time to explore at your own pace. Here are the highlights:
Symi Village
The island's port is utterly charming, with colorful Neoclassical mansions and painted fishing boats creating an idyllic scene. You can stroll through the town, visiting local shops and soaking up the views.
Don't miss the nautical museum, the old Customs House, the fish market, and the clock tower. Some tours also include a visit to the local sponge maker to learn about the island's sponge diving heritage.
Panormitis Monastery
The historic 18th-century Monastery of Archangel Michael is the most striking landmark in the tiny coastal village of Panormitis. Overlooking the bay, this Greek Orthodox church is still inhabited by monks and is a popular pilgrimage site.
Head inside to admire the ornate gold interior and Byzantine frescoes adorning the walls and ceiling. There are a couple of museums here that focus on religious artifacts and local folklore.
The Kali Strata
This ancient path was built as a road to join Symi town to the village of Gialos, and today makes for a scenic hike with rewarding views. Climb the 500 steps up to the old fortress and enjoy the island panoramas while you catch your breath.
Saint George Bay
The crystal-clear waters of Saint George Bay make this a popular swimming and snorkeling spot on many day trips to Symi Island from Rhodes. Accessible only by boat, the beach here is one of the prettiest in the Mediterranean.
When is the best time to visit Symi Island?
The ideal time for a day tour to Symi Island from Rhodes is between May and November when temperatures are warm and pleasant. Peak season is from June to August so avoid these months if you prefer a quieter experience.
The public ferry runs during summer from May until September.
Travel tips
If your tour includes a stop at Saint George Bay, remember to pack your swimming gear and a towel. Sunscreen is advisable too.
Book your day trip to Symi Island from Rhodes online to compare deals and secure tickets for your preferred dates.
The boat journey is only an hour long, but some vessels do have restrooms on board.
Food and drink are not provided on most tours so take your own or purchase some on the island.
Wear comfortable shoes for exploring the cobbled streets and hiking trails on the island.