Lindos is one of the most popular towns to visit on Rhodes. Whitewashed houses sit on the rocky slopes while the clifftop acropolis keeps watch over the traditional Greek scene.
For many visitors, a day trip to Lindos from Rhodes is the highlight of an island stay. The archaeological site here is one of the best in Greece, while the beach below offers relaxation for all budding explorers.
How to get to Lindos from Rhodes?
Lindos is 30 miles from Rhodes City, in the southeast of the island. You can reach the town by road, or for a real adventure, take a boat tour along the coast.
From Rhodes to Lindos by car
It takes around an hour to drive to Lindos from Rhodes, heading south on the EO95 road. There are three main parking sites just outside the village.
From Rhodes to Lindos by bus
The journey to Lindos from Rhodes can be done by public bus, with hourly departures from the city. It takes 1 hour 45 minutes to reach Lindos.
This is the cheapest way to travel, but not always the most comfortable.
Day tour to Lindos from Rhodes
You can take an organized day trip to Lindos by bus or boat for a hassle-free sightseeing experience. After a transfer by coach, yacht, or speedboat, you'll arrive in Lindos for a few hours of leisure time.
The return journey will have you back in Rhodes before dinner.
What is the typical itinerary of a day tour to Lindos from Rhodes?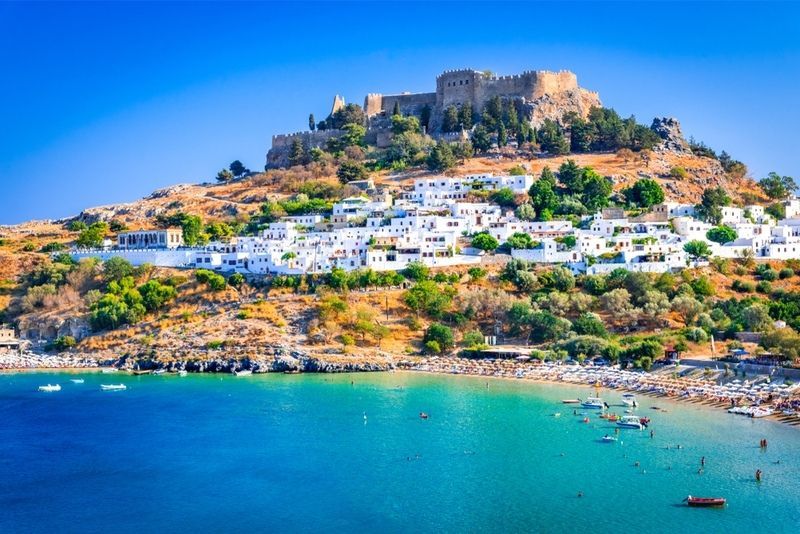 Your day trip to Lindos begins with a journey by bus or boat, departing Rhodes during the morning. Some tours offer hotel pick-ups and others will send you details of the pre-arranged meeting point.
After 1-2 hours you will arrive in Lindos and get stuck into some sightseeing, either independently or with a guide. You can buy lunch in the town and spend time at the beach after your explorations if you wish.
Return transfers are included, having you in Rhodes by the early evening.
What kind of tours are available to go to Lindos?
You have heaps of choice when it comes to Lindos day trips from Rhodes. Here are the main contenders:
Boat tour to Lindos from Rhodes
The most enjoyable day trip to Lindos from Rhodes is by motor yacht or speedboat. You will be treated to round-trip sea transfers, beautiful coastal scenery, and swimming stops along the way at Tsambika and Lindos Bays.
These popular Lindos excursions give you plenty of free time for sightseeing and lunch before returning to Rhodes.
Bus tour to Lindos from Rhodes
Want to keep your feet on dry land? Then sign up for a bus tour to Lindos and explore the town at your own pace on arrival. Both guided and non-guided options are available.
Some Lindos bus tours stop at Seven Springs along the way.
Private tour to Lindos from Rhodes
The most indulgent Lindos day tours from Rhodes are the private trips, which can be enjoyed by land or sea.
Relax onboard a catamaran and admire Lindos from the water, or travel by luxury air-conditioned vehicle and explore the historical sites on foot.
Lunch and hotel pick-ups are sometimes included on private tours.
Hippo Submarine cruise in Lindos
Make your jaunt to Lindos extra quirky with a ride along the coast on the Hippo Submarine. Swimming and fish feeding in Navarone Bay are included.
You will need to make your own way to the embarkation point.
Sea kayaking tour to Lindos from Rhodes
Get the adrenaline pumping with a tandem sea kayaking day tour to Lindos from Rhodes. You will paddle through the clear water along the eastern coast, checking out sea caves and temple views on the way. Transfers and lunch are both included in the package.
Note that some kayaking experience is required.
How much does a tour to Lindos from Rhodes cost?
Boat day tours to Lindos from Rhodes vary in price according to the type of vessel. Expect to pay €30 for a motor yacht trip and €35 for a faster speed boat ride.
Prices start at €25 per person for the non-guided bus tour, or €28 on trips that include a stop at Seven Springs.
Private tours to Lindos from Rhodes cost €265 for four guests with luxury car transfers. Catamaran excursions are €850 for eight travelers and include lunch, drinks, hotel pick-ups, and snorkel gear.
The Hippo Submarine cruise in Lindos is €30 for a four-hour trip, and sea kayaking costs €120 including lunch, equipment, and a guide.
What will you see and do in Lindos?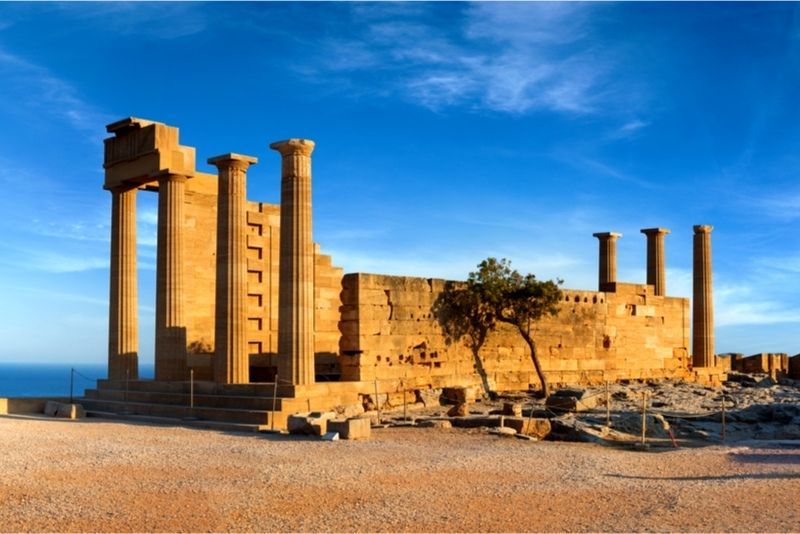 Most Lindos day tours from Rhodes give you free time to explore the sights. These are the things we think you shouldn't miss:
Lindos Town
If you want to see a typical Greek settlement on your vacation, you can't go wrong with a visit to Lindos. The traditional architecture, white walls, and sugar cube houses will have you constantly grabbing your camera.
Wander through the maze-like streets and check out the flat-roofed mansions and the Virgin Mary of Lindos Church with its 15th-century frescoes.
Acropolis of Lindos
The magnificent 14th-century Castle of the Knights of St. John sits proudly on the clifftop overlooking the village. It's the highlight of all day trips to Lindos from Rhodes and you can see the imposing medieval ramparts and towers from far away.
Up on the Acropolis, you will discover intriguing ruins scattered across the citadel. Keep an eye out for the theater and the impressive portico building, as well as the tiny temple dedicated to the goddess Athena Lindia.
Lindos Beach
The beach at Lindos is world-famous, with soft sand and turquoise water inviting weary adventurers to relax in the sun. Bag a lounger if you want to top up the tan or enjoy a refreshing dip in the sea to cool down in summer.
You can rent canoes to explore the bay, and tuck into plates of fresh fish at the nearby tavernas.
When is the best time to visit Lindos?
Lindos enjoys a Mediterranean climate. The island is in its prime between April and October when the weather is perfect for sightseeing, swimming, and sunbathing.
The shoulder months of June and September are the best time for a day tour to Lindos from Rhodes if you want to avoid the crowds.
Travel tips
Reserve your day trip to Lindos from Rhodes well in advance as the island is popular and tickets do sell out during the summer.
If you want to take a dip, remember to pack swimming costumes, towels, and sunscreen.
Entrance to the archaeological site is not always included so check your tour details carefully.
You can buy lunch and souvenirs in the village of Lindos so take some money with you.
Water is provided on some tours, but you may like to carry a bottle with you as it can get hot up on the acropolis.