If you're looking for an exciting way to explore the underwater world, try snorkeling. Rhodes is home to some of the best snorkeling spots in Greece, with crystal clear waters and an abundance of marine life.
Whether you're an experienced snorkeler or have never donned a mask before, you can enjoy a snorkeling trip around the Greek island.
On snorkeling tours in Rhodes you'll see colorful fish, visit striking bays and enjoy a refreshing swim in the tranquil waters of the Aegean Sea.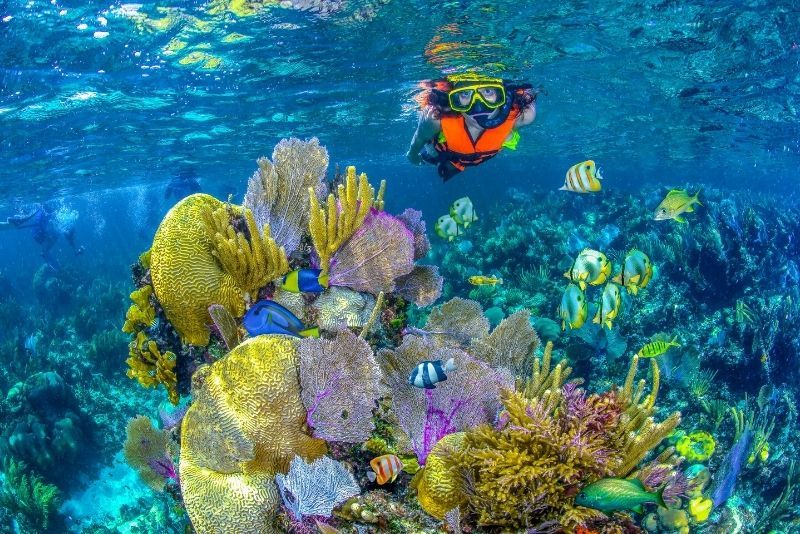 You will find below all the information you need before enjoying a snorkeling experience, one of the most stunning outdoor activities in Rhodes.
What are the best snorkeling tours in Rhodes?
All-inclusive swimming cruise
This all-inclusive tour embarks on a fun and relaxing whirlwind tour around the island.
You'll sail along the calm, glittering waters of the Aegean Sea towards Anthony Quinn Bay. The beach is named after the actor Anthony Quinn, who shot several scenes for the Hollywood movie "Guns of Navarone" at the bay.
Setting aside its brush with fame, the bay itself is extremely picturesque, filled with turquoise waters, and surrounded by magnificent cliffs. You'll have the opportunity to swim or snorkel in its waters before hopping aboard your boat towards your next stops – Afantou Bay and Ladiko Bay.
As you snorkel in the waters here, you may see Mediterranean damselfish, sardines and anchovies. Throughout the day, you'll enjoy unlimited soft and alcoholic beverages, which include ice-cold margaritas, as well as traditional Greek snacks.
Stand up paddle and snorkel adventure in Rhodes
Stand up paddle boarding is a fun activity that anyone can participate in, regardless of experience. You'll start with a quick lesson on how to control your paddle board and then set off along the Rhodes coastline.
As you paddle along, you'll discover secret spots that can't be accessed from land. You'll also have the opportunity to swim and snorkel in the refreshing waters of the Aegean Sea.
If you're feeling brave, you can participate in a spot of cliff-jumping.
Private sailing yacht with snorkeling and lunch
If you wish to have the deck to yourself, opt for a private sailing tour around Rhodes. You can put your feet up and relax as your captain guides your yacht around the coastline of Rhodes.
While it may be the perfect time for a nap, you'll want to keep your eyes peeled for dolphins that often frequent the expanse of water.
Once you reach the Blue Lagoon, you'll have the opportunity to jump off the boat and into the cool ocean in order to swim or snorkel. After a delicious lunch on the deck of your yacht, you'll return to the island to enjoy the rest of the day.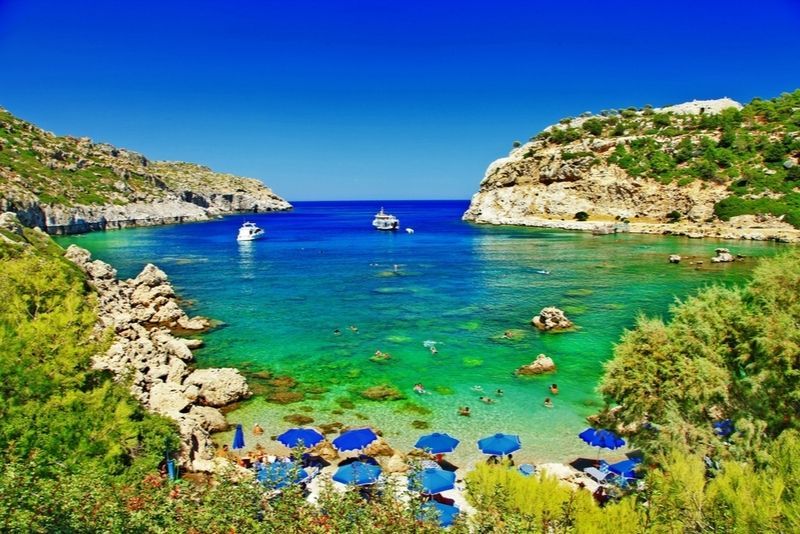 How much do snorkeling tours in Rhodes cost?
All-inclusive swimming cruises have two pricing options, depending on how long you wish to participate. You'll pay around US$50 for a 3-hour tour and US$80 for one that lasts 6 hours.
If you want to embark on a combination tour that includes riding an E-bike, you can expect to pay US$65.
Snorkeling tours in Rhodes that include paddle boarding cost approximately US$70.
You'll pay US$750 for a private sailing excursion in Rhodes, for a group of up to six people. If you have the maximum number of participants in your group, you'll each pay US$125 for the tour.
What is included in a snorkeling tour in Rhodes?
Generally, snorkeling tours in Rhodes include the use of all equipment for each activity you'll participate in, such as snorkeling and paddle boarding.
Soft and alcoholic beverages will often be included, and on some tours, these are unlimited. Many snorkel trips also include a lunch prepared for you on board by the crew.
Occasionally, you may receive pictures after your snorkeling tour, which make a great memento of your Rhodes vacation.
Where do snorkeling tours in Rhodes start?
Snorkeling excursions in Rhodes begin from a variety of destinations. However, most tours include a complimentary hotel pickup service. If your tour doesn't include this service, you'll be asked to meet your guide at an easy-to-reach location on the island. You'll be informed of this meeting point before booking so that you can arrange transportation.
How long do snorkeling tours in Rhodes last?
Snorkeling tours in Rhodes vary significantly in length. If you don't have much time to spare on the island, you can arrange a 3-hour all-inclusive swimming cruise.
Alternatively, if you want a Rhodes snorkel excursion that lasts all day, you can participate in a 7-hour cruise.
Generally, tours that include physical activities, such as paddle boarding last between four and five hours.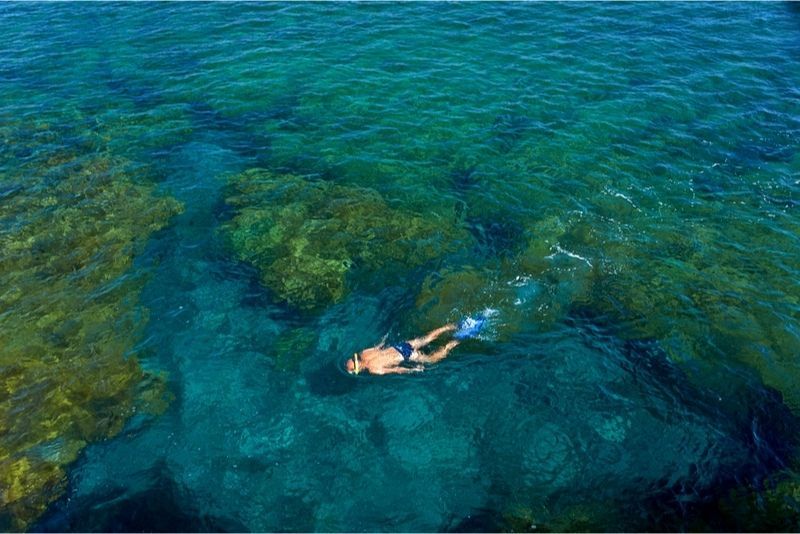 Are there any combo available with snorkeling tours in Rhodes?
Rhodes to Anthony Quinn E-bike and snorkeling tour
If you love outdoor activities, you'll enjoy this combination tour, which includes a cycling tour and snorkeling. You'll set off on your E-bike from Rhodes Old Town, passing by many of the medieval center's attractions,  including the Palace of the Grand Master and Socratous Gardens.
As you leave the town behind you, you'll make your way towards Anthony Quinn Bay where you'll participate in snorkeling or swimming. On your return, you'll stop at Kallithea Springs, which is a thermal pool that has been open to the public since 1929.
When is the best time for a snorkeling tour in Rhodes?
The best time to take a snorkeling trip in Rhodes is during the summer months — between June and September. At this time, you can expect a hot and dry climate with temperatures between 24 and 30 degrees Celsius.
During the summer, the sea is also warm, with an average temperature of 28 degrees Celsius. The waters are calm, which makes it easier to spot sea creatures under the gentle waves.
Arrange a Rhodes snorkeling trip for the last day of your trip, to relax and enjoy the island before you head home.
What happens in case of bad weather?
The weather in Rhodes is generally reliable, with warm and dry summers. However, if you do experience bad weather, your tour will be canceled and rebooked for another day. If this isn't suitable for you, then you can claim a full refund.
Travel tips
Ensure your sunscreen is reef-safe, in order to protect the natural habitat of the abundant sea life around Rhodes.
Although many snorkeling tours offer unlimited alcoholic beverages, it's still important to stay hydrated. Ensure you drink lots of water.
Research the sea life around Rhodes before embarking on your tour, so you can identify different species as you swim through the Aegean Sea.
If you have an underwater camera, bring it with you on your snorkeling tour in Rhodes.