Positano is one of the most famous destinations on the Amalfi Coast and a popular location for boat tours. Spend the day sailing to islands like Capri or Procida, and take in the impressive cliffs along the way.
Excursions from Positano by boat usually include plenty of swimming opportunities and visits to hidden ocean grottos and sea caves.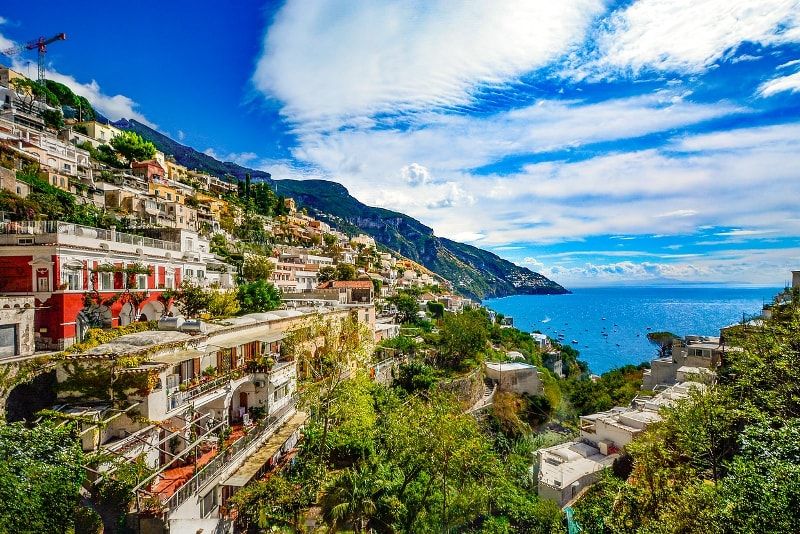 What are the most popular boat tours in Positano?
Positano is the gateway to the popular Amalfi Coast and the ideal starting point to see this impressive landscape from the water. However, some boat tours will go even further and take their guests all the way from Positano to the island of Capri.

With different types of boats and experiences on board available, there are a lot of options to choose from.
Sunset cruises from Positano
Climb aboard a traditional Italian boat and let your captain take you on a sunset cruise from Positano to the Li Galli islands. You'll have a glass of champagne and some small snacks to nibble on, as you watch the sun go down are included.
This type of tour only takes 1.5 to two hours and is the perfect way to get to know the Amalfi Coast if you're short on time.
Capri cruises from Positano
A traditional "gozzo" boat will pick you up in Positano and whisk you away to the beautiful island of Capri. The views on the way are unparalleled and will invite you to snap some photos or enjoy time on deck.
On arrival in Capri, you'll get to see the island from the water, visiting locations like the White Grotto, the Faraglioni Rocks and the Natural Arch before docking in the harbor.
Enjoy a few hours of free time for shopping and sightseeing before returning to Positano in the early evening.
Private boat cruises to the Amalfi Coast from Positano
The Amalfi Coast is known for its hidden sea caves, crystal clear lagoons and fishing villages. What better way to explore it than from the comfort of a private boat? Spend the day swimming and enjoying the sun, as you cruise past highlights such as the village of Amalfi, Atrani or the waterfall of Marmorata.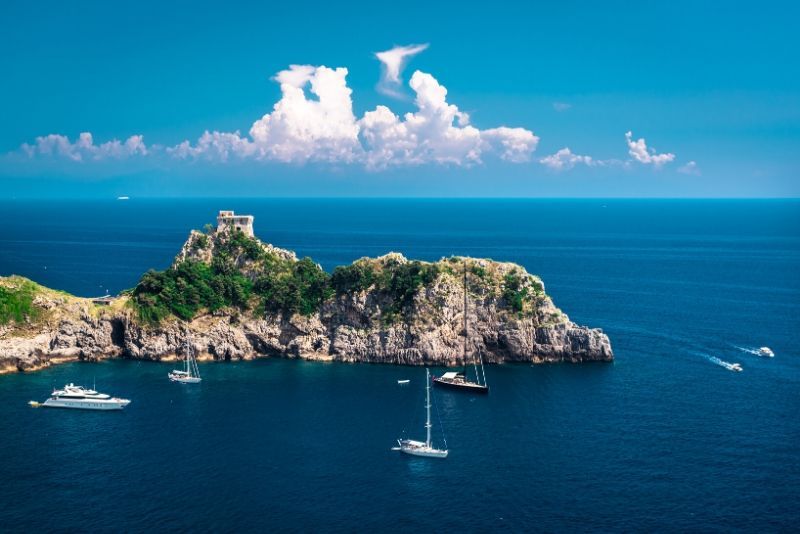 There is no need to share the experience with other tourists. As part of a private boat tour in Positano, you'll have the full attention of the crew and will be able to decide the exact itinerary of the day.
Capri boat tour for children from Positano
This tour is perfect for families wanting to spend a fun day on the water, while getting to know the beautiful Amalfi Coast. Tailored to the needs of children, there is no dull moment on this tour. Enjoy delicious snacks and sweets with plenty of swim spots in calm waters along the way.
On Capri, you'll have some free time to explore, and the crew will be happy to give some tips on family-friendly things to do.
Sunset cruise and fireworks show from Positano
This tour is only available during the Madonna Assunta festival in August, which is one of the most popular events in Positano. You'll cruise to the village and enjoy a few hours wandering around the village before boarding your vessel once again. As the fireworks show begins, sip a glass of prosecco and enjoy the incredible view.
The Path of The Gods private guided hike with boat trip
The Path of the Gods is an unmissable highlight of the Amalfi Coast. This hike takes approximately three to five hours and is best done with a local guide who will be able to give you information about the local traditions, providing interesting anecdotes.
You'll have a comfortable boat transfer included in the tour to take you to the start of the hike close to Bomerano.
Full-day boat tour to Queen Giovanna Bath from Positano
The Queen Giovanna Bath is a great day trip destination from Positano. These ruins of an antique Roman Villa have an interesting history which your tour guide will be happy to explain to you. The rocky bay is absolutely beautiful, and a full-day boat tour will be a perfect way to get an impression of the area.
Capri by private night cruise from Positano
See the island of Capri from a different perspective by going on a night cruise from Positano. Your ferry will depart from Positano at around 6:30 PM to ensure you'll be in Capri at sunset time.
With a glass of wine or champagne in hand, you'll witness a stunning sunset followed by a cruise around the island at night. Before returning to Positano, you'll enjoy a local dinner with delicious seafood or fresh fish.
Private tour to Procida island by a luxury yacht
Create some special memories aboard a luxury yacht, taking you to the little island of Procida. Passing by the Li Galli archipelago along the way, your captain will take you to a sheltered harbor in Procida. You'll spend the afternoon strolling through the narrow streets and exploring this beautiful hidden gem.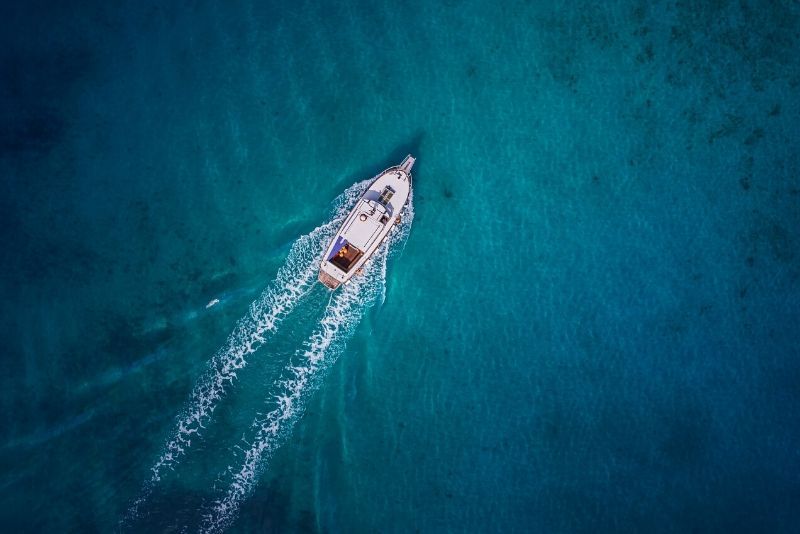 On the way back to Positano, you'll enjoy a mesmerizing sunset while sipping a glass of champagne. The yacht has Wi-Fi, snorkeling equipment, towels and a minibar on board.
Sailing boat rental in Positano
Whether you are an expert captain at sea or someone looking for a once-in-a-lifetime experience on the water, renting a sailing boat in Positano will be a fantastic choice.
Choose between luxury boats or more affordable options and decide whether you want to have a captain and crew on board, or if you're able to navigate the vessel yourself. No need to adhere to a pre-made itinerary, as you can decide where you're going according to your needs.
How much do boat tours in Positano cost?
Full-day boat cruises in Positano start as low as €65 per person. Tours including a snack or a more diverse itinerary might cost as much as €170.
A full-day private boat tour in Positano costs approximately €800 to €1,600, while private sunset trips cost only around €320. If you're interested in hiking the Path of the Gods, plan to spend around €200 per person for the tour and boat transfer.
Prices for sailboat rentals depend greatly on the type of boat and whether a captain is included but start as low as €186.
Which places are seen and visited with a boat tour from Positano?
Capri
Known for its crystal clear waters, luxury shopping opportunities and upscale hotels, Capri is a popular location for being the prime destination for boat excursions from Positano. The majority of tours stop here for at least a few hours.
Procida
Procida is located north of Capri, close to the Bay of Naples. Since it is a bit further away from Positano, not all boat tours come here. Enjoy colorful houses, stunning beaches and blue waters here.
Li Galli or Sirenuses
These small islands are located off the coast of Amalfi and can easily be reached via a fun sailing tour from Positano. They're privately owned, though, and best admired from the water.
Queen Giovanna Bath
This natural pool enclosed by a rocky beach is somewhat of a hidden spot. Stop here for swimming and relaxing before continuing your boat excursions around Positano.
The Path of the Gods
This exciting hike provides some of the best views on the Amalfi Coast. While the trail can be exhausting in places, the rewarding vistas at the end are more than worth it.
Amalfi
This small town gives the surrounding coastline its name. Amalfi itself may be quaint, but its history is rich, making it well worth a visit if you're comparing itineraries for boat trips from Positano.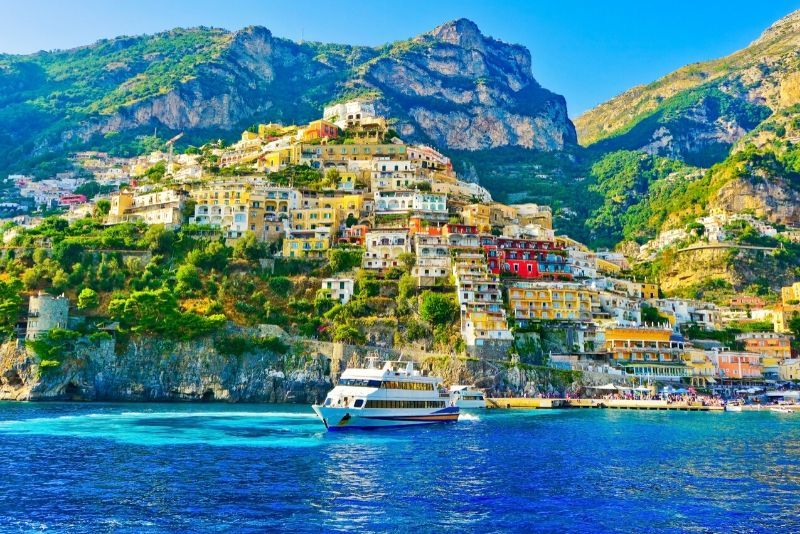 Atrani
Similar to Amalfi, Atrani is a small village surrounded by imposing cliffs. With a population of only approximately 800 permanent residents, this is a unique place to visit.
Waterfall of Marmorata
This impressive waterfall is one of a kind in the area, and not all boat tours in Positano include it on their itineraries. Come here to take beautiful photos or simply to enjoy the feeling of the cool spray.
Green Grotto (also Emerald Grotto)
With no shortage of Grottos to choose from on the Amalfi Coast, this is one of the best places to visit in the area. The cave and its water shine in an unusual green and blue light, making it a magical experience to row through the chambers.
Blue Grotto
The Blue Grotto is arguably the most famous cave on the coast of Amalfi. Once used as a water temple, this cave has a mystical feeling about it, and coming here will make your visit to Italy unforgettable.
​​Villa Malaparte
Located on the island of Capri, Villa Malaparte is one of the most famous examples of Italian architecture in the area. Those interested in unique buildings will love this peaceful location.
Faraglioni Rocks
The Faraglioni Rocks are impressive formations located close to Capri. They're best explored on one of the many boat trips that leave from Positano.
Natural Arch
If you're exploring Capri on foot, you should visit the Natural Arch, an impressive rocky formation accessible by trail. Be careful not to injure yourself, though, as the paths can be rough, and it's easy to trip.
How long does a boat trip last?
The majority of boat tours from Positano last between six and nine hours. There are, however, also shorter trips such as sunset cruises that only take approximately one to two hours. Full-day boat trips in Positano of 10 hours or more are also available for those wanting to spend as much time as possible on the water.
Where do boat tours leave from?
Most boat tour companies will have their guests meet at a central location in the town of Positano before taking them to the port. Some may have a tour office, while others select easily accessible meeting points.
You can reach the harbor by walking or by taking a taxi should you make your own way there. It's located very close to the main beach.
When is the best time for a boat trip in Positano?
The Amalfi Coast becomes very crowded during the summer months and is a hotspot for tourism, especially Positano. While the weather will be beautiful, you might encounter crowds and rare moments of tranquility during this time.
For this reason, spring and fall are favorable times to visit Positano and go on one of the many boat trips in the area.
Many visitors choose to go on a sunset sailing tour which provides stunning views of Positano and the entire coastline.
Which other outdoor activities can be done in Positano?
Travel tips
Don't forget to pack your swimsuit. Most boat excursions from Positano involve at least one swimming stop, and you'll want to dive into the cool waters.
Capri is known to be expensive. If your boat tour involves some free time on the island, make sure you're bringing enough spare cash for lunch and souvenirs.
The Path of the Gods is not a particularly easy hike, especially during the summer. Only attempt it if you have a good level of fitness.
This part of Italy is known for its Limoncello. If you want to take part in a tasting, make sure to pick one of the boat trips that let you try different types.
Bringing sunscreen on your sailing trip around Positano is extremely important, even during the cooler months. The sun is strong, and you can get burned easily.
If you're in Positano in August, make sure to go to the Madonna Assunta festival. The fireworks shows are incredible, and many boat companies will offer special tours.