Rhenia is a bit of an insider secret when it comes to idyllic Greek islands. Lying off the coast of Mykonos, Rhenia is an uninhabited slice of paradise, with blue waters and ancient ruins enticing visitors to its shores.
Offering a peaceful antidote to the buzz of Mykonos, Rhenia Island is all about relaxing on beaches, exploring temples, and discovering quaint churches.
It's really easy to take a day trip to Rhenia Island from Mykonos – here's how!
How to get to Rhenia Island from Mykonos?
Rhenia Island is situated less than six miles south of Mykonos in the Aegean Sea. It's just next door to the island of Delos too. Due to its remote location, the only way to reach Rhenia is on an organized boat tour.
Guided tour to Rhenia Island from Mykonos
Rhenia tours usually begin with a hotel pick up in Mykonos, and a boat ride across the sparkling blue sea. The journey to Rhenia Island takes around 45 minutes, giving you plenty of time to explore.
Both half- and full-day trips are available, with most being around the six-hour mark. You can opt for a small-group experience or a private visit depending on your budget and preference.
Many Rhenia Island day trips from Mykonos include a visit to Delos in the itinerary too.
What is the typical itinerary of a day tour to Rhenia Island from Mykonos?
Climb on board the minivan or car for a complimentary transfer from your Mykonos hotel to the dock, where your boat awaits. Travel is by motor yacht or catamaran, depending on the tour.
You will drop anchor in a secluded bay off Rhenia Island for swimming, snorkeling, or relaxing on the beach. Adventurous travelers can explore the island, which has some picturesque temple ruins and churches. Keep an eye out for the resident goats!
After a delicious barbecue lunch on board the boat, you will sail back to Mykonos after your fun-filled day trip to Rhenia Island.
What kind of tours are available to go to Rhenia Island?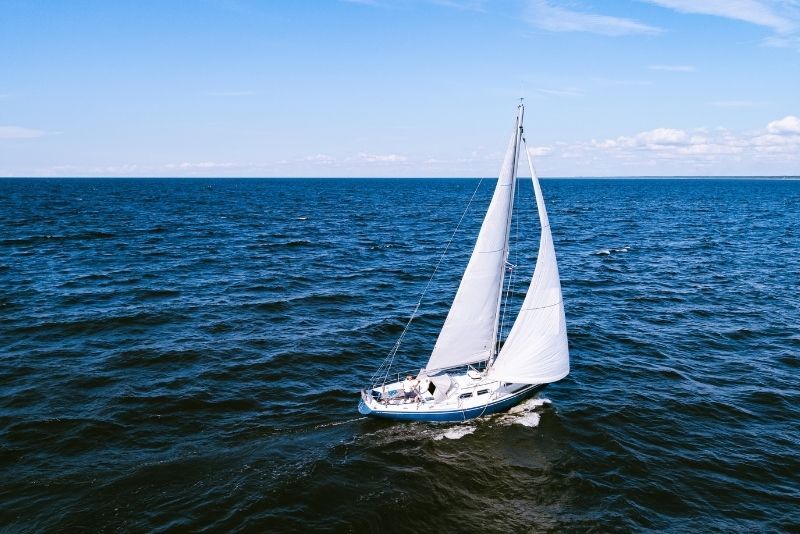 When it comes to Rhenia Island day tours, there are several options available. Here's a run-down to help you plan your visit.
Most boat tours to Rhenia Island from Mykonos include hotel transfers to make your day run smoothly.
Guided boat tour to Rhenia Island from Mykonos
Small group boat excursions from Mykonos to Rhenia Island all follow a similar format. Board the yacht or catamaran then sit back and soak up those island views from a comfy perch on deck.
The boat will stop in quiet bays for swimming and snorkeling, with beach time and land exploration for those who want it. Lunch is usually included on the longer tours before you are returned to your hotel at the end of the day.
Guided cruise to Rhenia Island from Mykonos plus Delos
The most popular Rhenia day tours also include a stop at Delos Island, with a guided visit around the famous ancient Greek ruins. Hiking and swimming are also offered on some excursions.
Private boat trip to Rhenia Island from Mykonos
Private Rhenia Island day trips are the way to go if you want the boat and crew all to yourself. There is often some flexibility with the schedule, so you can find the most secluded beaches for plenty of privacy.
Round-trip hotel transfers in a luxury vehicle, snorkeling gear, drinks, and snacks are usually included.
Sunset cruises to Rhenia Island from Mykonos
Ramp the romance up a notch and sail out into the Aegean to watch the sunset. Keep your camera ready to capture those dazzling colors.
Enjoy cocktails and snacks on board to toast the occasion. Swimming at a secluded beach before dusk is the icing on the cake.
How much does a tour to Rhenia Island from Mykonos cost?
A small group guided day trip to Rhenia Island from Mykonos costs €89 per person for a 4.5-hour tour.
Rhenia Island day tours from Mykonos that include a stop at Delos start at €88 for 6.5 hours. Lunch, snorkel gear, and towels are usually provided.
For a private jaunt to Rhenia Island expect to pay between €650 and €900, depending on the boat capacity and trip duration. Snorkeling equipment, drinks, and snacks are often included.
Sunset Rhenia Island day trips are €65 for 4 hours on the water. Alcoholic drinks and snacks are provided.
Most tours include round-trip transfers from selected hotels in Mykonos.
What will you see and do on your Rhenia Island tour?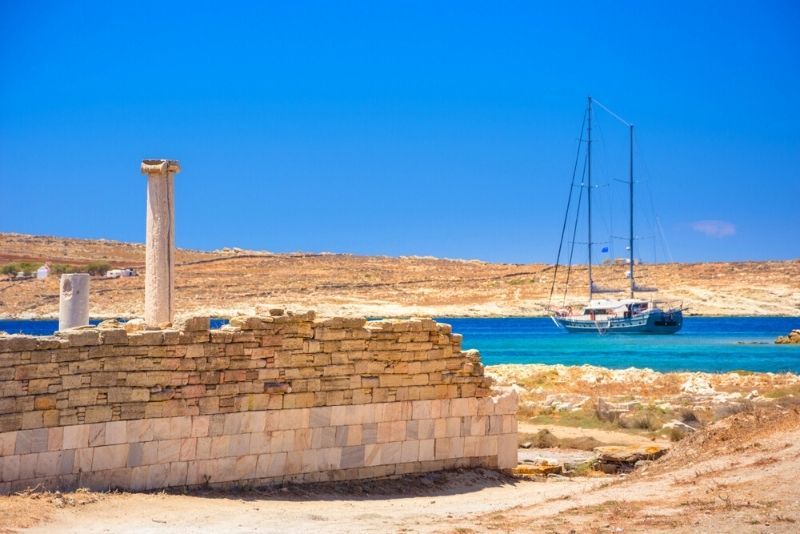 Sandy beaches
The highlight of any day trip to Rhenia Island is the crystal-clear water which makes for idyllic swimming and snorkeling. All boat trips anchor in peaceful bays with golden beaches lining the shores. You can float in the calm sea or enjoy a spot of sunbathing on the sand.
Popular beaches include Glyfada, Stena, Lia, and Ambelia, which are sheltered by pretty coves that come in all shades of turquoise.
Ancient temples and churches
Dotted around Rhenia Island you'll come across the remains of ancient Greek temples that were built thousands of years ago. There are a couple of Christian churches too which are a little more modern, but still utterly charming.
This island is a designated archaeological site, and you can still see graves and burial stones from when Rhenia was inhabited.
The Rhenia Island goats
While the island is uninhabited by humans, the local goat population is very much alive, munching on the vegetation along the rocky coastline. Ancient farming methods are still practiced here, even though the goat owners actually live on Mykonos.
Delos Island
Nearly all Rhenia Island day trips include a visit to Delos since it's just next door! Delos is the mythological birthplace of the Greek god Apollo and was a holy sanctuary as far back as 1BC.
The island is one of the most important archaeological sites in Greece. There are several ruins to explore here, including temples, markets, houses, and even an amphitheater. Keep your eyes peeled for the famous Terrace of Lions!
When is the best time to visit Rhenia Island?
A day tour to Rhenia Island from Mykonos is best enjoyed over the summer, so you can take advantage of the warm sea temperatures for swimming and snorkeling.
However, July and August can be very crowded, so for a more peaceful visit, come in September or even October.
Travel tips
Take your swimming costume if you want to enjoy a dip in the bays during your tour. Most operators offer towels but check your joining details to make sure.
Sunscreen is a must, especially during summer when the rays reflect off the water and there is no shade.
Book your Rhenia Island day trip online in advance so you can bag the best deals for your chosen dates.
Drink plenty of water during the day to stay hydrated.
Delos entrance fees are not always included so take some cash if you are stopping on the island.