Visit Xochimilco, famous for its canals and travel along miles of waterways built by Aztecs, that have earnt this barrio the nickname of the Venice of Mexico. On a guided Xochimilco tour, expect to dive straight into colorful ancient Aztec culture and history, with plenty of fun and entertainment along the way.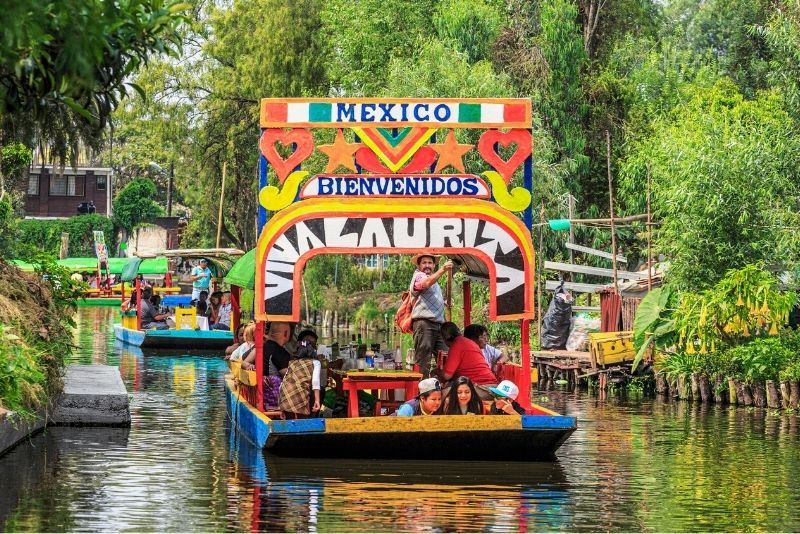 You will find below everything you need to know about Xochimilco, one of the best spots for sightseeing in Mexico City.
Where is Xochimilco located?
The borough of Xochimilco lies 28 kilometers south of Mexico City in its Historic Center.
You can reach Xochimilco either via public transportation or by car from anywhere in Mexico City. The drive takes about an hour to get to Xochimilco from Mexico City International Airport.
Once at Xochimilco, the main draw is its chinampas and trajinera rides, which are best explored on a guided tour. This way, you'll be able to discover the many attractions along the tranquil canals of Xochimilco, as you learn about the history of this fascinating region from a knowledgeable guide.
What are the best things to do in Xochimilco?
Home to arguably the last living link of the Aztec civilization, Xochimilco makes for an enthralling and serene escape away from the commotion of the city. The atmosphere here is vibrant and invigorating, allowing visitors to embark on a fun adventure steeped in ancient history.
Here are some of the top sites you can expect to visit on a trip to Xochimilco.
Coyoacan
Most tours and guided visits in Xochimilco include a visit to Coyoacan – a relatively tranquil historic neighborhood in Mexico City.
It's a district thriving with art and culture and home to an array of iconic monuments and churches, including the beautiful Church of San Juan Bautista, which you'll visit on a number of tours.
As you stroll down its colorful, cobbled streets, you'll also discover the fountain of the Coyotes, as well as a host of bustling cafes, bookstores, and markets.
Frida Kahlo Museum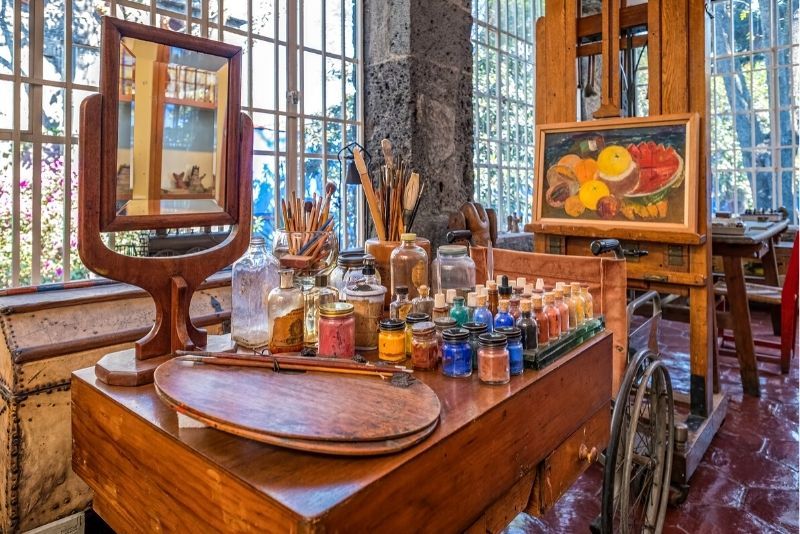 In Coyoacan, where the beloved Mexican artist spent most of her life, lies the Frida Kahlo Museum – a popular attraction on a number of guided tours.
Known locally as La Casa Azul or the Blue House, the museum is the artist's former house which was donated by her husband, Diego Rivera, to honor her. Kahlo lived in the house until her death in 1954. Here, you can discover works by famous artists, as well as photographs, artifacts and personal items.
University City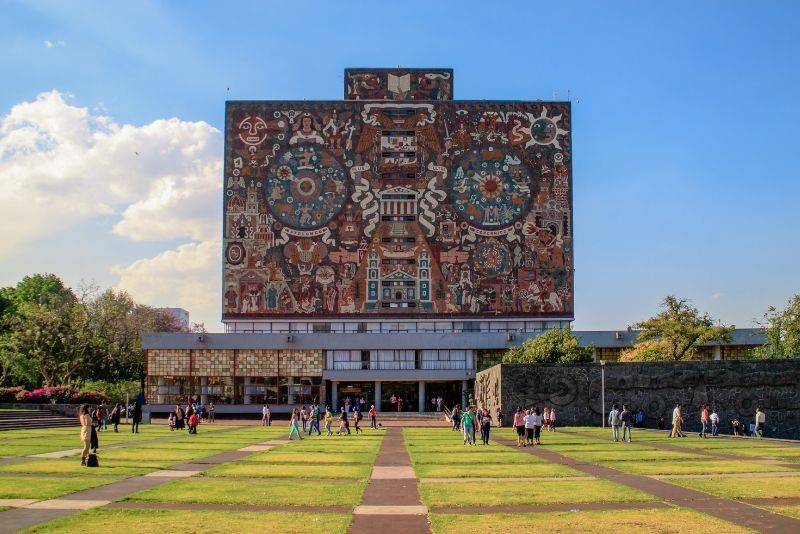 University City or Cuidad Universitaria is the main campus of the National Autonomous University of Mexico – Latin America's largest and most famous university.
On a number of organized tours in Xochimilco, you can visit this UNESCO World Heritage site that was designed by Mexico's most renowned 20th-century architects and proudly has five former Mexican presidents among its alumni.
Floating gardens of Xochimilco
The photo opportunities at the floating gardens, known as chinampas, are endless. You'll be traveling upstream on trajineras, the kaleidoscopic canal boats which can be rented out by the hour and are adorned with women's names.
The gardens are also home to a number of water-bound musicians, which make cruising along the canal a fun and pleasant experience.
What are the best tours to visit Xochimilco?
There are a range of different tours and guided trips you can take in Xochimilco. History buffs will be in heaven while learning about ancient Aztec life, while culture enthusiasts will love to delve deep into the thriving arts and culture scene in this bohemian part of Mexico.
Guided cultural tour in Xochimilco
On this guided tour, you'll discover the best cultural jaunts in Xochimilco, both on the water and on land. Most tours will take you to the colonial district of Coyoacan, where you can find the Fountain of the Coyotes – one of the most iconic fountains of Mexico City.
Admire the beautiful churches and bustling markets selling everything from local handicrafts to groceries. You'll also stop over at the famous Frida Kahlo Museum, in case you have selected this option when booking your tour.
2-Day tour to Xochimilco plus Teotihuacan, Guadalupe Shrine and Coyoacán
If you fancy seeing all of Xochimilco and its surrounding region's top attractions in one, then this is the tour for you. This 2-day Xochimilco tour offers a fantastic introduction to Mexico City for first-timers and will ensure you leave filled with adventure.
With an expert guide, you'll dive into the ancient history of Teotihuacan, as well as Tlateloclo – considered the largest archeological site in the capital.
You'll then visit two of Mexico City's most important landmarks — the Basilica de Guadalupe and the Teotihuacan pyramids, a mystical place where you can gawk at ancient relics and buildings.
On Day 2, you'll visit the top tourist attractions in Xochimilco, Coyoacan, as well as the National University and Frida Kahlo Museum.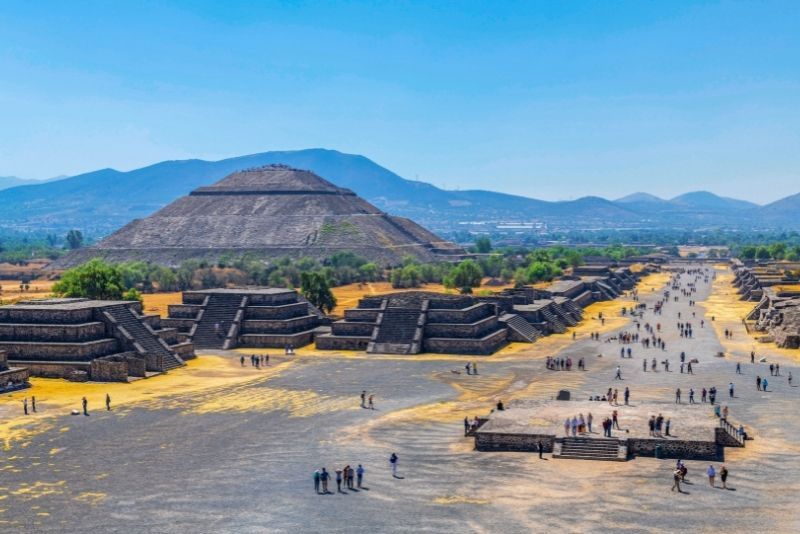 Boat ride and Mexican party tour in Xochimilco
For a tour and guided visit in Mexico oozing fun and entertainment, choose a boat ride and a Mexican party in Xochimilco.
You'll cruise along Xochimilco's floating canals and gardens in a traditional trajinera, as you enjoy an assortment of Mexican alcoholic specialties, including Mezcal, Tequila and beer.
Your knowledgeable guide – who speaks either English or Spanish according to your preferences – will teach you how to make fresh Guacamole. Expect to make pitstops at the Island of the Dolls and the traditional handicraft market as you venture upstream.
Private cultural tour in Xochimilco
For a more personalized and customized experience, take a private tour in Xochimilco. A tour guide will tell you tales of this enchanting part of Mexico City and will be on hand to answer any questions that may arise along the way.
You'll visit the famed Frida Kahlo Museum before taking a stroll along the atmospheric streets of Coyoacan on foot, making stopovers at places, including the Plaza Centenario and the Cafe Avellaneda. Afterward, you'll unwind by taking a relaxing boat trip along Xochimilco's floating canals and gardens.
What are the prices of Xochimilco tours?
Guided cultural tours in Xochimiclo start at around US$35 per person, but most are around US$40 per person and include a complete tour of some of Mexico City's best sites, a multilingual guide and round-trip transportation.
A Teotihuacan, Guadalupe Shrine, Coyoacán and Frida Kahlo combo tour in Xochimilco costs US$95 per person. It provides a knowledgeable guide, roundtrip transportation from a central collection and departure point, and admission tickets to the museum and sites.
A boat ride and Mexican party tour cost US$65 per person, which comes with snacks and alcoholic beverages, music speakers and refreshments.
A private cultural tour costs between US$125 to $250 per group, with prices varying according to the duration of your tour. Tours on the most expensive side of the spectrum last for up to 6 hours. Private tours of this nature often come with entrance tickets to museums, an expert guide and driver, refreshments and a boat ride along the canals.
Where do Xochimilco tours start?
Tours and guided visits in Xochimilco typically start at a range of central meeting points across the city. The most common include the Lunario Sculpture at the National Auditorium, Hotel NH Reforma Collection Mexico City, or behind the Palacio de Belles Artes, depending on the time that you book your tour.
Some tours collect you directly from your hotel – it's best to check the specific tour that you have booked beforehand.
When is the best time to visit Xochimilco?
The balmy summer months from January to -March are considered the best times of the year to visit Xochimilco.
If you want to escape the flocks of crowds, then the best time to visit Xochimilco is during the morning when the canals are docks are quieter.
However, if you're looking for a more lively and atmospheric environment, then book your tour for after lunchtime when there is more activity on the waters.
Travel tips
Bring a camera with you – this is an experience you don't want to forget.
Make sure to book your tour in advance, particularly during the peak summer season when tours can quickly fill up.
Make sure you come with comfortable footwear, especially for exploring the touristic sites on land.