Iztaccihuatl is the third highest mountain in Mexico. Standing at 17,300 feet, this extinct volcano has four snow-capped peaks which resemble a sleeping lady. Indeed, in the ancient Aztec language, "Iztaccihuatl" means "white woman".
Adventurous souls can climb to the summit on an overnight expedition. Other intrepid explorers will enjoy magnificent views from the lower trails on day hikes.
Here's what to expect on your day trip to Iztaccihuatl Volcano from Mexico City.
How to get to Iztaccihuatl Volcano from Mexico City?
Iztaccihuatl lies in the center of the country, about 40 miles south of Mexico City.
From Mexico City to Iztaccihuatl Volcano by car
If you have a rental car and want to self-drive, you need to make your way to La Joya where the trail starts. There is ample parking here.
The journey to Iztaccihuatl Volcano takes around 2.5 hours heading south to Amecameca on highways 1500 and 115. The last part of the road is winding and bumpy, but cars with standard clearance will be up to the task.
Don't forget to buy a national park permit on your way in.
Guided tour to Iztaccihuatl Volcano from Mexico City
Due to the remote location, the best way to visit the volcano is on a day tour from Mexico City to Iztaccihuatl. All the transport logistics are taken care of, and you'll have an expert local guide to keep you safe on the mountain.
Both day tours and overnight trips are available, depending on whether you want to bag the summit.
How much does the entrance ticket to Iztaccihuatl Volcano cost?
Entry to the Iztaccihuatl-Popacatépetl National Park is 22.50 pesos for a day permit. These can be purchased from the ranger station at Paso de Cortés, or the National Park Headquarters in the Amecameca town square.
These fees are usually included if you have booked a guided day trip to Iztaccihuatl Volcano from Mexico City.
What is the typical itinerary of a day tour to Iztaccihuatl Volcano from Mexico City?
You will be collected from your hotel or central meeting point and transferred to the volcano in an air-conditioned minivan. Enjoy the scenic drive through the Valley of Mexico and the Paso de Cortés.
On arrival at Iztaccihuatl, you'll go on a three-hour hike, soaking up the views and snow-capped peaks. On day trips to Iztaccihuatl Volcano, you will not take in the summit. If you want to stand on top of the mountain, then opt for the overnight tour instead as this allows more time to climb higher.
After your walk, you will descend for lunch and the return journey to the city.
What kind of tours are available to go to Iztaccihuatl Volcano?
Iztaccihuatl Volcano day tours from Mexico City range from shorter scenic hikes to overnight summit experiences.
Small group hiking day tour to Iztaccihuatl Volcano from Mexico City
This full-day trip to Iztaccihuatl Volcano is ideal for those who don't wish to stay overnight. A three-hour hike is included, and although you won't reach the summit, the views are spectacular. No climbing experience is required.
Round-trip transport is provided with departures from a pre-agreed location.
Guided climbing day trip to Iztaccihuatl Volcano from Mexico City
This tour is for adventurous hikers who want to climb as high as possible on a day trip. You will be conquering lofty passes and steep scree slopes on your mission to reach the 100 Hut at 15,420 feet.
This is as close as you'll get to the summit without doing an overnight tour. Technical gear is provided, and your guide will show you how to use it.
Jeep tour to Iztaccihuatl Volcano from Mexico City
If you want to discover the volcano without hiking, then the Iztaccihuatl jeep tour is a good choice. You will explore the mountainous slopes in comfort, stopping often for photos and leg stretches.
You'll spend 1.5 hours on the volcano itself.
Private hiking day trip to Iztaccihuatl Volcano from Mexico City
This exclusive excursion from Mexico City to Iztaccihuatl Volcano is the ultimate way to climb the mountain. You will be hiking along an intermediate trail with a personal guide, and the itinerary is flexible, so you won't feel rushed.
Exclusive round-trip transfers and lunch in the mountain town of Amecameca are included.
2-day tour to summit Iztaccihuatl Volcano from Mexico City
Challenge yourself with a climb to the summit of Iztaccihuatl Volcano. Day one is all about acclimatizing, with a short walk and overnight in a mountain refuge or tent.
You will summit at noon on day two after a 2 AM departure.
How much does a tour to Iztaccihuatl Volcano from Mexico City cost?
Small group hiking day tours to Iztaccihuatl Volcano from Mexico City start at $46 per person. This includes a guide, but you will need to take your own hiking gear and food.
The day climb is $132, with technical equipment, lunch, and a guide provided.
For the jeep tour expect to pay $369 per person. This four-hour Iztaccihuatl Volcano jaunt includes snacks, guide, and pick-ups.
A private Iztaccihuatl day trip from Mexico City is priced at $199 with exclusive hotel transfers, lunch, and a guide.
The two-day summit adventure with a night in a mountain refuge or tent starts at $373. All mountaineering gear is provided, as well as meals and private transport.
What will you see and do at Iztaccihuatl Volcano?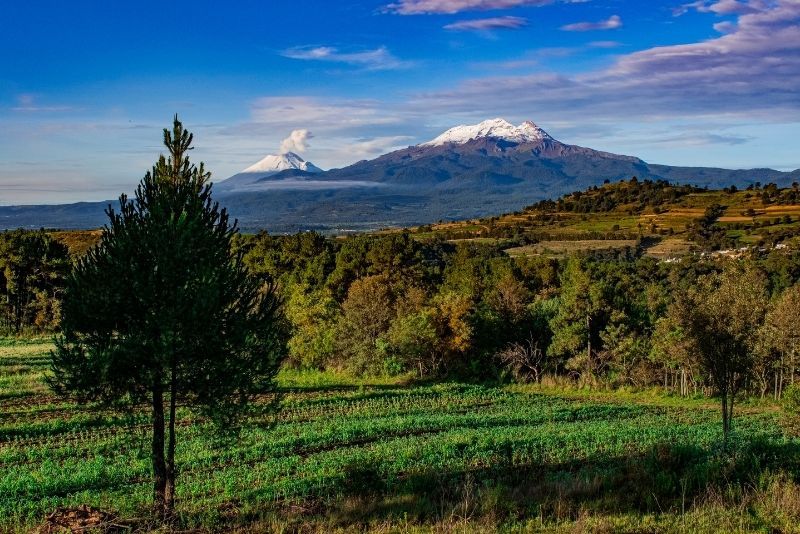 Iztaccihuatl-Popocatépetl National Park is a beautiful part of Mexico, with dramatic landscapes, forested slopes, and precipitous peaks to admire.
Here are the highlights to look out for on an Iztaccihuatl Volcano tour:
Iztaccihuatl miradors
The highlights of any day trip to Iztaccihuatl Volcano from Mexico City are the miradors – viewpoints – that you'll discover on the way up. If the altitude hasn't taken your breath away, the panoramas from these overlooks certainly will!
The first mirador is at 12,467 feet, while the second sits at 14,107 feet. Both offer superb photo opportunities, and the chance to have a rest.
Paso de Cortés
This scenic point connects the volcanoes of Iztaccihuatl and Popacatépetl, creating a geographic saddle between the two.
It's famed for being the location where conquistador Hernán Cortés first laid eyes on the beautiful Mexico Valley. This is also the starting point for your hike up Iztaccihuatl.
Mexico Valley
As you climb Iztaccihuatl, you'll enjoy sweeping views out across Mexico Valley and the surrounding settlements.
This highlands plateau is surrounded by volcanoes and was once a thriving center for pre-Hispanic civilizations like the Aztec people. Today the valley is home to Mexico City!
Popacatépetl Volcano
Views of Mexico's second-highest volcano are a constant companion during your trek. Known as the smoking mountain, Popacatépetl is still active, and you can sometimes see the wisps of smoke spiraling upwards.
You can't hike up Popacatépetl due to its ongoing volcanic activity, which is why its sister peak Iztaccihuatl is so popular.
When is the best time to visit Iztaccihuatl Volcano?
You can take a day trip to Iztaccihuatl Volcano throughout most of the year, but some months are better than others.
Come between December and March for the best conditions when there is little snow or rain to contend with. Weekends in February and March are often crowded so try and visit during the week for a bit of peace.
Avoid April and May when it can be very wet, and be aware that the rest of the year is a bit of a mixed bag weather-wise.
Travel tips
Come properly prepared for this epic adventure with hiking boots, comfortable outdoor clothing, and waterproofs. Technical gear will be provided for the summit climbs.
Sunglasses and sunscreen are a must, as are hats and gloves – the temperature changes quickly at these altitudes.
We recommend booking your Iztaccihuatl Volcano day trip from Mexico City in advance as tickets do sell out.
Although climbing experience is not necessary, a good level of fitness is required, particularly on the overnight summit experiences.
Some tours do not include food so check your joining instructions and take a packed lunch if necessary.