Just a short drive away from Mexico City is the colonial town of Taxco, tucked into the mountains. If you're staying in the Mexican capital, make sure to add a day trip to Taxco from Mexico City to your itinerary.
Taxco is renowned for its silver mining history and today offers visitors a chance to explore quaint cobblestone streets lined with shops selling silver jewelry, and other wares. In addition, there are several historic monuments to behold, which showcase the city's Aztec roots.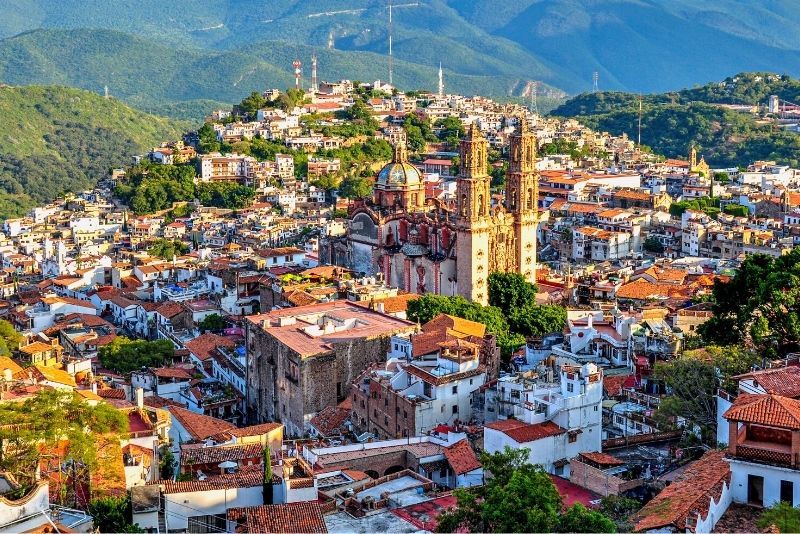 Here's all you need to know about Taxco, one of the most exciting day trips from Mexico City.
How to get to Taxco from Mexico City?
Taxco is located in the Guerrero region of Mexico. The town is approximately 180 kilometers south of Mexico City.
From Mexico City to Taxco by car
It takes a little over 2.5 hours to make the jaunt to Taxco by car. You'll head south out of Mexico City and follow the Mexico 95D highway all the way to the town.
From Mexico City to Taxco by bus
Alternatively, you can make the journey to Taxco by public transport. From the Mexico Terminal Tapo, take a bus to Mexico City Sur. This bus takes just 15 minutes and runs several times per day.
From there, you can take a direct bus to Taxco, which takes an additional 3.5 hours.
Guided tour to Taxco from Mexico City
Another option is to book a guided day trip to Taxco. You'll be picked up from your hotel between 6 AM and 7:30 AM, or alternatively, you'll meet your tour guide at an easy-to-reach destination in the city.
These excursions last 10 to 11 hours, returning you back to Mexico City in the early evening.
What is the typical itinerary?
All day tours to Taxco differ, depending on which other sights they travel to. However, they generally begin with a convenient hotel pickup in the morning.
Traveling out of Mexico City, you'll drive through the cactus-line highways of Mexico to your first stop.
This will often be Cuernavaca — a colonial town just south of Mexico City — where you'll participate in a walking tour that includes sights such as the Palace of Cortés, where the Spanish conqueror Herman Cortés once resided.
Alternatively, you may visit Cacahuamilpa Caves, where you can descend into the dark and discover the history behind the natural phenomenon that covers almost 1,400 meters.
Next, you'll move on to Taxco, where you may enjoy a lunch provided by your tour operator. Once you've devoured a Mexican feast, take a guided walk through the city to discover Taxco's wealth of silver.
You'll have time to yourself to follow your own interests before returning to Mexico City where your Taxco excursion ends.
What kinds of tours are available?
There are many different types of day tours to Taxco. Choose one based on your preferred travel style and the time you have to spend exploring Mexico.
Day trip to Taxco plus Cuernavaca from Mexico City
One of the most popular day trips available explores two of Mexico's great cities — Taxco and Cuernavaca. Amble through the colonial streets of Cuernavaca, named the "City of Eternal Spring," and admire its 16th-century masterpiece — the Palace of Cortés.
Then, continue on your day tour to Taxco, known for its history as a silver-mining town. Here, you can watch expert jewelry makers at work and sample traditional Mexican tequila before exploring the city's most renowned landmarks alone.
Private day tour to Taxco plus Cacahuamilpa Caves from Mexico City
If you prefer a more personalized excursion, opt for a private day trip to Taxco. You'll begin your tour by visiting the Cacahuamilpa Caves — one of the largest cave systems in the world — which once acted as a place of worship for the Chontales tribes.
Embark on a thrilling cable car ride when you reach Taxco to gain an aerial view of the city. Watch how its resident artisans handmake fine jewelry and be guided around the religious monuments of Taxco be your guide.
6-Day tour to Taxco plus Teotihuacan Pyramids plus Cuernavaca and Puebla from Mexico City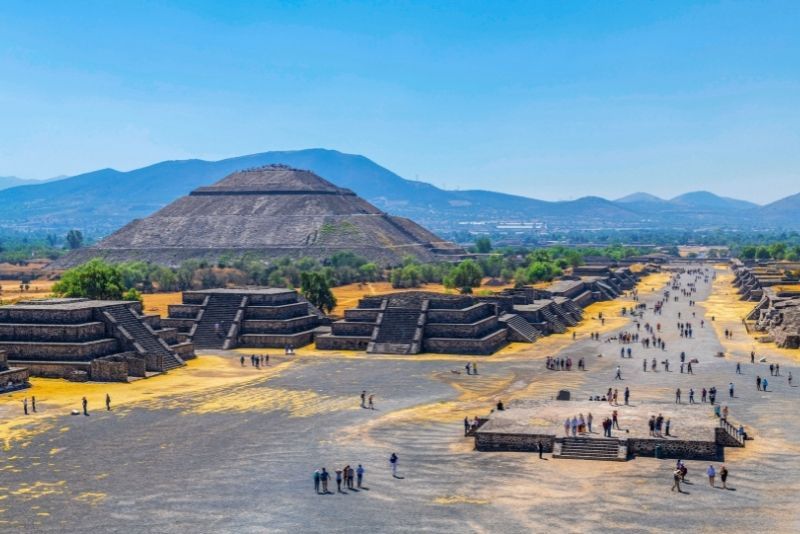 Those with more time to spare can take a multi-day trip further afield to explore the highlights of Central Mexico. Discover the Aztec history of Mexico City, learn about ancient religions at the Teotihuacan Pyramids and explore the country's colonial influence at Coyoacan.
Walk the cobblestone streets of Taxco and be awed by one of the oldest catholic churches in the world in Cuernavaca.
How much does it cost?
Day trips to Taxco and Cuernavaca cost between US$50, and US$70 per person. This includes a professional guide to show you the sights and entrance to any attractions you visit. Excursions on the higher end of this range include lunch.
You'll pay approximately US$130 per person for a private day tour of Taxco and Cacahuamilpa Caves. You'll travel in a private vehicle and have a personal guide dedicated to your enjoyment.
Multi-day trips that include Taxco and other renowned sights in central Mexico cost around US$580 per person, and include accommodation for 6 nights.
What will you see and do?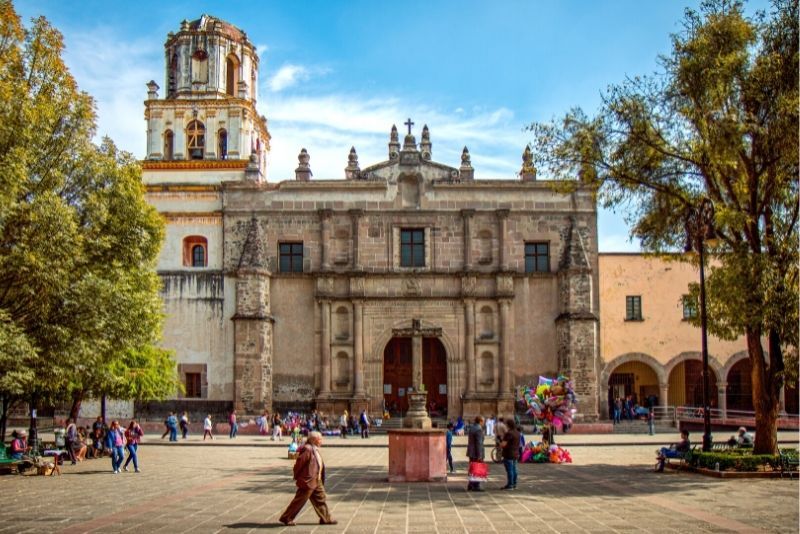 Taxco was founded in the 16th century by Hernán Cortés who won claims to the town's mines filled with gold and silver after battling, and chasing away the native Mexicans.
Once the Spaniards settled in the area, they turned Taxco into Mexico's main silver supplier.
The village was transformed into the city you see today when a Spaniard named Don Jose de la Borda happened upon a fortune of silver in 1716 and used it to construct some of Taxco's most spectacular landmarks.
However, all silver mining and crafting came to an abrupt halt during the Mexican War for Independence, when the mines were destroyed.
All was not lost, as William Spratling came to reside in the town in the 20th century, and after noticing the skill of the townspeople, started to build Taxco's reputation as a hub for silversmithing.
Even today, the town is still renowned across Mexico for its handcrafted silver jewelry and metal crafts. In the city, you can see artisans at work, or even take a workshop yourself.
Outside of silver-making, Taxco is a flourishing colonial town with plenty to see. One of the main sights in the town is the 18th-century Santa Prisca Cathedral, which was the tallest building in Mexico at the time of its construction.
The cathedral features Churrigueresque architecture and its cupola is brightly colored with intricate details.
Other attractions in the town include the William Spratling Museum, dedicated to the man who revived the town and filled with his own personal artifacts from the silversmith himself.
While in the city, take the Taxco Cableway up to the hotel Monte Taxco and enjoy panoramic views from more than 170 meters above the charming townscape.
When is the best time to visit Taxco?
The best time to book a day trip to Taxco is from December to April when the climate is dry and temperatures sit between 27, and 32 degrees Celsius.
Mexico's rainy season is from May until September, so bear this in mind when planning your day tour.
Are there any tours to Taxco from other cities in Mexico?
Yes, there are tours departing from other cities in Mexico:
Travel tips
Participate in a workshop while in Taxco to learn the fine art of silver smithing and come away with a piece of jewelry that you've crafted yourself.
Temperatures in Taxco are relatively hot during the day for most of the year. Ensure you pack sunscreen, a hat and plenty of water for your excursion.
Most Taxco day trips include a walking tour, so make sure you wear comfortable shoes.