The arid landscape of Peru's Pacific coast makes it the ideal destination for outdoor activities like dune buggy rides, hiking and sandboarding — thus attracting nature lovers and adrenaline junkies from around the world.
Sandboarding tours in Lima prove to be a popular and exciting way to spend a morning or afternoon away from the hustle and bustle of the city. Enjoy the peace and quiet of the desert as you soar down dunes both big and small.
Here's all you need to know about sandboarding, one of the most exhilarating outdoor activities in Lima.
What are the best sandboarding tours in Lima?
Half-day sandboarding excursion in Chilca from Lima
Choose between meeting your instructor at Miraflores Central Park or opting for a convenient hotel pickup service. Once you have met your guide and the other tour participants, you'll head south to the town of Chilca via the pan-American highway.
In Chilca, you'll have the option to buy snacks, including local artisanal bread, before making your way into the desert. The region offers magnificent views, and you'll enjoy a short ride through this landscape before you get out of the vehicle.
Watch and listen carefully as your guide provides you with useful demonstrations and offers valuable tips. When you're feeling confident, you can begin surfing the dunes and making the most of your time in the desert.
After a few hours of fun, you'll be taken back to your hotel in Lima.
Small-group sandboarding experience in Punta Hermosa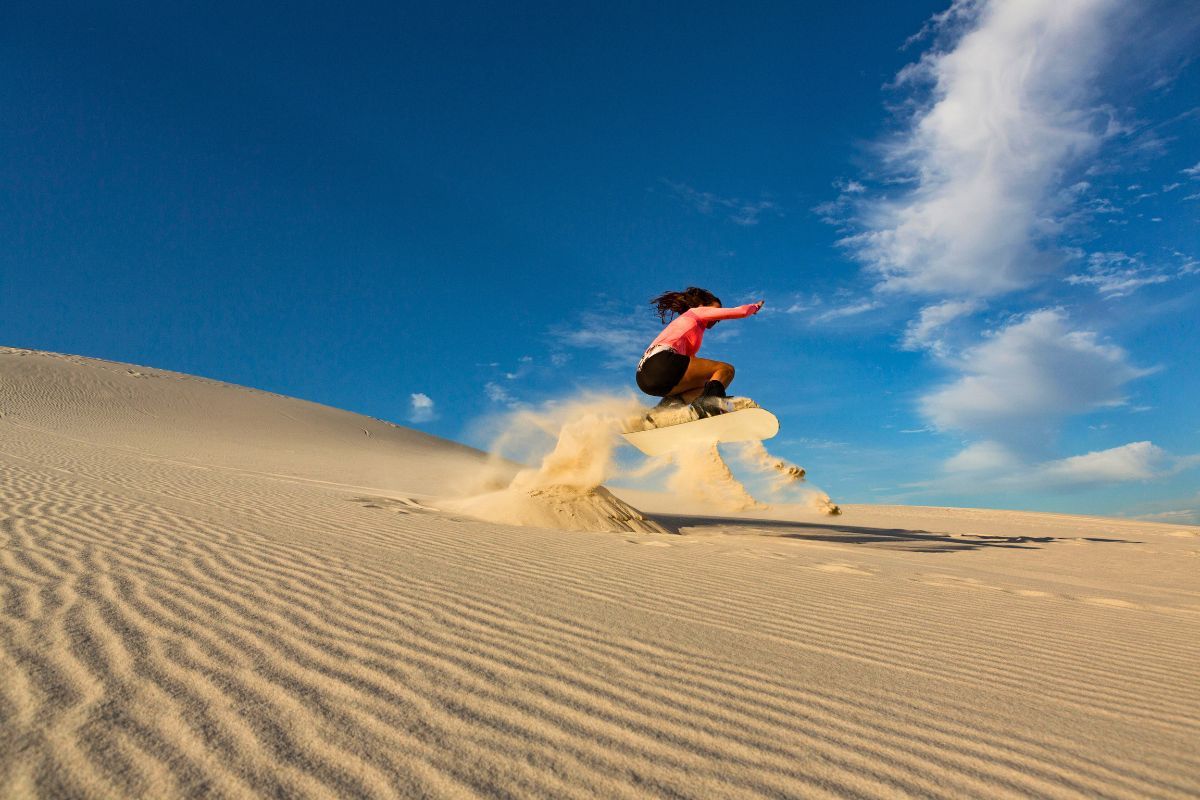 Punta Hermosa is a beautiful beachside neighborhood located just 30 minutes south of Lima. This picturesque coastal area of Peru is filled with dunes and makes for the ideal sandboarding destination.
At around 7 AM, you'll be picked up from your accommodation in Lima in a comfortable 4x4. You'll make your way out of the city and head to Punta Hermosa, where you'll pick up all the sandboarding equipment needed for your dune-riding adventure.
Before you take to the dunes, your instructor will provide you with a short briefing and demonstration to make sure you are confident and know what you're doing. You'll start with tackling some of the smaller dunes, then you'll move on to the larger ones.
Your instructor will take photos and videos of you honing this new skill and give you the footage at the end of the tour.
Sandboarding tour in the Lomas de Ancón National Park
Step away from the hustle and bustle of the city and spend most of your day immersing yourself in the natural beauty of Peru's Lomas de Ancón National Park. After being picked up from your hotel in Lima, you'll make your way to the tour operator's offices in Ancón.
Once you've picked up the equipment needed, you'll enter the Lomas de Ancón National Park, which offers incredible views and is home to a number of unique ecosystems. As you cross into the desert, you'll see how the landscape suddenly changes and becomes filled with dunes.
Your knowledgeable instructor is there to show you everything you need to know, including how to brake, how the equipment works, and which stances are best. Next, it's time to soar down the dunes on your sandboard!
Once everyone has made it down the dune, a truck will take you back to the top so that you don't have to walk up the sandy slopes. Before you head back to Lima, you'll enjoy a photo session that aims to get epic photos of you and your travel companions on the dunes.
Are there any combos available with sandboarding tours in Lima?
Sandboarding tour in Lima with picnic
Put the cherry on top of your sandboarding tour in Lima by choosing an experience that's inclusive of a picnic. Once you've gotten your hit of adrenaline from braving the dunes, you'll get to relax and enjoy a lovely picnic.
Sit back and admire the incredible views of the desert as you sip on cold drinks and enjoy the tasty snacks provided.
Ballestas Islands day trip with sandboarding, buggy riding and wine tasting from Lima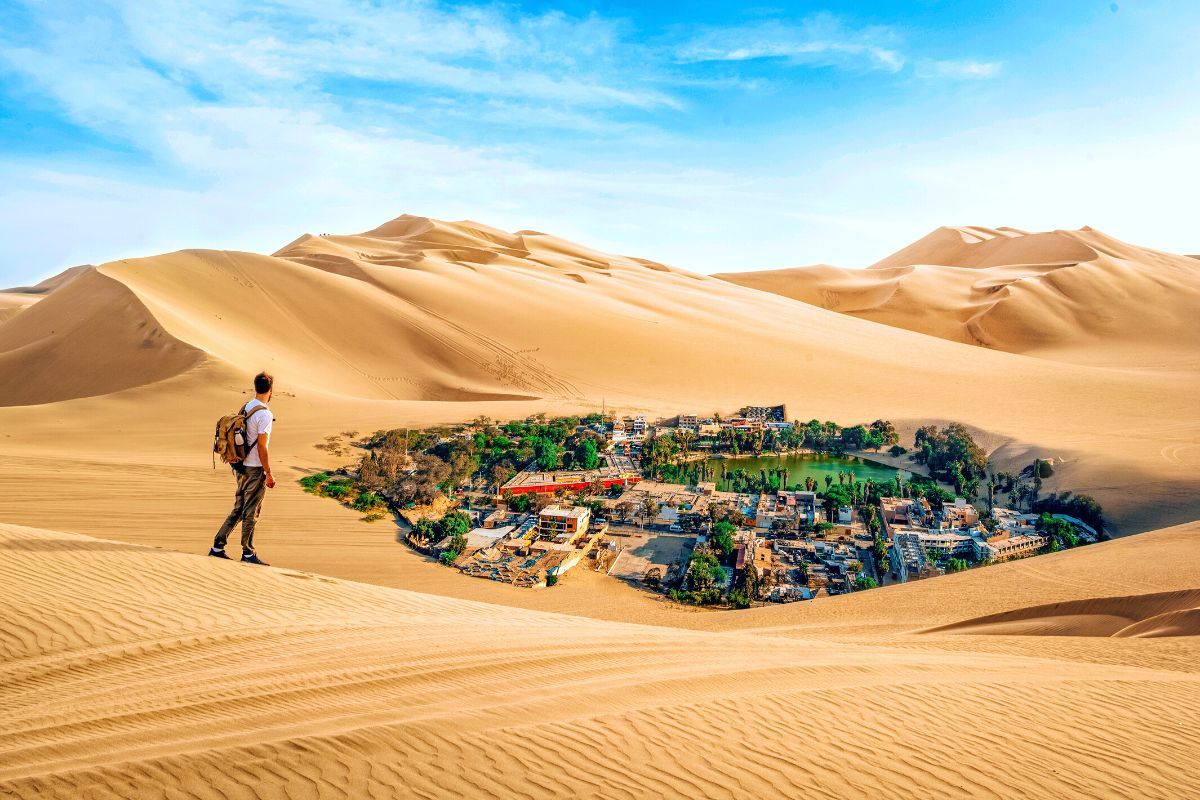 Spend a day exploring the beautiful Ballestas Islands with a local tour guide who can't wait to show you around. You'll also be treated to a buggy tour, a wine tasting, and some time sandboarding in the desert at Huacachina.
These tours are available as private or small-group excursions and provide the perfect opportunity to see more of Peru and what this incredible country has to offer.
How much do sandboarding tours in Lima cost?
Sandboarding tours in Lima vary in price depending on the length of the tour and additional inclusions.
Half-day Chilca tours coast around US$145 for a 4-hour shared group experience, while tours to Punta Hermosa and Lomas de Ancón National Park cost from US$180 to US$190 for tours lasting 6 hours.
Sandboarding and picnic experiences typically cost around US$200 per person. Full-day combination tours, which include sandboarding, wine tasting and a trip to the Ballestas Islands, usually cost around US$250 per person for a small-group experience.
What is included?
The cost of sandboarding tours in Lima is typically inclusive of private transportation, bottled water and any entrance fees you may incur. You'll also be provided with all the equipment you need for the excursion, including a sandboard and a helmet.
Some tour operators provide their tour participants with photos and videos as a memento of the experience. You may want to bring some extra spending money along for any personal expenses like food and drinks.
Where does it start?
Most sandboarding tours in Lima take place just outside of the city, in places like Lomas de Ancón National Park and Punta Hermosa. Your tour operator will either pick you up from your hotel in Lima or ask you to meet at a central meeting point in the city.
Make sure that you are ready and waiting for your guide at the stipulated pickup point at the stipulated pickup time.
How long does it last?
When booking a sandboarding tour in Lima, you should be prepared for a half-day excursion as the typical duration of a sandboarding tour is around 4 hours, although many tours last closer to 6 hours.
Combination tours, which are inclusive of other outdoor activities, are usually full-day excursions lasting around 14 hours. No matter your schedule, there is a sandboarding tour in Lima to suit your time preferences.
When is the best time for a sandboarding tour in Lima?
The best time for a sandboarding tour in Lima is in the summer months between December and April, when the weather is warm and sunny. To avoid major crowds, try schedule your tour for a weekday rather than the weekend.
Is it safe?
Yes, sandboarding tours in Lima are safe, as they provide expert guides and safety equipment. These excursions are not suitable for pregnant travelers or those with heart conditions or other serious medical concerns. If in doubt, check with the tour provider before booking.
Are children allowed?
Sandboarding tours in Lima allow children to join with an accompanying adult. Check with your tour provider beforehand if there are age restrictions.
What happens in the case of bad weather?
Sandboarding tours will be canceled if weather conditions are unsuitable, and you can reschedule your trip or get a refund.
Which other popular outdoor activities can be done in Lima?
Travel tips
Wear closed shoes, preferably old sneakers or boots, to fit into the footholds.
Lightweight, long-sleeved clothing can protect you from the sun and from scrapes if you fall.
Sunglasses and goggles can help protect your eyes from the sun and blowing sand.