Kruger National Park is located in the northeastern part of South Africa. It is known around the world as a mecca for spotting the Big 5 safari creatures — leopards, lions, elephants, buffalos and rhinos.
Over 900,000 tourists flock there each year to witness these breathtaking mammals in their natural habitat. The chance of spotting the Big 5 roaming the backcountry is extremely high, in fact, it's almost guaranteed on your Kruger National Park day trip.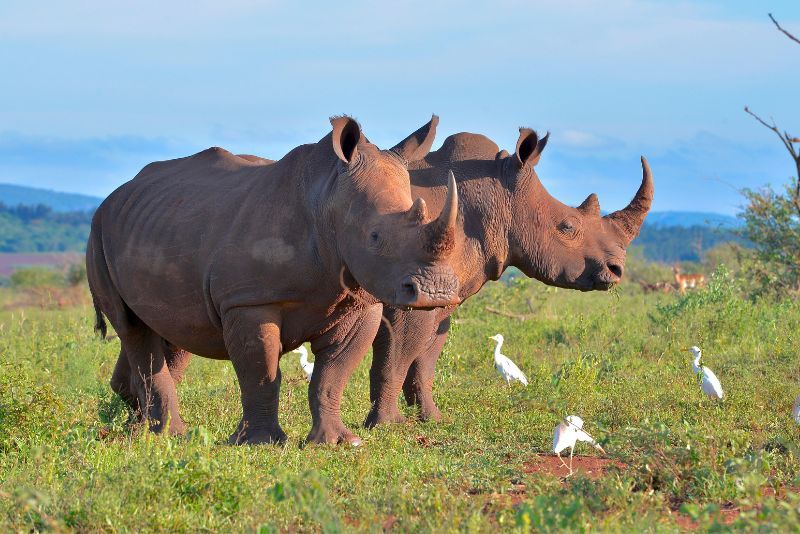 How to get to Kruger National Park from Johannesburg?
One of the most popular day trips from Johannesburg, Kruger National Park is more than a stone's throw away – it's 340 kilometers! You can drive, take a bus, fly or jump on a guided tour to reach the park. If you choose to drive, you'll be in for a serious treat among beautiful scenery.
From Johannesburg to Kruger National Park by car
You need between four to five hours to reach Kruger National Park by car if you take the quickest route. Follow the N12 and N4 through exotic country until you arrive at one of the entrance gates.
From Johannesburg to Kruger National Park by bus/public transport
Because there's no direct bus into the park, you'll need to switch means of transportation depending on which entrance you'll arrive at and what part of the park you plan to visit.
South Kruger National Park Entrance
Travelers visiting the southern point of Kruger National Park can board a bus from Johannesburg Bus Station to Malelane. This route takes seven hours and you'll need to book a private transfer to the park entrance in advance.
Be sure to check travel safety requirements for the areas you plan to visit if you're arriving after dark.
North Kruger Park Entrance
Take a bus to Nelspruit and a connecting bus to Phalaborwa. You must arrange a car rental or transfer to the park entrance from Phalaborwa in advance. This route is longer and takes around nine to 10 hours.
From Johannesburg to Kruger National Park by plane
There are flights operating daily to bring you to any safari lodge surrounding Kruger National Park. Once you arrive, a ranger will meet you in a safari vehicle to bring you to your lodging.
If you didn't book a lodge, you can fly to Kruger Mpumalanga International Airport (MQP). The flight takes less than an hour from Johannesburg and you can charter a car when you land. This option is more expensive than others.
Guided tour to Kruger National Park from Johannesburg
Tours pickup from O.R. Tambo Airport or select hotels and, after your excursion, you'll be dropped off at the same location. Times differ due to tour length, with longer tours leaving after 9 AM and shorter tours leaving around sunrise.
All meals are included, as well as accommodation in a range of high-end chalet lodges. Each tour has its own lodging selection, but really you can't go go wrong.
How much does the entrance ticket to Kruger National Park cost?
Kruger National Park charges a conservation fee to help with park upkeep and cultural heritage. The prices change annually in the fall and the current rates are valid until October.
International visitors
Adults (12+): ZAR440 (US$26)
Children under 12: ZAR220 (US$13)
Residents and citizens
Adults (12+): ZAR110 (US$6.50)
Children under 12: ZAR55 (US$3)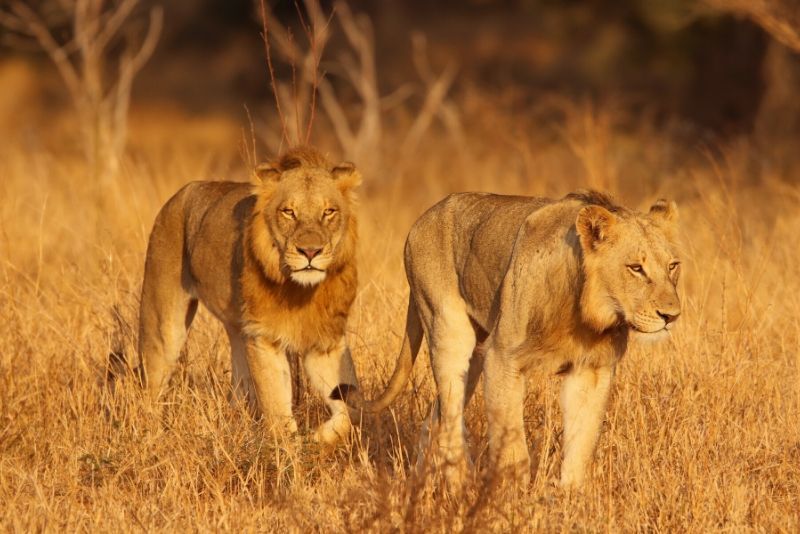 What is the typical itinerary of a day tour to Kruger National Park from Johannesburg?
Single-day or multi-day tours from Johannesburg to Kruger National Park pickup from O.R. Tambo Airport or your hotel depending on the location. Then, it's off to the safari!
Hop on a sunset game ride, or take a walk through the bush with a certified guide to examine animal tracks. Tours stop by the famous watering holes to guarantee all guests get the best chance to observe the Big 5 naturally in the wild.
Just because it's a safari doesn't mean comfort is ruled out. All the chalets you'll be staying in along the way are cozy and luxurious, with air-conditioned rooms to relax in after a day in the African grasslands.
What kinds of tours are available to go to Kruger National Park?
Each tour provides a unique adventure tailored to your time and limits. There are short-span day trips to Kruger if you have less time in South Africa, but still want to see the famous sights and wildlife.
Guided tours to Kruger National Park from Johannesburg
Every tour has a guide on standby to answer your questions, keep you safe and guide you through the expedition. You're never alone and always in good hands. These rangers don't beat around the bush when safety is on the line.
Private tour to Kruger National Park from Johannesburg
Private tours are not much more expensive than regular tours. If you're a fan of smaller groups, book this option. You'll receive personal one-on-one information from your guide and have the safari cruiser all to yourself and your group.
Budget tour to Kruger National Park from Johannesburg
If you aim to stay on the affordable side, there are still alternatives to the pricier tour excursions. You'll be sharing a game vehicle with others and it may be rowdy but it's the safari after all. Buckle up for a roaring good time!
Day trip to Kruger National Park plus Crocodile River safari from Johannesburg
Add on the Crocodile River safari to check water-dwelling creatures off your list! These snapping beasts hang out at the Crocodile River along the southern border of the park. It's highly likely you'll spot the most dangerous animal in the world lurking in the waters nearby – the African hippo!
Special day tours to Kruger National Park from Johannesburg
There are dozens of day tours available to Kruger from Johannesburg, so it can be difficult to make a choice. If there's an animal you've been dying to see, there's a tour for it!
Check out the Lion Expedition with the "Lionman" Steve Kelly. He's the first ranger to have a 100% success rate in locating lions in 2018.
How much does a tour to Kruger National Park from Johannesburg cost?
The starting price for a quick day trip from Johannesburg to Kruger is US$370. This includes your pickup, drop-off, live guide, entrance fee and a safari tour to see the Big 5. Private tours start at US$900, but you can inquire about a group rate.
Multi-day tours are popular because they give you the chance to experience Kruger in its entirety. You'll stay in a safari lodge, experience a cultural South African braai, take a jaunt through the wild bush, and learn about the land from a local guide.
There are 2-day tours up to week-long tours available, ranging from US$400 to US$1,600. Accommodation is included with all tours.
What will you see and do on a Kruger National Park day trip from Johannesburg?
The longer you stay in the park, the more you get to see animals, and the possibilities are endless. Most people swarm to Kruger to spot the Big 5 in the wild — lions, leopards, rhinos, elephants and African buffalos. But, there's so much more running through Kruger's bush fields.
A one-day trip to Kruger National Park will have you there and back by the late evening, but you'll skip the nightly magic. The nights come alive on the safari, with sounds of wild game, colorful insects and ambient mood lighting.
If you opt for a multi-day tour, three days is a safe bet to experience the enchantment of the safari. You'll stay in luxury chalets on an authentic game reserve, as you indulge in delicious meals, warm company and the wild.
After a good night's rest, you and your group will venture out for a game walk or drive with rangers to learn about the wild mammals roaming the area. You'll watch the sunrise and sunset in comfort and style from a tented lodge before you return back to your chalet.
The next day is a full-blown safari ride with a 180-degree panoramic view of the wild bush. Most tours offer a full-day safari if it's a longer trip.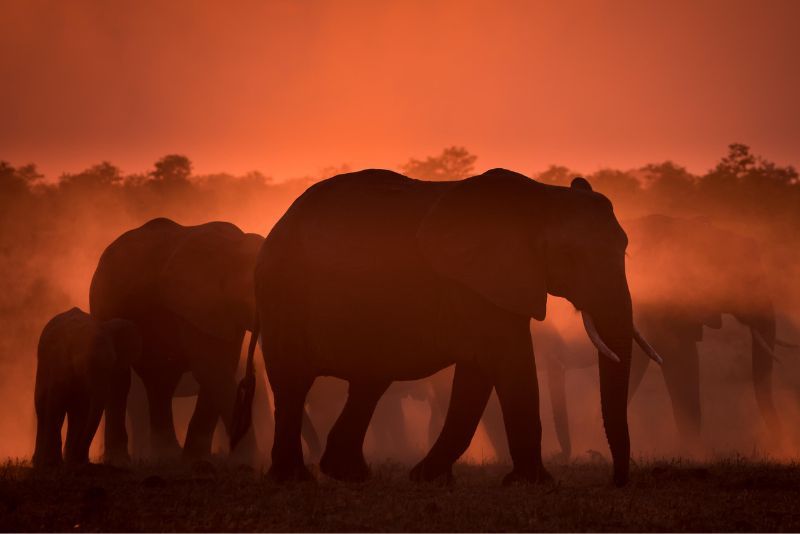 Moholoholo Wildlife Rehabilitation Center
Tours lasting more than three days will have you stop at Moholoholo to witness rehabilitated animals being nursed back to health. It enforces the missions and values of Kruger, showing how the staff works with injured animals to release them back into the wild safely.
What are the opening times of Kruger National Park?
Kruger National Park is open from 5:30 AM, October to March, and from 6 AM between April and September. Only a 30-minute difference, but something to keep in mind.
When is the best time to visit Kruger National Park?
Kruger National Park is an all-year-round conservation area, with each season bringing something different. Stop by in the summer for full waterholes, abundant newborn wildlife and migrating flocks of birds. If you're a fan of game watching, the winter months are best.
The better weather attracts more tourists. If you prefer a quieter safari ride, stop by in the off-season!
Are there any tours to Kruger National Park from other cities in South Africa?
Yes, there are tours departing from several other cities in South Africa:
Are there other attractions near Johannesburg?
Travel tips
The average year-round temperature at Kruger National Park is 25 degrees Celsius, so be sure to pack a hat and sun cream.
Arrange your transfer ahead of time if you choose to fly.
Cameras are vital to snap those once-in-a-lifetime shots.
Don't forget to drink a lot of water and stay protected from the sun.