The Isle of Skye's spectacular rugged beauty has it on many bucket lists, including hikers, photographers, and urbanites seeking refuge away from the commotion of the city.
Home to famous Scotch whiskey distilleries, ancient fossils, medieval castles, and a jaw-dropping saw-toothed coastline, there's plenty to keep you entertained at Isle of Skye on a day trip from Inverness.
Once you've had a taste of this stunning Scottish island, you'll want to return again and again.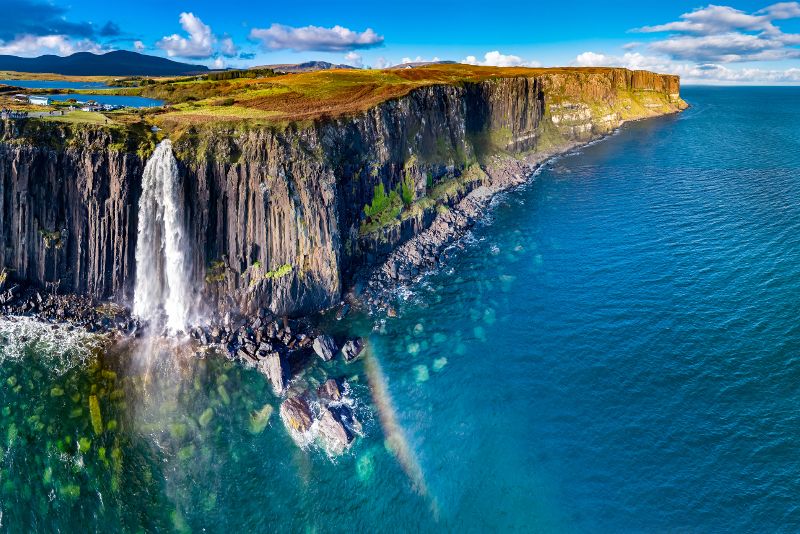 You will find below all you need to know about Isle of Skye, one of the most fascinating destinations for day trips from Inverness.
How to get to the Isle of Skye from Inverness?
The Isle of Skye is located about 105 miles from Inverness. If you plan accordingly and head off on your journey early, the Isle of Skye can be visited as a day trip from Inverness.
From Inverness to Isle of Skye by car
It takes around 2.5 hours to drive to the Isle of Skye from Inverness. The fastest route is relatively straightforward, with the majority of the drive taking place along the A87 and A890 highways.
The alternative route involves driving along the A87 for the whole journey. While both routes offer a scenic drive, with beautiful views of the Scottish Highlands, the second route allows you to admire the famed Loch Ness and Loch Cluanie.
From Inverness to Isle of Skye by public transport
It's possible to take public transportation from Inverness to the Isle of Skye. Taking the train, followed by a bus, offers a scenic journey to the Isle of Skye without having to get behind the wheel.
From Inverness train station, you can catch the ScotRail service to Kyle of Lochalsh which takes around 2.5 hours. Once there, take a bus from Kyle of Lochalsh bus station to Fort William which takes around 2 hours.
Travelers should consider beginning their journey as early as possible for this transportation option to be worthwhile as a day trip.
Guided tour to Isle of Skye from Inverness
Alternatively, you can join one of the many Isle of Skye organized tours that depart from Inverness regularly. The excursions are fantastic value for money and offer a convenient transportation option that saves you from navigating the way there yourself.
Your friendly, knowledgeable guide will teach you about the history of the island, as you discover important Scottish landmarks along the way, including Loch Ness and Urquhart Castle. Most trips of this nature last a full day.
What is the typical itinerary of a day tour to the Isle of Skye from Inverness?
Isle of Skye guided tours from Inverness usually last 8 to 12 hours. Collections and drop-offs from a central meeting point in Inverness are often included in the trips where travelers should look for a driver-guide in a kilt. On some selected tours, hotel pickups are available.
The journey to the Isle of Skye will typically take place in a comfortable, air-conditioned mini-van where you can admire and visit beguiling natural sights en route, before stopping to explore the island itself.
Some Isle of Skye day trips will also take you to the Cuillin mountains, as well as make a stopover at the town of Portree – the capital of the Isle of Skye.
What kinds of tours are available to go to the Isle of Skye?
There are a number of different types of day trips and tours available to go to the Isle of Skye, according to the number of sights you would like to visit and how long you would like your excursion to last. To ensure a smooth journey, hotel transfers are often included.
Guided tours to Inverness from the Isle of Skye
If this is your first time visiting the Isle of Skye, then you'll love a guided tour of the island.
You'll have the opportunity to fully immerse yourself in the island's natural wonders, where you can expect to visit the majestic Fairy Pools and the enchanting Eilean Donan Castle – which offers the perfect photo opportunity.
This is a pleasant and relaxed tour where you'll be traveling in a cozy, air-conditioned vehicle. You'll also have a knowledgeable guide on hand to tell you tales and legends of this magical part of Scotland.
Shuttle transfer without guide to the Isle of Skye from Inverness
If you'd rather explore the Isle of Skye on your own, but would like the comfort and ease of having your transport needs taken care of, then direct shuttle transfers to the island are available.
Travel in style in a chauffeur-driven vehicle that will collect you directly from your hotel or accommodation in Inverness. Your driver will point out landmarks along the way and can cater to a maximum of eight people.
Private tour to the Isle of Skye from Inverness
For a more customized and tailored experience, choose a private tour of the Isle of Skye. You can expect VIP treatment from start to finish as you cruise in a comfortable vehicle with a knowledgeable guide who will be on hand to answer any questions that may arise along the way.
On this excursion, you'll visit a combination of the Isle of Skye's must-see destinations, as well as hidden gems, including the Fairy Pools, Kilt Rock, and Sligachan Old Bridge. At the end of the day, your driver will return your group right to the doorstep of your accommodation.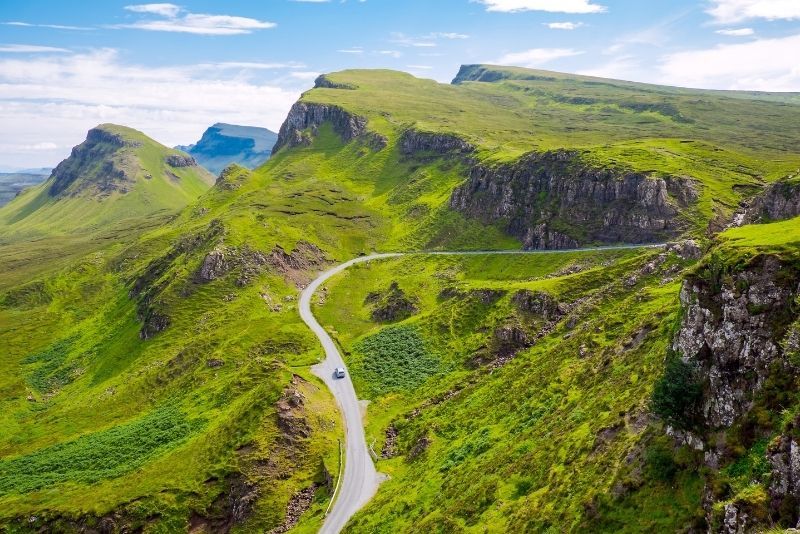 2-day tour to the Isle of Skye from Inverness
If you have more time on your hands, then a 2-day tour of the Isle of Skye will allow you to explore the island's top attractions at a leisurely pace.
This is a delightful trip in a small group setting, where you'll visit both the Isle of Skye and the west coast with a knowledgeable guide who will show your glistening rivers, flowing waterfalls, immense mountains, and wild moorlands.
On your first day, you'll visit must-see Isle of Skye highlights where you can enjoy a wild swim in the Fairy Pools, followed by a visit to the Neist Point Lighthouse – which offers jaw-dropping vistas from above at sunset.
On the second day, you'll visit some off-the-beaten-track locations that often fall under the tourist radar, including Fairy Glen, the Rha waterfalls, and Quirang – imposing, otherworldly rock formations that have been used as the setting for a number of sci-fi films.
You'll end your tour at the same meeting point where you left off in Inverness.
How much does a tour to the Isle of Skye from Inverness cost?
Prices for Isle of Skye tours from Inverness vary depending on what type of tour you choose and the duration of your journey.
Guided tours in the Isle of Skye cost between €55 to €120 per person, with tours on the higher end of the price spectrum including more pit stops and a more thorough excursion.
A shuttle transfer without a guide to the Isle of Skye costs around €550 for a group of up to four people and includes a hotel collection in Inverness.
A private tour the Isle of Skye starts at approximately €255 per person and refreshments and your very own personal expert driver-guide is provided.
A 2-day tour to the Isle of Skye costs about €190 per person. An overnight trip includes a knowledgeable driver-guide and all transportation throughout the trip.
What will you see and do on an Isle of Skye day trip from Inverness?
Part of the beauty of a day trip from Inverness to the Isle of Skye is that you have the chance to gawk at breathtaking landscapes before you even arrive at the island. Once there, ancient castles, vibrant villages, and cozy Inns where fishermen spend their lunchbreaks await.
Here are the main sights you shouldn't miss during your excursion:
The Fairy Pools
If you fancy stepping straight into a real-life fairytale, then visit the Fairy Pools. You'll take in ethereal vistas of the translucent rocks and  a series of water pools dotted around the site. Come in summer, and you can dive straight into vibrant turquoise waters as you search for fairies.
Quirang
Hiking enthusiasts will love Quirang – a fascinating ancient landslide that offers some of the most jaw-dropping sights that the island has to offer. This 2-hour walking loop from the car park is not the easiest of hikes, but the views once there will make it all worthwhile.
Neist Point Lighthouse
One of Scotland's most iconic lighthouses, Neist Point offers spectacular views of the 100-meter-high cliffs and is a favorite spot for photographers across the globe.
You'll feel like you're on the edge of the world here, as you take in awe-inspiring views of the natural landscape, as well as admire the seabirds that nest around the striking lighthouse's rocky walls.
Urquhart Castle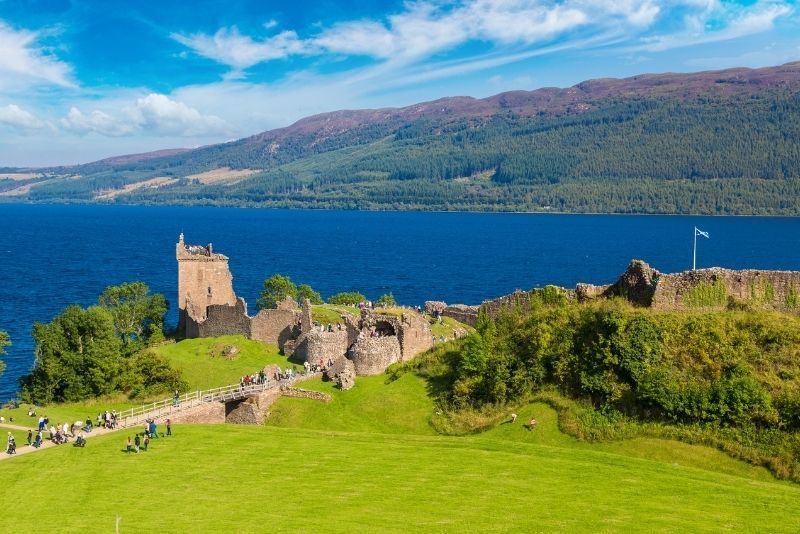 The ruins of the Urquhart Castle are perched beside the Loch Ness lake and are one of the Scottish highland's most photographed landmarks. Visitors flock here from far and wide hoping to catch a glimpse of the legendary Loch Ness monster from atop.
On a number of tours, you'll make a stop-over at the castle for an obligatory photography opportunity of the castle ruins and Scotland's stunning scenery.
When is the best time to visit the Isle of Skye?
The best time to visit the Isle of Skye is during the balmy, summer months when drizzling rain is less common, days are often filled with light and the walking trails are safer to navigate. You'll also enjoy the island's natural wonders in their full glory, including having the opportunity to go wild swimming in the Fairy Pools.
However, many of the Isle of Skye's most popular attractions can get quite crowded during the peak summer season. If you're looking to avoid some of the tourist crowds, consider visiting at the end of the summer season, in September and October, when the cooler, rainy winter months have yet to set in.
Are there any tours to the Isle of Skye from other cities in Scotland?
Yes, there are tours departing from other cities in Scotland:
Travel tips
Make sure to pack some comfortable walking boots and waterproof clothing in case you get caught in the rain.
Wrap up in warm layers, as you're bound to feel a chill atop some of the viewpoints
If you choose to embark on a 2-day trip, remember to bring your ID for the hotel check-in.
Don't forget your camera and plenty of spare batteries – you'll want to snap away at the island's breathtaking scenery to your heart's content.
If you are planning on going swimming remember to pack a swimsuit.