Heidelberg is one of the most picturesque cities in Germany, with a grand castle perched atop a hill overlooking the Neckar River. The city has a rich history dating back to the Middle Ages, and was known as a hub for literature, as well as culture.
There are several free walking tours in Heidelberg that enable you to explore its lively university town atmosphere and enchanting old-world charm. You'll gain knowledge about the city that only locals know, and learn about its long past.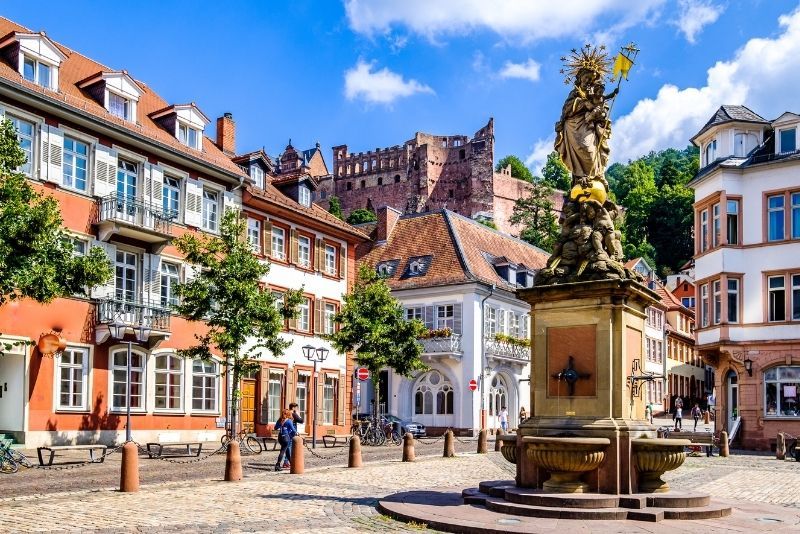 How do free walking tours in Heidelberg work?
The concept of a free walking tour is easy to understand. There is no upfront cost and you can book a tour for free. When it comes to these sightseeing tours in Heidelberg, you'll pay your guide however much you think the excursion was worth.
There is no minimum or maximum amount, which makes it up to you how much you wish to pay.
How much should you tip for a free walking tour in Heidelberg?
You can tip your guide as much or as little as you like. Some tourists choose to tip as little as €5, whereas others like to pay up to €50. In general, most people tip between €10 and €15 per person.
Before tipping, you should consider the length of the tour, how knowledgeable your guide was and how much you enjoyed the overall experience. If your walk was especially great, you may consider tipping a little more.
What is the itinerary of free walking tours in Heidelberg?
Heidelberg free walking tour
This free tour in Heidelberg focuses on the Old Town, which is brimming with historic landmarks and fascinating legends.
Itinerary
This tour winds its way through the 12th-century Old Town of Heidelberg. Along the journey, you'll hear about several landmarks, such as the Karl Theodor bridge and the crowning jewel of the city — Heidelberg Castle. The itinerary is adaptable depending on your personal interests, which you can make known to your guide.
Your interesting guide will fill you in on information about Heidelberg that only locals know. They will also provide you with tips and tricks on the area so that you can make the most of your Heidelberg vacation.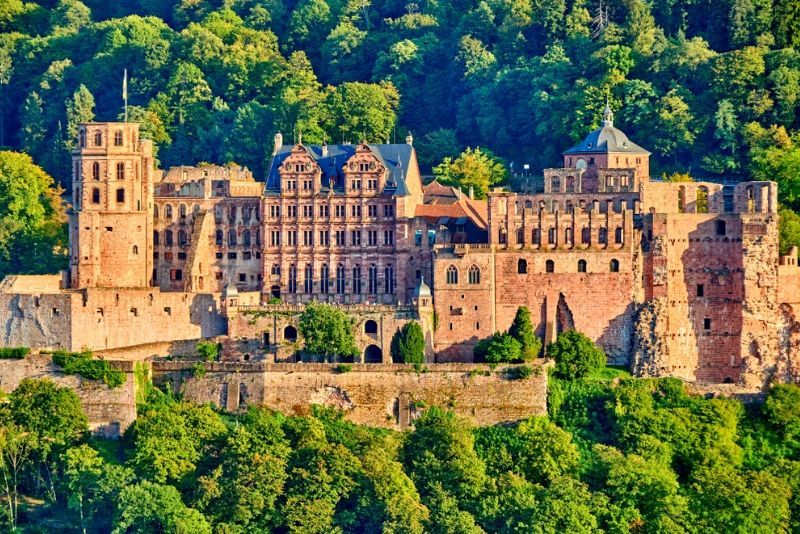 Heidelberg free walking tour
If you are looking for a comprehensive overview of the medieval town of Heidelberg, choose this free walking tour.
Itinerary
You'll start your free walking tour in Heidelberg at one of the most iconic, yet unusual sites in the city — the monkey statue next to the Karl Theodor Bridge. You'll walk over the historic bridge, which was named after the Duke of Bavaria.
From there, you'll continue on through the Old Town until you reach Heiliggeistkirche. The construction of this magnificent church began in the 14th century and features classic Romanesque, and Gothic architecture. Next, you'll make your way to the University of Heidelberg, which is the oldest college in Germany, dating back to 1386.
You'll also see the Madonna statue that sits inside the Kornmarkt square. Lastly, you'll appreciate a remarkable view of Heidelberg Palace from a distance.
In which languages are free walking tours in Heidelberg operated?
The majority of free walking tours in Heidelberg operate in English. However, it's also possible to take a tour in German or Spanish.
As walking excursions grow in popularity throughout Germany, it's likely that they will be offered in more languages.
Where do free walking tours in Heidelberg start?
The most popular meeting point for free tours in Heidelberg is the monkey statue next to the Karl Theodor Bridge, which runs over the River Neckar.
The monkey statue sits on the south side of the river and is easily accessible from anywhere in the city. There is also a bus stop close by, which the Line 35 bus stops at.
Occasionally, free walking tours in Heidelberg begin at the town hall in the Marktplatz, which is located in the center of the city.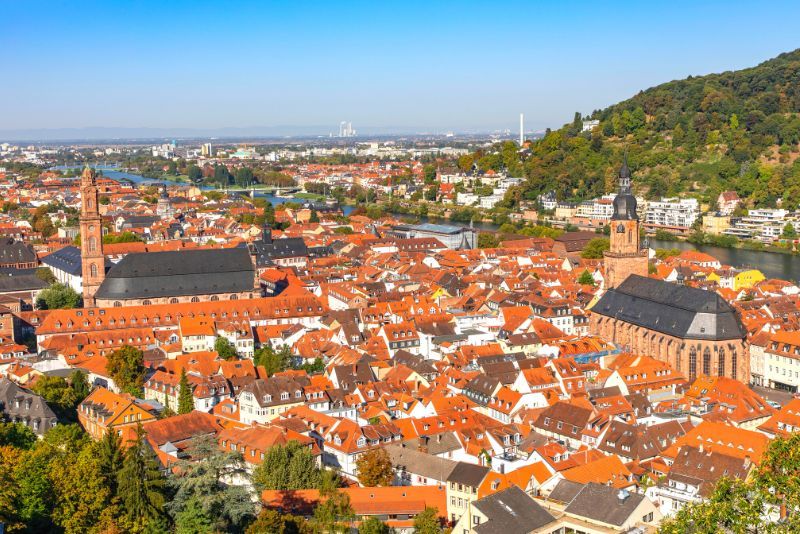 How long do free walking tours in Heidelberg last?
Free walking tours in Heidelberg last between 1.5 and 2 hours. The city is easily walkable and you can see the majority of its most popular sights during this period of time.
When is the best time to join a free walking tour in Heidelberg?
You can take a free tour in Heidelberg throughout the day, depending on the availability of your guide.
Consider taking a morning tour if possible, so that you can walk through the historic city without hoards of tourists in the way. Morning tours finish around 1 PM, which is the perfect time to stop for a well-earned bite to eat in one of the city's many cafes.
Should Heidelberg free walking tours be booked online?
You should consider booking your free walking tour in Heidelberg online as far in advance as possible, to secure your time slot. There are only a few tours operating in the city and they can fill up fast. By reserving your excursion for free online, you'll be guaranteed a place and won't waste valuable vacation time finding a guide on arrival in Heidelberg.
There is no reservation fee and you won't need to input your credit card details in order to secure a tour.